10 Artworks To Look Out For At The India Art Fair
11

Feb

'23

4:45 pm

by

Urvi Kothari
Undoubtedly, India Art Fair stands as the leading South Asian Art platform for the modern as well contemporary. With the 14th edition of the IAF that has taken over the capital city, audiences excitedly wait to witness the magic that stands at NSIC Ground, Delhi. Led in partnership with BMW India, the fair presents 85 exhibitors, including 71 galleries and 14 institutions. The fair is showcasing South Asia's upcoming voices, cutting edge art, experimental experiences and much more. Here is a curated guide on 10 artworks you must spot on the floors of IAF!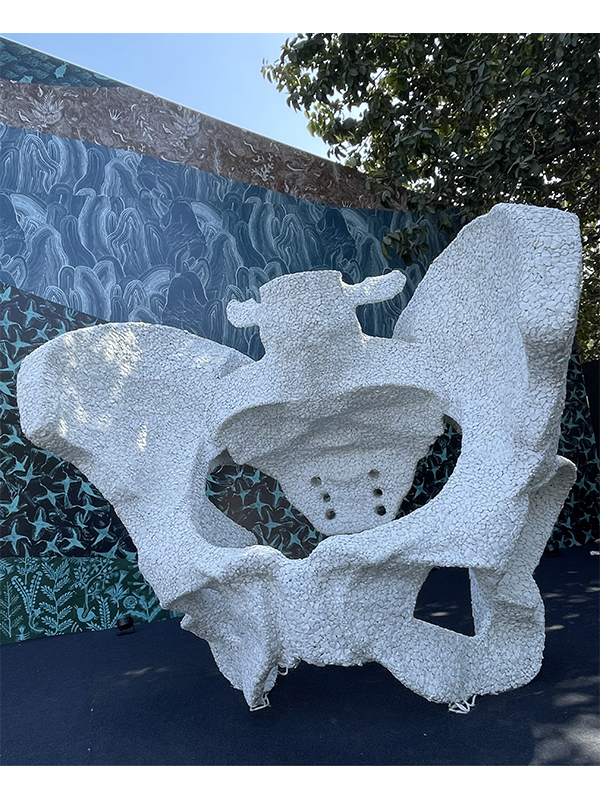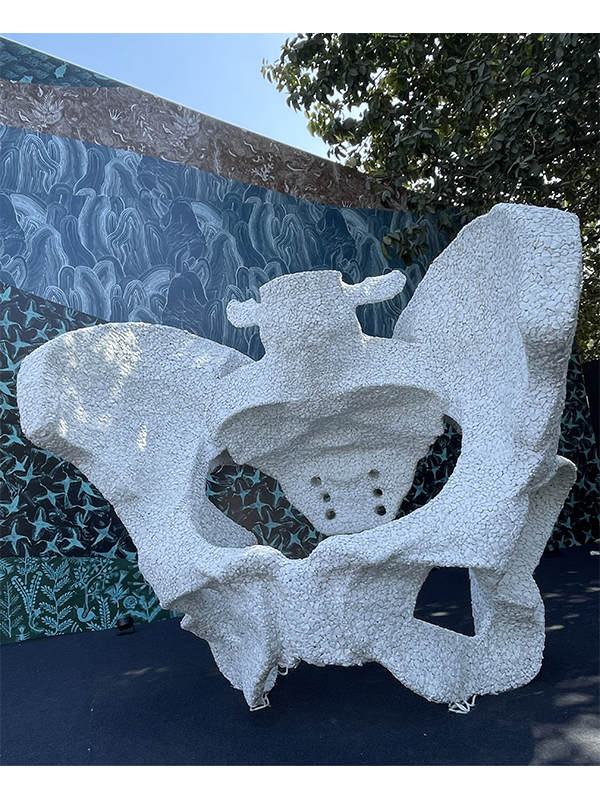 #1 Prashant Pandey at IAF Grounds 
Before you immerse into the world of this expansive art fair, a very intriguing larger than life installation by Prashant Pandey awaits the beholders for a little introspection and a deeper impact. Titled as KAMA, this installation pays a powerful tribute to womanhood. A visual depiction of a female pelvic bone, made from leftover marble blast stones used to create deities, Pandey's installation creates a positive space to honour the place of our origin. Ideally, with the Indian art scene run by many strong dynamic women, this installation is truly the epitome of what the women of arts represent too!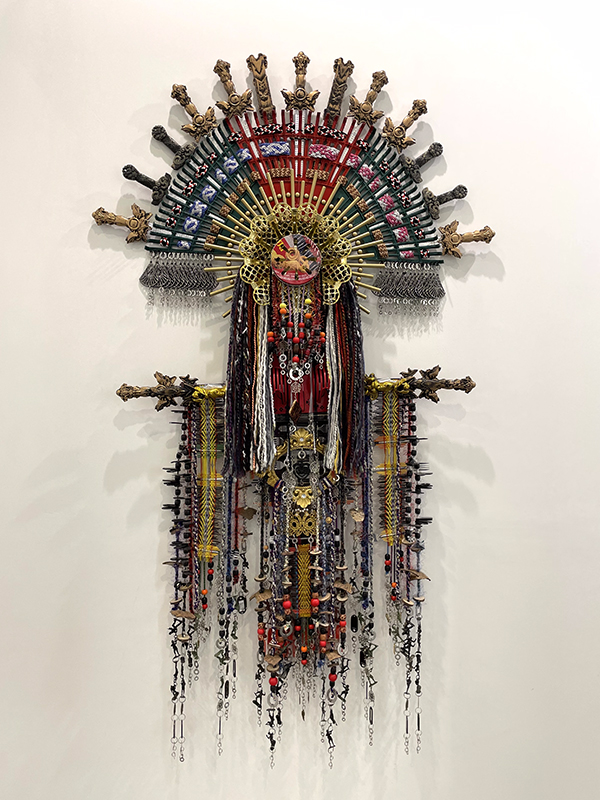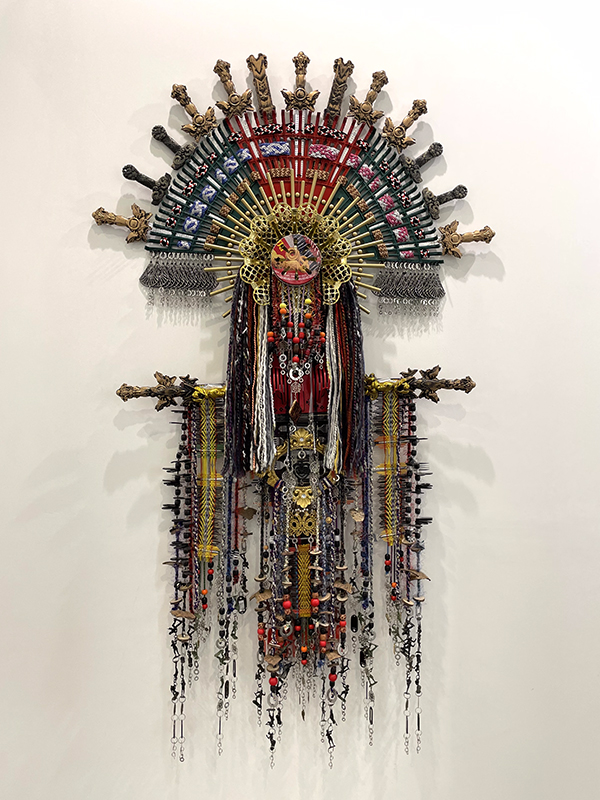 #2 Anne Samat at Marc Straus (Booth #F2)
The Southeast Asian artist, Anne Samat reconstructs totemic goddesses with a contemporary twist. Brightly coloured, gorgeous figurines, these suspended installations reflect on Samat's familial history. Mostly representing the divine relation of a mother or daughter, the artist introduces a pop take as she weaves humbled everyday goods from 99 cent stores. Everyday trinkets, found objects and cultural markers such as chain-like 80s-era neckpieces form a constant motif in her intricate weavings. The works form an important marker of a family mythology that transcends time and geography.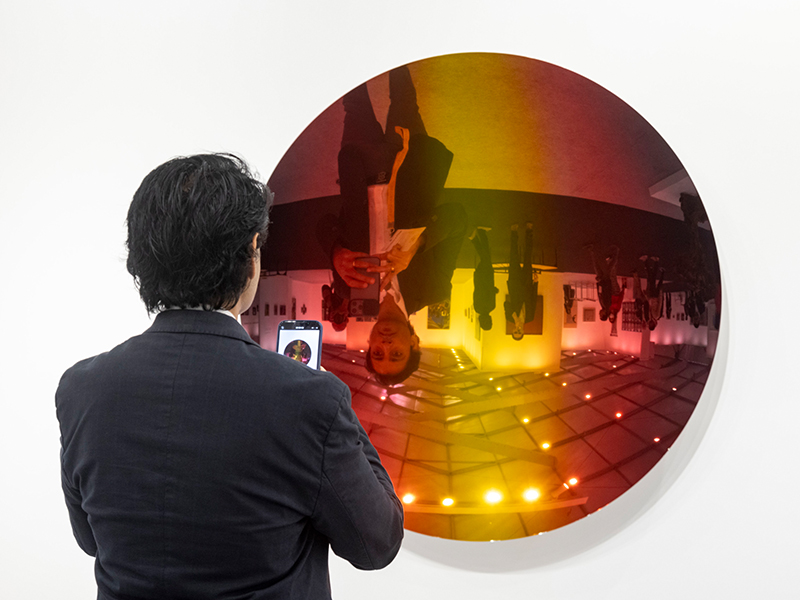 #3 Anish Kapoor at Galleria Continua (Booth #E3)
The quintessentially famous artist whose works are currently all over the gram for the 'Mini-Bean' in New York takes over IAF. Anish Kapoor's markably signature style defines his recognitive take on popular culture. Colour and space is an essential element of his oeuvre and is fundamental for the viewer's perception of form. The form, in turn, expresses the nature of the material. His works swing between dualities of purity and chaos, density and void. While he dapples mainly with primary colours, the dynamic red holds a position of high prominence in his genre defining works.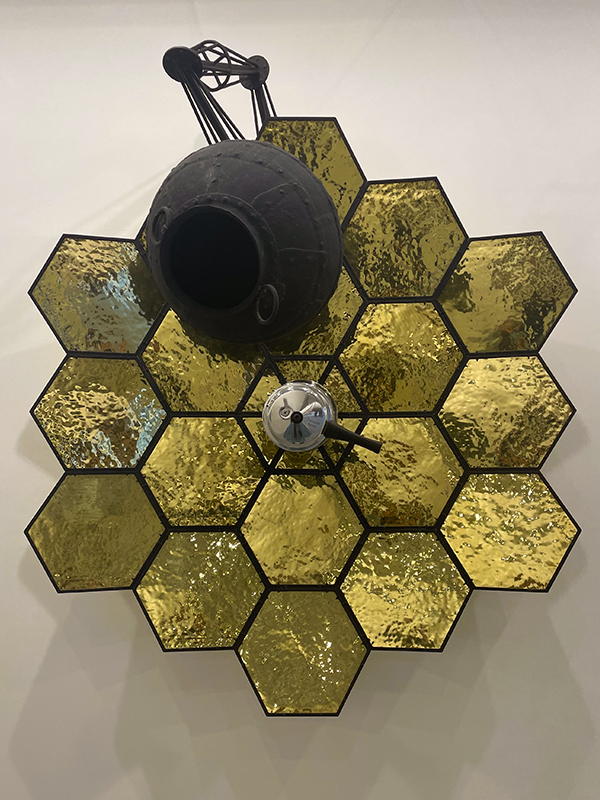 #4 Subodh Gupta At Nature Morte (Booth #A1)
Gupta is well known for his ubiquitous stainless sculptures. Absolutely, relatable to every India, Gupta's art has introduced strong commentaries on the social and political economies of India. His installations continue to introduce an artistic exploration of the accoutrements of daily life within contemporary Indian society. There is realism, drama, surrealism, and a fine example of eclectic design. Certainly, a show stopper at Nature Morte's booth, his recent installation weaves almost like a honeycomb connecting an extremely integral cooking equipment – the traditional handi or pot with the modern pressure cooker. It almost feels like the pressure cooker is waiting to whistle and fill the grounds of IAF with its aromatic flavours!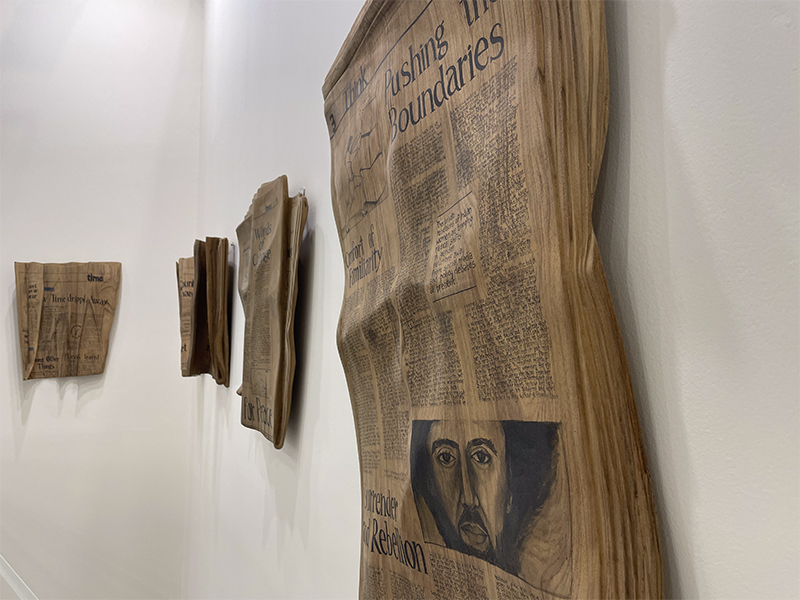 #5 Shivani Agarwal at Studio Art (Booth #A5)
Three-dimensional sculptural rendition of – a very household object – a newspaper certainly makes headlines to the India At Fair. Shivani's art comments on our everyday dysfunctional lives. Literally as well as metaphorically, Agarwal's depiction of 'yellow press' evolves from rather intimate experiences that question broader relations to laws and systems that affect us.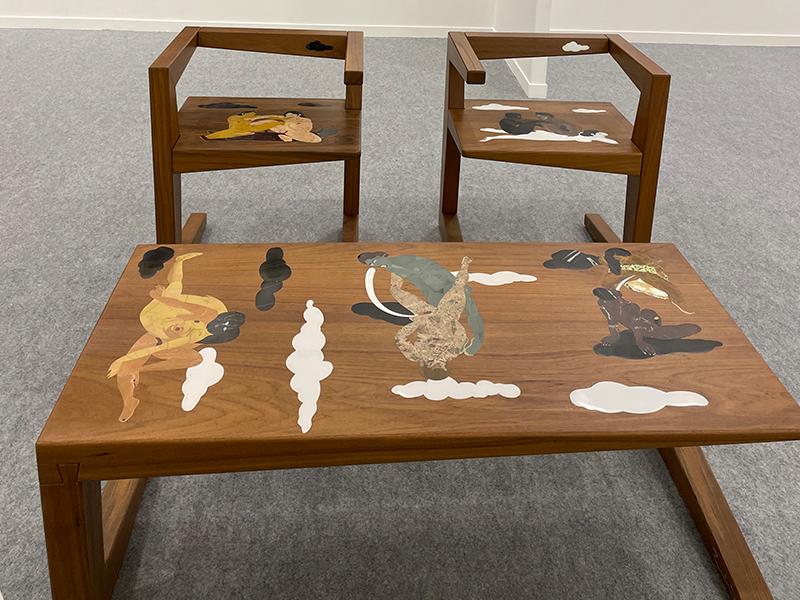 #6 Rooshad Shroff  x T. Venkanna at Gallery Maskara (Booth #E1)
Art meets design with the latest collaboration between T. Venkanna and Rooshad Shroff. The duo presents an eclectic set of furniture pieces in classic Shroff forms superimposed with marble inlay work of Venkanna's ubiquitous imagery. The utilitarian artistic exploration is inclusive by making such fine furniture pieces accessible whilst encouraging open conversations on the notions of sex, gender preferences, intercourse, intimate experiences, and much more. The collection truly stands out as the perfect statement piece that can add a bold statement or dimension to one's space!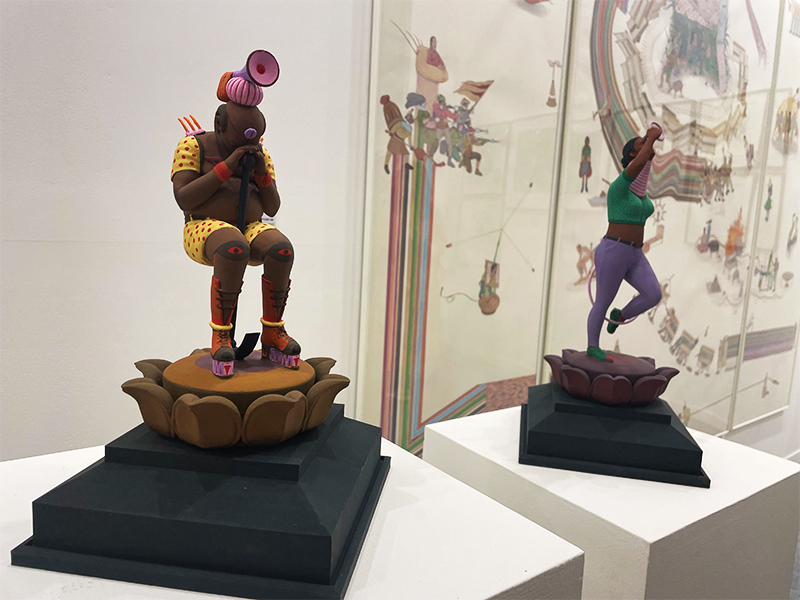 #7 Yogesh Ramkrishna at Latitude 28 (Booth #C5)
Pune based Ramkrishna introduces perspectives on our current socio-political condition, cultural propagandas and post-truth era behaviours of society.  He fictionalises the traditional and modern while bridging Indian beliefs and urban lifestyle. His caricature-like sculptures are dramatic, comical and erotic but also draw back to the mythical.'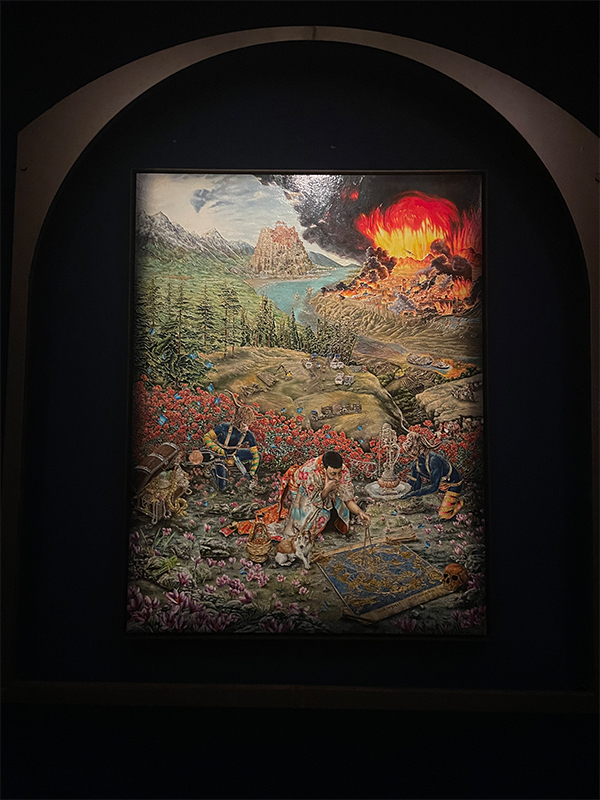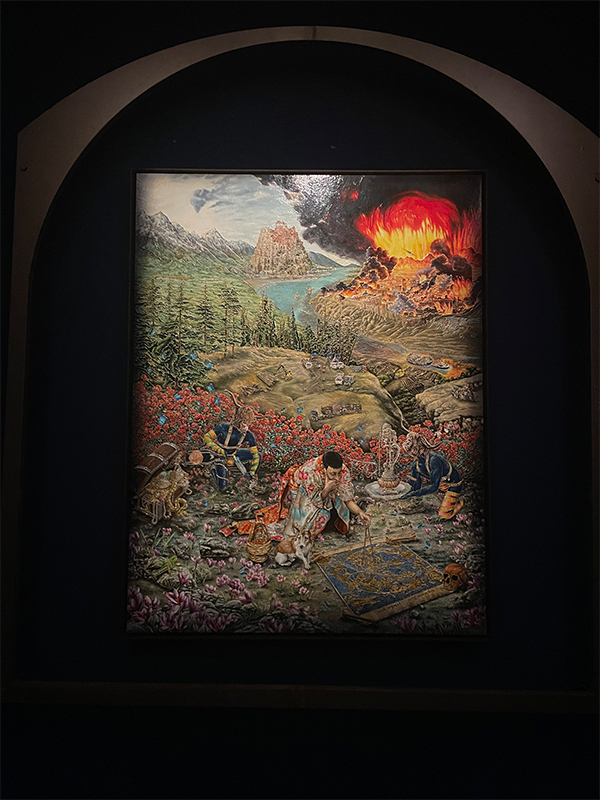 #8 Raqib Shaw at Kiran Nadar Museum Of Art (Booth #H2)
KNMA casts the beholder under a spell as with two extremely intricate body of works by artist Raqib Shaw. Never shown before in the public domain, Shaw's signature tapestry like paintings convey dualities such as the calm and the chaotic, the beauty and the beast, the abundance and the barren. The focal point of the artwork certainly draws the viewer towards the self-portraiture of Shaw along with his fur friend that lay amidst the landscape in a state of flux amidst this imagined world.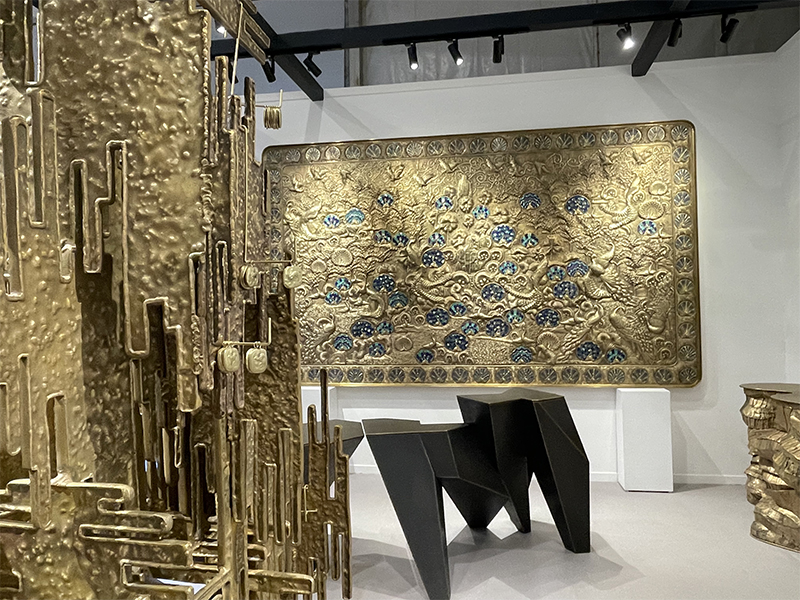 #9 Vikram Goyal at Vikram Goyal Studio (Booth #I1)
Designer Vikram Goyal debuts at the India Art Fair unveiling a series of sculptural statement pieces. Intriguingly titled as 'The Tree of Good Fortune, Dreamscape, and Love Seat', Goyal's art pushes envelopes of contemporary art and design. The focal point of the booth, 'Tree of Good Fortune' introduces a modern twist to traditional Indian myths and traditions. Shining magnanimously in gold, his installation explores the Indian notion of charm through a range of animals – such as Gajaraja, Hamsa or Makara – with each holding its very own significance. These animals are carved on small brass like amulets that hang out on the tree branches. Don't forget to collect your very own amulet charm from Goyal's Tree of Fortune!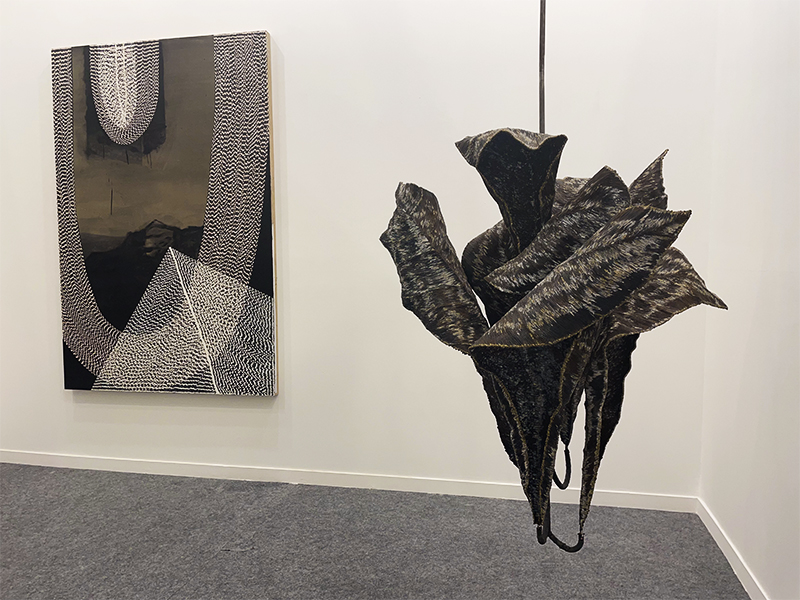 #10 Sakshi Gupta at Experimenter (Booth #C1)
A graceful black rose waits for the beholder's pursuit! This may certainly come to one's mind at an initial glimpse of Gupta's installation. The work is deeply influenced by the environment and physical contexts in which they are produced; for it is not only the sculptural form, but also its relation to the space it occupies. Her  dynamic installation explores the notions of transformation is also my way of understanding the process of time, as one faces the stillness between an accumulation of the past and a push towards the future. She indeed introduces new ways of seeing!
These 10 installations truly pose a statement and come across as strong visual voices amidst the busy and hectic India Art Fair. The artworks are interesting, interactive and leave behind some key takeaways as one departs from the fair. Hope you catch these landmark pieces across the expansive fair over this artsy weekend.