5 Must Visit Art Shows During The India Art Fair Weekend 2022
25

Apr

'22

11:36 am

by

Urvi Kothari
With the onset of the coveted India Art Fair season, galleries across the capital city, New Delhi, prepare for their annual dose of art and culture. South Asian art institutions eagerly wait to mark their presence at the IAF 2022 and celebrate the vibrant art scene of the city.
"We're thrilled for the physical edition of India Art Fair in Delhi as well as the 50+ parallel events and exhibitions in the city as well as in other cities around India. 2022 marks the great return of not just the fair but also a wider spirit of celebration of Indian art and culture", shares Jaya Asokan, Director of the India Art Fair. Here is a curated list of 5 exciting exhibitions that you must include in your art itinerary while you visit Delhi for the great weekend.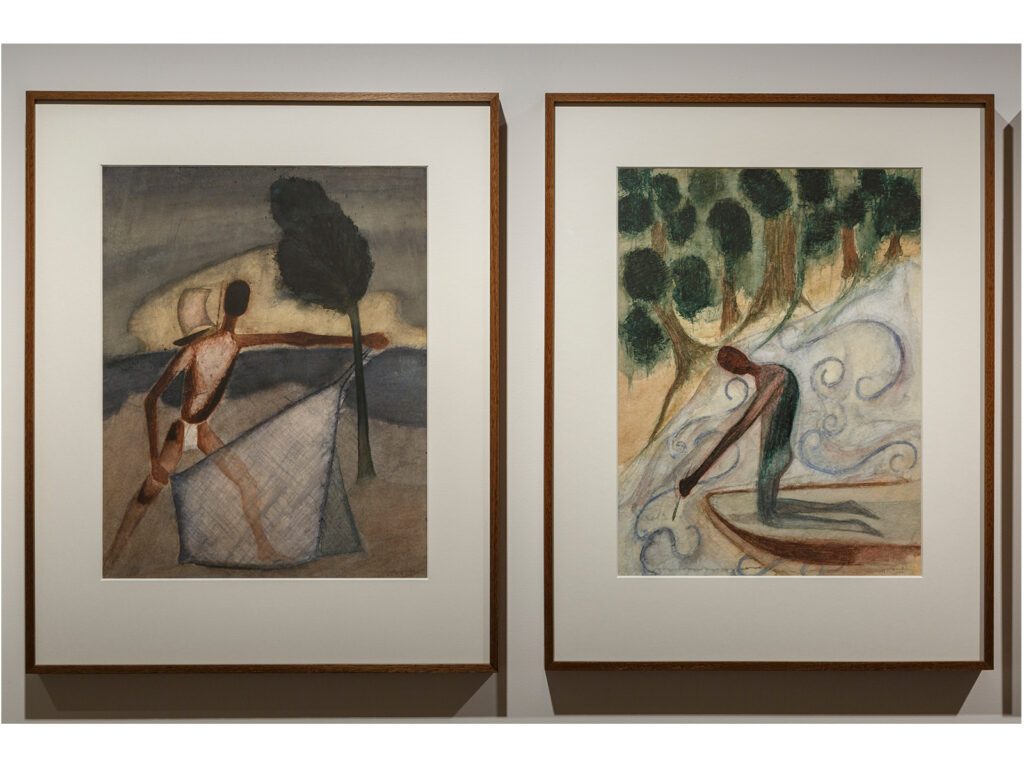 1. Walking With Waves – A solo show by Atul Dodiya at Kiran Nadar Museum of Art:
The past pandemic years proved to be a source of solace and inspiration for many artists. Confinement within one's space opened doors to appreciating and reinterpreting nuances and depth hidden beneath unpremeditated landscapes around us- a leaf falling from a tree, droplets trickling down the rooftop or passing by of a floating visitor, the cloud. Amidst these inevitable waves of changes, artist Atul Dodiya retreats back into his inner recessions of the subconscious mind as he poetically transforms familiar sights into mystic landscapes of wide imagination. Inspiring narratives from routine morning walks sought confinement within silent solitary figures that are "relatable now, and unreachable in the next moment". The familiar feeling of quarantine, an air of uncertainty but calmness in still moments, managed to penetrate into Dodiya's muted earthy watercolour paper works. There is wordless silence that teases the viewers into empathetic immersion. An attentive selection of 135 from almost 366 paintings, the exhibition introspects on the idea of this "space of innocence and freedom" as Dodiya puts it.
On display until November 30, 2022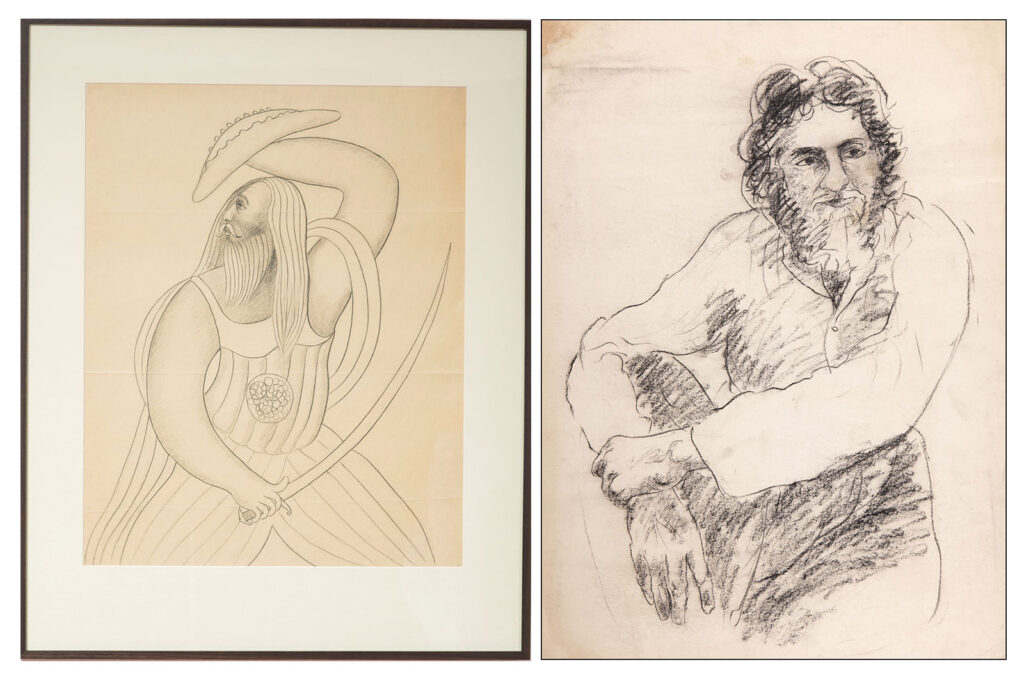 2. Kala Bagh – A solo show by Manjit Bawa at Vadehra Art Gallery:
Vadehra Art Gallery is all set to launch a solo show by the master of the figurative genre, Manjit Bawa. Titled after 2 large canvases, this exhibition, Kala Bagh forms a repertoire of artist Manjit Bawa's paper sketches (1970s to 2005) that eventually evolved into vibrant oil paintings. The fluid forms, raw sketch works and spontaneity creates an enigmatic theatrical composition staging subjects from a Sufi warrior or a self-portrait to a grazing herd of cattle. "Bappu's art was an expression of who he was, a sufi. He would constantly be exploring life through its various forms. Through this exhibit, we bring forward the sufi in him. We also are very excited to show the Kala Bagh, a sketch that finds its expression on two large canvases. This never was completed for he slipped in a coma for 3 years before passing on. These works bring forward various forms that he explored across all these years and the idea of inter-connectivity: how all is one", shares Manjit Bawa's daughter, Bhavana Bawa.
These works allow us to see the world through his poetic sufi perspective. Showcasing approximately 36 charcoal works, the show celebrates Bawa's mastery in his art as well as reminisces his contribution to the Indic figurative arts.
On display until June 18, 2022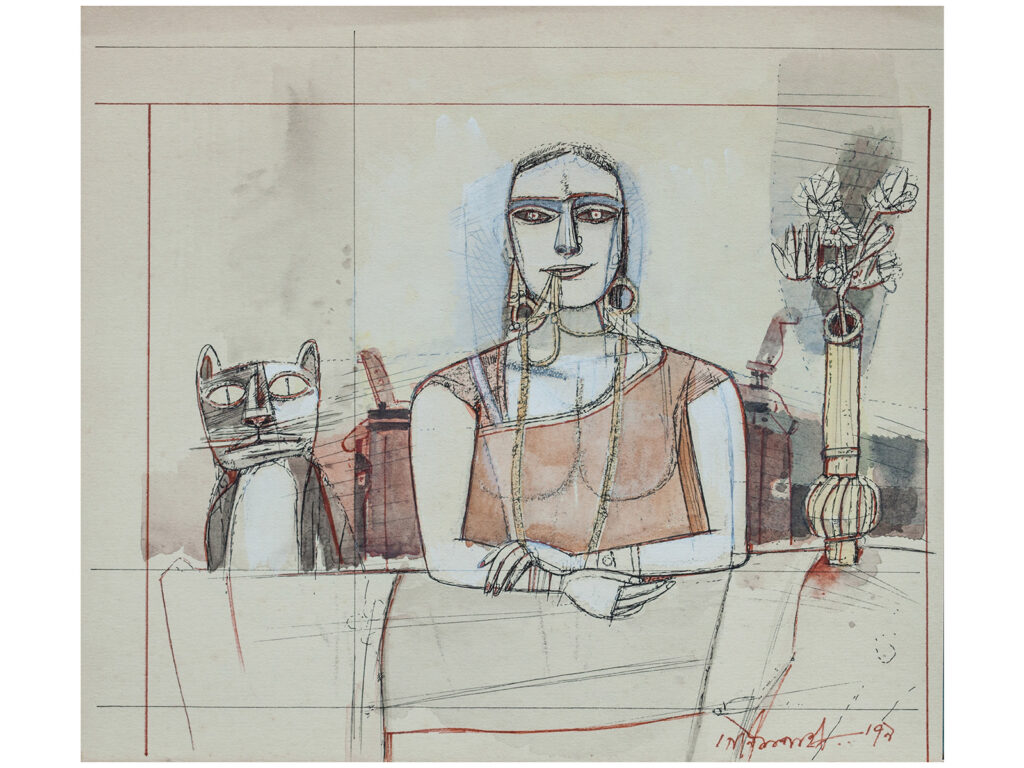 3. From the Shadows – A solo show by Ganesh Pyne at Akar Prakar:
A proficient master from the Bengal school of art, Ganesh Pyne introduced a new world of abstract storytelling, wherein the foundations of lines and forms articulate an aesthetic process, rhythm and harmony. Growing up during hard and turbulent times in the country, he found his reprieve from the dark reality outside the mythologies and folktales narrated by his grandmother, Nandarani. This became the basis of a fantasy – breaking away from common notions of Bengal mythology – while blending a personal touch, a surreal play of light, dark and shadows. In an interview with Ranjit Hoskote, Pyne remarks, "When I sit down with my paper, I make 'jottings', which are preparatory works. I make different versions of an image, and then translate the one I like best into tempera on canvas." On display are a series of tempera paintings, jotting on papers and letters from his personal diary shedding a glimpse into his inner world. "His seven decade long practice showcases his evolution in his compositions. With the detailing in his illustrations of fairy tales for books & animations to his visual reimagining of stories & movies in his temperas, Pyne is able to create his own language regardless of the medium", shares the curator, Siddhi Shailendra.
Almost a decade after his passing, this exhibition gives us a window into Pyne's artistic practice, enabling us to know the introverted but sensitive person behind these soulful creations.
On display until June 4, 2022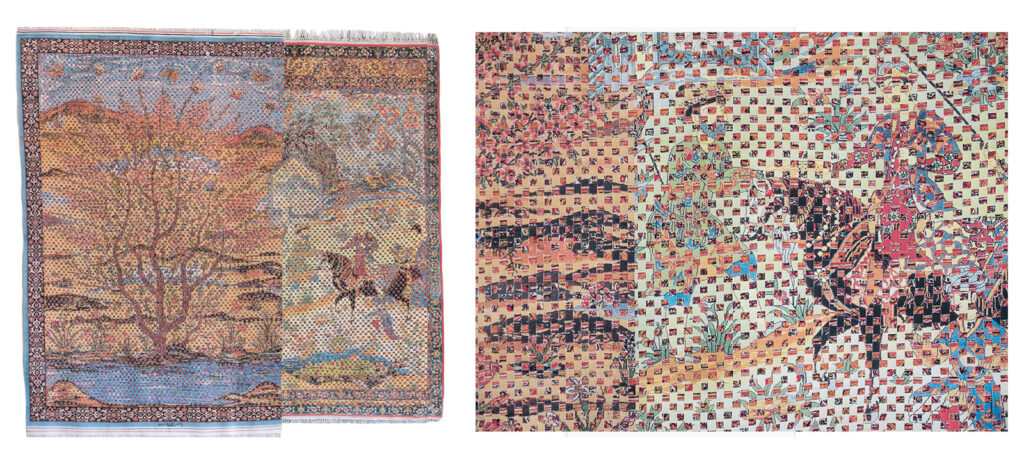 4. Tanabanas – A solo show by Saad Qureshi at Nature Morte:
Tailoring and needlework has been Saad Qureshi's core of his personal history. Having grown around his grandfather – a tailor for the British army in the 1950s – Qureshi learned the solemn relationship between human and textiles at a very tender age.
Employing principles of fine needlework and meticulous crochet, Qureshi creates a new body of paper works that build on many historic narratives and finally, weave into contemporary tapestries or tanabanas. The artist shares, "Each Tanabana tells many different stories. I am re-weaving them so that there are different narratives. Thus, bringing my own skills as a maker into a dialogue with those of generations before me".
This exuberant series of nine works, combines contemporary practices of image making while paying homage to the "craft and the fruit of many lifetimes of practice".
On display until May 14, 2022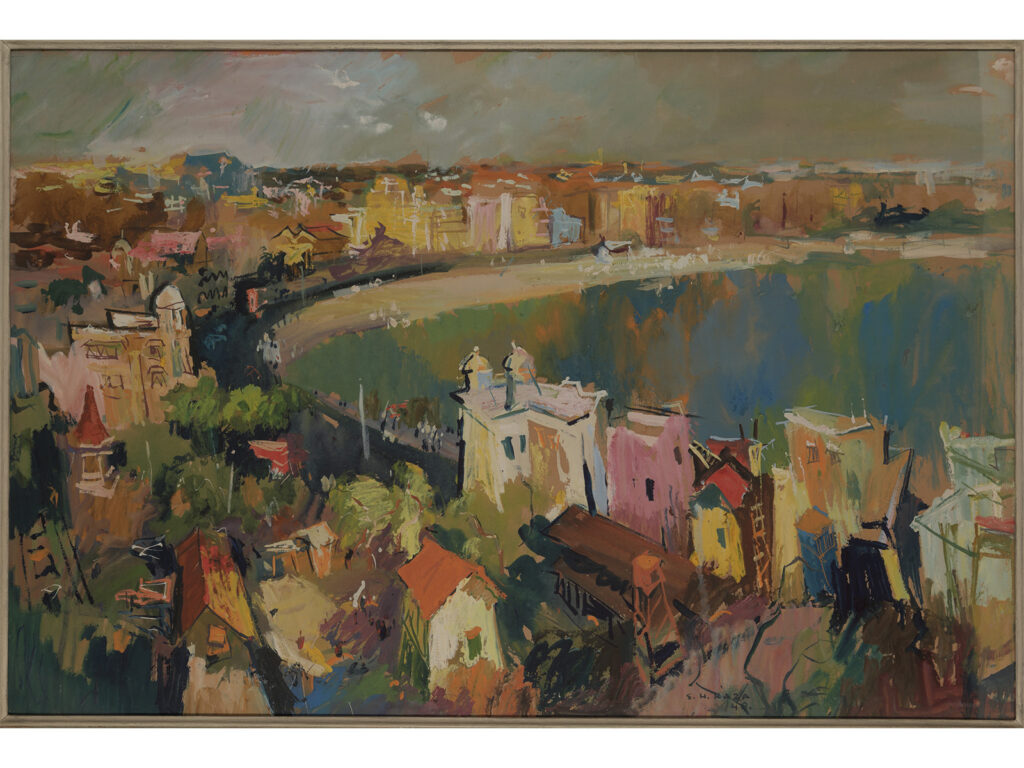 5. Traversing Space: Here & Beyond- A solo show by SH Raza at Bikaner House in collaboration with Kiran Nadar Museum of Arts and Raza Foundation:
Streets, urban landscapes, city dwellers and concrete buildings dwelled within SH Raza's early impressionistic style. The artist once said," Since I was living in the city of Bombay, which seemed very beautiful to me, I also painted Bombay, under the sun and under the rain."
This exhibition revisits that style of the progressive modernist before his paradigmatic shift from the outer landscapes to abstract inner scapes or his career breakthrough, the Bindu series. Seminal works from the KNMA collection, pay an ode to the artist's trajectory during his early practice days, where in strokes of heavy impastos represented realistic inclinations. This centennial exhibition explores the cosmopolitan modernism of Raza, whose complex and itinerant body of works counteracts many of the prevailing assumptions of the present. Paying homage to the master, the show celebrates SH Raza's journey, literally as he relocated from Bombay to Southern France as well as metaphorically with a shift in artistic practice and creative perception.
On display until May 30
From Qureshi's contemporary but historic tapestries to paying homage to the masters SH Raza and Ganesh Pyne, Delhi has something in store for all art connoisseurs out there. These exhibitions allow us to appreciate diverse artistic practices and gage a window into the thought behind these aesthetic creations. Mark your calendars for the most exciting art weekend of the year from Thursday, April 28 to Sunday, May 1.
Enjoy your gallery hop!