7 Must-See Pavilions At The Venice Biennale 2022
12

Jul

'22

1:32 pm

by

Manisha AR
Attending the "great mother of all Biennale activities" is a rite of passage for any art enthusiast. The beauty of attending art fairs, particularly one as large as the Venice Biennale, lies in the grandiose, the captivating displays and the inspiring texts. This year the Venice Biennale has put its best foot forward by appointing Cecilia Alemani as their artistic director, the first Italian woman to hold this position in over thirty years. According to Alemani this year's Biennale is focused on the following areas:"the representation of bodies and their metamorphoses, the relationship between individuals and technologies and the connection between bodies and the Earth"
Design Pataki visited the biennale this year and has put together a list of the most thought provoking and visually captivating pavilions. From Yunchul Kim's kinetic sculptures at the Korean Pavilion to Simone Leigh's subversive installations at the American Pavilion, each exhibit at the Venice Biennale 2022 is part of a larger narrative dreaming of a more resilient world.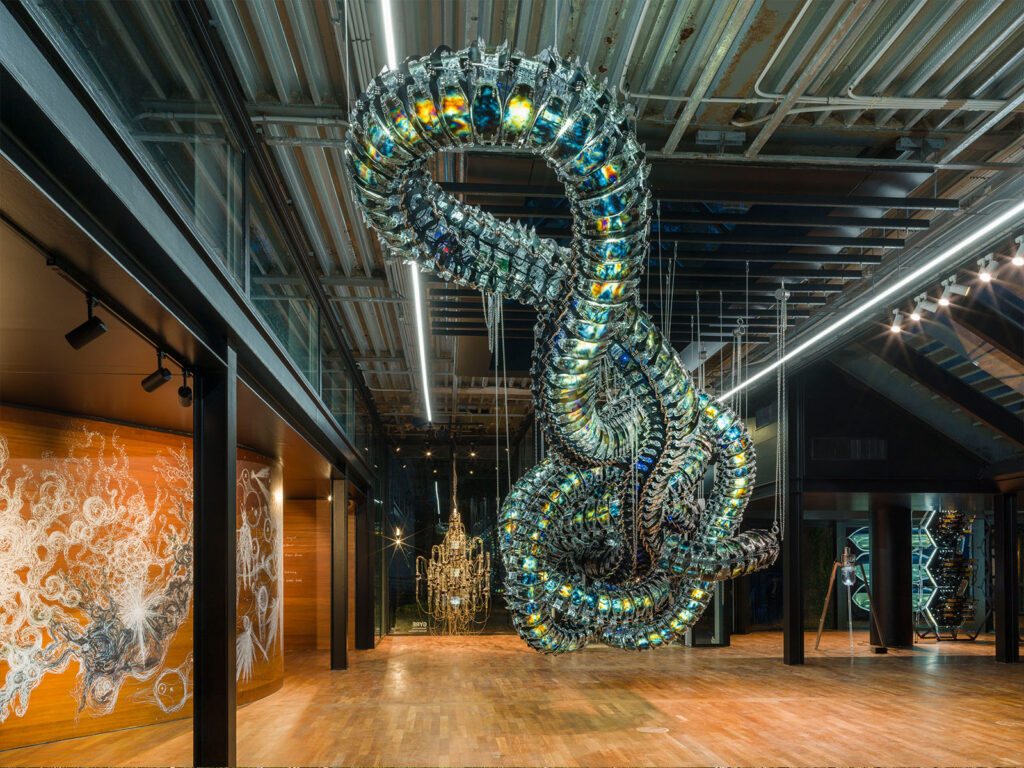 1. Korean Pavilion 
This year the Korean Pavilion is a complex expression of the cycle of life–both literally and metaphysically. Titled 'Gyre,' the pavilion showcased five large-scale kinetic sculptures and a site-specific drawing by Yunchul Kim. A transdisciplinary artist and electroacoustic music composer, Kim's works invite viewers into his world. His installations fuse art, literature, mythology, philosophy, and science. A world of its own, the pavilion is centered around a 50-meter-long snake-like sculpture titled Chroma V (2022). It receives signals from another sculpture by Kim called Argos-The Swollen Sun (2022) which is made of over a hundred glass tubes and triggers the large snake to throb. Divided into three broad ideas– the life of stars and planets, the human body, and a world created beyond human perceptions. The underlying theme of the pavilion is a reference to "rematerializing as a living body through which the artworks flow like blood vessels and intertwine like nerves."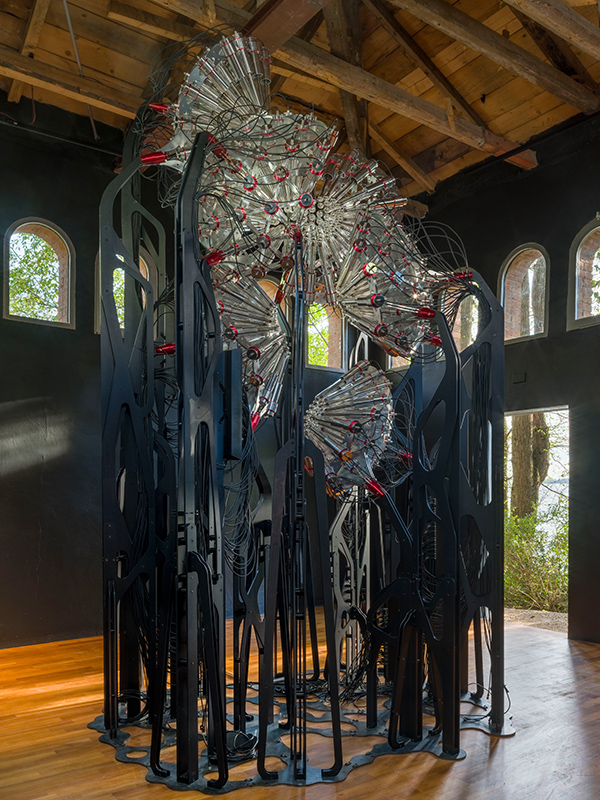 Yunchul Kim works with installation, drawings, sound, texts, and other media. His work seamlessly brings together music, technology, philosophy, and poetry. His transmaterial work has been recognized by the 2016 Collide International Award (CERN) as well as the Ars Electronica and Transmediale. He is the founder of Studio Locus Solus in Seoul. His works have been showcased at the Yokohama Triennale in Yokohama, CCCB in Barcelona, the International Triennial of New Media Art in China, and the New York Digital Salon in New York among others.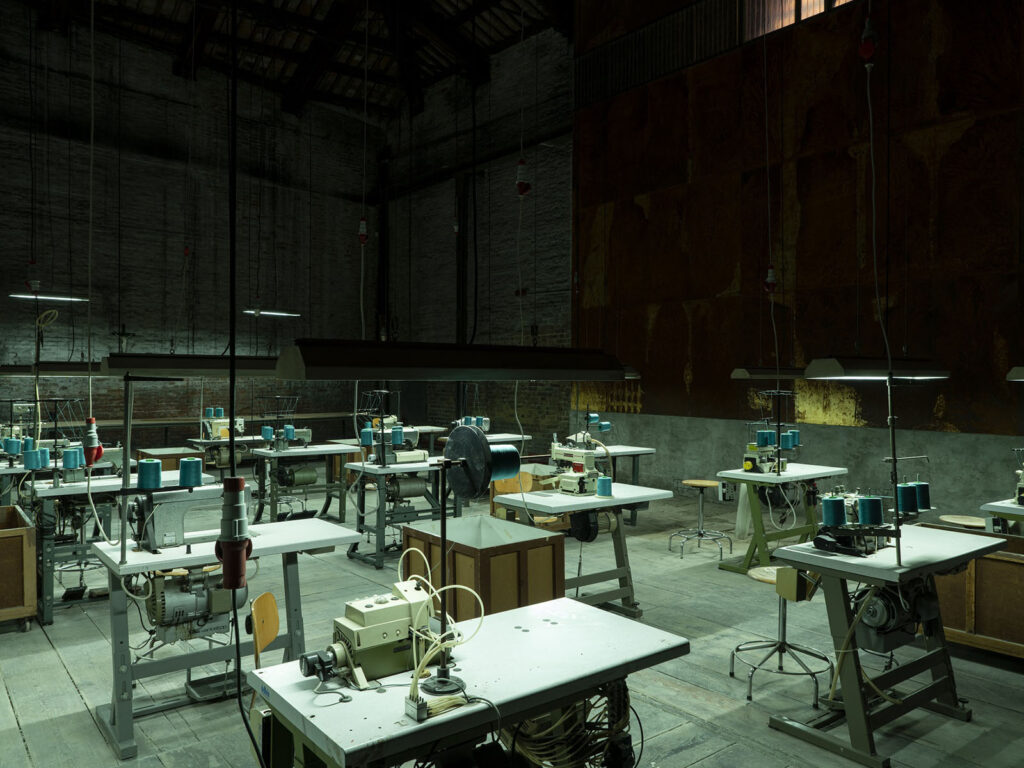 2. Italian Pavilion
For the first time in history, the Italian Pavilion has chosen to showcase the work of just one artist this year: Gian Maria Tosatti. Titled Storia Della Notte e Destino Delle Comete which translates to History of Night and Destiny of Comets. A site-specific installation, Tosatti's work aimed at generating discourse about the environment, sustainable ecologies, and the urban landscape. It deals with the "difficult balance between man and nature, sustainable development and territory, ethics and profit." It is a theatrical depiction in two acts: the first is a glimpse into Italy's obsessions with a post-war industrial landscape where he depicts a symbolic journey into the "Bel Paese" and the second is a message of hope. The first act, History of the Night "is a symbolic parable of the rise and fall of the Italian industrial dream." The second act, The Destiny of Comets is a reminder of how nature has not forgiven us since the biblical flood. However, the exhibition does end with a hopeful message about our destiny. Like comets in the night sky travel the skies leaving behind a luminous trail.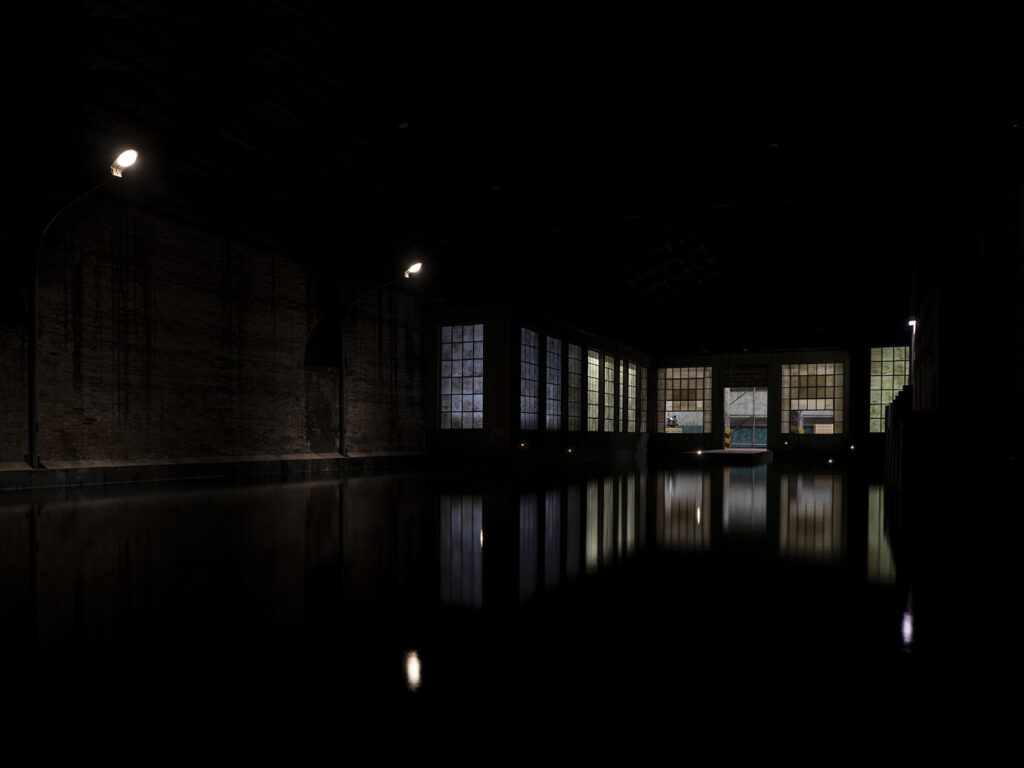 A visual artist who often works on long-term investigations on specific themes like identity through politics and spirituality, his work often involves large site-specific installations. Since the discourse around his work tends to be deeply researched, his work is often a poetic reading. In addition to being a visual artist, Gian Maria Tosatti is also a journalist and writer. He often writes about art and politics. He began his career in the performing arts in 2002 at the Teatro Era-Centro Sperimentazione e Ricerca Teatrale. His work has been shown at the Hessel Museum del CCS BARD in New York, the MADRE Museum in Napoli, Chelsea Art Museum in New York, and the American Academy in Rome among others.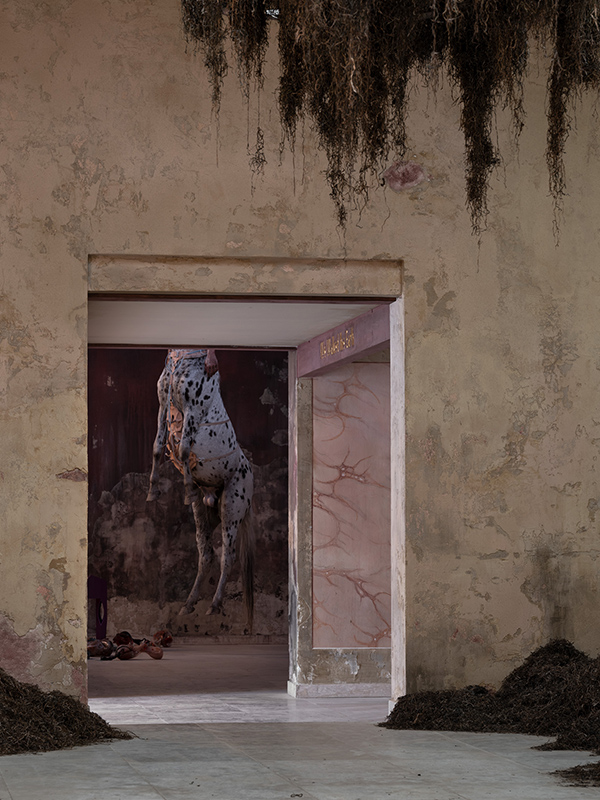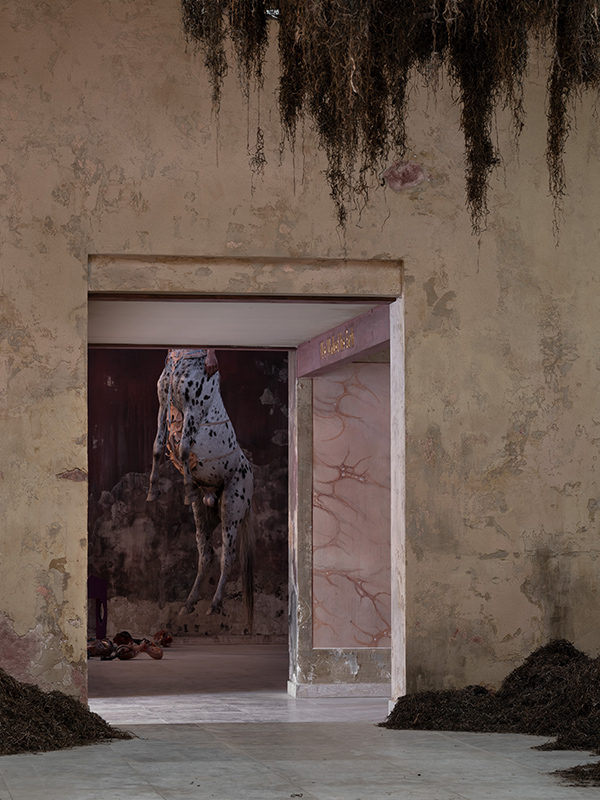 3. Danish Pavilion
At the Denmark Pavilion, visitors are invited into a hyper realistic world set on a Danish farm. Titled We Walked the Earth, the pavilion is a complex film production created by artist Uffe Isolotto with the help of curator Jacob Lillemos and a team of specialists. At the Danish farm, there are two centaurs– one male who has tried to take his own life and a female who in the adjacent room is giving birth to her offspring. Despite the simplicity of the setting, the story told is that of two creatures who are attempting to survive in a world where being human is not enough. Our bodies are being pushed to their limits to the point of damage– as with the centaurs. Isolotto says, "Is it a tragic or hopeful situation, or perhaps both? Even though the centaurs may not be real, we feel their struggle." What caused the male centaur to take his life is left ambiguous but there is a sense of tragedy in the setup. She adds, "the present time we live in is becoming increasingly complex and unpredictable as we face a lot of challenging realities, whether ecological, political or existential." The installation is also accompanied by a short story titled "And Then We Became Water." Written by the curator Lillemos it reads like fanfiction and expands on the narrative. The pavilion is a recreation of myth but designed much like a virtual reality gaming experience that plays on a viewer's senses and perception of tragedy and morality.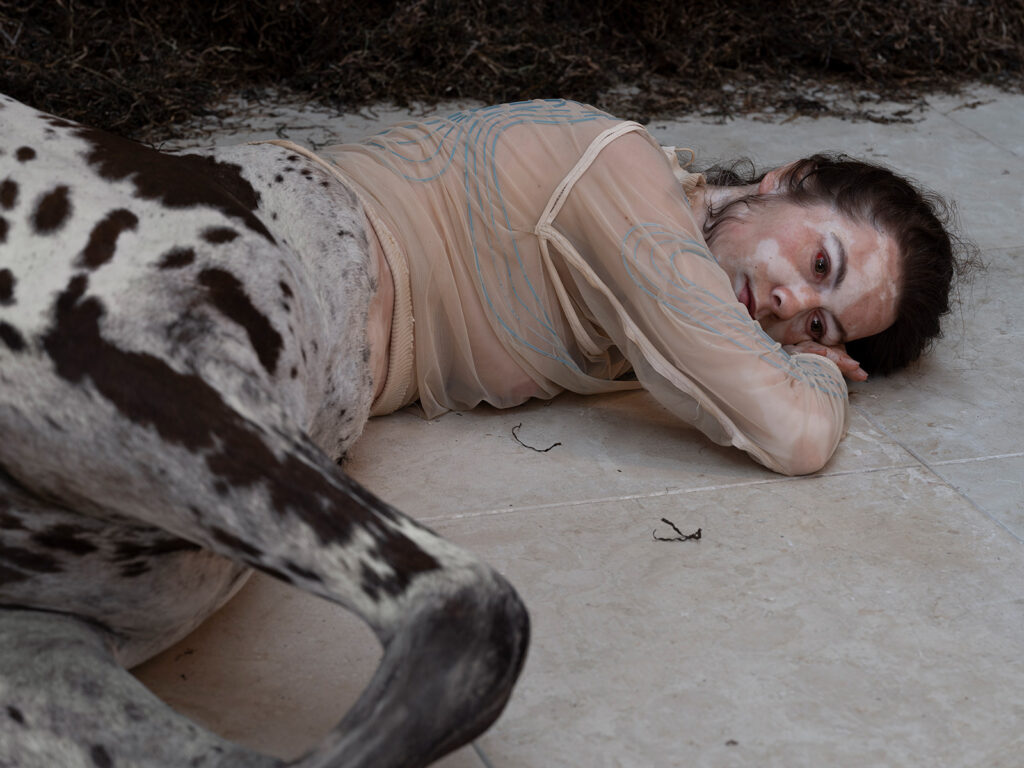 A multidisciplinary artist, Uffe Islotto specializes in physical and digital sculptures. In the past, he has worked in 3D animation and performance as well. His work often raised questions about how the human body intersects with the machine in an era of artificial intelligence. A graduate of the Royal Danish Academy of Fine Arts, he has co-founded two art organizations– TOVES and Age of Aquarius (DK). He has previously shown his work at Overgaden in Denmark, ARKEN Museum of Modern Art in Denmark, and the 14th Media Arts Biennial in Santiago in Chile among others.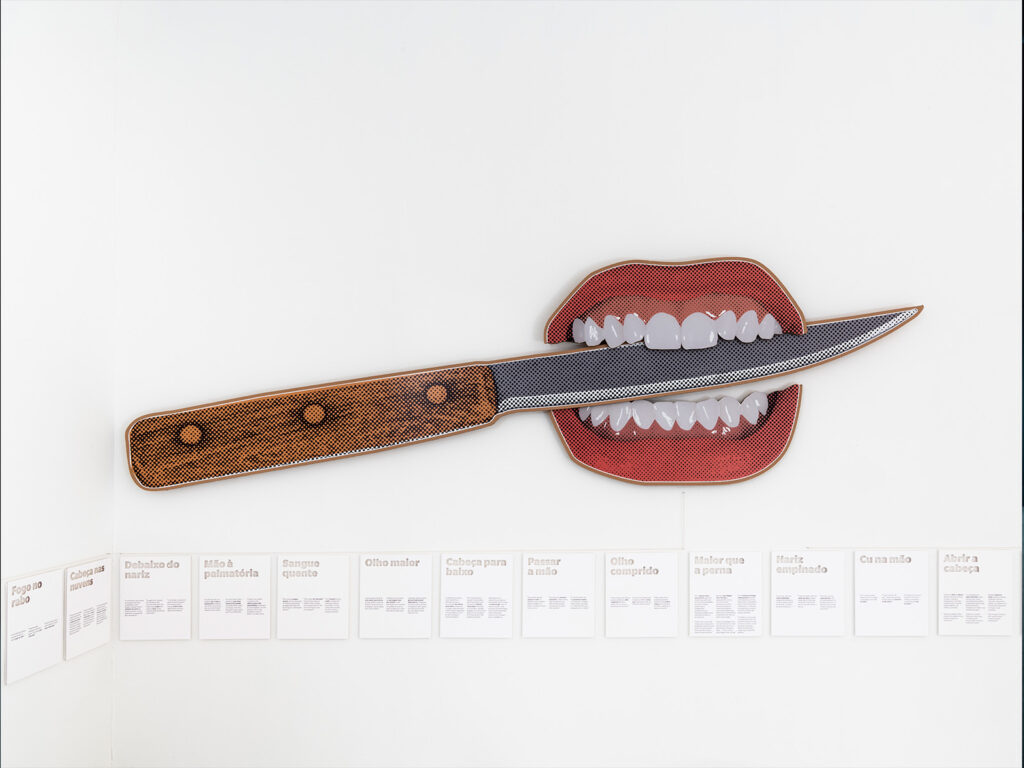 4. Brazilian Pavilion 
"Com o coração saindo pela boca" loosely translated to "With the heart coming out of the mouth," is a Brazilian idiom that is used when someone is very nervous or excited from anticipation. Jonathas de Andrade's exhibition title is one of many popular Brazilian expressions and idioms that reference the human body to express feelings. "Today the path towards "representing Brazil" inevitably passes through the bodies of those who live, flesh and bones, in daily hardship, through the violence and injustice that repeat..," reads the curatorial text. Yet despite the trauma, these isolated parts and their meaning transcend the body through idioms for instance. On a less humorous note, Andrade's work addresses the failure of utopias and the failure of systems and plans in the Latin American context.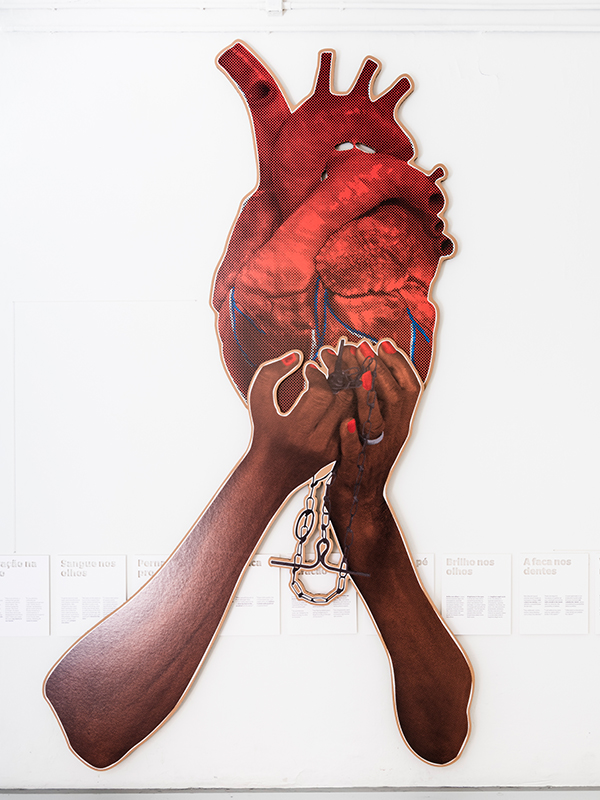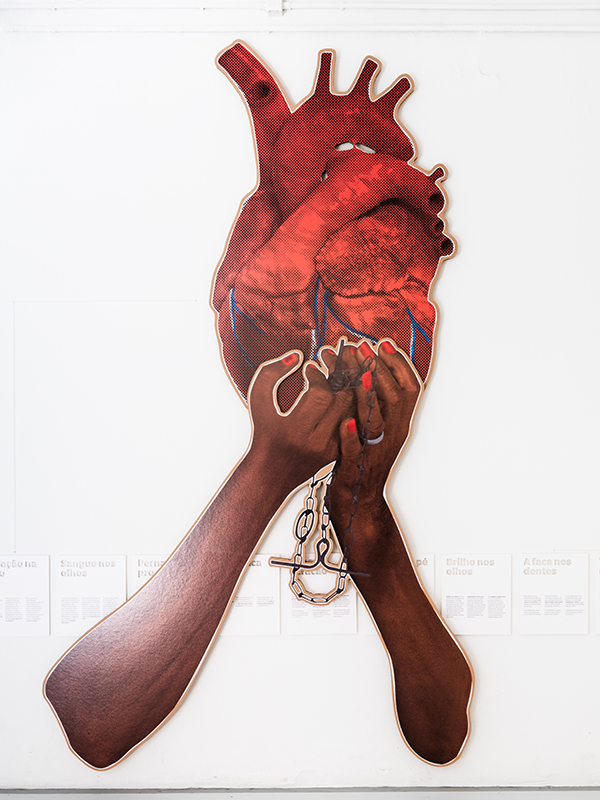 Jonathas de Andrade has worked with video, photo, and installations. In his work, he often uses a blend of reality, fiction, tradition, and negotiation. Through playful imagery and references, Andrade often shifts the lens and moves the focus onto deeper socio-political issues. He has previously shown his work at the Museum of Contemporary Art Chicago in Chicago, New Museum in New York, The Power Plant in Toronto, and Museo Jumex in Mexico City among others. He has also participated in several biennials like the 16th Istanbul Biennial in Turkey, and the 29th and 32nd Bienal de São Paulo.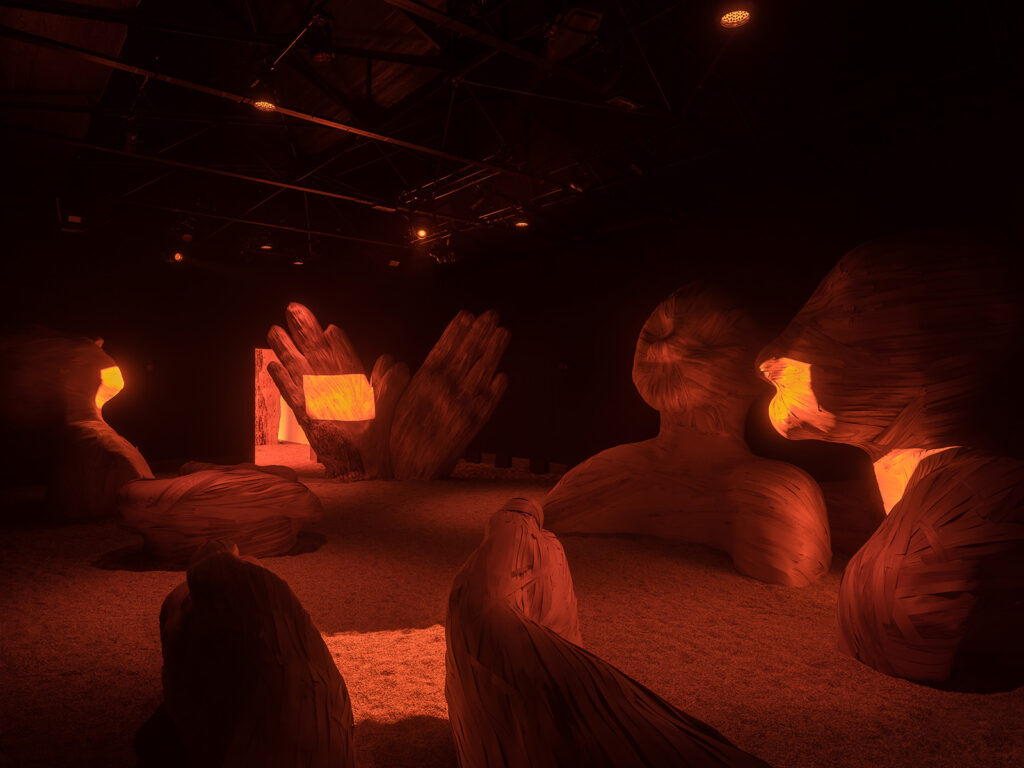 5. Swiss Pavilion 
Over at the Swiss Pavilion, artist Latifa Echakch pays homage to ritual fires that are common to many cultures. In this version, Echakch shows the lighting of straw dolls of the St. John's fire which is said to protect against demons and disease around the summer solstice in June. The exhibition by Latifa Echakch is titled The Concert. Almost like a rendition of a folktale, the atmosphere in the exhibition changes from broad daylight to the evening before but in reverse order. Visitors enter the space on a counterclockwise journey and experience time running backward. Echakch's work is also in dialogue with the architecture of the space through light, sound, and form. The works will be accompanied by a record and book filled with archival material, interviews, and critical texts.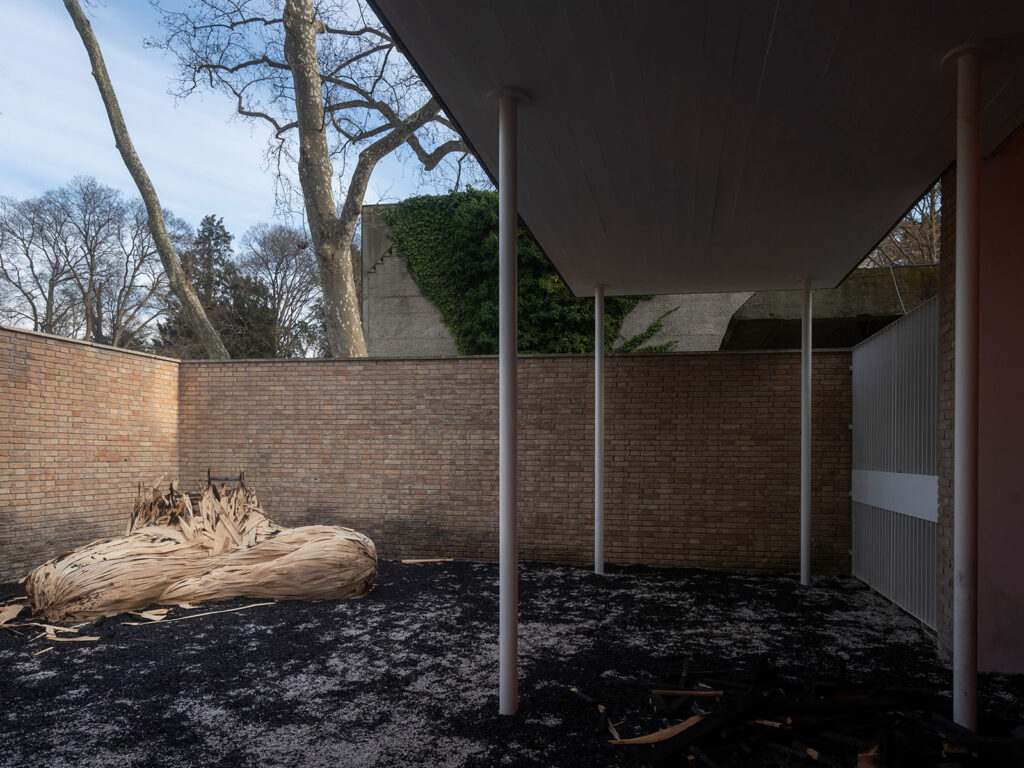 The artist Latifa Echakch is a visual artist known for her large-scale installation. She has participated in the Venice Biennale several times and won the Marcel Duchamp Prize in 2013. Her work is motivated by the "necessity to counter certain prejudices, contradictions, and stereotypes in our society." Her work has been shown at Kunsthaus in Zurich, The Center Pompidou in Paris, the Hammer Museum in Los Angeles, and Tate Modern in London among many others. She has also exhibited her work at the 11th Sharjah Biennial and the Manifesta 7 in Bolzano.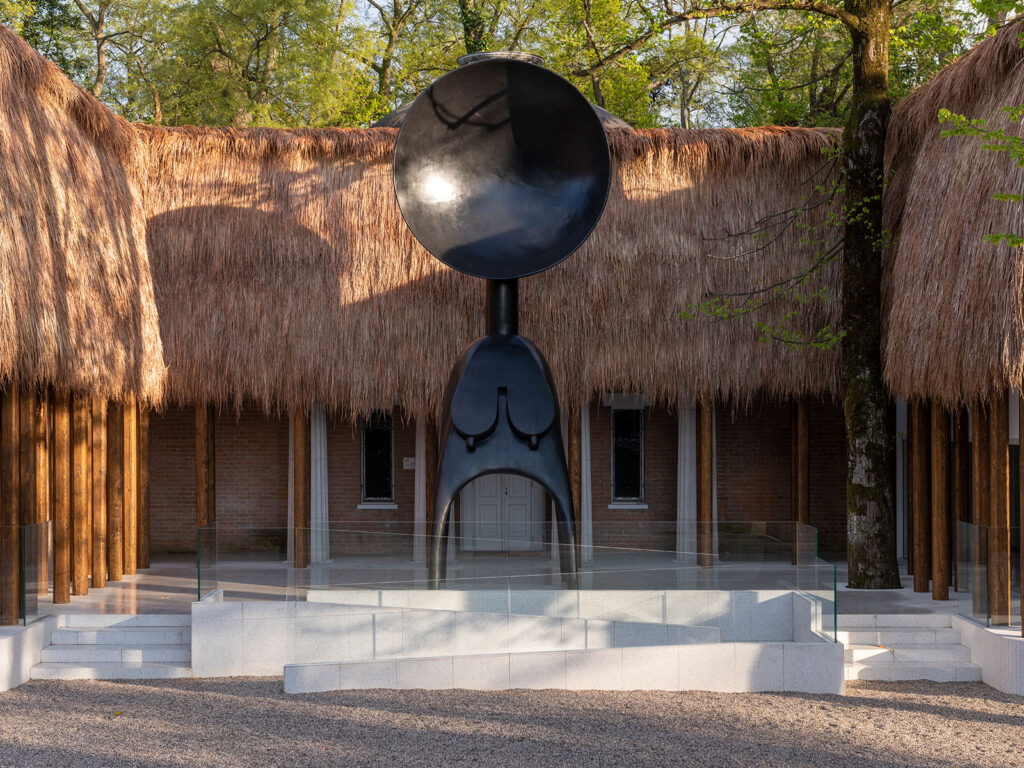 6. American Pavilion 
The U.S. Pavilion this year presents an expansion of Simone Leigh's work. Initially she was commissioned by the Institute of Contemporary Art/Boston to put together her first survey exhibition. However this year, the same work was selected to represent the United States. Titled 'Sovereignty,' the exhibition's main audience, according to Leigh, are black women. The place where Leigh's work is exhibited was built at the height of Jim Crow and anti-black violence in the US. In its place, Leigh has added thatched roofs to subvert the original ideas of the space and reclaim the narratives associated with the building. Leigh has also created striking sculptures that hold rich stories of tradition, celebration, festivities, and heritage. A 24-foot-high sculpture titled Satellite is a bronze figure with a black patina for the outer layer.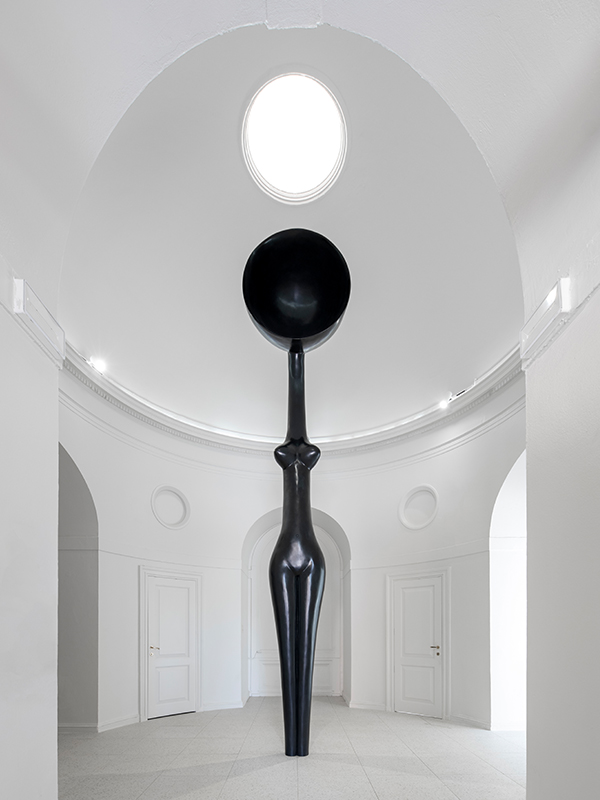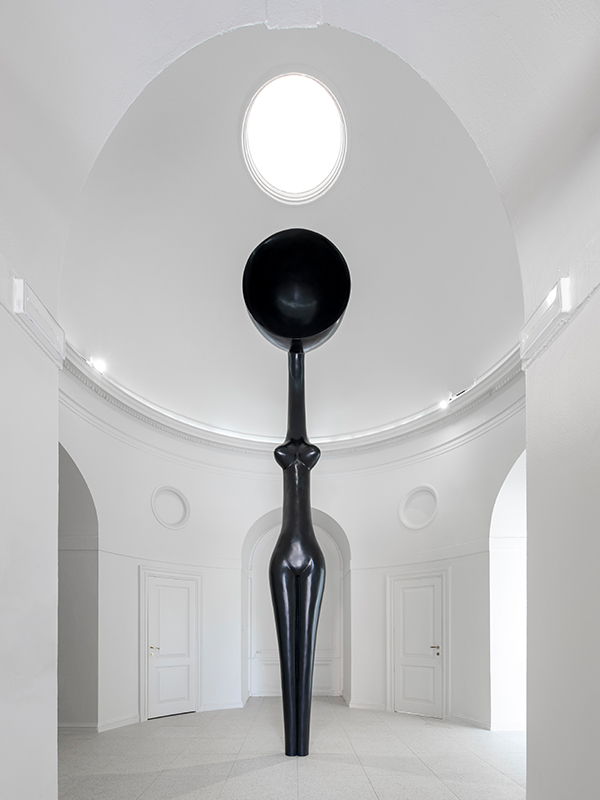 An artist from Chicago, Simone Leigh's past work spans sculpture, installations, video, performance, and social practice. The subject of her work tends to be auto-ethnographic and centers on feminism, African art, and vernacular objects. She is interested in reframing the narratives of women of color by putting them at the heart of her work. Her work has been exhibited at the New Museum of Contemporary Art in New York, Hammer Museum in Los Angeles, and the High Line in New York among others. She has also been awarded the Creative Capital Award and a John Simon Guggenheim Memorial Foundation Fellowship.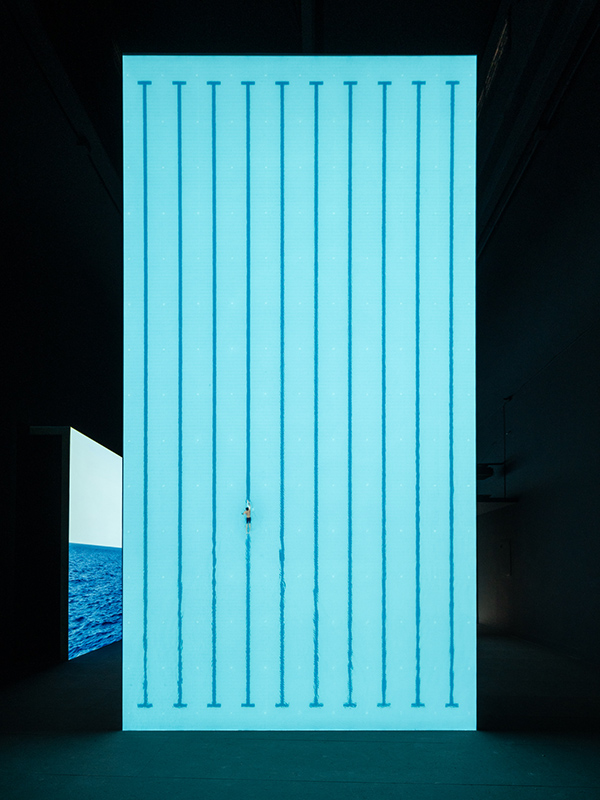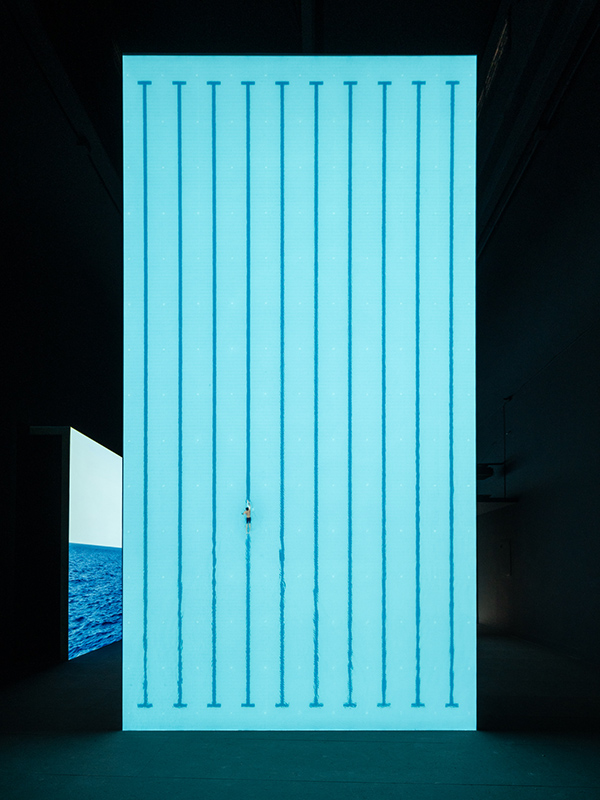 7. Serbian Pavilion
Through 'Walking with Water,' artist Vladimir Nikolić recreates a modernist painting. He invites viewers into a relationship mediated by technology that connects us to our most natural form– water. It flows with no beginning or end, but like a moving image with just one purpose, it flows. In the last few years, our life has been tethered to technology as a means to keep people connected. Nikolić's work highlights the paradox of technological isolation and connection in his work. Like a still life painting, 800m is a visual depiction of endless scrolling — using the human body as a point of focus in a large empty pool– skewing our perception of time and space. With his still-life portraits of water bodies, Nikolić pushes us to rethink how technology can be used as an optical tool to teach people how to listen to images and how to listen to silence.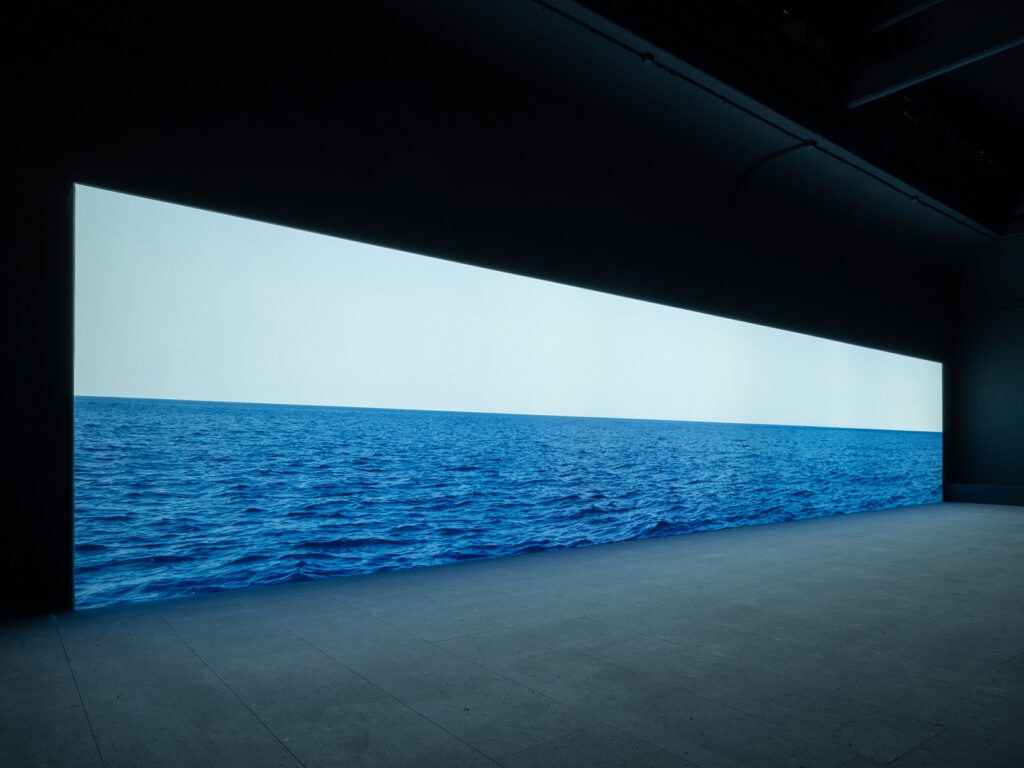 Vladimir Nikolić describes his work as auto-reflective, a style in which he often questions his motives and artistic preoccupations. He works with video, video performance, film, and photography. Some of his early works explore ritual submission to religious authority and tradition, while his newer works lean towards institutional critique. The work exhibited at the Serbian Pavilion is an observation of the history of optics and new technology. He has exhibited his work at Recollects in Paris, 24cc in Rime, Times Museum in Guangzhou, and IASPIS in Stockholm among other spaces. His works are also in public and private collections namely Center Pompidou Collection, Berardo Museum Lisbon, and Museum of Contemporary Art Belgrade to name a few.