8 Easy Ways To Experience The Luxe Joys Of A Hotel At Home
1

Apr

'22

4:13 pm

by

Nitika Choraria
From fresh-smelling rooms, plush furniture, beds with soft-as-silk bed sheets and fluffy pillows to luxurious bathrooms, perfumed toiletries and the 24-hour room service – don't you just love the laid-back luxury that hotels offer? One of the most fun parts about traveling is the opportunity of getting a taste of the high life. With the right tweaks and adding a few extras, the magnificence of a hotel can be experienced at home too. Intrigued? If you're craving a weekend away in an upscale hotel while we're still limited in real travel we have some good news for you – here are a few tips to help give your home that five star quality!
1. It's All About That Bed:
One of the best things about a luxurious hotel room is the bed. There's nothing quite like getting into a freshly made bed and laying your head on cloud-like pillows. To mimic this and re-create a mini tranquil oasis at home – start with a mattress makeover.
Invest in high quality bedding and replace yours with a supportive topper mattress that is sure to promise you comfort and greet you for a good night's sleep.
You could opt for a mattress from Foam Home – depending on what you want, their diverse choices are endless. "You need a mattress that is plush but most importantly it has to ergonomically be correct too. Our Ergoshell range is just that – super cozy but one in which your posture will never sink! A 8″ thick mattress is good enough. It has depth, adequate room for layering and most new beds are designed keeping this thickness in mind" says Sabina Bhanpurawala, CEO Foam Home.

Invest in high quality comfortable bedding with a supportive mattress. Image credits: Foam Home
Refresh your linens and layer the bed with a set of crisp white cotton sheets, soft plump pillows and a comforter. You could even opt for an allergen-free duvet for a restful night.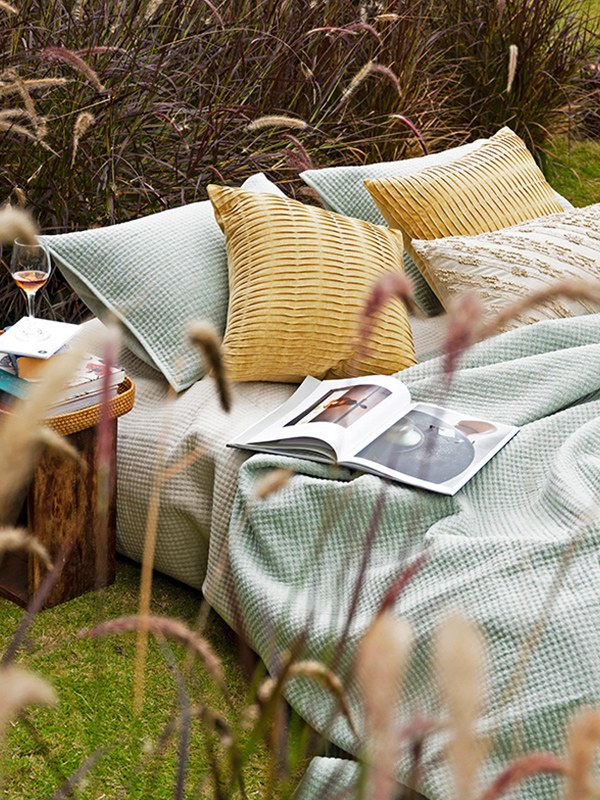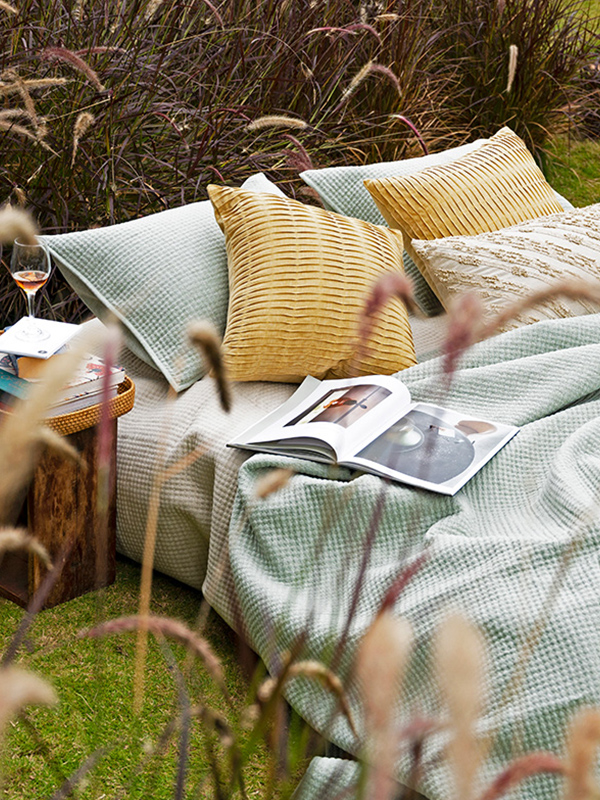 2. Add Soft Furnishings:
Comfort is key and to create an aura of luxe relaxation with soft furnishings consider materials such as silks, damasks, velvet and satin that have a glossy finish to them, making a space shine.
Allow your bed to take center stage. You could opt for elegant soft furnishings from Eris Home – from a statement throw to an embroidered or beautifully printed bed cover. For added sumptuousness, go for some decorative multi-hued cushions on top too.
You could add a soft rug (think of wool, fur or viscose that are soft underfoot) or a carpet to your home from Kaati Carpets exuding coziness. "A right handmade carpet could bring your entire space together and add warmth to it. Its plushness, design and colours can help create a perfectly luxe space. We lean towards classic designs such as fine geometrics, abstract in tonal colours or asymmetrical shapes with color blocks. A classic color palette for the base of the rugs are earthy colours – sky grays to charcoals, ivory/beiges to mocha and taupes for a darker undertone. When these are paired with accent colours – dull gold, ochre, salmon, teal, midnight blues, olives and blacks you will have yourself a masterpiece that can last generations" says Nikita Khanna, Founder Kaati Carpets.
Stunning handcrafted Persian or sisal carpets could additionally up the ante of any interior too.

Add a soft plush rug or a carpet to your home to create an aura of luxe relaxation. Image credits: Kaati Carpets
3. Hang Mirrors:
To make your space feel more expansive and like it belongs in a hotel – use mirrors.
The perfect addition to your home, you could place bespoke mirrors from Gunava Design strategically in order to reflect light and make your space look larger.
We suggest leaning a mirror atop a desk to create a makeshift vanity or even hanging it above a table amplifying the aesthetic richness of the area.

Hang bespoke mirrors strategically to make your space feel more expansive. Image credits: Gunava Design
4. Display Art:
A key component of hotel rooms – pieces of art seamlessly adds to the space's personality and gives it a timeless luxurious feel.

Take the opportunity and display a large canvas or a framed piece in your home whether you're drawn to a traditional or a more modern and abstract aesthetic – just like these eye-catching paintings by Ajay Patil.
You could additionally lean a few pieces atop your dresser to achieve that Parisian aura.

Display art to add to your home's personality and give it a timeless luxurious feel. Image credits: Ajay Patil
5. Use Green Throughout Your Space:
With its bright color palette and uplifting scent – lush green plants and vibrant flowers will definitely give an instant makeover to your home giving it an inviting and warm zen vibe.
You could add a modern gold and white marble candle stand from Fleck that doubles-up as a stunning contemporary accent piece – making your space look and smell like one of the finest hotels.
Alternatively, a stylish diffuser will fill your home with a beautiful aroma as well and look chic wherever placed giving it a spa-like feel.

Candles and diffusers will add a layer of freshness to your home for a hint of hotel-like sensory pleasure. Image credits: Fleck
7. Take A Sip In Style:
There's nothing like visiting a swanky hotel bar or restaurant and sipping on an expertly crafted cocktail to unwind. You could recreate this experience by having a home bar and investing in stylish glassware from Ikai Asai that could also double-up as decorative eye-catching art even when not in use.
You could go for a set of exquisite glassware in one color or even have fun mixing and matching.
A contemporary bar cart could additionally be used to inject plenty of glamor to your space and house stemware, an ice bucket and a bottle or two.
You could opt for a handcrafted oakwood bar cart from Renovation Factory. Its antique metal finish combining functionality and luxury, will fit the aesthetic of any space you place it in.

A contemporary bar cart could be used to inject glamor to your home. Image credits: Renovation Factory
8. Create A Spa-Like Bathroom:
There are several ways to insert a serene comfort in your bathroom reminiscent of a hotel that always look so clean and crisp. To start with, keep your space less cluttered. Remember, the less things you keep outside, the more chic your area will look.
You could stock up on your favorite toiletries right from scented hand wash and creams to soaps, bubble bath, essential oils and sea salts. These could be displayed on a tray, kept in cane baskets or in jute bags.
A key element of a hotel experience – there's nothing quite like fluffy white towels and bathrobes. Go for towels with a thread count of 600-900 GSM and bathrobes made of cotton, chenille or even satin. You could add these to your space and display rolled-up hand towels on the vanity.
To further add another bath accessory, you could bring in a soft, skid-resistant foot mat. For this – think memory foam or tufted cotton rugs.
Additionally, you could add a tropical feel to your space by placing a green plant . You could also take that extra step of extravagance by adding flowers and candles or diffusers to your bathroom ensuring that it always smells nice and fresh.