8 Styling Secrets From a Home Decorating Pro
20

Mar

'20

9:30 am

by

Beverly Pereira
Decorating an entire home, just a single room even, can be daunting or exciting depending on how you look at it. When most people look at a room and feel like they've been tasked with the impossible, Chanya Kaur, co-founder of the Pure Concept, enters a room and observes the existing elements that can be highlighted while understanding the functionality of the space. Next, she looks at the height of a space, the natural and artificial lighting at hand, and the colours on walls (if any).  Once the structure or shell has been looked into, one can move towards the layout and then delve further into the details, she explains. 
Chanya would know heaps about seeing opportunities where others see problems such as low natural lighting or limited square footage. After all, she has, since 2012, used her keen sense of design and honed aesthetic to grow the Pure Concept into an innovative soft furnishings brand in both domestic and global markets. As a natural extension of the business of draping homes in unique and quality fabrics, The Pure Concept now metes out interior design and space styling services. Lucky for those who are intimated by the decorating process, then!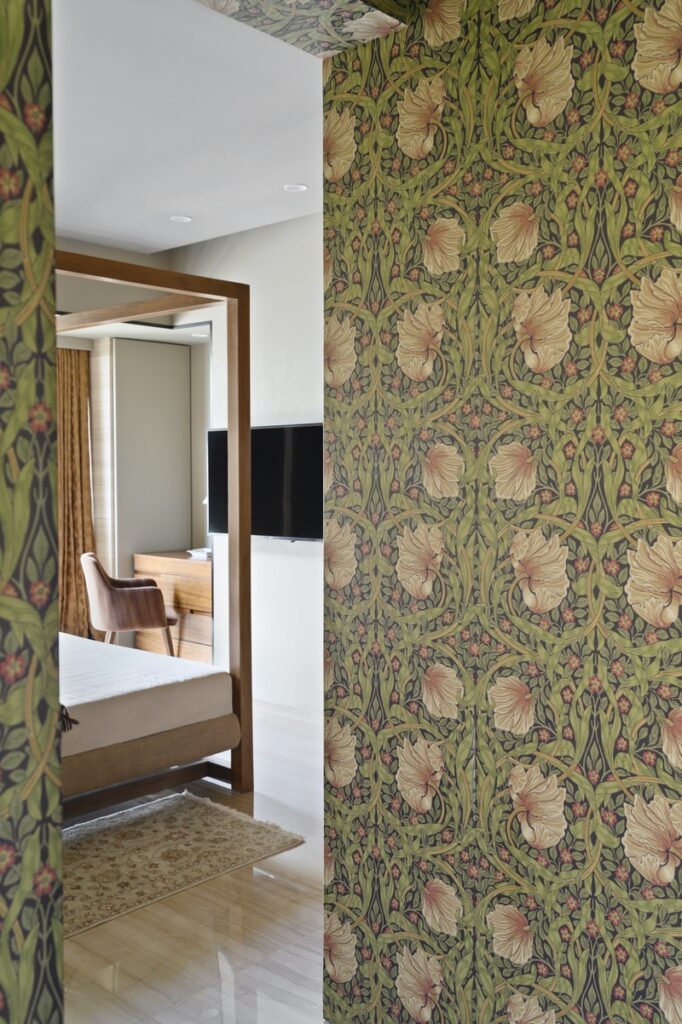 The Pure Concept design and styling consultancy bring in a personal touch to spaces by focusing on detailing and customization. With the aim of creating beautiful spaces that align with the concept of affordable luxury, Chanya's styling service can turn around just about any space — from a tired nook to entire rooms in your home. The Pure Concept thoughtfully curates a selection of decorative accents like art and artefacts, furniture and in-house furnishing fabrics. The Pure Concept also designs niche and boutique events. The spaces that Chanya crafts are outright stunning and you'll pick up on the artful balance of colour palettes of the moment and on-brand aesthetics.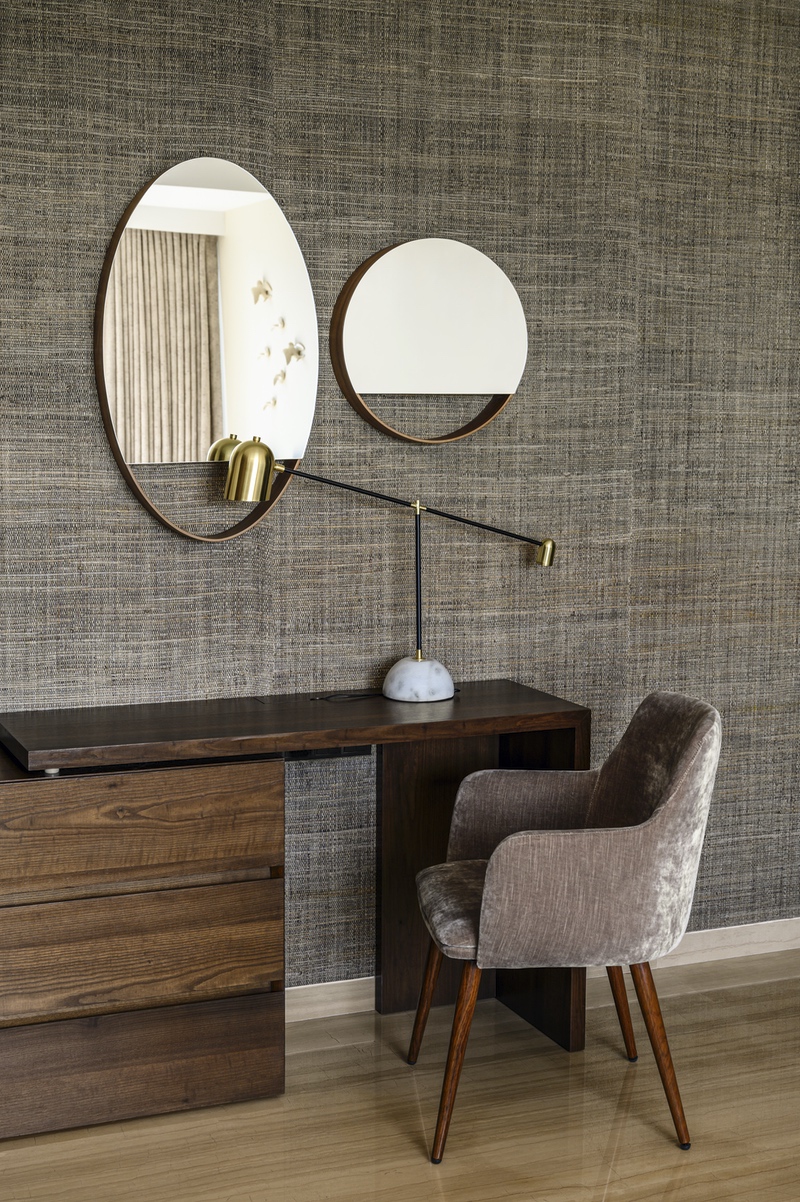 One was privy to the effortless aesthetic that The Pure Concept has come to be known for at D/code 2020 in Mumbai earlier this March. The Pure Concept booth was transformed into a home, complete with a living room and bedroom. A sofa upholstered in moss green velvet was a picture of chic elegance within the booth's lemon yellow walls. Cushions in unlikely pairings of rust and lavender found a cozy spot on a bed. The pieces of furniture were, in fact, from Chanya's newly unveiled furniture line. From marble tables and a wooden console to accent chairs and velvet couches, every one of the pieces made for an impeccable fit in this transitory abode.  
We at Design Pataki got Chanya to fill us in on some home styling tricks and tons of decorating inspiration.
Design Pataki: Is there a particular aesthetic or decorating philosophy you live by? 
Chanya Kaur: Minimal, lived-in spaces. I aim to design houses by transforming them into beautiful homes which the clients enjoy being in and coming back to everyday.
DP: What are your current favourites when it comes to colour palettes for the home?
CK: I am in love with different types of greens. The broad spectrum of greens can energize any space. From vibrant bottle greens to a subtle mint green, this colour can suit different tastes. 
DP: If one were to align with current trends, how can they do so without their home appearing dated? 
CK:  Try to bring in a lot of greens. This adds a certain freshness to any space. I'd suggest one goes in for mid-century curved sofas in velvet and terrazzo tabletops. You can also add a bit of drama by going darker on the ceilings. 
DP: How simple is it to achieve the art of layering in any space?
CK: It's essential to look at layering different textures. I'd suggest you follow the 'three-layer principle'. You can start with a base layer that comprises your investment pieces—furniture that will last for decades. Investing in a good sofa in neutral tones, for instance, could be one of them. 
After this layer comes in the second layer which is layering of affordable décor. Here, you can bring in trends and colours. You can experiment with elements like cushions, throws, artefacts, curtains, side tables, lamps, etc. Finally, layer three is where we give it a finishing touch. This layer is all about your personality, which means that you can accessorise the space with photos, vintage décor, keepsakes that reflect you as a person. 
DP: What are some ways one can play around with textures, prints and motifs in a room? 
CK: Mixing patterns can be tricky. You can use the trick of bifurcating the patterns by their sizes. Make sure you have one oversized pattern, two or three medium-sized patterns, and two or three small patterns along with some solids. In this way, you can use different patterns for your wallcoverings, sofas, chairs, curtains, rugs, cushions, etc. 
DP: How would you use fabrics to the fullest in spaces like the bedroom, living spaces, on walls, etc? 
CK:  Fabrics are so versatile and can be used in several ways in order to style the space with minimal work. You can say that fabrics have been traditionally used mainly for curtains and blinds. But I really enjoy introducing fabric into a space by using fabrics in an unconventional manner — on headboards, wall panelling, ottomans, trunks, throws and cushions. 
DP: Can one build a colour scheme around a certain fabric? 
CK: Yes, one can most certainly do so by bringing in a busy multicoloured pattern on a headboard, armchair or sofa which becomes the focal point in the room. You can then expand on the colours and finishes around it. 
DP: Any other decorating tricks to share with our readers?
CK: I personally love upholstered headboards as they provide good support if one loves to read or watch television in bed. Also, investing in good quality bedding is a great idea as it makes the bed seem luxurious giving it a hotel-like feel.