A Look At The Hottest Design Collaborations, By Sabyasachi, Vinita Chaitanya, And Ashiesh Shah
24

Dec

'21

3:10 pm

by

Nuriyah Johar
There's no denying that collaborations between designers, celebrities, and fashion houses have always been popular in the sartorial world. In recent years, we've witnessed a growing number of creative partnerships in the design industry as well. Architects and interior designers have begun gaining a (long overdue) celebrity status much like their fashion counterparts, making product collaborations commercially viable for brands; many of whom have started tapping the star power of India's talented creatives.
The collections we've highlighted in this piece reflect just that. Featuring Sabyasachi Mukerjee's rich maximalist sensibilities, Vinita Chaitanya's glamorous contemporization of Indian motifs, and Ashiesh Shah's signature style of minimalist sophistication, they take bold strides towards making high design more accessible to mainstream audiences.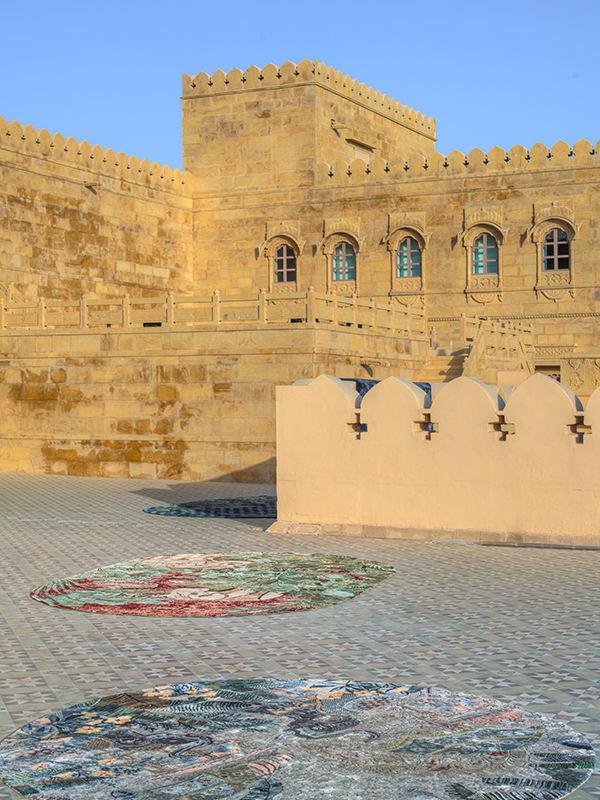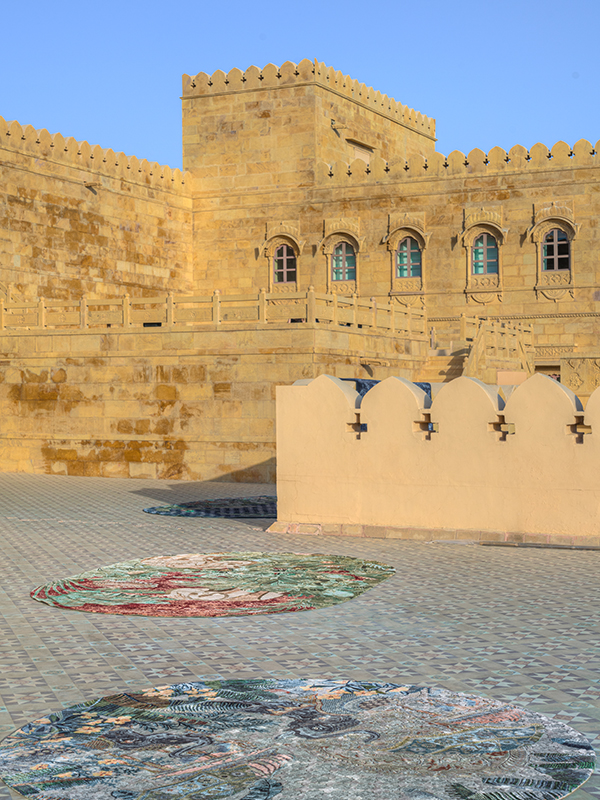 Vinita Chaitanya for Jaipur Rugs
Celebrated interior designer Vinita Chaitanya brings her trademark ethos of maximalist glamour to 'Inde Rose', a collection of coordinated silk carpet pairings for Jaipur Rugs. Blurring the line between art and object, the collection is a stunning amalgamation of Chaitanya's richly layered aesthetic and Jaipur Rugs' manufacturing expertise. Much like the name suggests, 'Inde Rose' takes inspiration from a rose in bloom; it is a delicate unfurling of Chaitanya's lifetime of observations – of nature, gardens, colour, texture, and techniques.
The collection is made up of five carpet pairings, each with one graphic-heavy piece and a visually lighter one to complement it. Unexpected colour combinations, prints-on-prints, and textural variations come together in an incredibly luxurious material palette to form these exquisite pieces. Handcrafted in silk, the carpets employ a sculpting technique locally known as gultaraash, which literally translates into the pruning done by a gardener. Dusty pinks, pale jades, and muted blues take center stage in the Inde Rose collection; a contemporary reinterpretation of the colour palettes used in Indian miniature paintings.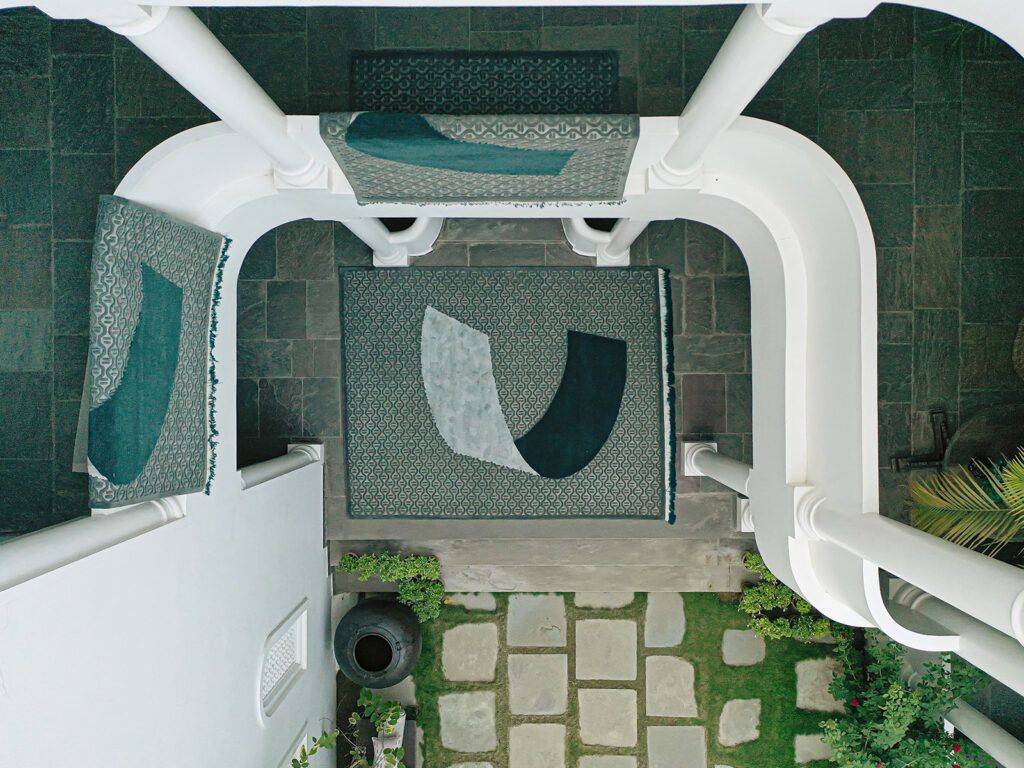 Ashiesh Shah for West Elm
Designer Ashiesh Shah's collection of soft furnishings for New York-based furniture company West Elm is a celebration of contemporary craftsmanship. "The collection starts from a 20-year-old practice of doing these meditation drawings- finding geometry within form through reputation. The two basic forms, of line and curves, is where we wanted to go. It is what makes you feel.. at home," says Shah. These drawings have been translated into sophisticated monochromatic pillow covers and hand-knotted rugs, all of which feature metallic undertones and overlaid cut velvet patterns that create layers of depth, dynamism, and dimension.
Shah's Curve and Line Rugs are crafted from a soft blend of cotton and wool by Indian artisans in an endeavor to preserve craft traditions worldwide. An intricate three-dimensional effect has been consciously brought about on each rug through the techniques of hand-tufting and hand-cutting; creating a unique perfection in its subtle imperfections.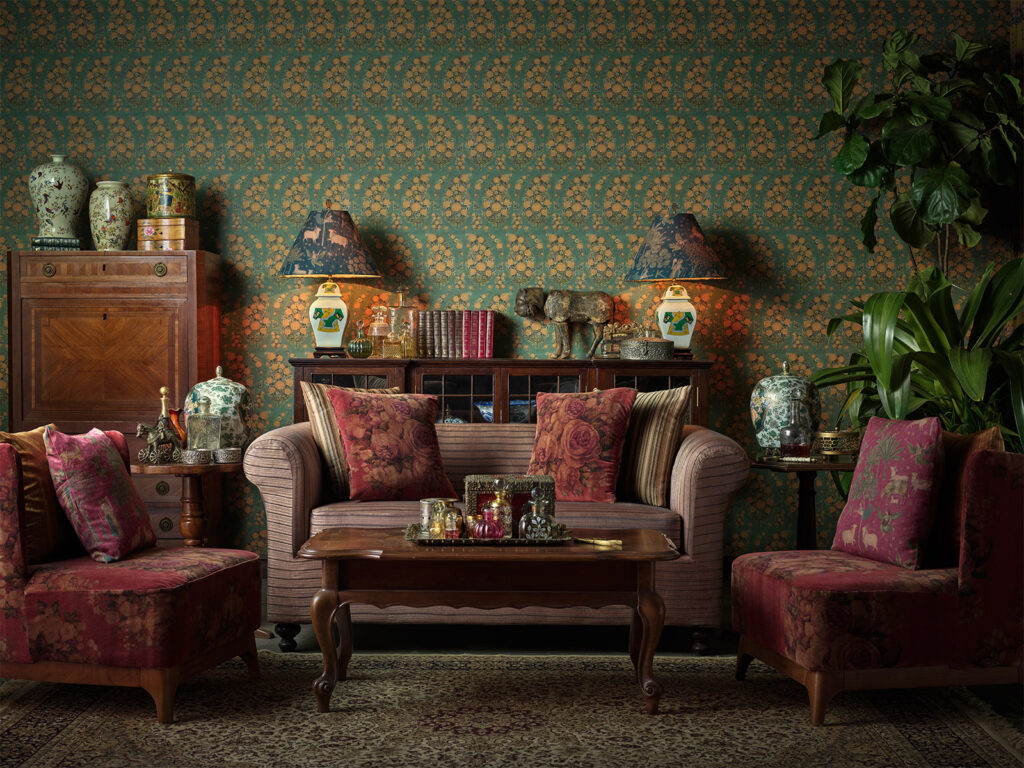 Sabyasachi Mukherjee for Nilaya Furnishing Fabrics by Asian Paints
Asian Paints' collaboration with Sabyasachi for Nilaya Furnishing Fabrics is truly one-of-a-kind; it makes India's most celebrated designer accessible to a wider demographic than ever before. The Heartland Collection, comprising five exquisite home furnishing ranges – Thar, Makhmal, Soofa, Hazaribagh, and Chowk are physical manifestations of Sabyasachi's inspirations. From the meticulously painted fabrics born along the Coromandel coast to old-world Calcutta with its fading luxury, the collections are an homage to India's craft traditions. "What I design is the result of myriad inspirations – whether it's fashion or homes. And creating designs for Heartland was like stepping into a familiar world, textured by a variety of experiences, acquisitions, memories, and stories that have stayed with me, knowingly and unknowingly," says Sabyasachi.