4 Sought-After South Korean Artists Who Should Be On Your Radar
10

Oct

'22

4:24 pm

by

Manisha AR
Using abstract art, nuanced sculptures, and cutting-edge light and sound installations, contemporary art in Korea is engaging with increasingly complex themes like the environment, consumerism, and displacement. Characterized by their monochromatic color choices, clean lines, subtle political messaging, and sophisticated techniques, many Korean artists are presenting fresh ideas to the world with their work. Moving beyond the tried and tested takes on identity, gender, and role of self, Korean artists are thinking about collective issues and their impact on the individual.
In this feature, Design Pataki spotlight South Korean Artists who are well on their way to attaining and some who have already achieved blue-chip status in their respective fields. Artists like Lee Bul have sold multiple pieces of their work at Frieze, Do Ho Suh has gained widespread recognition and is part of several museum collections, while David Heo and Sungsil Ryu are taking on the challenge of being exposed to Asian and Western (respectively) collectors with gusto. In light of the Frieze Art Fair in Seoul, DP is here to introduce our readers to Korean artists who should be on your radar.
1. Do Ho Suh

Born in Seoul, Korea, and based in London, United Kingdom Do Ho Suh studied art in Seoul and the United States after completing his mandatory term in the South Korean military. An alumnus of Seoul National University, Rhode Island School of Design, and Yale University, he is known for his scale-defying sculptures. His father Suh Se Ok was a pioneer of modern painting. Suh Se Ok was one of the earliest artists to merge traditional techniques of painting with modern abstractions on paper.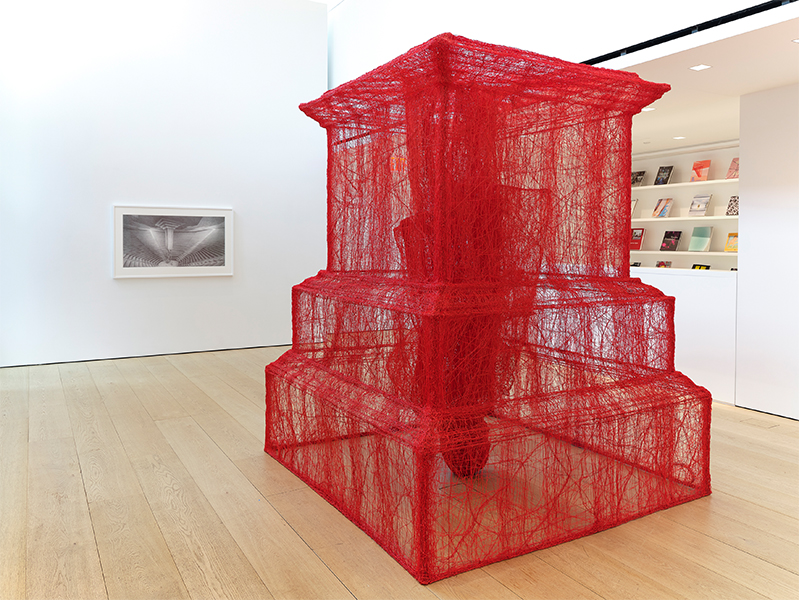 Do Ho Suh's work reimagines the spaces we constantly occupy by inverting them or deconstructing them down to their core. By taking on vast subjects like public sculptures, the idea of home, or the challenge of finding meaning in the quotidian, he forces viewers to slow down and re-examine and truly experience color, shape, and size of objects. His work 'Inverted Monument,' is a dig at the idea of an "ideal monument" usually built to commemorate a figure or ideal by placing them on a pedestal. In his work, he inverts the figurehead, sending the head down and feet up to redirect the viewer's gaze to the base. In this way, he challenges notions of what and who we choose to elevate.
His works are currently in view at Lehman Maupin in New York. 
2. Lee Bul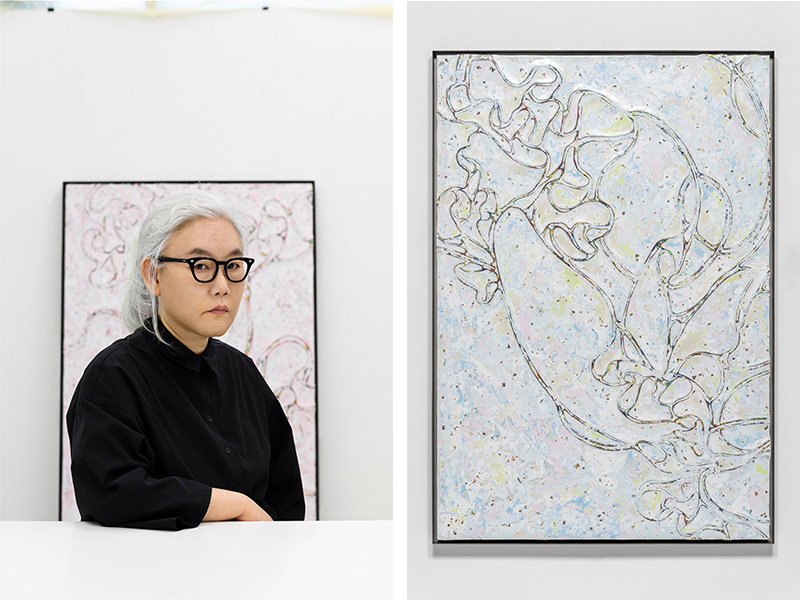 A contemporary sculpture and installation artist, Lee Bul has been making art since the 1980s. Bul's works were on the list of top-selling pieces at the Lehman Maupin Booth. 
She graduated from Hongik University with a BFA in Sculpture. She has shown her work nationally and internationally at spaces like the Seoul Museum of Art, SCAD Museum of Art in Savannah, US, Manege Central Exhibition Hall in Saint Petersburg, Russia, and Hayward Gallery in London among many others. In 2019, Bul received the Ho-Am Prize for the Arts for her contribution to the enrichment of culture and arts. She has also received honorable mentions at the 48th Venice Biennale Pavilion for her contribution to the Korean Pavilion and the international exhibit by Swiss curator Harald Szeemann.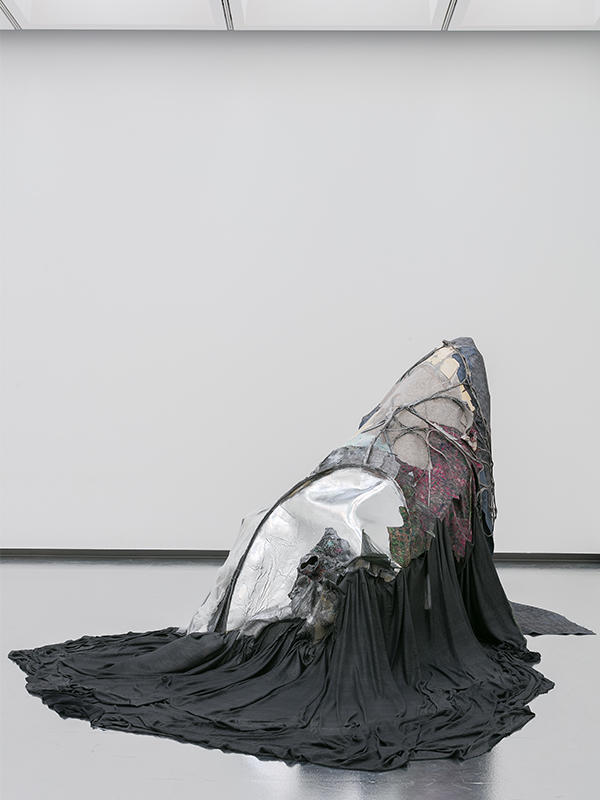 Lee Bul's works are constantly pushing limits and transcending boundaries. Some of her early performance works centered on the body as both the subject and the object of the work to engage with the emotional and personal impact of restrictive gender roles and political persecution on women. More recently, her work has become increasingly filled with explorations of modern art, architecture, and technology and how they shape our real/virtual worlds. Bul considers the cyborg– a being that is both organic and machine– to be a "conceptual metaphor in its personification of social attitudes to technology" – ranging between reverence and fear. Her work often generates hybrid forms that convey fantasy and dystopia. Her trajectory includes drawing, sculpture, painting, performance, installation, and video.
You can view an online exhibition of her work at Thaddaeus Ropac Paris Marais that is no longer on view at the gallery. However, the online exhibit is still active.
3. David Heo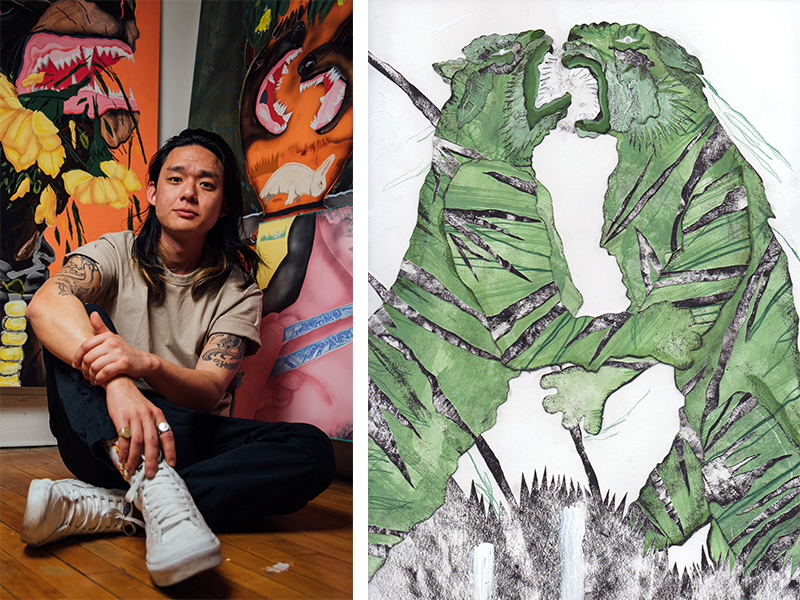 Korean-American artist David Heo announced his first solo exhibition in Seoul at the newly opened 'Realation Space.' Run by Ki Hwan Jang, the space runs a residency program for the 'next blue chip Asian artists who haven't yet been introduced to Korean collectors. Heo's show "Roses and Thorns" opened during Frieze Seoul in a location very close to the art fair. In the works is a documentary shot by Ki Hwan Jang about Heo's experience working on the show, which will be released in late October. For this exhibition, Heo also collaborated with producer and singer Shemu who responded to the exhibition and Heo's previous works in an album released on September 29th, 2022.
David Heo's work centers on playfulness and soft textures. Some of his early works put hedonistic pursuits at the center. He deftly weaves in different mediums like large-scale paintings and murals with works on paper and incorporates materials like crayons, paper collages, and acrylic with finesse. The final outcome is a soothing visual experience layered with subtle messaging on Korean history, daily pursuits we overlook, and the joy and sometimes sorrow in rediscovering them. His trajectory is not limited to paintings exhibited in galleries but has also expanded to include working with brands and products like Vans off the Wall and Lo Rez Brewing.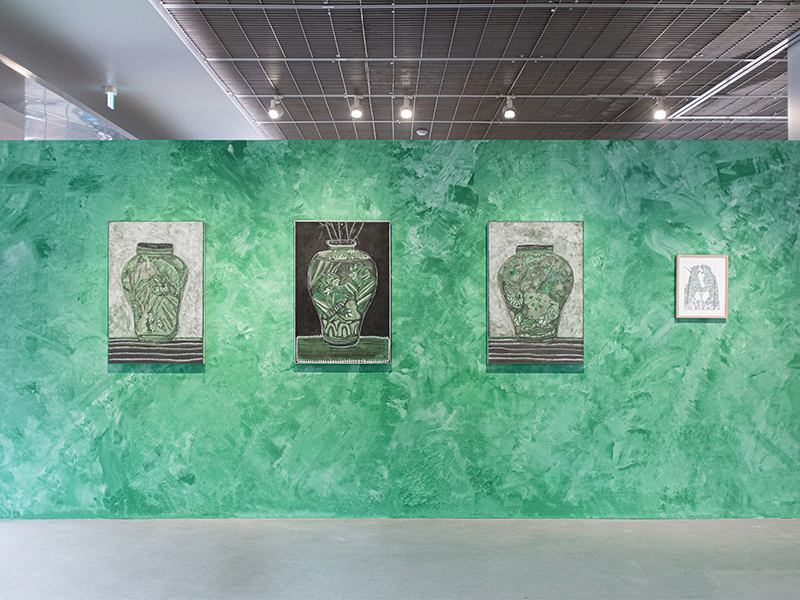 His exhibition 'Roses and Thorns' showcased a new body of work that reflects on Korean sentiments "Jeong (정)" and "Han (한)" from a Korean-American perspective. Han refers to the feeling of indescribable sorrow or grief, "a core characteristic that all Korean people are born with," according to the artist. While Jeong is the opposite, a deep-seated love directed toward everyone meant to offset the Han. While these are considered core values in Korean culture, Heo shows us how they are a universal sentiment.
His works will be on view at Bridge Mogura Gallery in Tokyo, Swim Gallery in Los Angeles, California, Vertical Projects in Chicago, and Abigail Ogilvy in Boston.
4. Sungsil Ryu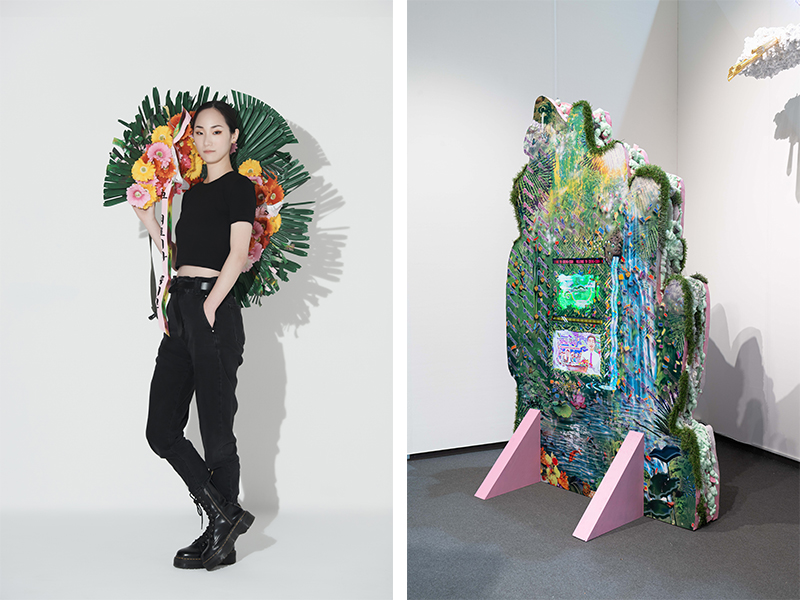 Based in Korea, visual artist Sungsil Ryu's work deals with the interaction between the locality and materiality of Korea. With a BFA in Sculpture from Seoul National University, Ryu has previously shown her work across various locations in Korea. At Frieze Seoul, her work was on display at the P21 booth.
Using wry humor Ryu's works weave through ancient traditions, spirituality, and Korean culture today. By creating an imaginary world of her own, Ryu synthesizes and examines how Korea's indigenous culture and neoliberalism have grown. Her works also engage in typically "taboo" themes like war, religion, filial piety, sex, and death.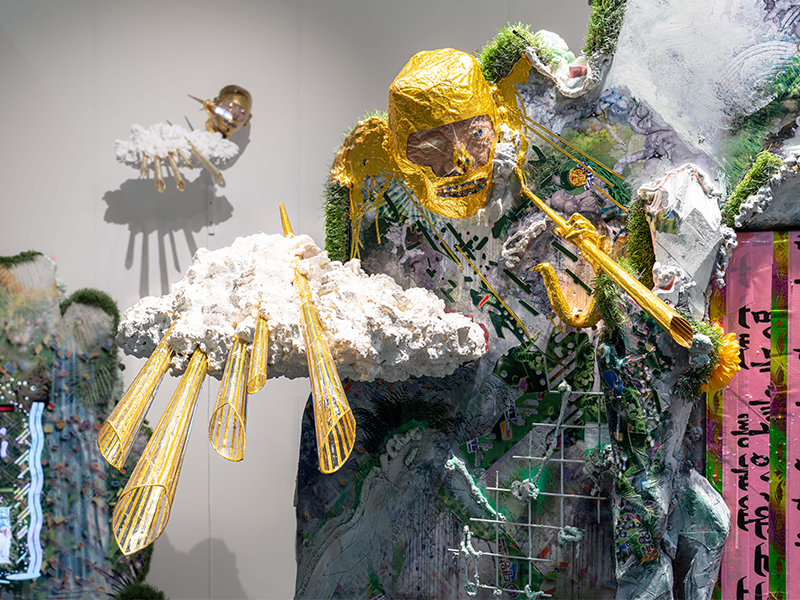 Through video work like 'Bigking Travel Ching Chen Tour- Mr. Kim's Revival 2019' and mixed media works like Guide to Ching Chen Island (2022), Descending Ray (2022), and I'm Not Dead! (2022) she tells the story of a group of older men who encounter a cursed fate after joining a tour group. The tour group is en route to a make-believe country Chin-Cheng. Through this story, Ryu presents striking images of butterflies, rainbows, and fantastical tourist attractions inspired by the early visual aesthetics of a Windows computer. By investigating the constantly evolving definition of what it means to live in South Korea, she is offering viewers a glimpse into the psyche of the Korean people through her art.
You can view her work 'BigKing Travel 2020' here.
According to the private art museum report conducted in 2016, South Korea is home to as many as 45 privately funded contemporary art museums and 13 of which are present in Seoul alone. In second place is the United States with 43 and German with 42. With the highest number of private museums in the world and auction sales totaling $91.8 million in the first half of 2018 alone, the South Korean art market is a logical next step for Western art fairs to enter. Moreover, the country is home to a growing number of younger entrepreneurs and investors as well as talented artists looking for the right platform.