A Closer Look At The Dior Lady Art#5 x Bharti Kher
5

Jan

'21

9:24 pm

by

Manisha AR
One of the best things to come out from the pandemic this year, as pointed out by gallerist Sundaram Tagore, were cross-continent collaborations between brands, organizations and artists located across the globe. He called them one of the positive aspects of the pandemic. The Dior Lady Art collaboration with artists from around the world is one such successful collaboration. Featuring a line up of some of the most iconic and avant garde artists of the decade including Bharti Kher, the Dior Lady art this year has played a crucial role in bringing attention back to both artists as well as fashion. Now in its fifth edition, these collaborations have transformed the purse into a canvas with exciting possibilities for both the artists and the woman who ends up carrying the bag home.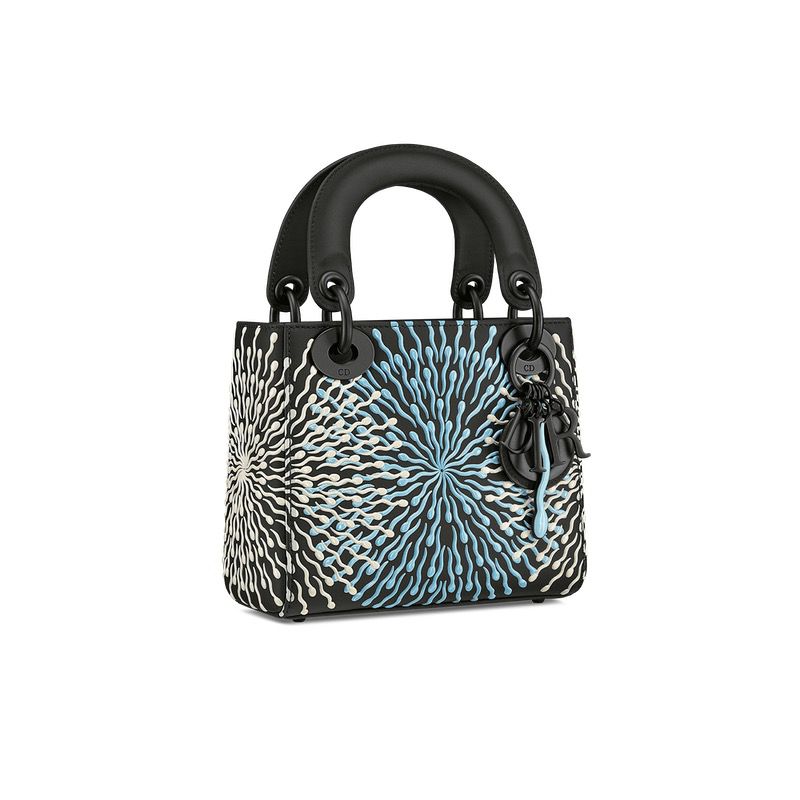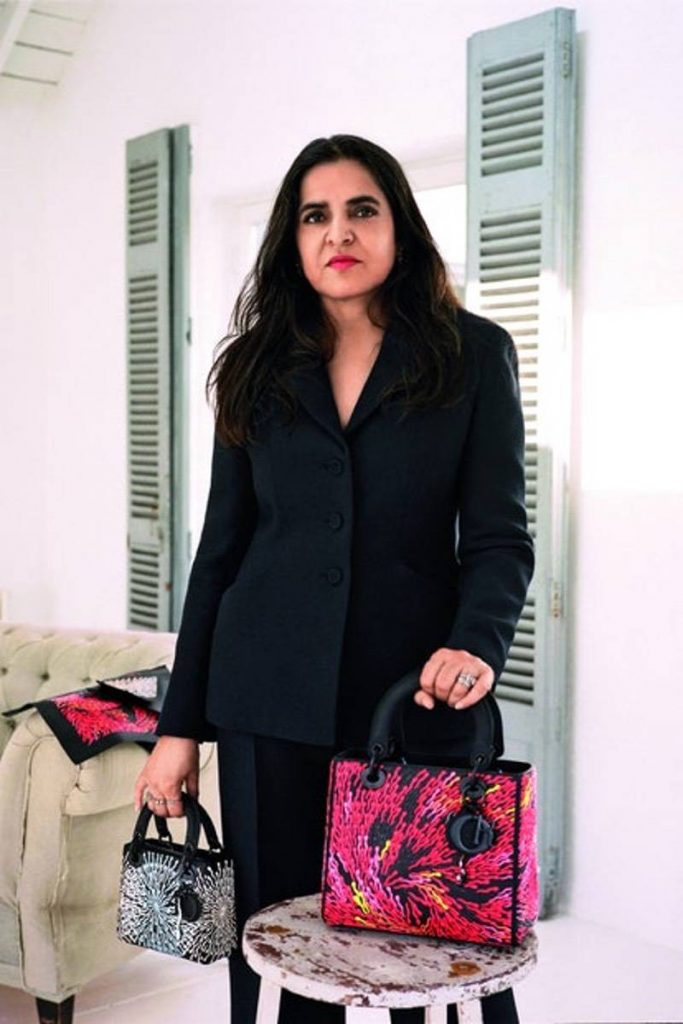 British-Indian artist Bharti Kher known for her iconic use of the bindi, commonly worn by South Asian women for both decorative and social-cultural purposes, created a chromatic piece using this signature object. As an artist who is constantly working across mediums the Dior Art collaboration seemed like a natural transition for her. She went from large scale sculptures and installations to a finely crafted and textured luxury bag. Bharti Kher's art is a blend of magic realism, found art that explores new terrain and works that generate conversation between the viewer and object. The bindi has been a crucial aspect of her work and she often plays on its multi-layered meaning that ranges from fashion accessory to a representation of the third eye.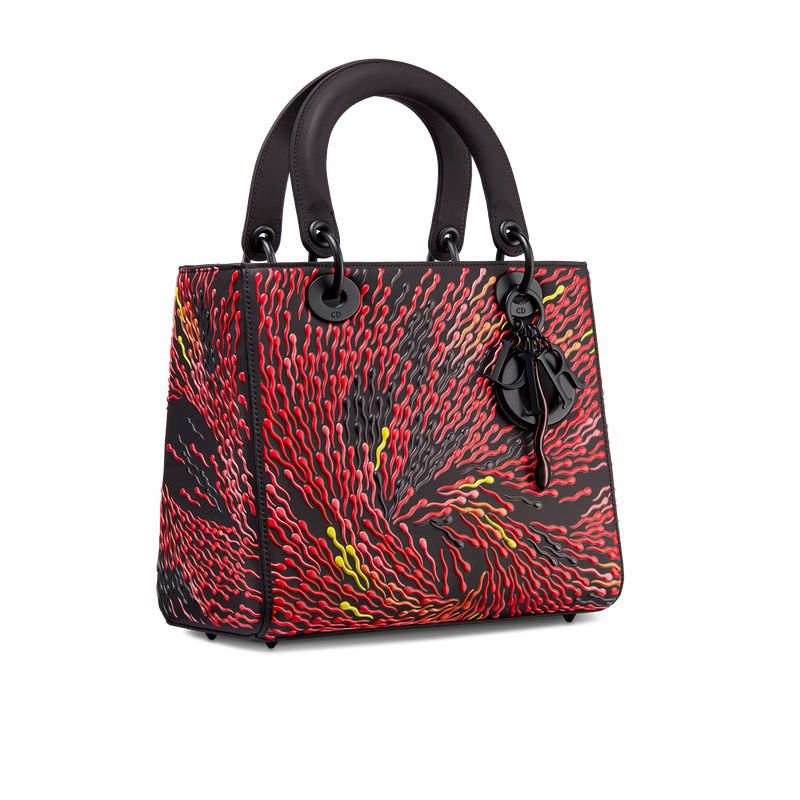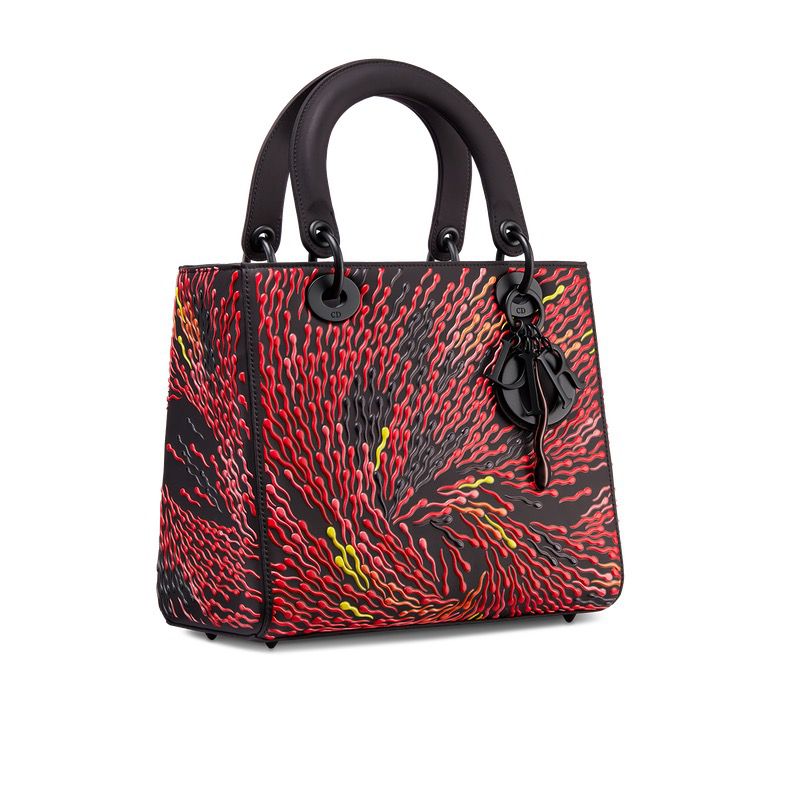 In the Dior bag interpretation Kher explores identity and culture, themes that have become pivotal this past year in conversations around art. She also makes reference to snakes forms that symbolise incarnations of life force, transformations and healing. The core of Kher's practise is to strip an object of its meaning, reassembling, juxtaposing and transforming the object to give it new meanings. With this approach she has created an object of desire and beauty that brings the bindi symbol to the center stage in global fashion. Given Kher's heritage and relationship to the bindi, this move circumvents debates around appropriation and in fact Kher's use of the bindi legitimizes it as a cultural icon internationally. With each collaboration the Lady Dior Art handbag makes space for an interpretation of the modern woman and in Kher's work she is both a cultural icon and an alluring work of abstract beauty.
Some of the other artists Dior has collaborated with include diaspora artist Olga Titus who is Swiss but with Indian and Malaysian heritage. Her work plays off of Indian physicist Homi Bhabha's theory of "third space," referring to the idea of an imaginary third space that exists between self and other. A post war and contemporary artist, she is often working across mediums and developing a language of her own within the work. Interpreting the Lady Dior as a "little cosmos," many cultures and possibilities have bled into one and another from Africa to Asia in her bag. In the same vein Judy Chicago from USA stands out with her psychedelic and hypnotic use of colorful curves in her version of the Lady Dior bag. Unlike her contemporaries, Chicago isn't creating minimalist work that occupies less space, instead her work is sensual and captivating to viewers. Other artists who have worked on this collaboration include Candadian-American artist Gisela Colon, French artist Claire Tabouret and Swish artist Mai-Thu.
Gisela Colon who is on the other end of the spectrum from Chicago, created a futuristic and minimalistic design in her version of the Dior bag. Known for her light sculptures and technological activations, her bags emit a holographic reflection, creating a look that is enchanting and intergalactic. Meanwhile Mai-Thu Perret and Claire Tabouret who come from a background in painting have made the bags their canvas. Perret has created a tapestry of symbols in a language composed of abstract signs and cuneiform. Tabouret's interpretation includes textured self-portraits that spill into the handles, zipper and collar on the bag. Each of these women have reinvented the Dior bag to reflect the modern woman who has many facets, colors, identities and an array of definitions that can be applied to her.