A Testament To Blending Art With Architecture, This Architect's Home Is An Eclectic Treat
6

Aug

'21

6:49 pm

by

Yamini Kathuria
With a whimsical design that holds the power of initiating many conversations, this two-bedroom Mumbai apartment is a splendid example of the interplay between art and unorthodox materiality. Envisioned as an eclectic home for Gaurav and Vidhita Kharkar of their namesake architecture practice 'Gaurav Kharkar and Associates', this apartment was built with one core idea in mind; that it was to be filled with the soul and emotion that reflects its inhabitants' personalities.
While brainstorming concepts on the tissue papers of their favourite restaurants, the architect duo built thoughtful narratives for each and every corner of their dream abode. Each room recites a unique story that resonates with the architect's signature style of breaking monotony with dashes of pop colours.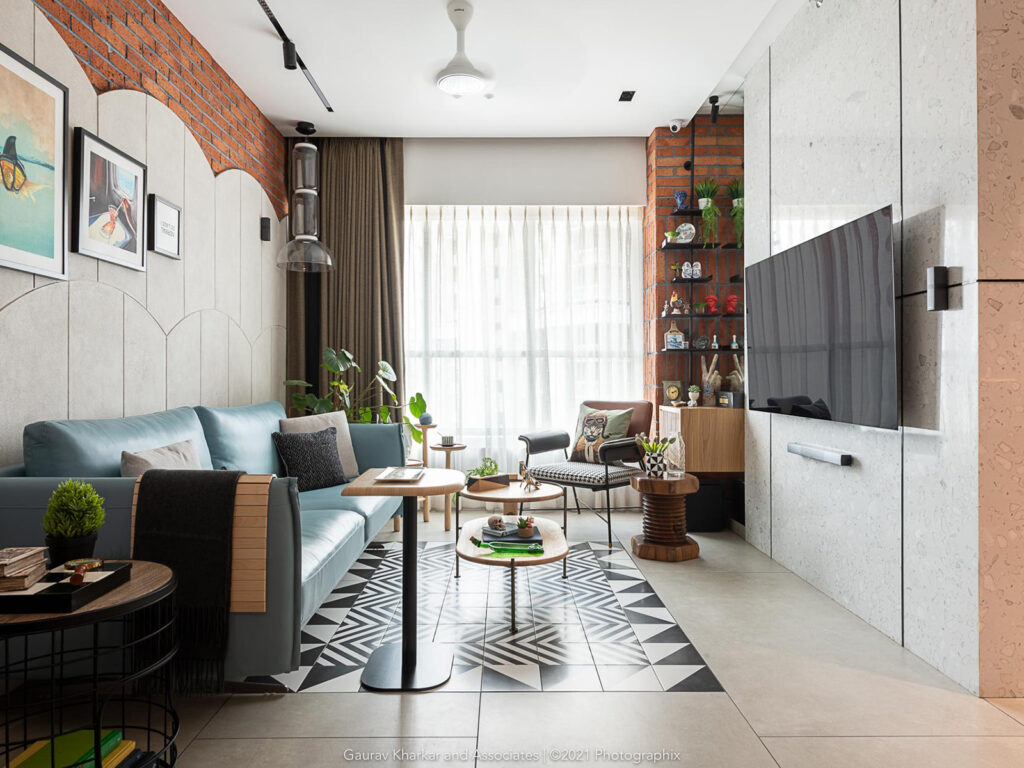 Aptly nicknamed by its owners as the 'Ec-co Pad', 'Ec' for Eclectic and 'Co' for Cosy, this quirky home has its every nook and corner detailed to the tee. The living room offers a plethora of narratives by beautifully interlacing materiality with eccentric pieces of art. The concrete tiles and exposed bricks seem to be playing peekaboo in their arched forms, whose vigour is complemented by the understated use of terrazzo slates. Juxtaposed with the bold character of black and white Spanish tiles from Cambay Stones, the space further defines its character by the use of ultra-unique artifacts and furniture. Monotony is broken by the placement of the light blue sofa, aligned with an array of various artworks sourced from local artisans. With the 'bolt' side table from Su Veneer and the unicorn pouffe from Dubai, the living room offers a delightful peek into everything that this whimsical abode has to offer. "Significant Art was one thing we wanted to be proud of. The house had to have our signature styles, which are – generous use of materials, unusual colour schemes, hidden storage ideas and whimsical as well as meaningful art," Gaurav and Vidhita Kharkar tell Design Pataki.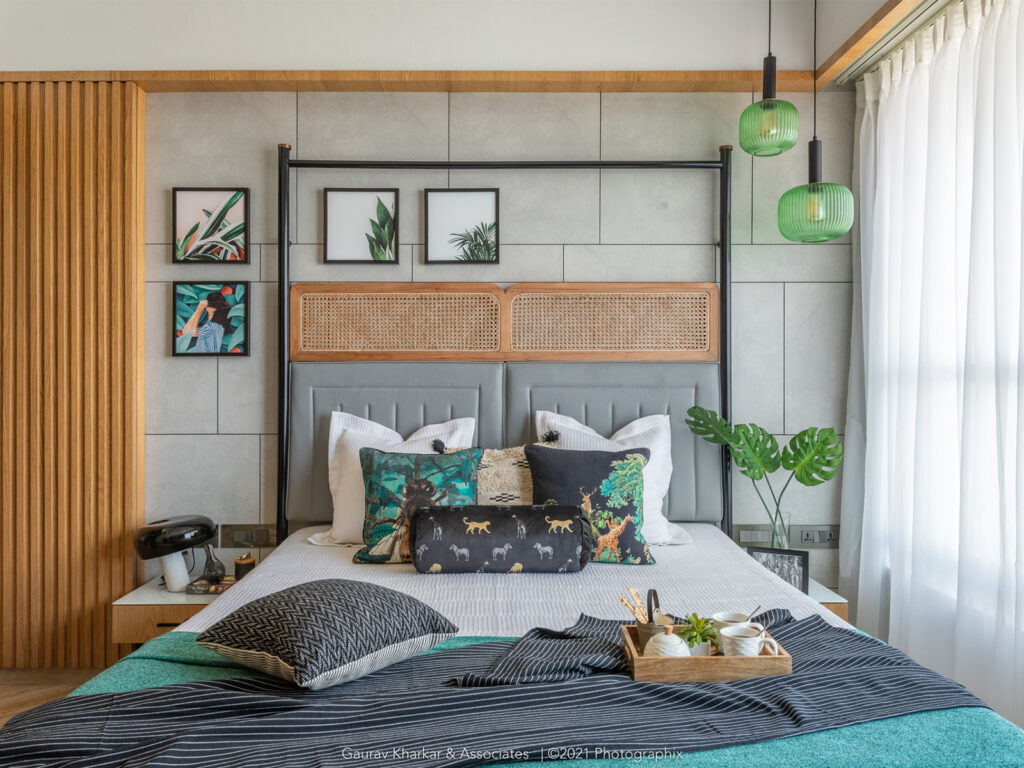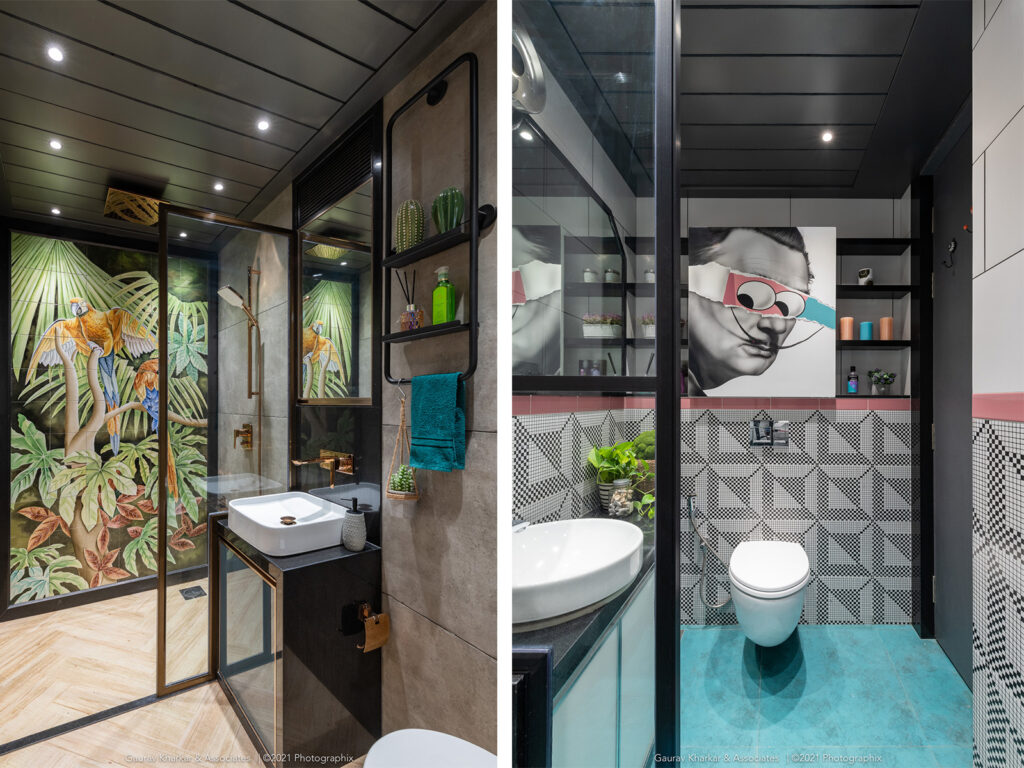 A similar concept is carried into the bedrooms, wherein a contemporary retake on a poster bed stands out against the similarity of grey tiles. Dominated by an understated use of green, the room is styled with soft furnishings from Cotton & Satins and suspended lights from V Lights. Locally sourced artwork plays a huge role here as well, the strategic placement of which defines the space. This bedroom paves the way into the master bathroom, which explores drama by the use of bespoke tropical tiles, another masterpiece by Cambay Stones, against the dark grey walls. Designed along the same lines, the pink and grey guest bedroom features China mosaic chips at bed back, a material that is one of Gaurav Kharkar's favourites, to bring about a quirky twist. Various artifacts that were picked by the duo from their trips abroad, beautify the rooms with their unique character. With the bedrooms being a charming safe haven that spark joy and intrigue, it is the guest bathroom that ends up stealing the show, with a local-made portrait of Salvador Dali.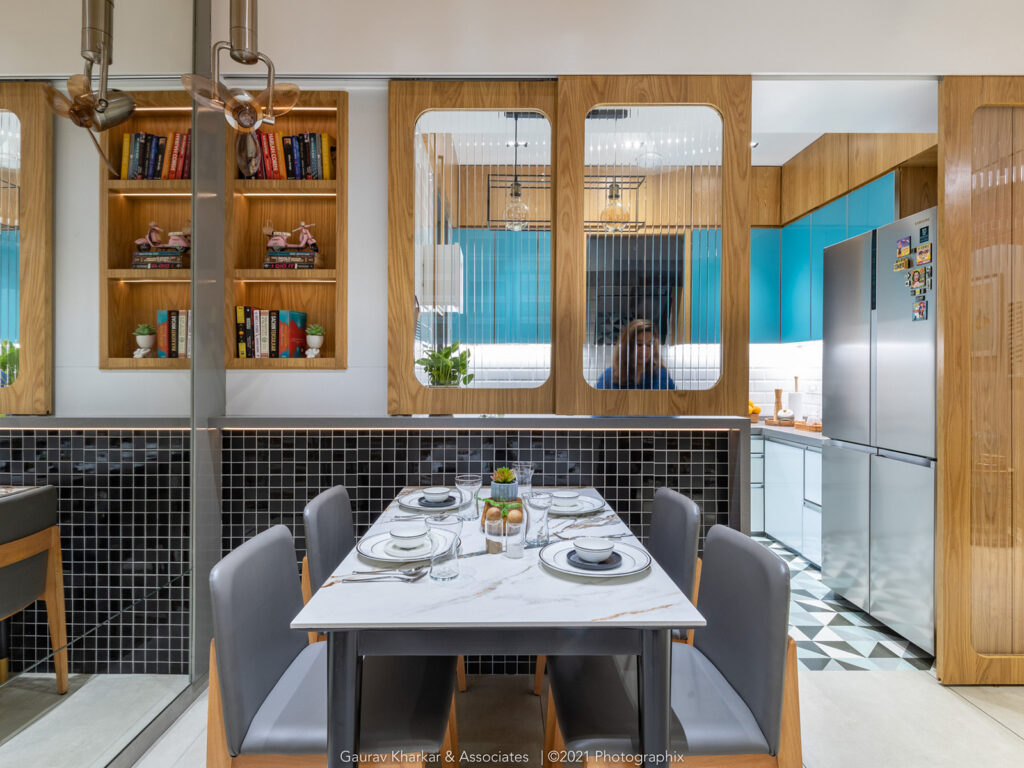 Another intriguing element of this compelling home, the dining room, is enveloped by full height mirrors and fluted glass sliding shutters. With the thought of utilizing the space to the maximum in mind, Vidhita Kharkar opened up the walls and used mirrors to achieve an enchanting illusion of a bigger space. The satvario stone top table perfectly aligned with black mosaic tiles, blends seamlessly with the white oak wooden textures.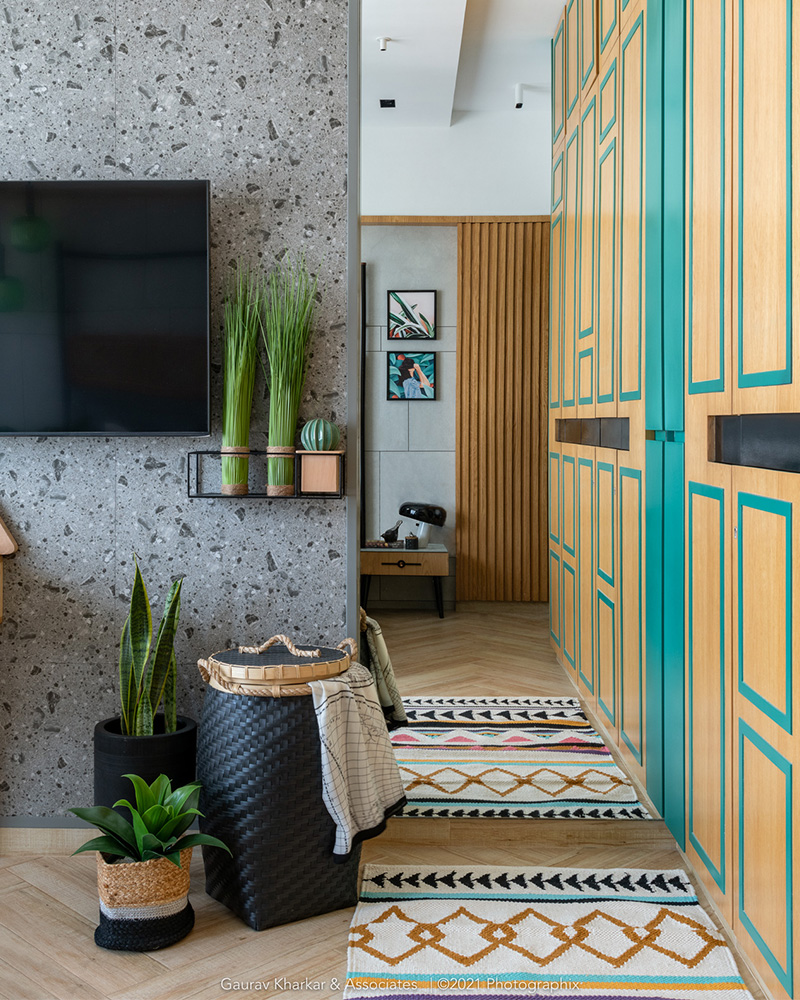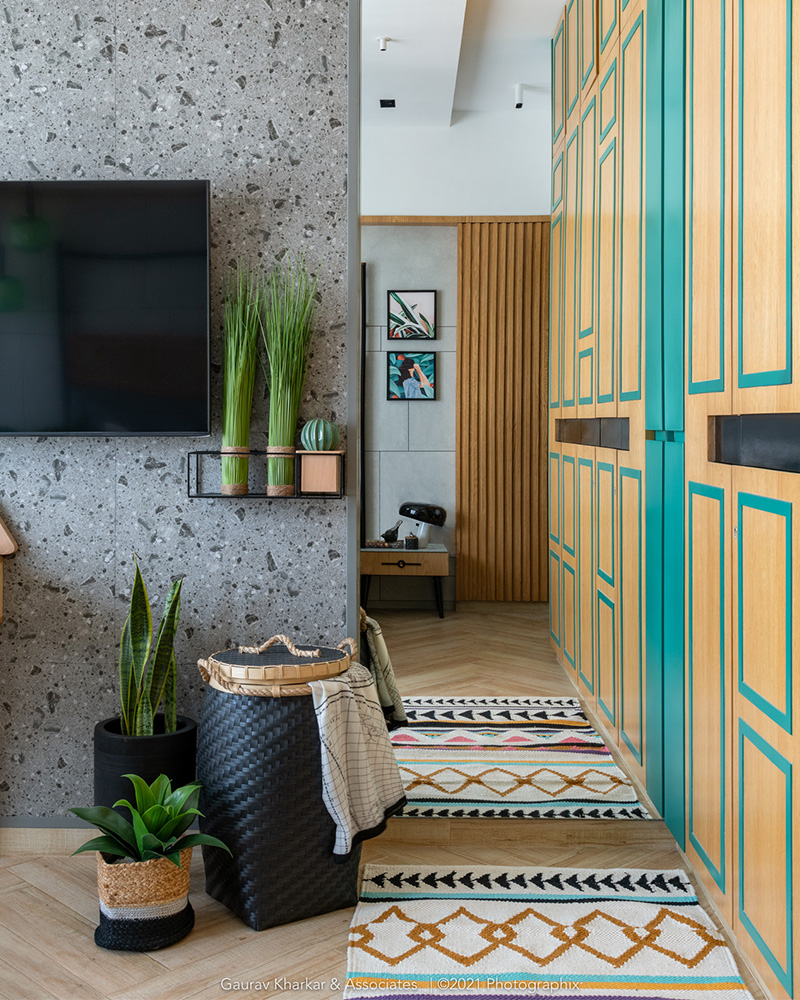 Having the luxury of being their own client, the architects were able to experiment and explore much more than usual in this dream project. Held together by the use of its engaging details, the residential space with its spectacular sunset views, displays an abundance of powerful and dramatic spaces. "We wanted the house to be pure, and by pure we mean purity in describing our versatility as designers. A house which would speak a lot about our personality and our design sensibilities…it had to reflect our fondness towards mixing and exploring different material palette and textures, which is truly our forte.", conclude the architects.