An Age-Old Rajasthani Craft Finds A Fitting Home In This Contemporary Bangalore Apartment
26

Aug

'22

11:40 am

by

Beverly Pereira
It's hard to fall out of love with a home that combines the classic and the contemporary. That said, creating a 'timeless' look is more than just a decorating style. It doesn't happen perchance. Crafting a home that will stand the test of time involves transcending trends and, more importantly, requires thoughtful consideration, astuteness and intuition to understand the living patterns, likes, needs and desires of the dweller. Creating a timeless look, using Indian crafts in a contemporary, relevant manner, is the approach that designer Shruti Jaipuria of the Bangalore-based Maia Design Studio veers towards — be it in the residential or commercial projects she has worked on over the years.
For a recent residential project in Bangalore, a 4,500 sq. ft apartment for a young couple, Jaipuria and her design team drew from a palette of colours including blues and neutral hues like creams, browns, and snowy whites. For the most part, the home appears to carry contemporary, clean design. As one dwells deeper, surfaces come alive with textures that are wildly intriguing but never overstimulating. The brief itself was indicative of the clients' desire to reside in a home that was rich in colour and pattern with entirely different looks for the two bedrooms, living room and study. To this end, Jaipuria infused the home with rich colours, art, craft and graphics.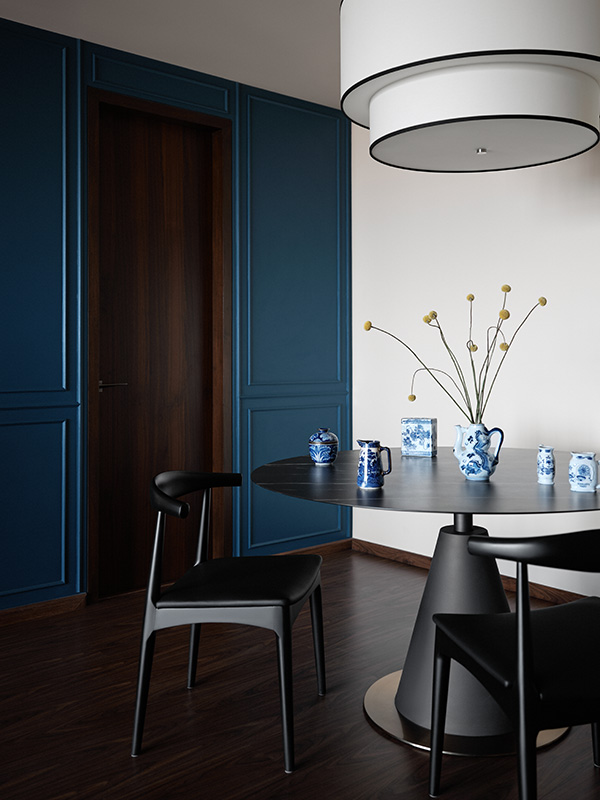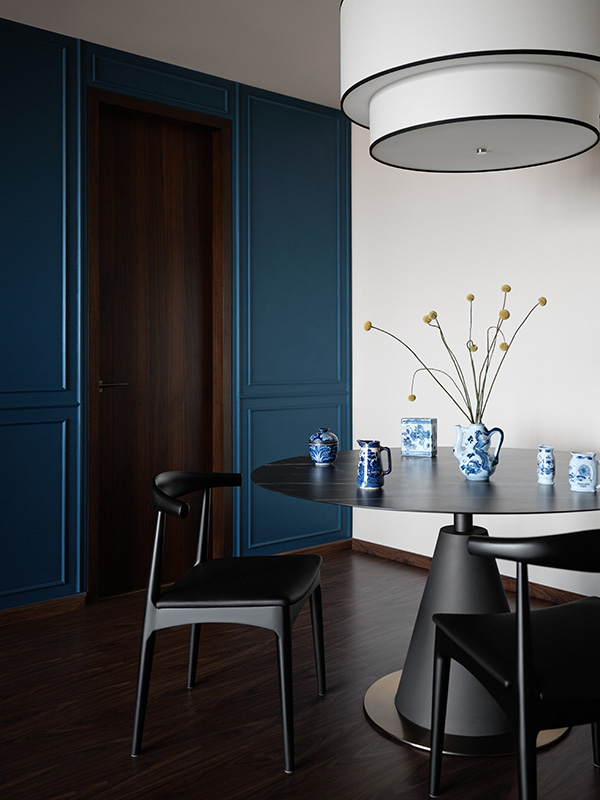 The family room, for starters, is a brilliant study in balance. Here, a wainscotted indigo wall finds space alongside cream walls and dark wooden flooring, providing the perfect little shell to revel in. The colour blue, in particular, was something that the client had asked for, and the designer set about using it in a host of ways. One sees the colour in the icy blue Iqrup+Ritz sofa and in the sculptural Tirella armchair by Bonaldo. Ceramic blue and white Chinoiserie stools rest upon a stunning rug from a private collector in Bangalore, and are not out of line when paired with the chic side tables and lamp sourced from Iqrup+Ritz. It's pairing such as these, spotted in abundance, that really give this apartment a distinctly unique and timeless feel.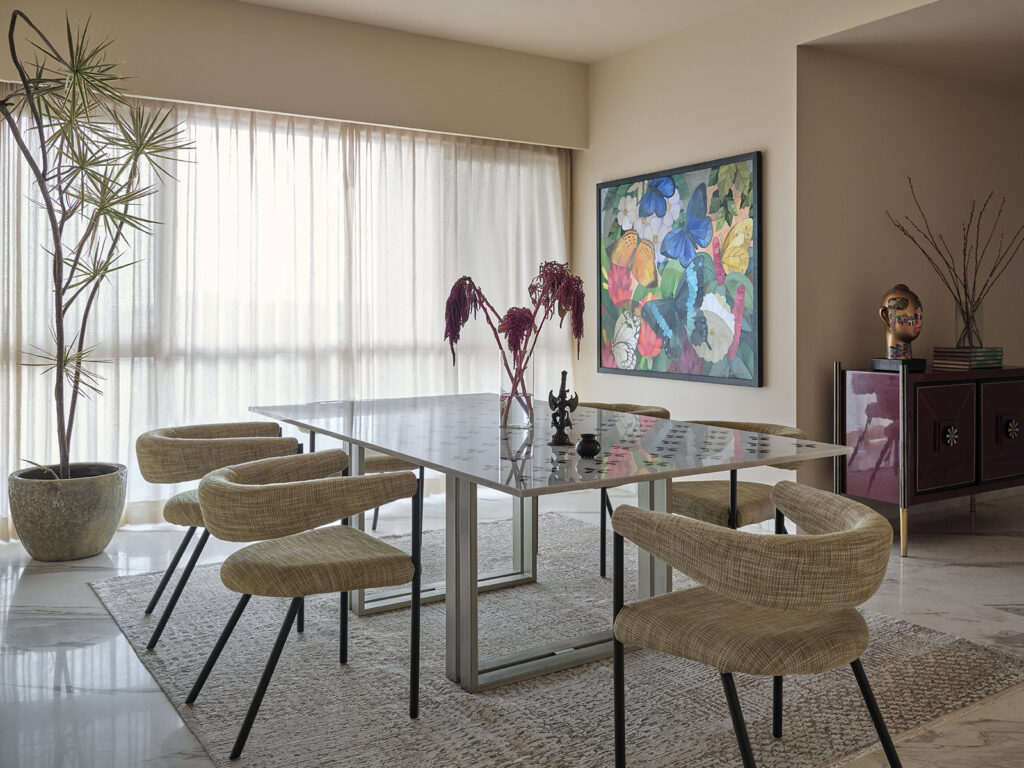 The dining area in comparison exudes an inherent sense of lightness, thanks to a breezy neutral palette that softens this sun-drenched space. Sleek Croissant dining chairs by Koy Store pair well with a Marble Italia table with custom inlay work as a beautiful Senaka Senanayake painting in the Sri Lankan artist's signature tropical style looks on.
At the very outset, one is introduced to Jaipuria's affinity for incorporating the handcrafted in her work — whether it's the custom inlay marble table or the intricately hand-knotted rug by Cocoon Fine Rugs in the dining room. But her love for the handmade really shines through in one of the bedrooms where the back panel of a bed forms the focal point of the room. "I've grown up seeing crafts all around me and Indian crafts have always been close to my heart. India is so rich in crafts that we've inherited over generations. There are so many city-made options in terms of decor, but we like to work with Indian artisans. Many Indian crafts are almost dying. We try to incorporate crafts in whatever way we can. Incorporating them in our work brings more meaning to our work," says Jaipuria.
This bedroom, dubbed the Thikri bedroom, is done up and decorated in pristine shades of white. Custom made by artisans in Udaipur, the back panel of the bed with mirror mosaic inlays shines light on a centuries-old Rajasthani craft called Thikri. "The Thikri room is one of our favourite rooms. I had met Rajprakash Ji on a visit to Udaipur in 2014. I'm so happy to finally collaborate and have his work in one of our spaces," says Jaipuria, adding that she is always grateful for clients who are open to working with local crafts. Wall lamps by Atelier Lumys, Sarita Handa's signature bedding and a wardrobe by Chairs and Company warm up this all-white space.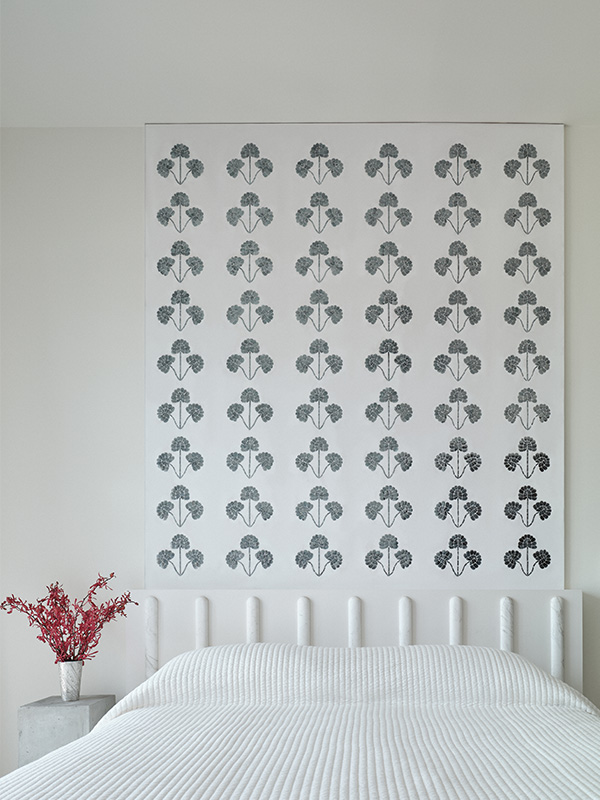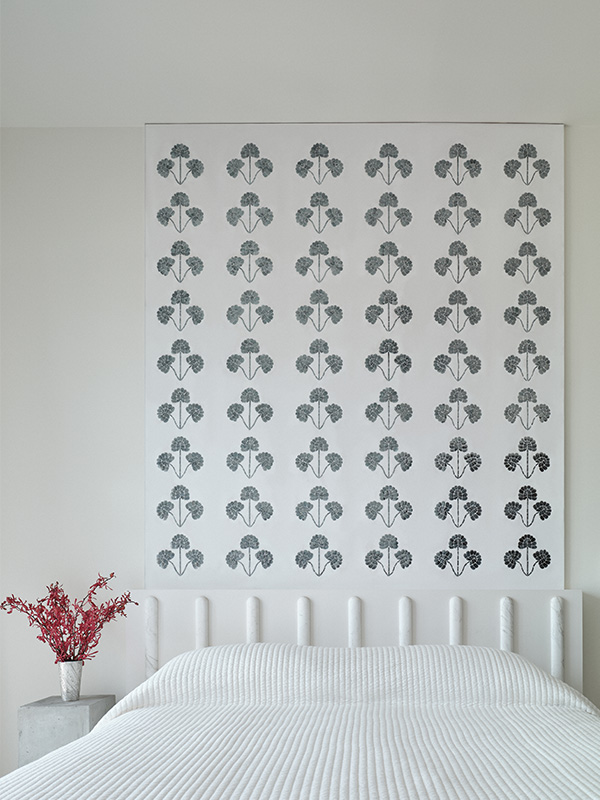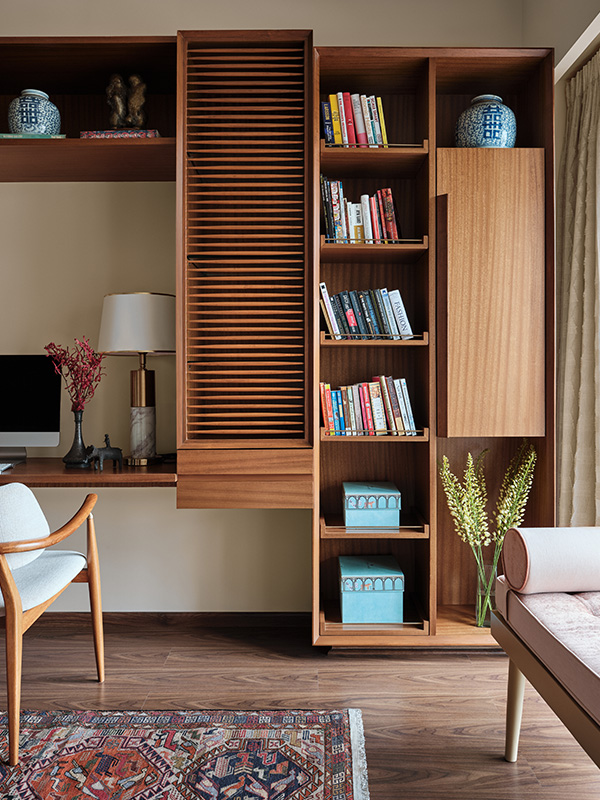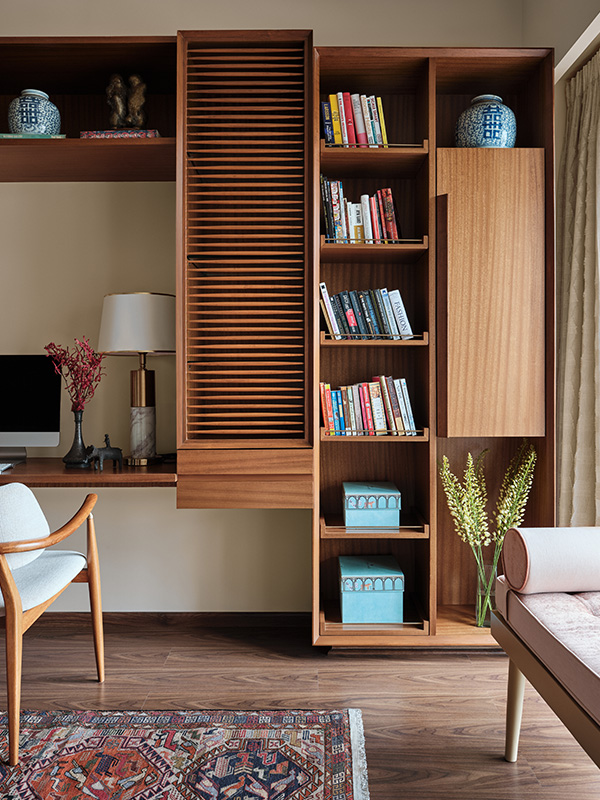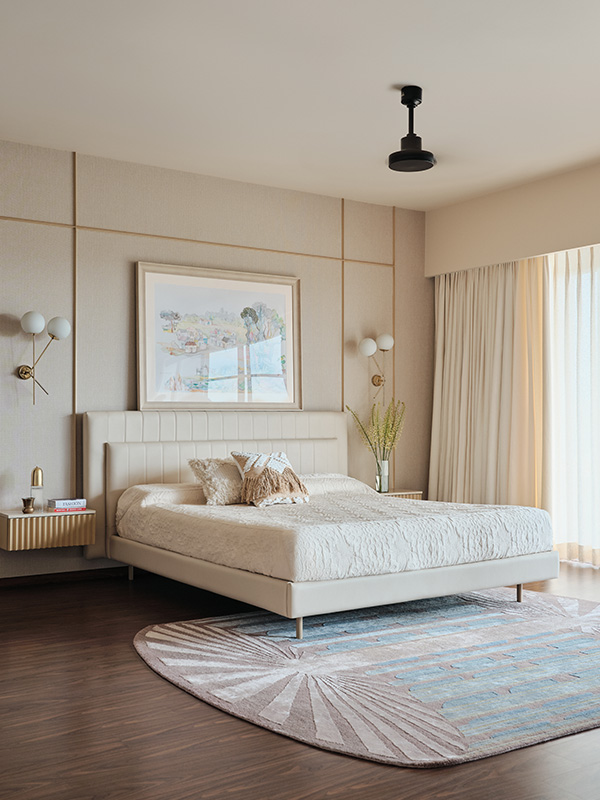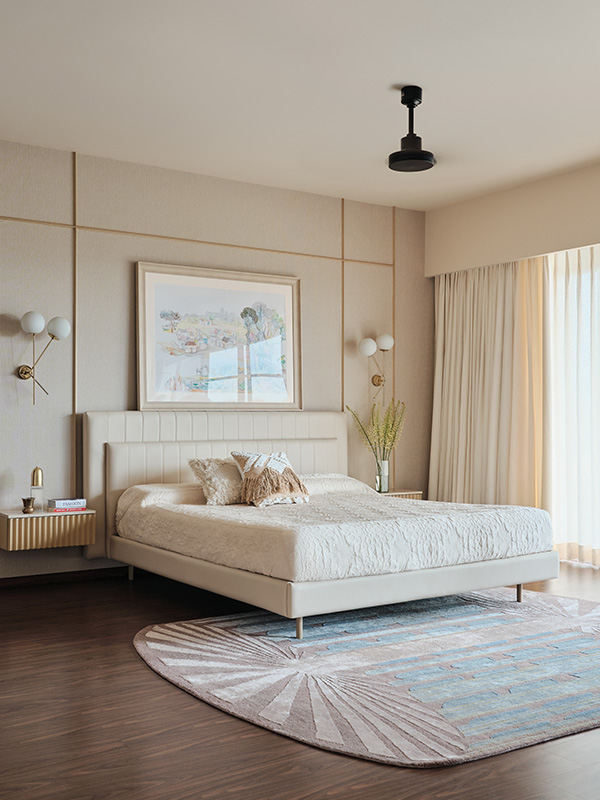 In the master bedroom, Jaipuria deliberately fell back on neutrals to bring a distinctively light and airy feel to this room that comes with expansive views of the city of Bangalore. A warmer tone of cream coats the walls and ceilings, all beautifully complemented by decorative elements such as the textured wallpaper on the accent wall and the detailed woodwork on side tables. A custom bed by Chester's India and soft furnishings like the bedspread from Good Earth, fringe cushions from Sanskruthi Homes and a pastel rug from Jaipur Rugs add subtle touches of elegance to the master bedroom.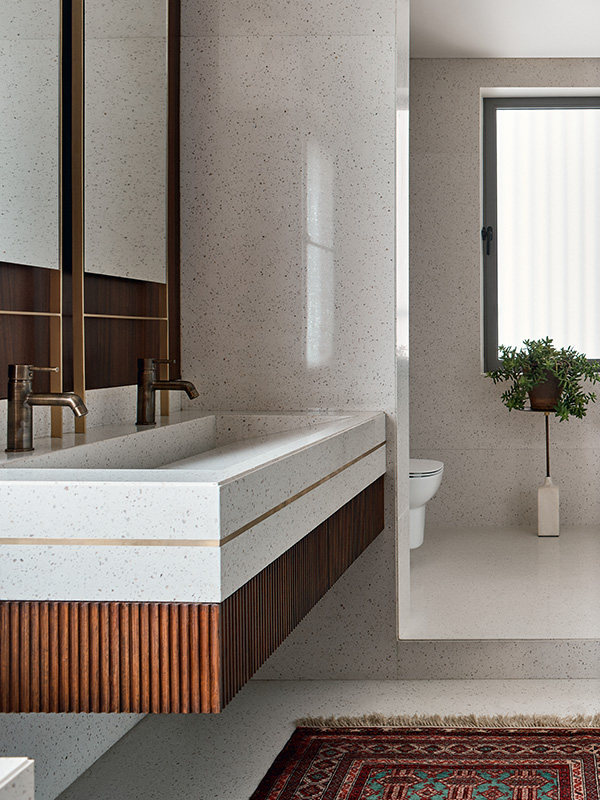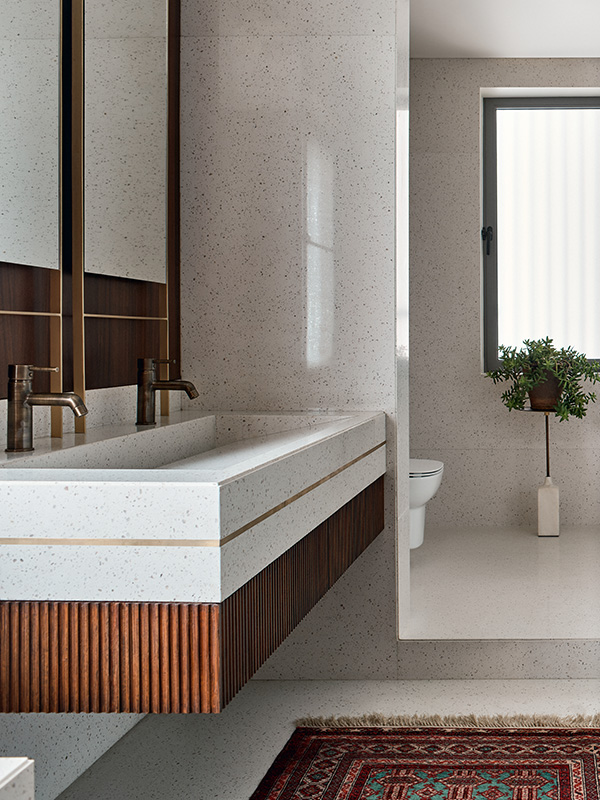 To master the art of timelessness is covetable, a quality that's not easy to achieve. With precious objects collected over the years and a focus on the handmade and on Indian crafts, all the while staying contemporary, this Bangalore apartment by Maia Design Studio shows no signs of appearing anachronistic any time soon.