Fresh off the runways from Milan to Los Angeles, fringe and tassel embellishments are a hot trend in fashion, home decor is not too far behind.  We were at Maison & Objet, Paris in January and couldn't stop gushing over the fringe being used so innovatively in home décor. From furniture and accessories to installations, coloured fringe looks stylish and chic. Here's how you can rock the look this season?!
Fringe Furniture –
A fringe trim on furniture looks dynamic. It can invoke traditional elegance or even an edgy, contemporary vibe depending on your style. Here are inspirational furniture pieces featuring stunning and unique fringe detailing. We love them all in different ways. Which one suits your vibe the most?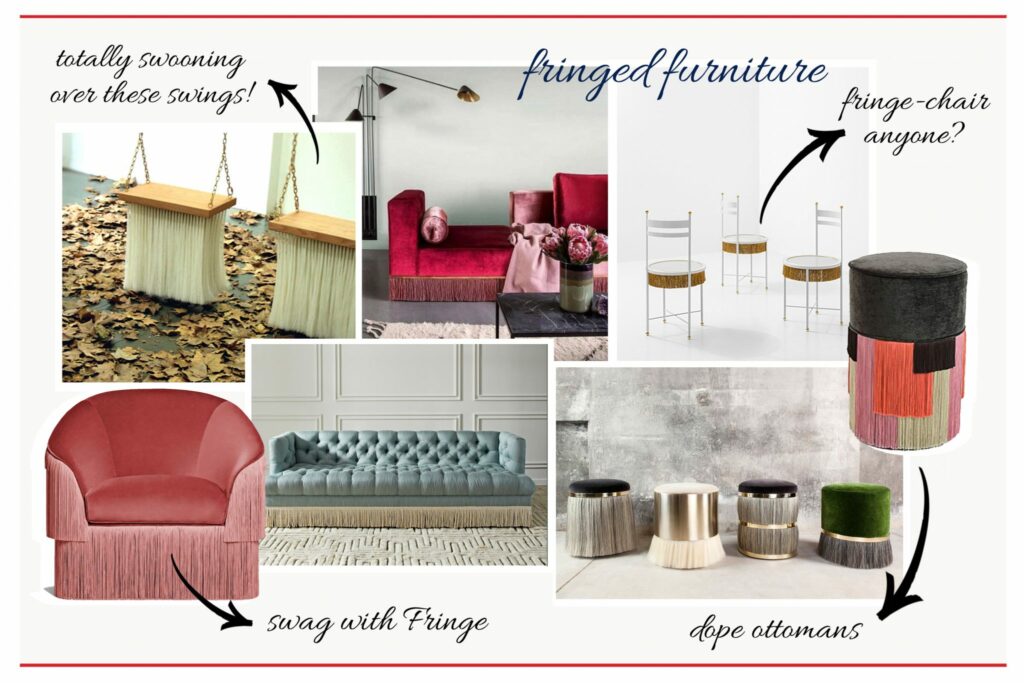 The swing's from Cristian Mohaded Studio is a part of an 'Extensions Installation' that explores those places of childhood, which were extensions of our space of imagination, where we create stories, characters, and games, as fun and hobby. Daily objects were taken and played with, to invent characters with these pieces, seeking to recreate stories. Dimore Studio is giving us fringe goals as well. Pretty is the deep pink sofa, perfect to jazz up the living room and create a sense of comfort. Life is too short to ignore the 'Ischia', the fringe chair that is a definite must-have in your office or just to sit around at home. Another piece from Munna Design, the club chair, caresses the floor with its delicate fringes and is upholstered in dust pink silk. The piece can be contrasted with dark walls, to ensure that one brings out the others charisma. Its natural lines and drape are always flattering. The periwinkle blue sofa by Jonathan Adler is equally amazing and a splendid piece to decorate your living room with. Super-gorgeous ottomans by Lorenza Bozzoli are no lesser than any fringe masterpiece while they ostentatiously display their luxury. The tribal pattern forming out of the fringe is such a wonderful twist to the use of the material. A dressing room can look boudoir chic instantly with these opulent ottomans.
Fringe Décor-
Fringe the darkness away or style with statement accessories, these lamps and cushions are ready to slay all your guests.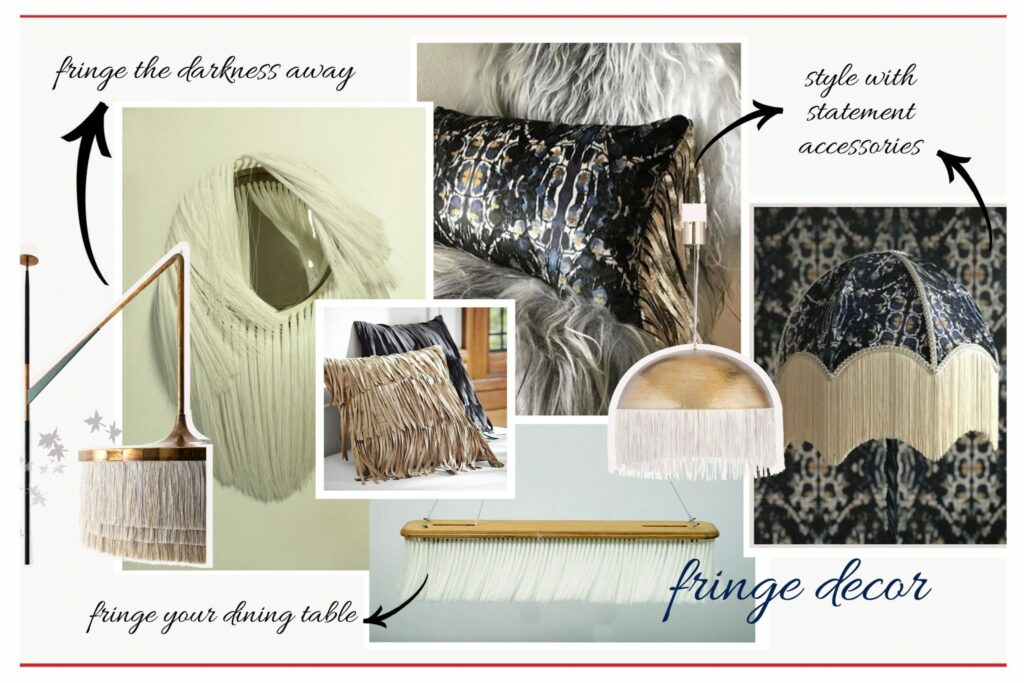 Dimore Studio gets it right every time, straight from the lighting collection, the slender lamp is graceful enough to accessorize your living room or bedroom with sumptuous glory. The 'Fleco' mirror is a limited edition piece for The Gallery Serge Bensimon, Paris. This is one piece that will definitely be a conversation starter. Designed by Cristian Mohaded and La Feliz it is produced out of nylon yarns and wood. Another beauty by the same designer is the flat-shaped 'Hula & Pilla' lamp, which can be installed over a dining table to create the perfect ambience for a wonderful evening and dinner. At Pottery Barn Teen we discovered these funky cushions. Toss a few on your bed, chair or sofa to give your space a retro-cool vibe. Similarly, Anna Hayman Designs presents striking patterns in bespoke beauties through fringed pillows where warm gold tones are used for the fringe. The dome-shaped lamp by Sho Modern displays lovely fringes woven to a golden lampshade whereas the one from Anna Hayman Designs is a perfect bedside companion. Team it up with rich velvets and silks you've got the perfect modern-day French look!
Photographs via Pottery Barn Teen, Anna Hayman Designs, Christian Mohaded, La Feliz, Dimore Studio, Lorenza Bozzoli, Jonathan Adler, Munna Design.