From Hong Kong To Paris, Art Basel 2023 Evokes All The Senses
28

Jun

'23

3:38 pm

by

Manisha AR
Considered one of the major art fairs to attend for art enthusiasts, Art Basel is a great place to meet both seasoned collectors and novice aspirants. After hosting an edition in Hong Kong earlier this year, and in Basel earlier this month, they will head to Paris in October. After making a powerful return last year, this edition in Basel saw large numbers of exhibitors and visitors. The fair saw over 82,000 visitors and nearly 4,000 exhibitors.
According to their Art Market 2023 report, published in partnership with UBS, there were three major observations: one being the three percent increase in global art sales that roughly translates to $67.8 billion; second, China and Hong Kong experienced a decline in sales; and finally, online-only sales fell by 17 percent.
An Array Of Art On Display
The sheer numbers made it much harder this year to find work that stood out above the rest. It explored a wider range of subjects and spanned multiple mediums. The fair didn't simply cater to cameras and cellphones with only multi-media installations; it also showcased sculptures and paintings to contrast all the newer art mediums. There was a much lesser focus on eye-catching art that made bold statements and a shift towards more contemplative and reflective pieces. Many artists and galleries resurrected art from the past and other art events and presented them to newer audiences. We highlight some new ones, some old ones, and mostly the self-aware ones that comment on the art world itself.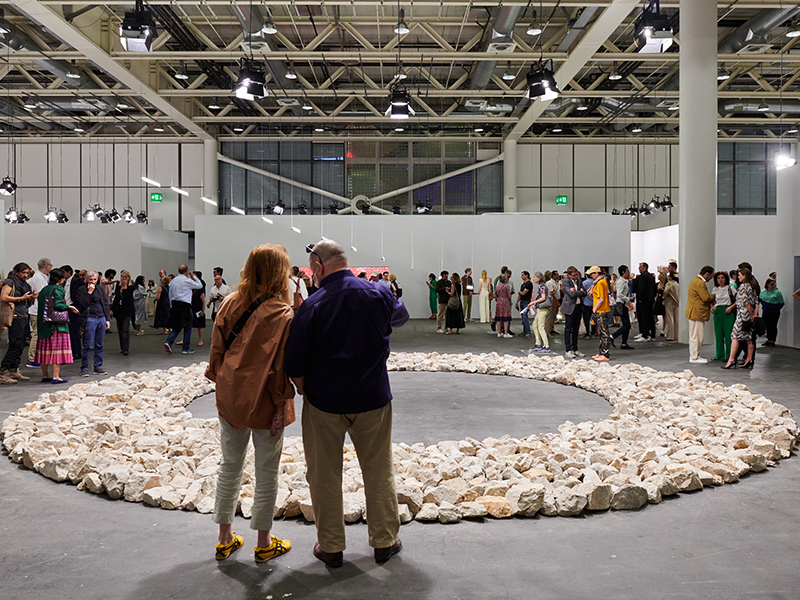 For instance, Croatian artist Tomo Savić-Gecan's generative piece co-existed in the same space as British artist Richard Long's Zugspitz Circle from 1998. Savić-Gecan's piece at the art fair was a response to the art report—it featured a piece called 'Untitled' —that involved screens placed at various points in the art fair displaying information excerpted from the report based on the day and visitor turnout. Whereas Long's Circle had a direct interaction with its immediate surroundings in 1998. At that time, the original location where the piece was first shown was atop the highest mountain in Germany, called the Zugspitze. One participatory performance piece was based on context, and another was taken out of context and no longer performed; it was reduced to a sculpture or documentation of a past moment in art history.
New Work By Celebrated Artists
A new work by English modernist painter David Hockney was on view. A poignant outcome of being cooped up in his home studio in Normandy, Hockney's piece '25th June 2022, Looking at Flowers' is a series of digital sketches he made of floral still lifes on his iPad. As a contemporary painter who hasn't yet succumbed to the new media boom, it's a bit tongue-in-cheek for Hockney to be presenting still-life studies he made on his iPad. Along with the studies is an image of Hockney himself contemplating the series as it hangs on a bright blue wall — a photographic drawing.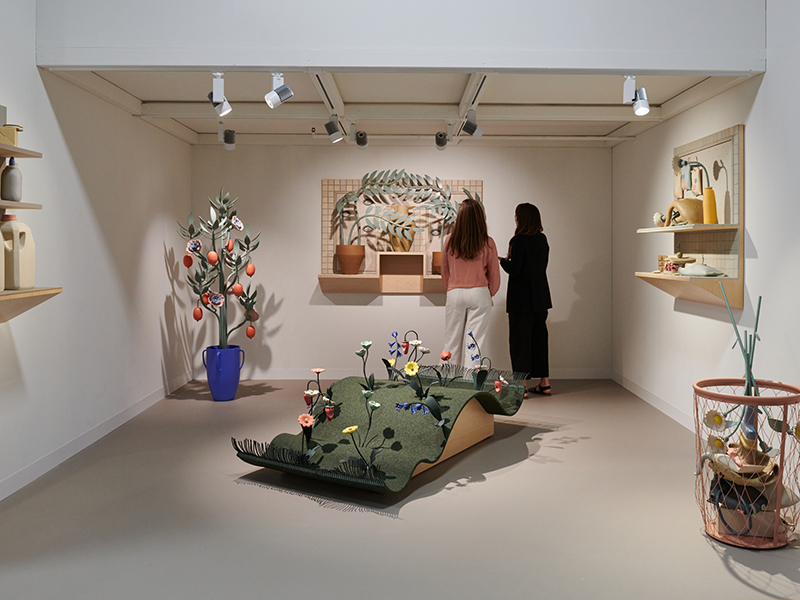 American ceramicist Genesis Belanger also showcased six new works in a solo installation. Known to create sculptures that blur the lines between pop art and surrealism, Belanger lifts themes from advertising and design in the 1950s of perfection and bright colours. One of the pieces titled 'The Hills Have Eyes,' 2023, features house plants that conceal watchful eyes. The title is a nod to the 70s horror film that plays on the fears of being a voyeur versus being watched by another– an apt reference for much of (virtual) reality today. At first glance, the entire installation appears to be a simple recreation of a home; perhaps the lobby of an office, or even the display section at a furniture store. However, these pastel-toned sculptures are a haunting reminiscence of these spaces and not recreations in the artist's style. They serve as an overview of the psychologically charged themes that Belanger is interested in– capitalism, advertising, myths, and gender in domestic spaces.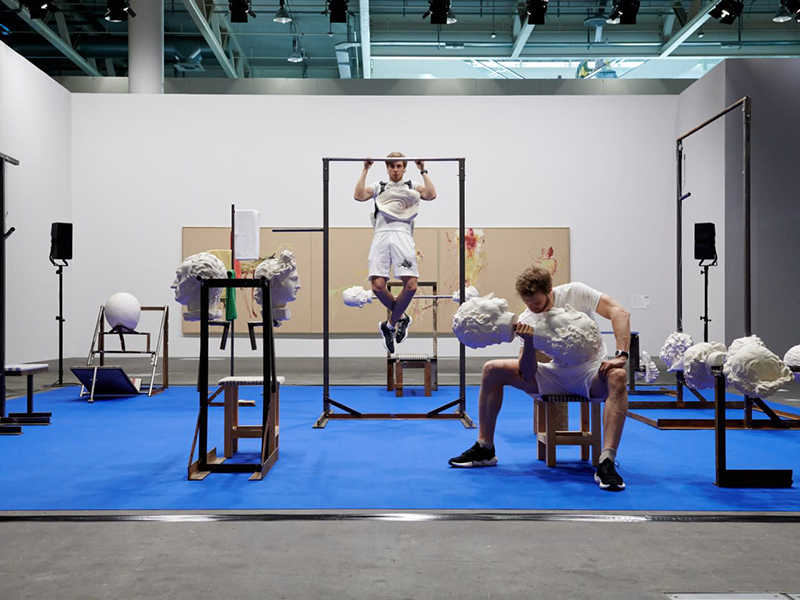 Buyer-Friendly Art Fair
There is a broader range of works on display, and the viewing experience of encountering and photographing art is a lot more seamless this time. That being said, the themes and subjects are considerably tamer and more buyer-friendly this year.
One of the better outcomes of having audiences experience art entirely online is that many references and themes have become more global. As a result, the art on display is relatable to a wider audience since it engages in less obscure themes. As part of Unlimited (the section that presents large-scale sculptures and paintings, video projections, and live performances), the 'Čiurlionis Gym,' an installation by Lithuanian artist Augustas Serapinas, stood out for engaging with a contemporary theme like the aesthetics of fitness. Inspired by his own art school experience at the M.K. Čiurlionis School of Art in Lithuania, the installation shows a collection of DIY gym equipment placed on a square blue carpet.
In place of black, heavy, and metallic weights, there are plaster busts of Greek statues. A relatable modern-day still-life, this composition draws parallels between the discipline and rigor of developing muscle and physique in a gym and the discipline and rigour of art education to develop form and muscle in sculpting, drawing, painting, or even making plaster copies of ancient Greek sculptures.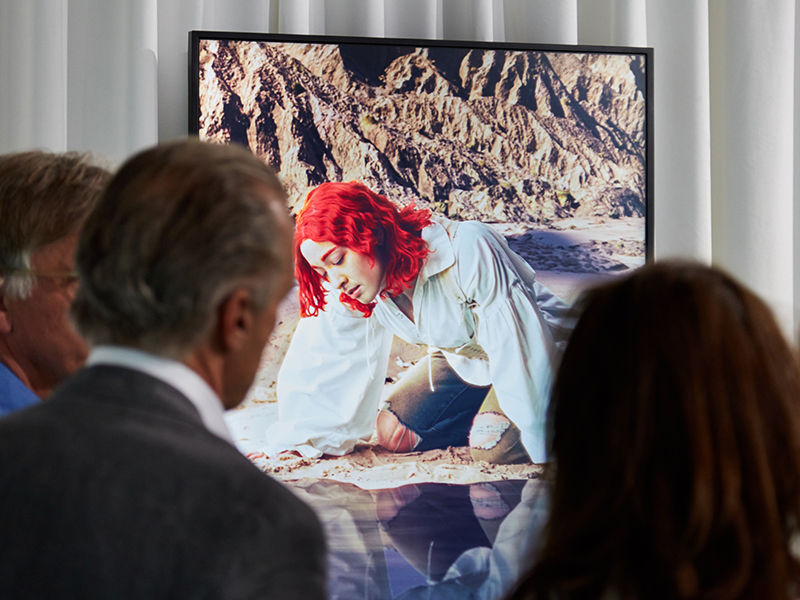 Last but not least is the work of visual artist Sin Wai Kin. Awarded the 24th Baloise Art Prize, Sin Wai Kin's work titled 'Portraits,' is also a substantial body of work. This art prize is awarded during the fair to promote contemporary emerging art. Kin, a Canadian visual artist, uses speculative fiction to disrupt and question beauty, identity, and objectification ideals. Presented by Soft Opening, a newer London-based gallery, the series on view explores storytelling "as a means to interrogate binaries and create fantasy narratives." Kin presents five characters that personify grand themes like 'The Universe', 'Change,' and 'The Construct,' etc. to disrupt both visually and metaphorically our ideals and narratives around what these words mean. Their work is a fresh approach to the subject of identity, as it cleverly intertwines world-building and art as documentation to create visually stimulating imagery.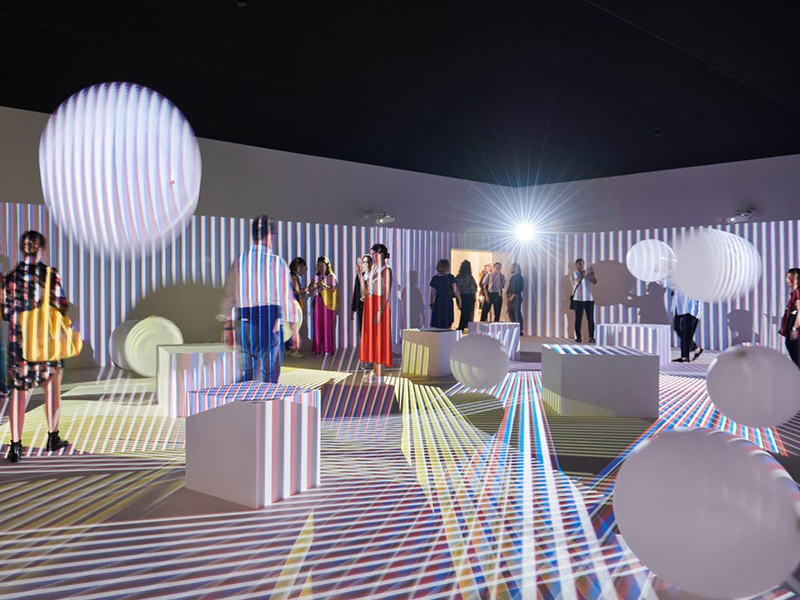 Spreading Its Wings 
In the last decade, Art Basel has expanded its offerings to include an art market report, an edition in Hong Kong, and a rebranded edition titled Paris+ in Paris. In a press interview, the newly appointed CEO of Art Basel Noah Horowitz elaborated on his vision for the fair stated that they are looking at making it more than "just an art fair". 
He emphasised using marketing strategies to create ties between the art fair and other genres of culture such as fashion, film, music, and design––a developing trend among contemporary artists. While the reports and sales indicate a reasonably positive outcome, the art fair while remaining secure as an art market doesn't bring anything new or radical to discourse this year. Instead, Art Basel appears to be finding creative ways to stay relevant, fresh, and constantly in the news.