Art Deco Meets Indian Design In This Shanghai Apartment By Baptiste Bohu
6

Feb

'20

9:30 am

by

Nuriyah Johar
In a design context, the term luxury is open to interpretation. For many, the idea of luxury is shaped primarily by extravagance – an indulgence in the finest, and most exclusive.
However, this distinctive apartment in the former French concession of Shanghai sees an interpretation of luxury that varies from the general perception. French designer Baptiste Bohu created a unique space using elements from across the globe, revealing a richness in expression that combines the serene with the dramatic. His trademark style, a blend of Art Deco, French Classicism, and Contemporary design was a perfect fit for the owners – a liberal, well-travelled Chinese couple. Bohu designed the interiors to reflect their love for India, France and the African subcontinent. "I think that gathering objects from different parts of the globe in the same space is true luxury," he says. "A door from Jaipur, a lantern from Marrakech, a blanket from Sri Lanka, a vase from Paris, this is, to me the biggest excitement!"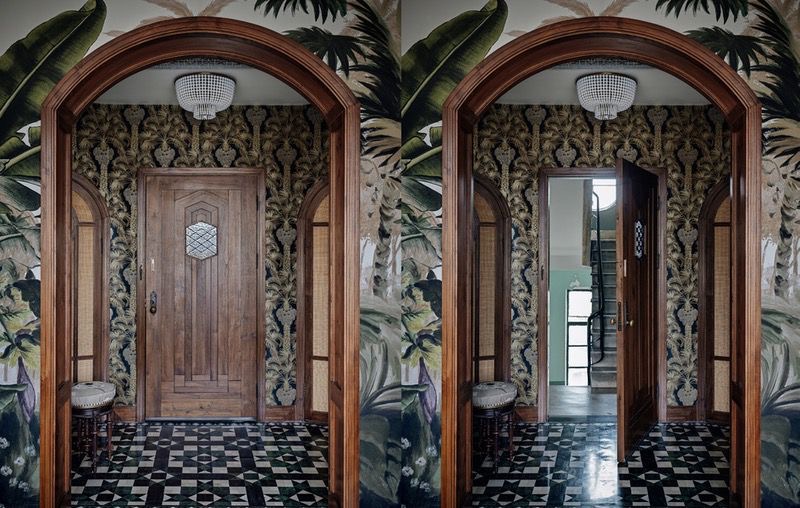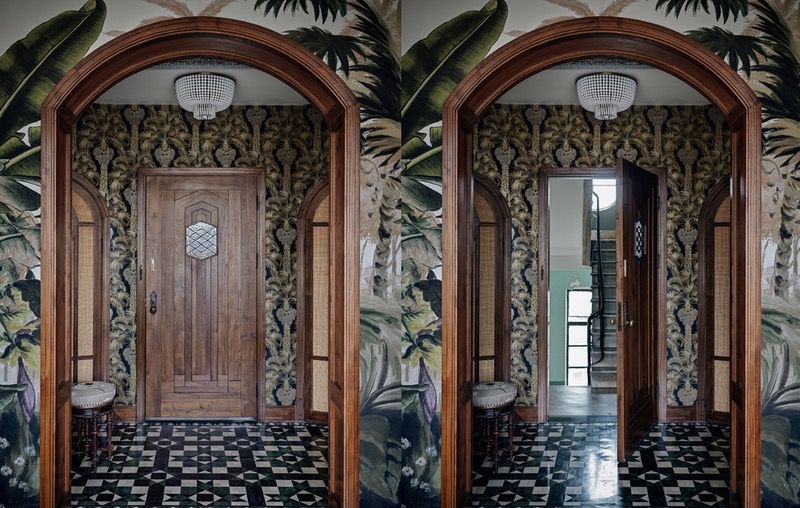 The apartment is situated in a beautiful 1920s Art Deco building, which also served as inspiration for the design. Featuring a classic wooden arch, bold tropical wallpaper, vintage furniture, wicker elements and mosaic tiles, the entrance is theatrical without being overwhelming. "I always dreamt of being a movie set decorator," says Baptiste. "Cinema is my biggest source of inspiration: the mood, the lighting, costumes, music, all inspire me tremendously. I like balance and symmetry, but I also like drama, and always aim to give a bit of a theatrical look to a room as one does in stage design."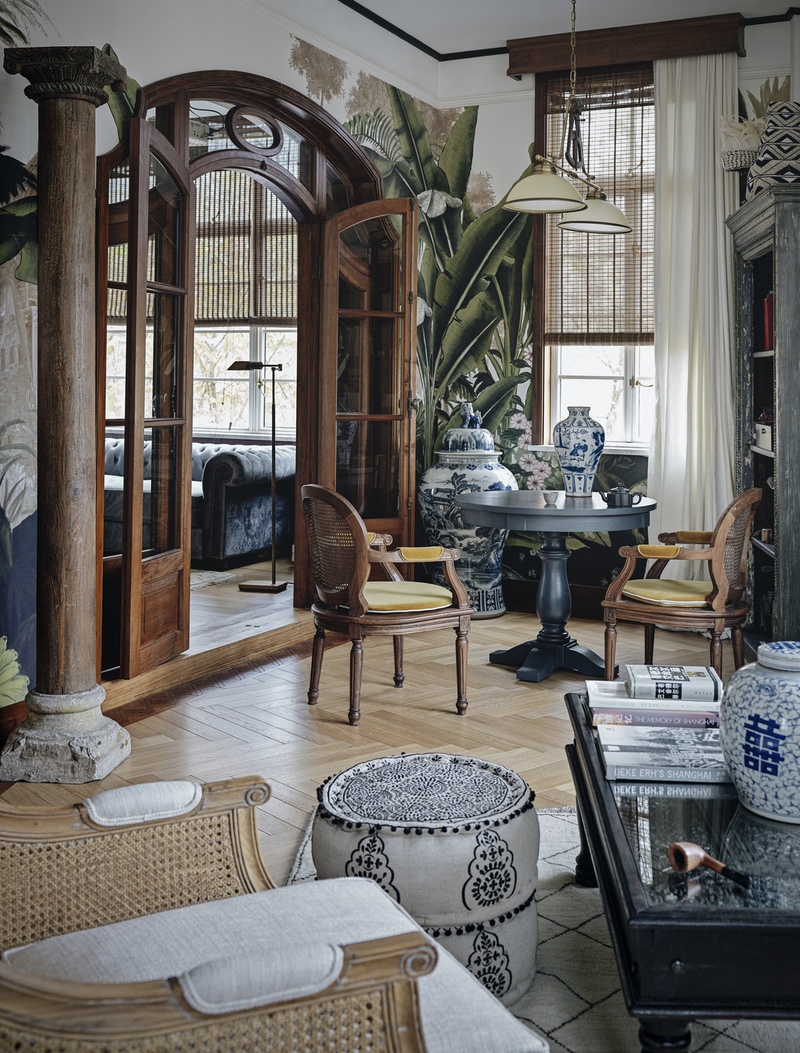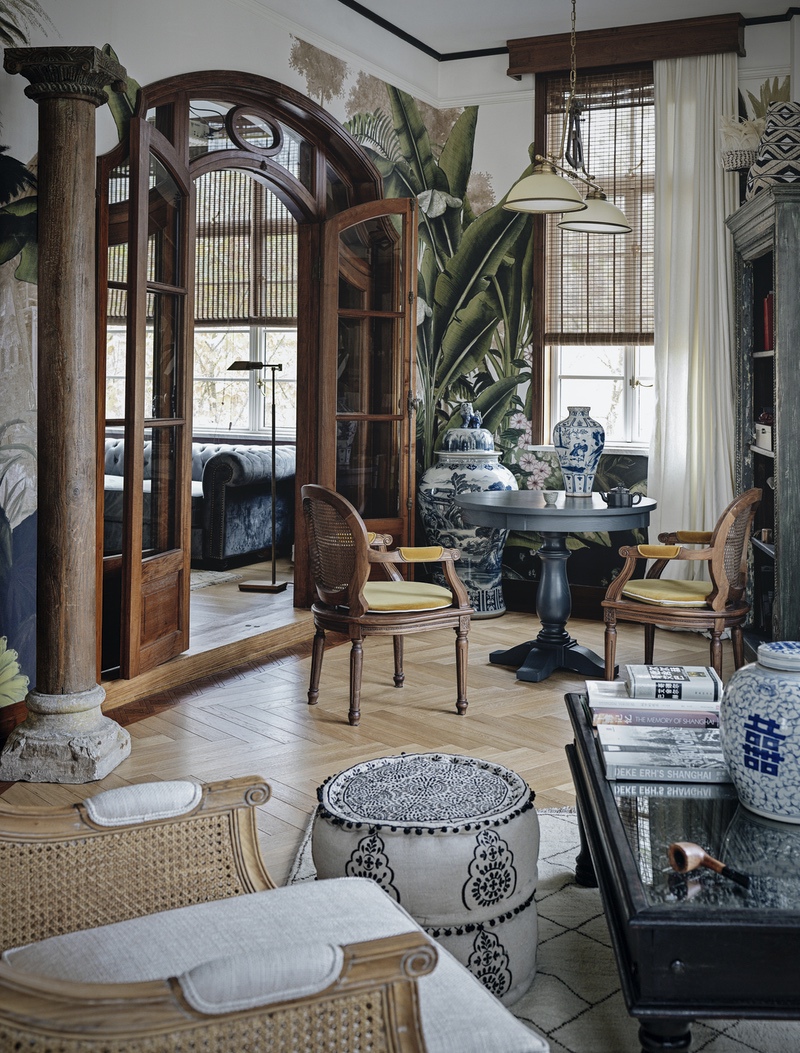 Moving inwards, the living room carries the maximalist spirit forward layered with an indubitable presence of multiculturalism. The French designer chose a striking panoramic wallpaper that represented Bali, from Ananbo Wallpaper. Authentic ming vases add an oriental flair that beautifully complement the vintage overtones, while subtle Morrocan elements feature in the soft furnishings. "I love cultural exchange and to me, the biggest compliment on my project is when people from very different parts of the world find a bit of themselves in the interior." With a source list ranging from luxury brands like Christian Lacroix to flea markets from around the world, Bohu's passion for design cuts across convention. A sense of openness prevails throughout, stemming from the liberal use of natural materials. The wooden mouldings, bamboo blinds and wicker furniture add lightness to what would otherwise be a heavy interior.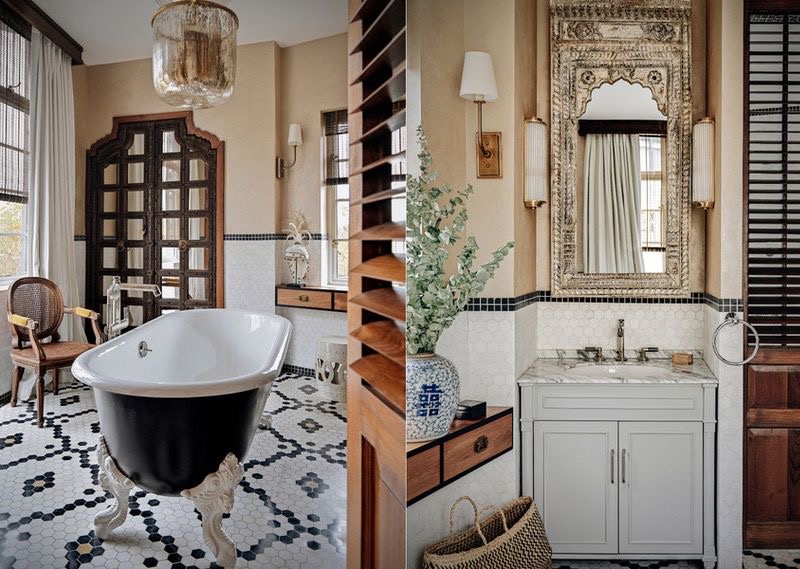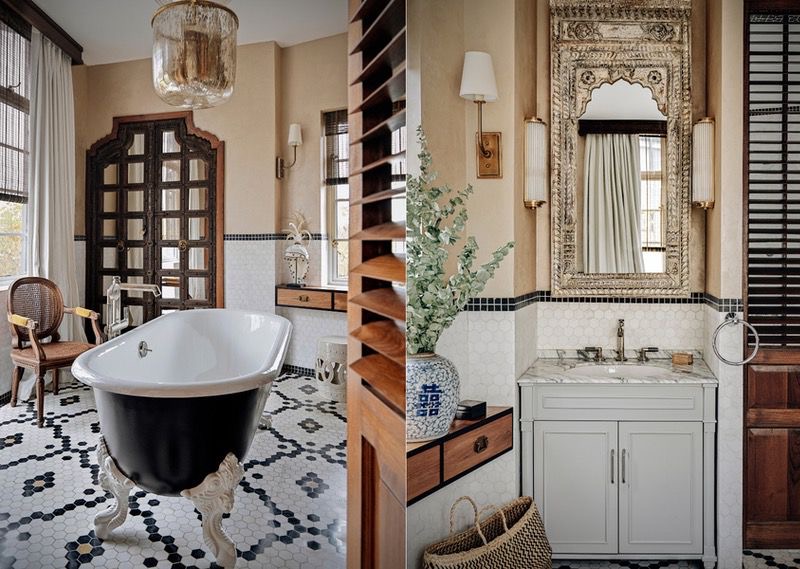 Seemingly anachronistic antique mirrors and doors from Jaipur blend in seamlessly with the Moroccan, British Colonial, Chinese, Art Deco and French elements that feature in the bathroom. "Even though I have never been to India, I feel very close to the culture and I absolutely love Indian design," says Baptiste. "Jaipur is my main inspiration on Pinterest and I am planning a trip very soon. I love the drama of Indian Palaces, the stunning colours, the beautiful refined arches and columns, the wooden screen craftsmanship. It is exotic, glamorous, and just generally stunning." A freestanding tub sits right at the centre of the room, adding a striking contrast with its matte black and glossy white body.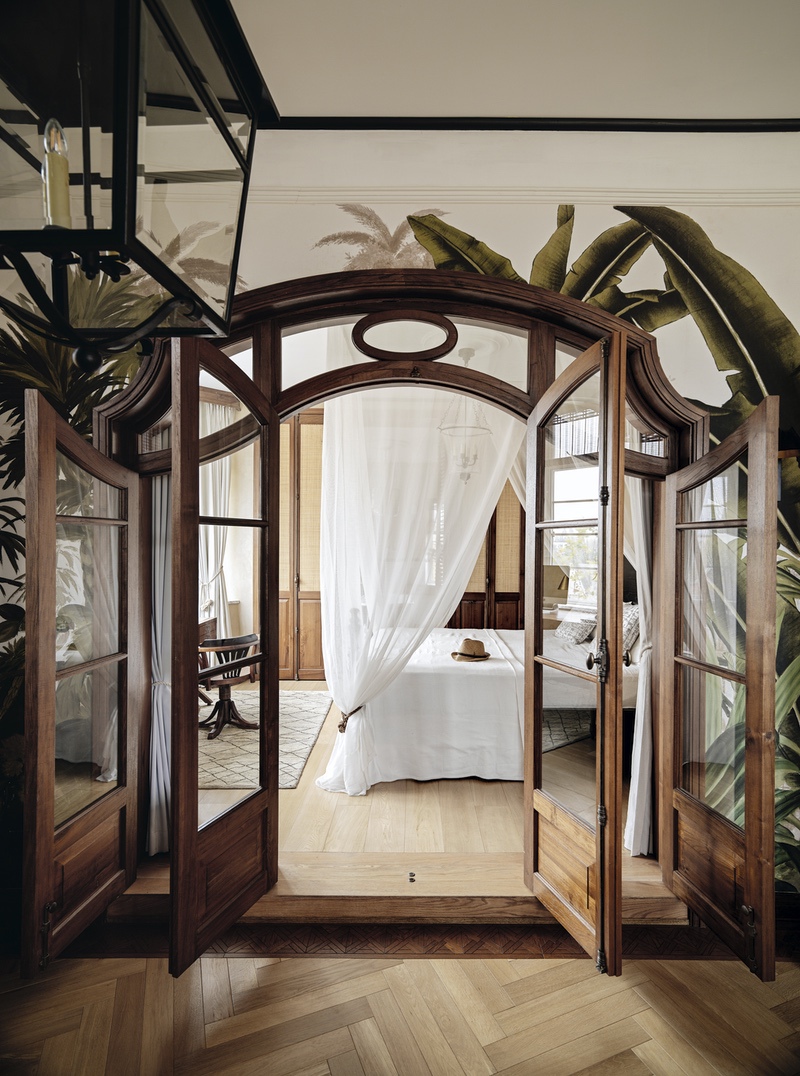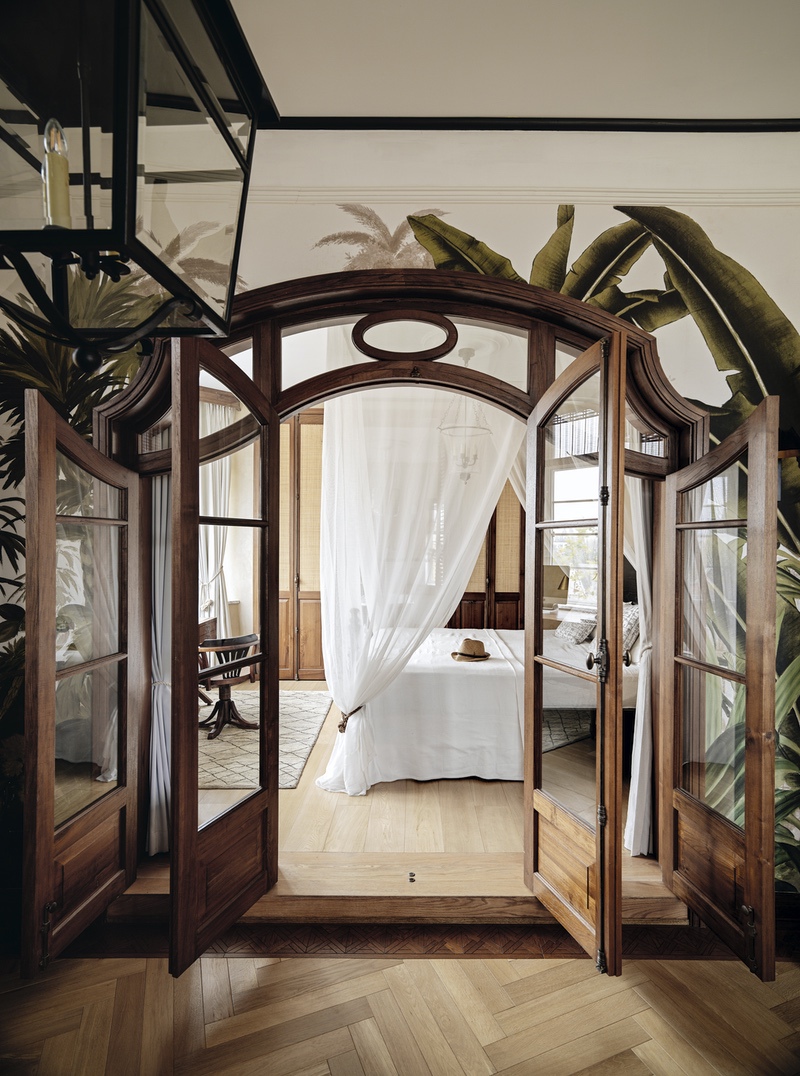 For the bedroom, Bohu adopted a more restrained approach, without compromising on style. A grand, quadruple door gives way to a warm, classic interior. Vintage furniture with Indian and Moroccan overtones are set off by contemporary elements like a black, geometric moulding. In order to maintain an overall classicality, Bohu selected Smeg for the kitchen appliances, an Italian brand best known for its retro, 1950s-style. "I am not an interior architect but a decorator" explains Bohu. "And so, in my projects, furnishing, lighting & decoration are the stars. My favourite hobby is to go to markets, antique stores, and find "The" piece that will define the project. My team is sometimes surprised with my choices and I always tell them to wait for the final effect as I have a vision on how it will turn out to look like." he says, exemplifying how good design transcends culture, and how luxury can lie in a flea market in Marrakech.