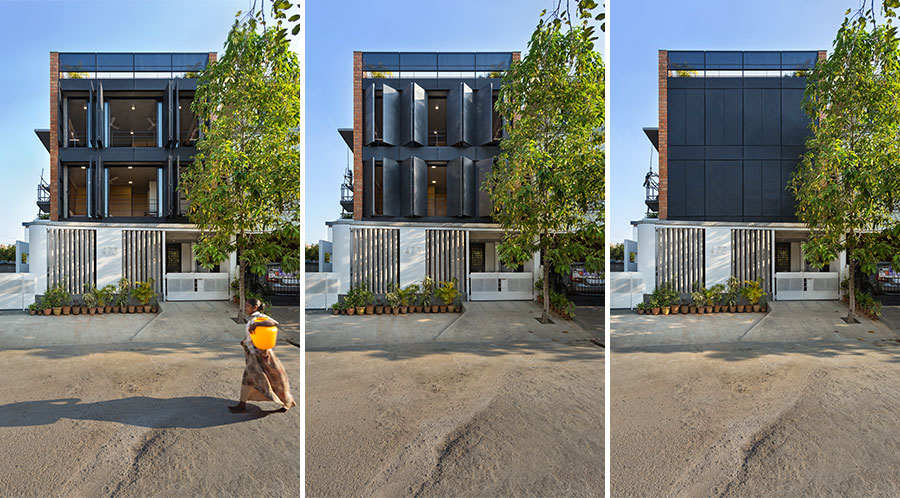 From the outside, architecture can be deceptively simple, but even the most basic block of flats can take months of meticulous conceptualisation before it's brought to life, though people will probably never pause to consider it. But then there are those rare occasions that a building is so unique, original and unusual that you can't help but stop and stare. One such work of art is the Ethirajan House in Bangalore by architecture firm BetweenSpaces.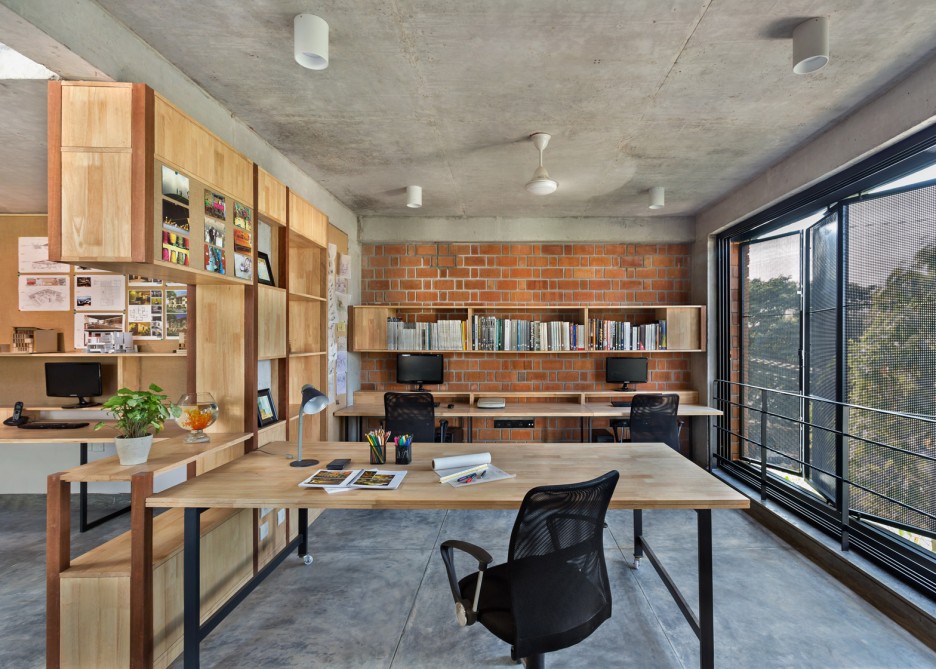 Designed by the company's co-founder, Divya Ethirajan, the 3,100 square foot building is the architect's own residence with the ground and first floor serving as a home, and the second and third being a studio space with a separate entrance. The first thing you're likely to see however, are the striking steel shutters that fold open along the upper floors. The need for this innovation was the dense population of the area in which she was building. Though the plot is bordered on 2 sides with neighbours, Ethirajan was determined to achieve her goal of a bright, airy home that still protected her privacy.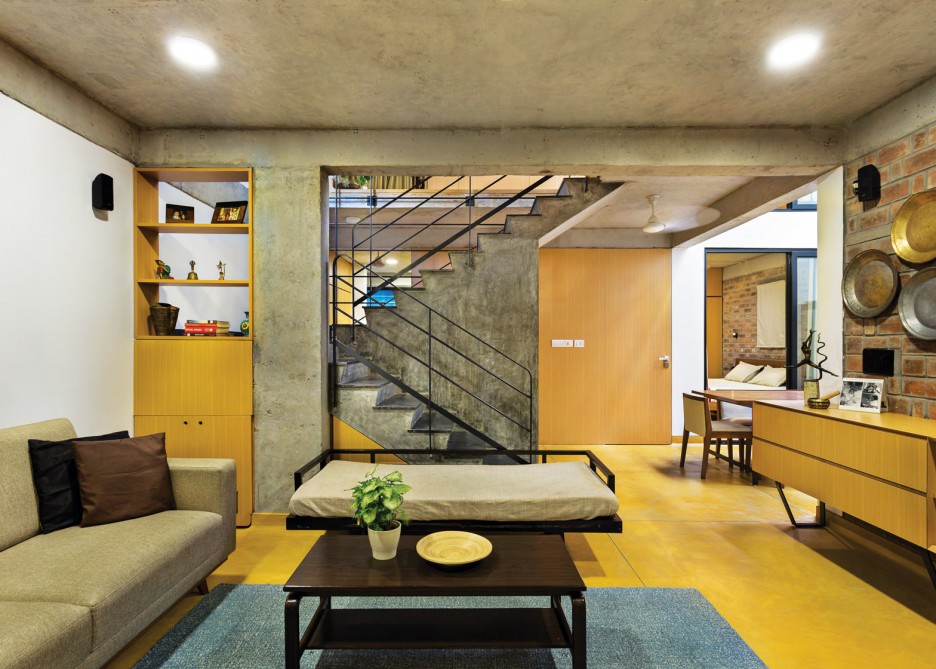 The location of the office plays into the ethos of the company itself, BetweenSpaces believes in architecture as a dialogue between elements. They "endeavour to create buildings that are respectable and responsible, are cost effective and makes living comfortable and gratifying. As much as the practice loves to explore these intimate spaces and work on construction details, it also has its interest in how the building sits on the site and interacts with the street and its surrounding."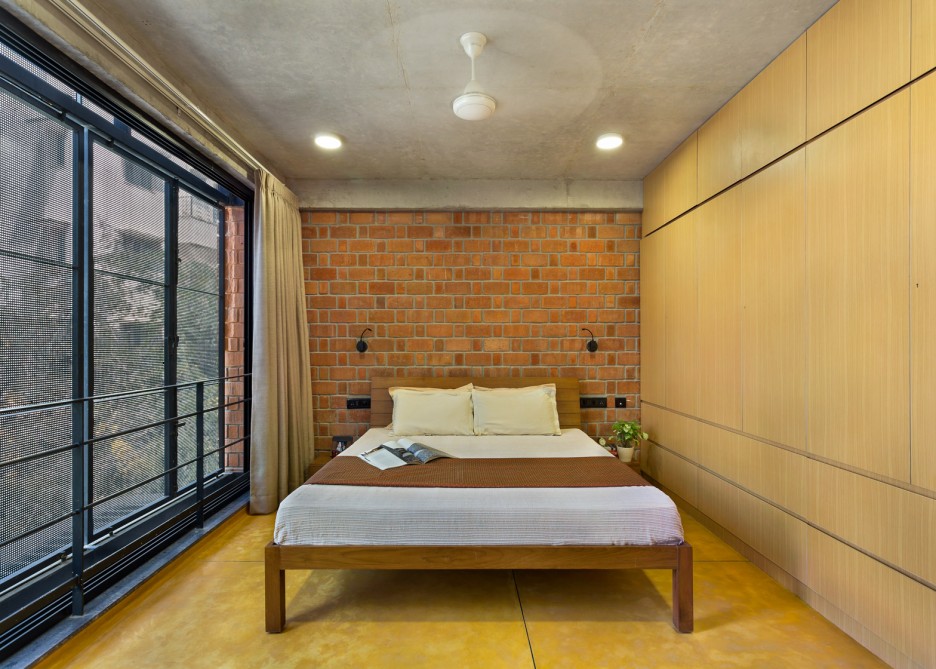 The layout was constructed in order to best take advantage of the uninterrupted view on the northern side while a number of concepts went into best utilising the street facing sides. The 20 foot wide perforated steel shutters can be folded out to enjoy the natural light and greenery and accentuate the minimalistic facade of the structure. The use of skylights ensure that there's light even when the shutters are drawn.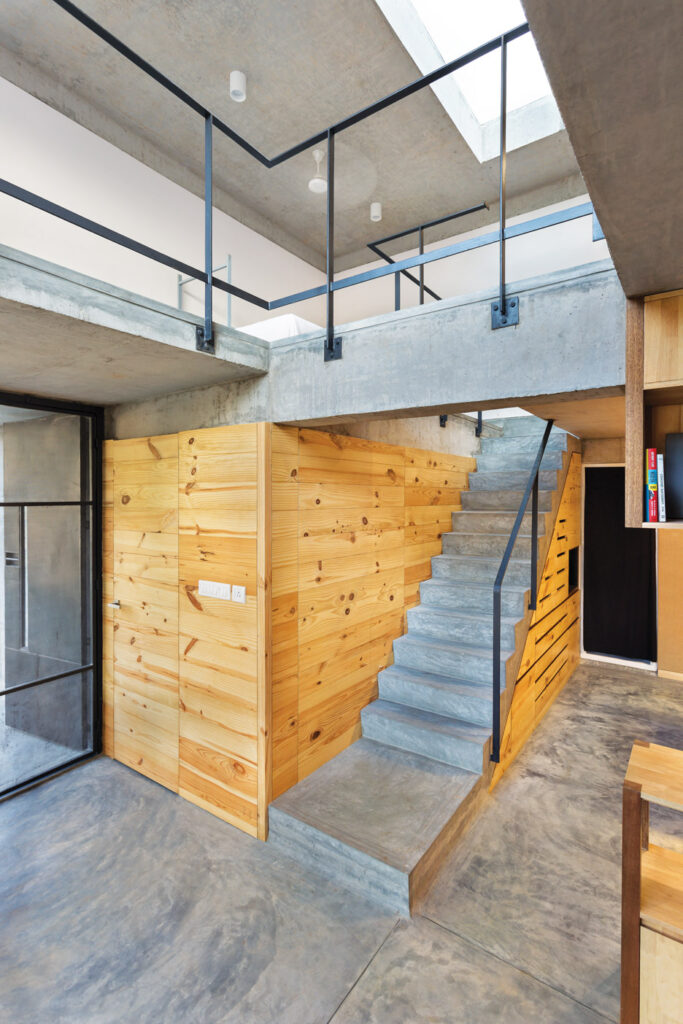 The interiors of the space reflect the modern, industrial exterior with a lot of concrete, wood, brick and steel feature in their raw state. The lines as well reflect the urban context with angular corners and contemporary design flowing through all the fitted units. The Indian Patent Stone, yellow oxide, and granite floorings add a rustic edge to an otherwise refined décor, this along with the unfinished concrete slabs and unplastered brick walls helps lend an air of shabby chic. Somehow, even though everything about this space looks rugged, it continues to exude an air of elegance.
Photographs credit Kunal Bhatia