Bjarke Ingles And Thomas Heatherwick's Striking New Google HQ Revels In Its Futuristic Status
3

Aug

'22

10:35 am

by

Sneha Shah
In the realm of cutting-edge architecture, bringing to life theories that were once considered utopian, while honouring the history and ethos of the world's leading web giant is no small task. But for Bjarke Ingels, a veteran in modernist inspired buildings and Thomas Heatherwick, one of the most sought-after designer of our time, it's just another challenge! Causing a stir in the design world with their radical ideas and game-changing designs; the dynamic duo teamed up to bring unparalleled creative firepower to the new Google Headquarters project in Silicon Valley. Just like the successful collaborations between tech giants and starchitects in the past, this is a promising one; offering a glimpse at what the carbon-free future of work could look like, taking the future of workplaces a notch higher in the wake of Covid-19. As for the design of Google's first-ever purpose-built headquarters, it is rooted in one
question – how can you make the office more human?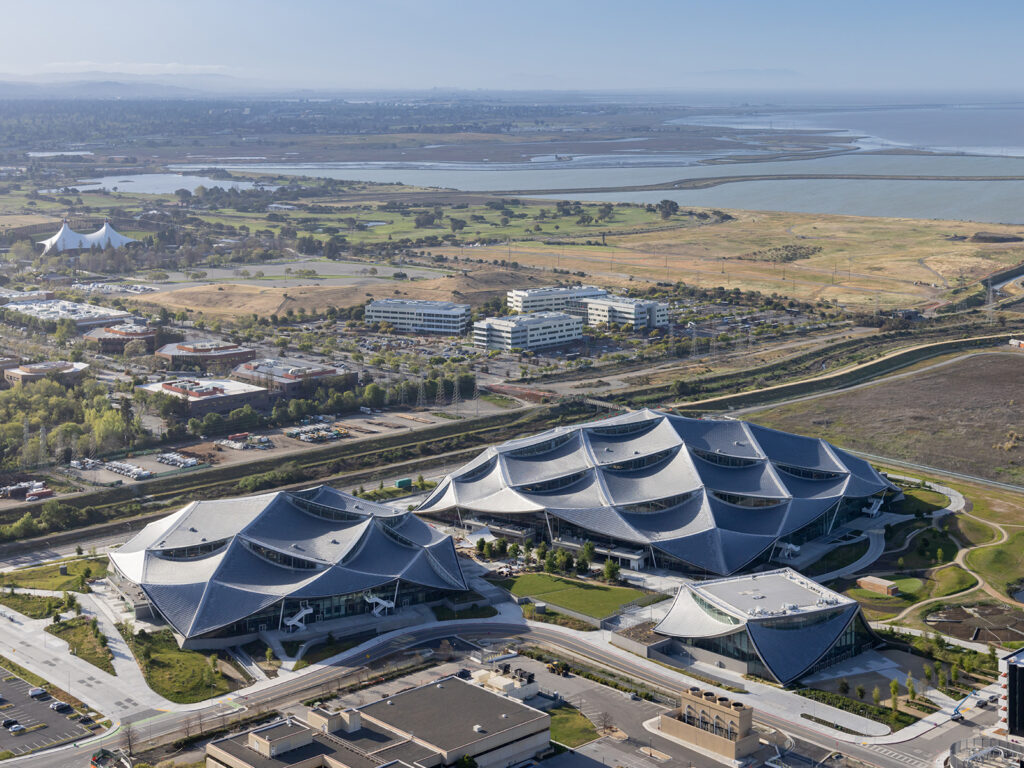 Keeping community, biodiversity and innovation in mind, Bay View, spans 42 acres adjacent to NASA's Ames Research Centre in Silicon Valley. It totals 1.1 million square feet, with 20 acres of open space, two office buildings, an event centre, and short-term employee accommodation units. The characteristic feature of Bay View is
the massive low-rise fortress built under a large transparent skin, reminiscent of a modern airport terminal rather than a conventional office space. This lightweight, power-generating canopy that shelters a village of different functions, marks a first- of-its-kind 'dragonscale' solar skin comprising 50,000 silver solar panels. In addition, the roof also minimises thermal heat gain and reduces the overall energy load.
"The idea of the 'office' has been stuck for a long time. Yes, people have done different aesthetic treatments. But there hasn't been a fundamental questioning of the workplace at this scale. Our approach has centred on the emotions of individuals and the imaginations of teams and how you create a whole different atmosphere of work," says Thomas Heatherwick. Far from a high-rise, the resulting design is a simple two-level structure; with a vast array of individual desks and team spaces on upper levels. With a human-centred approach, the scheme seeks to accommodate flexible and hybrid working, ranging from collaborative spaces to fostering individual focus. Thanks to the well-placed clerestory windows between the roof's canopy bays, each square foot enjoys outside views and natural daylight, minimising the dreaded monitor glare. Additionally, this work area is connected via indoor 'courtyards' with lower levels that house kitchenettes, cafes and expansive open areas for a typical all-hands meeting.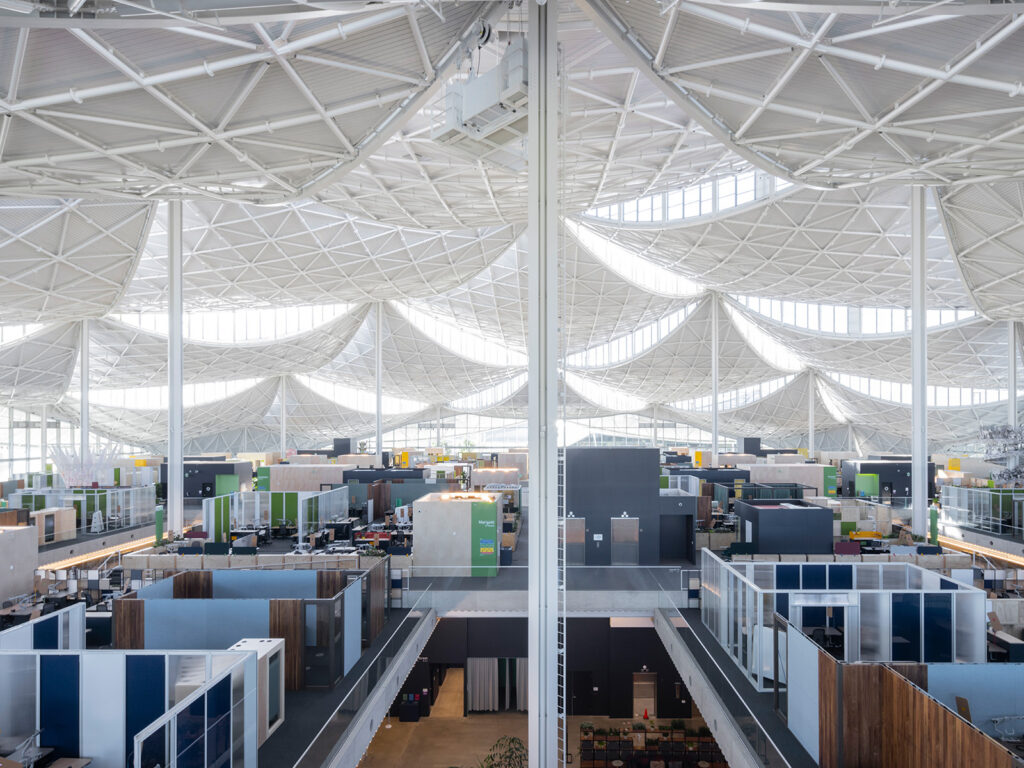 The building overall is constructed using a minimalist palette of materials that are predominantly glass and metal. Though the building's striking green element is its dynamic roof skin, undertaken with great precision and forethought; energy- minimising sustainability is also embedded within the foundation of Bay View. The integrated geothermal pile system, which is the largest in North America, will help both heat and cool the campus; facilitating a 50% reduction in carbon emissions.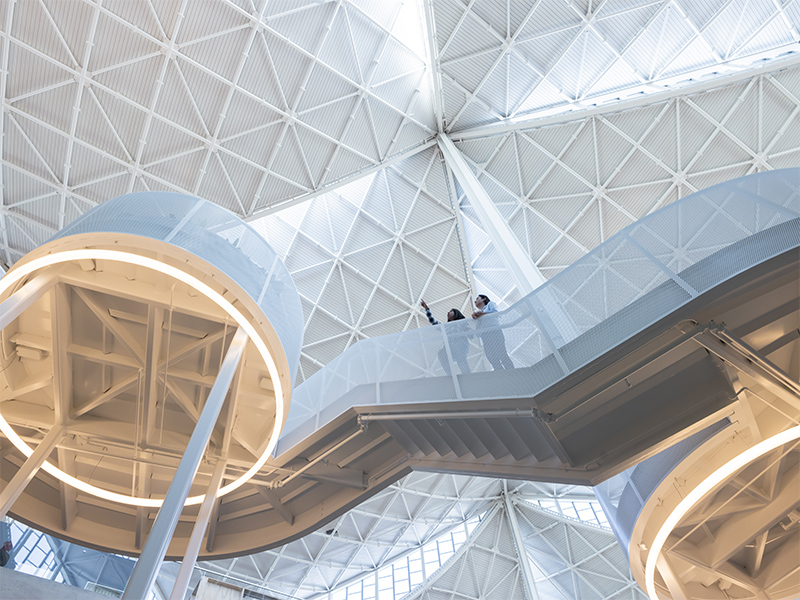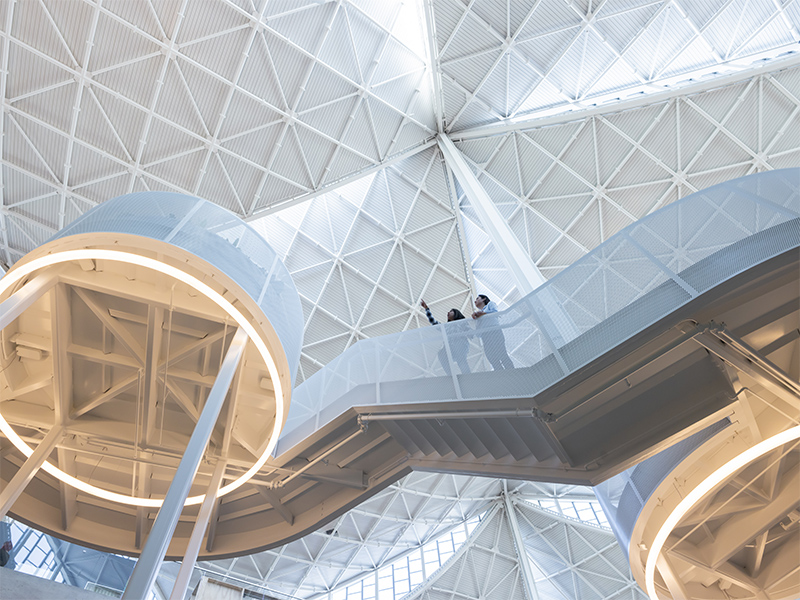 "Our design of the new Google Bay View campus is the result of an incredibly collaborative design process. Working with a client as data-driven as Google has led to an architecture where every single decision is informed by hard information and empirical analysis", explains Bjarke Ingels, Founder & Creative Director, BIG. "All in all, a campus where the front of house and back of house, technology and architecture, and form and function have been fused into a new and striking hybrid," concludes Bjarke Ingels. While on-site carbon and water neutrality is challenging for skyscrapers, Bay View's de-emphasis on height is synonymous with a design sensibility that taps into the energy the earth provides.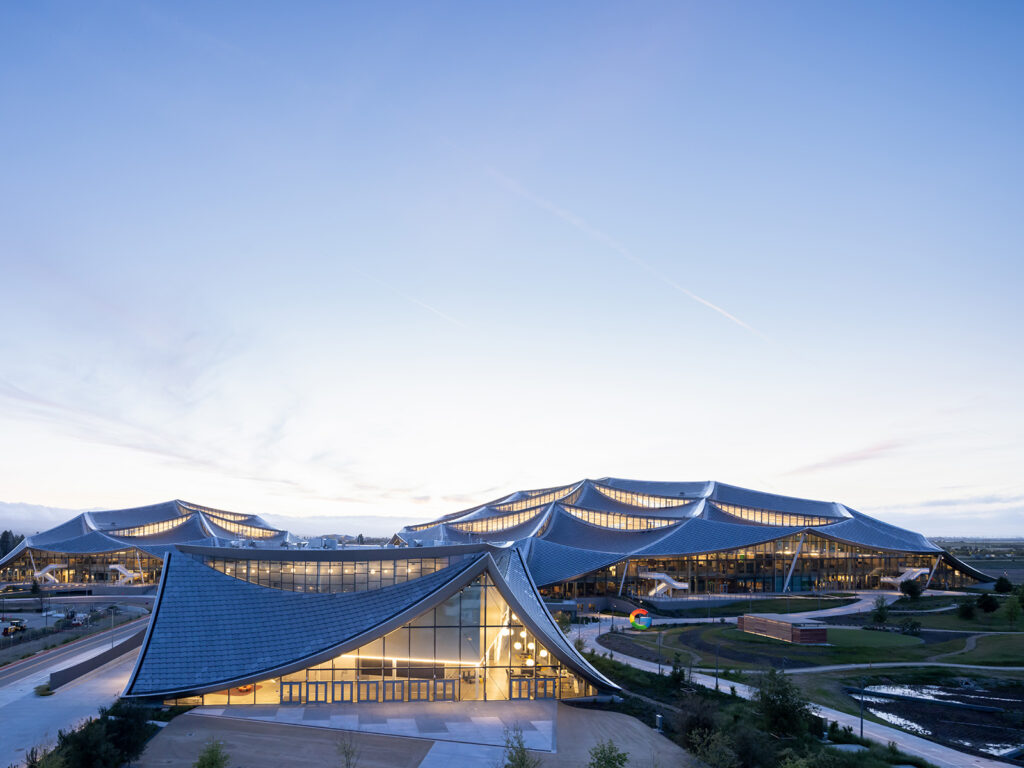 Billed as the new vibrant neighbourhood, Bay View's breakthrough in its proprietary canopy superstructure and pioneering green building innovations has unlocked scalable advancements beyond conventional notions; with the wider purpose of business. This has also paved the way for the site to achieve a LEED-NC v4 Platinum certification and become the largest facility ever to attain the International Living Future Institute's Living Building Challenge Water Petal Certification.
A city of myriad parts coming together in a master plan, Google's ambition is to operate entirely on 100% renewable power for 24 hours a day, seven days a week by 2030.