Bombay With A Side Of Tuscany
14

Apr

'21

7:32 pm

by

Nuriyah Johar
Within the hurried, unhesitating pace at which life in a city like Bombay often operates, architects Bina Bhatia and Pratik Daulat of
The Blank Slate
carve out a space that is truly winsome, where time slows down and brings about a sense of quietude. 'Casa Rosé' is a poetic composition of colours and moods, set against the earthy tones of creamy Ispegu finish walls – a lime plaster imported from Italy. Taking inspiration from the pastoral Tuscan landscapes and adding to it their personal creative flourishes, the design duo have created an enchanting urban oasis that sparks conversation. "The house was envisaged as an art gallery where each element is a statement in itself," says Bhatia. "
It is our eclectic take on traditional Mediterranean subdued tones in true Wes Anderson fashion
."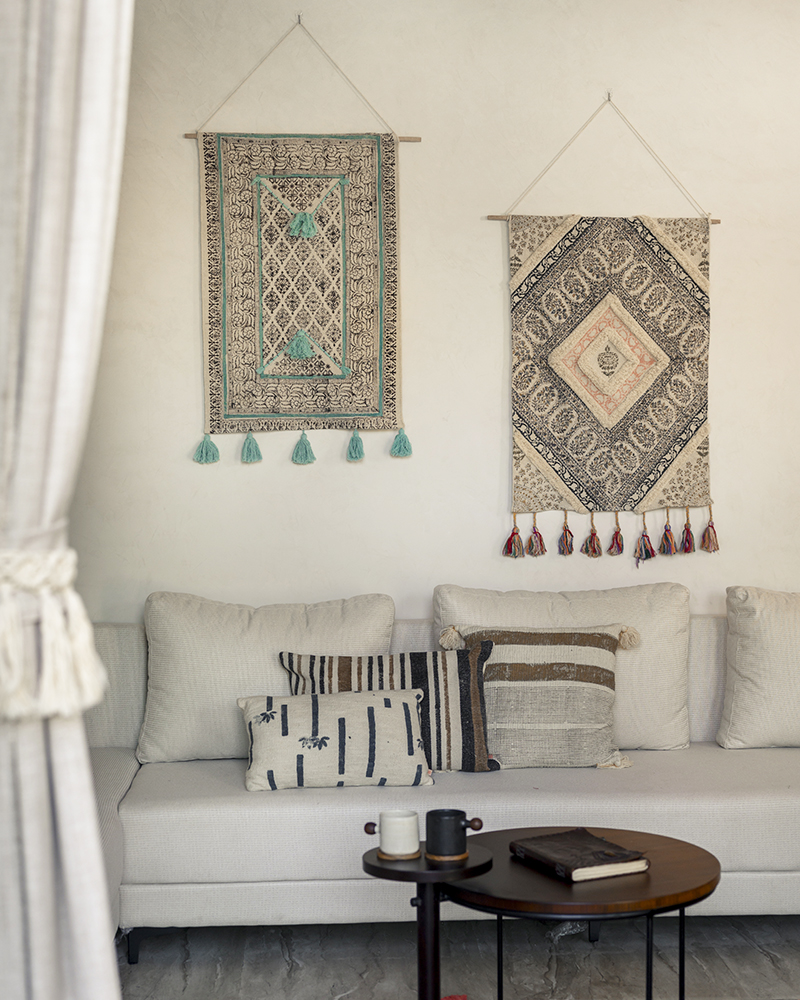 The overarching colour palette of the home comprises rustic, muted pastels that form a canvas for the deeper-hued elements to stand out on. Taking cues from the quaint streets of Tuscany, the entryway features a subtle combination of rust, sea-foam, and white. This gives way into a warm, monochrome foyer where a raw-edged mirror serves as a visual highlight. Celebrating the notes of Rosé – mint, berries and hibiscus, the focal point of the living room is a grand piece of art framed against the main wall, complemented by a statement lounge chair inspired by shades of light bodied wine. An off-white sectional sits by the floral Spruce and Peachia rugs from
The House of Designery
which further tie into the pastel theme.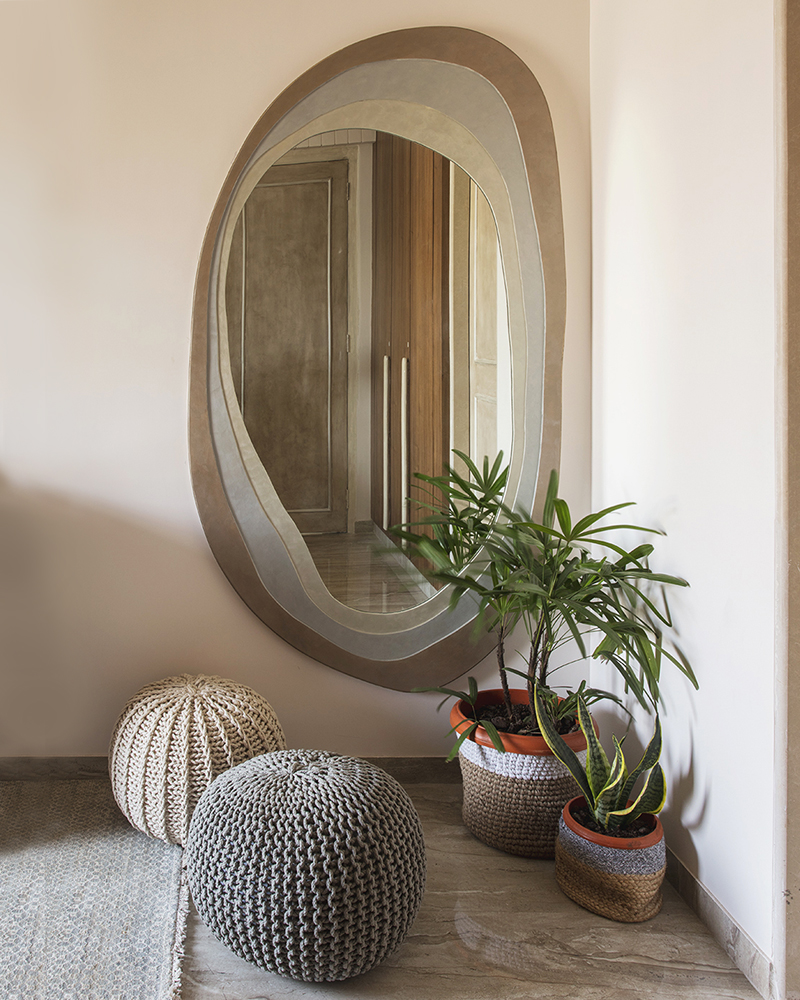 "
We put tribal and geometric patterns against soft floral fabrics, resulting in a unique mishmash that pulls together all the elements of each room while still maintaining a level of individualism of each piece
," Bhatia Explains. Throughout the home, contemporary elements are interspersed with bohemian influences like the macrame wall hangings from
Thread Story
, jute baskets and pouffes from
Potli Handmade
, and cushion covers from
Art Avenue
. From exquisite glass vases by
Glass Forest
to organic terracotta accents by
Clay Chronicles
, the decor used across the home boasts a varied textural palette. Minimal terrazzo lamps from
Jade Design House
tie into the detailing on the dining table. Both the modern and the boho exist in a synchronistic harmony with each other in this unique home.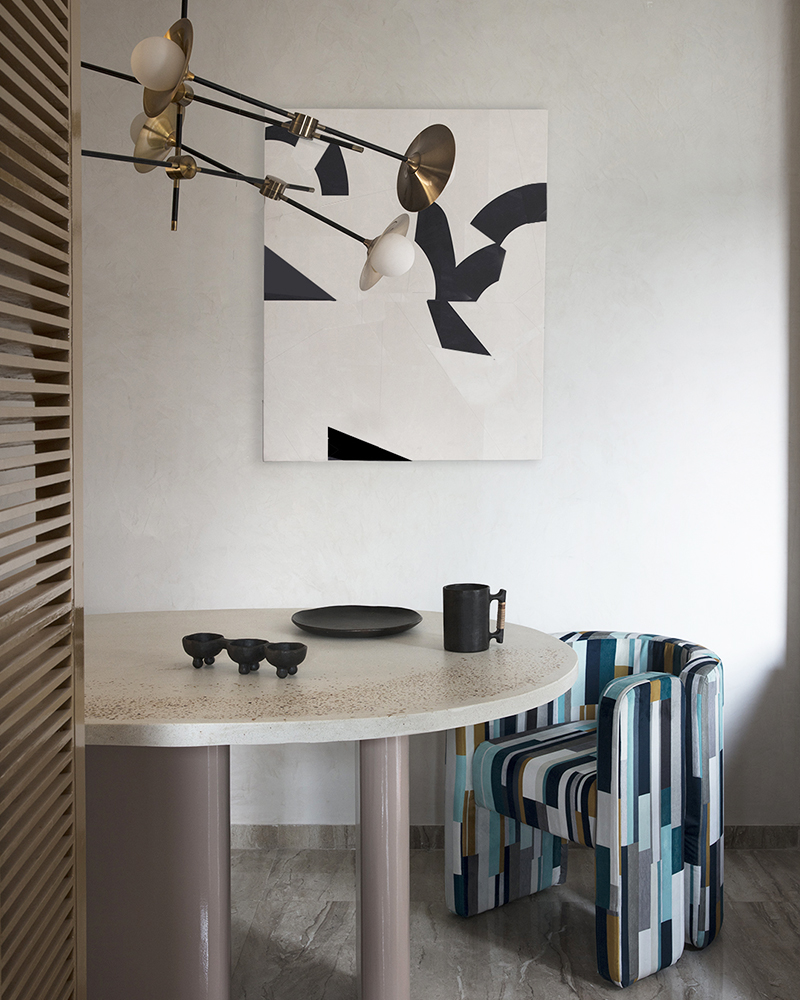 Breaking away from conventional forms, the dining table is custom-made in an avocado-like shape and features an ombre terrazzo detailing on the top. Multicoloured chairs with a maximal geometric print add to the quiet drama of the space, while the statement chandelier with bronze accents stands out against the backdrop of lime plastered walls.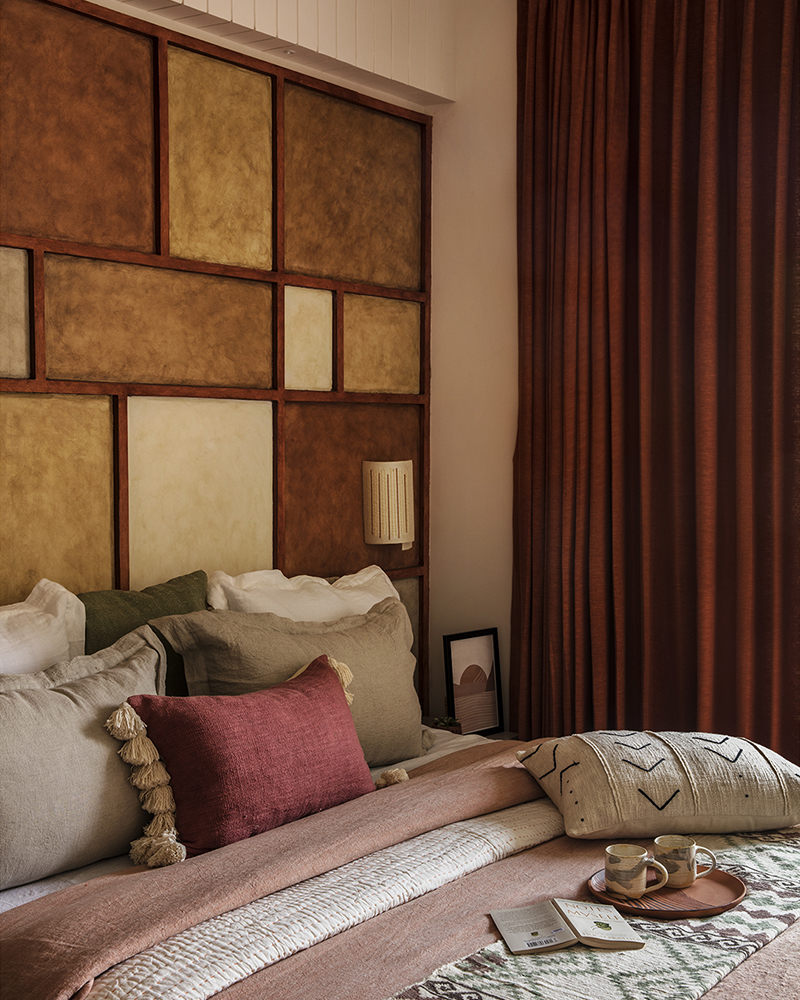 Designed to engulf the occupant in warmth, the master bedroom features deep earth tones. A striking headboard inspired by Piet Mondrian's artistic style is hand finished in '
Velature
'- a translucent form of Italian glaze used first in the fifteenth century paintings, in shades of terracotta. On the wall opposite, an organic mirror serves as an echo of the famous Tuscan hot springs – Terme di Saturnia, and shows a transition in the shades as is reflected in nature. All in all, Casa Rosé is a heady blend of contemporary Indian and international design sensibilities, woven together with little delights from all over the country that evokes excitement and instills calm in perfect balance.