Cardboard Bombay, Presenting an all Cardboard Coffee Shop
5

Mar

'19

10:49 am

by

Nuriyah Johar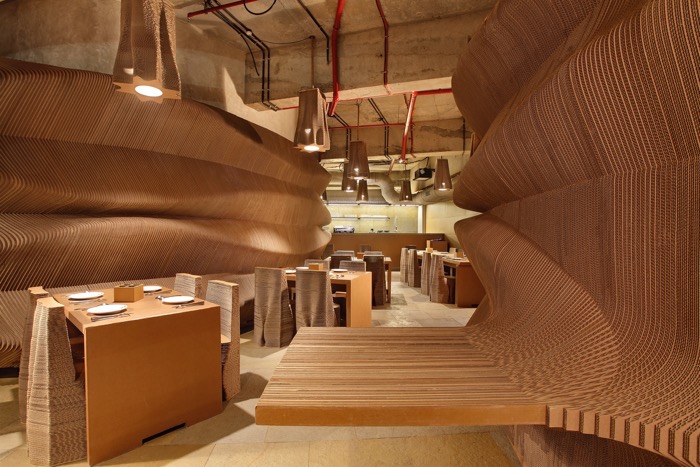 We're easily drawn to the unconventional. The allure of something new – an unexplored concept or an unorthodox idea can cloud our initial judgment. Eventually, however, the novelty wears off and we realize – only frills that are backed by functionality can constitute good design. CardboardBombay, a café in BKC gets this formula right. It may boast of a thoroughly unique concept, but what lies underneath is practical and sustainable design.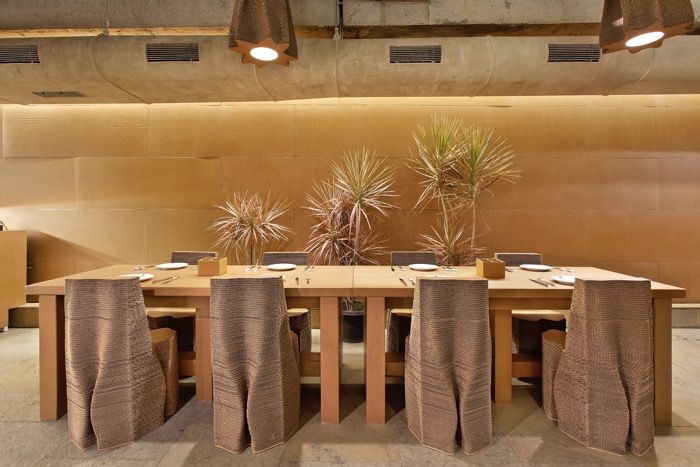 Designed by Nuru Karim of NUDES, the interiors of the café is fabricated entirely from cardboard. While cardboard may seem like an unusual material to work with, we discovered the many advantages to it. "Cardboard is a 100% recyclable and renewable material," said Nuru Karim. "In addition, it is an extremely versatile material which is durable and lightweight. Cardboard is primarily made up of 50% air. It's that void, texturing and corrugation that we really wanted to explore."
Abstract and urban, the design of the café reflects the firm's creative philosophy. The undulating, Zaha Hadid-esque architecture can be seen throughout the space, enhanced by the corrugated nature of the cardboard. The furniture, light fixtures, panels, mirror frames and accessories have all been crafted from the material. To prevent any food or water damage, the tables have been laminated with wax.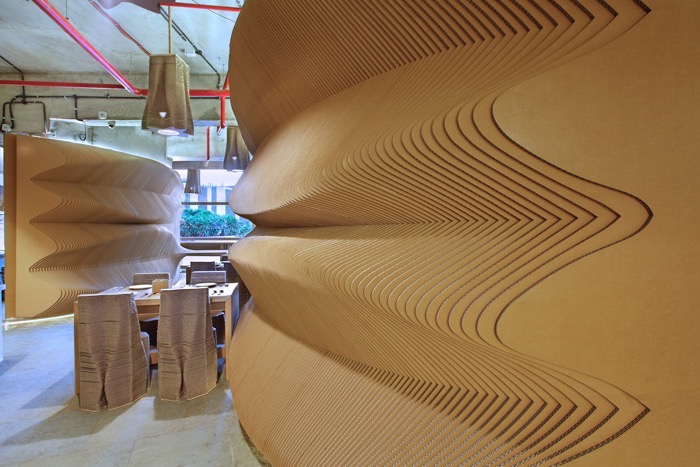 Experimenting with an unfamiliar material like cardboard was bound to be challenging, but for someone like Nuru who operates within the realm of design optimization powered by digital "making" tools, it was a challenge he was happy to take up. "Building with cardboard meant constant exploration and investigation of the material. We approached the material as a student would – we dived into research & prototyping that included digital and analogue models.", he said. The material was tested through vigorous prototyping to address functionality and durability. "Challenges were with fabrication and adhering to stringent timelines."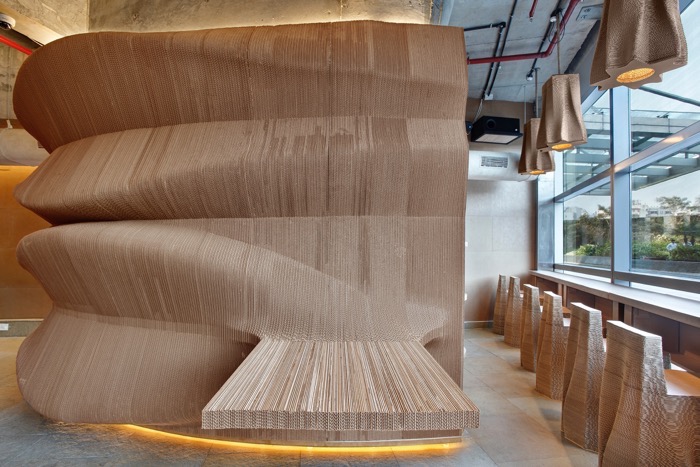 CardboardBombay is a foil to BKC'S current landscape, which lays more of a focus on fine dining. "Injecting cardboard tectonically into the glass centric architecture of BKC is both a statement and a small step towards creating a community that could snowball into a larger sustainable platform for conversations and dialogues revolving around protecting the earth's natural resources in a responsible manner. The project manifests our design philosophy of 'out of the cardboard box' thinking to sculpt and shape the fluid landscape of CardboardBombay."


Photograph Credit – Mrigank Sharma