Contemporary Living by Kyrra Studio
6

Jun

'16

9:35 am

by

Crew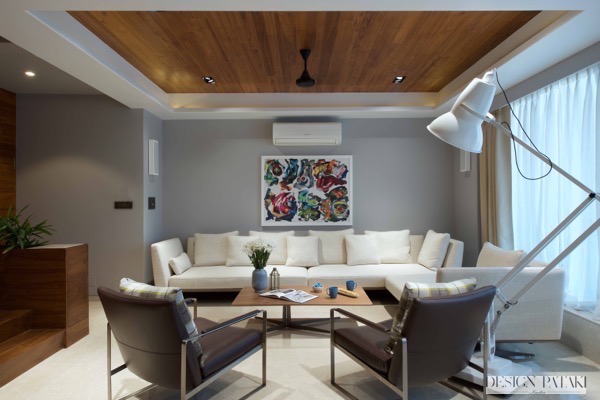 Every home needs a cohesive element that binds it together and has a sense of unity. We found that in this home, with the use of wood, Ghana teak brings warmth to every space and becoming that finishing element to every space. Interior designer, Shivani Sanghani of Kyrra Studio, faced the challenge of designing her own home vis a vis a clients. As we all know working with family can never be easy, let alone designing an entire home. But she was adamant to create a space, which was young, hip, clean and modern yet spoke volumes of their personality. They wanted to create not only a house but a home!
A duplex apartment in Baroda, the home is tasteful and elegant. The living room has a soft colour palette, ranging from simple white to deep brown and warm grey. The sofa was ordered from Camerich, with large fluffy cushions and flanked by a bright abstract painting. The flooring lighting, our favourite is so fabulous, it was the first question we asked, "Where did you find that?" A lighting company called Marsden, which after looking up, we realised makes really unique lights. The dining table is custom made, a classic wooden log dining table, along with crafted leather and brass chairs and matching wood brass console. All of it looks so very comfortable, and not too far from the plunge pool right on the deck.
The deck is beautifully used with a plunge pool and a small bar set up. Amidst the green lawn, mood lighting and background music, this makes for the perfect place to begin and end your day with. The couple being music lovers have speakers placed through out their home. The bar stools were locally sourced online.
As you enter her house, you will be greeted by her luxurious living room, marked with traditional yet stylish factors such as a wooden ceiling, classic deep white upholstery, with magical lights overlooking the room, adding their own little twinkle and brightening up the room in an adequate and warm way. Neither too much, nor too little, but just about right is the simple description for the living cum dining room. Choosing sober colours for the entire room, ranging from simple white to deep brown and warm grey, Shivani has managed to give the room an earthy yet luxurious feel. Accompanied with a bright abstract painting, which throws some colours into the space and strikes the perfect colour balance into the room.
Going one floor up via a stylish wooden staircase, with its sleek and elegant brass railing we come to the upper floor.The lounge is a perfect one marked by comfortable sofa, a television set and of course, books and more books.
A den like space forms the anteroom to the bedroom. A special space, marked by a drum set for the drummer wife, Shivani and adding some tune to it by the guitarist husband. The ceiling is a classic 3-D wooden one, with minor and detailed panelling. An exposed brick wall along with other plain walls completes the young vibe of the room.
The guest room, a soft white four post bed, styled with trunks as side tables. Rose-pink curtains and a bright painting on the wall add to the delicate elements of the room. All coming together beautifully to make a lovely homely contemporary home!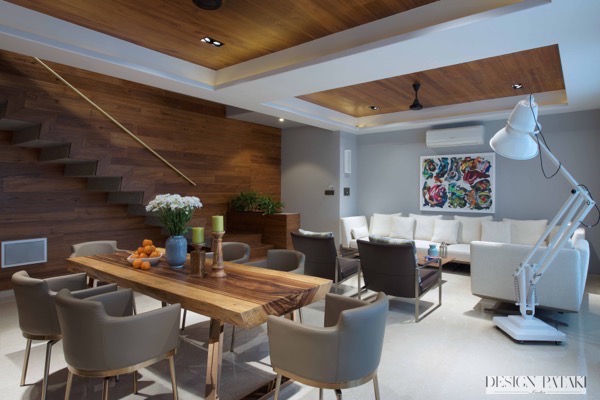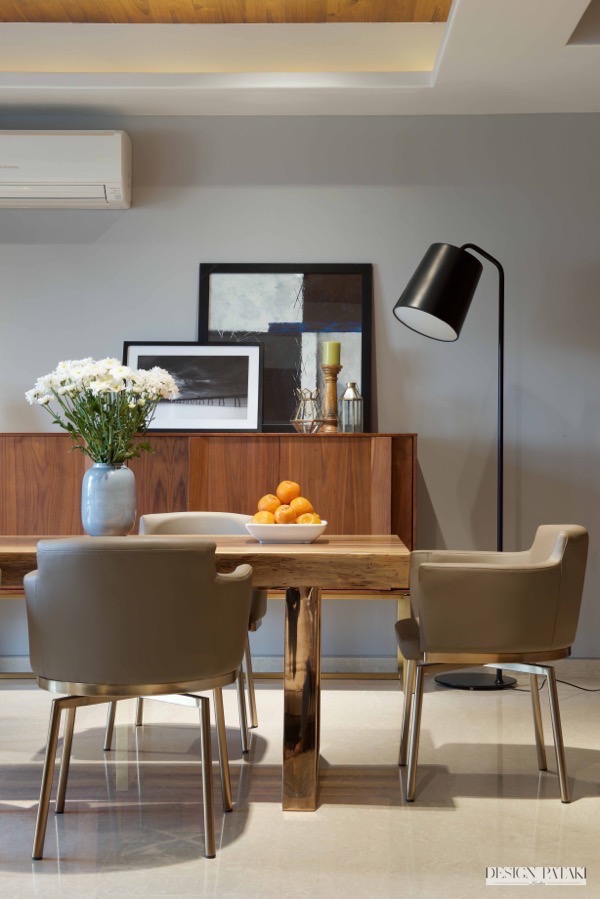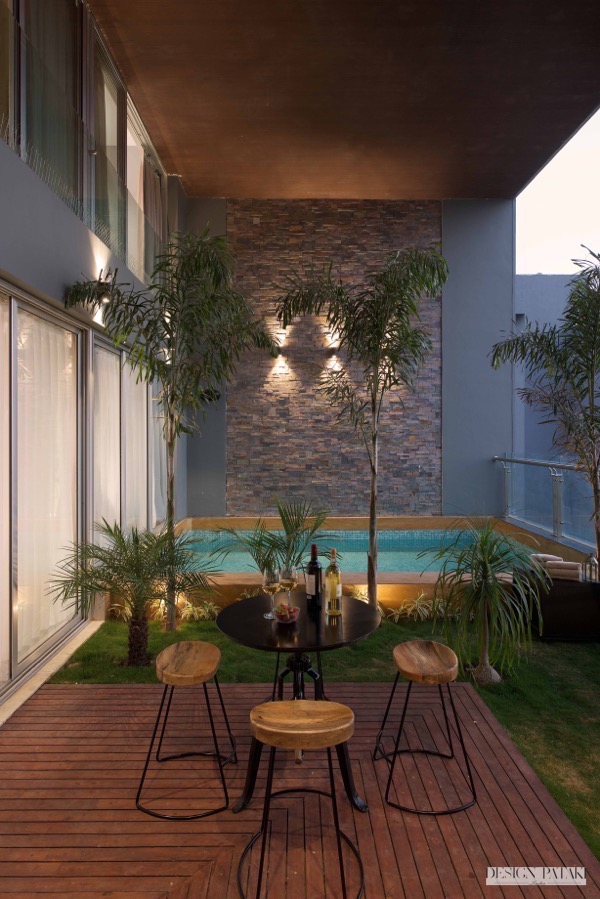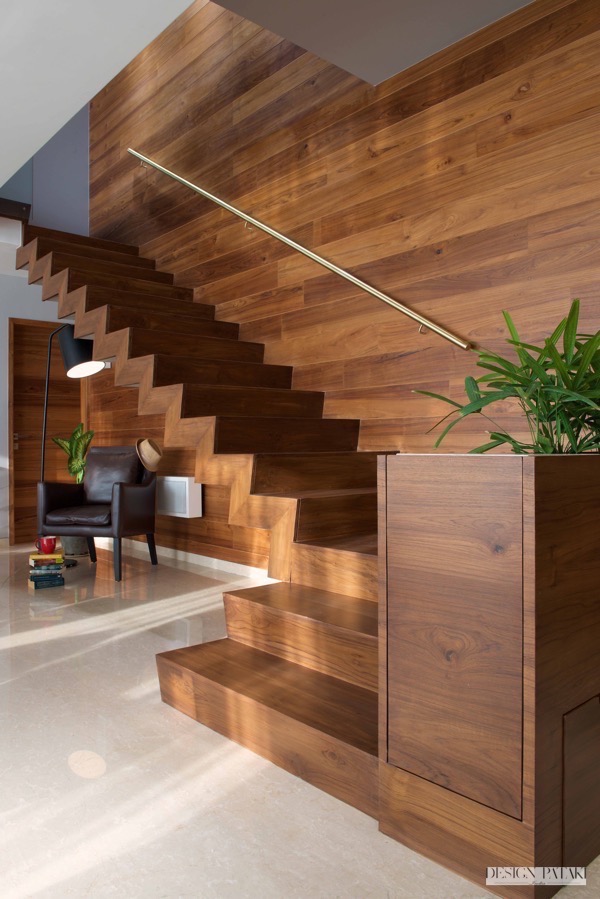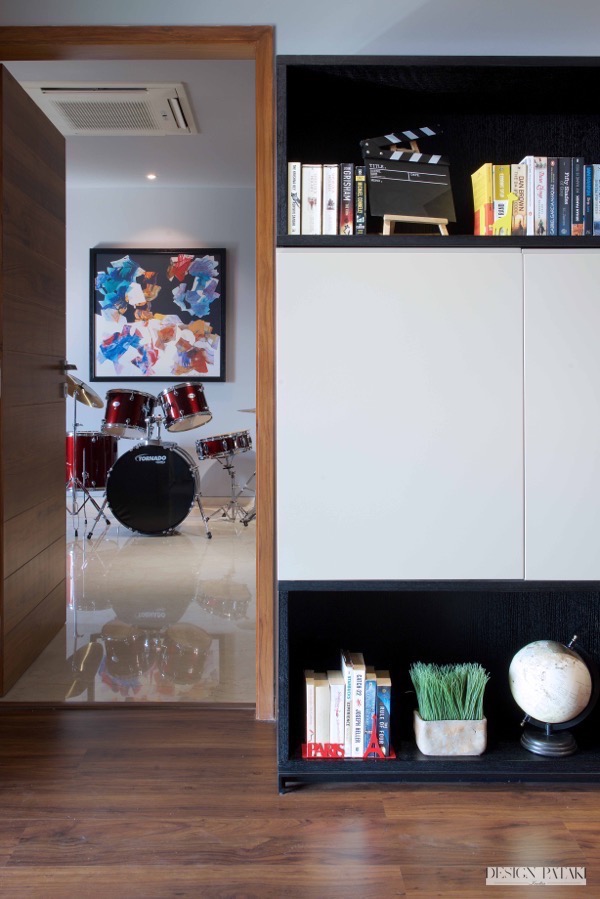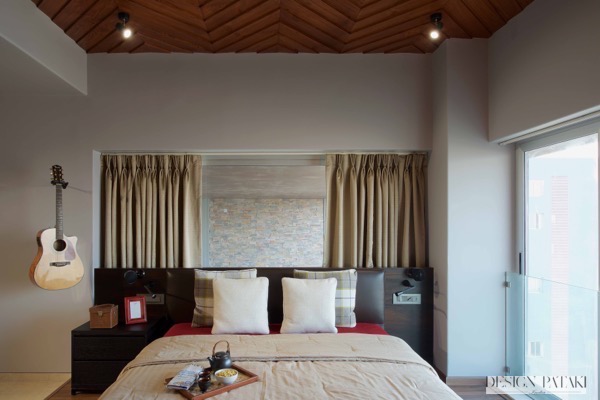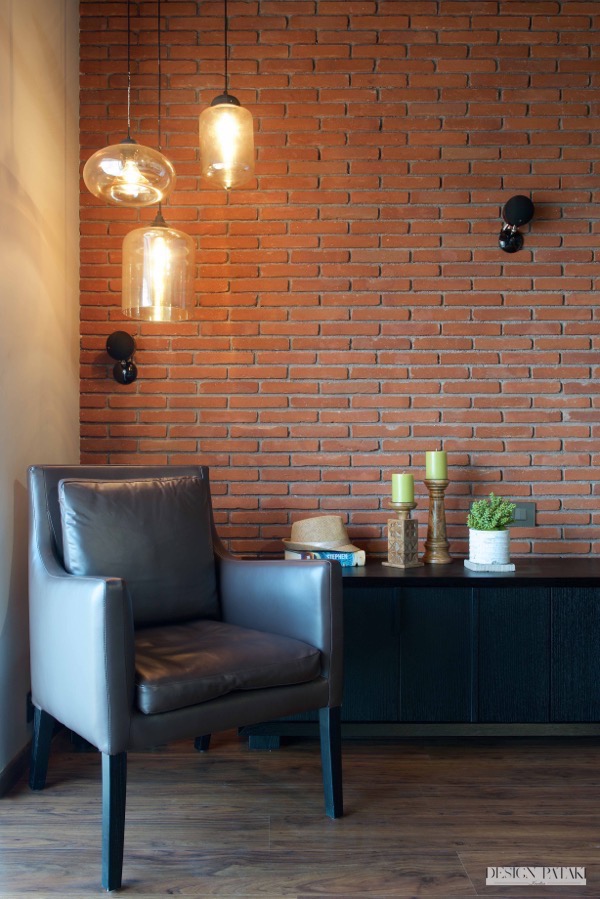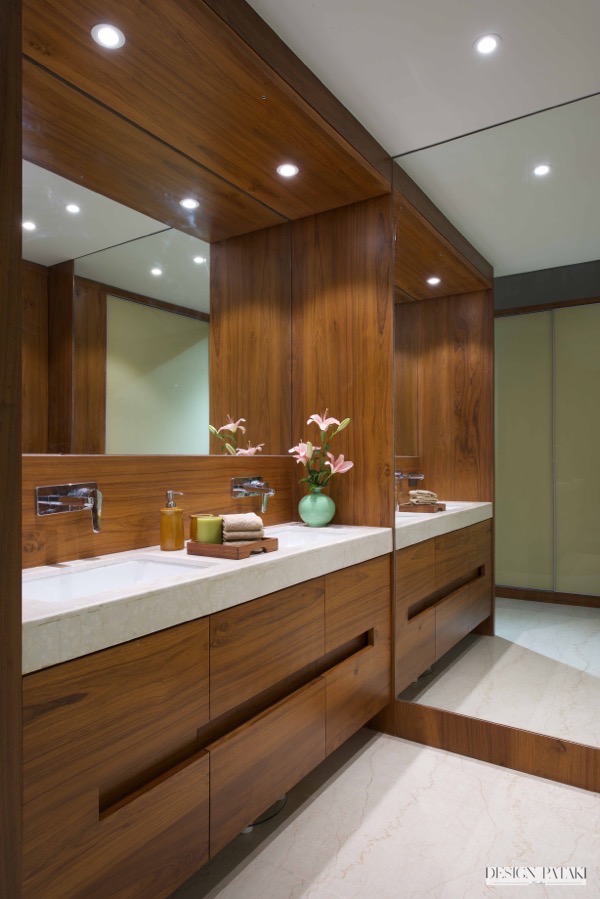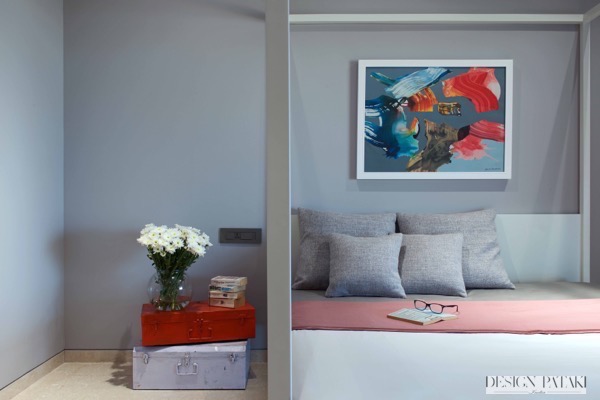 Photographs courtesy Kyrra Studio