Charles and Ray Eames' Historic Designs Feature In Reebok's Latest Sneaker Collection
14

Apr

'22

1:41 pm

by

Sneha Shah
With the sneaker world having exploded in the past decade, so have collaborations! There are the usual suspects, such as the hottest fashion designers with luminary personalities, and then, there are the less-expected pairings. Sportswear brand Reebok has partnered with the iconic design house Eames Office to design a range of sneakers, celebrating the enduring legacy of Charles and Ray Eames.
The limited-edition streetwear collection, Reebok x Eames – Club C 'Composition', features Charles and Ray Eames's beloved textile prints and one of Ray's most iconic paintings. It is a follow-up to the summer 2021 award-winning collection, the Reebok x Eames Club C 'Monotone Pack', that became the first-ever footwear range developed in partnership with and authorized by the Eames Office, founded in 1941 and run today by the third generation of the Eames family.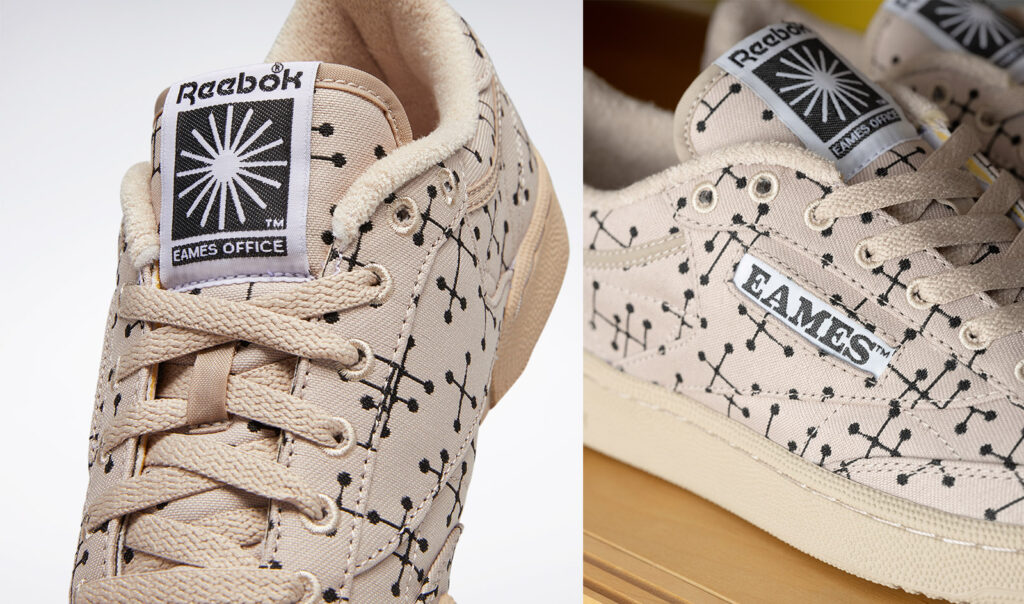 The Reebok x Eames – Club C 'Composition' is based on Ray's 1939 painting Composition, the year before she met Charles. The artist's handwritten signature with the colourful, abstract work enhances her personal connection to this collectible sneaker. The Reebok x Eames – Club C 'Dot Pattern' is awash with the Dot Pattern textile print from 1947, expressing the interconnectedness of Eames design.
Reebok has embraced Eames's philosophy, described as a ceaseless improvement and innovation as the last resort, by being faithful to the original 1985 incorporating modern material improvements. The collections highlight the rebellious spirit and optimism of Reebok Club C while complementing the Eames' vision of accessible design.
The Reebok x Eames – Club C 'Dot Pattern & Composition Pack' is now exclusively available on Eamesoffice.com, Reebok.com and select retailers.