The World's Largest Demountable Venue In London, ABBA Arena By STUFISH
4

Jul

'22

4:03 pm

by

Sneha Shah
The newly opened ABBA Arena is a clever performance space for the legendary music group's revolutionary London show, ABBA Voyage. This subtly mysterious, hexagonal volume is the expertise of British architecture studio STUFISH, specialising in entertainment architecture; also, behind the impressive stage set designs for Beyonce, Madonna, Lady Gaga and The Rolling Stones. This steel and timber-clad structure with a 3000-capacity arena is the world's largest demountable temporary venue for an innovative virtual concert and will be relocated to another site when the show ends.

Designed 'from the inside out', this engineering marvel is the direct result of the show's requirements and audience experiences which were the core driver of this project. Owing to its flexible and prefabricated nature, the auditorium is designed to fit 1650 seats and space for a standing audience of 1350. "The ABBA Arena, a portable venue, will set the standard for future shows where the physical and the digital fuse to create a new genre of experience in the physical world", says Ray Winkler, CEO of STUFISH Entertainment Architects.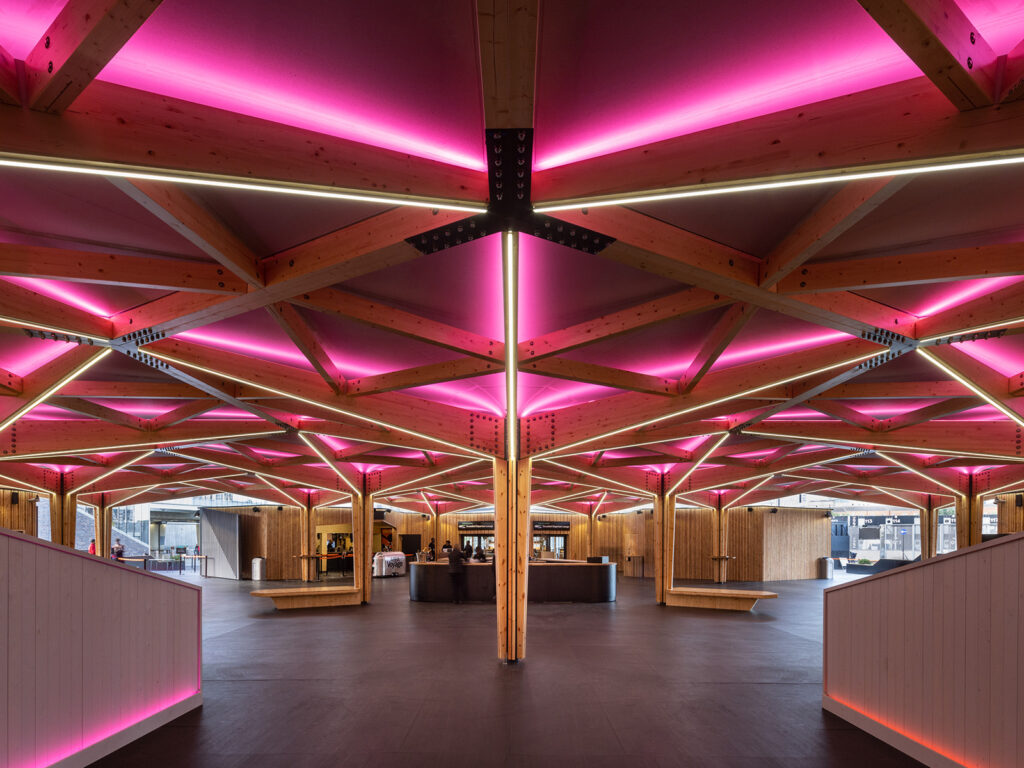 Built by ES Global, the ABBA Arena has been optimised to be as light as possible to minimise the load on foundations. The design of the roof is a direct response to the large structural span of the auditorium and a desire to complement the venue's intriguing appearance. The roof and walls are clad in sustainable timber with the large shining ABBA logo integrated through the battens in LED. Meanwhile, outside the auditorium, an extended sheltered concourse area built by Stage One serves and protects the visitors, ensuring functionality goes hand in hand with aesthetics. "This unique project provided the perfect blend of architecture and entertainment, allowing us to create an amazing immersive experience for the audience, that has never been seen before", adds Alicia Tkacz, Partner at STUFISH Entertainment Architects.