Design Pataki And Orvi Surfaces Join Hands With 5 Designers for the India Design Fund
19

May

'20

9:30 am

by

Nuriyah Johar
Bringing together powerful voices from the Indian design community to support the transformation of livelihood in the craft and construction industries, The India Design Fund kicks off with an online fundraiser sale titled OTLO, curated by Ashiesh Shah. The fund unites 'A cross-section of leading Design Minds and Practices' from India in association with StoryLtd by 'Saffronart,' the proceeds from which will be directed towards charities working on ground with the communities who have been severely impacted by COVID-19 health crisis. Curator and architect Ashiesh Shah talks about the initiative, he says "The Fund brings together the construction, design and craft industries to help migrant workers and labourers that are directly associated with the fraternity, these artisans, carpenters, electricians, painters are backbones of a constantly evolving industry and find themselves helpless with the prevailing pandemic. Through India Design Fund, we hope to tackle challenges within the design community, one step at a time and continue to stand as a strong voice for sustainability, improvement of life and safety standards, promoting indigenous craft practices and design in a post-COVID world."
In a humble attempt to do our bit, Design Pataki joins hands with Orvi Surfaces, bringing together five iconic architects and design studios to create furniture pieces for this altruistic endeavour. From wall art representative of our bitter-sweet circumstances to furniture serving as an analogy of how design is supported by artisans, Orvi Surfaces is actualizing the striking designs created by the architects and designers for the India Design Fund. Headquartered in Jaipur, the brand blends creativity with craftsmanship, making use of materials like natural stone, wood, metal, ceramics and glass to create uniquely beautiful designs. Using varied materials along with technologies & crafts techniques from across the world, Orvi Surfaces' bespoke & timeless products hold a distinct style and a contemporary feel. Employing skilled artisans with generational talent, Orvi Surfaces aims to preserve the time-honoured skills of the past while creating timeless surfaces worthy of the future. "We are humbled to be a part of the India Design Fund, since it is a cause so close to us. The welfare of artisans is at the heart of Orvi's design philosophy. Working with more than 60 in-house artisans, we truly believe that in times like these, more than ever, we need to come together to support our craftspeople. We must ensure the survival of traditional techniques like tarkashi, inlay work or even stone sculpting, that are done by hand" says Sanjeev Agarwal, Chairman of Orvi Surfaces.
Design Pataki and Orvi Surfaces join hands with reD Architects, ADND Studio, Annkur Khosla, Jimmy Mistry and Mangrove Collective to create 5 furniture pieces for the OLTO fundraiser sale.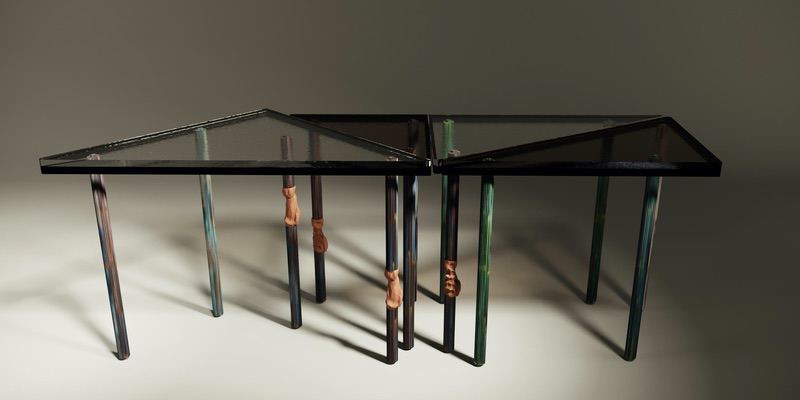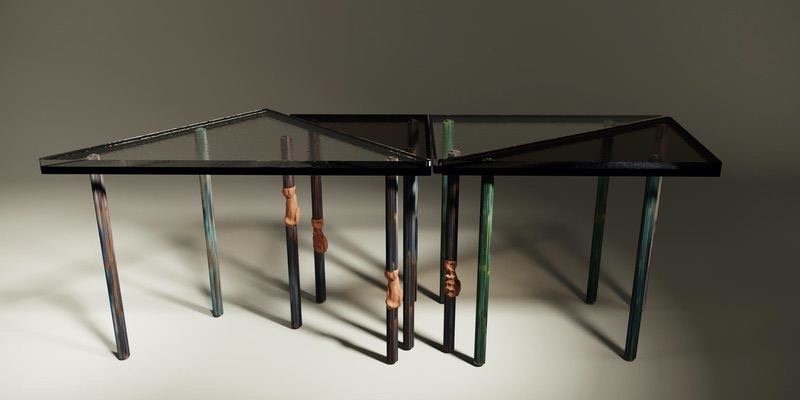 reD Architects – Destroy To Create
"For a long time now we at reD have been discussing on various platforms, how architects need to bring the artisans into the spotlight and let them have their day(s) in the sun. While we as design professionals are the visualizers, the craftsmen work with us as a team & help us in realizing our vision. Artisans have an equal role in the creation of the end product and we felt that this was our chance to give back to the artisans, & give credit to the creator.
This Centre Table becomes an analogy of how our designs and Orvi's brand ethos are supported by the artisans. Each leg is created by hand-fired ceramic pieces and every artisan who has meticulously worked on this piece has left their handprint in the composite leg. The act of leaving a fist-like print her / his hand-print was actually the act of "destroying" their own work. The artisan has also etched their name into the ceramic fired piece. It is their signature, instead of the designers' signature that sits in this centre table, forever.
The design of the tabletop which is made in cast glass in different triangles allows the changing placement of the table to create space for differing functions. The table is configured such that it comes together as a dining table or centre table, but it can split up in various configurations to become a buffet table or a study table by just moving the glass triangles."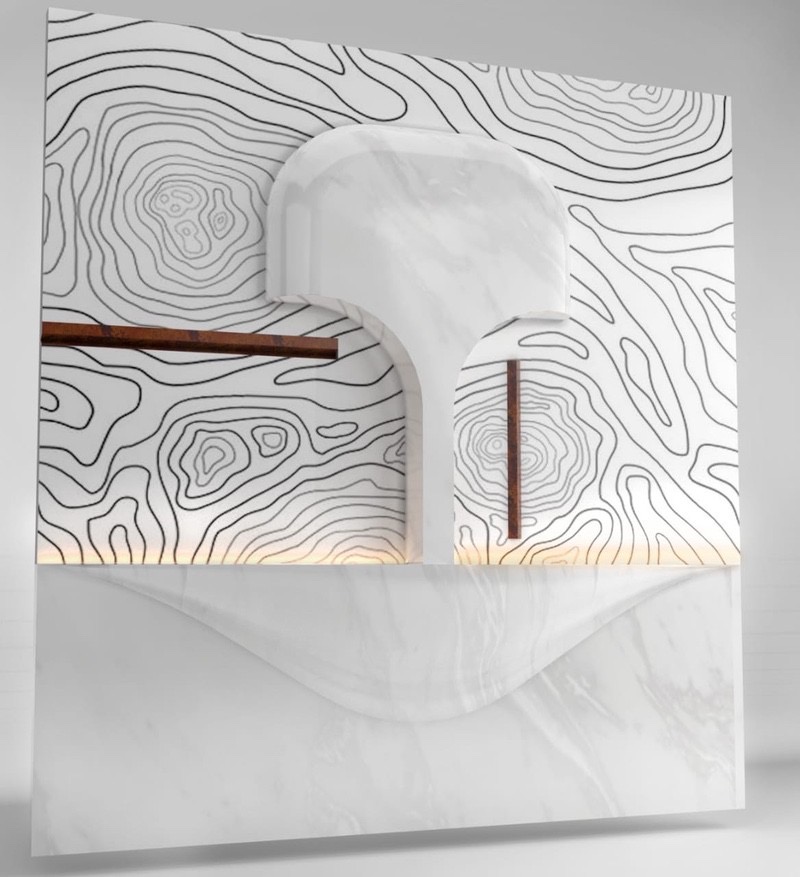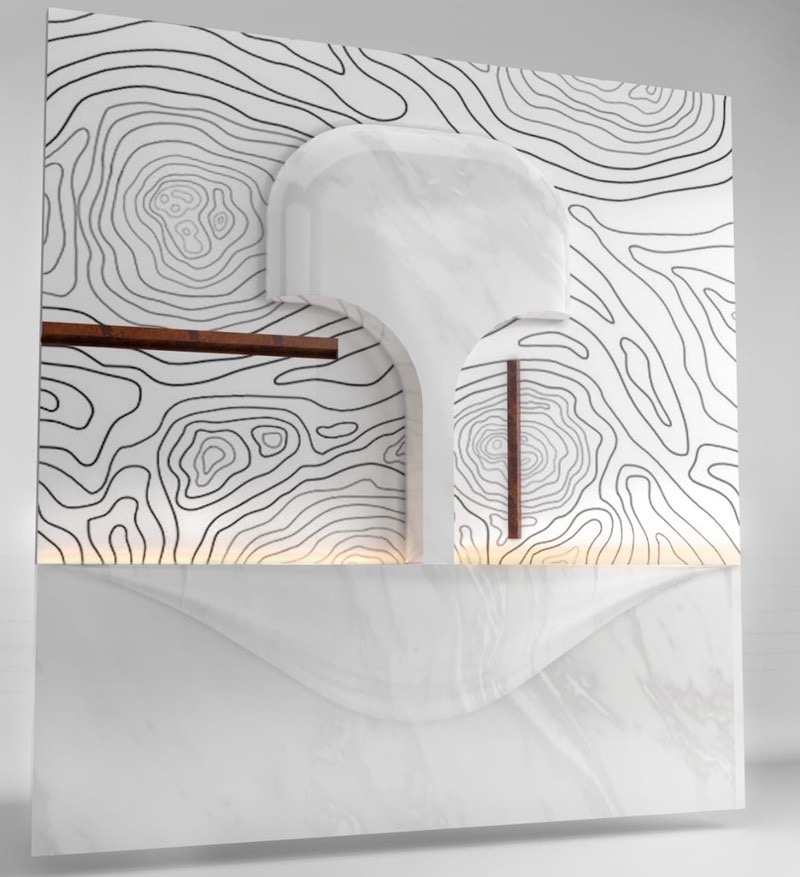 Shobhan Kothari & Anand Menon, ADND Studio – Saudade
"In today's world of pandemic and isolation, it carries a repressed knowledge that the object of longing might never be had again. It is the recollection of feelings, experiences, places, or events that once brought excitement, pleasure, and well-being, which now trigger the senses and make one experience the pain of separation from those joyous sensations. However, it acknowledges that to long for the past would detract from the excitement you feel towards the future.
Saudade describes both happy and sad at the same time, which is most closely translated to the English saying 'bittersweet'.
With the help of Orvi Surfaces, Saudade finds its manifestation in a 70mm marble panel as wall art. The human face is achieved as a marble monolith piece which is hand-finished to achieve a seamless texture. The environment in which we live, is captured in a distressed finish around the marble also achieved by creating patterns through an eclectic mix of technology as well as hand-finishing. The emotion of nostalgia with pain gets reflected as a teardrop along with a closed eye. These are captured in V sections where stainless steel is coated with liquid metal and a rust patina effect achieved. The bulge in marble accommodates light which casts a sliver of hope and gives us courage."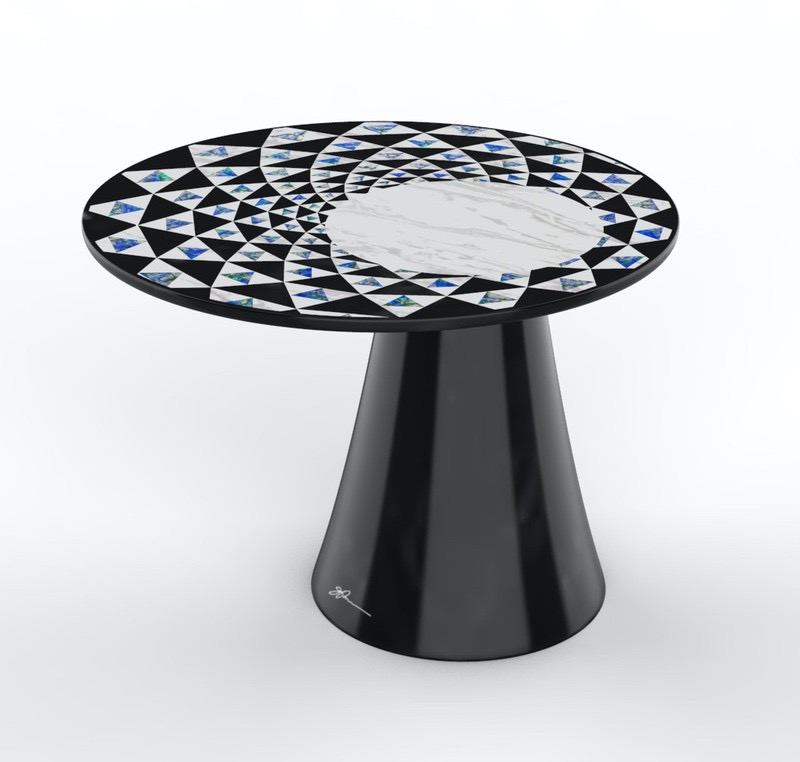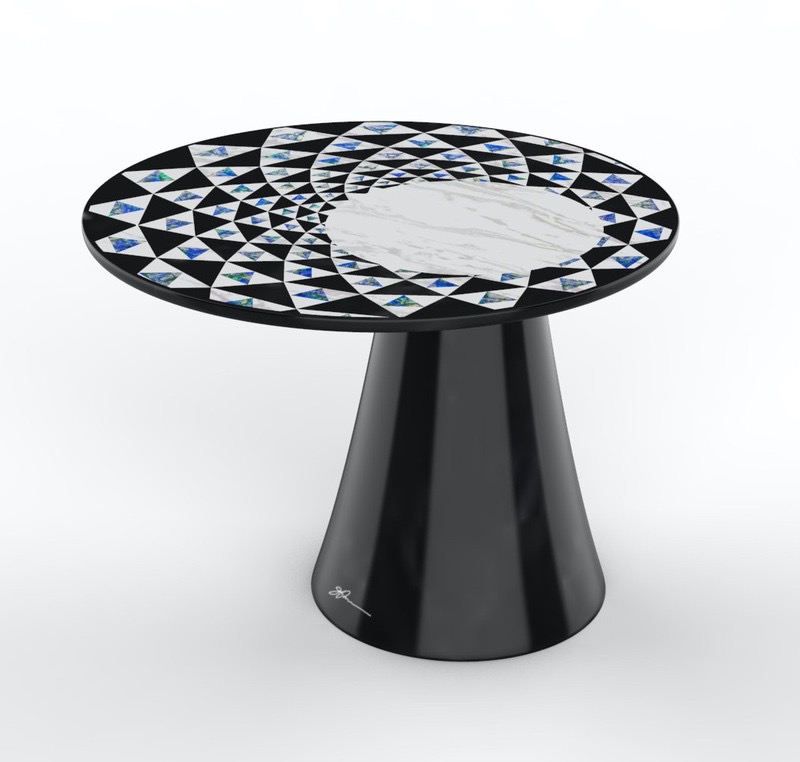 Jimmy Mistry & Pearl Mistry, Della Group – Aurae
The contemporary side table – Aurae designed with Orvi Surfaces, amalgams the aesthetics of Italian Terrazzo with the skills of Indian craftsmen. The pattern and blue-ish green colour palette visually depict a multiplying sense of 'Aura'. The tabletop is designed to be a mélange of carved white marble and coloured glass inlay that is achieved using an age-old craft tradition from central India. Large sheets of coloured glass are shattered into small pieces, then diligently reassembled, piece by piece, for an overall effect that recalls the glass-tiled mosaics of Europe's medieval churches and cathedrals. Belying the precise composition and skilled craftsmanship required to create these shimmering triangles, the resulting patterns seem almost organic in structure.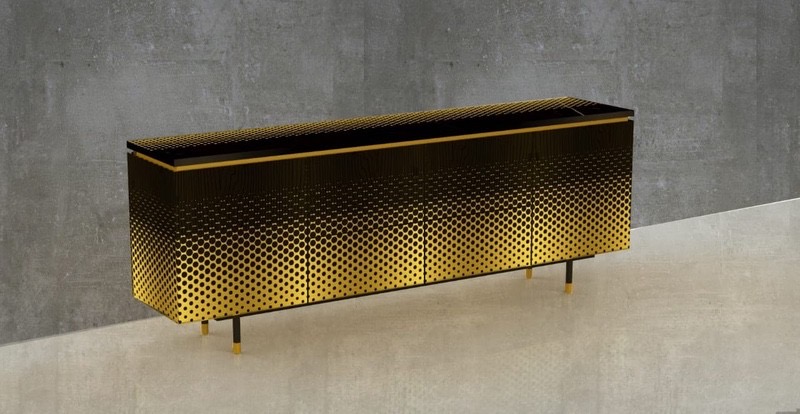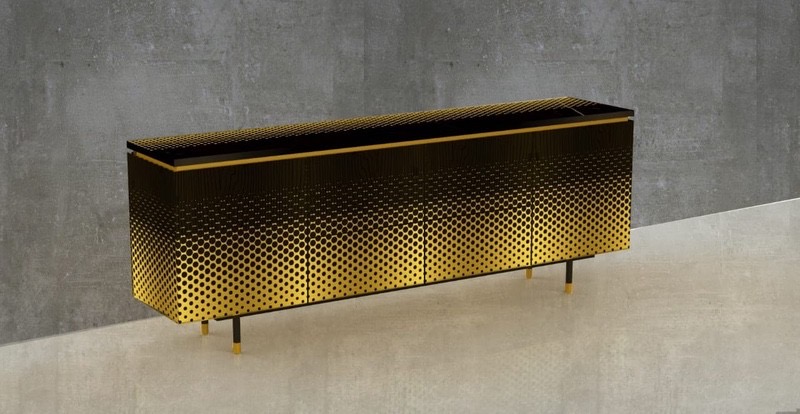 Arun Kullu & Suman Sharma, Mangrove Collective – Polka Console Table
The Polka Console by Mangrove Collection x Orvi Surfaces is a result of the exploration of the "marquetry" technique, wherein forms in timber, metal and other materials come together to form an intricately crafted surface. This technique has been interpreted in a graded pattern arrived at through parametric design modelling to create a contemporary graphic expression. While early developments were done as etching on wood, this piece elevates the level of fine craftsmanship through the idea of layering Brass within Timber and Stone to create a striking accent piece that is highly functional.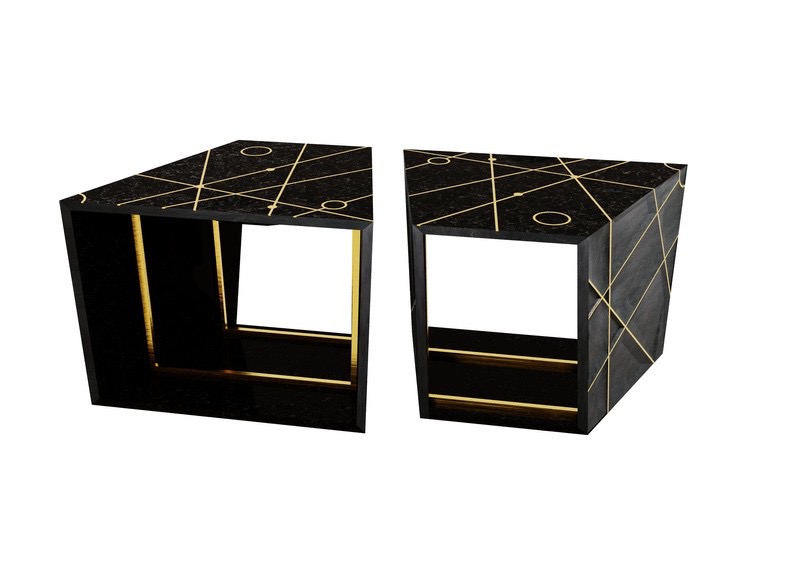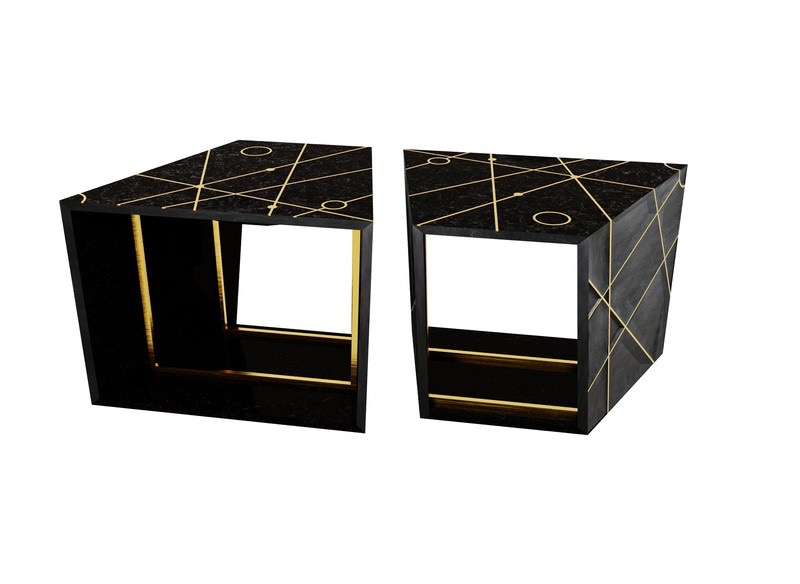 Annkur Khosla – Mandala Tables
"Everything starts with thought" – the extrapolation of this concept is translated into a mandala of thought. "Mandala tables" are where the cosmic lines of connectivity are represented as a surface in utilitarian tables.  Black limestone employed as a material for the structure is intricately engraved with brass and also ingenuously supported with the same material. The smooth 2d top surface transitions into the three-dimensional sculpted surface in the sides of the table maintaining the connect despite the transition of the plane.