Design Pataki Picks: Top 5 Stores in Bombay
8

Jan

'14

11:00 am

by

Crew
Are you from the variety that thinks that Bombay doesn't have enough beauty? While we may not have enough space, beauty reflects in every nook and cranny of this bustling city. Design finds a home where you least expect it, and order is found in the chaos it projects. We decided to do a round-up of the 5 most beautiful stores in Bombay. See for yourself:
1) Sabyasachi at Kala Ghoda designed by Sabyasachi
Sabyasachi the man, and the brand, have come to be synonymous with beauty. It's no surprise then, that his store reflects exactly that. Hanging lamps, faded walls, and ancient pictures offset by the beauty of the Sabyasachi garment give you a real insight into our culture and heritage. The vintage clocks give it a timeless feel. Even the jewellery on display, reminds you of a museum. Trust Sabyasachi to make the store quirky, yet elegant. The man who saved the sari and made us proud to be desi, sure knows how to add the element of beauty to this city. Walk into the store and you shall believe every word we say.
2) Monisha Jaising at Pali Hill designed by Sameep Padora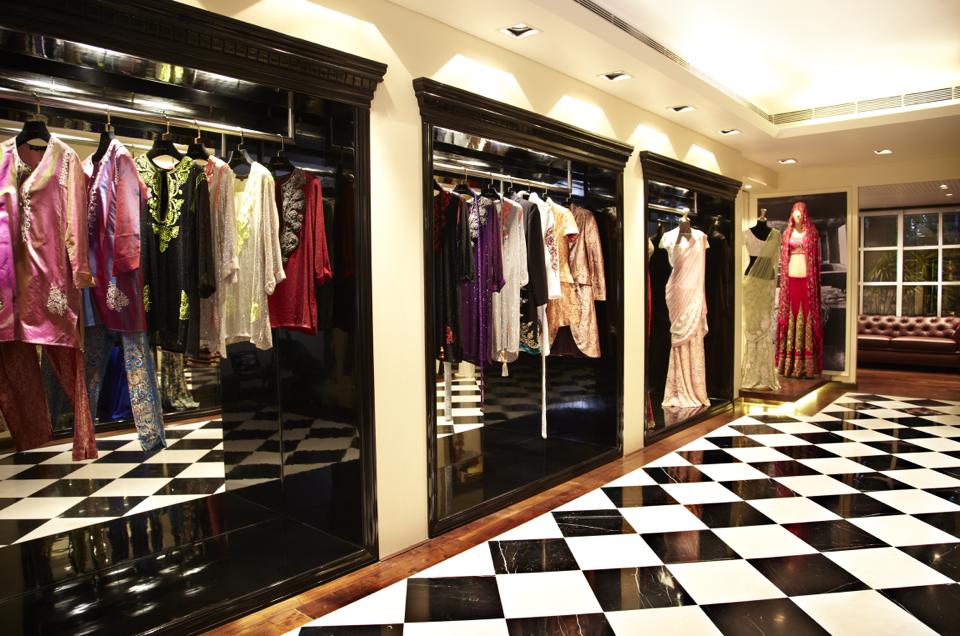 Curious joggers peek into Monisha Jaising's plush store as they pass it on their usual route. And you can't really blame them. The affluent yet homely neighbourhood in Bandra, is home to this gorgeous store. It's contemporary and yet not over the top. It spells the Monisha Jaising brand to perfection. It's swanky, spacious and yet minimalistic, everything a designer store should be. Other designers; hope you are taking notes.
3) Bandit Queen at Byculla by Valerie Barkowski
The mere fact that this magnificent store is at Byculla, should give you a clue about designer Valerie Barkowski's hatke thoughts. This home décor, accessories and linen store is built to indulge us in whimsy and houses some amazing designs. We'll let the pictures do the rest of the talking:
4) The Charcoal Project at Andheri by Sussanne Roshan 
It's not because of famous names like Sussanne or Abu Jani, Sandeep Khosla that this store is on our list. Spread across 14,000 sq ft, this opulent store located in Andheri, is nothing like we have ever seen. All the furniture on sale is laid out in this store making it an absolute treat for your sartorial senses. From shiny cushions to understated chairs, from pops of colour to a dash of crazy, your senses can take it all in at The Charcoal Project. Ps: for those of you who haven't been there, do check out the panoramic view of the store on their official website. We think it's a trés cool feature to include.
5. Christian Louboutin at Horniman Circle by 212 Box & Rooshad Shroff 
Do some sole searching for yourself and check out this gorgeous store. Located at Horniman's circle this very swanky store is going to steal your heart. What else did you expect from Loubutin? It's shiny, it's classy, it's drop dead gorgeous and it's red. Are we talking about the goods or the space? You decide!
That rounds up the top 5 most beautiful, quirky and aesthetic and stores in Bombay. Do take note, that the list wasn't in any order of preference. We genuinely loved the designs of all these stores and knew we wanted them on our list. Enjoyed our list? Think it's too limited? Whatever your take…let us know! We would most definitely love to hear from you.
Photographs via Bandit Queen, Luxury Next, Sameep Padora, Mid-Day, Magna Mags, Mumbai Ishstyle, Travel Cnn