Designer Serena Crawford Takes Us Through Her Remarkable Curio-Filled South African Beach Cottage
28

Jun

'22

12:22 pm

by

Beverly Pereira
Serena Crawford is living life to the fullest. The South African interior and architectural designer is an incredibly astute tastemaker and lover of travel. One week she's in Florence, the next in Japan. Crawford will get under the skin of a city with her network of insiders, making her way to all the best places — from teahouses and art shows to luxury design stores and antique markets. She'll come away with rare finds and a deep insight on culture and the coolest places to be at. There's always a good reason behind the extensive travel — between projects, she'll host experiential holidays in various parts of the world, including India, based on her own experiences. In India, her 'insider travel' trips took travellers far beyond the usual in Rajasthan.
"I adore Indian textiles. I buy textiles when travelling because they're the easiest to carry. I'm a lover of India and have spent a lot of time there, so I've used an enormous amount of Indian fabrics at home. I love dohars, quilts, and throws." says Serena Crawford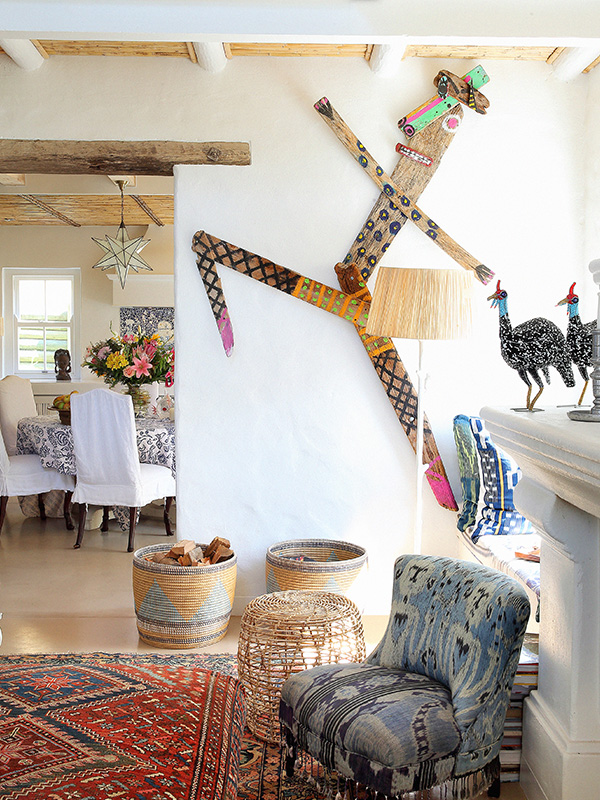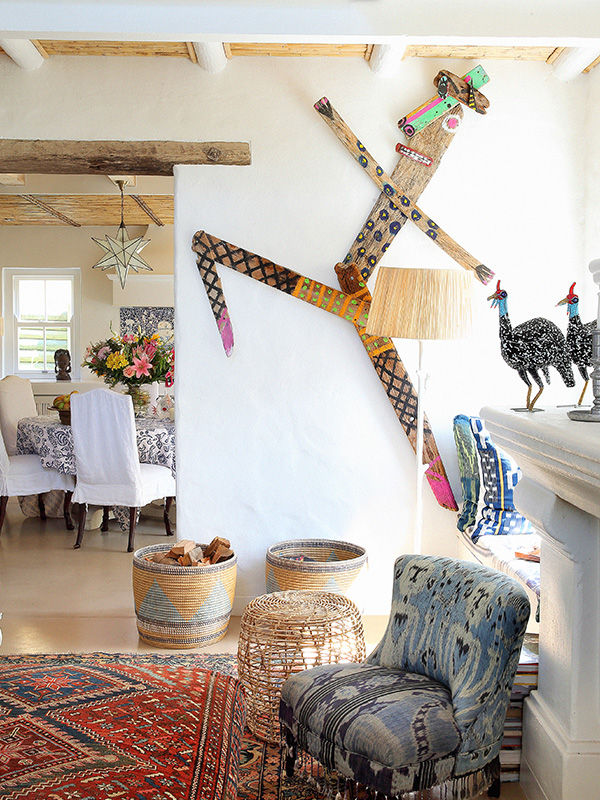 A browse through Crawford's Instagram profile reveals this keen eye for detail — a glimpse of a ream of fabric, street style or even the creation of an artisan. Her enthusiasm for life and uncanny ability to soak it all in then becomes evident in the remarkable homes she has designed over the years, including every one of her own. Her Instagram posts, detailed down to the caption, never once come across as experiences planned solely for the 'gram. Instead, Crawford's in it to lead a life plump with experiences. This wasn't quite the case some 12 years prior, when she was spending "an enormous amount of time running my houses and entertaining". While she tells us that she had come to enjoy those activities, she felt an incredibly deep need to change. A dream indicating the need to "travel light in every single way" further led her down the path she now treads with happiness — Crawford has been downsizing and editing every corner of her homes, which has simplified her life, leaving her with more time to do as she pleases.
Crawford and her historian husband Murray have lived in various corners of the world — in Australia for 30 years, London for eight and in New York. Most recently, for over two decades, they lived in a highly dramatic cliff-side summer castle in Cape Town with a mile of its own coastline. That is, until they chanced upon a cosy little thatched Cape Dutch cottage in Plettenberg Bay in the Western Cape province of South Africa. Although it looked like "a disaster" initially, it had an irresistible charm. Crawford was drawn to its thick stone walls reminiscent of her former cliff-top home and the fact that it was surrounded by fynbos or indigenous bushland as far as the eye could see. It was only a short walk from Plett Beach and yet the salty sea air wasn't likely to wreck damage like it had done to their home on the wild cliff edge.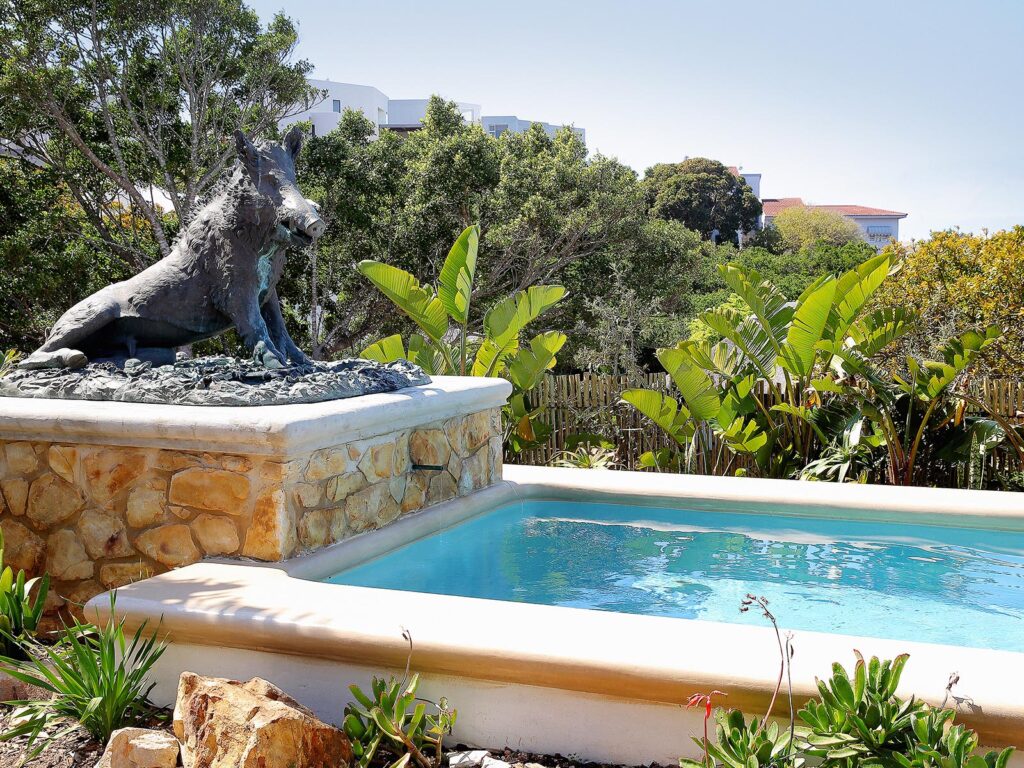 For Crawford, who grew up in South Africa, the resort town of Plettenberg Bay remains symbolic of the Christmas summer holidays; its pristine beaches are also where her husband spent many a childhood vacation. Representing summer memories, the coastal cottage is an edited, smaller version of their remote cliff-side home. Crawford tells us that the beach cottage is the family's emotional centre, offering a sedate lifestyle suited to a life of constant travel. Built to entertain, it can comfortably accommodate their two daughters who often visit. The highlight of the home is a veranda, which, much like a sprawling living room, is where all the summer gatherings happen. Now, between their London home and cosy beach cottage, Crawford has come full circle and couldn't be happier.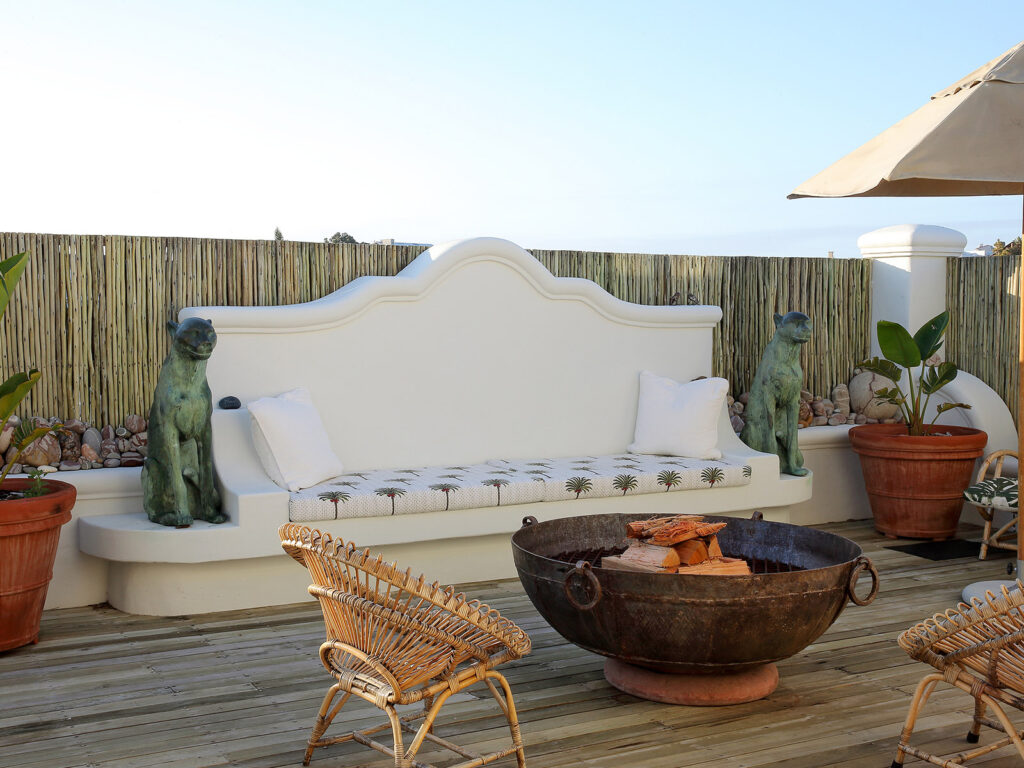 Completed in 2021, Crawford's beach home is aptly named Lalapanzi, an African name that translates to 'lie down'. The interiors are all white, save for the careful inclusion of colour that effortlessly blends in, rather than distracts. The tranquil theme flows through five bedrooms, a cosy kitchen, sprawling veranda, indoor and outdoor bathrooms, and a mezzanine library. Nothing about the original cottage was retained, including the thatched roof which her husband believed to be a fire hazard. Replacing it, a roof crafted from reeds that grow in Oudtshoorn nearby is very much in line with the South African vernacular, particularly in the Cape.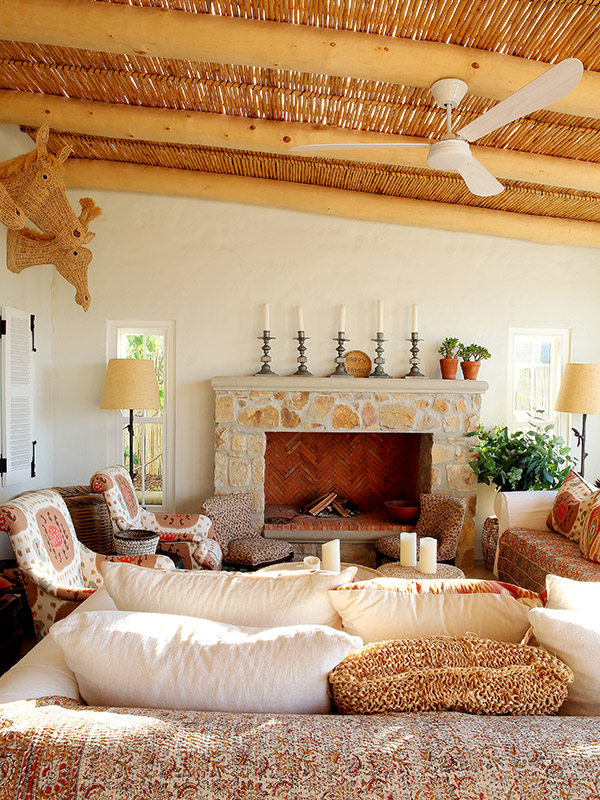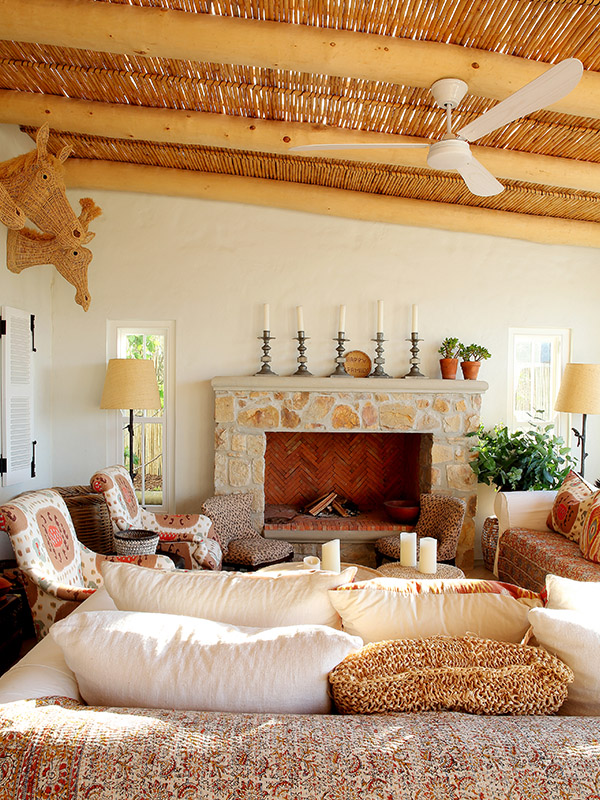 "Ceilings are so important as they create an enormous atmosphere. I love reeded ceilings. It also helps with insulation as per the season. Besides, the river reeds absorb sound much in the same way that bamboo does," Crawford explains. For the veranda, she opted for a poplar and cane roof. "These came from forests grown by the 1820 settlers who had arrived in South Africa with nothing but a few seeds to plant these forests. The human hand really comes through in the building of this roof."
Roofs aside, handmade elements and local influences are everywhere. "I love using the vernacular and particularly like infusing handmade and local elements into the architecture. There are so many skilled workmen from Mozambique, the stone builders and people who did the reeding for the ceilings and who crafted the fireplace. They are completely brilliant at what they do. The rattan placemats are woven in Zululand. I try to support artisans from all over the world, but more so my own people in Africa. I love wicker because it says summer."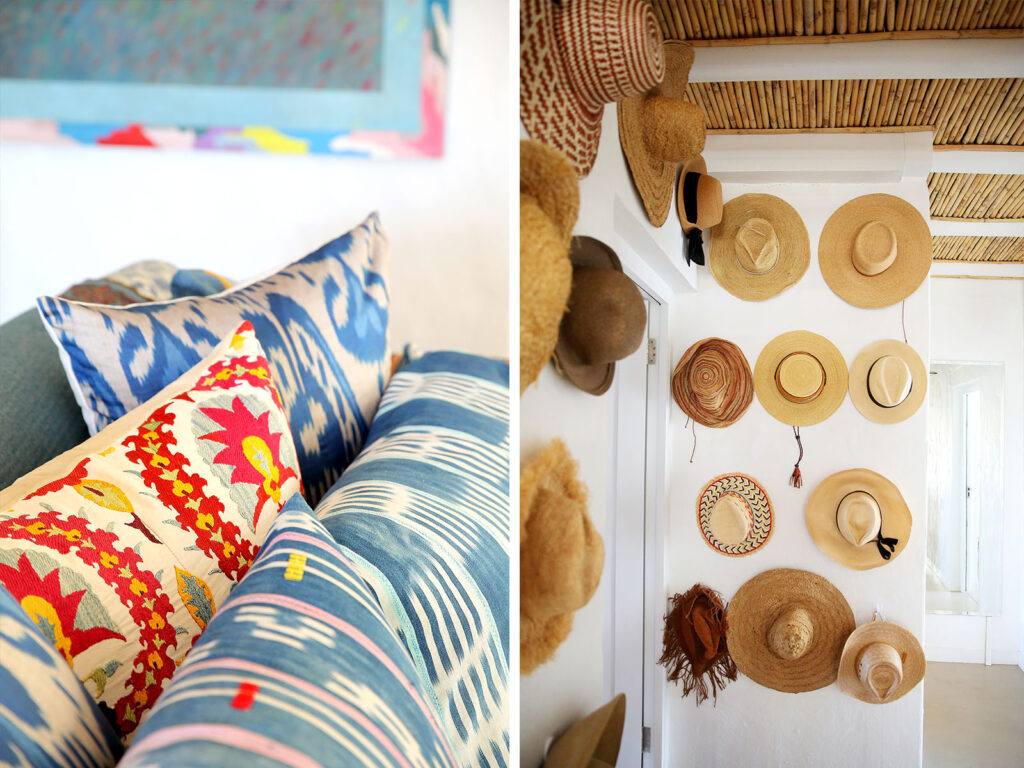 Crawford's love for the artisanal shines through in the generous use of Indian fabrics, whether employed as ikat upholstered sofas or as woven textiles on headboards. "I adore Indian textiles. I buy textiles when travelling because they're the easiest to carry. I'm a lover of India and have spent a lot of time there, so I've used an enormous amount of Indian fabrics at home. I love dohars, quilts, and throws."
Scouring the markets on her travels, she has come away with rare finds. "I tend to buy a lot of things from the side of the road. You'll find artists in South Africa who come from all over southern Africa with shops by the side of the road. I love to support these artists, particularly the basket weavers and the basket makers of Botswana. Every once in a while, I'll chance upon an extraordinary artist by the side of the road like the man who did all the animal heads," she says.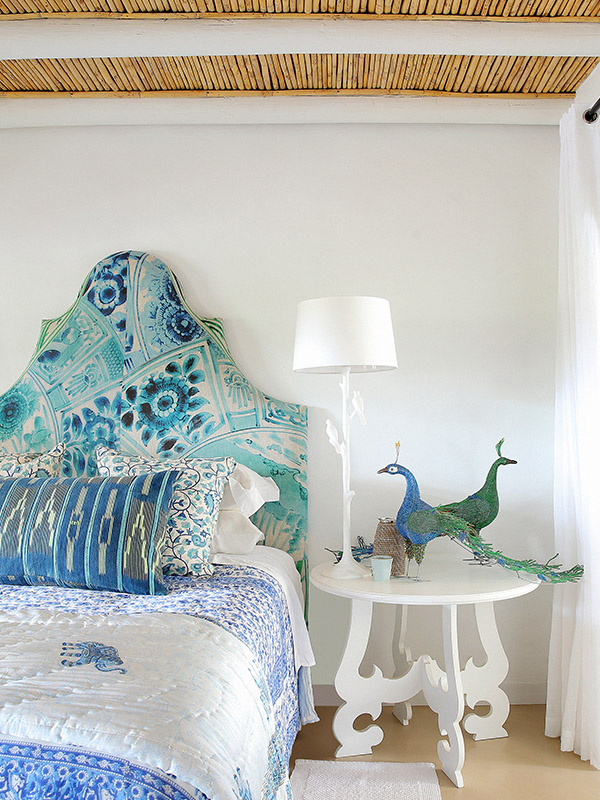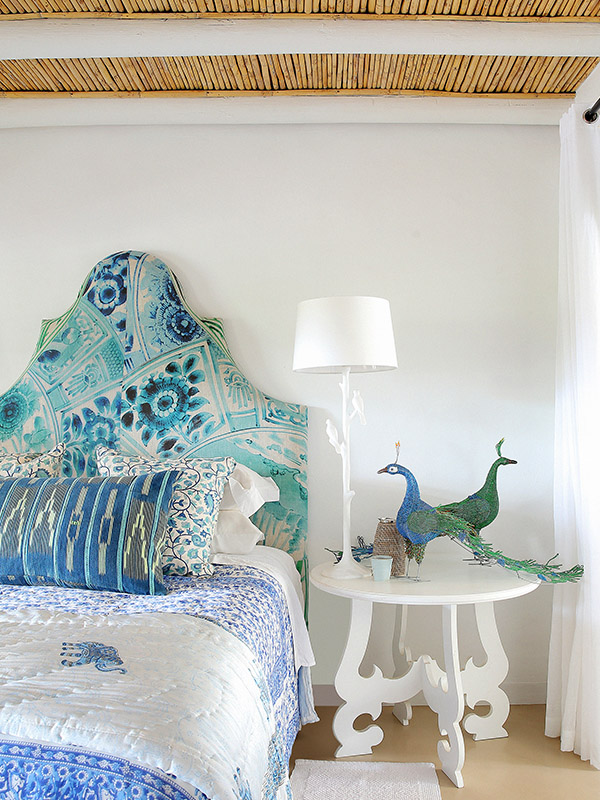 Crawford is also a collector of things, be it something as simple as a hat or a piece as precious as a Louis Vuitton trunk. About her growing collection of hats that adorn the walls of Lalapanzi, she says, "I absolutely adore hats and collect them because I actually wear them. Sometimes I'll arrive at a place, buy one, enjoy it for that holiday and then bring it back home. I love Australian hats and have collected Australian designers for many years."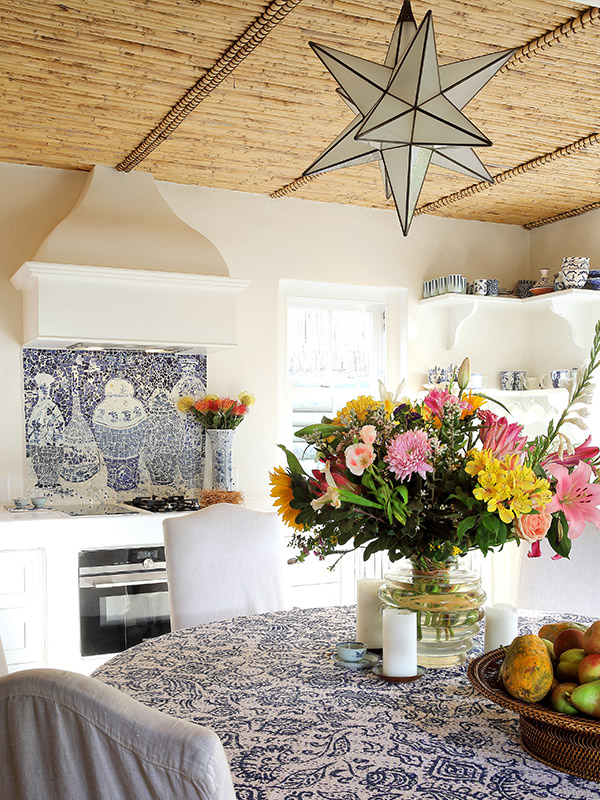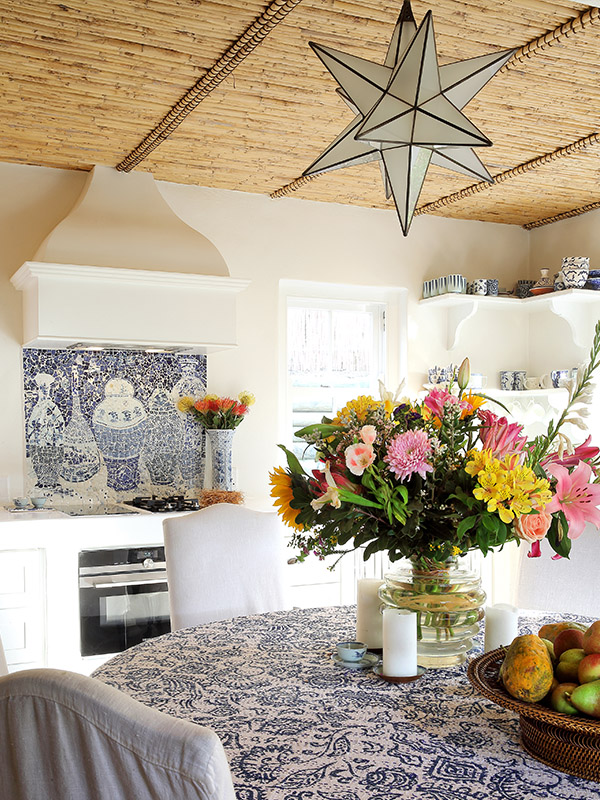 Precious memories are the driving factor behind Crawford's collections. In the kitchen of her sunlit beach cottage, a mosaic backsplash handcrafted from pieces of broken blue-and-white porcelain retained over the years is the only real infusion of colour amid the sea of white. "I find a different mosaic artist wherever I go. This was designed by a Plettenberg Bay artist. We used broken porcelain pieces that we had bought from the Nanking cargo (a Dutch East India ship that had sunk in 1752). The mosaic also includes a very special piece found on the beach in Plettenberg Bay." The obsession for blue-and-white porcelain started with three Persian ginger jars bought on auction at Christie's some 40 years ago. "I'm a very strange person. I always tend to buy the same things over and over again. I love blue-and-white China, porcelain and earthenware and will always have room for a few more bowls to add to my collection."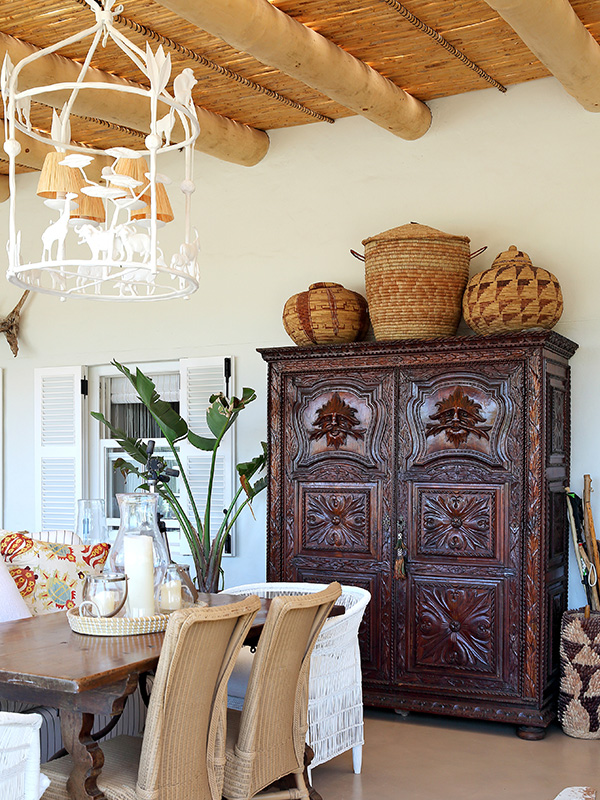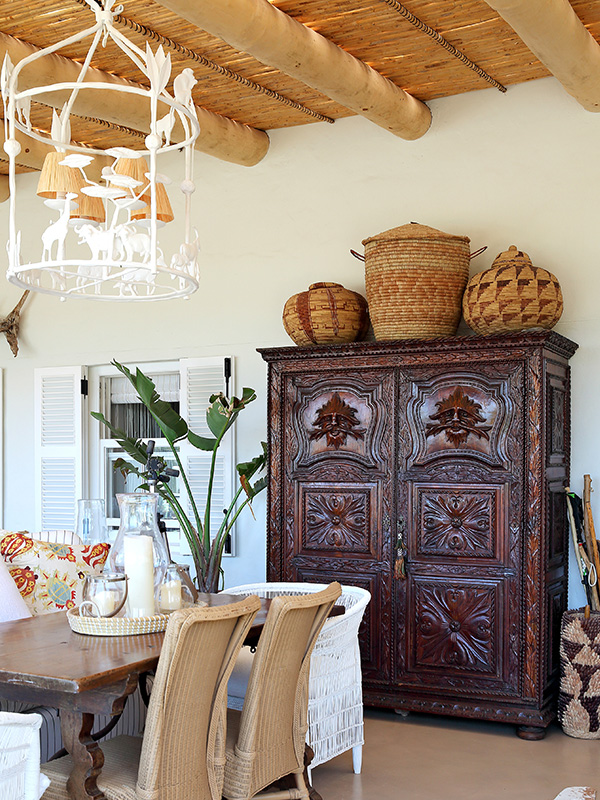 Despite her efforts to downsize, some precious objects are too hard to part ways with. "This is a casual beach house and most of my precious pieces aren't here. I sent those to my children in London and some of it's in storage. Having spent on storage my whole life, I think it's a ridiculous thing to do. It weighs you down. But I do like to build a room around a piece of furniture." For instance, suited to Lalapanzi's balmy environs, she retained a beautifully carved Portuguese armoire for alcoholic beverages that had found a home in all her previous houses. Then there are the many Louis Vuitton trunks on the veranda procured in Paris over several years in the '80s. The veranda also holds a special piece — a table, almost five metres long, sourced by her husband from a monastery in Seville. "I have carpets and rugs that I've owned for years, and paintings, including a still life from my parents, and another from a contemporary at art school. I bought it over 40 years ago. Some things stand the test of time."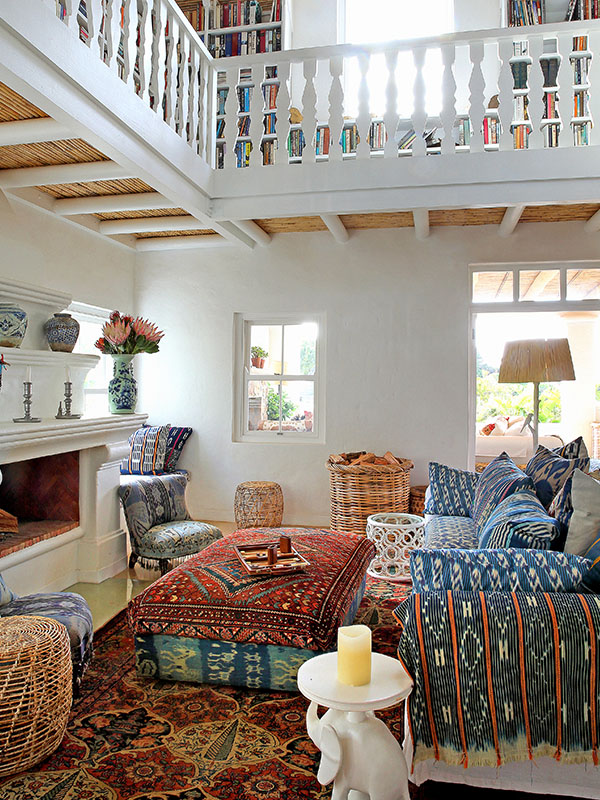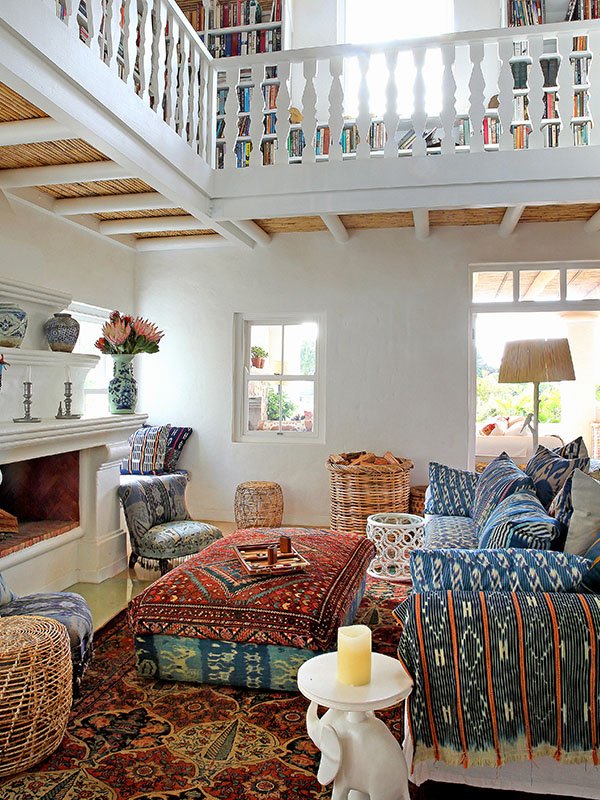 On the mezzanine is a sun-drenched library filled with countless books. The collection covers design tomes, like Crawford's go-to book titled 'A Pattern Language', alongside travel books on India, Africa and other countries of interest. "Although I now buy books for my Kindle, the only real books I'll buy are design and spiritual development books. My husband is a great historian and loves biographies of historical and contemporary figures," says Crawford, adding that they enjoy spending time in the library which also serves as a workplace.
Back down, in the easy, breezy white bedrooms, there are soft white dohars from India, while fabrics by her sister's company Botanica Trading are introduced in many ways. Cane art and oftentimes a touch of blue and white add to the coastal charm of this otherwise whitewashed cottage. The all-white master holds an elegant white four-poster metal bed and a chandelier.
There's no sight of ostentatiousness in the bathrooms too. Intentionally designed for simplicity with concrete floors and screed countertops, some of them even open out into the great wide open. "I love an outdoor bathroom to shower under the sun, clouds and stars. As I've gotten older, I've realised that time is the most precious commodity I have. My time was being gobbled up by running houses and being an entertainer. I now want an experiential life. I also want freedom," she explains. Now almost 80 percent done with the downsizing, Crawford feels lighter in her current dwelling. The line "What is it that you plan to do with your one wild and precious life" from a Mary Oliver poem is quoted in the designer's Instagram bio. An honest, true-to-life descriptor, it is well in line with the designer's spirited personality and honest approach to and enthusiasm for life.
Image credits for the featured image – Karl Rogers / Vignette