Designing the Future: DP Debut Brings Together the Best of Young Minds in the Field of Design with Four Winners
21

Oct

'21

1:11 pm

by

Diksha Jawle
With a single most aim of conceptualizing and recognizing, felicitating and encouraging budding design professionals and young students and graduates, Design Pataki Debut 2021 witnessed an overwhelming response of copious entries pan India. Exclusively created for the gen-next in the design field, the homegrown competition required participants to register and submit their respective work under a variety of categories in architecture, interior design, product design and art.
While traditional awards of a similar nature do tend to recognise and uphold good design, DP Debut has gone one step further in seeking that which is truly inspirational through its subtle artistic communication. Design Pataki's editorial team moderated the entries across the categories at various stages before selecting the final winners, thereby showcasing the very best in design and architecture.
Celebrating new perspectives with budding Indian design practitioners, we walk you through the four winning projects of DP Debut 2021.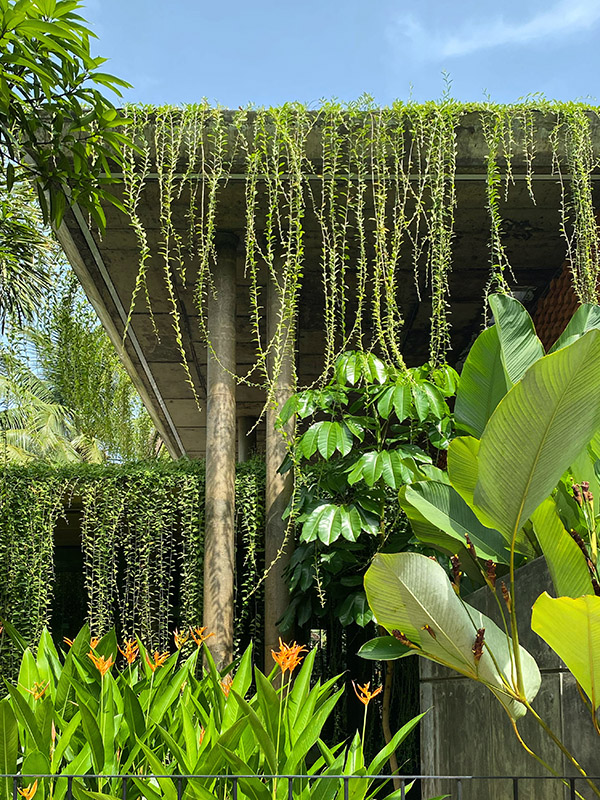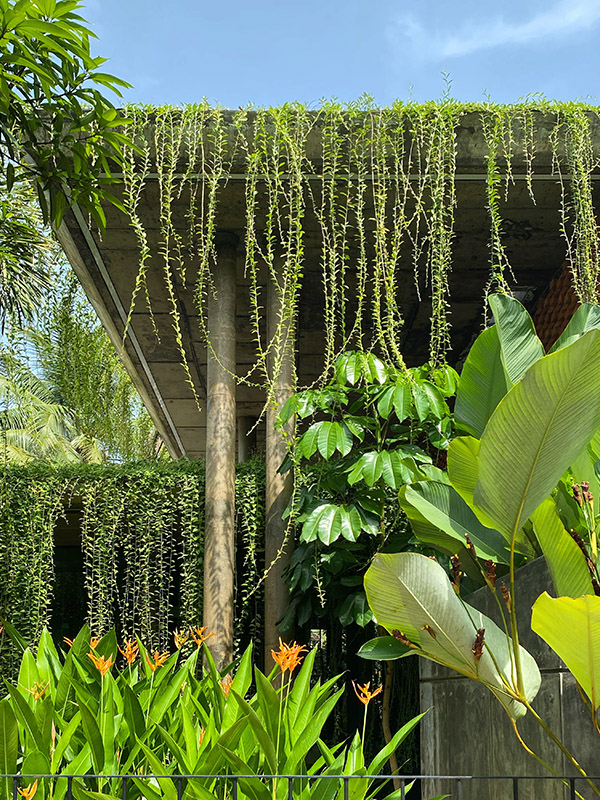 Architecture – Studio Avocado
A contemporary office space nestled in Kerala's Kayamkulam, the founder of CNS Builders wanted the new office building to be an extended division to their old office space. The 800 sq ft office space takes on the challenge of providing an escape from the chaos with a minimalist, modern design with glass-walled space in the juxtaposition of the rich landscape and water bodies with a bridge connecting the old and the new construction.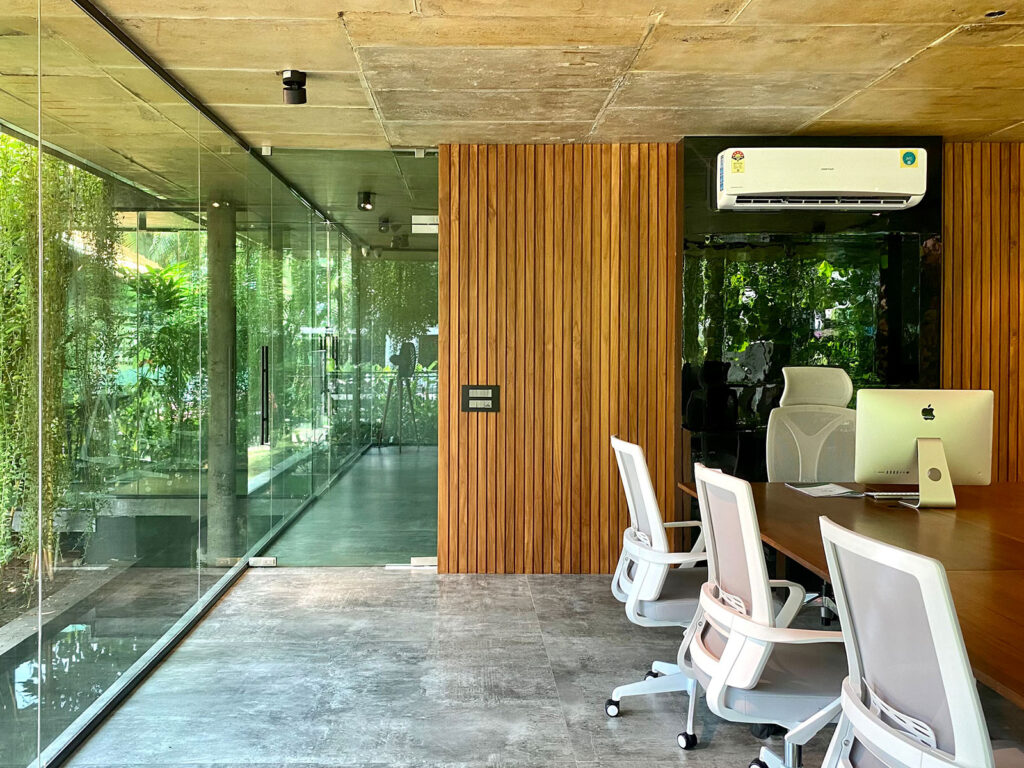 Founded by architect Yasin KM in 2018, Studio Avocado outlined the rectangular office building which effortlessly floats over the water body as the circular pillars shore up the roof plane. With a tropical, contemporary architecture style with a minimalistic approach being the Calicut-based design studio's area of expertise, Studio Avocado inculcates context that is adorned with the play of vertical and horizontal lines.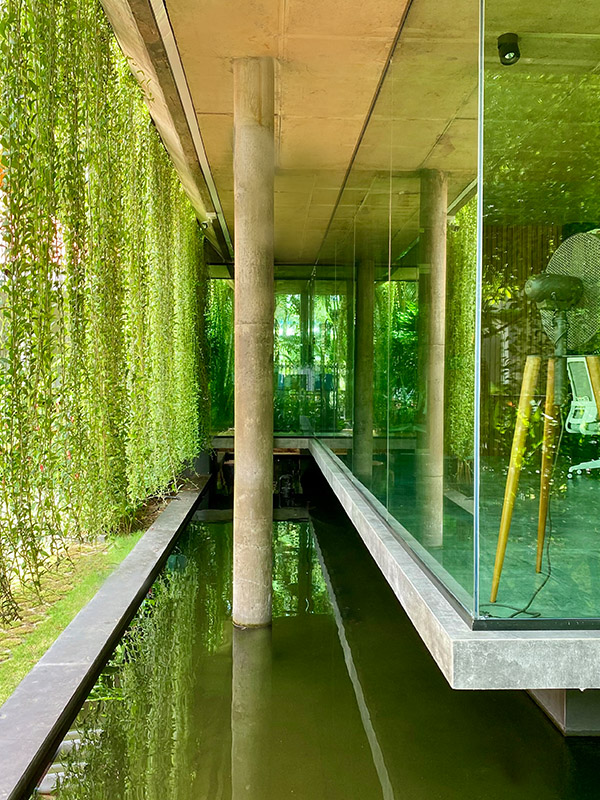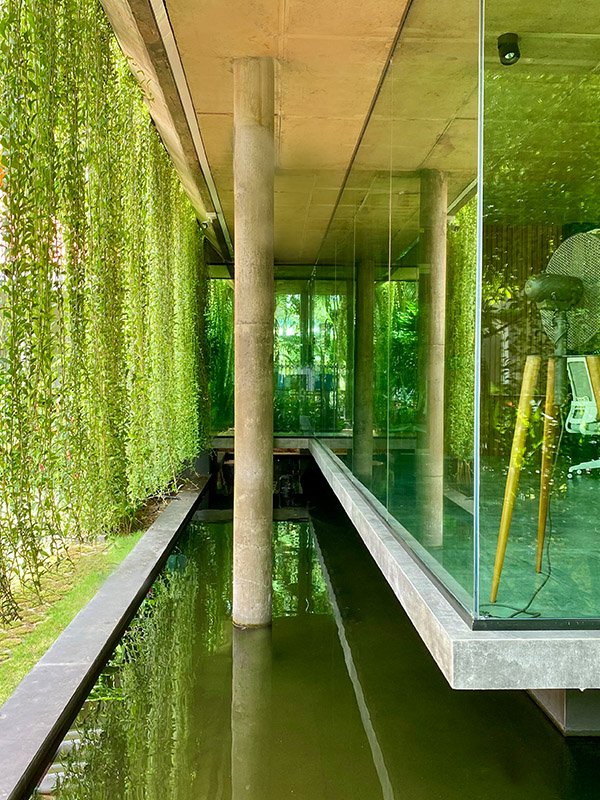 Making the most out of a simple and neutral material palette, tropical architecture style has been implemented with exposed finishes. A 5-m-high exposed brick wall shields dust and noise from the carpentry workshop to the proposed site, in contrast to the curtain plants dangling from the roof planes screening direct sunlight within the interiors.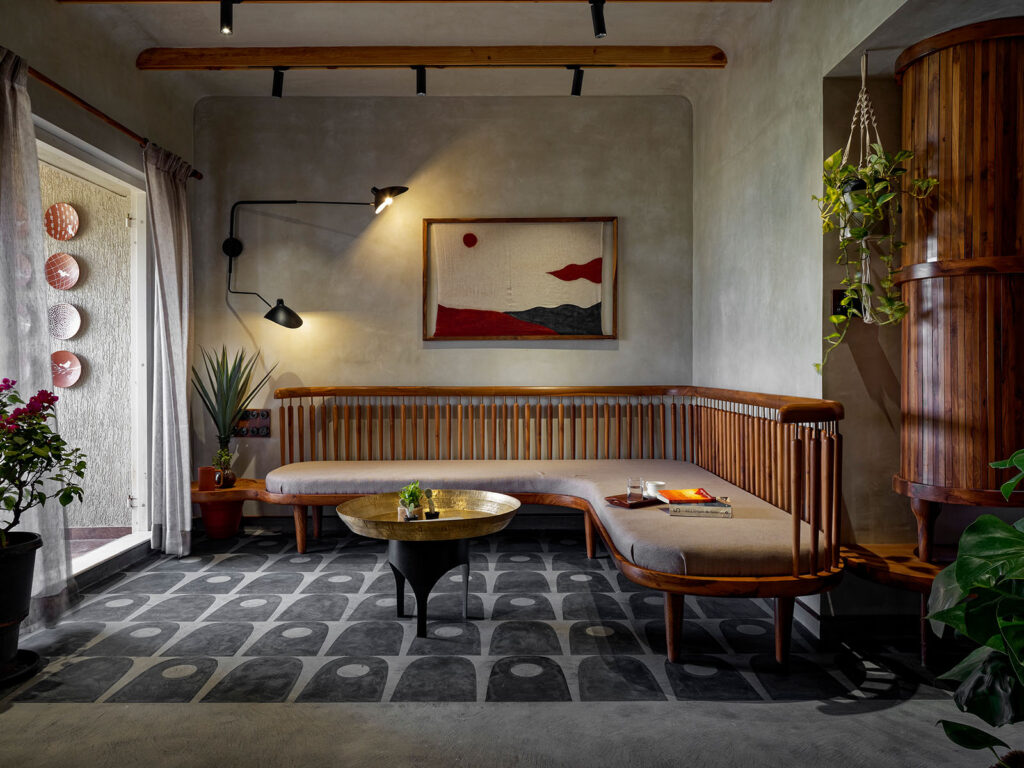 Product Design – Saar by Sneha Jajoo
An amalgamation of traditional and modern artistry in an experimental approach defines the design principle of Saar by Sneha Jajoo. Jajoo's furniture collection including Nidra Koch (L-shaped sofa), Radio Matra (storage unit-cum-table), Silpa Meja (table) and Mrittika (eco-friendly stool) are connected yet separated to allow simplicity and diversity. This unique assortment illustrates the process and techniques to create a space that reflects a persistent exploration of the diverse border zone between harmony and disharmony.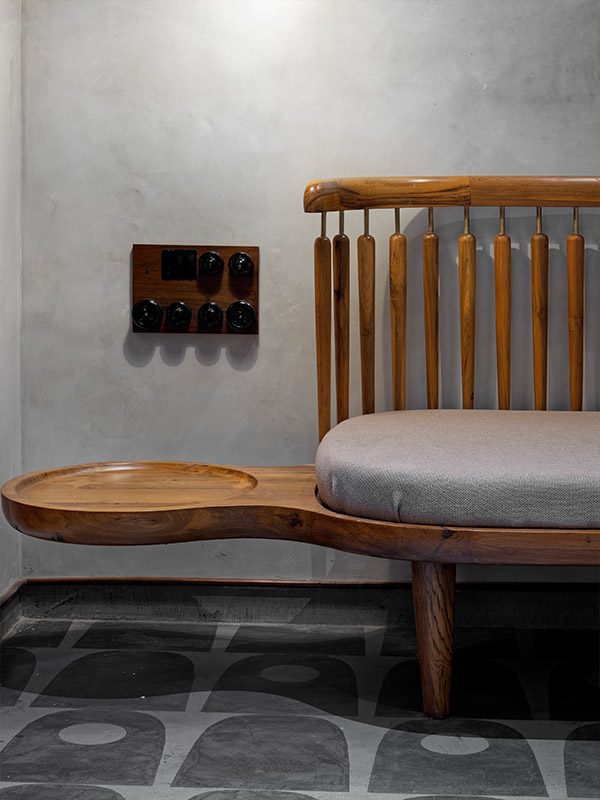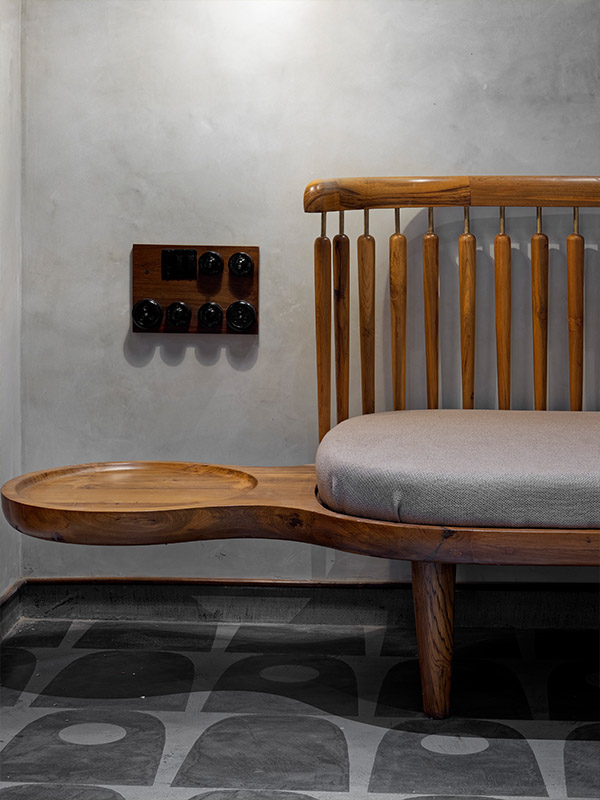 Designed and furnished for a project where the client wanted a sofa where he could take a nap with all the comfort, the Nidra Koch is crafted out of wood and brass with cotton upholstered cushions, exemplifying an abstract leaning human figure from atop.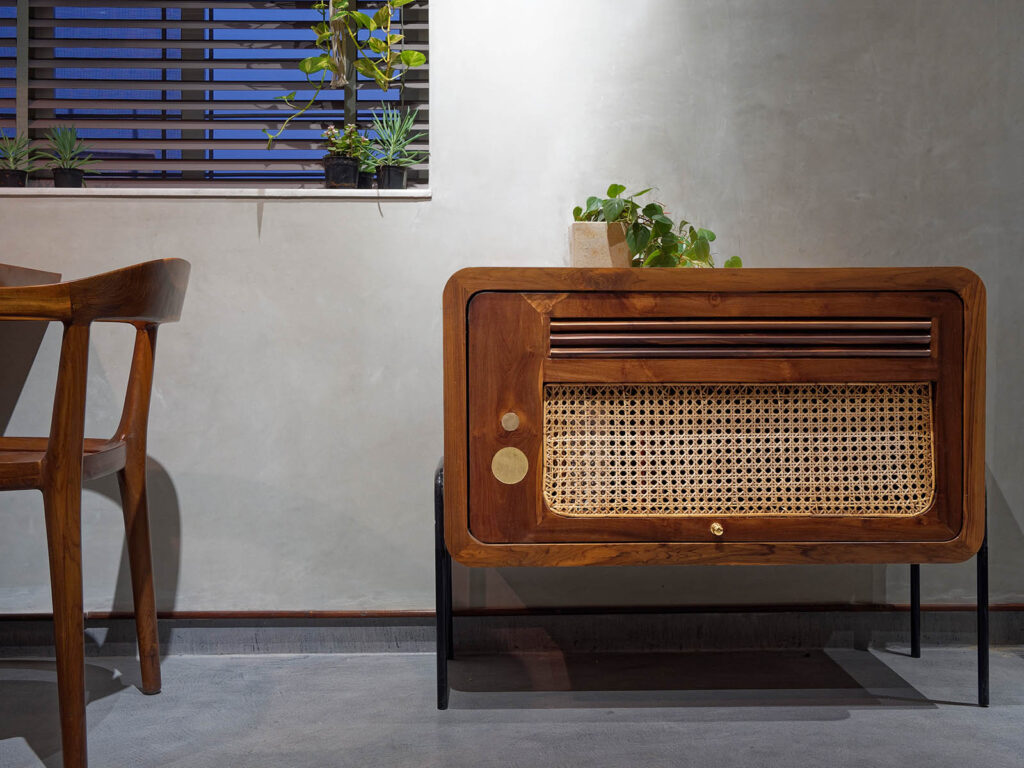 Inspired by vintage radio, the Radio Matra meticulously weaves rattan cane and wood. The lightness of the metal architecture meets in a striking and elegant visual synthesis. The storage unit doubles up as a console and has a partially louvered door that opens to hide away, sliding inside the unit.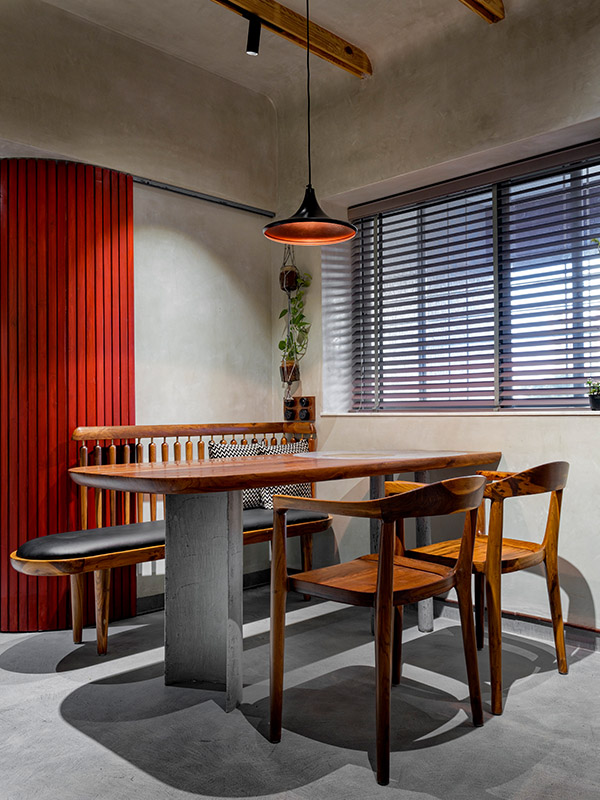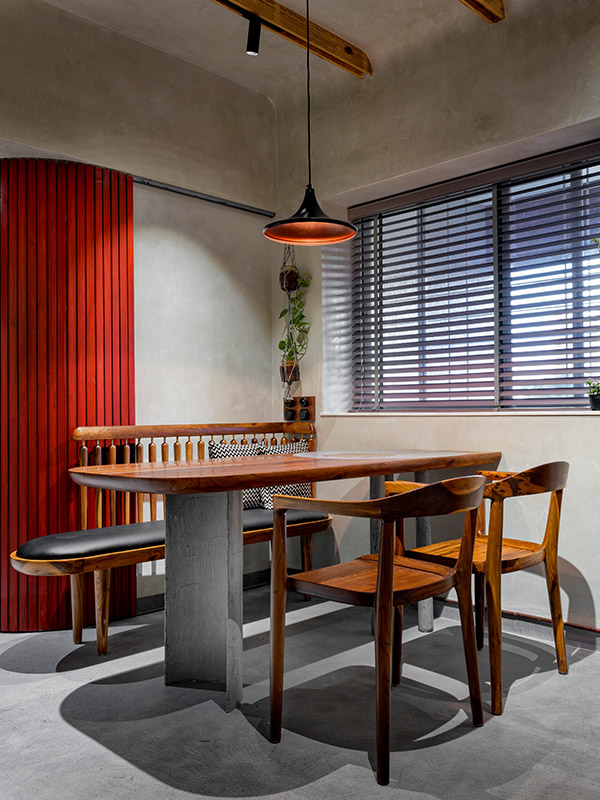 Resembling a Danish modern style and Scandinavian art form, the Silpa Meja is designed out of a diversified material palette. Handcrafted to perfection, its organic soft edges are designed keeping in mind compact homes, while its legs are perceived as an uninterrupted trail.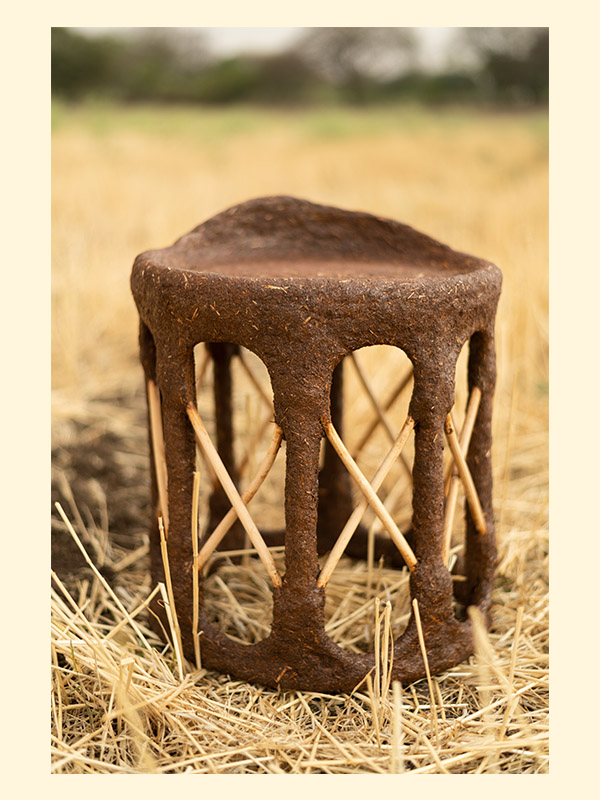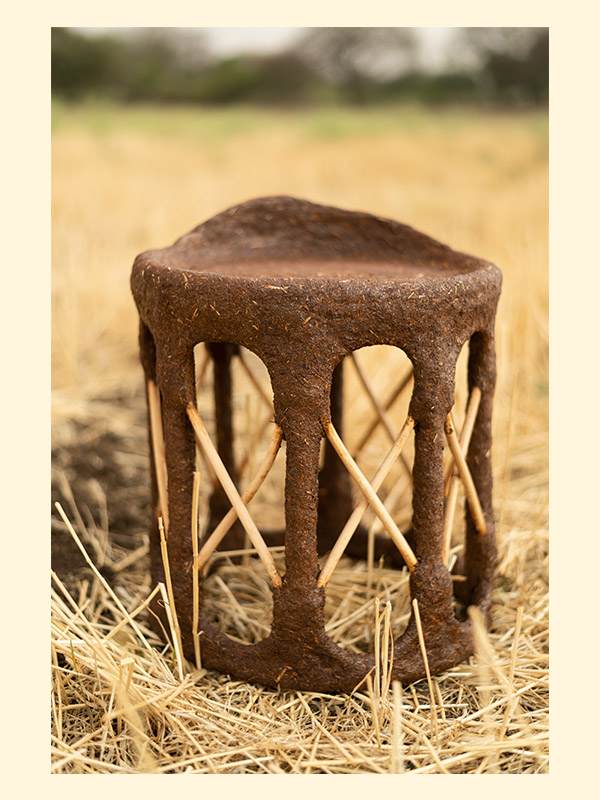 Crafted out of clay, sand and organic waste, the Mrittika stool is constructed using an old cob technique. Akin to mud-covered anthills, the stool creates its optical rhythm of arched earth to strong crisscross cane, creating its poetic intensity.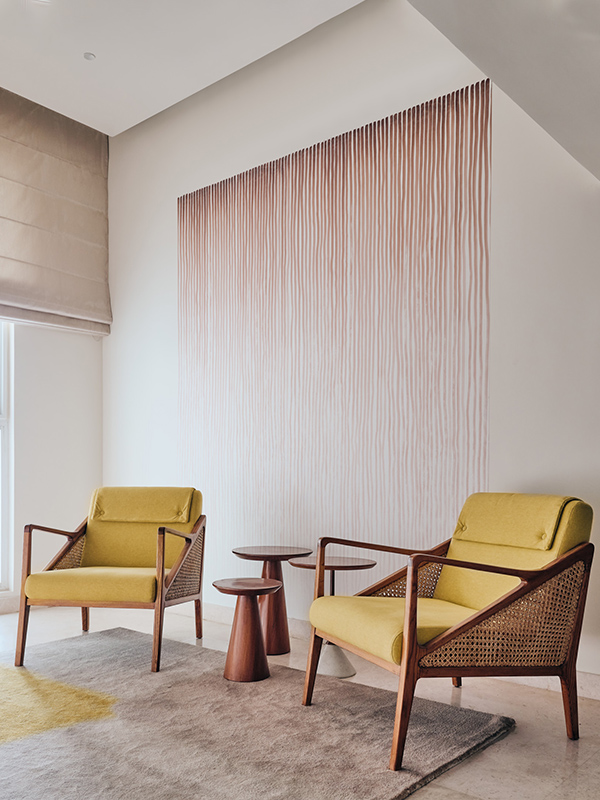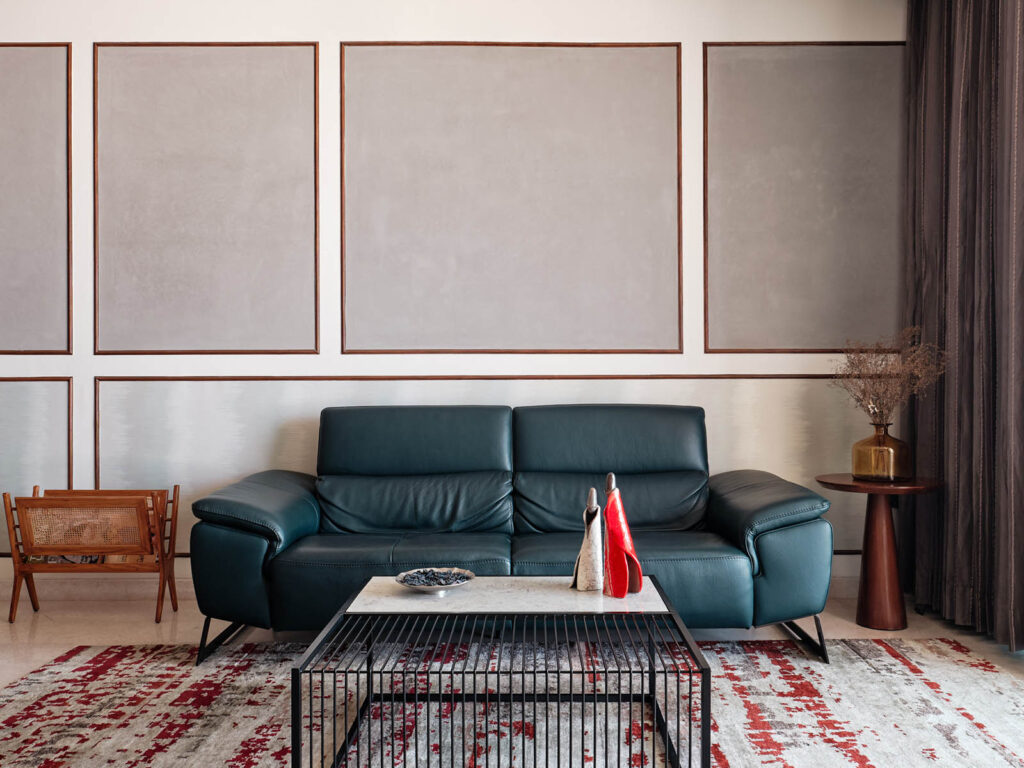 Interior Design – TaP Design Inc.
The client's brief was to have a contemporary home with organic undertones using materials such as wood, cement, marble and cane. The design was a conscious effort to nurture wood and cement through furniture and wall paneling and wall textures, marble through flooring and wall cladding, and cane through accents and artifacts.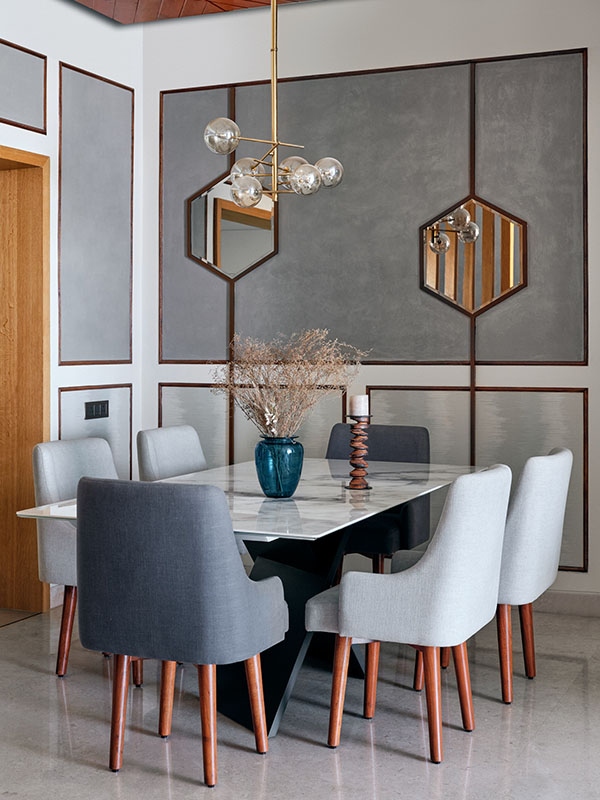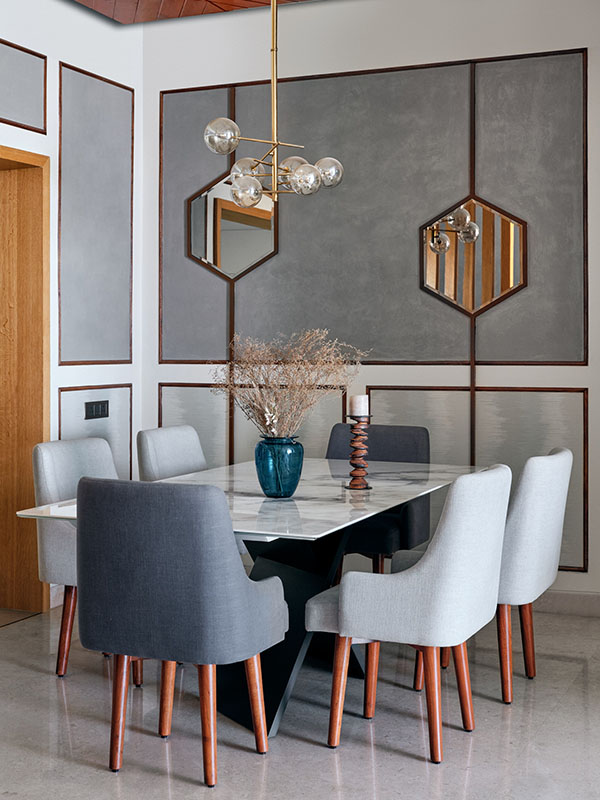 Sneha Talati and Iesha Parekh Shellugar-lead TaP Design Inc. buffered this setup by adopting a glocal design, characterized by both local and global considerations. The palette of neutral colours of greys, whites, oak and shades of blue led to the selection of lightweight fabrics and materials including cement finish textured paint and wooden rafters, clad foyer, storage units, grey wooden flooring, bay window seating with book storage and brass inlays. Teak and rattan chairs with a mustard fabric create a relaxed atmosphere in the master bedroom lounge and bar.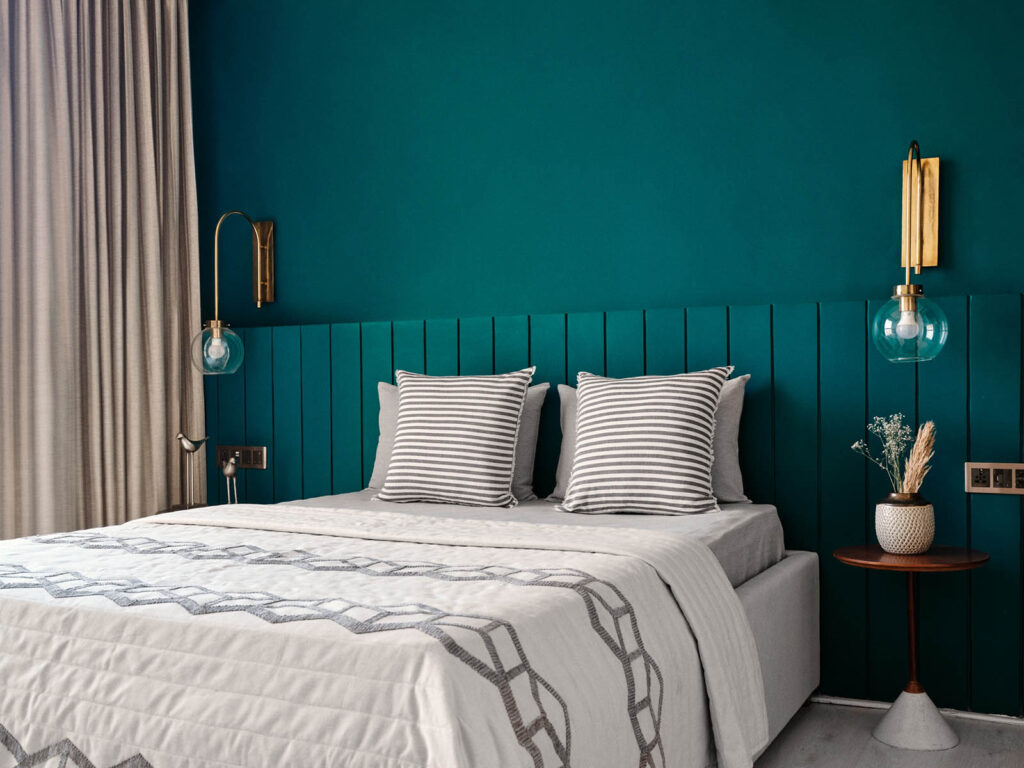 The main feature of the other bedroom is the Rama Green wall that makes for a statement headboard and provides a backdrop to the upholstered bed. Sneha's unique aesthetic sensibility, combining function, form, hues and material in addition to Iesha's distinctive style and graphical appeal led to the formation of The Pine Project – a modern wonder with a glocalised design culture.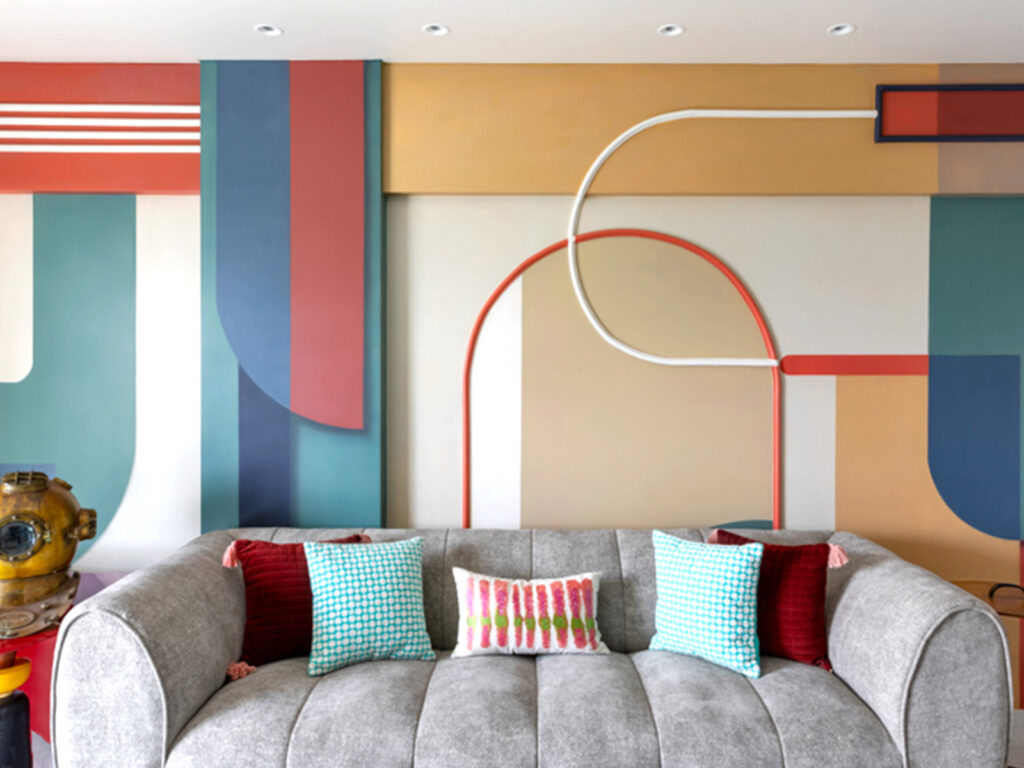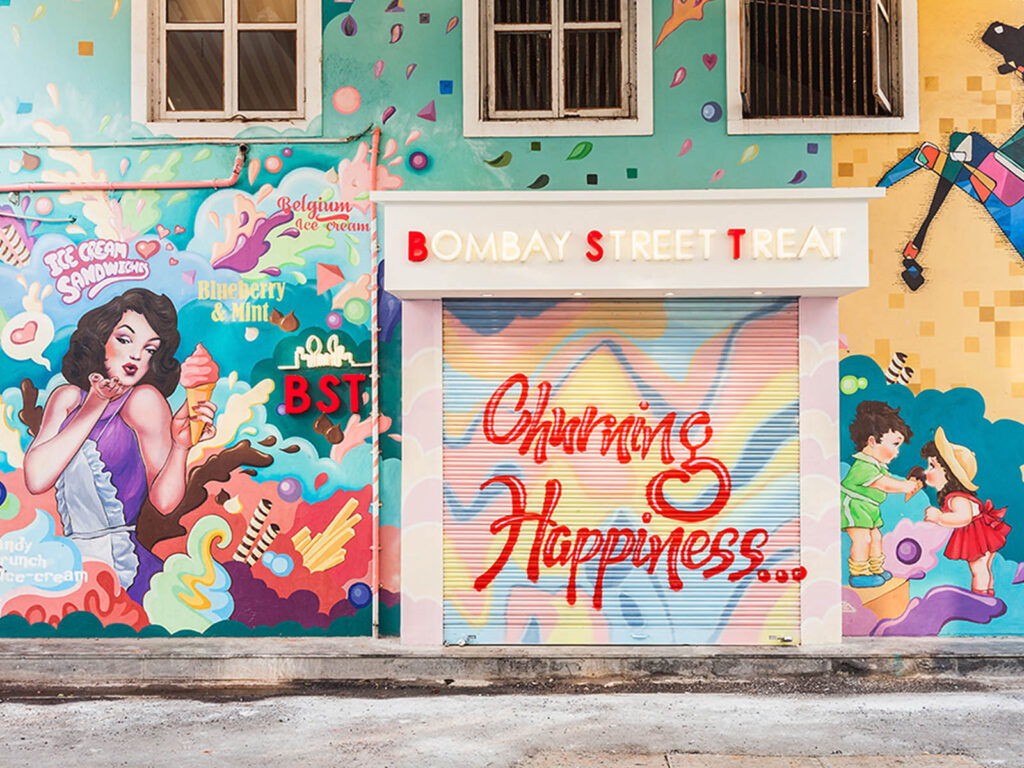 Art – ZA Works
Brainchild of Zahabiya Gabajiwala, Za Works represents Zahabiya's passion for art. It sees beyond the surface and using that as her canvas, she paints on an existing base and artistically turns it around to represent a vision. Collaborating with interior designers and architects to create spaces and visuals that are extraordinary, Zahabiya has had the opportunity to work on some spectacular projects including Tropical Paradise, Quirk Box, Bombay Cartel and more.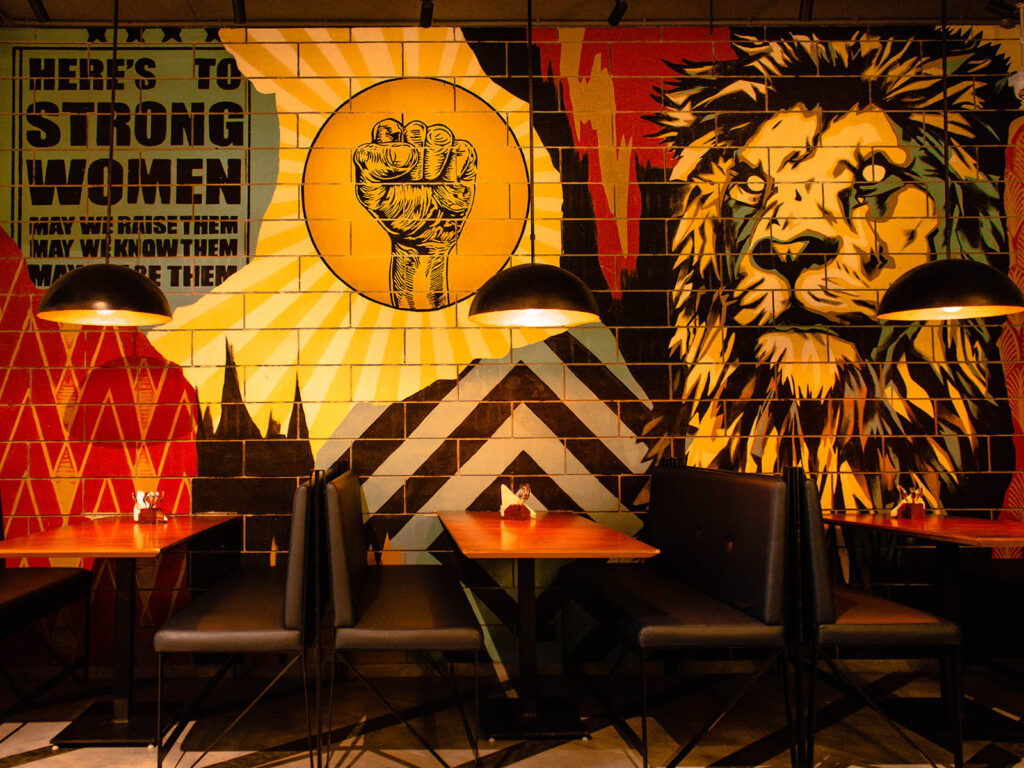 With an unconditional love for analog, Zahabiya values the charisma of the digital world and makes sure all her concept building, experiments and testing are done on various digital platforms. For instance, while working on the Bombay Cartel project encompassing Shepard Fairey's eclectic style, Za Works' bright and powerful murals in graphic design style resonates with the brand's logo quite subtly. Incorporating brush painting, spray painting and airbrush techniques, ZA Works delivered a fun, colourful experience with bright and attractive visual elements on the walls through its Bombay Street Treat project.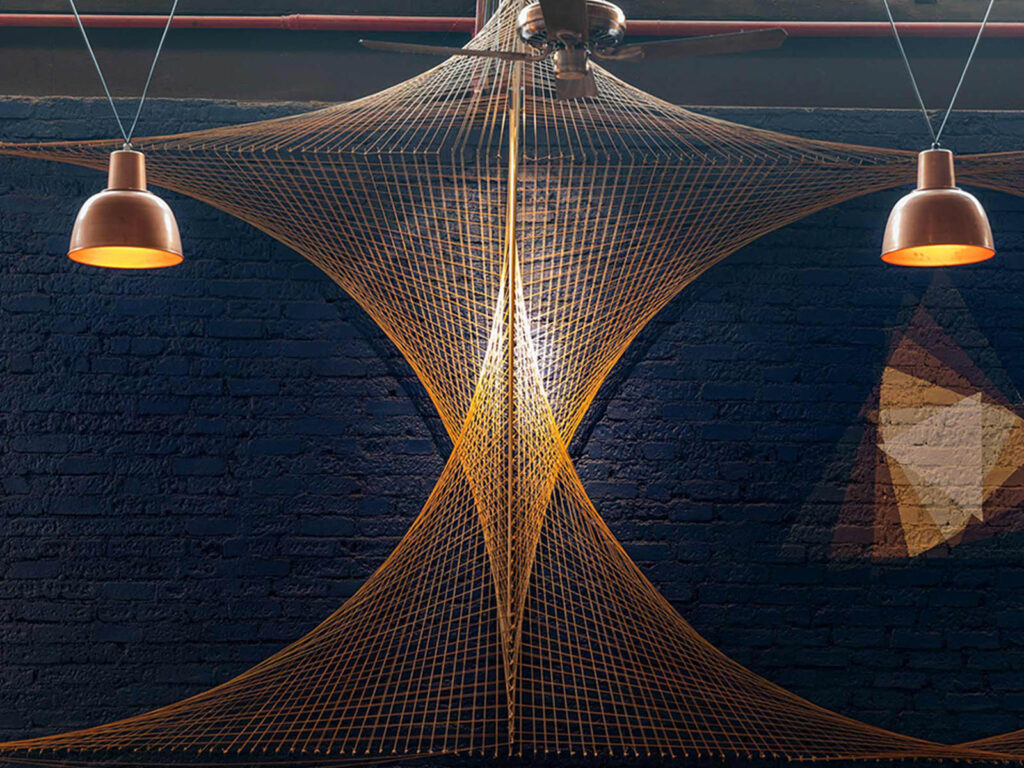 In a creative venture with Gautam Shewa Architects, Zahabiya created an art installation and mural crafted out of simple, humble material like thread hooked seamlessly that sings to Lilt restaurant's rhythmical music of swing and flow. While the Tropical Paradise is her attempt to bring the great outdoors in your living space through earthy shades and tones, the Quirk Box project emphatically proves the bold and bright eclectic living room through artwork that creates a style statement in the Living of Quirk Box inspired by the Memphis movement.
As we wind up the initiative on a happy note, Design Pataki is truly overjoyed with the response it has received so far. Going forward, DP Debut is looking forward to more entries and aims on expanding design and architecture on a remarkable foresight and impactful dialogue through the medium.