Keepers Of Heritage – The Stories Of Four Artisans From Across India
21

Apr

'21

9:44 am

by

Shailaja Tripathi
There is a belief that language and the taste of water changes every few kilometers in India. One is tempted to add art and craft traditions to this list simply because of the sheer number of art forms practised in India. There are believed to be 3000 unique art and craft forms in the country, and according to unofficial data, the sector employs 200 million people making it the second biggest employer after agriculture.
The nation and its people pride themselves in these rich and diverse art practices. The artisans, most of whom, reside in rural India, are eulogised as custodians of heritage but those are just mere words. A vast majority of them struggle for survival and the pandemic has made it only worse. Out of this pool of talent, few of them have been able to find opportunities to carve out an identity for themselves through awards and participation in fairs. Over the years, several brands have also started collaborating with artisans but very few make their names public.
Through this piece Design Pataki gives you a peek into the lives of a few artisans who have risen from obscurity because of talent and opportunities. The brands they work with are only too glad to reveal their identity.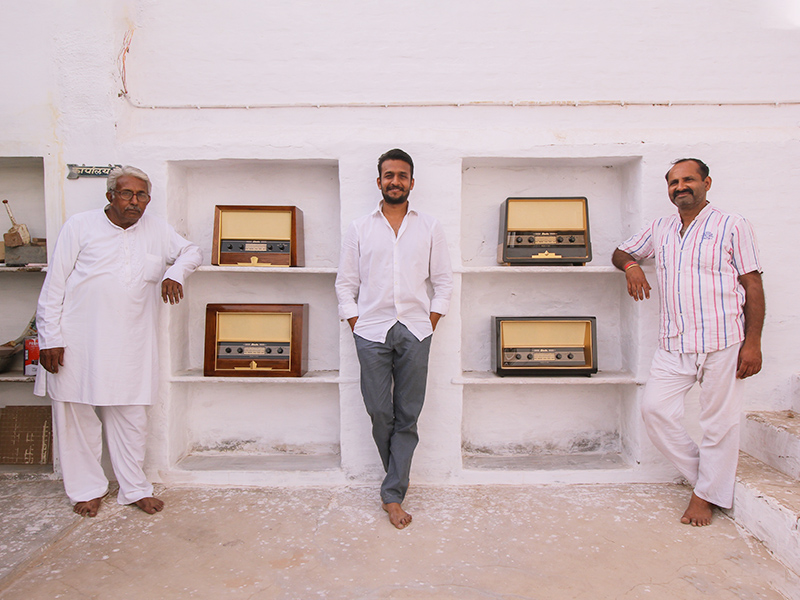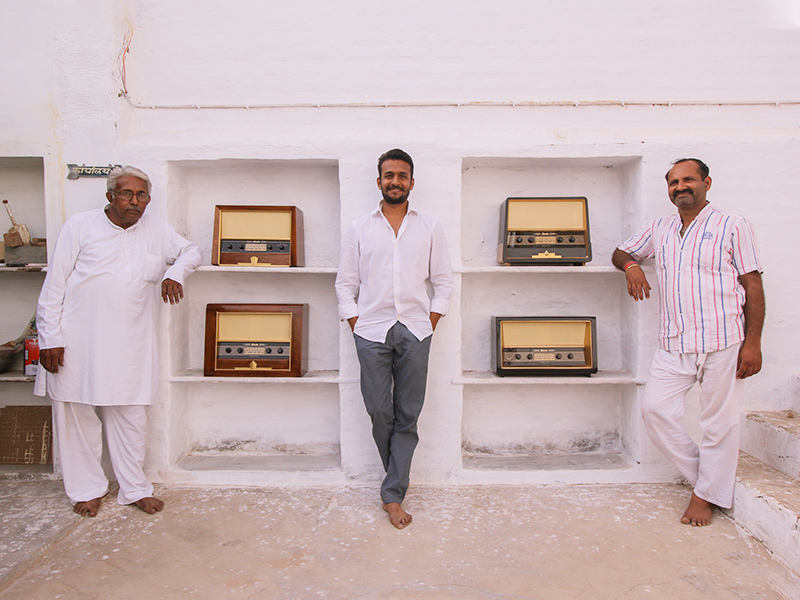 Manoj Suthar Marotya, Woodwork
A fifth generation in his family of Suthars – a community that excels in woodwork, Manoj Suthar Marotya has a complete command over wood. Diwiks' luxury speakers, known for their vintage look are a testimony to Suthar's adroitness. No two pieces are alike.
The body of the speakers is made from the wood reclaimed from the doors and windows of havelis in Rajasthan. Their sizes and shapes vary all the time, but they are seamless in the final piece crafted by the artisan. The experience of two decades and his knowledge of the craft
passed down from his forefathers have honed his skills.
Thirty-nine year old Manoj lives and works in Bikaner. He dropped out of class 10th to pursue his ancestral profession. He also ran a photo framing shop but shut it soon. Manoj's forefathers were family carpenters for Diwik's founder and designer Diwik Singh Chhalani's household. "Initially, I worked with different artisans and was quite disappointed. As I was looking for people, I realised Manoj's strengths. His own aesthetic sense is amazing. I will come to him with a problem, and he will have 3-4 solutions. He thinks like a designer," says Chhalani.
"I work for not just Diwiks but others as well. I make furniture for individual households and companies but making speakers is more fun. It's tough to match textures, colours, sizes and shapes of various pieces as they are all old but it's all very high quality teak. I have the freedom to think and create," says the artisan.
Manoj's son doesn't want to follow in his father's footsteps. "He is not interested. It is a life full of struggle. How many land opportunities like these and at what stage of their life? My son wants to do a proper job."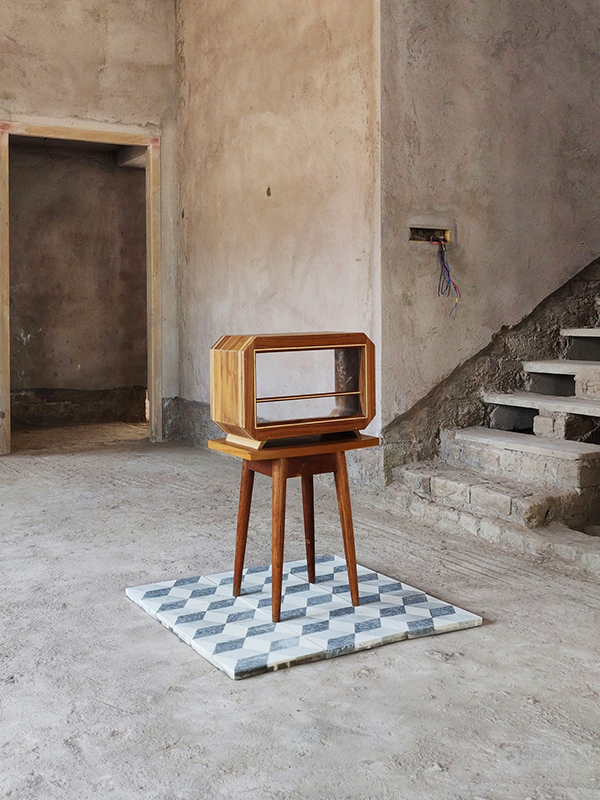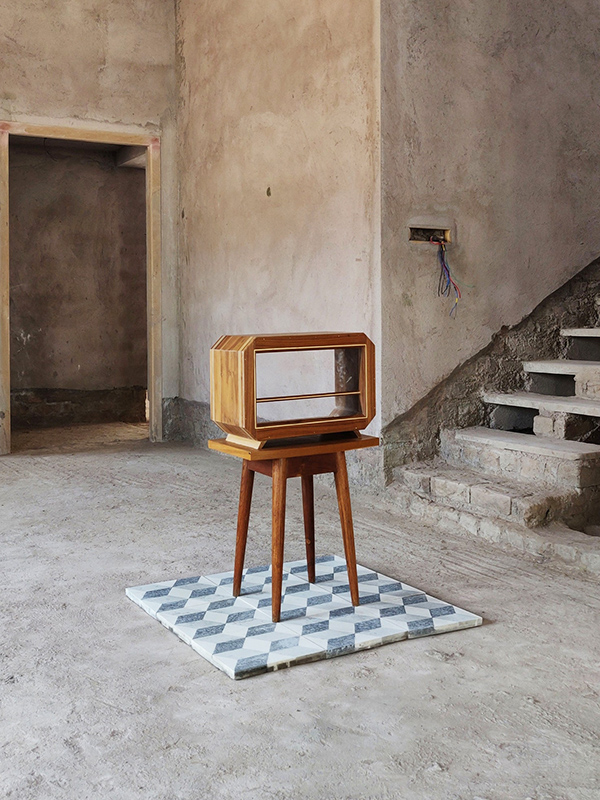 Ustad Mainuddin, Gilding and Polishing
"I don't remember the number of temples I have worked on," 65 year-old Mainuddin proudly says on the phone from Bikaner. The senior artisan is referring to his work of applying gold foil on temples. Mainuddin is adept at the craft of gilding and is often called to apply extremely thin layers of gold on the solid surfaces of various temples. "It is so light that it flies when you breathe. We have to hold our breath while applying it," explains Mainuddin. A multi-faceted artisan, Mainuddin also knows the art of making pigments from vermillion, kohl, and flowers. In 2012, Mainuddin along with other artisans was invited to recolour a 250 year-old temple in Churu, using natural colours.
While restoring his first radio, Chhalani was looking for someone with expertise in gold work. Mainuddin had retired when Chhalani found him but began his second innings with Diwiks. "We use old wood and there are many minute fixes that can not be addressed on the carpentry level. They have to be dealt with at the finishing and polishing stage. Mainuddin ji handles that. He applies a coat of lacquer," says Chhalani. Mainuddin understands wood very well and various treatment processes. Chhalani remarks, "He has worked in different cities and if I tell him, this piece is going to Mumbai, he will say, it is very humid there so we need to treat it accordingly. He also knows what kind of finish people like and how to achieve that."
Mainuddin learnt the tricks of the trade from his forefathers and has passed it on to his three sons. He is the third generation in his family of karigars who came from Iran and settled in India. "This craft runs in our blood. It comes naturally to us so my sons have also got into it," laughs the craftsman. Name and fame are hard to come by in this profession but Mainuddin doesn't have any complaints. "Do you see the foundation of any building? The truth is that a structure can only be sustained on a strong foundation."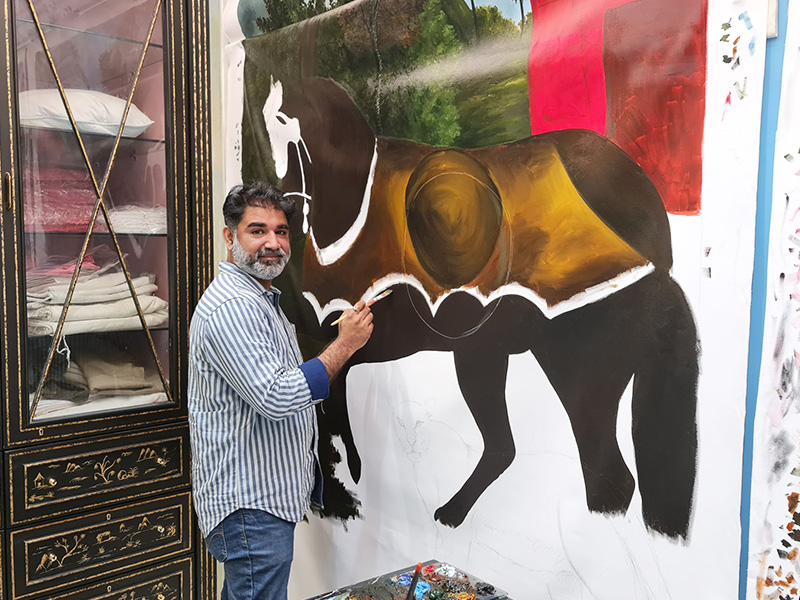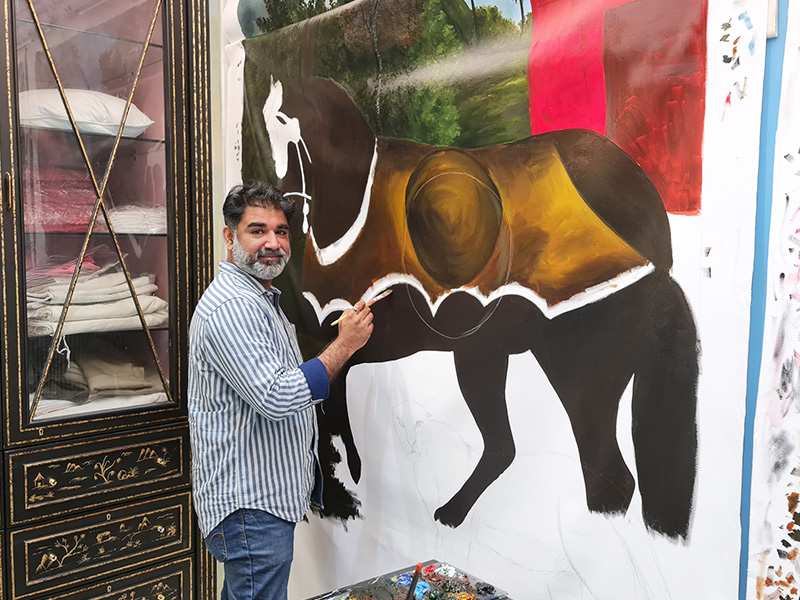 Vikas Soni, Painting
Born into a family of miniature artists and goldsmiths, Vikas Soni came to the fore in 2012 with Bar Palladio in Narain Niwas Palace Hotel, Jaipur. The blue-on-white and white-on-blue murals hand-painted by Soni made everyone sit up and take notice. Though inspired by traditional Mughal miniatures, the murals are devoid of frills, and do not go overboard.
Buoyed by its success, Soni went on to do several plum projects – Gem Palace, Mumbai, a limited edition of The Wild Collection kimonos by Kleed, Aquazzura's boutique in Capri, Italy and Culture Pass Club – Qatar's first private members arts club in Doha. At the age of 14, Soni started training in miniature painting under his father. Later on he began to work with oils and subsequently learnt to do frescoes.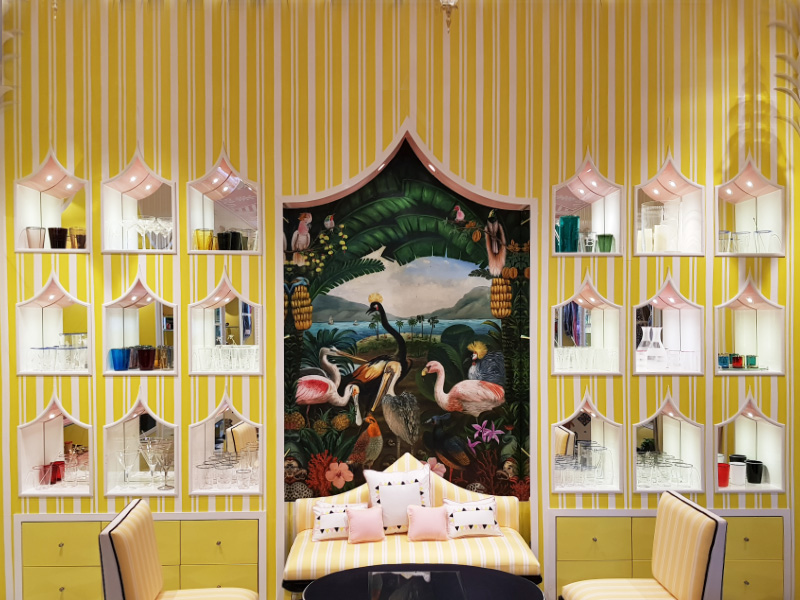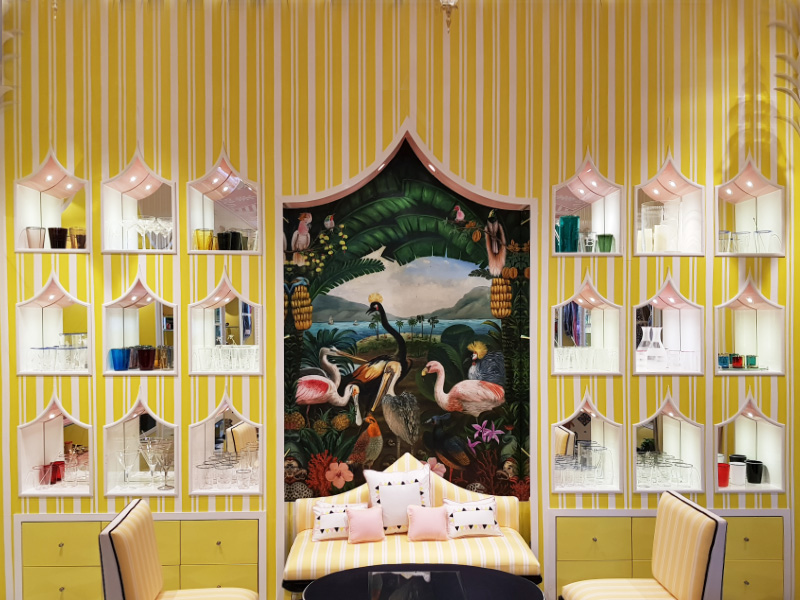 In 2012 Soni's meeting with Marie Anne Oudejans, the Dutch designer who designed Bar Palladio – ushered in the new beginnings of his artistic career. Since then Soni and Oudejans have created magic together in several projects. If Soni's floral motifs encased in arched niches accompany the Indian landscape paintings on pale blue walls are sublime then the hand-painted ceilings featuring floral motifs at Aquazzura are dream-like. According to him, there is no dearth of talent in the country, what a lot of artists lack is willingness to adapt. Soni states, "The problem is they don't want to change their system of working or techniques as per the design or designer's concept. When I met Marie Anne, it was a challenge for me to fuse my traditional skills with her European preferences but we were flexible to create a unique design."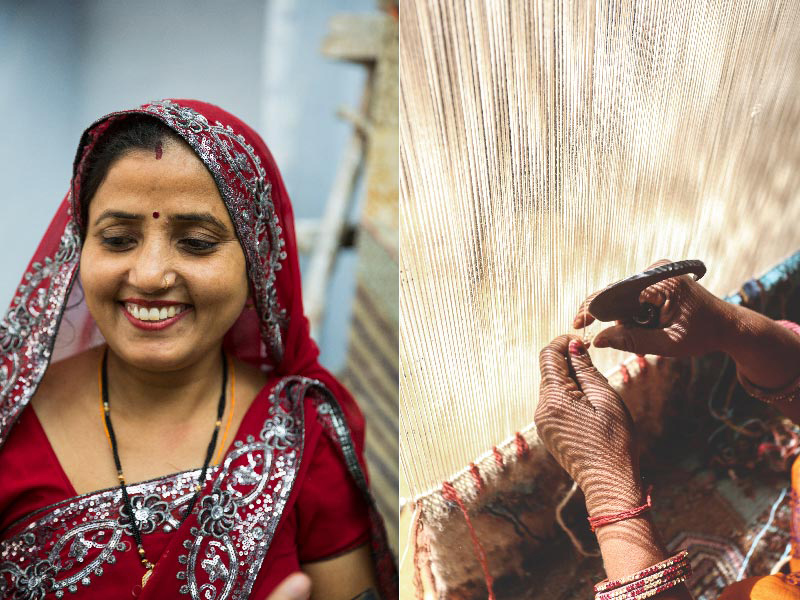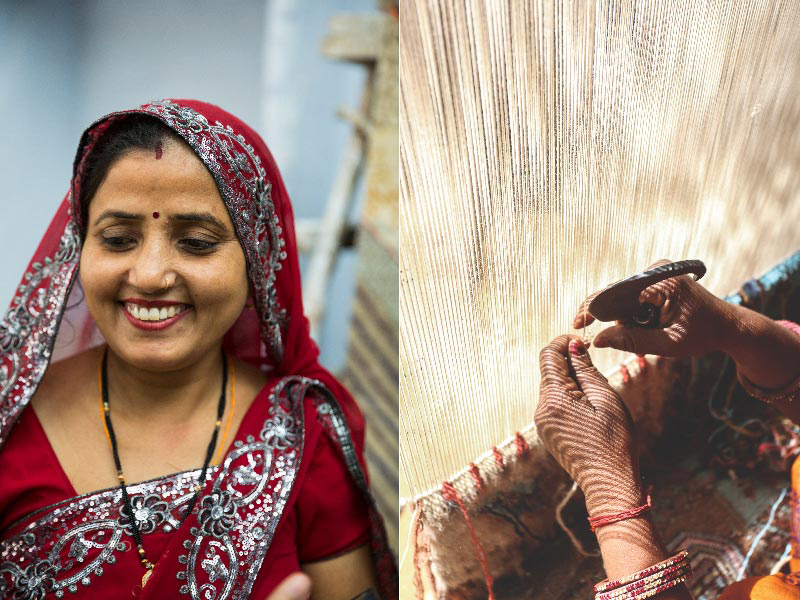 Anita, Weaving
In Aspura village, around 70 kms from Jaipur, 35 year-old Anita wakes up at 5 am. She cleans, cooks and walks for a few kilometers to fetch water before starting her work on the loom installed in her house at 8 am. As Anita's house is large enough to accommodate two looms, seven other women weavers from the village come to work with her. They break for lunch at 1 pm and have evening tea together before winding up for the day at 6 pm. For more than a decade, Anita has been weaving hand-knotted carpets for Jaipur Rugs.
The craft that Anita learnt during her childhood from her grandmother was given up and then picked up again when a tragedy struck her. Anita lost her second child and weaving gave her both succour and financial freedom. Working within the premises of her house also lets Anita manage the household alongside. Today, her pieces are known for their high-quality weaving and being free from errors.
Being one of the most senior weavers, Anita was given three manchaha carpets – an initiative by Jaipur Rugs in which the weavers were given the freedom to weave the design and use a colour palette according to their wish. Anita's manchaha carpets reflected her surroundings –Aravalli ranges, flora and fauna, motifs from sarees, dupattas, jewellery, and terracotta pots. "Unlike the design which we are given usually for other rugs, for Manchaha, we had to do it on our own. It gave me a lot of confidence," says Anita.
The weaver is also proud of another piece of work she did for a high-profile client from Europe. The carpet depicted the life of the client's husband who is a high-ranking official. Anita is able to make anywhere between Rs.8000-Rs.10,000 every month with which she is able to support her family along with her husband. "I have seen poverty while growing up so I want a better present and future. This money helps me in running the household and also contribute towards my son's education," feels Anita.