This Sustainable Workspace In Bangalore Has A Charming Tulum-esque Touch
25

Mar

'22

12:30 pm

by

Nitika Choraria
Bringing a new dimension to workspace interiors, this office designed by Earthitects in Bengaluru, Karnataka is a visual feast. "With offices evolving constantly, our passion for extraordinary design and exquisite craftsmanship led us to envision a workspace that facilitates a new lifestyle. We designed an office in line with the vision we share with Evolve Back, to make a comfortable shared space. The upcycling of materials, going back to our roots – this is what we're about," says George E. Ramapuram, Principal Architect Earthitects.
Keeping sustainability in mind, this flexible and people-centric 4,400-square-feet office is brilliantly crafted from a careful selection of nature's materials that age gracefully. Featuring cross-functionality with a smart design aesthetic that creates more utility per square feet – it sustains wellness, engagement and high efficiency.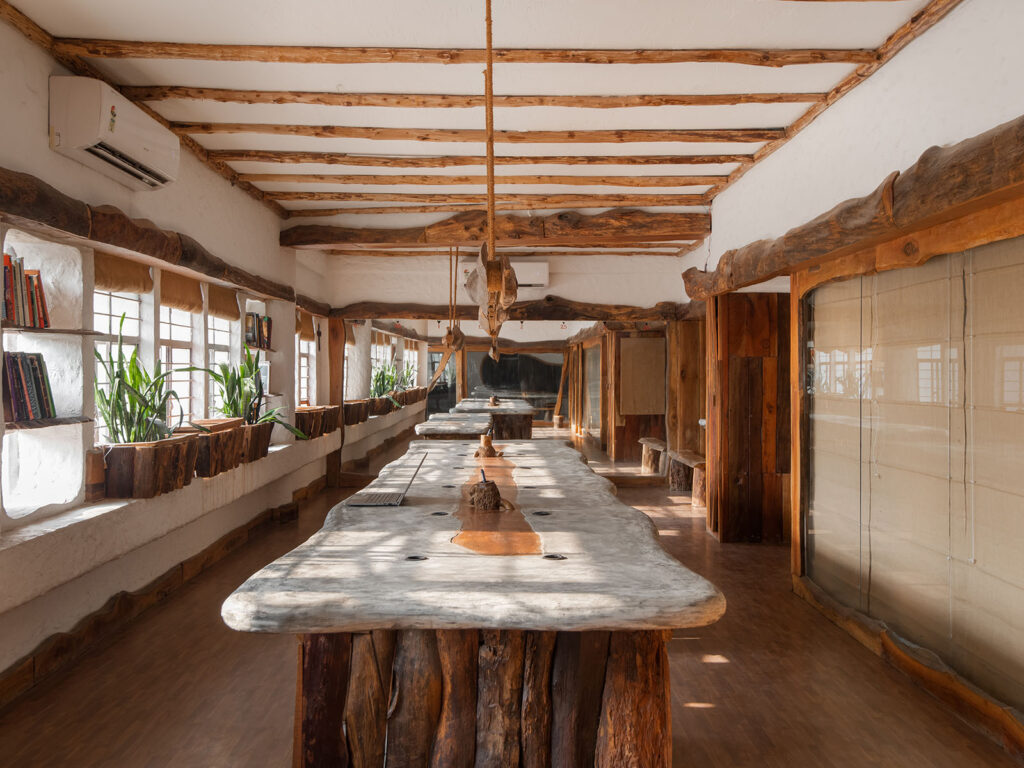 Showcasing a bespoke and ecologically conscious design customized for the user – this space comprises soothing curves rather than rigid lines. Using local craftsmen, almost every piece of furniture was fabricated in-house from workstations to tables, seating and lighting. "The challenge we faced was to utilize wood that no one wanted. Much of the wood is live edge, procured from timber yards where it had been lying in the open for years, naturally weathered by the sun and rain" says Ramapuram.
Pieces of wood with the natural live edge are used for door frames, handles and storage while the reclaimed wood and teak joinery portray the striking grain of natural wood all around with ample natural light seeping in. All concealed light fixtures used in the space are crafted with precision from Eucalyptus poles. Soft and warm ambient and task lights calms the mind and is not too harsh on the eye facilitating wellness of the mind and body.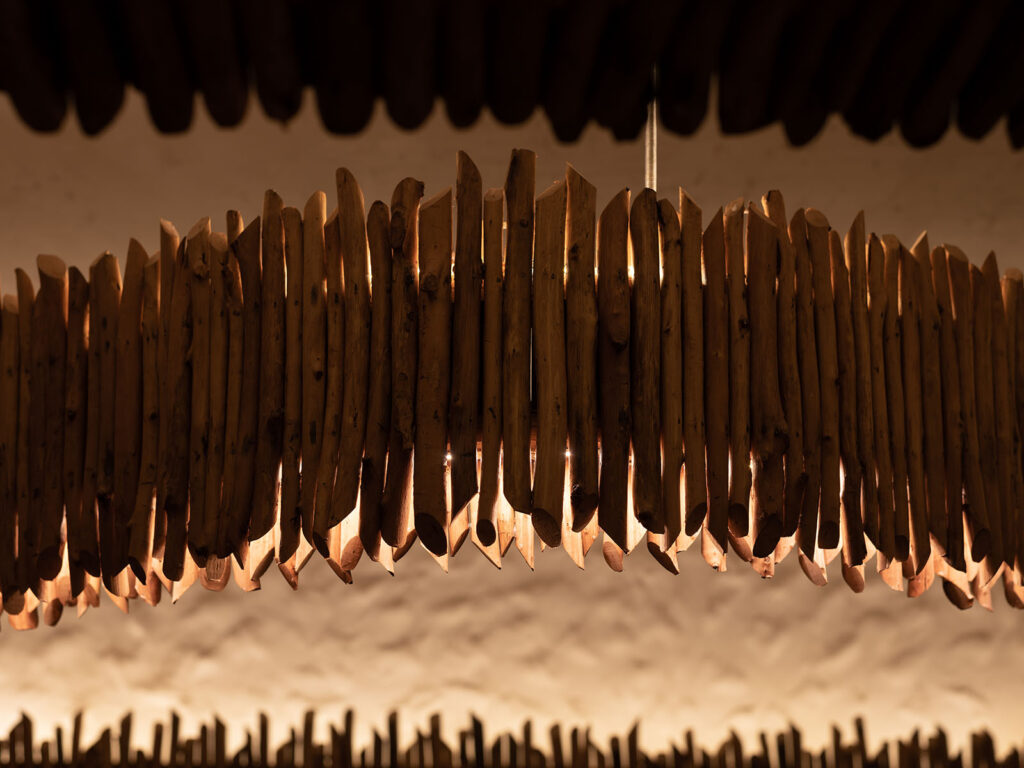 With a keen eye for innovative design and great attention to intricate detailing, this workspace features an organic layout breaking the conventional planning of office spaces. The corridor and circulation areas comprise flooring that bears a pattern reminiscent of cow dung whorls used as a finishing treatment for surfaces in village construction. Even the notice boards placed are made from jute to tread lightly on the environment.
All the cabins are open with glass without compromising on privacy, promoting an inclusive office environment. Sliding doors between these cabins create expansive, multifunctional spaces. Additionally, with the use of mirrors where important information can also be jotted down, this space is made seemingly endless. Promoting cruelty-free luxury and creating a comfortable working environment – the manager's area and workstations encompass carefully stitched faux leather chairs and tables.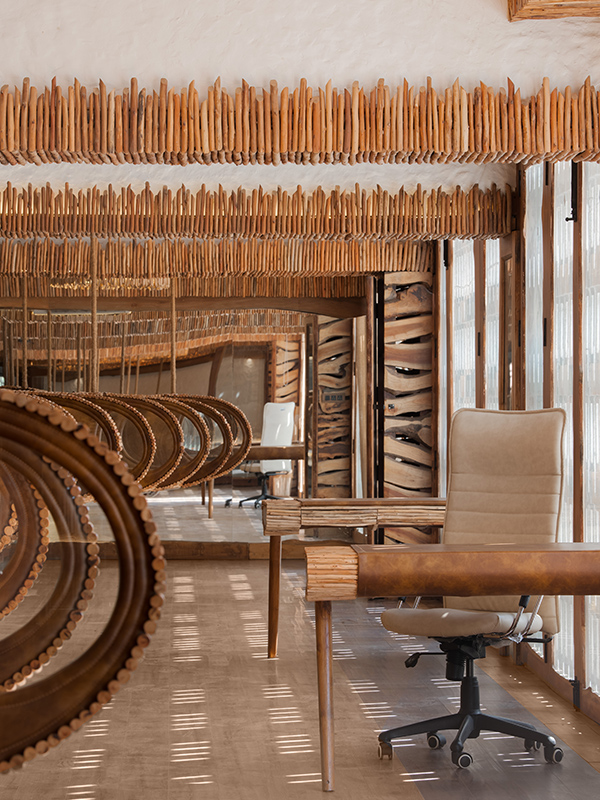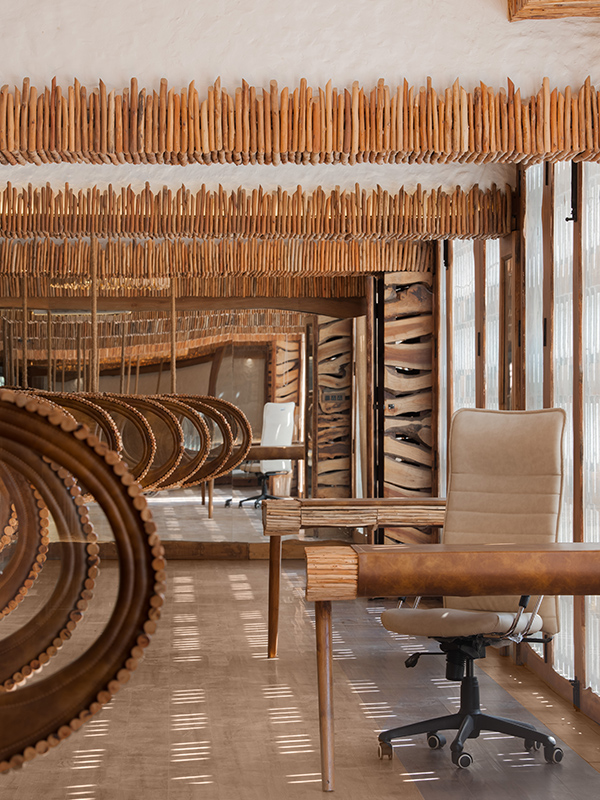 "Further encouraging interaction while still confined to one's own space, the ceiling hung 'pods' in the open workstations have their own controllable light and storage. They are also used as spaces to quickly down ideas" says Ramapuram. Designed using upcycled live-edge wood, the storage spaces blend seamlessly with the earthy palette.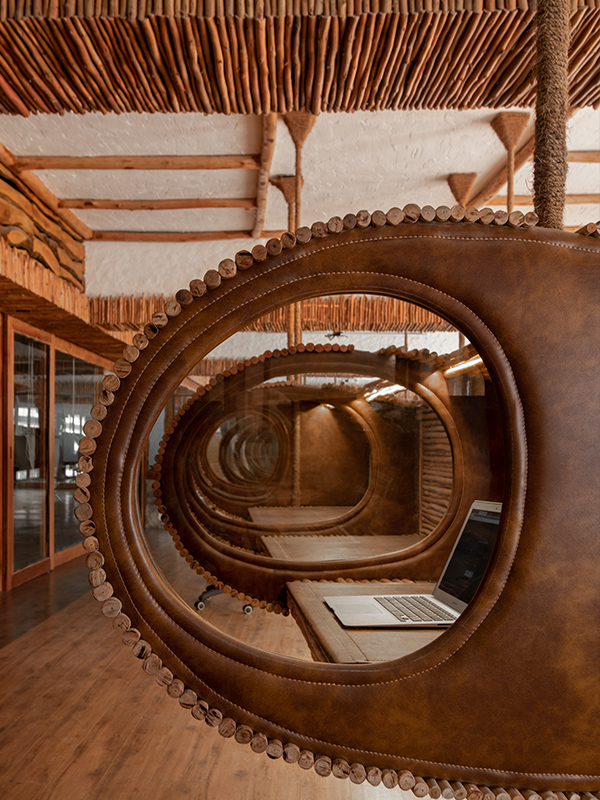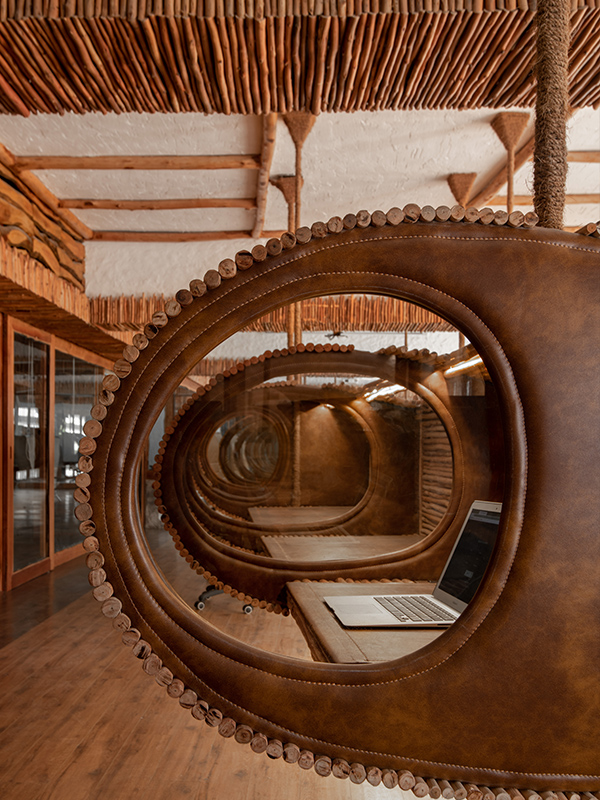 Every user is immersed further in a luxe and natural spatial experience with additional spaces such as – the marketing areas that are open and interactive along with the meet and greet space that is ideal for meetings due to its innovative and eye-catching hanging table and seating.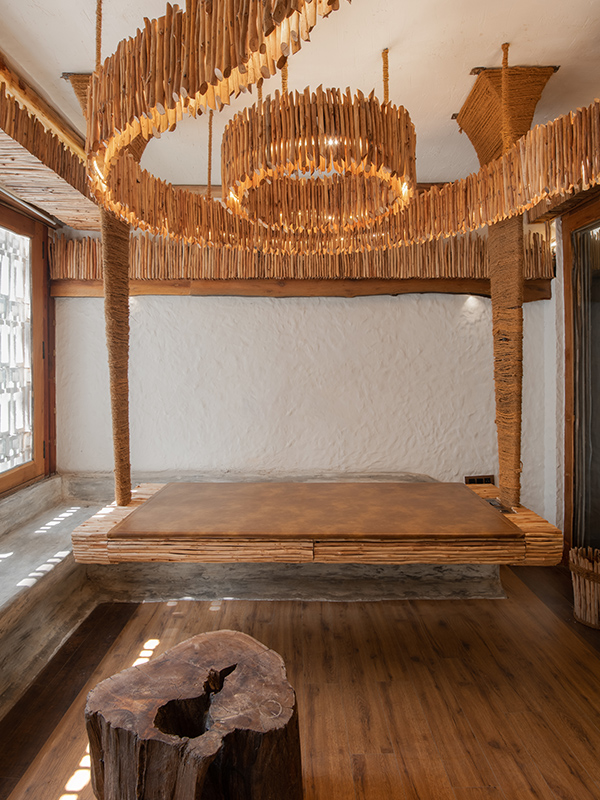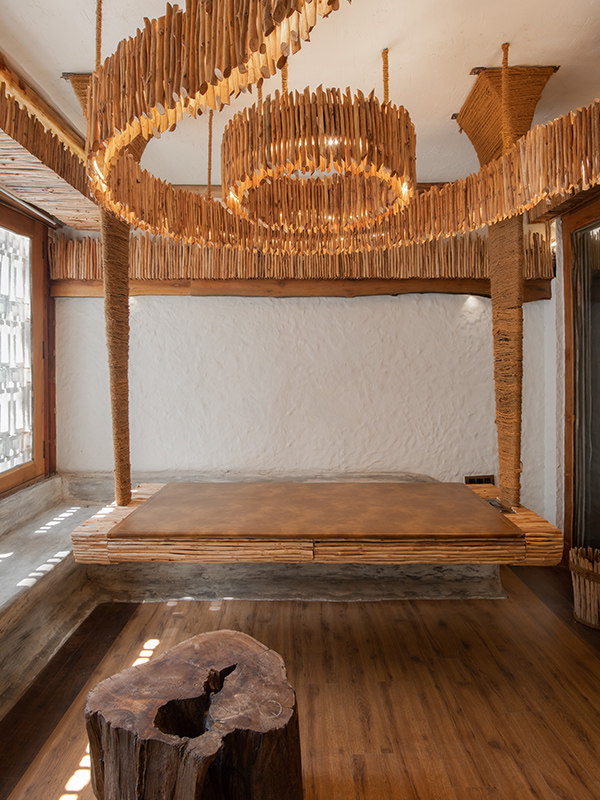 Furthermore, the cafeteria comprises waste wood and flooring inspired by the cow dung flooring pattern. Perfectly textured white walls complement the wood and organic openings in this space.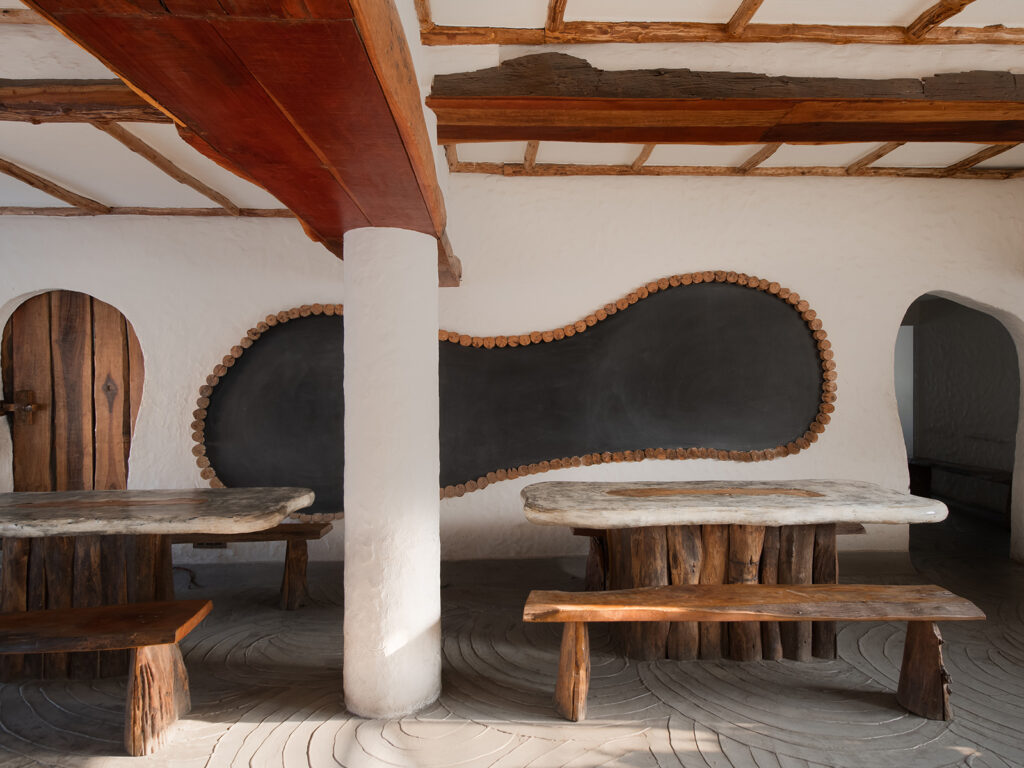 "Our favorite part about designing this office was immersing it with nature in every inch unlike conventional workspaces. With constant innovation in every detail our idea was to increase productivity which we achieved through efficient design" says Ramapuram.