Embracing The Art Of Hygge – This Apartment Embodies Slow Living
2

Sep

'21

1:59 pm

by

Yamini Kathuria
Comfort, contentment, and calmness, are the three emotions that inspire this serene and cosy Worli Apartment. In the words of Shobhan Kothari and Anand Menon of Mumbai's KDND studio, "A home needs to be a reflection where one can buffer themselves from the maddening pace of a metropolis life". Embodying the idea of 'slow-living' from a Danish concept called 'Hygge', Kothari and Menon designed this home for a family of four, with a brief to bring out a sentiment of simple and pure living.
Hygge is an expression that prioritizes coziness, togetherness and a state of mental well-being, while finding joy in the smallest of things. This concept is idealised in this sun-basked three bedroom home, as one enters through its living room, soaked in soft hues of grey. The snug seating area is highlighted by calm tones of blue, where natural light seamlessly streams in through floor to ceiling glass windows. Adorned with bold pieces of artwork from Purvai Rai, the beautifully textured micro-concrete walls lend a sense of tactility to the space. Next to the lounge, the dining area is highlighted by an exotic blue marble, sourced from Brazil, that sits atop the custom-made table and is accentuated by sleek chairs from Josmo Studio. Perfectly framing this assemblage is a gorgeous suspended fixture, garnered from Delta Lights. A fluted wooden column, next to the floor to ceiling glass windows, flawlessly punctuates the room.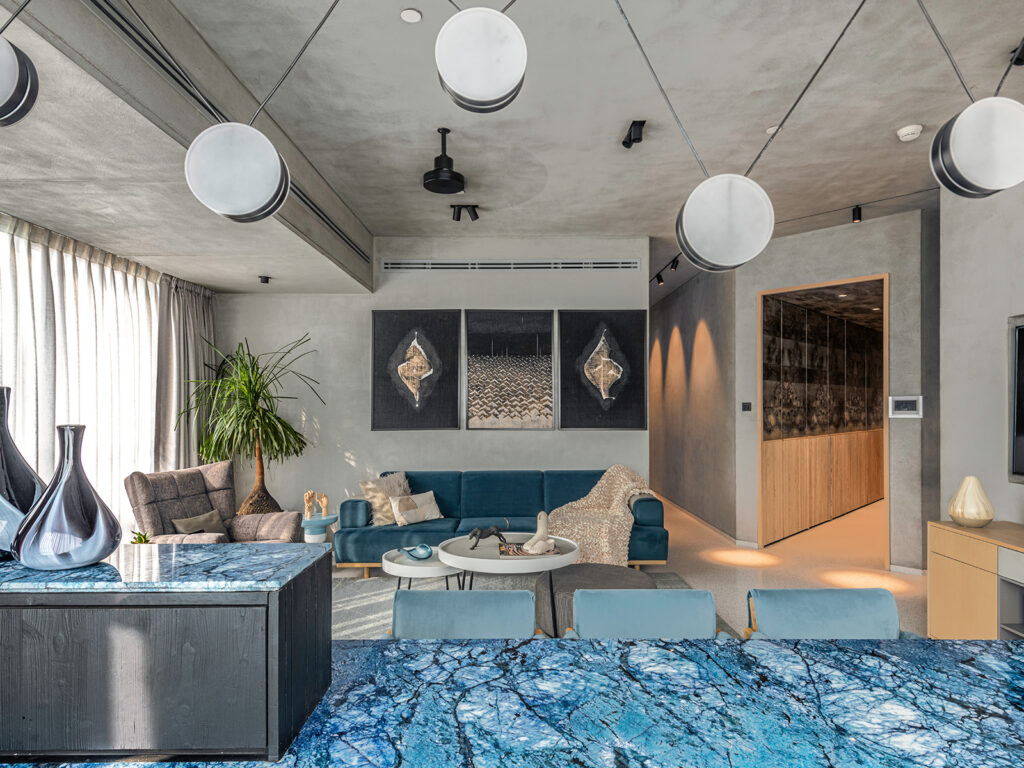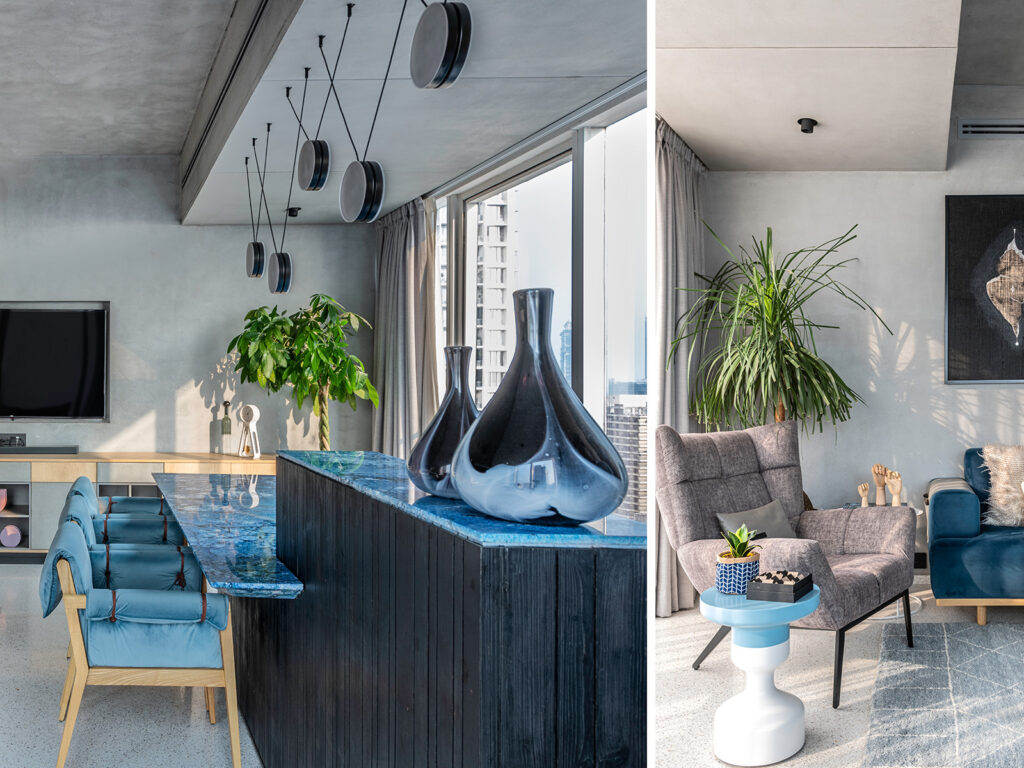 In contrast to the cool undertones of the living and dining rooms, the master bedroom basks in the shades of a much warmer brown. The white oak wooden flooring and paneling is complemented by the fluted shutters that separate the bedroom from the lounge seating. The fluted bed back showcases a specialized Japanese treatment of charred wood, called shou-sugi-ban, and is paired with neutral and neatly stitched fabric underneath. Masterpieces from Jaipur Rugs and planters from Plant People further accessorize the room, by lending a dash of colour and livening up the space.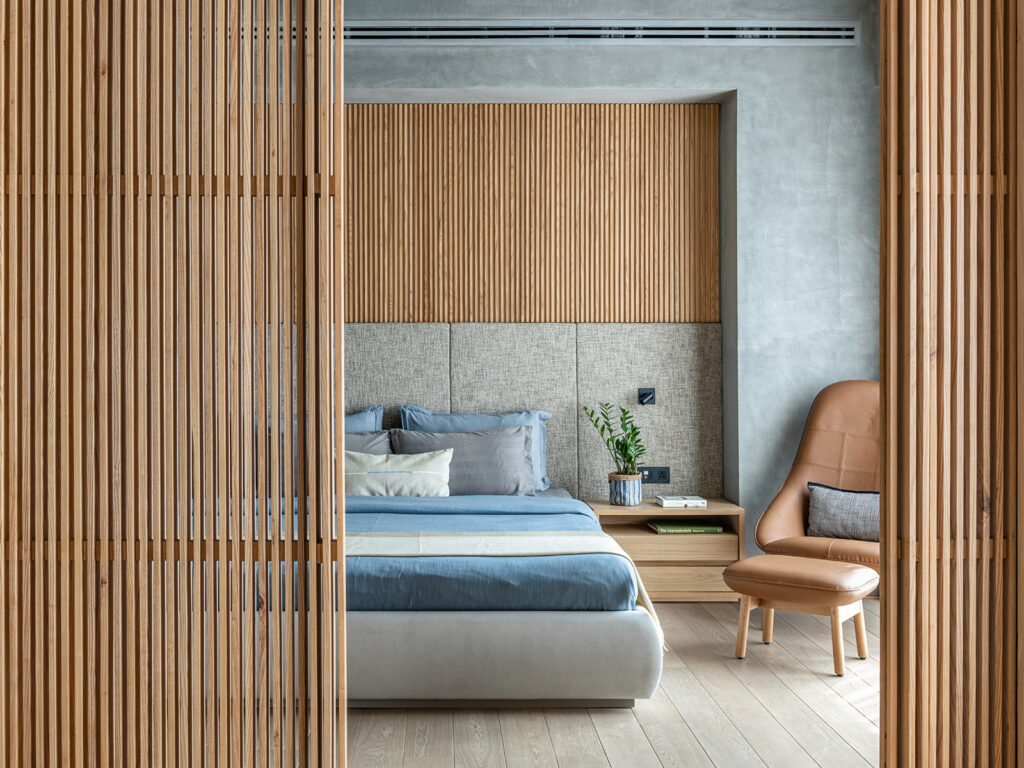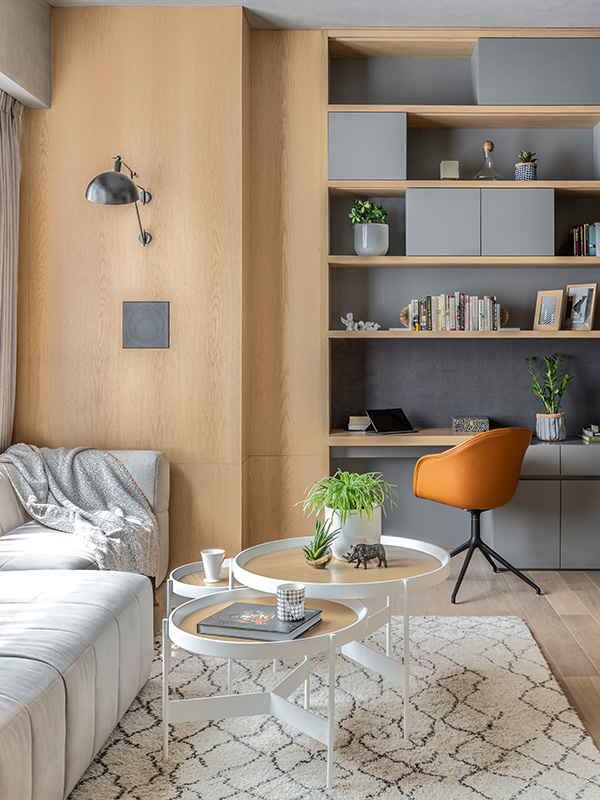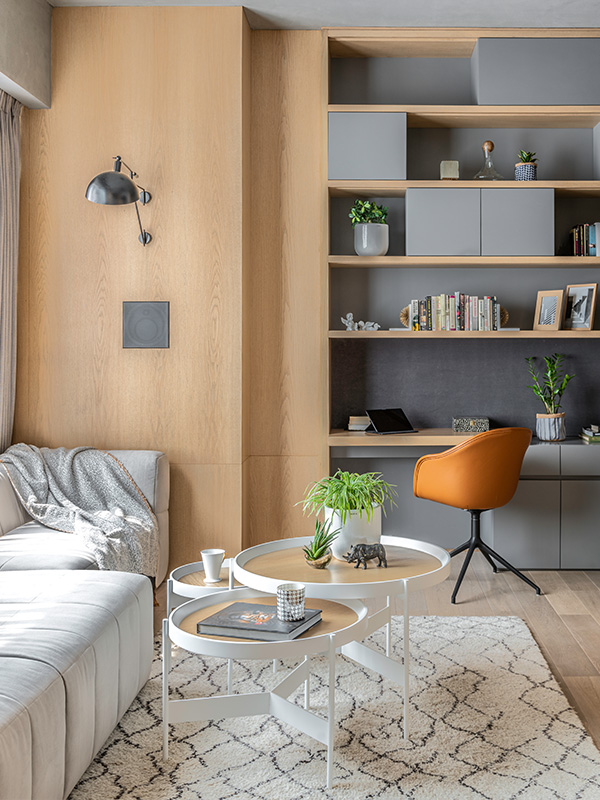 To continue the warm sentiment that is being carried into the bedrooms, the kid's den is a cozy and intimate area that accentuates the children's point of view. With a minimalistic single bed bunked inside a bay-like window, the room opens itself up to the play area, stationed between a custom-made wardrobe and study. Inspired from playful scrabble tiles and colourful tetris blocks, this section of the room pops out against the stark white background. The tiled words on the wardrobe were specially chosen by the children, to reflect their philosophy of 'hygge'. With styling and soft furnishings from Sakshi Pathak, Bonnie and Saks, the house brings out a lively and light-hearted vibe. "Its theme emphasises on cosiness, comfort, warmth, and togetherness. It is about enjoying moments that make us happy and relaxed. A distant contrast of what life is like outside in the city", Kothari and Menon tell Design Pataki.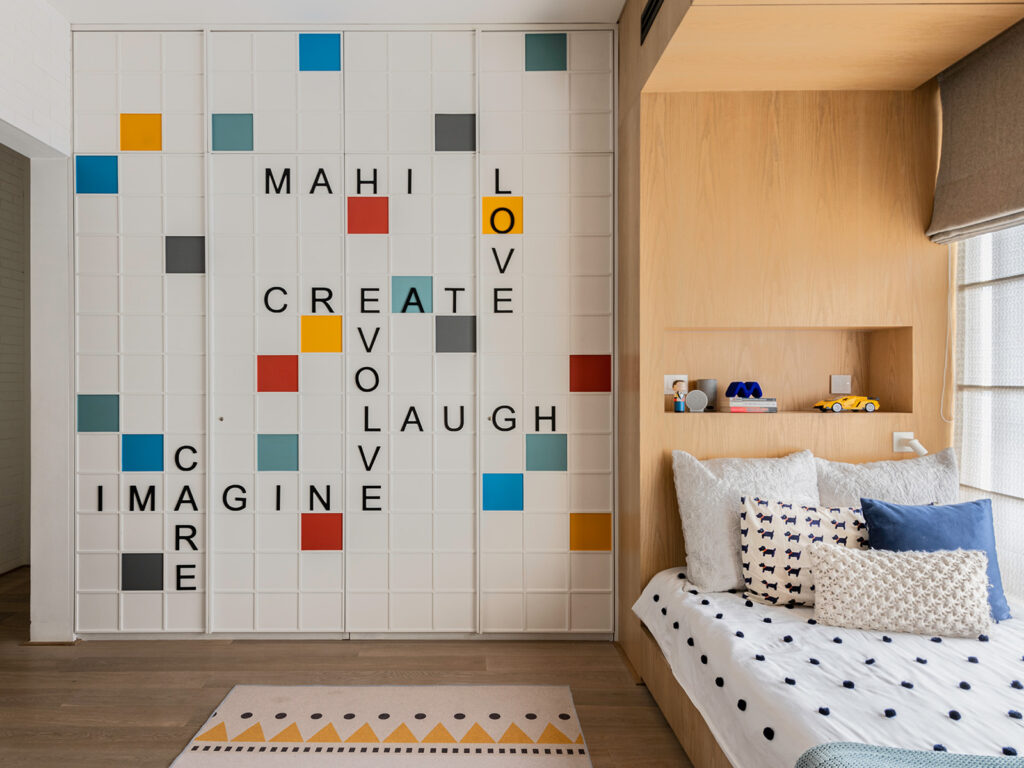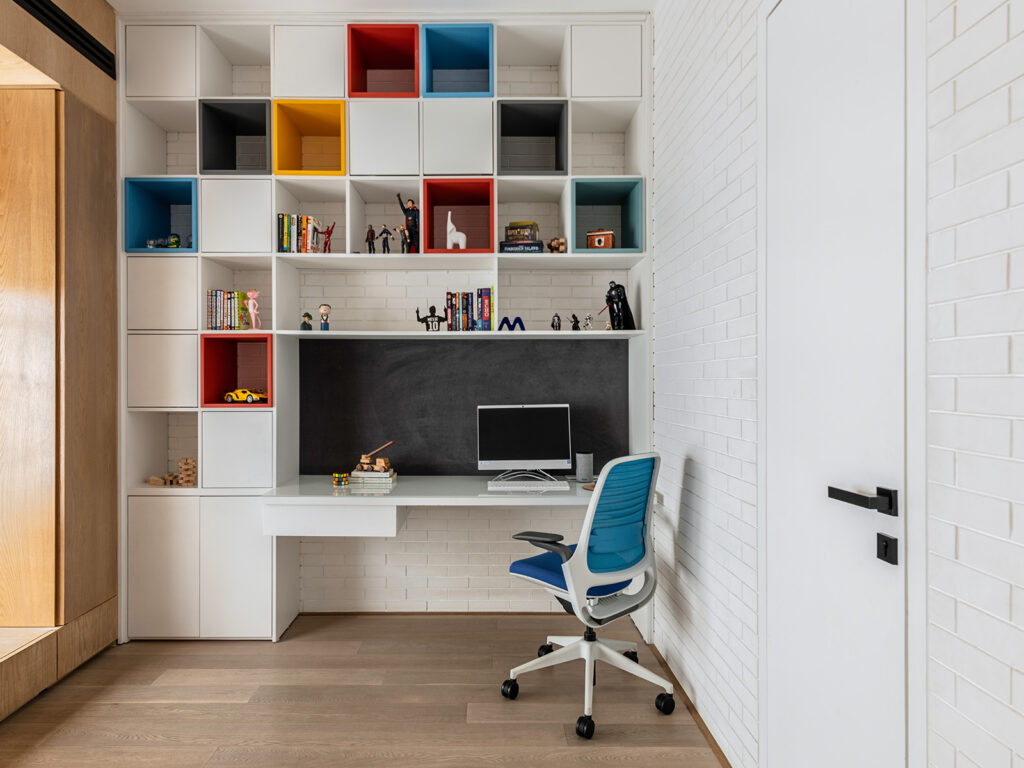 Keeping the design language minimal and clean, this apartment delves into focusing on efficient craftsmanship and materiality, by using neutral and monochromatic tones. Every texture and material has been used to bring out a sense of pure and simple living. The maximised use of natural light further underlines this philosophy. "Slow living teaches how to live well and that means with quality experiences versus fast and rushed disjointed moments of everyday life, a life lived with complete consciousness achieved by paying attention to details in all spheres of life and most importantly our immediate environment- our home!", conclude the architects.