Enter the World of Miniatures: An Interview with Instagram's Miniature Artists
5

Oct

'21

4:13 pm

by

Manisha AR
Staying indoors for long periods has encouraged many of us to pursue new hobbies like collecting objects, DIY crafting, even baking. Our team at Design Pataki, however, was particularly intrigued by the resurgence of miniature dollhouses and sculptures on social media. And so, we spoke to three miniature artists to gain perspective on their work. From wanting to regain a sense of control to venturing onto a storytelling adventure, their answers give us insight into this new hobby of art turned into professional craftsmanship.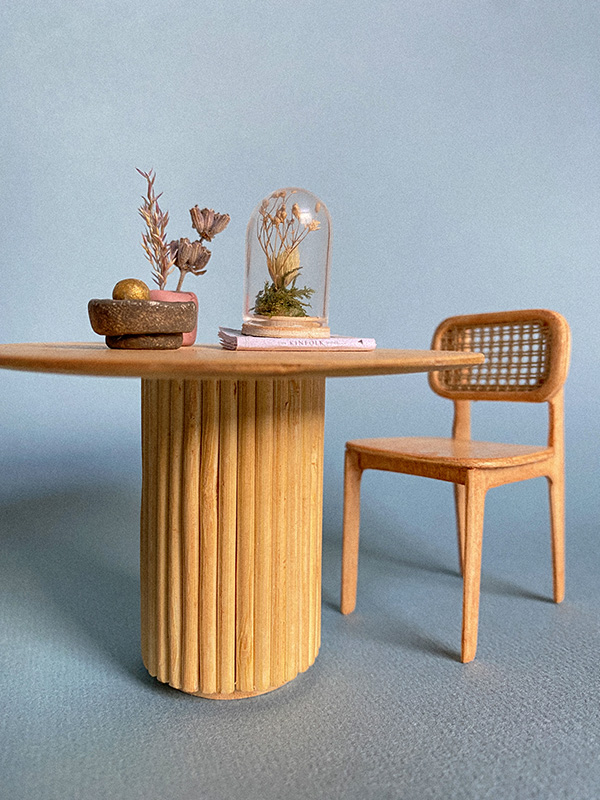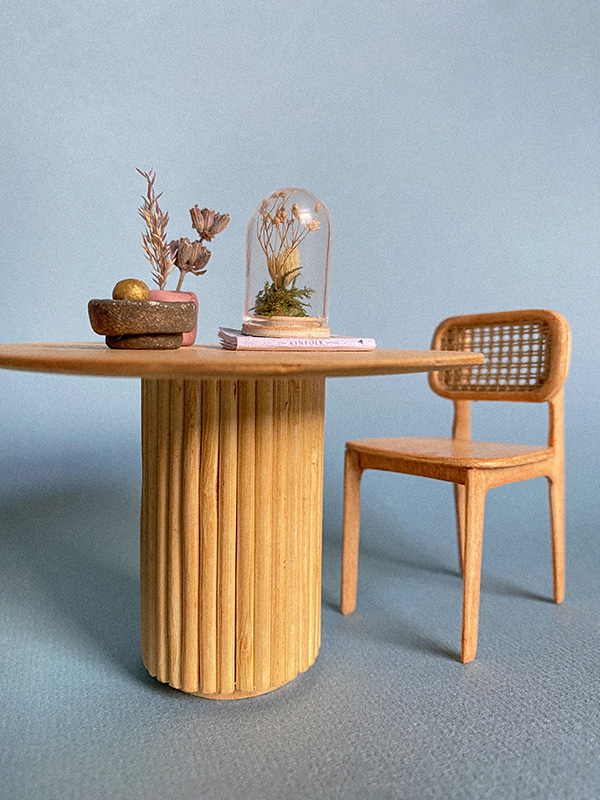 We interviewed both Kamini Rao, the founder of Studio Slip, and artist Ruchika Nambiar who commissioned 'The Dollhouse Project.' It was designed to be a whimsical story set for the Life of 'R' – a miniature version of Nambiar who is an artist herself. Our conversation with Mia Larden, Nottingham-based artist and founder of Haus of Mini focused on what it's been like to find a market for a niche art form like miniature art. We also spoke with artist Esha Kiran who runs the account Pink Petit Rose. Kiran works on miniature food plating projects and regularly creates tutorials for Shrunk Magazine. These interviews have been condensed for clarity.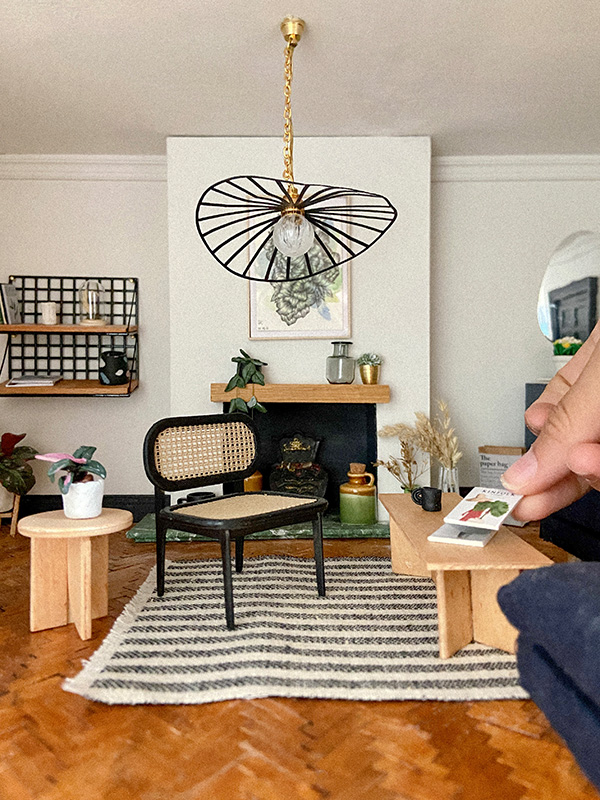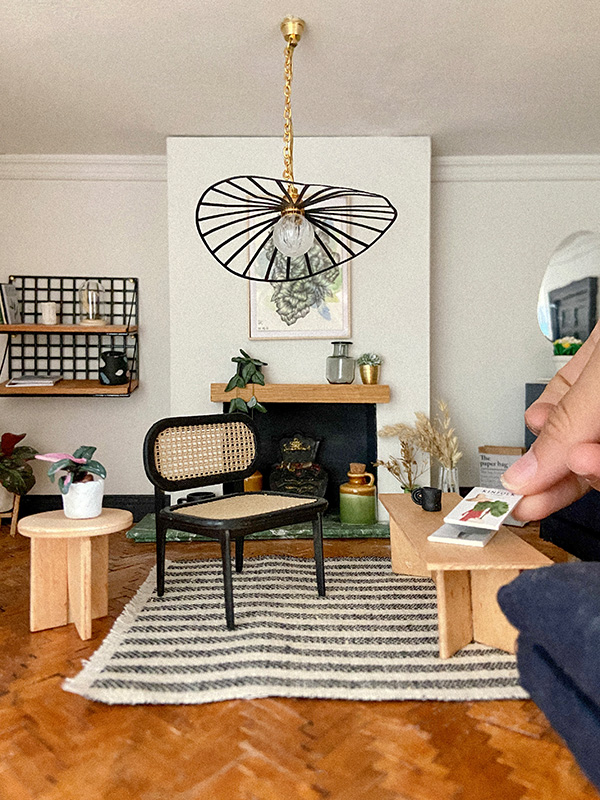 Design Pataki: How did you get into working with miniatures, and how long have you been working with them?
Mia Larden: I remember having a huge doll house collection as a young girl, which took over every inch of my bedroom as I would set up miniature scenes. Eventually I sold off all of my items and later went off to pursue my furniture career in London once I graduated from university. In 2020, my miniature interest reignited again as a lockdown hobby after coming across a neglected 4-story Georgian style dollhouse on the Facebook market for £40. The idea of renovating the house and bringing it into the 21st Century with a contemporary style overtook me. With my background in interiors and furniture design and my love for crafts, I planned on making everything from scratch and designed each room as if I were designing the space for a real client. The house got a lot of interest on social media, and I started to uncover a whole community of modern miniature makers and collectors. As I delved deeper, I recognised a gap in the market for miniature contemporary goods and so with that, my miniature online store was born.

Ruchika Nambiar: I first got interested in miniatures during a diorama-making course in college back in 2013. The first miniature I made in that class was a slice of apple pie. That's also when I discovered other miniaturists like Lori Nix and Frances Glessner Lee – I was always interested in exploring non-linear narrative techniques, so seeing their work, I became fascinated with the possibilities of using miniatures as a medium for 3D storytelling. There's an almost primal pleasure in beholding even a mundane object like a bar of soap in its miniature form. 
Kamini Rao: Much like Ruchika, I also had model-making modules in college which is expected in architecture and spatial design courses. Some of my classmates had an affinity to make digitally rendered models but I was always drawn to the workshops. Pottering about in the wood workshop, laser cutters, and the metal studio were some of my happiest memories in college.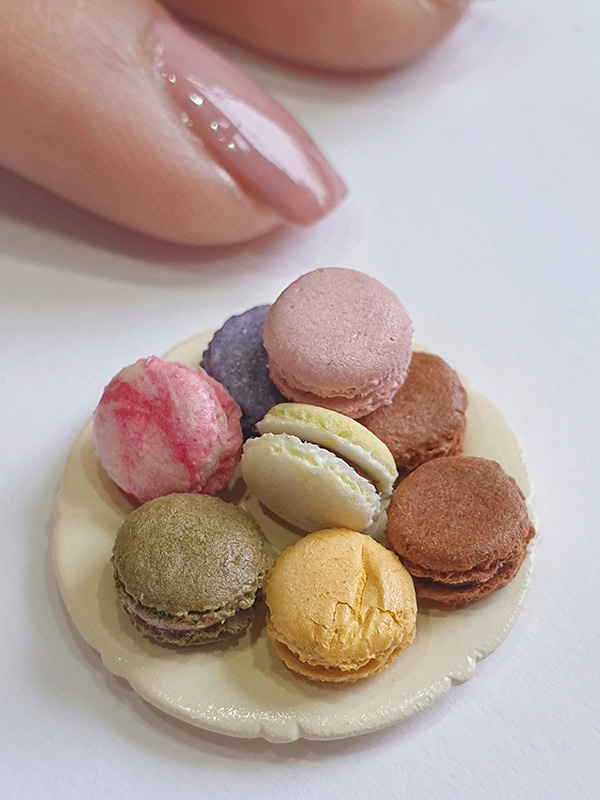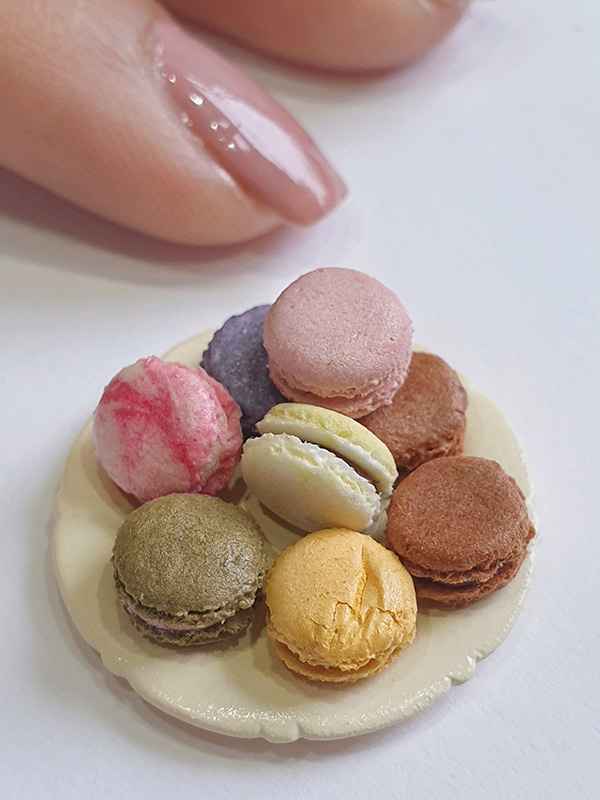 Esha Kiran: It's an interesting story because I am an electronics and telecommunication engineer with a masters in management & international business. I stumbled into the world of miniature in 2016 when my mom asked me to make fairy garden accessories for her. I started out making realistic room boxes, dioramas, often inspired by vintage and rustic styles. However, in 2019 I found my niche which was making hyper realistic miniature food in a 1/12 dollhouse scale.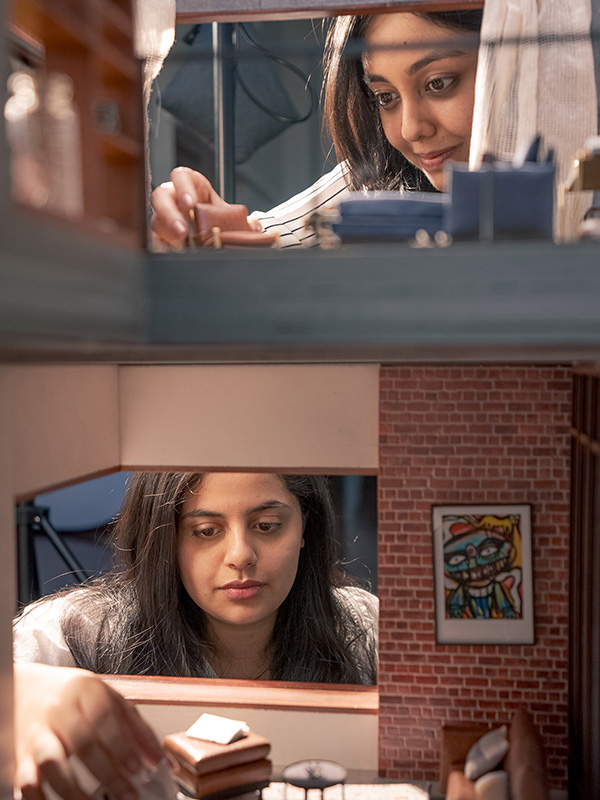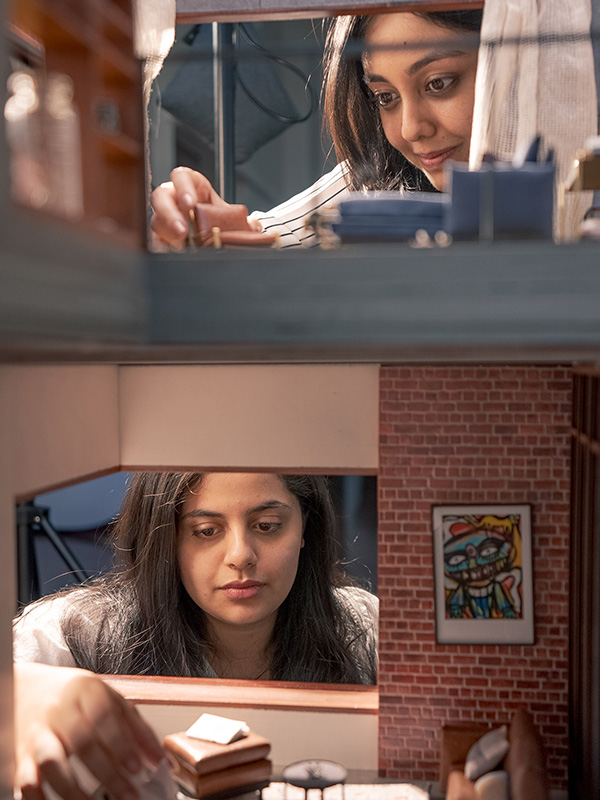 Design Pataki: What are some of the best materials to work with when it comes to miniatures?
Mia: I find Basswood (very thin plywood craft timber) the best thing to use for most of my furniture pieces as I can cut these out with my craft knife with ease. It's then about finding other material hacks to replicate life-size materials which will elevate your miniatures, i.e., brown tapestry zweigart fabric to replicate an open cane weave and little brass beads as cabinet handles.
Ruchika: I have a few go-tos when it comes to miniature-making: I do a lot of laser-cutting with MDF to create any structures or furniture. For tinier organic objects like food, toiletries, etc I sculpt them out of polymer clay, which is the most common material miniaturists use in general. Being a graphic designer, I also heavily rely on print – several of my surfaces and textures (brick walls, wooden floors, herringbone backsplashes, bathroom tiles, etc) were designed digitally, printed on paper/sunboard and then hand-engraved to mimic grouting. I also use print to create tiny books, artwork, and more. But apart from these staple methods, I'm also very eclectic in my approach to miniature-making and I use a variety of mixed materials and found objects– I use whatever I find that can work well at my scale.
Kamini: As the architect of a dollhouse, we like to use materials that are soft enough for laser cutting. For the structure, we knew we would like to use a softer material like MDF as opposed to plywood, it gives a little more freedom to sand down and round edges. For the paint, we always have tubs of sample paint from other projects and we use those to mix and match to get the right tone for our miniatures. We always have little leftovers from our real-world projects that can be used for miniatures, offcuts from high-end fabric brands and laminate/veneer samples we keep at the office always come to good use.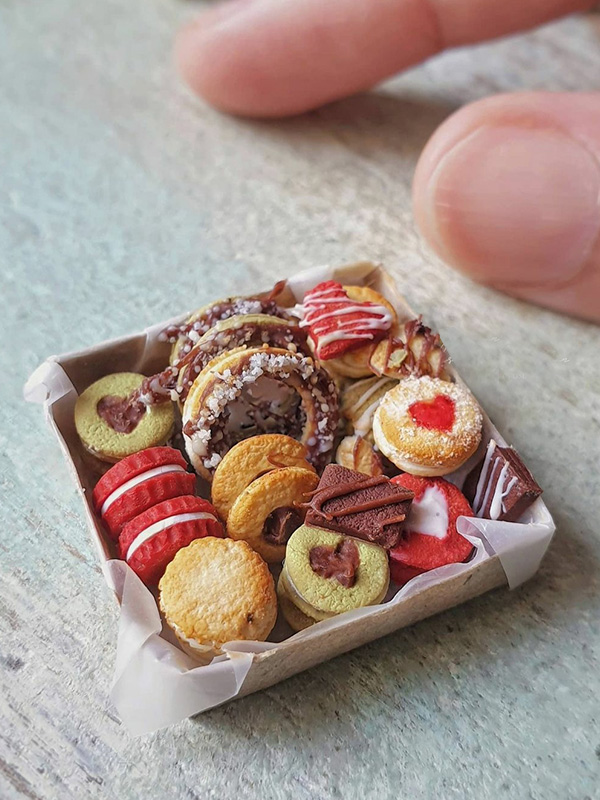 Esha: The main materials I use are polymer clay, mixed media items and sometimes air dried clay. I am self-taught so I don't use a lot of fancy tools, I mostly try to use what I have around me. For colours, instead of readymade coloured clays, I prefer to mix them myself in order to get the exact shade I need to make my work look as realistic as possible.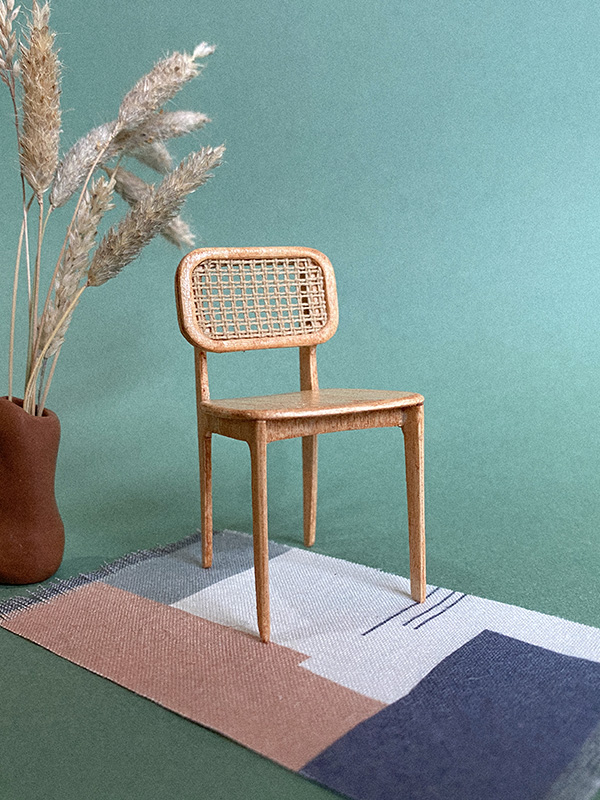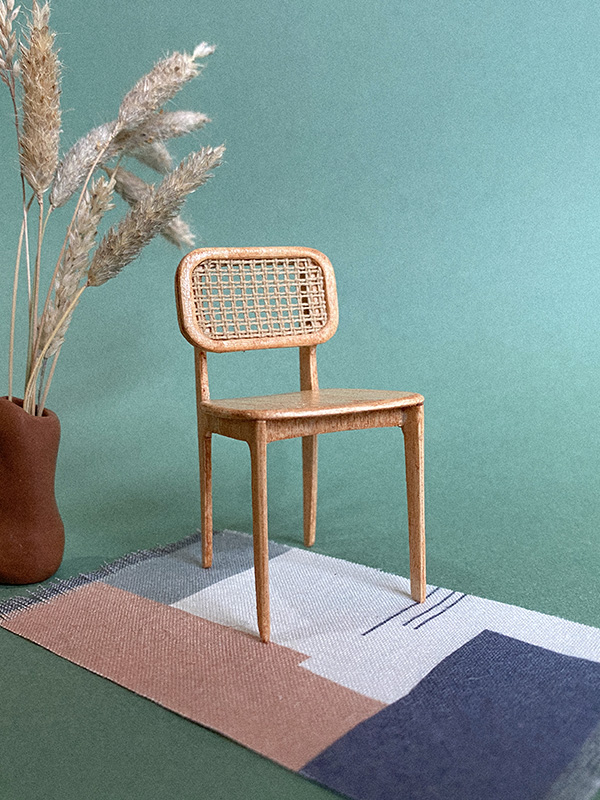 Design Pataki: How long does the process take from conception to the last coat of paint?
Mia: I rely heavily on my computer-controlled cutting machine these days (Cricut Maker – every craft-person's best friend) to cut out my furniture. Once they're cut, it's a case of hand sanding the edges, gluing the pieces together and then giving them either a lick of paint or a coating of stained wax. My Rattan dining and lounge chairs for example would take me an hour to complete.
Kamini: We started conceptualizing the dollhouse in May 2019 and got to project completion in March 2021. Honestly, we did a lot of the technical and design work during the lockdown and started the execution in June 2020. The process was slow because we worked on it layer by layer, room by room.
Esha: I am always inspired by my surroundings. My creation process can be quite complex since I make everything by hand and work largely on food miniatures. I spend the initial days of a project researching the food I want to make– looking through hundreds of pictures– for textures, colour variations, patterns, light effects etc. Every single detail needs to be studied properly to get the highest level of realism. Then to make the food, it takes around 4 days to complete one piece. I often work for more than 18 hours a day. So it usually takes me between 2-3 months to complete each project.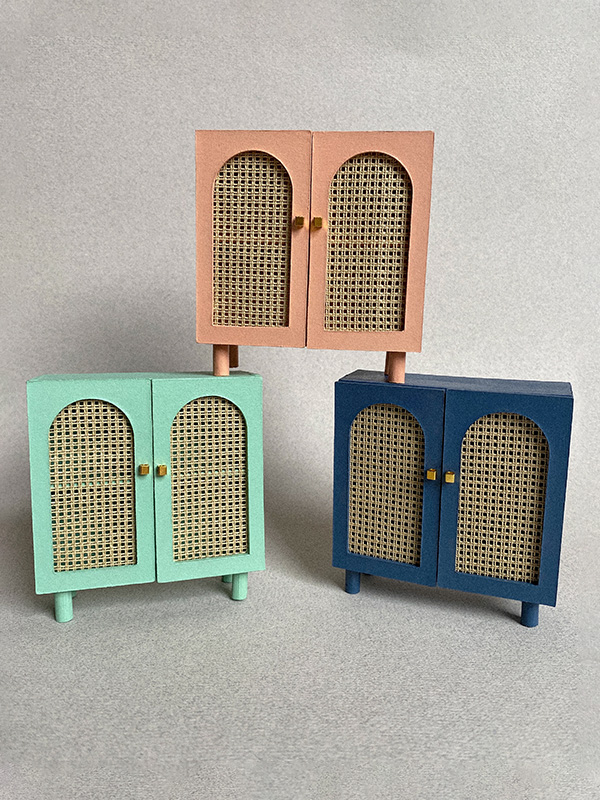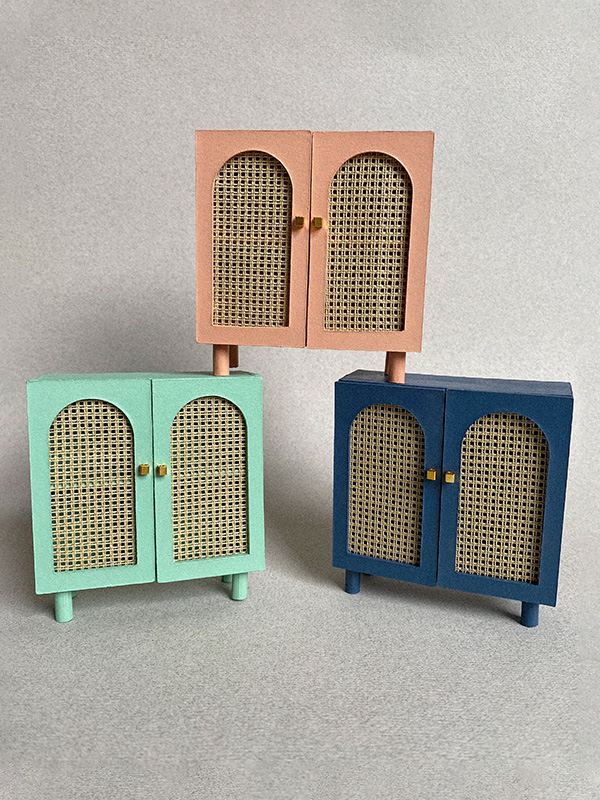 Design Pataki: Mia, tell us a little about one of your favorite projects?
Mia: My favourite project has to be completing my dollhouse! It's the centerpiece of my home. I'm a perfectionist so I'm always looking for new ways to improve my pieces by finding new materials and designs to add to my collection. The challenge is to fool the eye when photographing my work and make it as life-like as possible.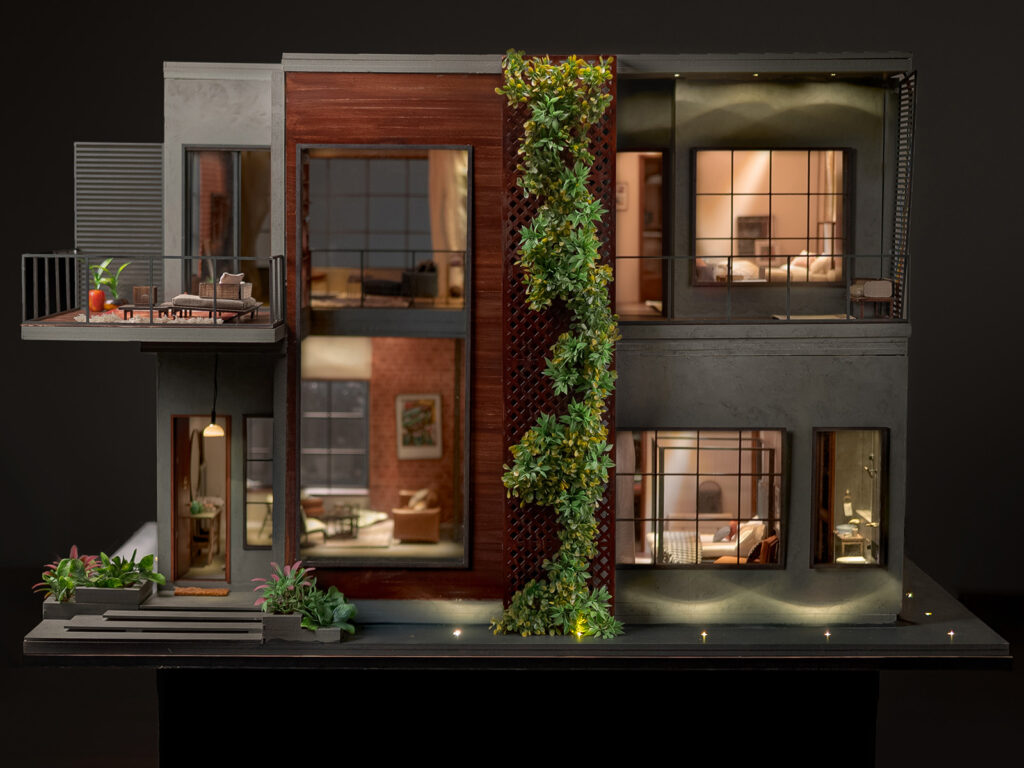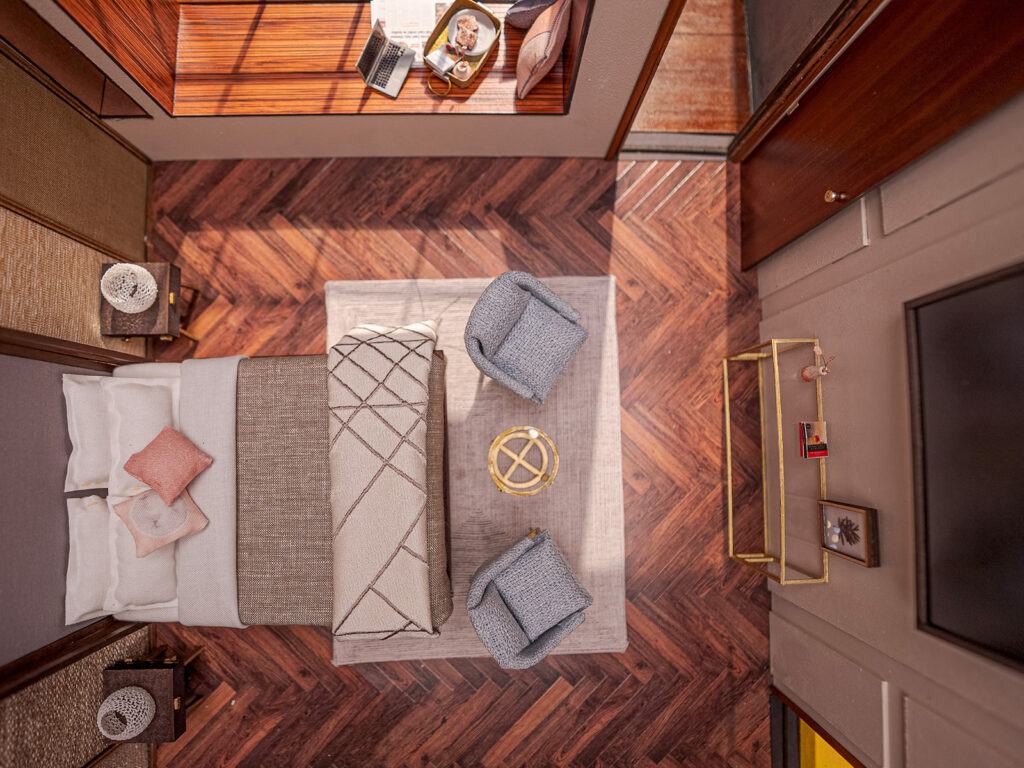 Design Pataki: Tell us what it was like to work on the Dollhouse Project?
Kamini: We were told our client 'Little R' lived in a crammed little drawer and wanted to build her own home. After buying a plot of land that fit on the top of her desk, she found a flyer advertising Slip's services and eventually hired us to work on the architecture and interiors of her home. We started the project with three restrictions – the house had to be 1:12 in scale, it had to come apart into sections and it had to photograph well. The first and last restriction was easy for us but the biggest challenge was designing the space to come apart, we had to work out which walls were load-bearing and which walls could be pulled off and the mechanisms of it. That along with how it affected our electrical and false ceiling. It was chaotic!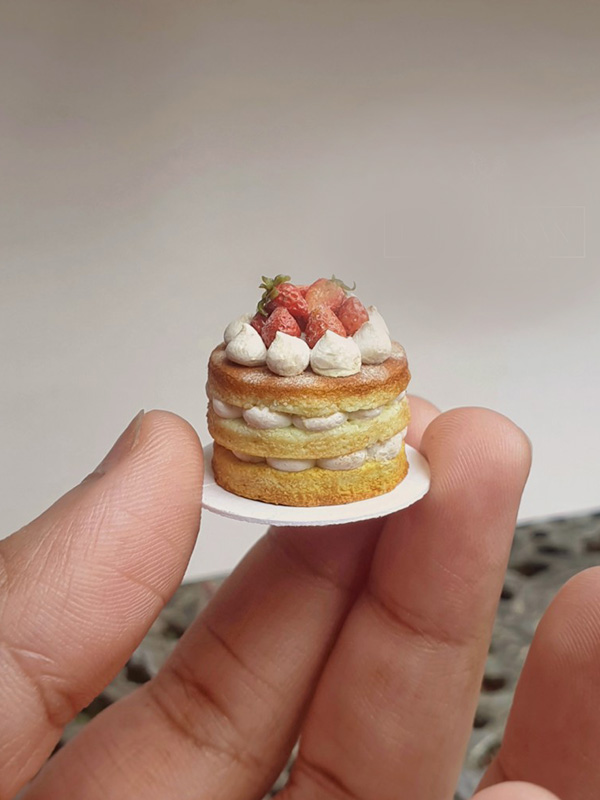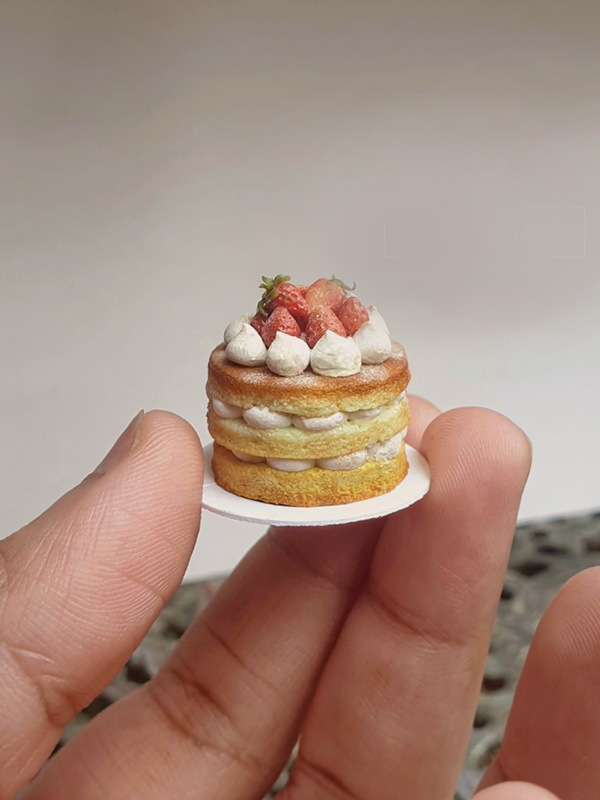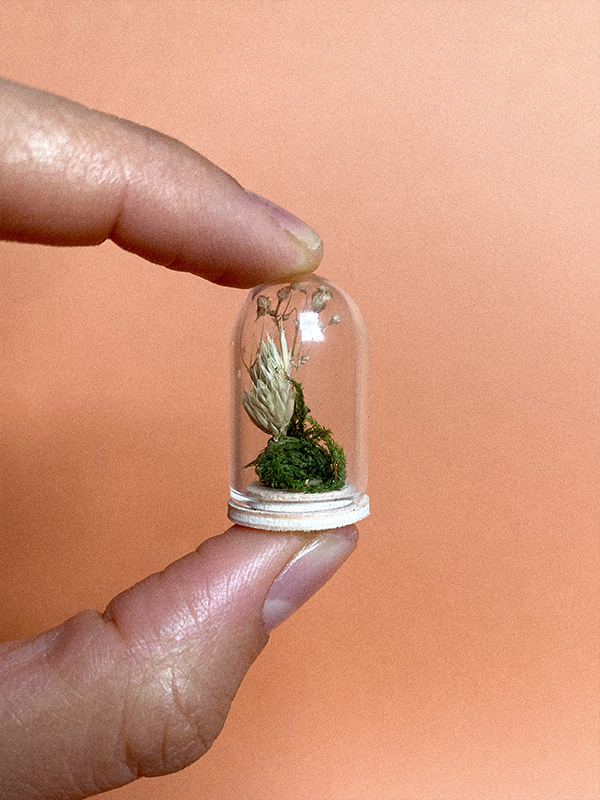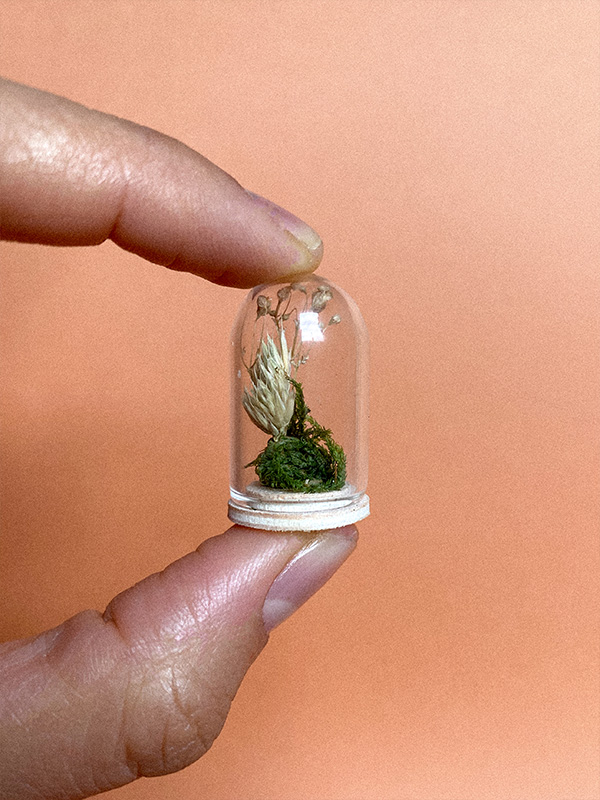 Design Pataki: Who is your audience and can you tell us a bit about the kinds of clients who normally request miniature works?
Mia: I feel there has been a new wave of miniature collectors emerging from the covid lockdown with an interest for new crafts and hobbies. There has also been a slow down on the housing market (not to mention an increase in housing prices in the UK making it harder to step on the property ladder), therefore buying a tiered doll house and styling it up to your desire combines both these interests simultaneously, all in the comfort of your home. You can essentially build and style a house of your dreams at a fraction of the cost, and be your own interior designer!
When I started my mini business, no pun intended, I worried that I'd entered a very niche market with very little interest in contemporary miniatures. For so many years doll houses have been old fashioned and traditional, but as it turns out, there's a demand and quite a community out there for modern miniatures! My customers are young and old, first timers or avid collectors. Most of my furniture pieces within my online store have been items customers have personally requested which have gone on to be permanent products in my shop.
Ruchika: My audience is still evolving and I'm still in the process of gauging the different types of people who are engaging with the project. At the moment, my audience is an eclectic mix. Several of them are fellow miniaturists, miniature enthusiasts and toy photographers. Given that the dollhouse itself is a centrepiece of the project, a significant portion of my follower base is made up of architects and interior designers — some students and some professionals. In a broader sense I tend to attract people from the wider creative community as well — artists, designers, photographers, etc. There are also people who follow the project at the level of the narrative and are engaged in Little R's journey, not just the craft of miniature making — and these people come from various backgrounds, so they're a little tricky to profile. As the project's storylines evolve, I hope for my audience to continue growing, diversifying and engaging with it at the level of the narrative.
Kamini: Since working on the Dollhouse Project, we have got many inquiries from real estate builders who want their future projects realized. We've also been asked to make smaller models as art pieces or gifts. However, we haven't taken on any of them because we are focusing on our own passion projects.
Esha: The miniature community is huge! For me, most of my customers are international. I have loyal customers and miniature collectors all over the world– from countries like the UK, USA, Canada, Europe, Singapore to name a few. It's always an honour when somebody wants to buy something I've made and they consider it as one of their treasures.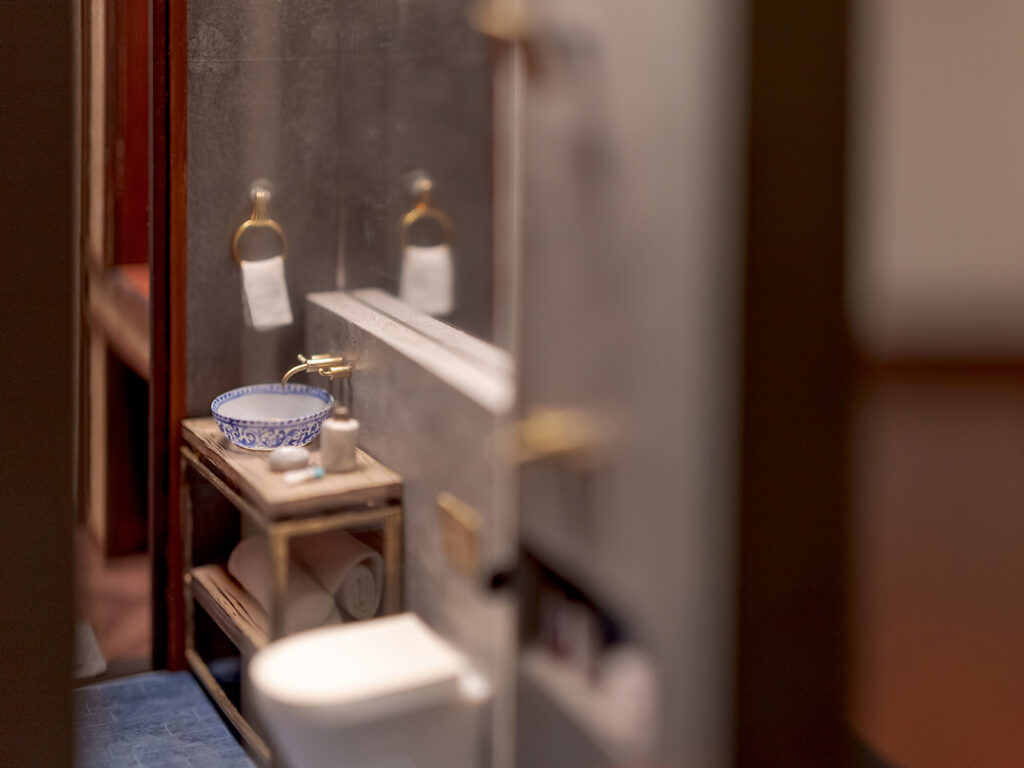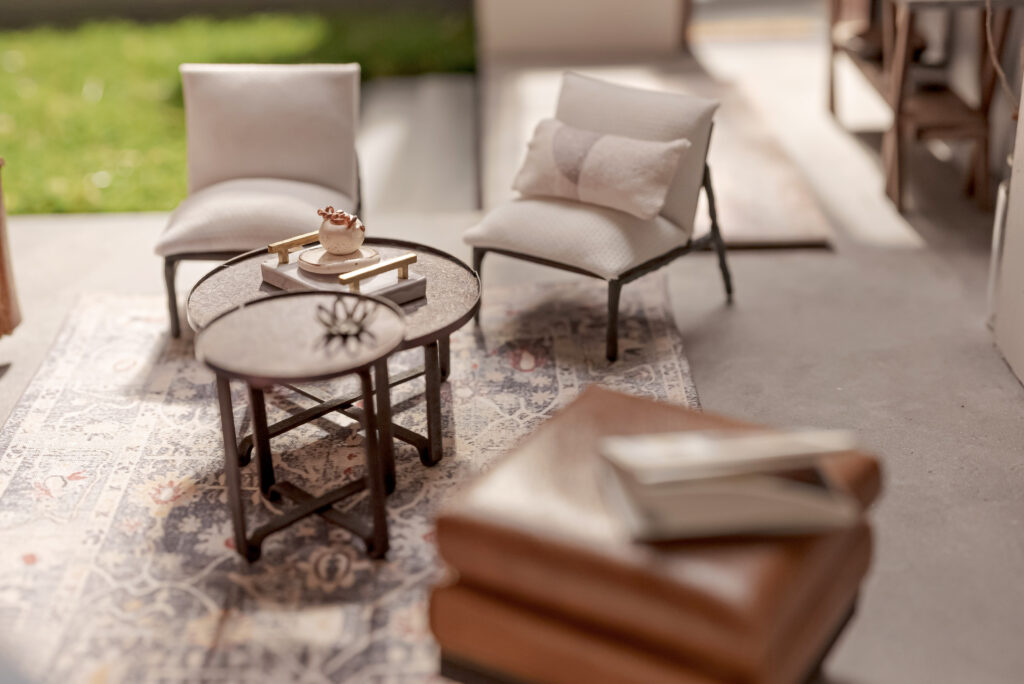 Design Pataki: Do you have any other miniature projects on the horizon?
Mia: I had a few big ventures in the pipeline such as taking part in a new British TV show around the topic of miniature making, however with my baby due at the end of this year, I decided it was best to give it a miss this time round. Aside from that, I have big plans to extend my miniature furniture collection and hope to put my miniature contemporary home on the market… all to start the next one!
Kamini: We are collaborating with Ruchika to create vernacular room boxes that would become a fun assembly kit for kids (and adults) to learn about interiors from various regions of India. For example, we've started the first one which is inspired by Chettinad – Athangudi tiles, teak doors, Belgium lamps!
Esha: Later this year I am showing my work at an exhibition in Paris, France and it's been a big honour to represent India/Asia there. I am also one of the contributors for a UK based called Shrunk Magazine and my miniature tutorials have been featured in all of their issues– so keep an eye out for those!