Women Writers Fest, Mumbai, 2018
After a tremendous response in various cities last year, SheThePeople.TV is bringing the Women Writers Fest to Mumbai for its second edition in 2018. Putting the spotlight on fabulous authors, writers, bloggers, and editors like Esha Gupta, Sagarika Ghose, Tara Deshpande, Annie Zaidi, Meghna Pant, Elsa Marie D'silva, Ishmeet Nagpal and many more, it will feature firebrand panelists from across genres. The fest will provide a forum for women writers from varied fields, to come together and discuss issues that are important to modern women. This not only aims to focus the dialogue around women writers who are breaking new ground in content, style, and storytelling but will also cover a range of diverse topics. From how to get children reading, to women writing crime, to gender violence, to Bollywood biographies, to speculative fiction and the rise of the graphic novel, we have a wide cross-section of panel discussions scheduled, as well as workshops and performance poetry. The festival has been bifurcated across the two venues of South Mumbai and Bandra.
AGENDA
Day 1 – Feb 23th, 2018 Title Waves, Bandra West
---
Panel 1: Bringing up a generation of readers
10 am to 10.45 am
Payal Kapadia, Preeti Vyas, Lubaina Tyeb Bandukwala & Swati Popat Vats
Moderated by Ruchita Dar Shah
---
Panel 2: Bollywood: Biographies versus Autobiographies
11 am to 11.45 am
Sujata Dev, Seema Sonik Alimchand & Koral Dasgupta
Moderator: Manisha Lakhe
---
Speaking her mind
12 pm to 12.45 pm
Sagarika Ghose in conversation with Shaili Chopra
---
Panel 3: The Business of Blogging: How they created breakthrough blogs
1:00 pm to 1:45 pm
Prerna Sinha, Aanam Chashmawala, Kavya D'Souza & Ila Johari
Moderator: Anjali Kirpalani
---
Panel 4: Visuals over words: Graphic novels and other visual storytelling
2 pm to 2.45 pm
Abhijeet Kini, Neelam Kumar & Priyanka Paul
Moderated by: Tara Khandelwal
---
Panel 5: Speculative fiction and why we need more of it in India
3 pm to 3.45 pm
Kiran Manral, Sukanya Venkatraghavan & Shatrujeet Nath
Moderator: Vivek Tejuja
---
Panel 6: The Power and the Pelf: The challenges of documenting success stories
4 pm to 4.45 pm
Maya Bathija, Sonia Golani, Gunjan Jain
Moderated by Shaili Chopra
---
Panel 7: Conversation with Miss Malini on #HowSheDidIt
5:00 pm
---
Day 2 – Feb 24th at Goethe-Institut / Max Mueller Bhavan Mumbai
---
Panel 1: New Voices in Women's writing in Marathi
11 am to 11.45 am
Renuka Khot, Meghana Bhuskute & Manaswini Lata Ravindra
Moderated by Mrinmayee Ranade
---
Panel 2 : The New Revolutions in Urban Living
12 pm to 12.45 pm
Ronitaa Italia-Dhanu, Esha Gupta, Maria Louis & Preeti Singh
Moderated by Shweta Kaushik
---
Chat – Tara Deshpande Tennebaum on her food journey.
1 pm to 1.45 pm
In conversation with Rushina Munshaw Ghildiyal.
---
Panel 3 : Dark: When women write crime
2 pm to 2.45 pm
Puja Changoiwala, Archana Sarat, Aarti V Raman & Annie Zaidi
Moderated by: Meghna Pant
---
Panel 4: The Streets are ours: Women on gender and violence
3 pm to 3.45 pm
Elsa Marie D'Silva, Priya Malik & Meghna Pant
Moderated by Sameera Khan
---
Performance: We, the XX chromosomes
4 pm to 4.45 pm
Ishmeet Nagpal & Ramya Pandyan
By SXonomics
---
Fireside Chat
5 pm to 6 pm
Kiran Nagarkar on Jasoda: The Quotidian Everywoman as a Heroine In conversation with Kiran Manral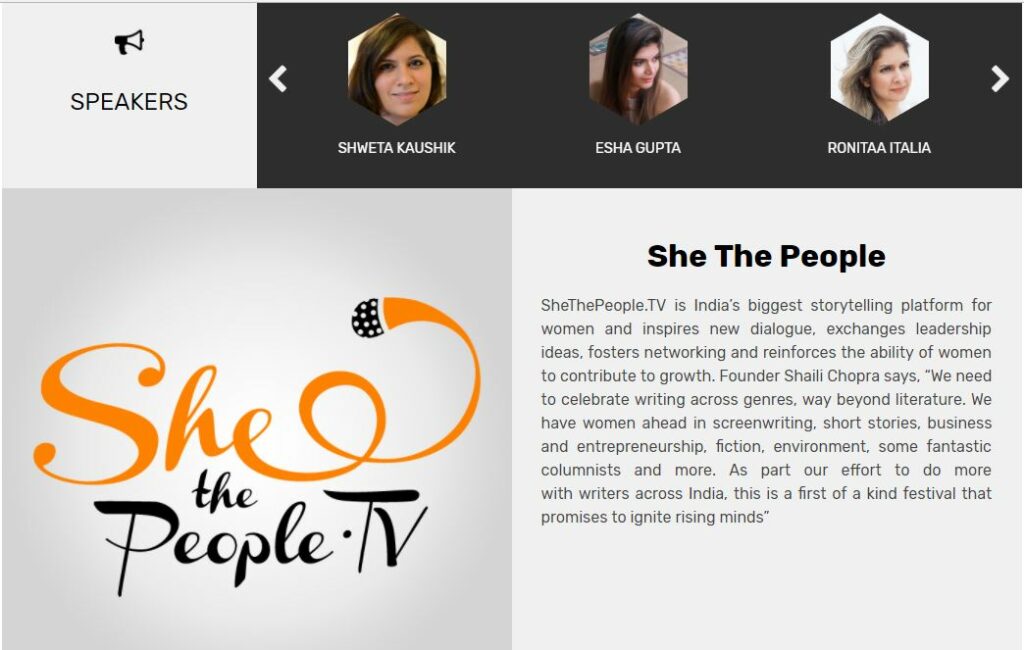 Details
Feb 23, 2018 - Feb 24, 2018