Existential Insights At Two Art Shows In Mumbai
12

Oct

'19

9:30 am

by

Beverly Pereira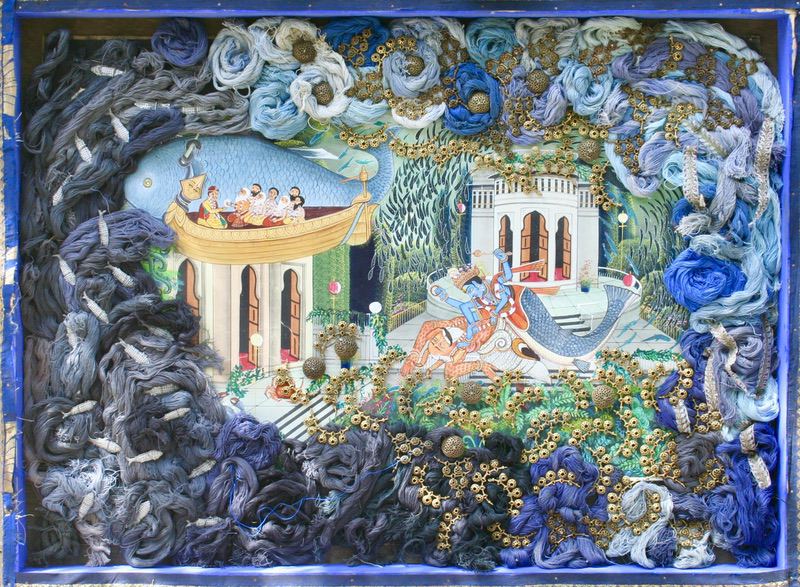 Two art shows in Mumbai take a deep dive into sensory stimulation through immersive art. The first, currently on show at Method in Kala Ghoda, is Lux by artist Sajid Wajid Shaikh. An interactive exhibit that looks straight out of a sci-fi film, it leaves viewers questioning the possibility of other dimensions and multiverses.
The second is a show at BARO in Lower Parel by Wolf Jaipur, an artist duo whose installations and artworks demonstrate the limitless possibilities that scrap material and found objects hold. Two seemingly disconnected art shows, yet connected in a manner most intriguing—in that they both serve to liberate the best of us accustomed to the subjective experience we blindly take for reality.

Lux by Sajid Wajid Shaikh
You've arrived in an otherworldly space far removed from reality. Everything around you is in a state of flux—your vision is saturated with impossible objects, distorted geometries and neon hues. An intense burst of hallucinations comes at you, intangible yet within your grasp. Still, you're completely out of control in this far-out hyperspace. You try to make sense of the ever-changing visuals, riding on a spectrum of emotions. Peaking, if you will. It's an altered reality not unlike that in which you enter on a hallucinogen. Except that a few minutes ago, after awaiting your turn, all you did was don a metal helmet in an art gallery. No mind-altering substances here; just a meeting of tech and an artist's visionary intentions for all to experience. This illusion-inducing contraption titled Lux is the work of artist Sajid Wajid Shaikh.
https://www.instagram.com/p/B3OQ5KOlF6q/
The artist has ingeniously utilized industrial materials like solar panels (those used in solar cookers), re-purposed steel rods, everyday torches and a plastic magnifying sheet to bring Lux to life. "I found a material which is industrial in its actual use, but which gave me the liberty to use it as a medium to play with light and to create abstraction not on a two-dimensional surface but on a more visceral one," says Sajid, who explored the language of light and how illuminance communicates with matter in this interactive exhibit.
By filtering rays through a host of materials that refract, bend, twist, turn, magnify and repel light rays, he's created an ever-changing illusory experience for the viewer who must simply turn the pod clockwise or anti-clockwise. All this, as both the aural and olfactory senses are triggered too. For this immersive exhibit, he collaborated with musicians Siddhant Vernekar (Lawntuba), Zahaan Khan (Zanuski), music producer Yung Raj and Kartik Mishra (Color Blind), and with Pratik who worked on the smell via a diffusing device. "The brief given to them on soundscapes was to make something that feels like time has paused, or which puts the viewer in a rather uncomfortable zone. A territory which a normal human being has never witnessed, a drug-induced hallucinogenic trip so to speak without the intake of anything."
https://www.instagram.com/p/B3cAPxPJxyU/
Those who have stepped into the Lux pod have likened the experience to time travel, meditation, a head ache and even alien abduction. "When it comes to creating art, I feel the best way is to create experiences which cannot be taken back in any form. I'm keeping it open to interpretation as an immersive experience. I'm just acting as a medium that allows viewers to feel things as reality bends and warps in front of their eyes." For Sajid, this exhibit is a departure from his usual medium of illustrating. "Drawing is almost like a default setting. But I'm more inclined towards giving the viewer something that's intangible, an experience which allows them to think and look beyond what they've already seen—a peephole into the abyss."
Venue: Method, Kala Ghoda
Timings: October 5 – 27, 2019
Ultramarine by Wolf Jaipur
If it's instantaneous, it must be good — a line that rings true in the age of the internet. Ours is an age marked by the need for immediacy, without us actually living in the moment. Or stopping to smell the roses, as the artist duo Ritu and Surya Singh of Wolf Jaipur would say. In their new series of work titled Ultramarine, Wolf Jaipur presents an opportunity to slow down and realise just how little we seem to experience what we call reality, and everything that lies beyond it.
Wolf Jaipur primarily works with scrap material and found objects to create their art and installations, and with Ultramarine too they have layered bits and bobs over art inspired by Rajput miniatures. In the fantastical underwater world they've created, old metal springs from an upholsterer become waves of an ocean. Discarded carpets and pastel balls of yarn work are refashioned to appear like corals, algae and sea urchin. "We decided to make a show underwater as a plea to slow down. We always try and tell stories that encourage people to make time for themselves, not to forget the old, to stop and smell the roses," say the artists.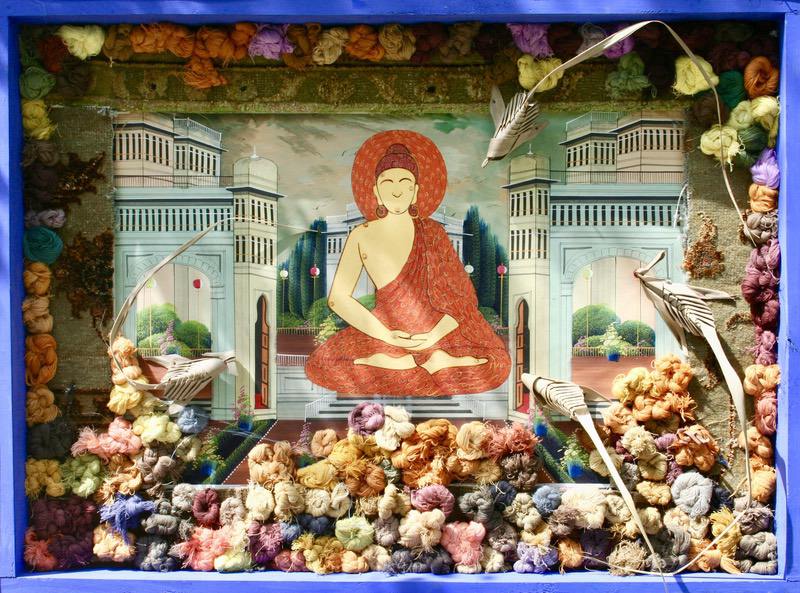 The show is being exhibited at décor and furniture store BARO, but this isn't a first-time collaboration between BARO and the artist duo. Srila Chatterjee, co-founder and curator at BARO, explains, "Each piece is an invitation to slow down and study the finer details of the work, while that thought translates into a metaphorical suggestion to slow down and appreciate life and the environment as well. The works are a nod to our rich heritage, but also a symbol of our present environment — alive with deep meaning."
The paintings were realized in collaboration with miniature artists Gautam Sharma and Usman Tirandaz and with cord-makers from the Patua community. "Miniature painting is a very slow process. From making the colours to burnishing layer after layer, it comes together with time and patience—something we wanted to resonate throughout our underwater world," say the artists. "A miniature passes through many hands and each one adds nuance to it. We're hugely inspired by this generosity of details and we've tried to work it into our world. It's a world you dive into!"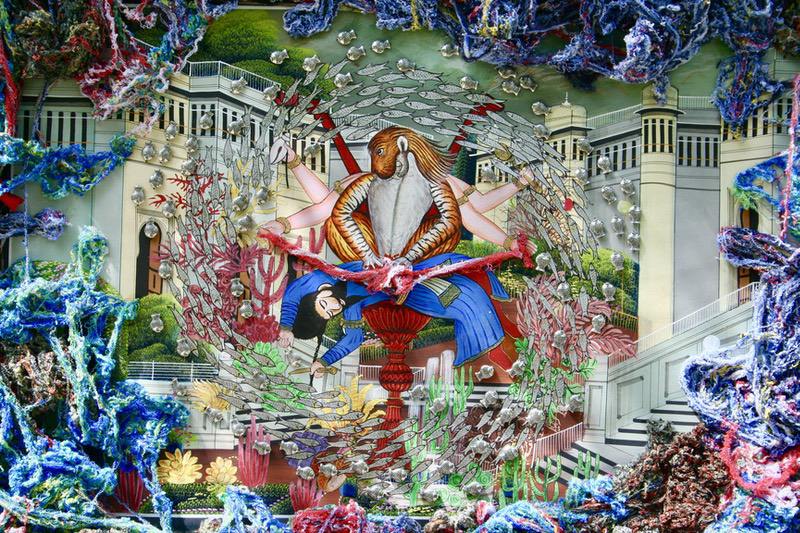 The classical miniature-inspired paintings are incredibly rich in detail. And the layered objects—seconds jewellery, delicate glass and metal fish—only add texture and that much more depth to the pieces. The series is also interactive in that viewers can take bits and pieces with them to create their own installations at home—a cluster of sea urchins, waves or a 'shivling'. "We welcome you to interact and interpret our work and to make it your own. This is an invitation to open out the creative process to everyone," says Ritu Singh.
Pondering over the finer details of the Ultramarine series—texture over texture and layer upon layer—is a deeply immersive experience in itself. The strains of music and fragrance of incense further set the scene, leading the viewer on a sensory journey of sorts. "When miniature manuscripts were viewed in earlier times, there was a 'mahoul' created for it. The place was set with fragrance, musicians accompanied the viewing, sometimes intoxicants were consumed to enhance the viewing. We're trying to create a 'mahoul' too. We do believe that anything artistic is enjoyed more when more than one sense is stirred," say the artists.
Venue: BARO, Lower Parel
Timings: Oct 11 – 20, 2019