Expo 2020 Dubai : Bringing The India Pavilion To Life
5

Oct

'21

5:08 pm

by

Beverly Pereira
The Expo 2020 Dubai that opened a few days ago on October 1, 2021 is particularly exceptional on so many levels. For the first time in the history of world expos, every participating country has its own pavilion to showcase their strengths and potential on this global platform. The gargantuan event in the glittering emirate had been a long time in the making. There was a load of planning to be done, country pavilions to be designed, a dedicated Expo metro to be built. Then, just when some of the bigger country pavilions were being readied in the latter part of 2019, a global pandemic ceased all activity on that front. Eventually the show did go on — only, it took place a year later. And, a spectacular show it most certainly is, just as it was intended and expected to be.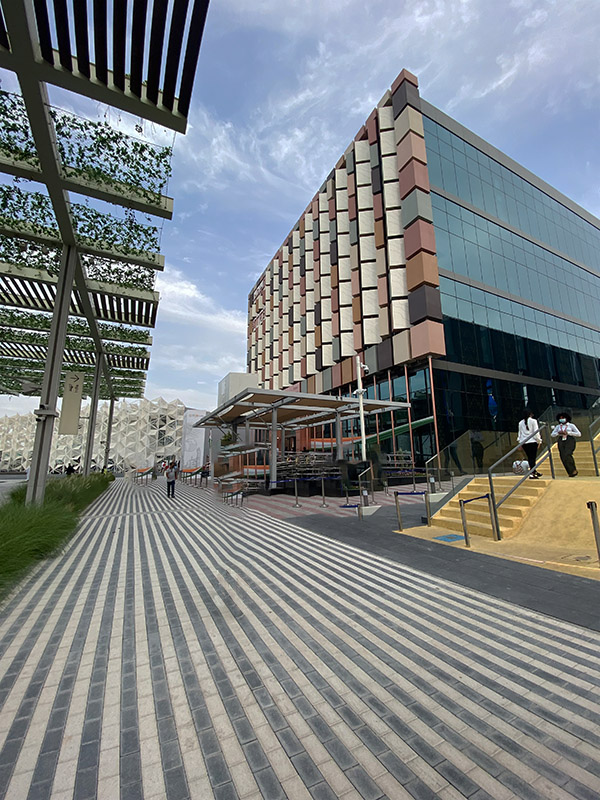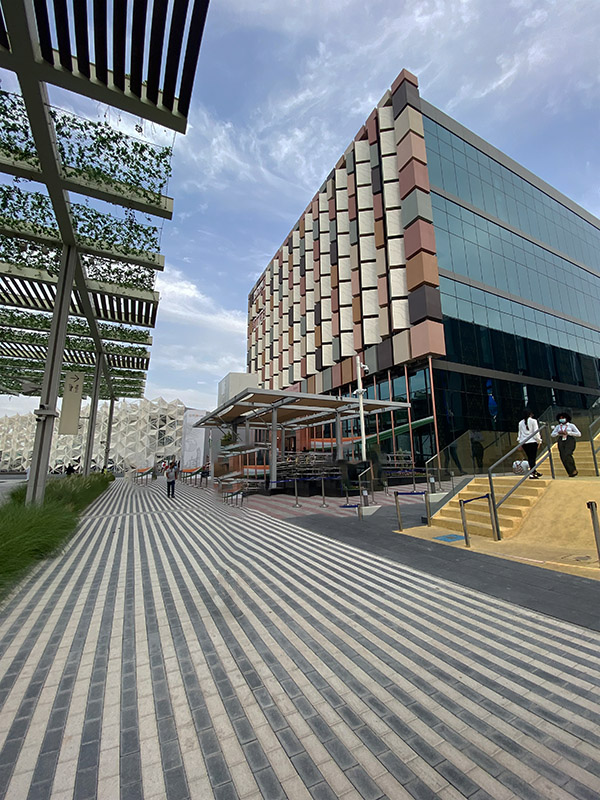 There's a lot to be said for the India Pavilion designed by the New Delhi-based architectural firm CP Kukreja Architects. Sitting adjacent to the Japan Pavilion with its vividly illuminated origami-inspired façade, the four-storey India Pavilion features a decidedly muted façade comprised of 600 metal blocks painted in natural stone colours that are capable of 360-degree movements aided by motors and gears. This mosaic of metal blocks is treated with a coating that lends it the appearance of red Kherara, Dholpur pink, white marble, Jaisalmer and Kota stone found across India. After dark, this cleverly designed façade transforms into a canvas for striking visual content relating to India's rich heritage and diverse cultural aspects. At 1,00,000 sq ft — making it one of the expo's largest country pavilions — India's pavilion also features an adjoining plaza crafted from red sandstone upon which rests a large chakra. The larger, more prominent building takes visitors on a journey through India's best-known exports like Ayurveda, Yoga, business and investment opportunities, and even space exploration. Chosen as one of the expo's three permanent pavilions, it will live on long after the Expo ends in March 2022.
Both structures and the message they communicate to the world through immersive content and brilliant storytelling comes with nary a hint of ostentatiousness. While the digital content was conceptualised by the Gujarat-based Moving Pixels, the interiors and layout were expertly crafted by Museum and Expo International Limited, the India office of UK-based Muse International known for its memorable work in the field of international expos and museography, among other areas.
In Dubai, we sat down with Principal Managing Architect of CP Kukreja Architects and designer of the India Pavilion, Dikshu Kukreja, to better understand what it took to design the perfect representation of India at Expo 2020 Dubai. Below, excerpts from the interview…..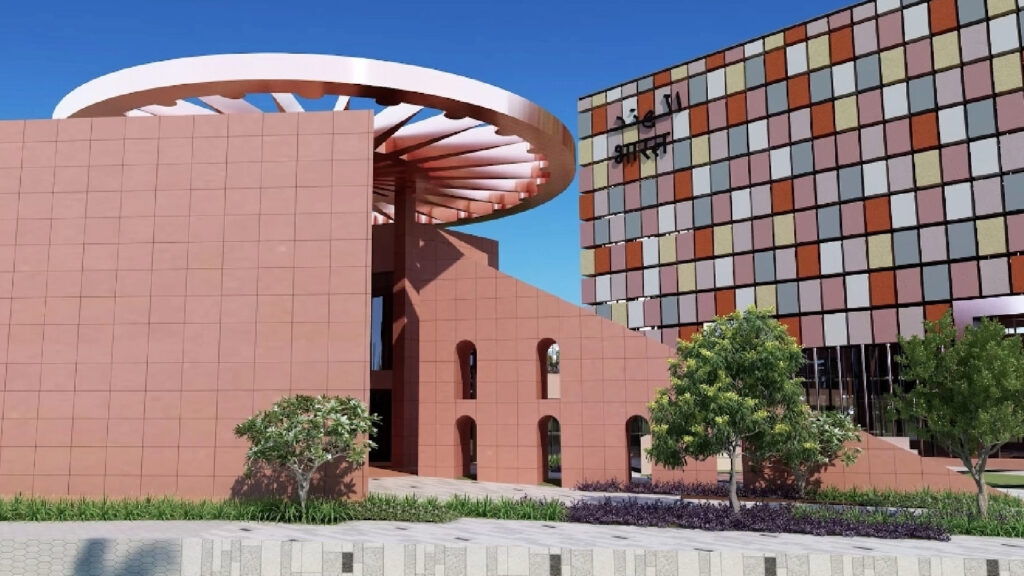 Design Pataki: Take us through the architecture of the India Pavilion.
Dikshu Kukreja: We designed the pavilion to have three components that reflect a balance between both the cultural exposition and commercial opportunities that can take place inside. You'll see a sandstone structure with a design inspired by the Jantar Mantar that represents India's scientific progress from centuries ago. We tried to metaphorically encapsulate India's progressive nature through its design. The main structure with the rotating blocks has two components. Wing A holds cultural, scientific and other expositions that India can show to the world in terms of its history, legacy, contemporary achievements and progressive aspects like space exploration, AI and other technologies of the future that the country is developing, while Wing B has a business side to it. This wing can become an appropriate forum for hosting business exchanges and fostering relationships. It is also an area where Indian states will showcase their strengths and investment opportunities in a rotational manner.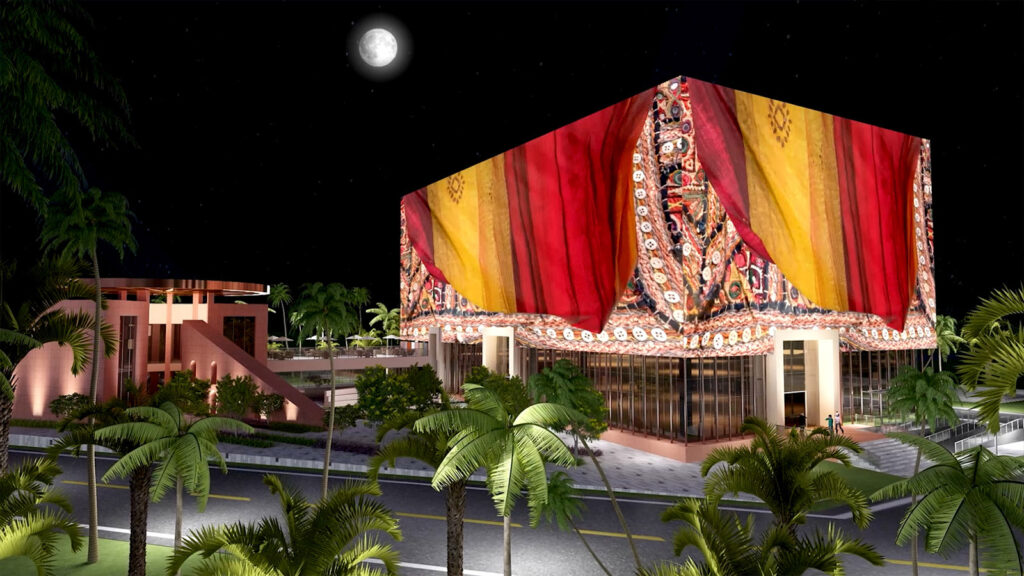 Design Pataki: What was the starting point for the design of the pavilion?
Dikshu Kukreja: This was a very unique project to work on because its happening on a global stage where you have an assortment of architecture from around the world. Then comes the fact that you're chosen to represent India. How do you capture or freeze India and its diversity into one building? Do you just make a hash of different architectural styles from the South, North, West and East of India? Do you make an amalgamation of their unique features using all the clichés like arches and domes, or do we do something different? These were the questions we were faced with. We felt that the best way to communicate an India on the move, the transformational aspects of the country so to speak, was to bring that dynamism to the façade. We chose to represent this using a kinetic façade with rotating elements that can become a blank canvas given to India to tell its story.
Design Pataki: What were the design challenges faced?
Dikshu Kukreja: The expo authorities had given India a prominent location, but it could not accommodate a rectangular-shaped structure like most other pavilions. The pavilion thus has a trapezoidal form. Besides, I have been told and as far as I know, the India pavilion is one of the only pavilions with a basement, and you'll know that building a basement in the desert can be a real challenge. Further, after the expo one-third of the plot will be taken away, leaving us with two thirds of the plot. Designing for the expo and designing it to serve as a legacy that will live on after the expo ends was definitely a challenge too. We designed it in such a way the permanent structure is a dismountable unit. Add to that the fact that we were tasked with designing such a large and important building that we really didn't know and still don't know what it might be used for tomorrow — it could be a consulate, an office, a museum, a retail centre.
We had to keep every permutation and combination in mind to allow for all possibilities to accommodate whatever purpose it might serve. The outer façade brings light and views in and out of the building. Since it's not a temporary pavilion but is intended to be a permanent building, we had to take into consideration what a conventional building might require — whether it was the air conditioning or electrical planning to be used for a particular function in the future.
Design Pataki: How long did the conceptualisation process take?
Dikshu Kukreja: The pavilion design as an architectural process is quite novel in that a single architect designed 82 different design options for the pavilion. That's quite something! The process began three years ago in September 2018. As I said, there were so many possibilities to represent India in a single pavilion. And, of course, the design had to go through the many stakeholders and government officials involved right up to the Prime Minister's office. The whole process took six months.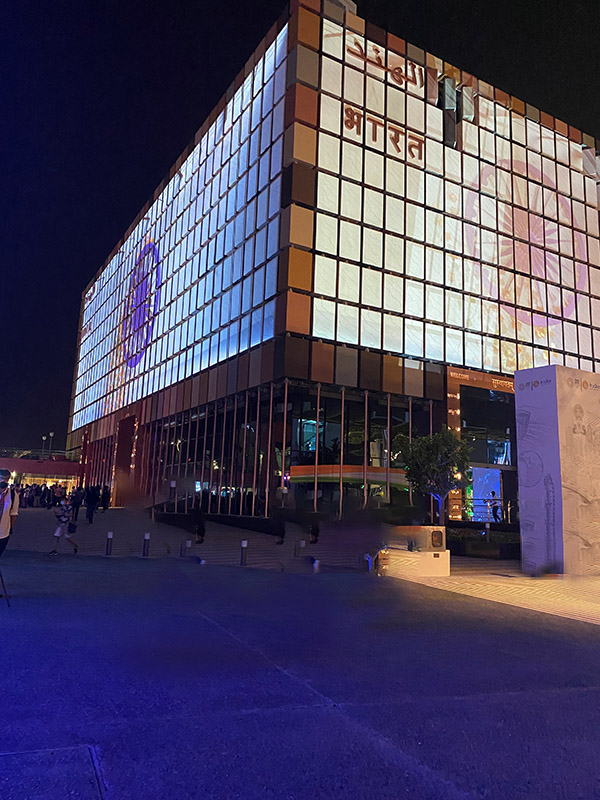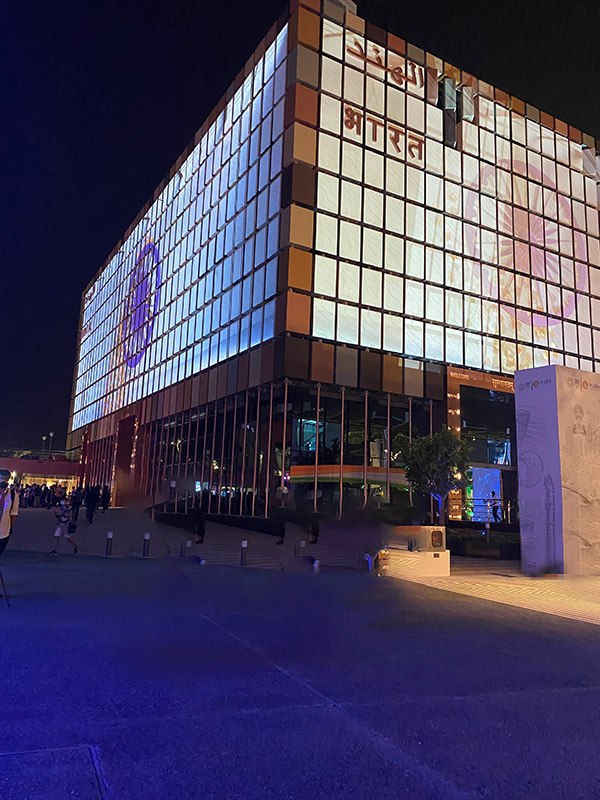 Design Pataki: The pandemic must have been a serious setback for the design process of the pavilion?
Dikshu Kukreja:The pavilion was only half way through when the pandemic began a year and a half ago. Operations had to be paused on the expo site. Then came a time when very restricted activities could take place, after which things were supposedly brought to normalcy with Covid-19 protocols in place. There were so many challenges in this respect. Further, a lot of hand craftsmanship gave way to prefabrication of various elements that could then be assembled on site.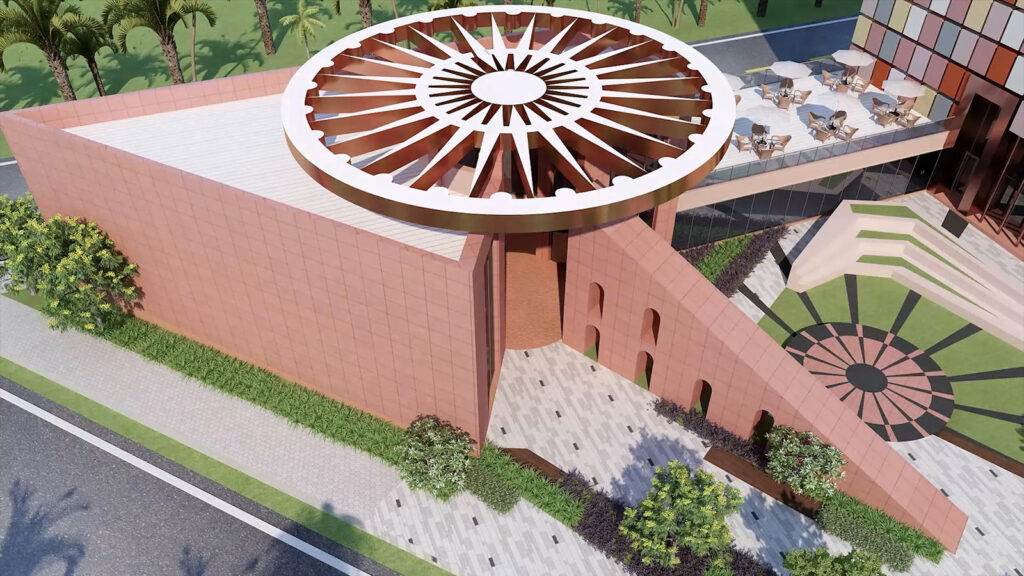 Design Pataki: What materials went into the making of both components of the India Pavilion?
Dikshu Kukreja: Having a glass box is not sustainable or climate-friendly; much as we see the extensive use of glass in Dubai, it isn't something I subscribe to. And so we created a second skin to the building which comprises rotating cuboidal elements outside the conventional glass façade. The outer façade's 600 metal boxes were crafted from recycled aluminium metal in line with the environment-friendly nature of the building. The Jantar Mantar-inspired structure was built using sandstone.

Design Pataki: Tell us more about the sustainable nature of the pavilion? 
Dikshu Kukreja: While the building has a steel and glass construction, we introduced environment-friendly technologies in terms of water conservation, heat reduction and other energy-saving measures like light motion sensors and solar panels. Each of the 600 boxes rotates throughout the day as per the requirement — they can be adjusted depending on the orientation of the sun with the press of a button internally, much like an automatic curtain.
Design Pataki: Is there anything else you'd like to add?
Dikshu Kukreja: The architecture in many mega cities is awe-inspiring but if you look deep enough it's just a showcase of glass gymnastics. In my mind, this is an antiquated 20th century Western notion of creating glass skyscrapers. Today, architecture needs to be responsible, more in sync with the environment and as an Indian architect we hope to bring this expertise to Dubai because we share cultural bonds. It's important for the architectural community to bring in that sense of depth and meaning and context to architecture.