Five Must-Visit Exhibitions For When You're At The Kochi Biennale
24

Jan

'23

3:33 pm

by

Urvi Kothari
The ongoing Kochi Biennale programming continues to mesmerise audiences with its extraordinary live performances and breathtaking installations. We previously curated a guide on some must-visit exhibitions at the central pavilions. However, your cultural experience would be incomplete without the exhibitions that dot the island city within walkable distances from the biennale venues. So here is a curated guide of five exhibitions for when you pay a visit to Kochi!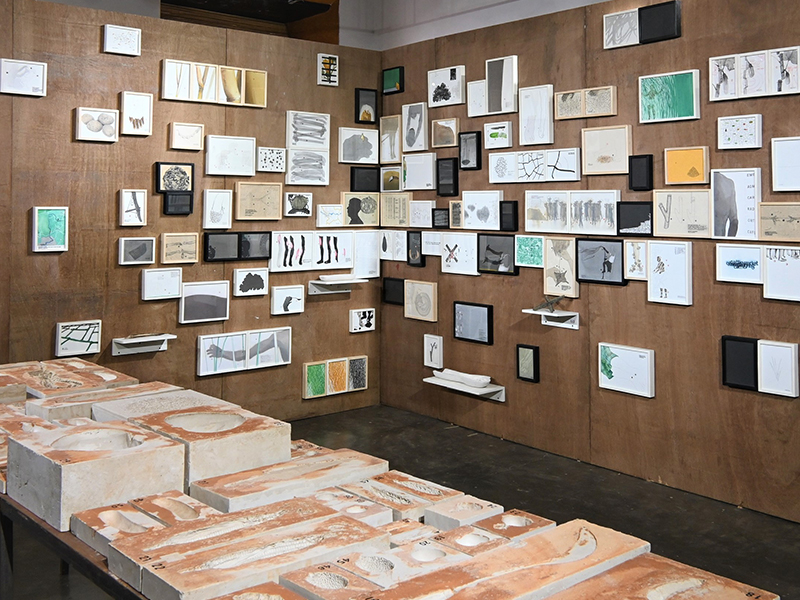 #1 Anatomy Of a Vegetable – Ruminations on fragile ecosystem by Prasanta Sahu at Mocha Art Café
Presented by Emami Art, Prashant Sahu's solo exhibition delves into proposing farming as a way of life – an immense capacity for love and joy amidst suffering and umpteen number of challenges. Hailing from a family of farmers, Sahu presents an insightful rumination of an unheard but common rural life. From documenting wooden tools and found objects to interacting with Lakhi Ram (a landless farmer from Amdahara village close to Santiniketan, where Sahu resides), Sahu presents truths hidden from mainstream discourses. His art presents the paradoxical interconnectedness between the neglected farming community and a modern, capitalist food economy. The show will be on display till April 10.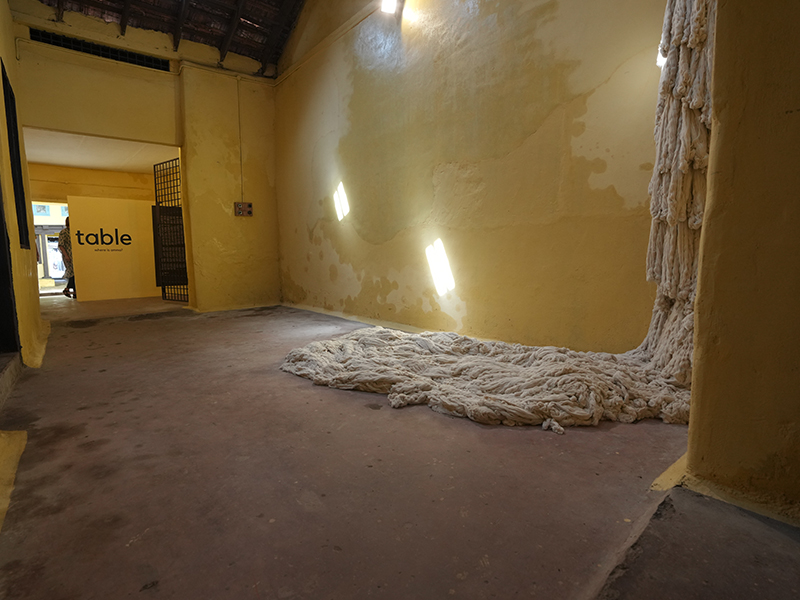 #2 A Place at the Table at TAOS Gallery
Curated by Tanya Abraham, this group show reinitiates discourses with women, in a world of inequality, power struggles and pre-defined societal norms. 'A Place at the Table' reminisces the position of the woman as a subaltern, delayering commonly heard pan India expressionism such as Where is Amma? (Where is Mother?). However, here the term Amma is used as a universal embodiment of the female, precious in the eyes of a child yet projected as an object by patriarchy. The end goal of the exhibition is to push the envelope of contemporary art while creating strong statements on redefining the position of women in a broader context. This compelling exhibition will be on display till March 31.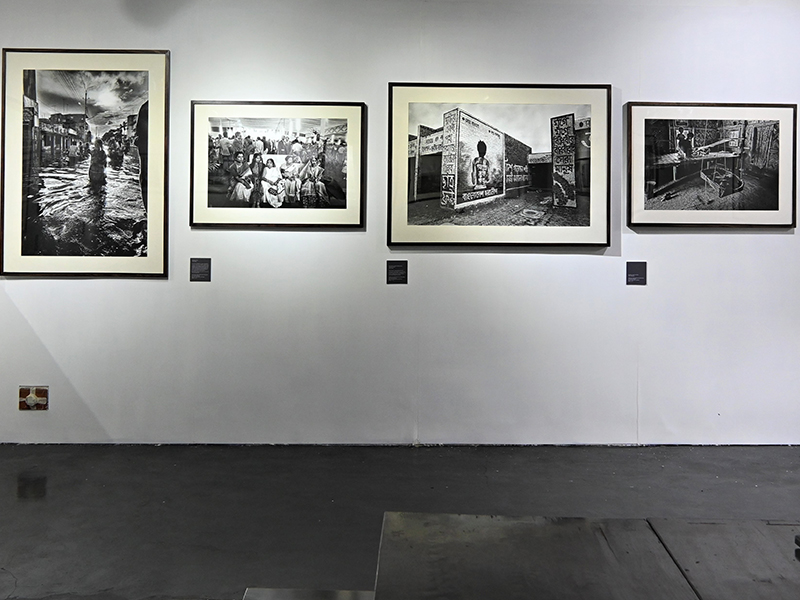 #3 Singed but Not Burnt by Shahidul Alam at Mocha Art Café
Presented by Emami Art, this show presents early works from Shahidul Alam's early archives in Dhaka, Bangladesh. The photojournalist presents a specific focus on the under-represented and minorities. The curation comprises his early experiments in pictorialism and later experimentation in exploring the political space. The imagery is at once 'protest, reportage and art'. In the words of Alam: 'As journalists, we need to feel the heat, to stand close to the fire, but then we also risk being burnt. If we were to take one step back, we become ineffective. The trick, therefore, is to get singed but not burnt'. Alam's photographs will be on public viewing until April 10.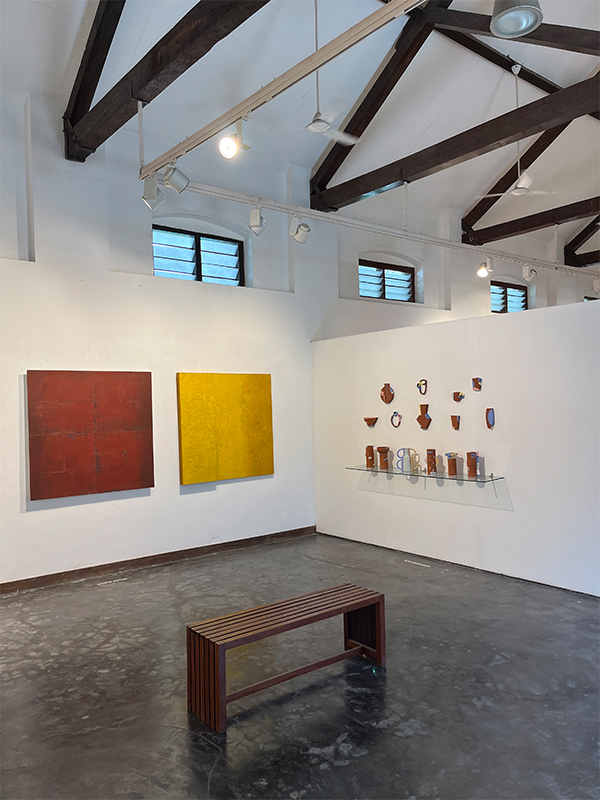 #4 'PRIMARY CONCERNS', A Tribute to the Legacy of Abstraction at Gallery OED:
The fundamental perception of a broad range of colours starts with the three primary – red, blue and yellow. Taking the audiences back to the fundamental basics, Gallery OED celebrates the aesthetic legacy of these three important colours. From pure abstract paintings by artists such as Sheetal Gattani and Harisha Chennangod, to basic defined forms by Reyaz Badaruddin and Upendranath T R, this exhibition carries us across a range of considerations. The show intimates interest in the fundamentals that is typically profound. The curation will be open for viewing till February 14.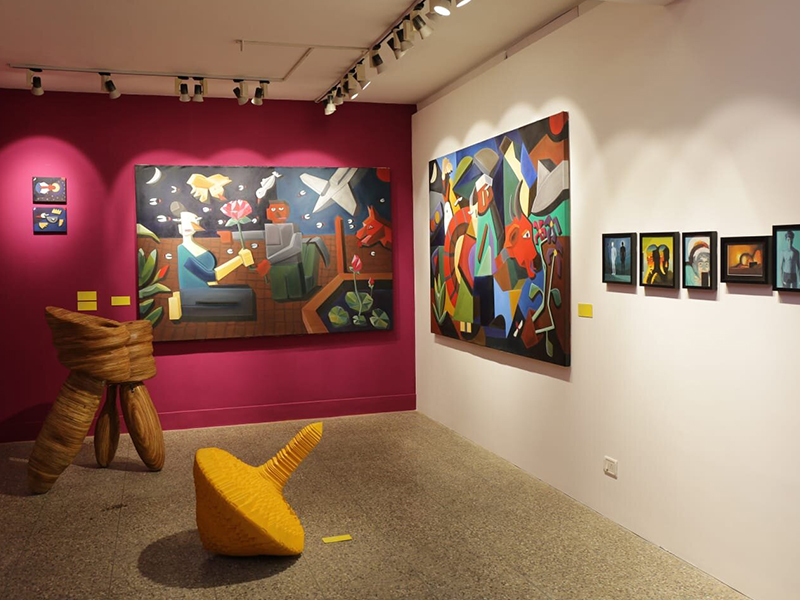 #5 Hopscotch at Gallery Twenty Seven
Do you recollect playing Hopscotch as a child? Gallery Twenty Seven's latest exhibition takes viewers down the memory lane with a burst of colours, whimsical objects, eccentric patterns and innocent humour. Curated by Shrishti Sainani, the show presents fifteen exceptional artists whose artworks juxtapose the ordinary and the fantasy, the mundane and the sublime. Attracting the viewers to a child-like visual frenzy, the show transports the beholder into a dreamy world of imagination, amusement, and exuberance. The exhibition is on display till January 30.
These five shows are certainly must-visits while you plan your trip to the Kochi Biennale. Hosting some compelling contemporary art and intriguing concepts, these spaces have much more to offer apart from a visual aesthetic experience. All you need is a pair of sunglasses and sneakers to enjoy a fun gallery hop by the ocean.