Four Must-Visit Art Shows This Month
29

Sep

'20

9:30 am

by

Manisha AR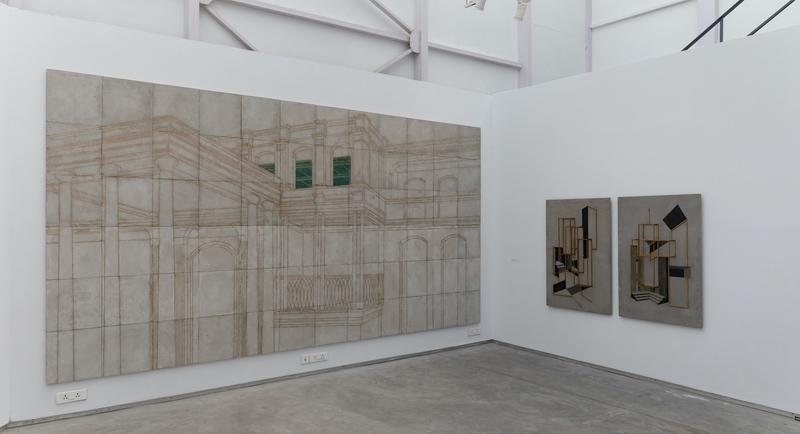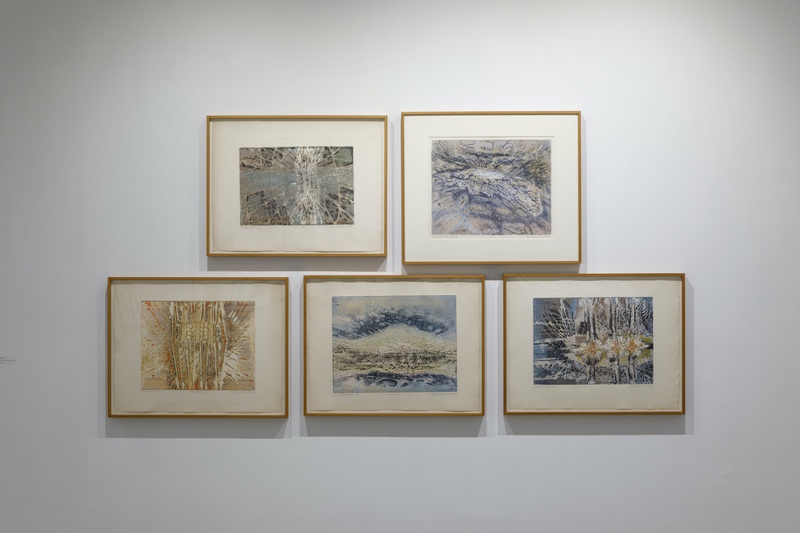 Four Positions at Experimenter, Kolkata, India, 22 Aug- 30 Sept 2020
At their Ballygunge Place in Kolkata, Experimenter showcases four individual exhibitions by Indian artists Krishna Reddy, Rathin Barman, Bangladeshi artist Ayesha Sultana, and French-born Julien Segard. Together all four of these exhibits, titled 'Four Positions,' develop ideas at the intersection of space, time and disciplines outside of art. Both Reddy and Segard's works offer physical and metaphysical spaces for contemplation. Reddy's colourful sketches of daily life titled 'Woodcut prints on paper, Suite 3,' are reminiscent of solitary walks. While Segard's installation offers viewers a dark empty space to reflect on paradoxes like the presence of light in order to acknowledge darkness and the need for isolation in a public space. 
On the other hand, Ayesha Sultana and Rathin Barman's works draw on reflections from medicine and architecture into their work. In Sultana's 'Pulse,' she interprets the title through repetition with textures, gouache paintings and dark colours. Her work 'Untitled, 2020' made using pencil, pigment and ink on paper is a bold and tactile experience in the colours and lines. Rathin Barman's 'Restructured Living Space I, 2020,' brass inlay on grey concrete tiles with a dry green pastel of a large building made of columns and arches culminates into a stunning architectural portrait. Barman's attempt at altering the dimensions of a physical space using life-size works is a welcome experience at this show. The works can be viewed online at their website. This show is an exploration, so we recommend setting aside some time for a leisurely experience in objects, prints and architecture.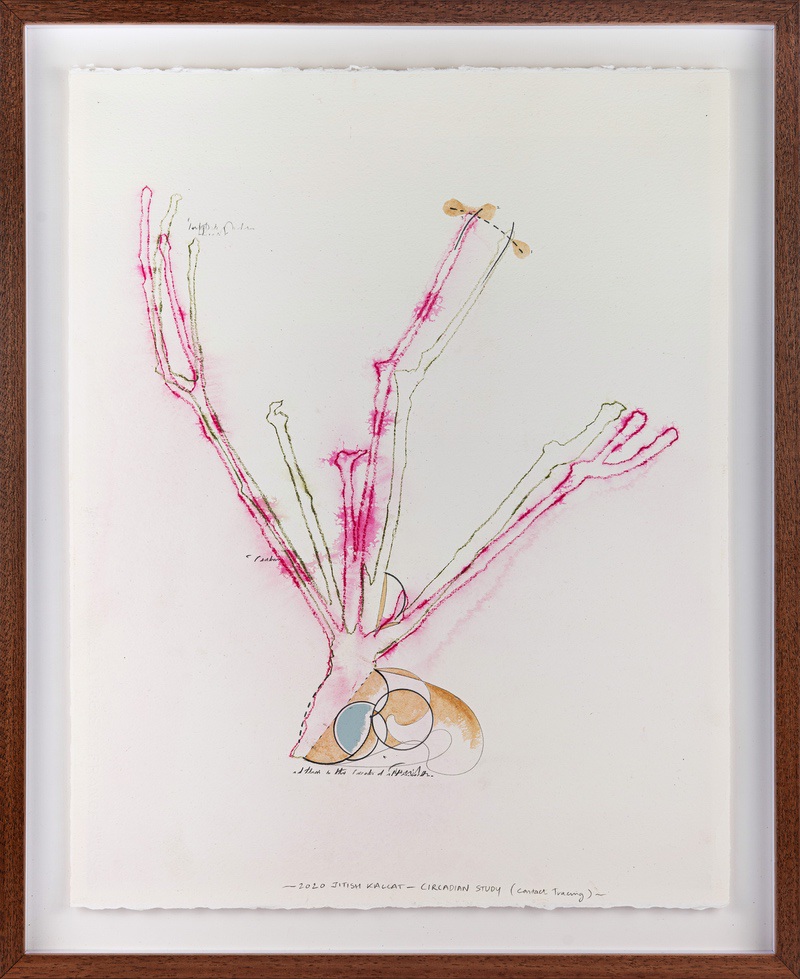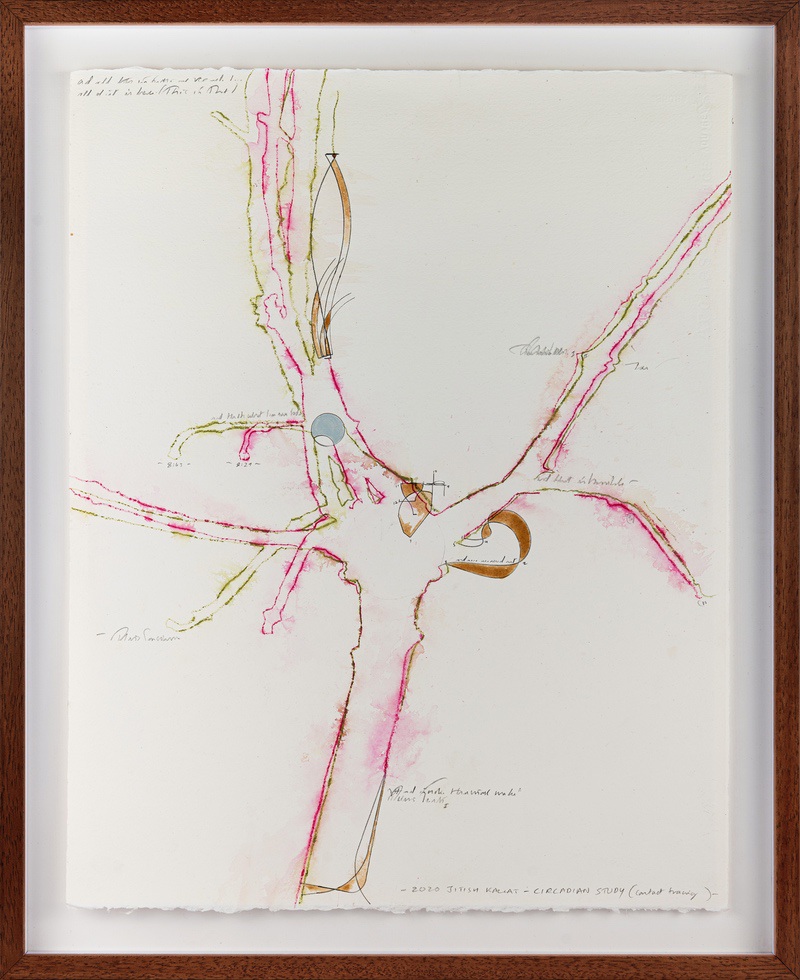 Circadian Studies by Jitish Kallat at Nature Morte, New Delhi, India 11 Aug- 31 Dec 2020
A collection of sketches on paper, Indian artists Kallat's works comes from a "system of self-imposed artistic constraints." Given the context of the pandemic, we have all had to readjust our schedules, and during this time Kallat used his new studio ritual to create constraints and drive his work. The process goes something like this: after watering his plants he would spend time tracing the outlines of twigs which resulted in the prints on display at this show. 
In 'Circadian Studies' or contact tracing, he uses red and green lines to show the position of the sun in relation to the twigs, as he traces the twigs' outlines to show the movement of light. The end result is a portrait of time that has passed. In the online exhibition, there are excerpts by various curators and art critics as well as a video of Kallat making the sketches. All the works share the same name but hold different experiences. In looking at these studies, the viewer too will participate in the meditative act of paying close attention to details offered in the sketches. One can view the works here.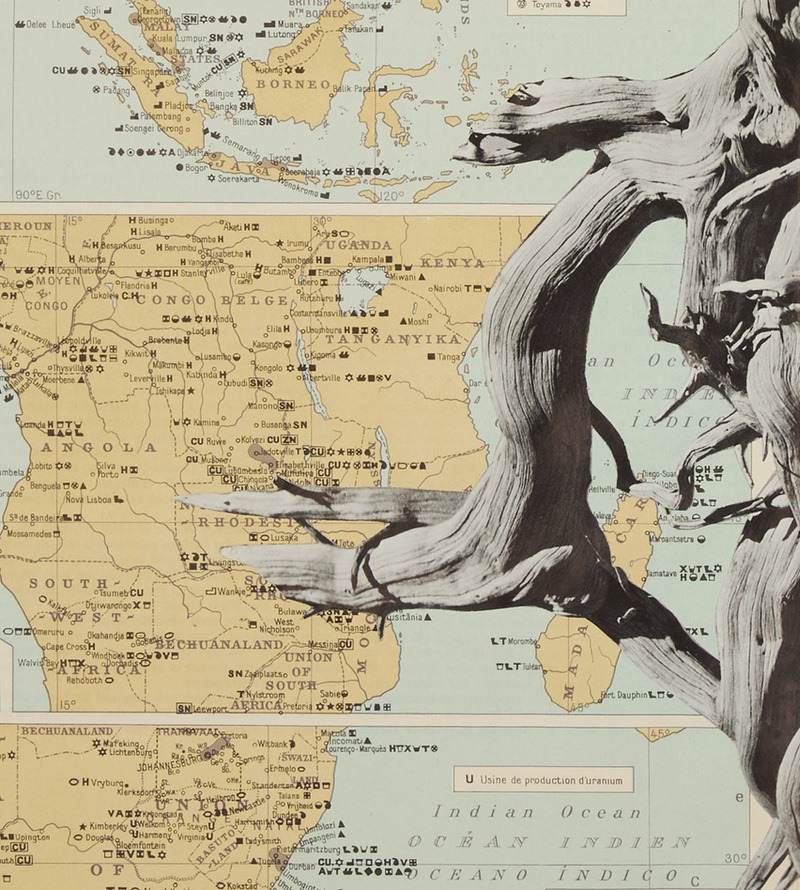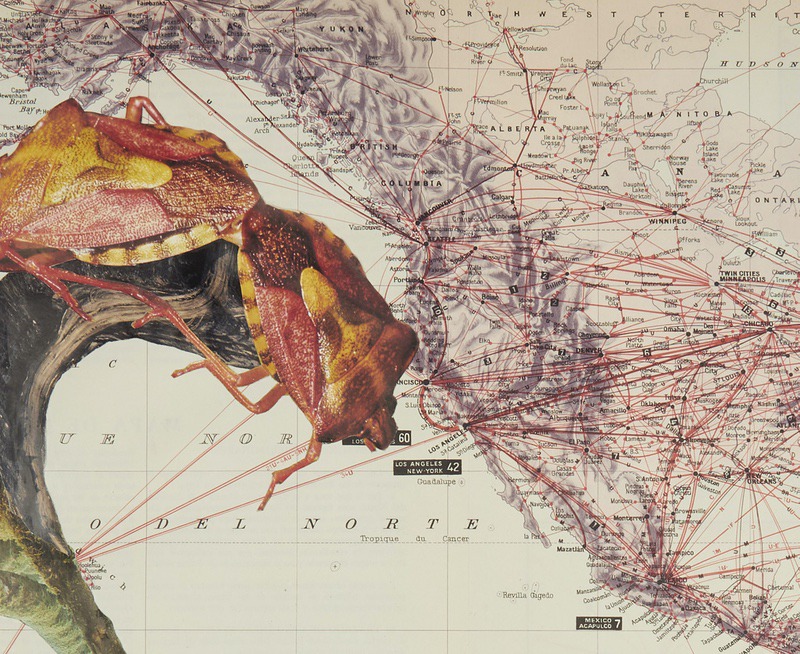 An engaging show that revisits history, 'Appropriation Disinformation- Nature and the Body Politic' was initially exhibited at the Dhaka Art Summit, titled 'Seismic Movements.' This month it will be showcased for the first time in India at TARQ, Mumbai. Makanji's collages serve as a commentary on a myriad of issues associated with globalisation and free trade like the climate emergency, the displacement of indigenous communities and lands that existed before colonisation and 'extractivism' which refers to the extraction of minerals to sell on the global market. 
Using pages from 'Atlas International Larousse Politique et Economique (1950),' as a backdrop, Makanji creates collages of figures and objects placed over the maps. In doing so she turns details in the Atlas like numbers, measurements and geographics facts of a place into proof of systemic violence and imperialist colonisation. Present in the collages are animals, plants and flowers that bring these static numbers and facts to life. Through the works, the artist is not only representing a past that has been forgotten but is also commenting on the memories that surface when these images and texts are juxtaposed. The show can be viewed by appointment in person or through their online viewing room.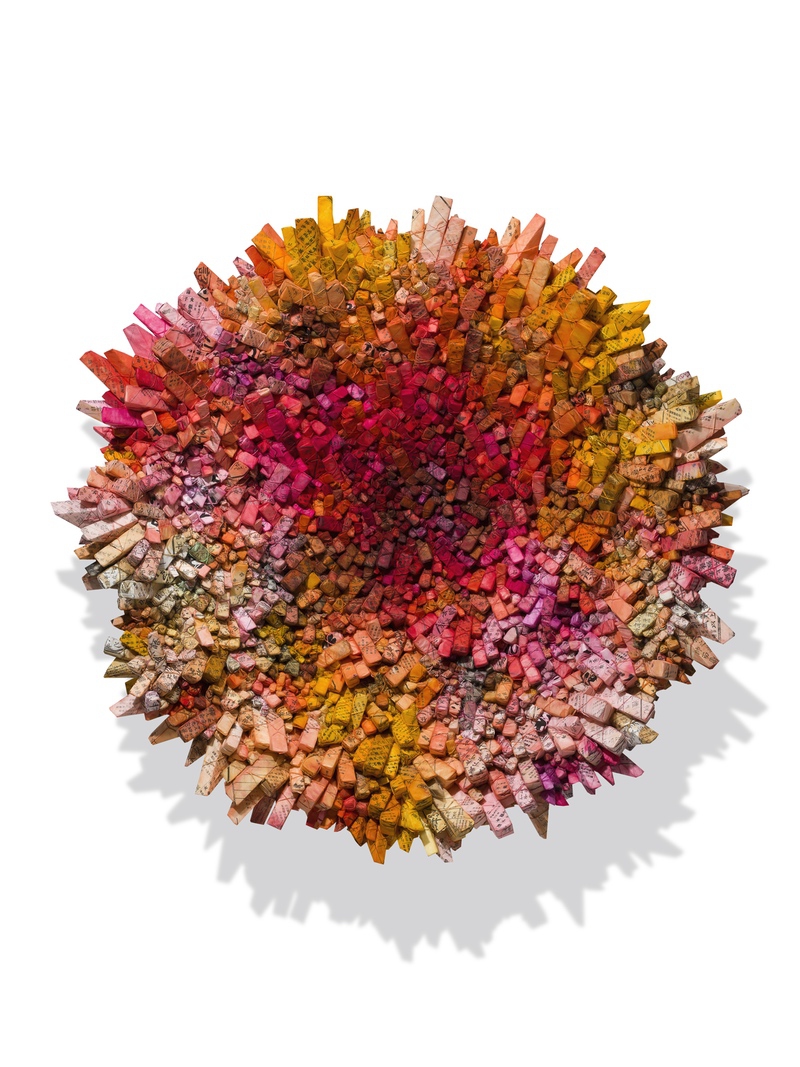 Full Spectrum at Sundaram Tagore Gallery, Singapore (ongoing)
South Korean artist Chun Kwang Young is currently showcasing pieces from his popular series titled 'Aggregations' which he began in the mid-1990s, at the Sundaram Tagore Gallery. Combining his Korean heritage through the use of 'hanji' or mulberry paper with the abstract expressionism of the west, Young creates mesmerising experiences. His approach to working with papers was inspired by his early childhood memories of medicinal herbs wrapped in 'hanji' paper that hung from the ceiling of local apothecaries he visited. Meanwhile, his experience of struggle, war and the excess of information present around us are processed and expressed in the abstract expressionism style of his work-grandeur and symbolism. 
His large, textured sculptures look a lot like coral reefs or craters on the moon–both unforgettable experiences that stay with the viewer. 'Aggregation 17- AU062 (Star 19), 2017' and 'Aggregation 15- MA016, 2015,' in particular look cosmic and otherworldly. There is a sense of calm that emanates from all his works as if they were a resting place for scattered thoughts. Young is more popular for his iconic monochromatic compositions but these sculptures are a lot more vibrant. Young uses tea and other natural dyes in gradient which make it seem as if the sculptures were digitally rendered instead of handmade. A virtual tour of the show 'Full Spectrum' can be taken through the viewing platform eazel and details about the works and artist can be found on the gallery website. A must-visit for abstract expressionism enthusiast who enjoys vibrant colours and grand sculptures.