French Artist Edith Meusnier On How She Creates Sustainable Textile Art
16

Dec

'20

6:00 pm

by

Manisha AR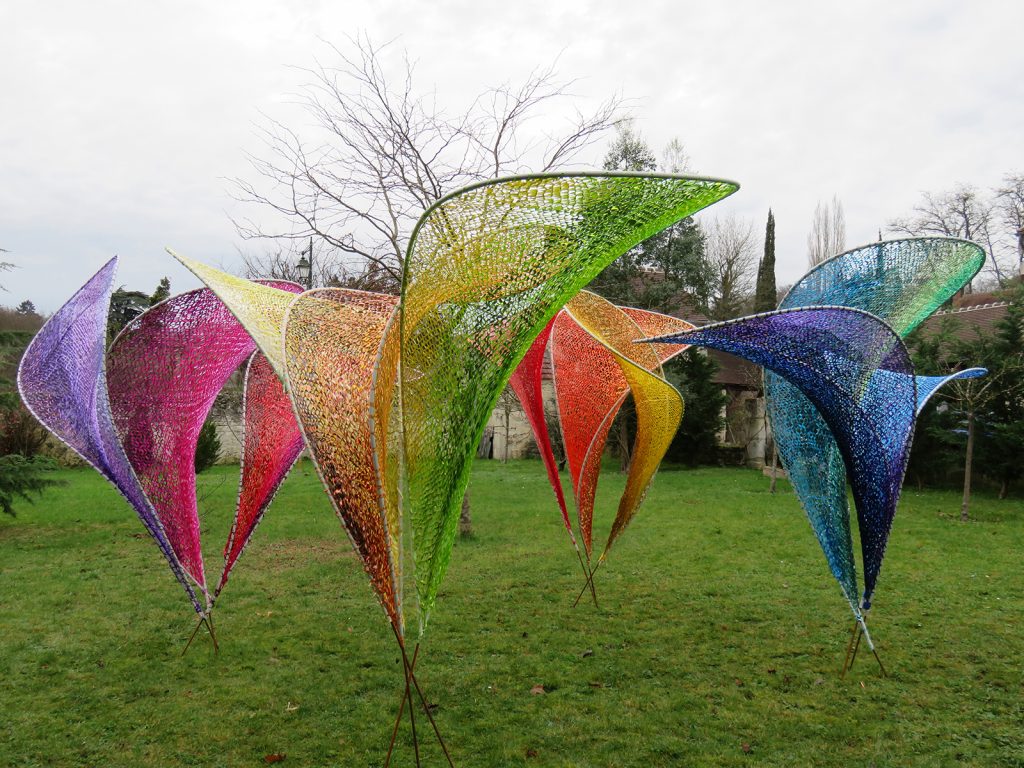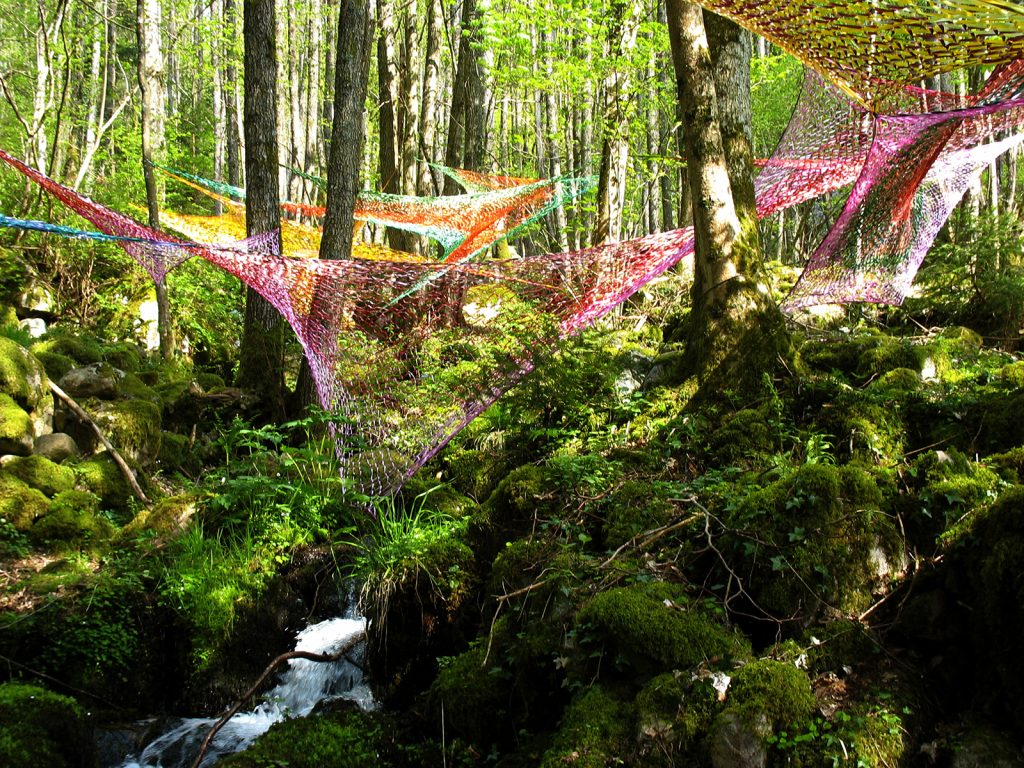 Experiencing the work of French artist Edith Meusnier is like walking through an enchanted environment. There is beauty all around us but how often do we stop to take it all. Meusnier's work urges viewers to pause and examine the expansiveness of the world around us. This lockdown in particular has made us all acutely aware of the need to take breaks and pay close attention to people and places close in location to us. With her textile interventions, Meusnier is able to foreground nature while commenting on themes like sustainability in production of materials as well as the need to protect green spaces.
Meusnier who lives close to Picardy Forest in France treats the outdoors like her studio. Working with fibres, large scale outdoor installations that often complement the seasons and outdoor scenery around her, her work has the opposite effect that art usually tends to have. Instead of forcing you to look at one object against a white background, you look at an entire landscape. In working outdoors, she usually ends up creating her installations on site. Using classic and traditional techniques like plaiting and sprang (an ancient technique that uses warp threads to construct natural elasticity in textiles) she builds structures in her garden, on site if its a commission or green spaces around her. During winters she can be found working by a warm fire. Keeping in schedule with nature, she creates new work periodically. "My work is seasonal. Often, I plait in winter, I shape my net in spring, I install them on the spot in summer and I recycle them in autumn," says Meusnier in an interview for the Textile Curator.
The time she has spent outdoors has taught her a lot about changing temperatures and variable weather conditions. "My works are never fixed, they vibrate between light and shadow, they move with the wind, almost disappear under the sun, and are reflected on the water in a succession of contradictory images," she tells us over email. This in turn has translated into her installations varying in size depending on the weather and location. She is interested in the subtleties of human interaction with nature. Take for instance her choice of material which includes plastic ribbons on from gift packages–a product of capitalism– which are usually discarded. However in her installation they take on a new significance and a new life, when you consider the cost on the environment of fabricating this plastic ribbon.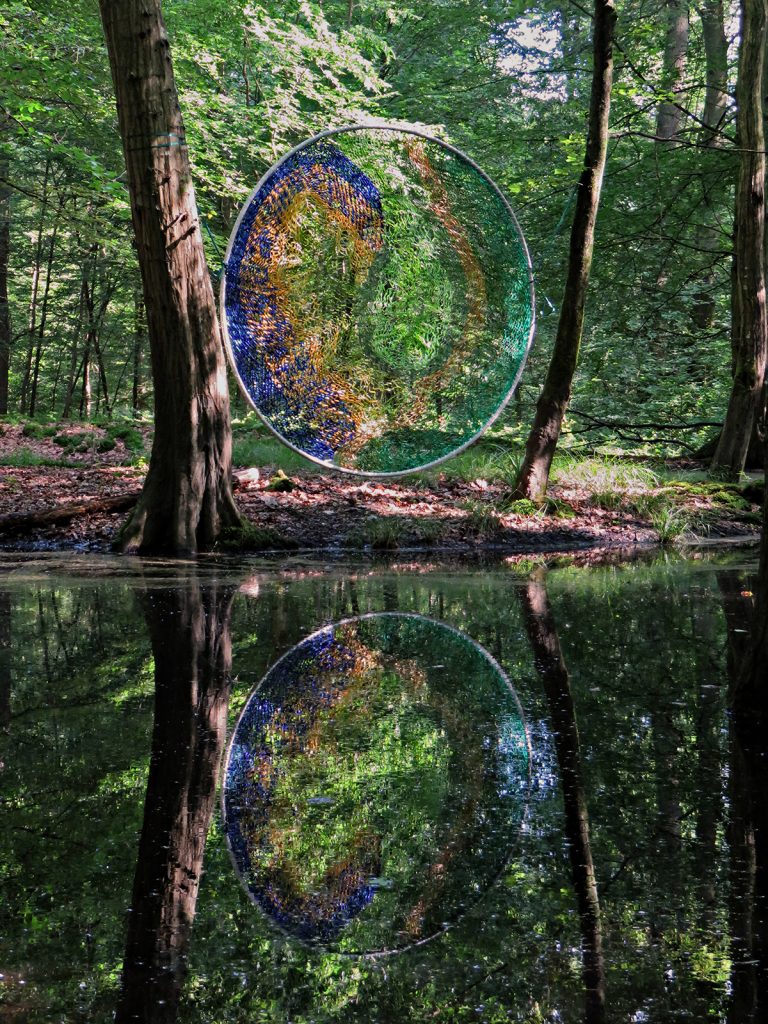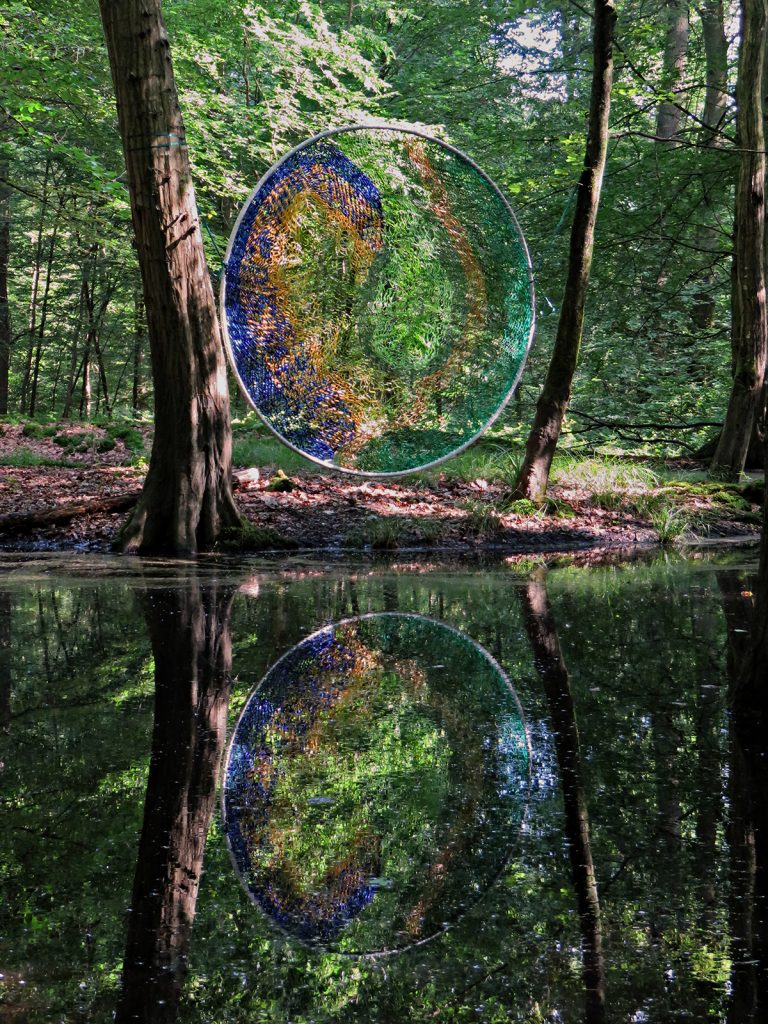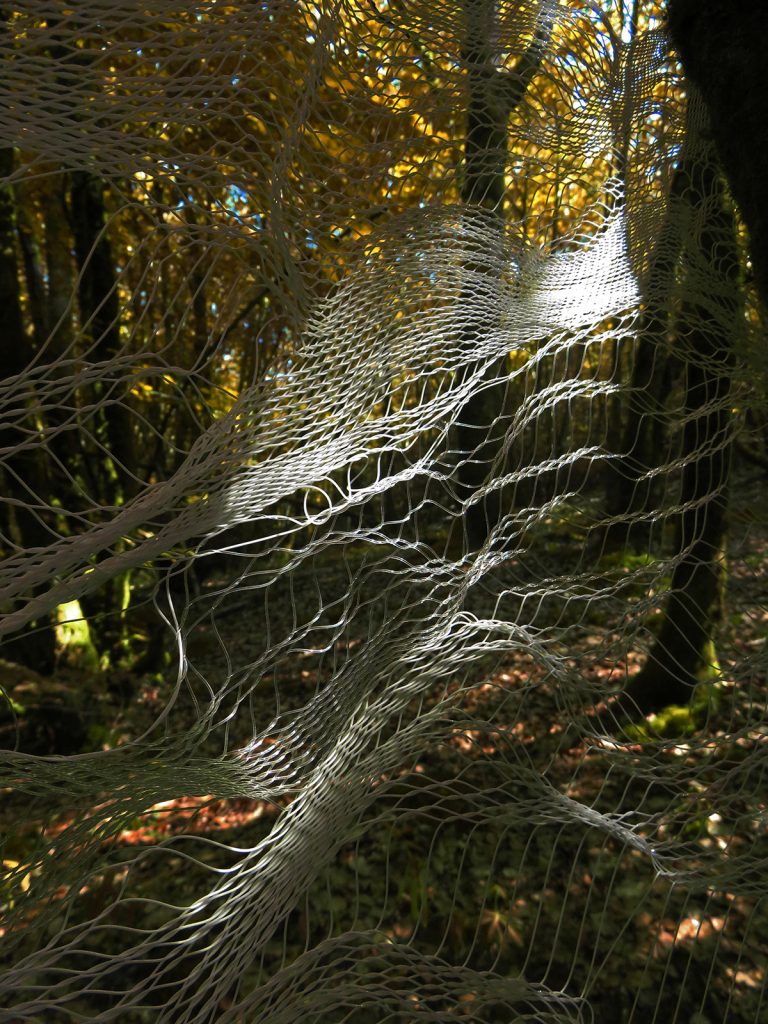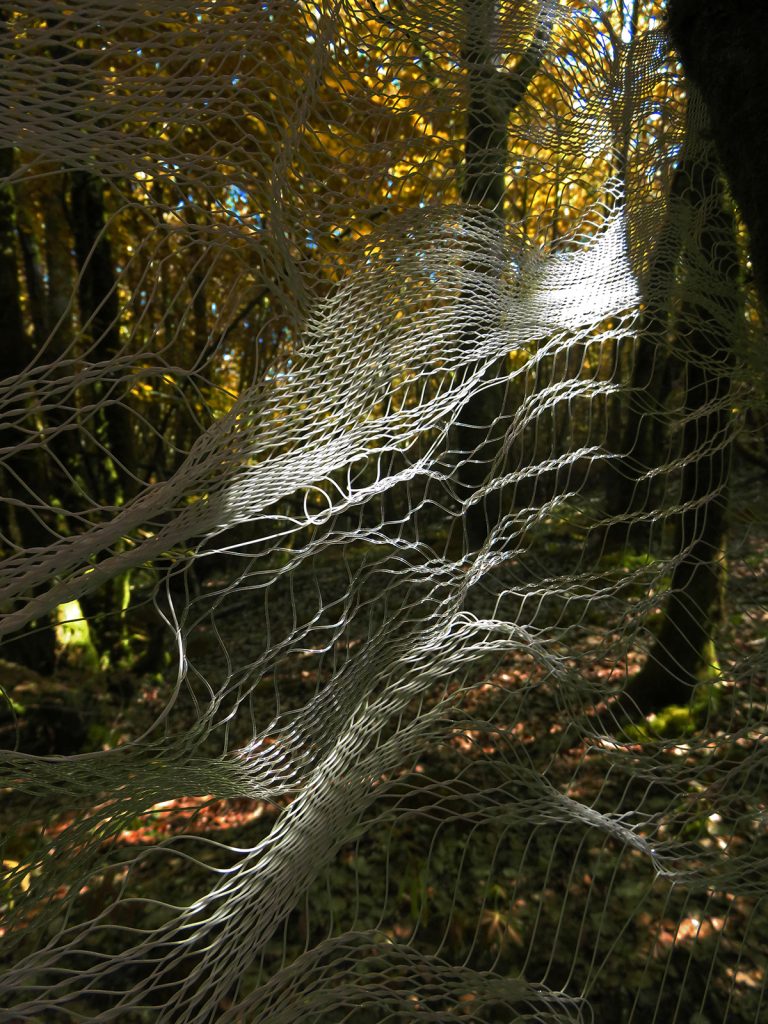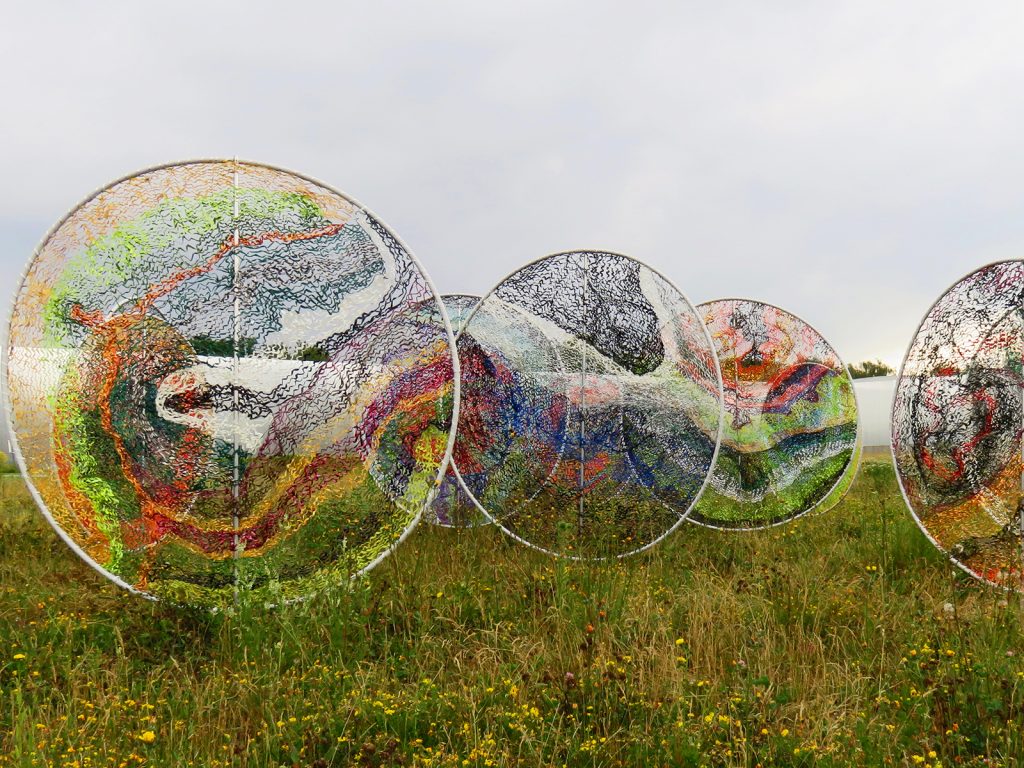 So while her installations appear subtle, nuanced and almost blend into nature, they also draw attention to physical spaces that would have otherwise been empty and simply overlooked. A self taught artist, Meusnier is interested in the suppleness and lightness of textile materials. She says "after discovering the richness of pre-Columbian textiles, she became passionate about the study and contemporary interpretation of primitive plaiting techniques." She has also attended a textile design program at the National School of Design in Paris.
Her work is light, colorful and even though they are tangible installations, they feel ephemeral and almost on the cusp of vanishing if you were to stop looking at them. This is a key aspect of her work. Her process often includes spending time at the location, taking long walks examining the surroundings and closely observing details like the light, presence of trees, rivers, hills, buildings etc. As a result her work isn't intrusive, it brings a new dimension and appreciation to the site of the installation. She has exhibited her work at the Belgrade Museum and in various exhibitions in France, Belgium, the United Kingdom and Canada. She is also occasionally making interventions in the Halatte forest in Picardy which is close to her home.
Like for many of us this year has been different for Meusnier, " "I need time to take the measure of this situation and its consequences, before starting new projects," she tells us. A lot of her work also involves being sensitive to the environment around. Off late, she says, "the multiplication of wind gusts, alternating periods of heat waves, drought and heavy rain have forced me to progressively reduce the size and mobility of my installations." As a result she has moved her work indoors. Additionally this year has been difficult for her because she has faced her own share of cancelled projects, forced loneliness and a change in her work schedule. It has also made Meusnier reflect more deeply about the relationship between humans and the natural world. There is a sense of urgency and desire to pay more attention to these relationships now.