Best Of Frieze Los Angeles 2022
22

Feb

'22

1:06 pm

by

Manisha AR
In its third edition, the Frieze Los Angeles art fair is the most dizzying and star-studded of them all. In 1991, the art fair was launched by Amanda Sharp and Matthew Slotover, the founders of Frieze Magazine. This art fair for years now has been held primarily in New York and London. Los Angeles, however, has been a new addition to the mix and made its debut in 2019. After taking a break last year, the fair moved from its usual location at Paramount Studios to the more glitzy and star-studded neighbourhood of Beverly Hills this year. Unlike the other art fairs, this one saw many Hollywood actors like Leonardo Di Caprio, Gwyneth Paltrow, and Pierce Brosnan (to name a few) make an appearance. Glamour aside, this art fair helps collectors and artists gauge what is trending in the art world.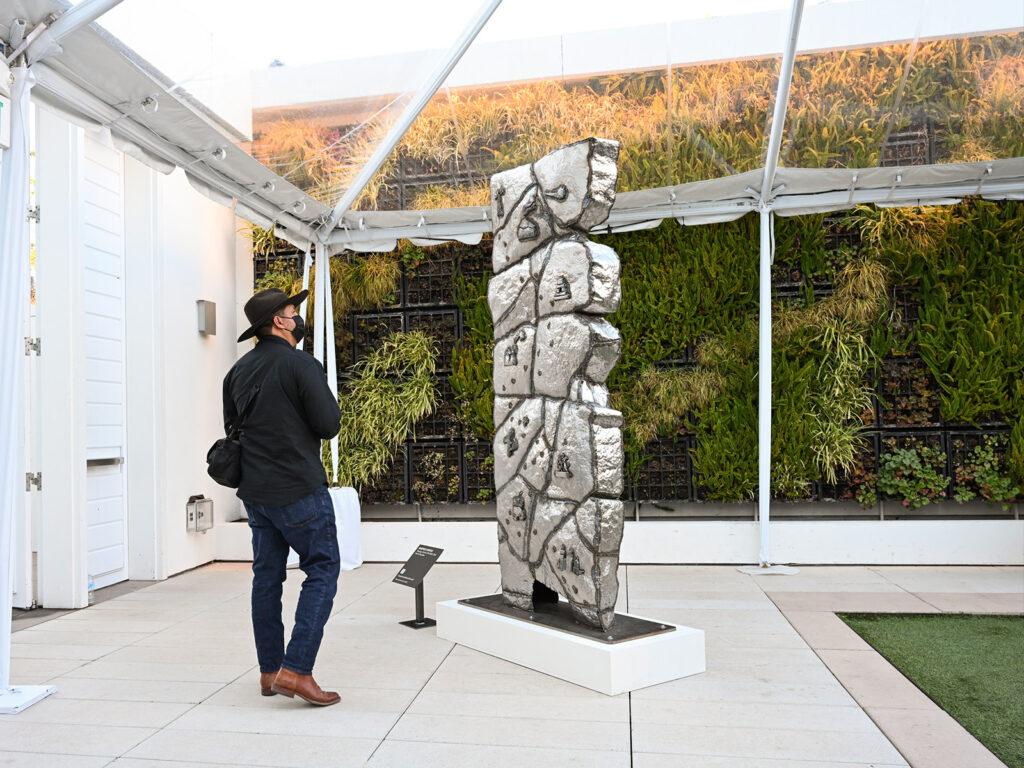 Lllpango, Stela B, 536-2022 by Beatriz Cortez
Presented by the Commonwealth and Council and made of steel and patina, this approximately 8 feet tall sculpture has been made by Salvadoran artist Beatriz Cortez for the art fair. It is a depiction of a Mayan stela or an ancient carved stone. This work is about the labour put into the American economy by immigrants from El Salvador. With a historic narrative attached, Cortez's work invites viewers to reflect on contributions made by descendants of the Mayan civilizations, some of whom are Salvadorans who live and work in California.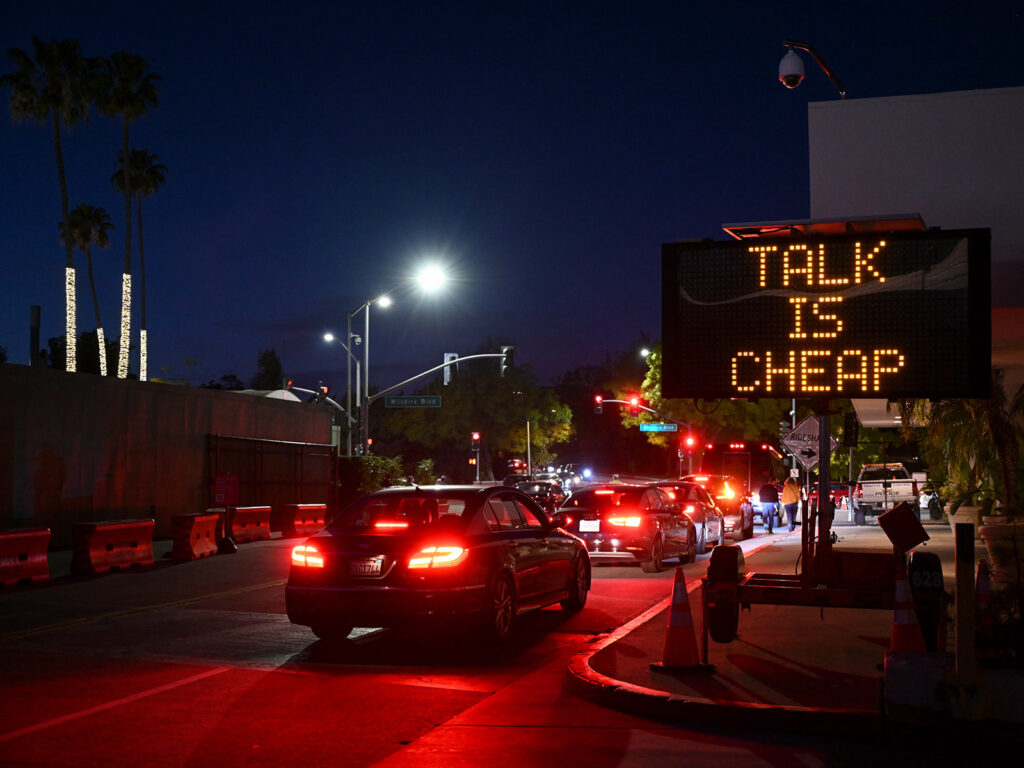 Mel Bochner, Street Sign (Seriously?) 2022
On their way to Beverly Hills, art fair patrons are invited to look for an installation disguised as a street sign. Mel Bochner's 'Street Sign' greets motorists and pedestrians headed north on the Merv Griffin Way. Another popular theme at this art fair is working with texts that are ironic, provocative, and disrupt the colours and visuals traditionally associated with the high-brow art world. Bochner's works have been presented by Marc Selwyn Fine Art Gallery. The installation alternates between a selection of phrases like "Blah, Blah, Blah," "This Could Be Worse," "Seriously," and "Ha, Ha, Ha."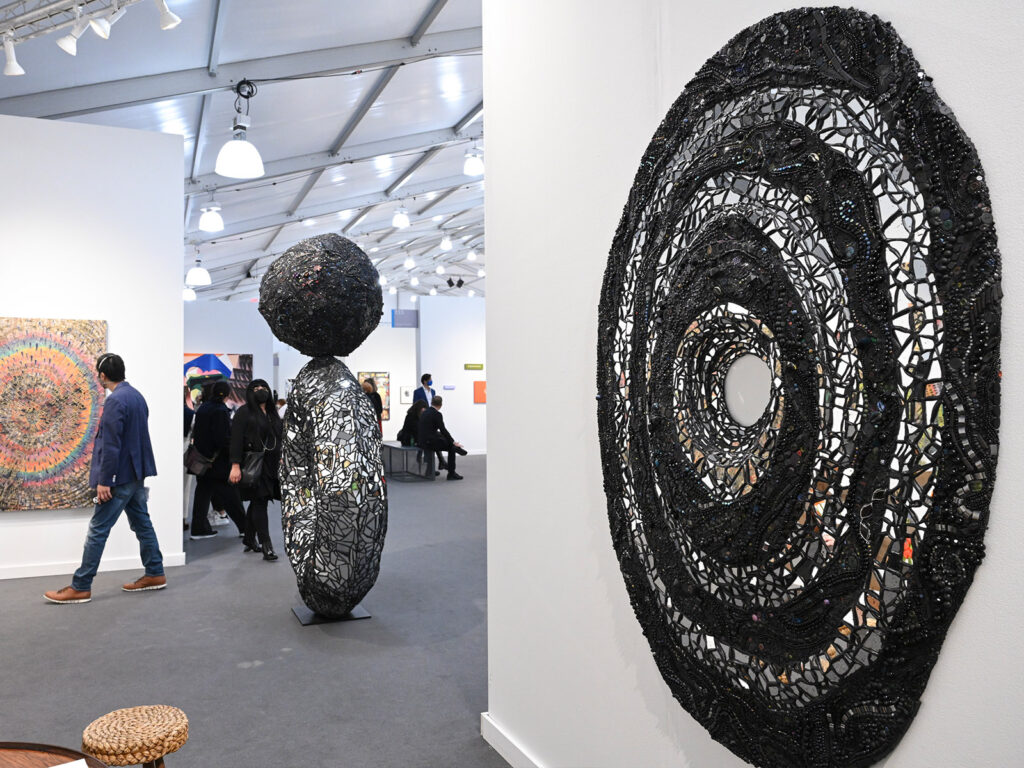 Tiradero, As the World Turns (2022) by Mindy Shapero at Nino Mier Gallery
Abstract, messy, punk, and kitsch are some words that come to mind when one looks at works by Mindy Shapero. Roughly translating to a big mess or a garbage dump, the title of one of her sculptures hints at the process and the final feeling of chaos that strikes viewers while looking at Shapero's works. Made of mosaiced materials, mirrored glass, latex, and acrylic on polyurethane coated foam, this approximately 4 ft sculpture is one of many instances of Shapero exploring the relationship between painting and sculpture. Hypnotic, absurd, and dark, the work is a welcome respite from all the bright pops of colours at the fair.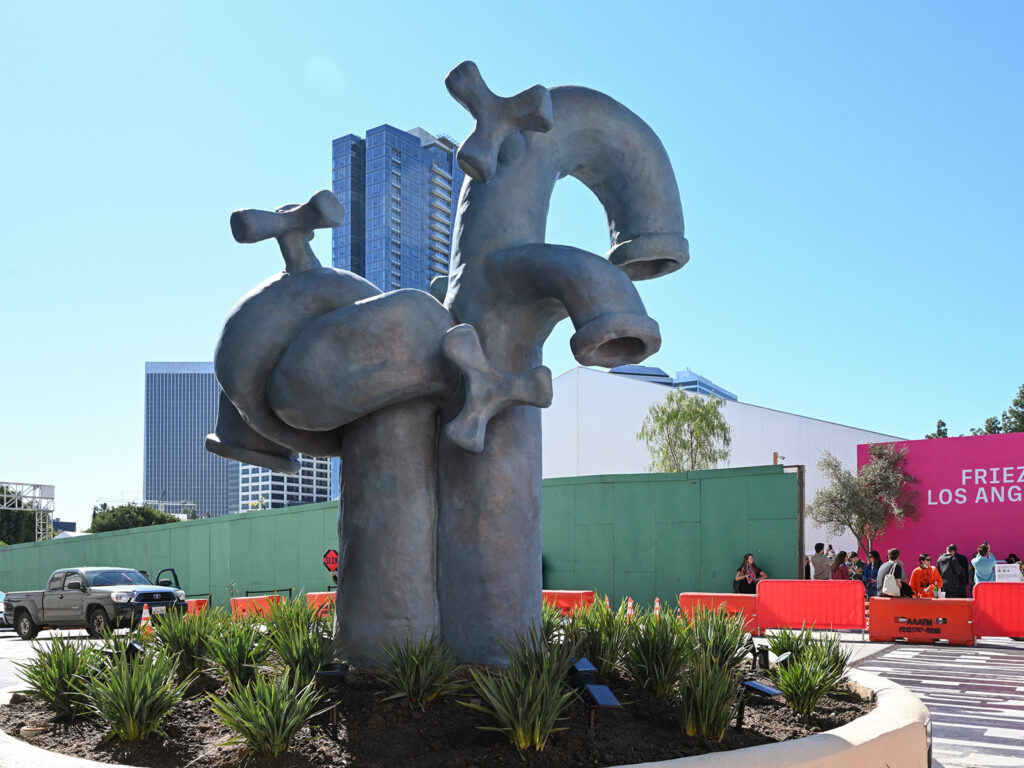 Fountain by Woody De Othello presented by Karma, New York, and Jessica Silverman Gallery
Woody De Othello's 'Fountain' that is made of bronze, is a reinvention of a common household object – the tap. It has been enlarged and modified to include the water spout, the handle as well as the pipes that direct the water into the tap. A nod to Marcel Duchamp's readymades, Othello's work comments on a social issue that hits close to home for California– droughts. By playing with scale and proportions, he creates a jarring experience that distorts and confuses viewers.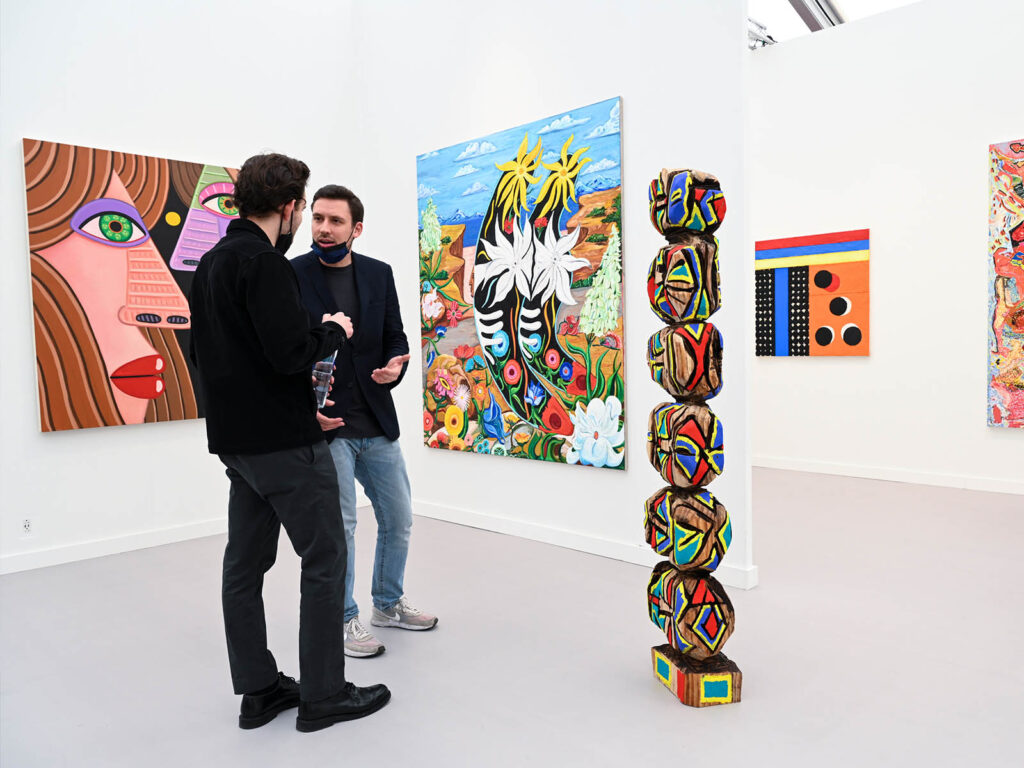 Other notable works include biomorphic sculptures by American sculptor Alma Allen at Blum and Poe, paintings by Iranian artist Hoda Kashiha at Dastan Gallery, and works on paper by Korean artist Minjung Kim at Gallery Hyundai.
Spread across a few days, the art fair creates a stir in the city of Los Angeles. Many galleries and museums align their programming to complement the fair. Some of these shows include a solo exhibition of Swiss experimental video artist Pipilotti Rist at the Museum of Contemporary Art, works by Japanese ceramic artist Kazuhito Kawai at Steve Turner Gallery, and an exhibition titled Guts featuring works by emerging installation artist Samara Golden at Night Gallery. All of these exhibitions run until mid-March. Another exhibition titled 'Digital Combines' at Honor Fraser is worth a visit if you are still enthralled by the possibilities of NFT in art. This show features a group of artists who have combined materials with immaterial things (like a digital image, movie, sound, or music) that have been bound together by an NFT. This essentially means each physical artist's work has been paired with a digital file that holds the work's metadata. This show closes on April 2, 2022.