From A Dior Runway To Indian Galleries – An Art Trend Centered On Traditional Hand Embroideries
8

Apr

'22

12:59 pm

by

Urvi Kothari
While the yester years have been a journey of decoding the encrypted blockchains, this year could be in the name and fame of an indigenous artistic expression that has raised the matrix for Indian arts. We as art connoisseurs, collectors or appreciators stand at the threshold of witnessing a novice trend that has revived the timelessness of a craft in its purest sense- the art of "hand embroidery". A collaborative effort between artistic endeavour and local karigari has culminated into a new genre of patronising hand embroidery on textiles. This is an impetus wherein the "forward" contemporary will borrow from the "backward" traditional crafts. It is a coming together of an art form that can be known as the "arts of the people for the people". The first quarter of the year 2022 has already witnessed three impactful curations that has set the tone right for these woven narratives as a must have in a contemporary art collection.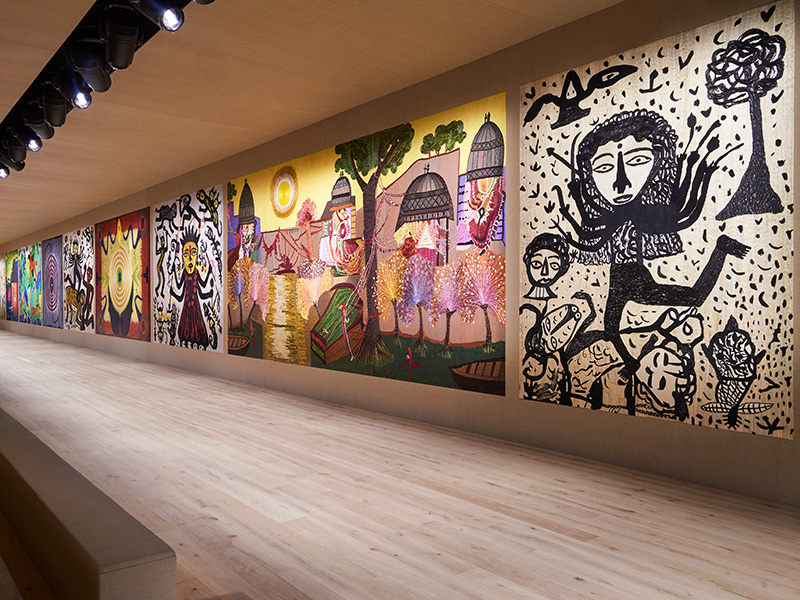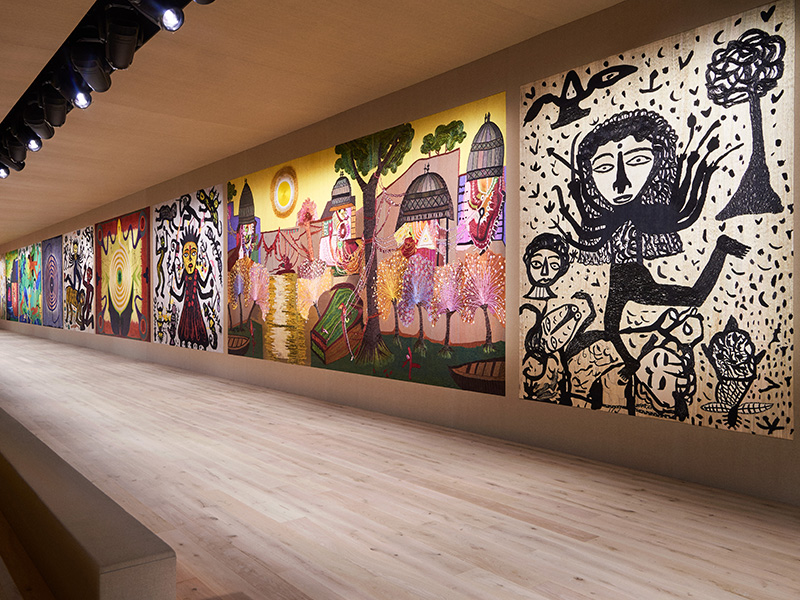 Recapitulating the Folklore – Manu and Madhvi Parekh:
The advent of this year experienced a coming together of indigenous folklore art with intricate needlework that formed the backdrop of a quintessential Dior Spring/ Summer Haute Couture 2022 launch in Paris. The dynamic duo as well as trendsetters – Manu and Madhvi Parekh – reinterpreted their signature painterly renditions into woven tapestries in collaboration with the Chanakya School of Craft, Mumbai. Commissioned by Maria Grazia Chiuri, the final outcome celebrates the coming together of arts, craft, fashion and culture. The wall tapestries form a well curated retrospective – for the two artists – in its own right.
"Creativity today is a co-collaborative effort where synergies and energies come together to bring out a flavour that is deeper and more meaningful. In our collaboration with Manu and Madhvi Parekh, we worked upon a shared language of art and craft and how they seamlessly lent to one another. We took it upon ourselves to curate their art with our craft, lending it contemporary technique, textures and using their lines and forms to lead us and guide us for our technical interpretations of their art.", states Karishma Swali, Creative Director at Chanakya.
The finesse in the thread work and bold hues makes one allure, gaze and immerse into a world of power, spirituality and dynamism. The tapestries celebrate the dichotomy between male and female, real and surreal, action and stillness. The exceptional display raises the stakes high for hand embroidery as the new creative expression on a rather global scale.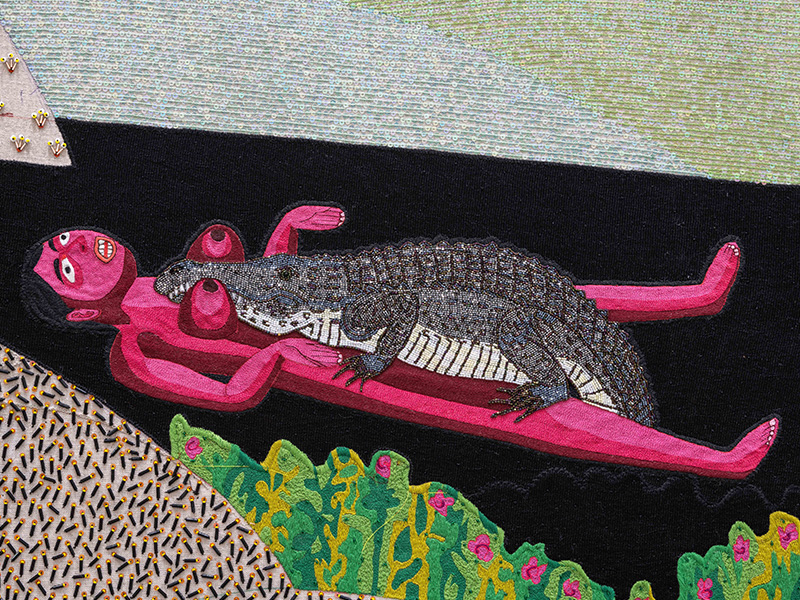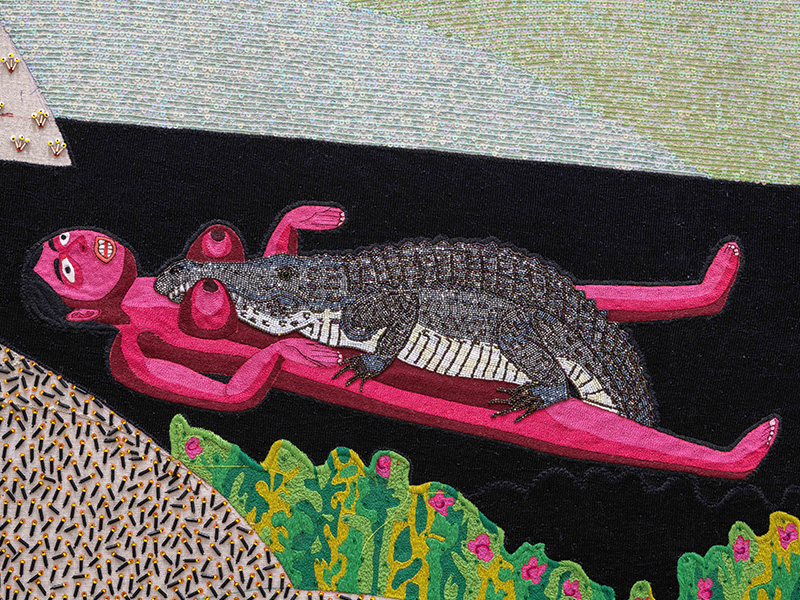 Beauty of Eroticism – T. Venkanna:
Notions of identity, sexuality, and preferences have long been explored in conventional painterly mediums and tangible sculptures. Venkanna explores a rather unconventional technique of image making, that blurs the lines between art and craft
The artist shares, "My hand embroideries are being received with great enthusiasm by audiences. New methods and mediums are employed in a spirit of collaboration is a triumph for both art and craft."
Closely associated with the zardosi karigars of the Kalhath Institute, Lucknow, Venkanna weaves an erotic visual language that challenges common threads of "pleasure and pain". His larger than life tapestries culminate into an ensemble of hypersexual imagery and dark humour. The imagery urges one to de-layer the intricate bead and needlework as well as pre-defined societal notions of gender, sex, identity and queer intimacy.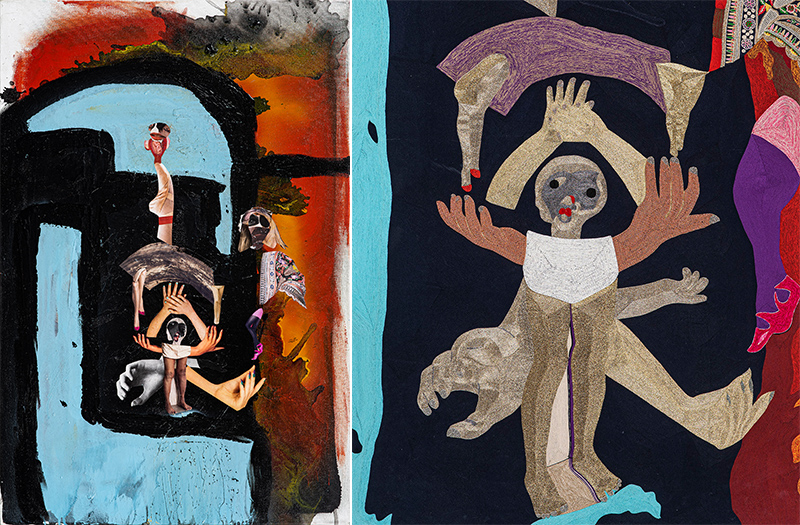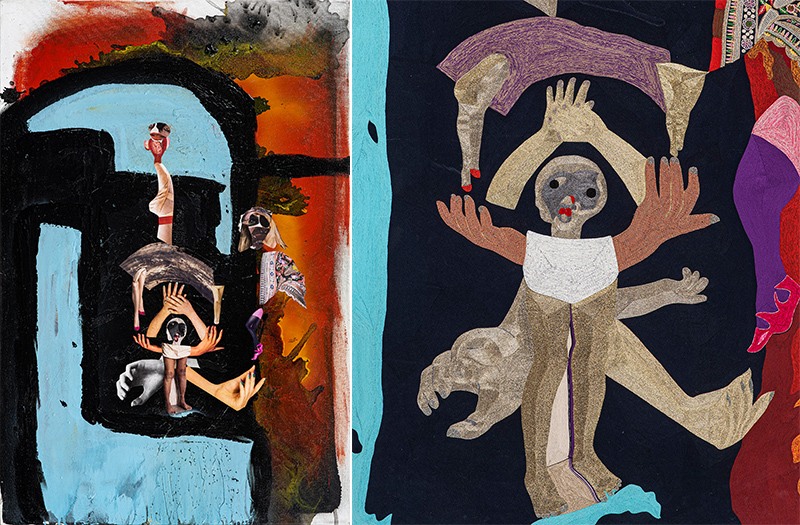 Portraits of Surrealism – Viraj Khanna:
Parting from the previous idea of identity, the young and talented Viraj Khanna abstracts surreal portraits that unconsciously blur definitive visual form but consciously highlight human vulnerabilities. A khakha or drawing on paper derived from a conceptualised magazine collage forms the blueprint of a well-executed life-sized hand embroidery. "On an average it takes 1500 – 2000 hours to complete a piece. The zardosi work takes much longer!", exclaims Viraj.
Collaborating with local artisans of Kolkata, Khanna's extraordinarily vibrant tapestries introduce a sartorial commentary embracing ideas of imperfection. The thread work highlights the intricacies that have been a part and parcel of our life – the ironies and tyrannies that encapsulate us.
"Bengal has extremely talented karigars with generations of knowledge and skill. I have worked with karigars from different areas and each area specialises in a certain technique. For example, ari work is done in a certain area while zardosi is well executed in another.", shares the artist. This indigeneous thread work thus weaves into a contemporary collage, flaunting our country's cultural diversity.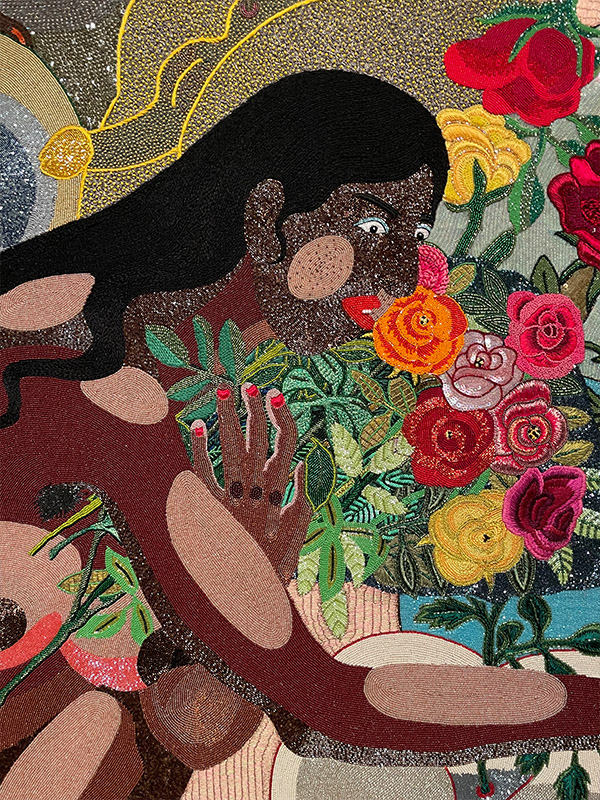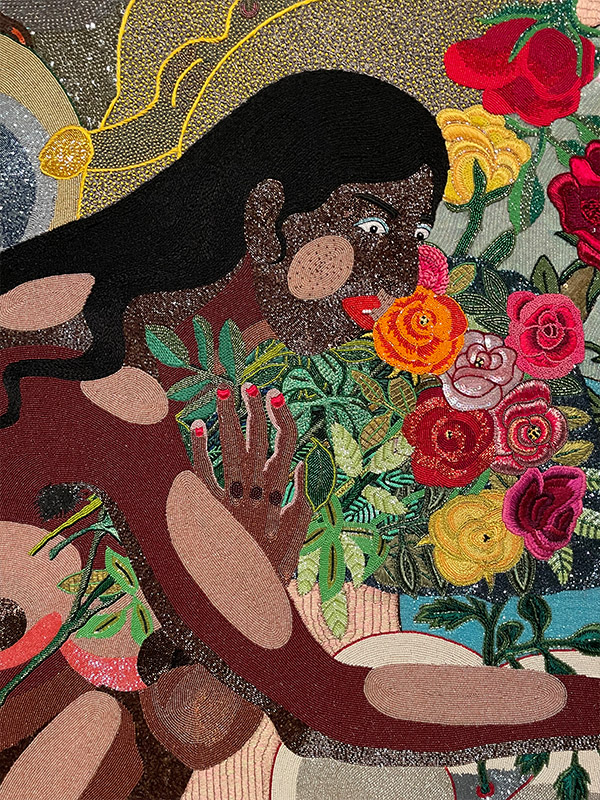 This new technique of image making forms a larger genre of creative expressionism in its own right. It reinvents the role of the atelier, the artist, and the couturier. The end result is an encapsulating world wherein the sensitivity of the needle, finesse of thread work, colour psychology of the bead work and embellished ornamentation interweaves into an avant-garde narrative. These collaborative initiatives step forward into preserving our culture, and serve as monumental works that blur the line between art and craft and the artist and the artisan.
Pushing the envelope of indigenous design, hand embroideries have certainly garnered accreditation in the Indian arts scene. The nuances of a practised hand coupled with artistic ideation makes each piece a unique one. Every artwork has a personality, character and depth interspersed within the recessions of fine thread work. This glorious outcome has resulted in an emergence of a new art trend that has successfully wooed an art connoisseur with a fine taste. These embroidered paintings may certainly be the next contemporary acquisition for all art collectors out there!