From Seed To Cup – An Exploration of ARAKU Coffee
15

Mar

'22

1:27 pm

by

Sneha Shah
How do your mornings begin? Aren't we constantly castigating ourselves for being unproductive until we've had our bit of caffeine, filled with aromatic freshly ground beans or cold brews? Coffee is rapidly becoming an integral part of everyone's day, so where does your coffee come from? From the hilly terrains in the South to the far-flung villages of Northeast India, the coffee-growers and estates are spoiling you for choice. All the coffee houses became a hub of creative exchange when the coffee estates began innovating and reimagining conventional coffee with new techniques of cultivation and processing, juxtaposing them with unexplored flavours and ingredients. There's now a greater awareness among people regarding the choice of beans, dominant aromas, finer nuances of roast profiles and brewing equipment. Design Pataki's first-hand experience with the coffee-producers amidst the plantations of Araku valley and the coffee connoisseurs has been a highlight, indulging in the best-curated artisanal coffees.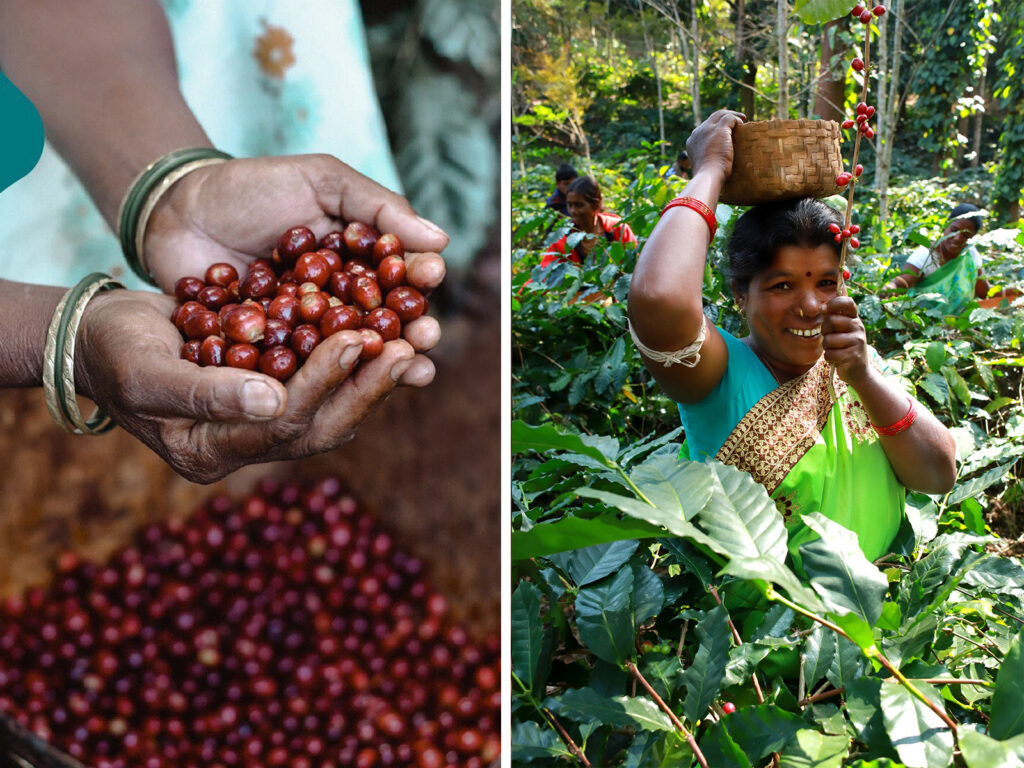 Amidst all the caffeine talk here is ARAKU Coffee, a community-conscious and self-care brand, native to Araku valley that is accredited to being the world's largest certified organic plantation to grow 100% Arabica coffee. Although, about two decades ago, Araku Valley in Andhra Pradesh was unfamiliar to the rest of the country; its rich biodiversity and natural beauty were undercut by its remoteness and inaccessibility. When Manoj Kumar, the CEO of Naandi Foundation, found that the valley with iron-rich soil was producing some of the finest crimson coffee cherries, with an intent to foster the tribal farmers' livelihoods, Naandi Foundation planned a roadmap imbibed with a free-trade social model for growing coffee through regenerative agriculture, thus creating an iconic, globally recognized and award-winning brand – ARAKU Coffee.
The biodiverse functional forest is now home to a cooperative formed by Araku, comprising over 14,000 entrepreneur farmers in over 700 villages, who own land parcels and are independent producers. As a result, Araku holds the prestigious reputation of being the first 100% organic single-origin specialty coffee from India whose journey from the coffee plant to your cup bypasses the middlemen.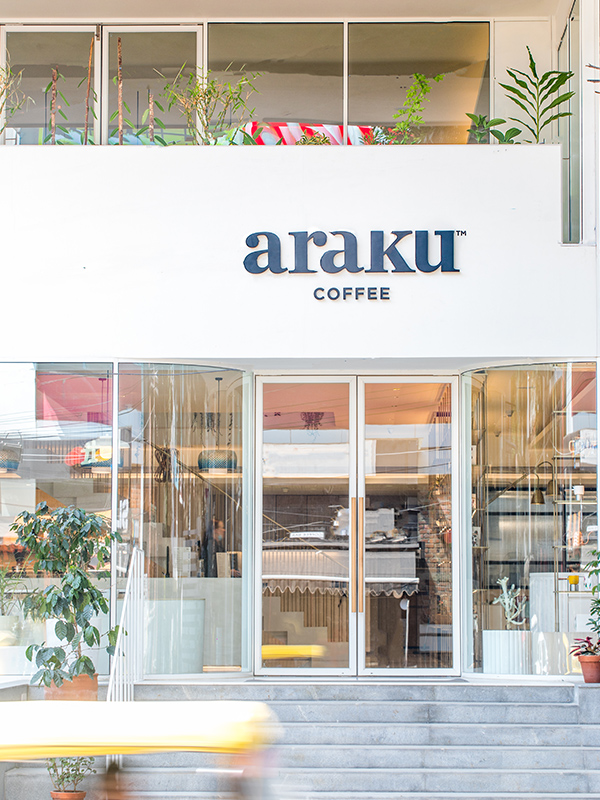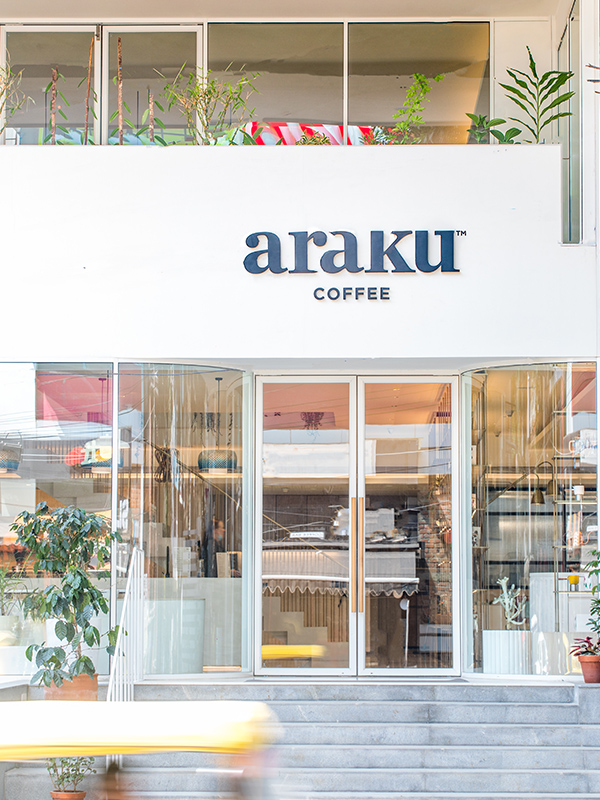 Today, Araku offers a new coffee experience that goes beyond fair trade principles by creating a direct link between farmers, experts and customers. A state-of-the-art, sleek and all-white coffee bar awaits! While Araku's only outlet was so far in Paris, they are now in India with a flagship café in Bengaluru. The café is designed by New York-based architect Jorge Zapata who leads JAZ Architect and executed in collaboration with Mumbai-based architect Shonan Purie Trehan of Labwerk (Language. Architecture. Body) who carried his narrative forward by bringing alive a story that celebrates handmade Indian tradition. The café's menu and design reflect Araku's pensive philosophy of sustainability. "The design follows culture. The culture of ARAKU Coffee is to bring communities together in a meaningful way, over good coffee. The space was thought of as a tranquil oasis for thinkers, writers, artists and friends to gather. The minimalist and restrained design language is a gentle backdrop for the layers of curated cultural experiences of the café, wherein the neutral tones also give room for the expression of the curated artwork from our art partners, TARQ gallery, from Mumbai. The overall open and airy space is home to carefully selected botanical specimens creating a green surround", says Shonan.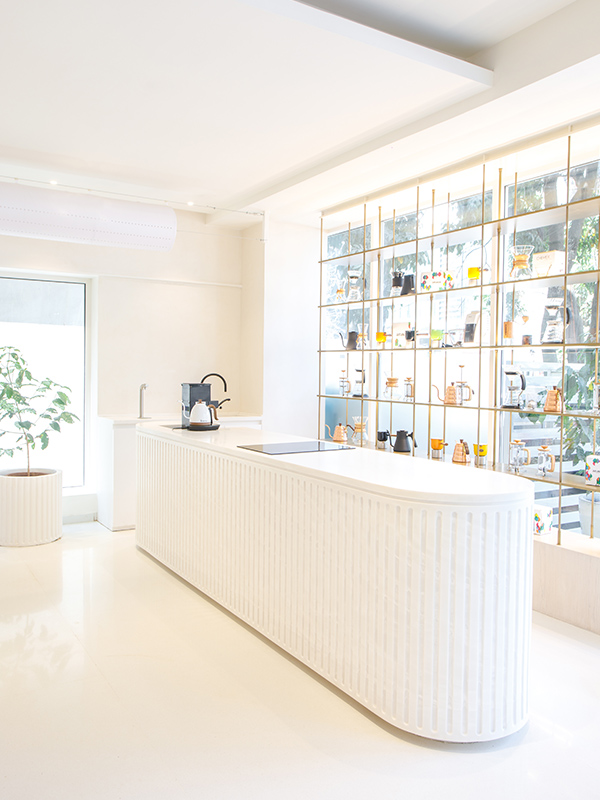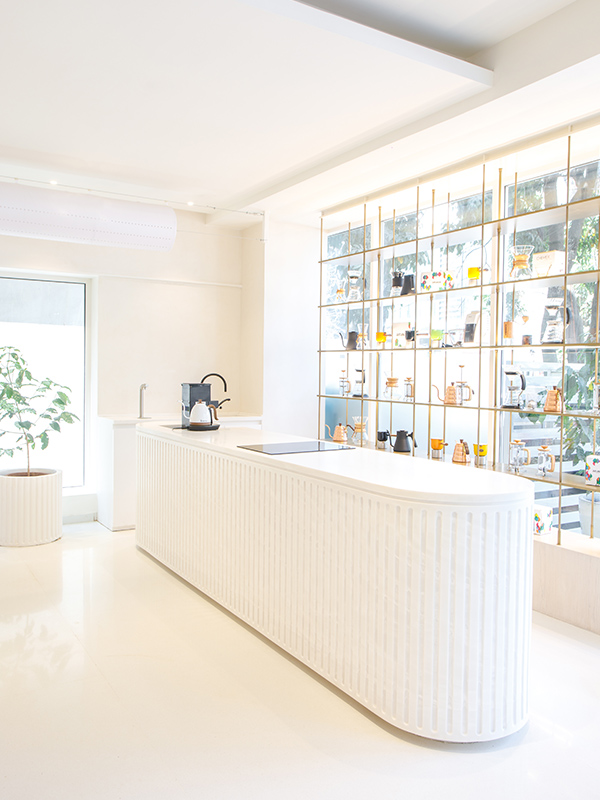 The 5000 square feet modern layout is spread over two levels with indoor and outdoor seating. The ground floor has the barista station, café space and coffee retail shelves made from recycled metal. There is a quaint bookshop hidden behind the floating white and golden staircase, offering curated books to browse and unwind. But as you enter, what grabs your attention is Trehan's design masterpiece, the mysteriously sleek 'Modbar', the island coffee counter that is as big as a traditional community table. The intelligent coffee-on-tap solution is designed in a way that all the brewing happens under the counter allowing seamless, unobstructed conversations and exchanges between the barista and customer without heavy machines in the way. The table is meticulously crafted, depicting phases of the moon on its leg, an acknowledgment of the farming practice that relies on different moon rhythms.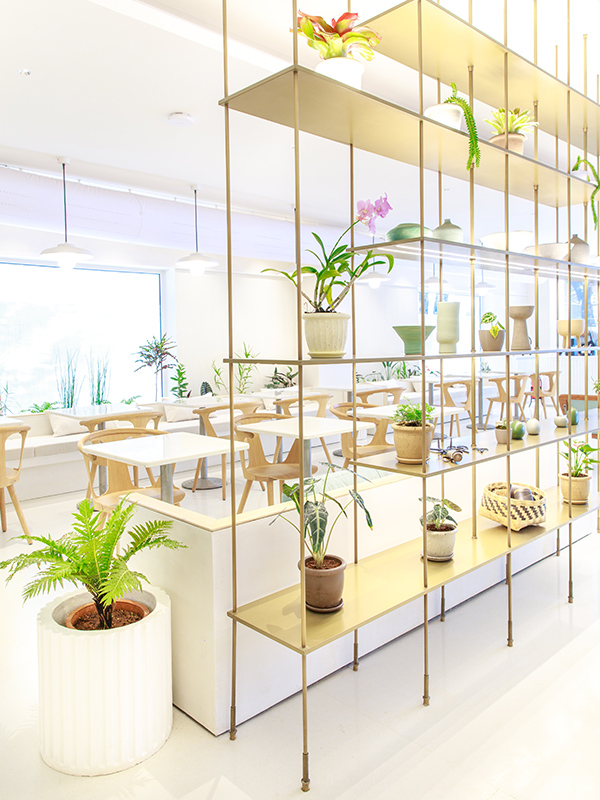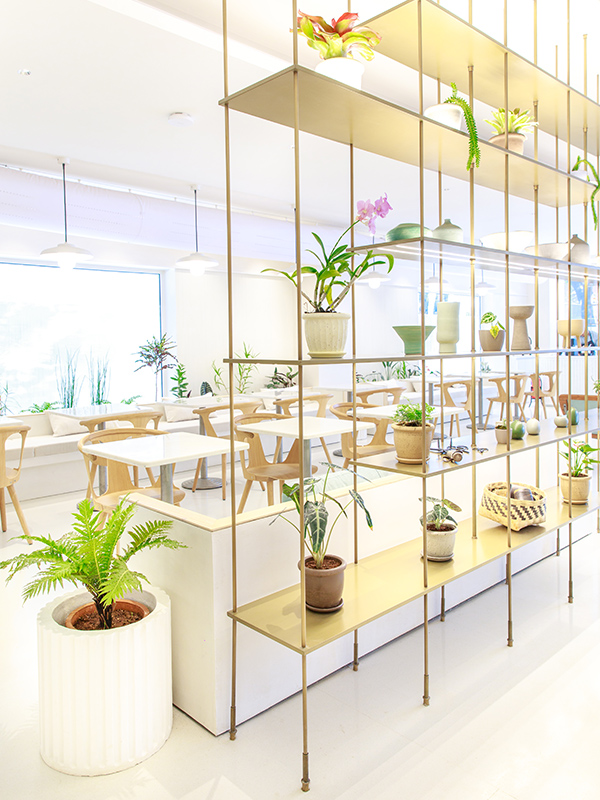 "Near the barista station, an artfully composed timber contour map of part of the Araku Valley gives the customer a hint of the landscape that was the birthplace of ARAKU Coffee. Delicately suspended brass shelves displaying the ARAKU Coffee products screen the buzzy café dining area. There is a special space called the Sensory Bar, where we showcase manual brewing, set against the background of brass shelves that are lined with ARAKU Coffee's signature colourful Moka pots and other brewing equipment", explains Trehan. Oak timber, white lime plaster, combed plasterwork, white stone, glints of brass and a myriad of plants come together to create a serene and sophisticated material palette. The first floor brings the focus to coffee-ology with the in-house roastery and barista training areas as part of AWSCA (Araku World Specialty Coffee Academy). There is also a private dining/conference room to organize private events and an outdoor terrace for those who wish to linger in the space for longer.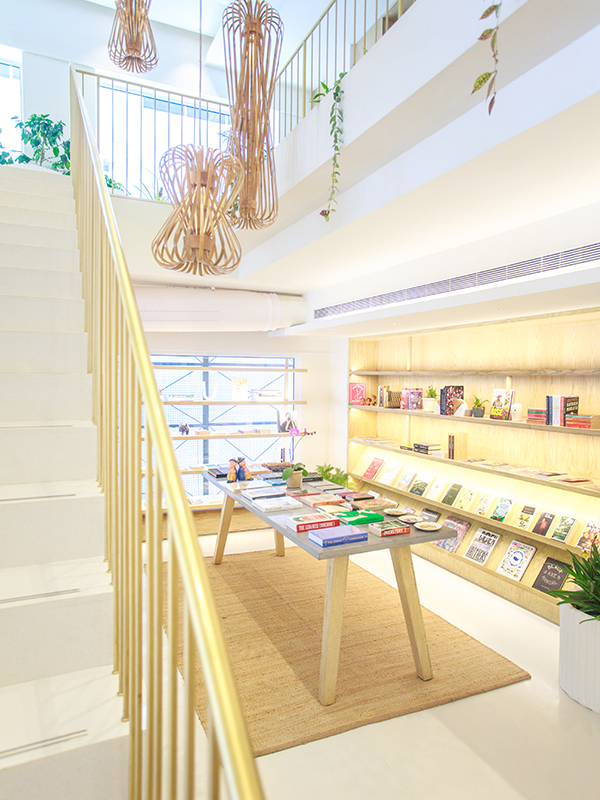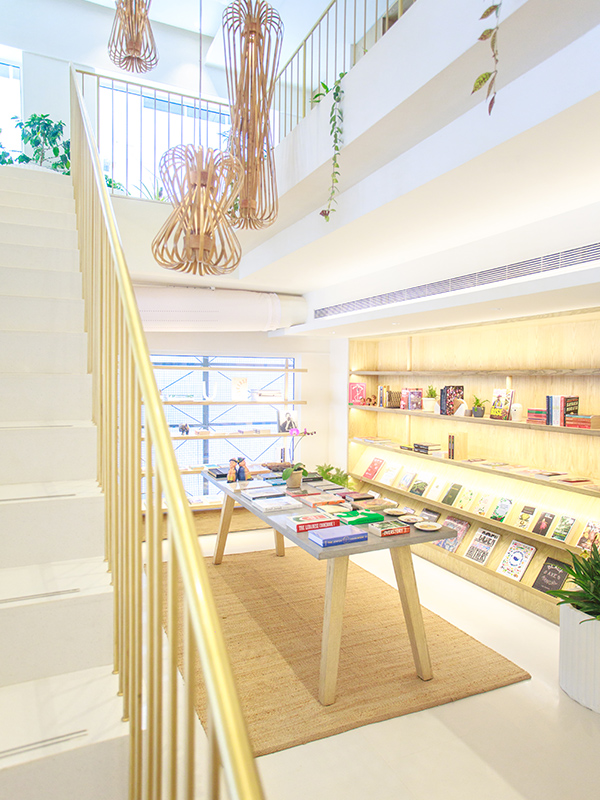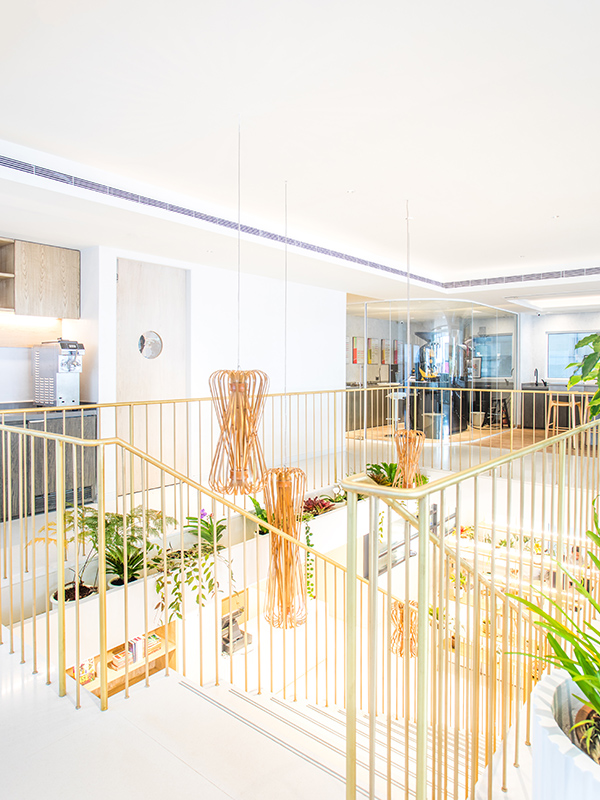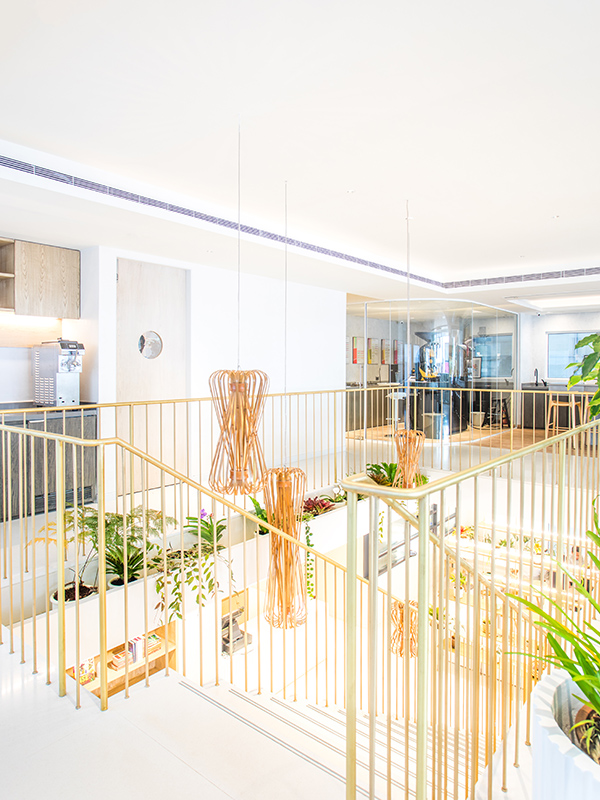 For Shonan Trehan, this wasn't any industrial coffee shop, but a place of culture with a distinct focus on sustainability, craft and artisans, which led to collaborative efforts with the best design houses in India to produce bespoke furniture and products for the café. Among the collaborators is Jaipur's Ayush Kasliwal who was in charge of the overall furniture, retail shelves and display elements while Anjali Mody of Josmo Studio contributed with the seating solutions. Ahmedabad-based Industhan was commissioned for the recycled paper waste pots and planters and Noida-based Gomaads specialized in concrete, designing a table that was cast with coffee flowers sourced from Araku valley. The quartet bamboo lights above the coffee station are sourced from a Delhi-based sustainable design brand Mianzi while the stunning installation of lights suspended above the architecturally-sharp staircase is designed by Bengaluru-based Sandeep Sangaru of Sangaru Design Studio. This café by Araku is no regular coffee shop, it is a story immersed in agriculture and soil through aesthetic education as an art centre, a learning centre, a retail spot and above all a place for communions.
Design Pataki was part of a press trip organized by ARAKU Coffee.