Milan Design Week 2022 – 10 Must-Visits On Our Itinerary
2

Jun

'22

6:13 pm

by

Nuriyah Johar
After two long years, the city of Milan is once again the protagonist of the global design scene with the highly anticipated Fuorisalone taking place from June 6 to June 12, in conjunction with the Salone del Mobile which celebrates its 60th anniversary this year. New launches from the world's best design houses, thought-provoking symposiums, and immersive installations are set to take over the streets of Milan. The theme of the 2022 edition of Fuorisalone, "Between Space and Time" is an invitation to reflect on the changes taking place in today's world, those changes necessary to achieve sustainability goals essential to look to tomorrow. Here's our list of must-visits at Fuorisalone this year –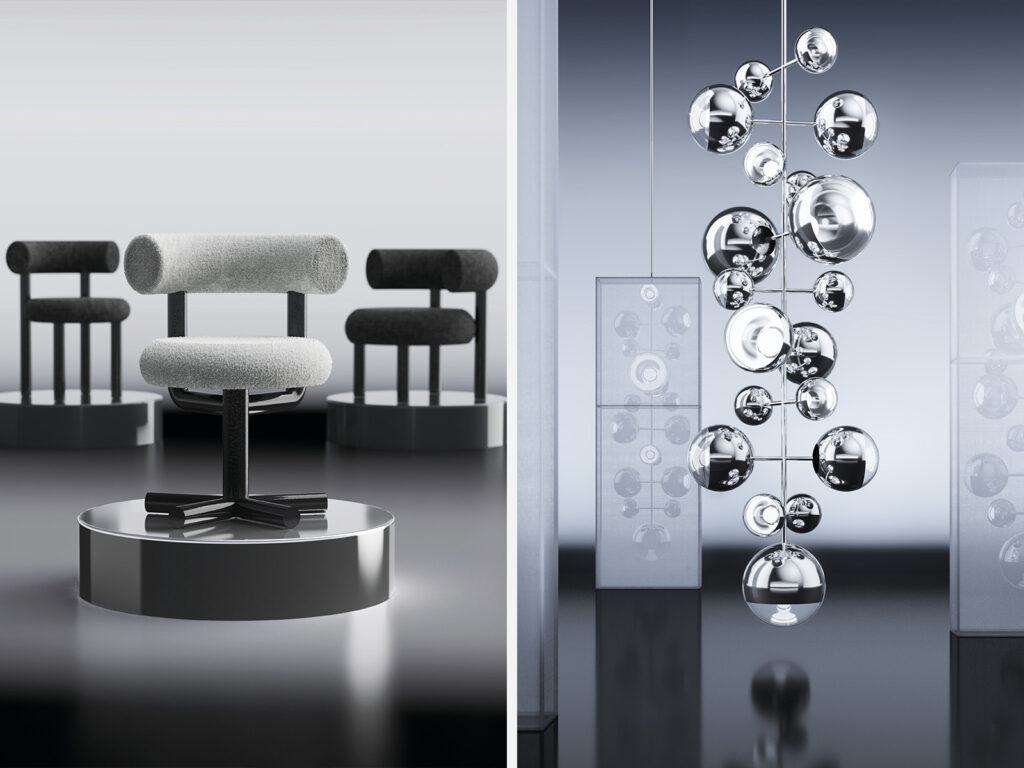 Twenty By Tom Dixon
British icon Tom Dixon is returning to Milan to mark the 20th anniversary of his studio, in the form of an extraordinary exhibition titled 'Twenty'. Showcasing modified, upgraded and rethought innovations of some of his most popular designs from the past two decades, the exhibition is an absolute must-visit for fans of the brand. Dixon's new innovations will be showcased in two locations. The first is Palazzo Serbelloni, a neoclassical palace built in 1794 by architect Simone Cantoni. Meanwhile, The Manzoni, Dixon's restaurant in Milan, will showcase existing best-sellers and new range items.
For those at home, Dixon will give an Instagram live tour of 'Twenty' at Palazzo Serbelloni on the 8th of June, 16.30 Milan time, taking you on a journey around the exhibition and presenting his latest innovations.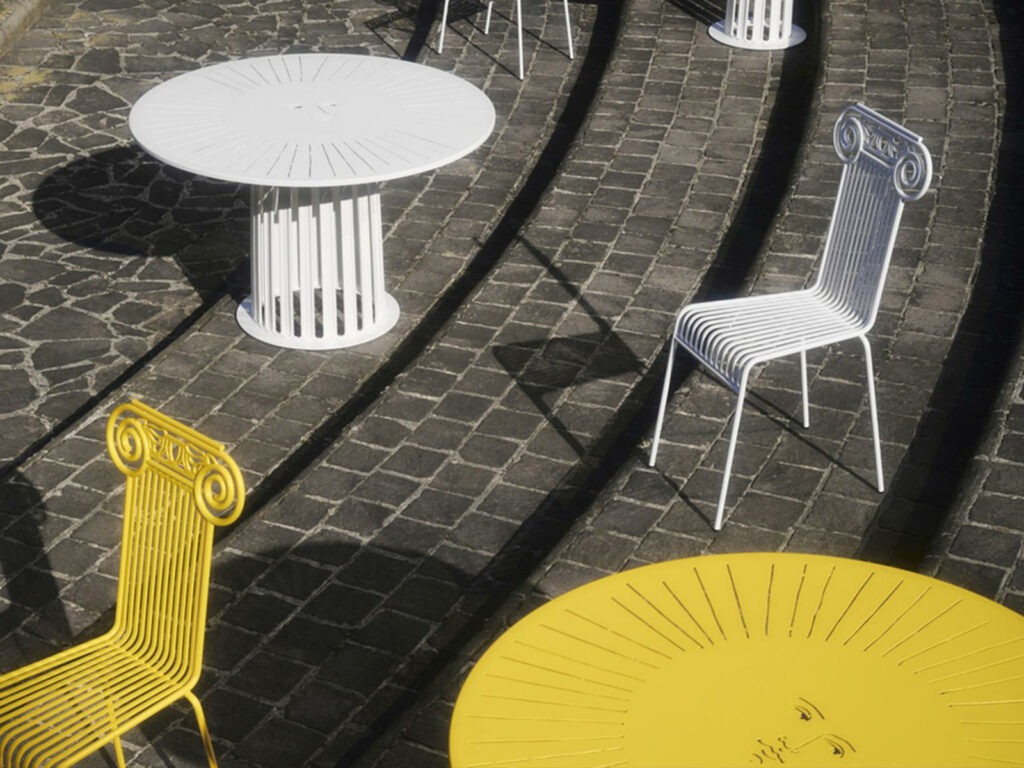 The Garden of Possible Natures by Fornasetti
Fornasetti is set to launch its first ever outdoor collection titled The Garden of Possible Natures. At the Fornasetti Store – Corso Venezia 21A chairs and tables will form open-air dining rooms, while sofas and armchairs will form living rooms ready to be immersed in greenery. The collection consists of two completely new products, the Capitellum chair and the Ara Solis table , and an outdoor living proposal that builds on the Insoliti Salotti collection, with upholstered items and accessories designed to create relaxation zones in the open air. These lightweight stainless steel structures feature simple lines that reinterpret Fornasetti decorations in a way that is completely new for the Milanese Atelier: the graphic style takes physical form and becomes the structure of the furniture itself, making it three-dimensional. For its open-air living proposal, Fornasetti extends the Insoliti Salotti collection to include sofas, armchairs, and benches, along with accessories like food trolleys, trays, and ice buckets.
Divided Layers by Kohlex X Daniel Arsham
Architect and designer Daniel Arsham joins hands with Kohler on a large-scale immersive art experience, titled 'Divided Layers'. This site-specific installation at Palazzo del Senato (Via Senato 10) builds upon the duo's release of Rock.01 – a remarkable 3D printed sink designed by Arsham in collaboration with Kohler in 2021. This immersive installation comprises a series of stacked panels layered to form a walkable tunnel. When developing Rock.01, Arsham was inspired to create 'Divided Layers' to give guests the ability to move through the sink. Within the installation, a pond acts as a mirrored surface to double and reflect the opening of the cavernous volume. "The flow of water is experienced in both negative and positive space, regardless of a form's 'function'," says Daniel Arsham. "In Divided Layers, visitors experience being within the sink, rather than a user of a functional piece."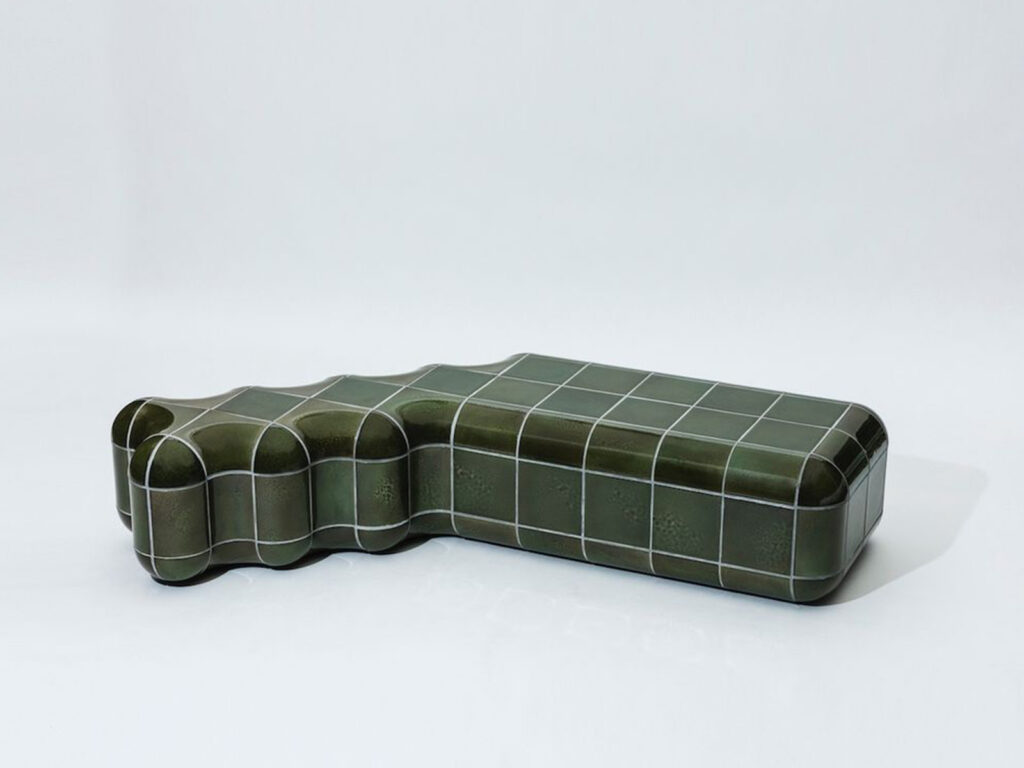 Tajimi Custom Tiles
The Japanese tile brand Tajimi Custom Tiles is set to launch its first ever showcase outside of Japan at Fuorisalone. Taking place at Gallery Assab One, the exhibition will feature a brand new large-scale installation in collaboration with designers Ronan and Erwan Boroullec. Also on display will be sculptural designs by British designer Max Lamb and Korean designer Kwangho Lee.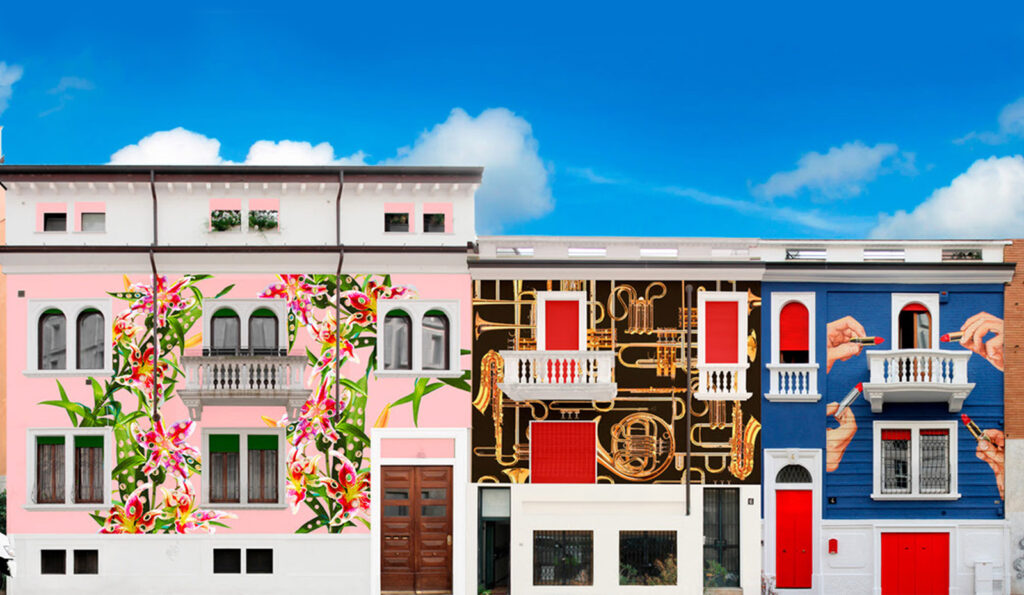 Toiletpaper Street
With an explosion of color and energy TOILETPAPER STREET dreamed with ORGANICS by Red Bull stands as an open-air celebration of natural creative talent. Via Giuseppe Balzaretti in the Città Studi area will be transformed entirely into a permanent installation of public art. This image-only editorial project by Maurizio Cattelan (the artist behind the viral banana duct tape art) and photographer Pierpaolo Ferrari will invade the now famous street where TOILETPAPER is based with its typical dreamlike and surreal imagery. Some of the magazine's most iconic graphics will characterize the buildings that overlook the street in this project that will offer the public an unexpected and immersive experience. "Many of the TOILETPAPER projects are often born in an unexpected way, we had an idea and we realized it, without thinking too much about it", says Maurizio Cattelan.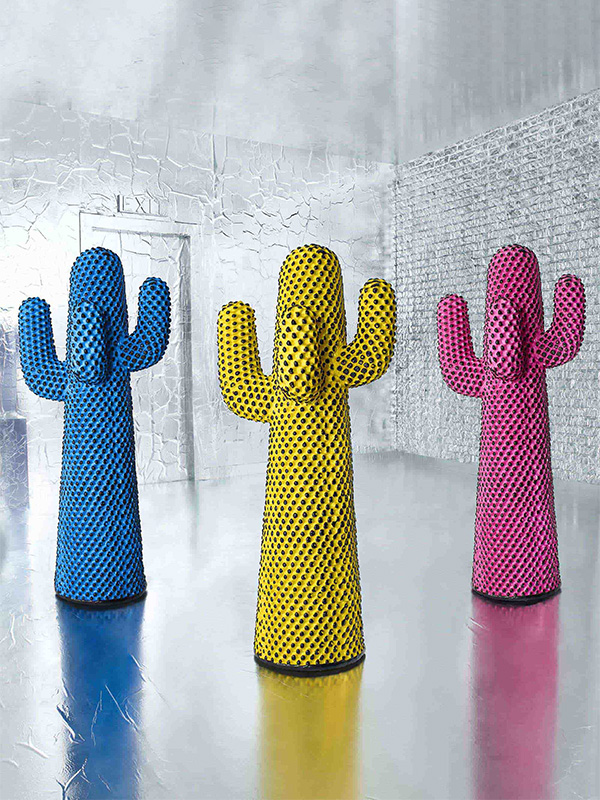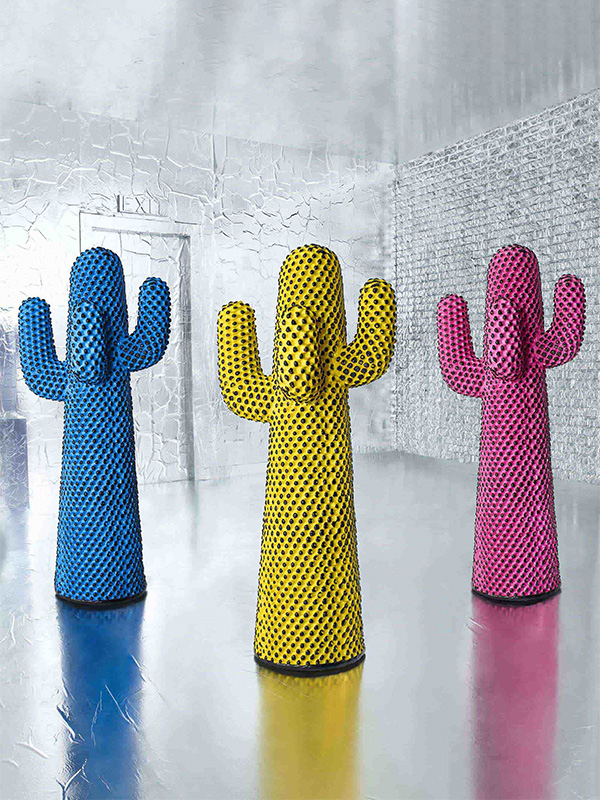 Cactusrama by Gufram
Gufram celebrates the 50th anniversary of one of its most iconic pieces with CACTUSRAMA, an exhibition that includes twelve editions of CACTUS® and unveils for the first time, a new collaboration with The Andy Warhol Foundation for Visual Arts. The collaboration is the transcription of the greatest pop artist's vision into one of the most eccentric design icons of all time. To be unveiled at Milan Design Week, ANDY'S BLUE CACTUS, ANDY'S PINK CACTUS, and ANDY'S YELLOW CACTUS, each produced in a limited edition of 99 pieces, are the perfect translation of Andy Warhol's prints into prickly design multiples.Meanwhile, CACTUS® perfectly reflects Gufram's avant-garde vision, its desire to push the boundaries of design, its non-conformist experimentation and its Radical Design spirit.
CACTUSRAMA will take place at Triennale Milano, the city's foremost institution for design and contemporary culture.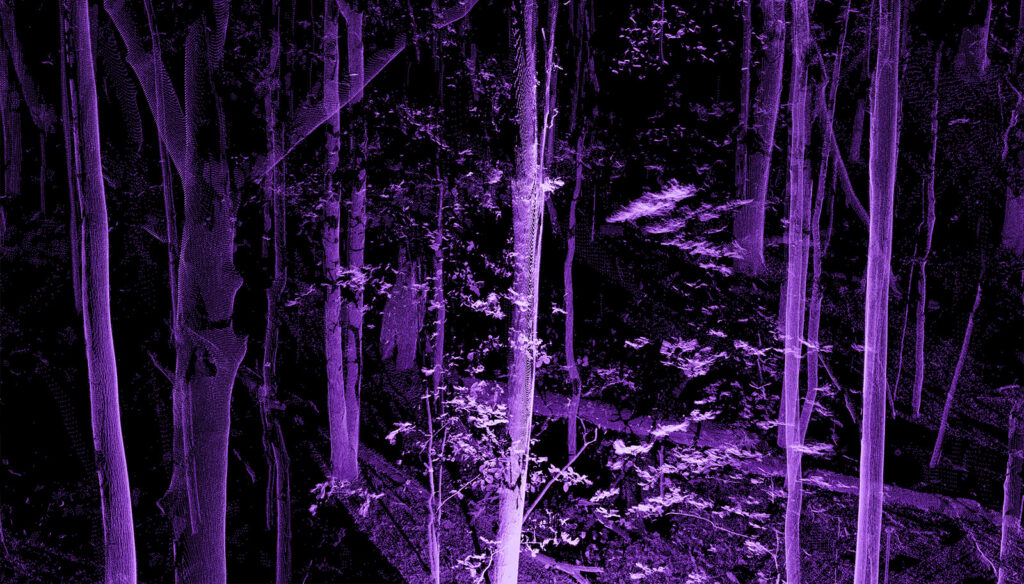 Prada Frames, Curated by Formafantasma
Prada teams up with Andrea Trimarchi and Simone Farresin of Formafantasma for a multidisciplinary symposium titled Prada Frames that delves into the complex relationship between the natural environment and design. Taking place at Milan's National Braidense Library from 6 – 8 June 2022, it brings together the valuable contributions of scientists, architects, designers, artists, activists, anthropologists, and law experts. Their aim is to build a platform that, according to them, 'can actually produce meaning and ideas instead of only products', bringing forth a new design culture. The symposium's theme focuses on the ecosystem of the forest, the timber industry, and the role of design in the larger context of the environment. The speakers range from designers like Paola Antonelli and Alice Rawsthor to writer Amitav Ghosh and Andrés Jaque of the Office for Political Innovation. The aim is to spark conversation between a diverse range of scholars and experts across several disciplines.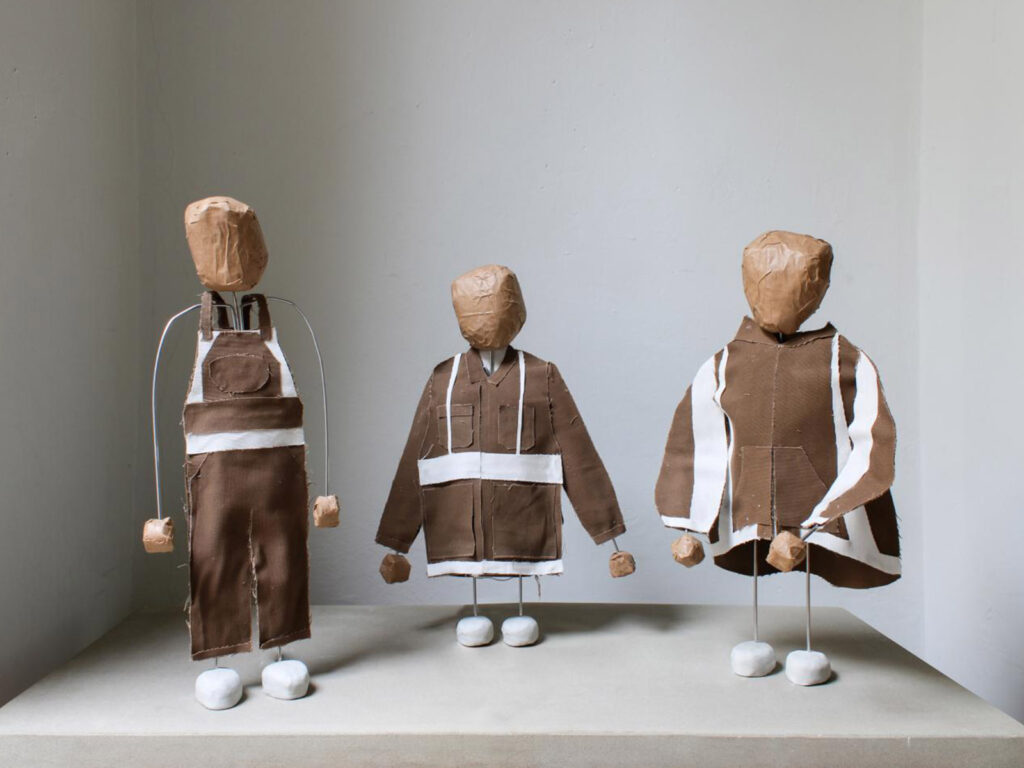 Toogood x Carhartt WIP
For the launch of Toogood x Carhartt WIP's clothing collaboration, giant puppets travel from London to Milan, accompanied by new furniture and an exclusive preview of Faye Toogood's new book. American apparel company Carhartt WIP's new collaboration with Toogood recuts archetypal Carhartt WIP shapes and infuses them with sculptural volume. An installation at Spazio Maiocchi marries the sartorial with the artistic, celebrating both brands' shared design ethics.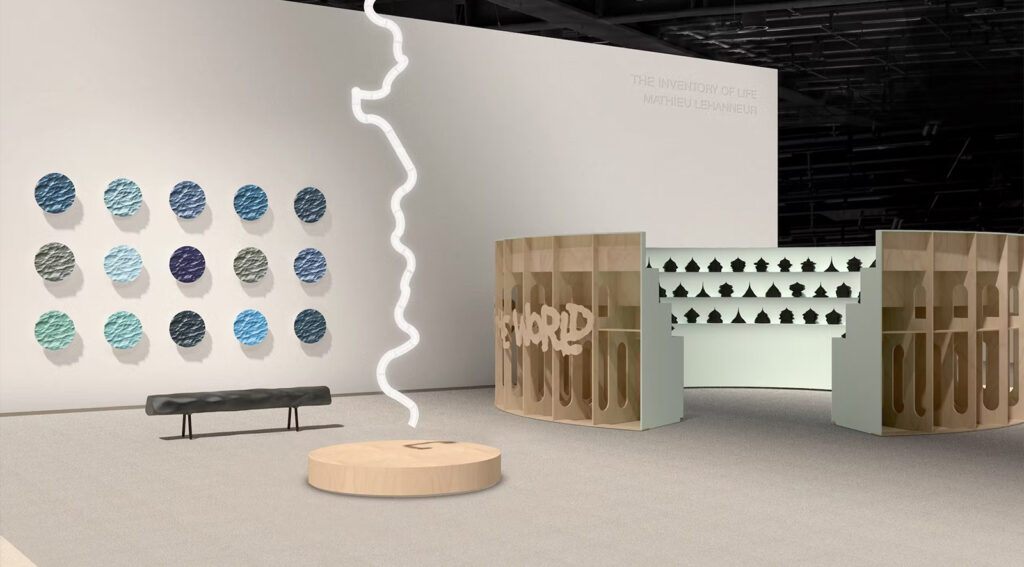 Inventory of Life by Mathieu Lehanneur
Renowned French designer Mathieu Lehanneur presents Inventory of Life, a series of four installations based on the collection of scientific data and statistics documenting the state of the world's population and the consequences of its behaviour on Earth. The pieces touch upon topics like population, the state of the planet's waters, and the connection between our desire to live and to act. Lehanneur captures a still image of contemporary society and draws a portrait of humanity through the use of scientific data for aesthetic purposes. Taking place at the Triennale Milano, the project is in fact based on UN and WHO reports and satellite photos obtained specifically for this exhibition.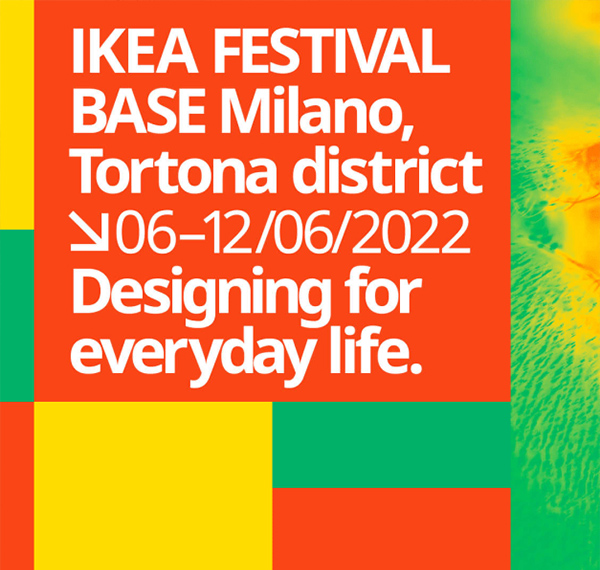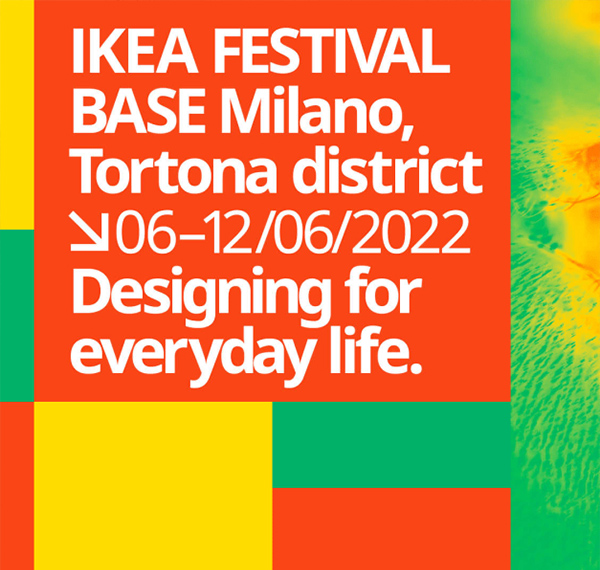 IKEA Festival
The Swedish retailer is bringing the 'IKEA Festival' to BASE (a 12,000 square meter space dedicated to exhibitions) in Milan, from the 6th to the 12th of June. Set to feature a dynamic schedule of events and immersive experiences to showcase the future of retail and design, the festival will feature installations along new collections by well-known designers. The roster includes previews of upcoming collections and sessions with long-term collaborators and in-house design talent, including UK-based Designer Ilse Crawford and Rotterdam-based Designer Sabine Marcelis, among many more. Additionally, as an homage to the city, classic Milanese courtyard housing will come to life. Visitors will be able to explore homes which reflect the lives of three different families, each home telling the unique story of those who live in it. "After two long years without it in our lives, we are thrilled to be coming back with a bursting schedule full of the unique IKEA magic, from collaborations to democratic design talks, and ever-changing installations to parties every evening," says Marcus Engman, Chief Creative Officer at Ingka Group, the largest IKEA franchisee.