The Guardians Of Natural Design: Landscape Architects You Must Know About.
8

Mar

'19

9:30 am

by

Payal Mohta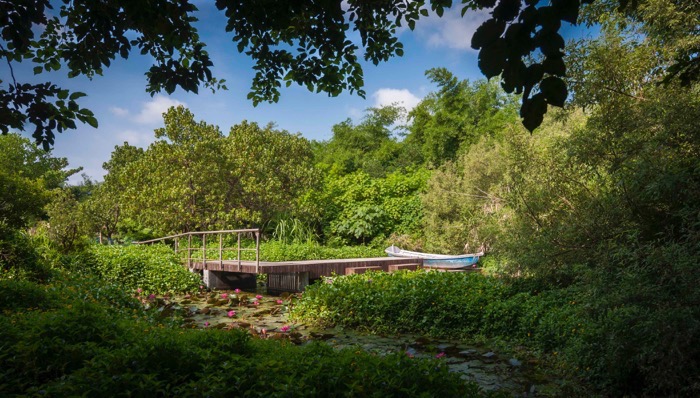 With the evolution and easy availability of materials, it is natural design that has suffered. Often relegated to the margins; rocks, trees, water bodies and earth have had to camouflage or render themselves invisible for modern design. That is why at Design Pataki we decided to profile three of our favourite landscape architects; the guardians of natural design.
Their work integrates climate, topography and ecology with urban design needs. Using local materials and native plants they look for sustainable design solutions that are bespoke to each project. Moreover, they try to form a relationship between the contemporary design consumer and Nature so that a new era of environmental design sensitivity can be paved.

While these ethics bind our Indian landscape designers, each of them yet retains their own characteristic style that gives them a special stature in the landscape design world.
From a world-renowned veteran to a fresh face in the business, here is our pick of Indian landscape architects whose work never fails to inspire our design seeking souls.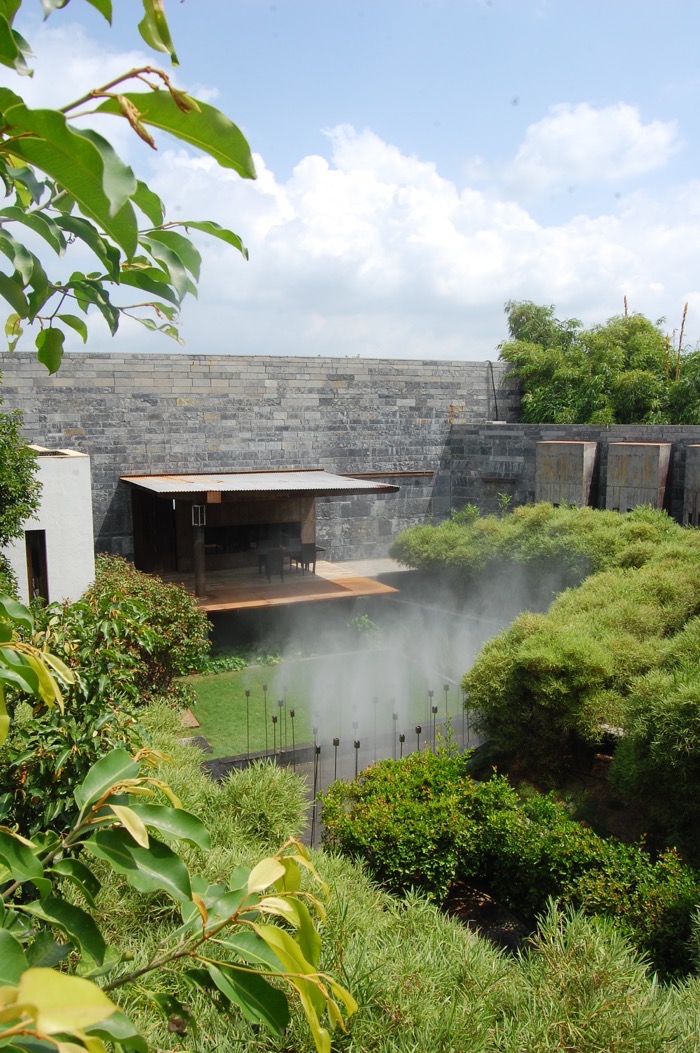 1. Prabhakar Bhagwat
They have healed an exhausted basalt mine to a self-sustaining lush forest, given concrete buildings of glass and plastic stretches of tropical gardens with watersheds of hills and valleys and even restored the ancient natural water harvesting system of a bat-infested fort. This is the grand legacy of Prabhakar Bhagwat; one of the oldest architecture firms and leaders of landscape design in India and even the world.
Started in 1971, they have undertaken over 900 commissions over the past five decades. From nuclear power stations, irrigation dams, heritage sites, factories, institutions, and public parks they have created a formidable portfolio of projects in landscape design, environmental planning, master planning and architecture.
Operating from both Mumbai and Ahmedabad the firm is anchored on the principles of uncompromising ethics, intense design processes, the pursuit of knowledge, and commitment to the outstanding realization of the design work undertaken.
One of our personal favourites of Prabhakar Bhagwat is Halfway Retreat, a weekend house on the outskirts of Ahmedabad. Tim Richardson, in his book "Futurescapes", describes the landscape design of the house to be based on the notion of discontinuity; "which means that each part of the house is distinguished as a discrete element."
An excerpt from the book further gives us an insight into how this design philosophy has been applied – "A variety of courtyards have been introduced, all of them excitingly different from what has come before – there is the minimalist Eastern Garden of gravel and boulders alone, for example, as well as a wild garden of native grass, terraced lawns and shady groves."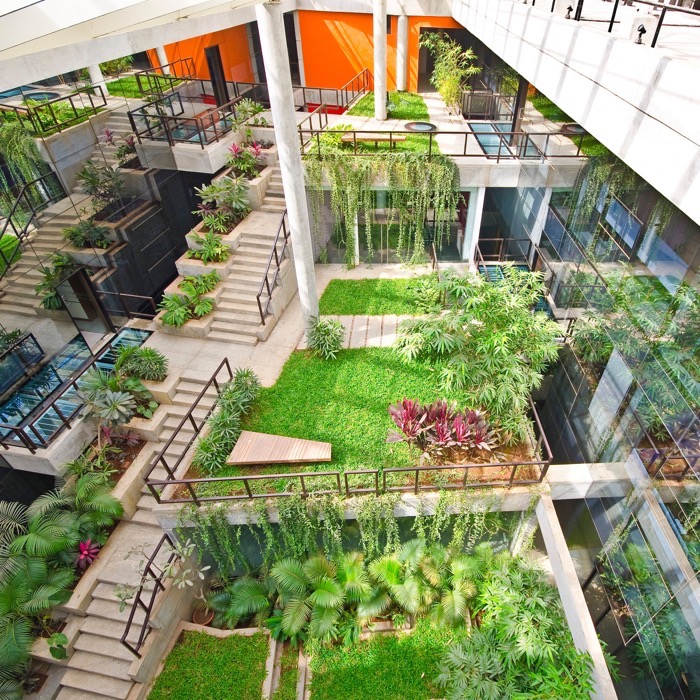 2. SAMA Landscape Architects
From the stark landscapes of Ladakh to the lush forests of Bandhavgarh and Corbett, from the dry yet abundant wildlife of Kenya to the impregnable greens of Sahyadris, SAMA Landscape Architects have travelled far and wide to inspire their craft of landscape design. Founded in 2005 by Sameer Duraphe and Manjiri Mahajan, this Pune based firm sees landscape design as an establishment of relations between the built form, surfacing and outdoor constructions, earth, rock forms, bodies of water, plants, open space, and the general form and character of the landscape.
"As landscape designers, we get to work with the elements of nature directly — the earth, water, plants, micro-organisms, the birds and everything in nature…," says Mahajan on what excites her as a landscape designer. "We get to work with 'life' and we get to see it 'grow'. So it is like bringing up a child!"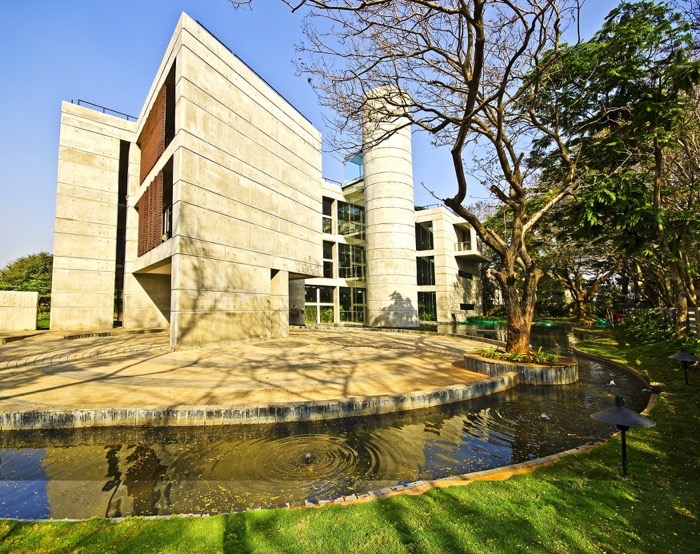 For SAMA architects the primary emphasis has always been on the relations between people and the landscape – Man and the Land. Their designs are integrated in such a way that it forms a part of the surrounding and topography as well as caters to the lifestyle of their clients. They attempt to bridge the gap between nature and man by introducing their clients to flowers, plants, and ecology in a way that an emotional connect with nature and space has been formed.
As the landscape designers for Elantas Beck India Ltd headquarters by Core Architecture in Pimpri, they implemented their core beliefs both emotionally and aesthetically. The clients were keen on a landscape which could be environmentally 'one' with its green surroundings and built with minimum construction and maintenance work.
So, SAMA created a wedge-shaped space between the two wings of the buildings which were conceptualized as a valley between two rock outcrops. The wedge shape creates a 'ventury' effect and the breeze generated reduced the heat from inside the office blocks.
A lush 'hillock' was created to act as an effortless walk up or down and between the two wings, creating an experience which engages one with nature. Common activities placed in the central area were camouflaged with green curtains and plants. Landscaped steps lead to various levels and connected the public areas. The space, also opened on to a large water body, which reflects the existing lush trees.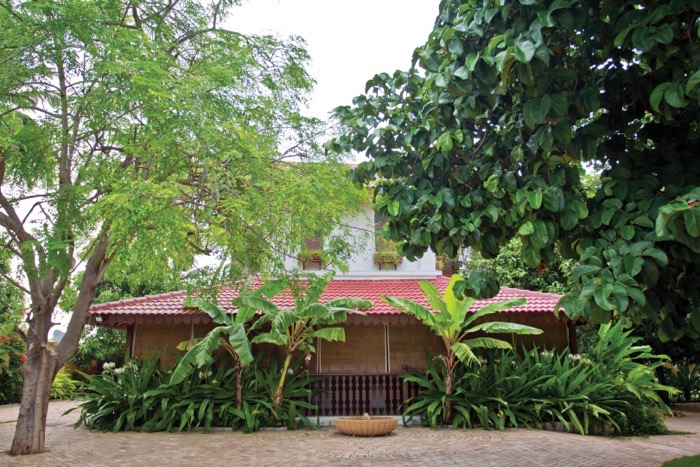 3. Hemali Samant
A young independent architect, Hemali Samant has already made her mark in the Indian design world; having recently received a special mention award in the landscape design category from ISOLA (India Society of Landscape Architects).
"It is very exciting to witness the process of a landscape in making," shares Samant. "Nature can surprise one in so many ways. With each passing year, it gives a different dimension according to time and seasons."
Operating from both Mumbai and Surat, Samant believes in a hands-on approach to seamlessly weave both site and landscape. Her projects explore native plants, local materials and techniques that individually respond to each biome, urban reality and cultural context into the design.
For Nirant, a one-acre weekend home designed by Samant in Surat, her integrated approach gives nature a chance to share a space with classic colonial architecture. While the colonial design brings to mind stately symmetrical homes with arcades anchoring the entry, Samant has softened these hard edges with modern landscape elements.
Large leafy shrubs were chosen to be planted in the foreground of the house. This brought an essence of the evergreen mango orchard of the site, which lends a dark and deep backdrop to the white textured walls and wooden verandas of the colonial home. Special emphasis was given to the entrance of the colonial structure where a roundabout was designed and defined by a circular paving pattern that compliments the symmetrical geometry of the main structure.
The centre of the home was articulated with a specially crafted grand stone water fountain with two banana trees along the vertical axis of the house. This further enhanced the symmetry of the house with a natural accessory.
The urban grid geometry lawns were carved out amongst ancient fully grown trees. The wildness of the mango orchard was tamed by surrounding gravel courts while native planting design added a personalised touch to the existing colonial architecture.
Photo Credit for Prabhakar Bhagwat – M/s. Prabhakar B. Bhagwat & Ms.Shilpa Gavane
Photo Credit for SAMA Architects – Sameer Duraphe and Atul Kanetkar
Photo Credit for Hemali Samant – Hemali Samant & Aangan Architects & Nikhil Patel