In London's Knightsbridge Lies The Modern-Day Iteration Of A Traditional Mews Home
19

Jul

'22

3:56 pm

by

Aishwarya Kasliwal
Laid out over three storeys and spanning across 2,400 sq ft, this traditional mews home is London-based Echlin's newest residential project. Method, material, and manner are put to the test as the home's reimagining comes with wellness at its forefront. The design and development studio's co-founder and director Sam McNally tells us that the "principles of wellbeing" are the "top macro trends everyone should be aware of today." This guiding thought and design philosophy finds itself front and centre in the reinterpretation of an age-old property that's had new life breathed into it, benefiting the inhabitants and the surrounding local area. Mews homes are traditionally identical homes in a row, tucked away behind grand mansions in exclusive areas. Entrusted with the responsibility of restoring the conservative form to new glory, Echlin anchored its approach in minimal luxury and a transitional creative strategy. As a result, the home is a modern escapade with a global disposition.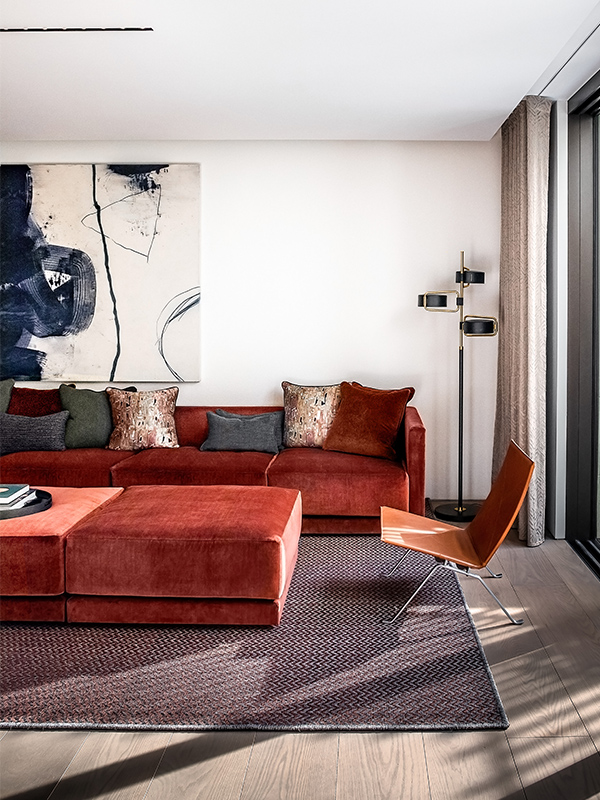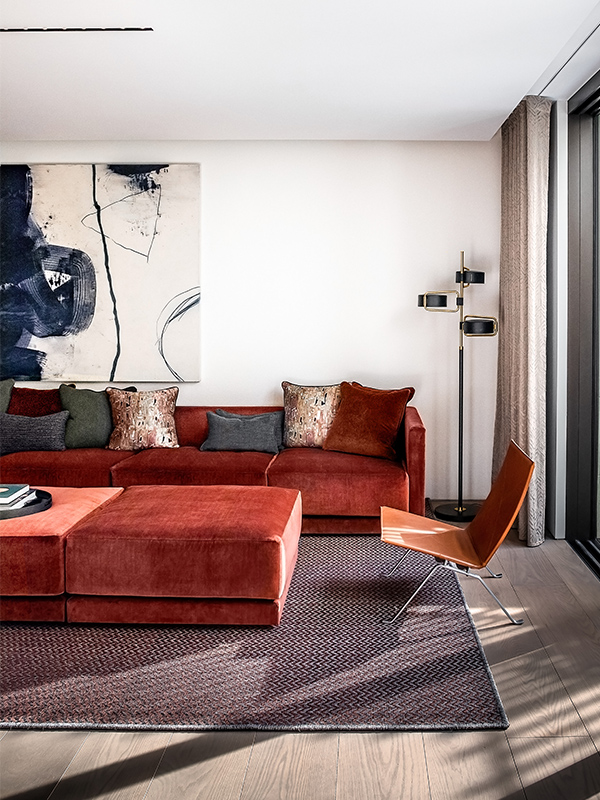 On the ground level, most of the living room is taken up by a modular sofa, crafted by the studio itself, in rich cayenne velvet. Resting on a regal rug from Verdi of Columbia, through which actual copper meanders, the grand seating set has been handmade in Oxfordshire. McNally goes on to tell us that to epitomise a sense of warmth and wellness, the designers were keen on instilling the home "with subtle reminders of the upmarket and historic location" through the wide and varied use of "metallics and heritage tones." Lighting from Alvar Aalto helps illuminate and liven up the space while British artist Sam Lock's piece alongside a pristine posture vase from Bloc Studios add character.
The home gives a new meaning to "broken-plan living", riddled with skillfully separated seating areas, alcoves aplenty, and nooks and niches to hide away in while staying majorly connected. Clean and linear forms and an abundance of natural light merge with cosy, private spaces in an effort to create a sense of inclusive escapism. Behind a shelved screen that works double-duty to display cherished keepsakes, lies the dining area. An olive-hued bespoke dining banquette in Paolo Moschino bracken velvet – courtesy of Echlin and handcrafted in Oxfordshire – pairs perfectly with a slim and sleek dining table from renowned and Manchester-based Winter & Kurth. Tying the two together are earthy rattan and linen dining chairs, hailing all the way from Portugal. The homeowners are avid travellers and were keen on their homes being a confluence of places they'd visited and loved, ranging from hotel rooms to VIP lounges, and more. Behind the generous seat, options lie antiqued glass panels that seamlessly conceal discreet air conditioning. A single ceiling light from Marset and Viabizzuno perfectly complements London-based Italian artist Gabriele Capelli's Composition 269.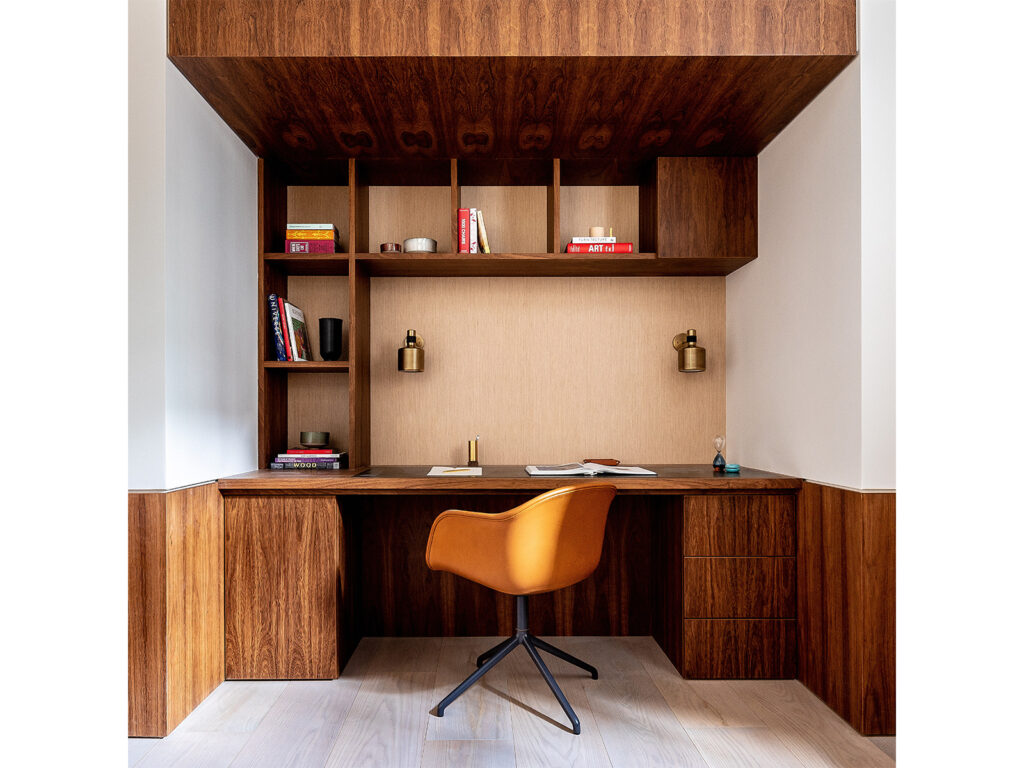 The last of the rooms on the ground floor is the study. Featuring open shelving and a forest leather in-laid desk, again handcrafted by Echlin, the study is a great place to spend time in solitude. Quaint wall lights from Bert Frank add to the seriousness of the space. In an effort to be flexible and truly transitional, the home makes use of openings, sliding and pocket doors, and joinery divides. Multiple small areas serve distinct functions but still provide a sense of togetherness and community.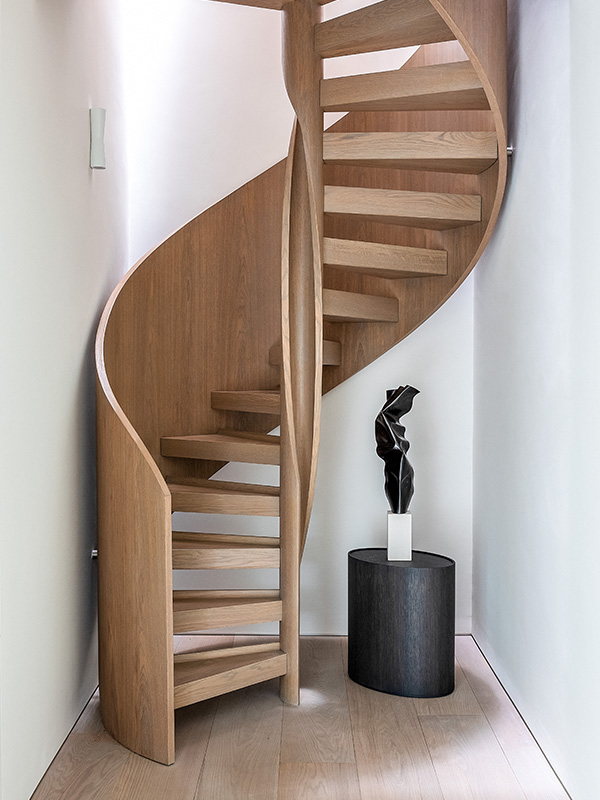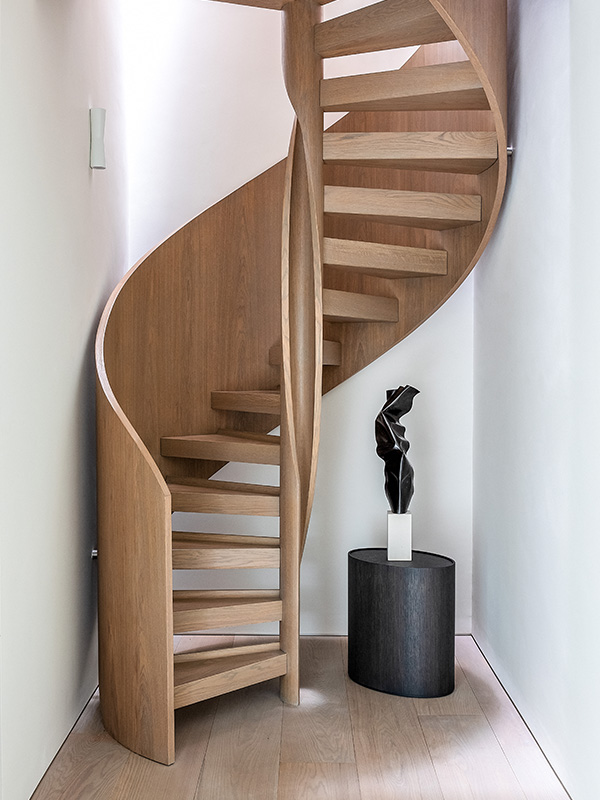 Just the right amount of charm makes its way in, thanks – in no little measure – to a "statement three-storey bespoke oak wooden helical staircase." While that name hangs heavy, the staircase is in fact a statement feature, and has been handcrafted in East Sussex. Hazelnut hued, it adheres to the autumnal theme of the home and pairs wonderfully well with other stylistic elements of the home. Beside it lies Francesco Moretti's Sans Titre No.5 sculpture. The staircase leads down to an open kitchen and living area.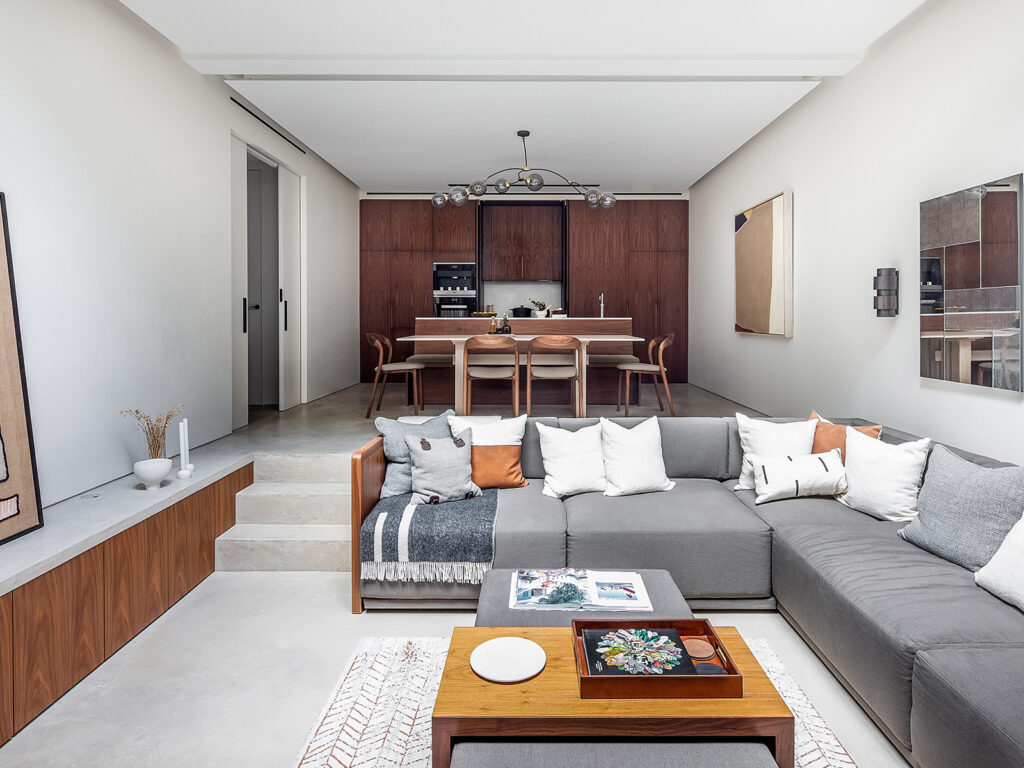 The staircase opens to a haven that's a culmination of an open kitchen, dining area, and informing living space. With high ceilings of up to 2.7m, this dual dining serves the purpose of entertainment, going a step beyond being only "functional". The use of lighter, less broody materials help realise this. Crafted in rich walnut by Echlin, the kitchen can be stowed away behind pivoting pocket doors to better entertain. With utilities and more hidden away, the result is a space that's modern and sleek. A six-seater pale timber table that's been handmade in Brighton rests heavy in the centre of the space and is surrounded by similar toned walnut dining chairs. The use of wood helps enhance the sense of nature – fitting since the home draws inspiration from its proximity to Hyde Park. Copious amounts of natural light coupled with a calming yet strong material palette help establish and solidify this strong connection to nature.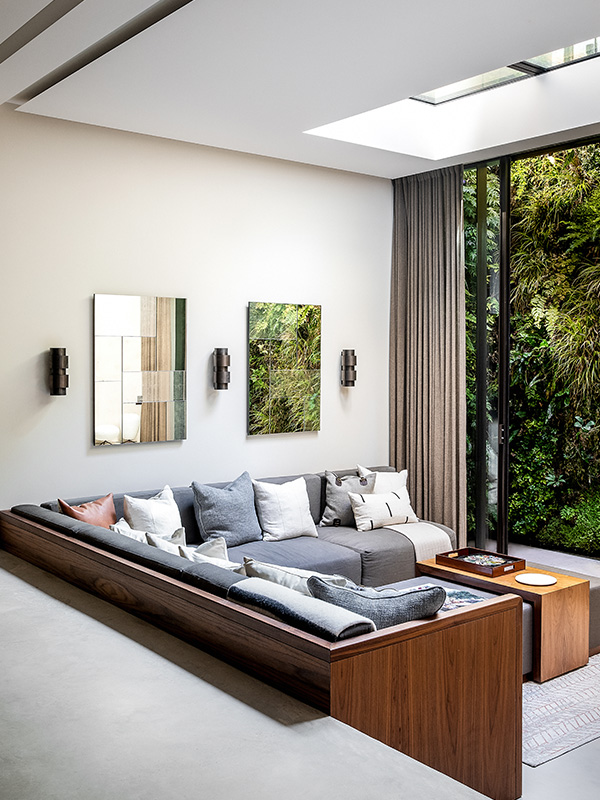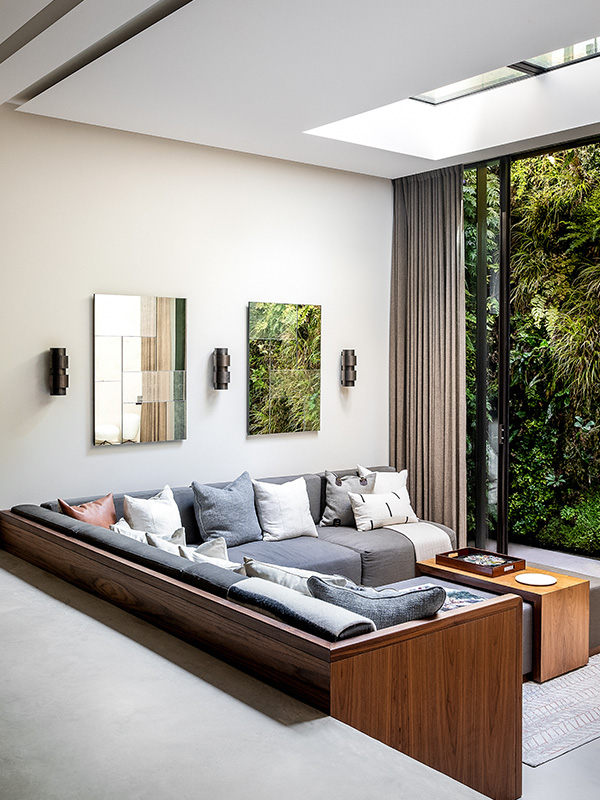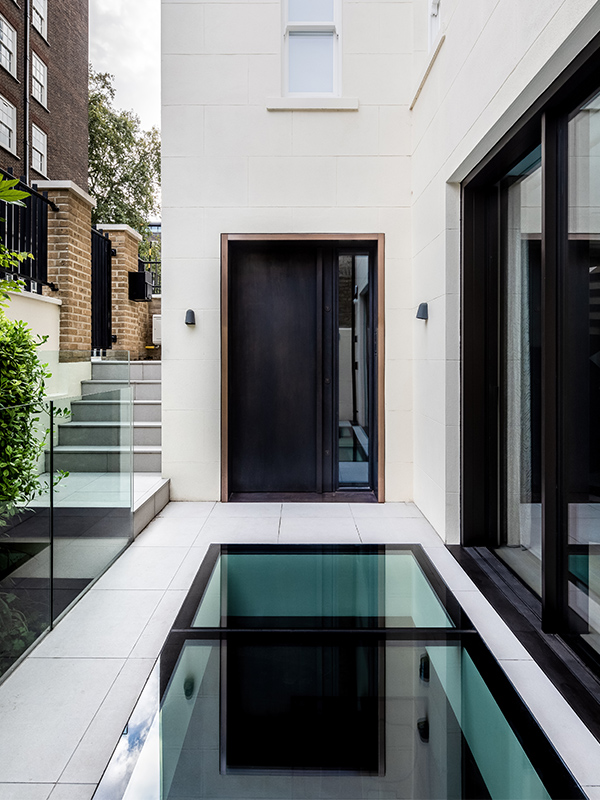 The stunning view, closeness to nature, and modern skylight make the sunken living a space that's most cherished. It features a quintessential corner sofa in subdued hues of grey and is populated with art from the likes of LRNCE and ceramics from noteworthy names such as Richard Brendon and Michael Ruh. What would ideally have been the basement has been innovated and reinvented to become a retreat. The lowermost floor also features two quaint guest bedrooms, one with a view of the unique living wall. The master lies on the first floor.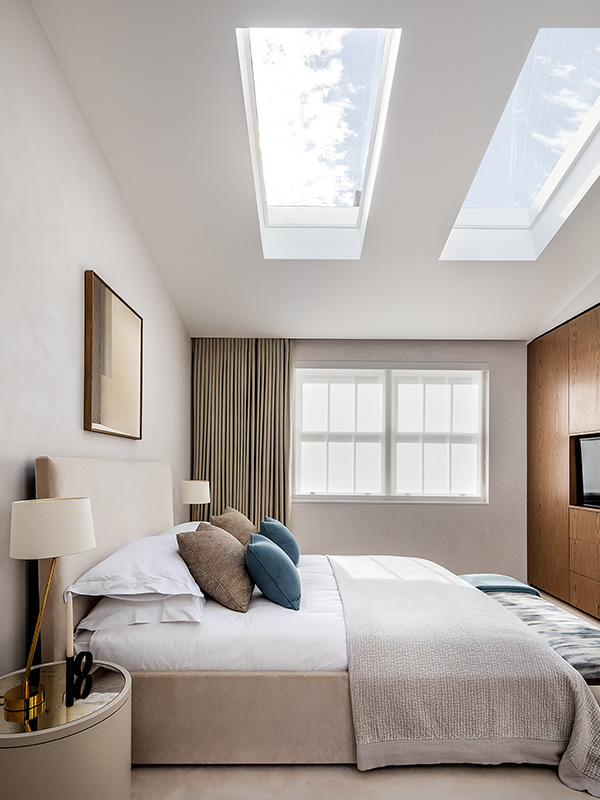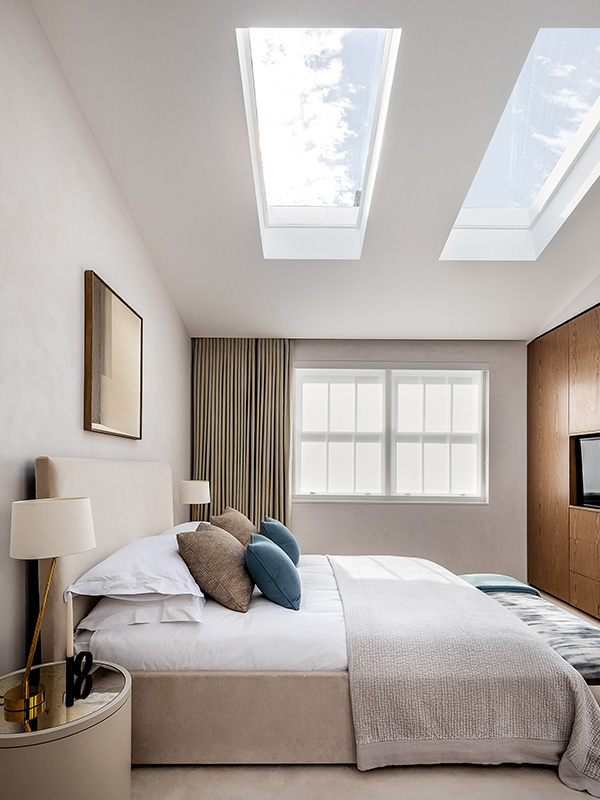 The master suite takes up a large proportion of the first floor. Almost all the furniture in the room has been designed and realised by Echlin. A king sized bed takes up residence just beneath two skylight windows and comprises bespoke bedside tables. Featuring eglomise mirror tops and regal brass table lamps from Vaughan, these are the perfect finishing touches that tie together all the elements in the room. The room is rich in tones of white, adding to how spacious it looks and makes use of hues that are minimal and muted.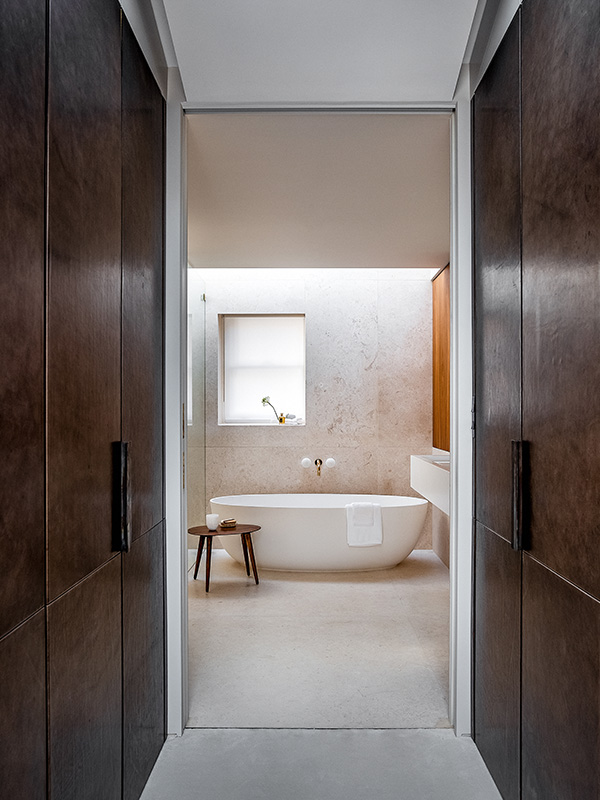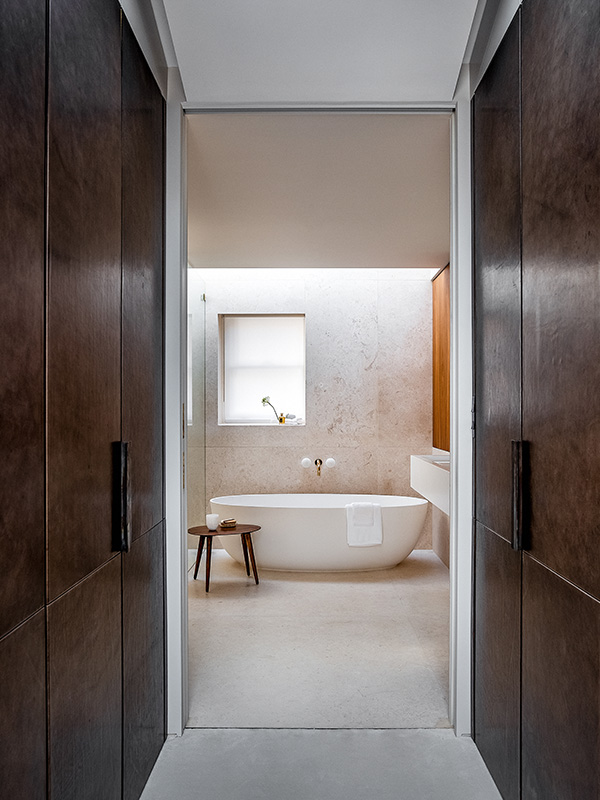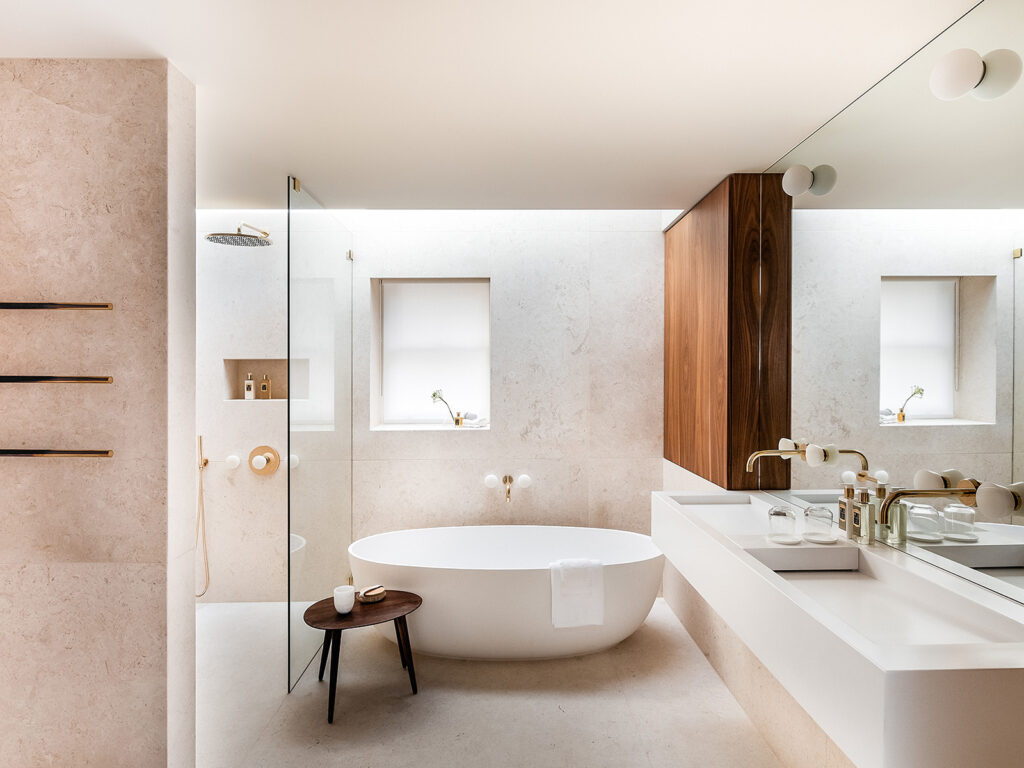 Once again featuring skylights, the bathroom is high on shine and style. Brass fixtures breathe in regality into the space and contrast with white onyx sanitary ware. The presence of dual sinks set a grand tone and a shapely freestanding bathtub beside an overhead rain shower provides hotel-level-luxury at home. A large mirror helps make the space look more open and airy.
Echlin's one-of-its-kind approach rooted in wellness and warmth results in a home that maximises the best qualities of international and local design. A once small and forgettable mews home meets a modern-day makeover and is transformed into a contemporary haven with a large and looming sense of space. Square footage is no constraint for luxury in this mould-breaking home in London's Knightsbridge.