In Tune With Nature At The Stone Lodges Private Residences In Wayanad, Kerala
31

May

'21

4:50 pm

by

Beverly Pereira
Counter-urbanisation, or the social process of leaving over-crowded cities for smaller towns, has become a global phenomenon. What was once considered a risk is now normalised to such an extent that we're seeing a lot more people forgo the 'supposed convenience' of urban living for a balanced, more conscious way of life. In recent years, aided by the availability of a reliable Internet connection, the idea of a 'work-from-anywhere' future has become as good as a reality.
Not as much a trend as a phenomenon, counter-urbanisation has taken on a new significance in the pandemic as many individuals, families even, flee cities in favour of more relaxed, lesser-polluted environments. Of course, there are also some who aren't quite able to make a permanent dash for nature — not everyone wishes to leave their jobs or familial responsibilities behind and they may even have children enrolled in city schools. Instead, this lot may choose to spend a considerable amount of time away from the city in a second home surrounded by nature. Either way, the pandemic has inspired many to make dramatic life changes, including feeding a desire to be more ecologically sensitive.
The emergence of Stone Lodges, a set of 15 private residences set amidst the wilderness of the Wayanad district, is an indication of our present-day preoccupation with dramatic lifestyle changes. Designed by Bengaluru-based architecture and design firm Earthitects, the project and its purveyors hope to facilitate a lifestyle change by adopting the philosophy of going back to nature.
"We believe that the future of living is 'Reverse Urbanization' and we are passionate about pioneering, creating and constantly innovating a positive change in the way people live," says George E Ramapuram, Principal Architect of Stone Lodges Private Residences, adding that the advent of ultra-high-speed internet has led many to consider making such oases of calm their home.
At this juncture, it is of relevance to note that Earthitects is the in-house design firm of Evolve Back Resorts, the eco-luxury hospitality group formerly known as Orange County with resorts in Coorg, Hampi and Kabini in South India. The firm follows the same 'return to nature' ethos with its Stone Lodges private residential project. At present, two villas are occupied, the third is almost ready, and the remaining are slated to reach completion by 2023. The villas, built on a hill-side expanse spread across 13 acres, allude to the project's name in every sense. Drawing from a primary palette of wooden and stone, the homes are as cosy as one would imagine a mountain lodge to be, design-wise. But what's more is that the environmentally responsible ethic led by Earthitects goes beyond the ecologically-conscious villas — it starts with the very land on which this project took shape. 
Only five years ago, the site existed as a neglected coffee plantation near the town of Kalpetta in Wayanad, Kerala. This soon changed when Earthitects planted some 8,000 native trees within the first year of acquiring the plot. Save for a few existing Rosewood trees, the once bare site was transformed into a forest lush with Indian rosewood, jamun, fig, wild neem, teak and mango trees. Native bird species like crimson-fronted barbet, Malabar hornbill, blue-capped rock thrush and orange minivet soon returned. Today, it's not rare to see some of these species splashing around the lily pond on the deck of private residences, using it much like a bird bath. With the abundance of butterfly-friendly plants, it's an everyday occurrence to spot dozens of butterfly species too, as well as the endangered Southern Flying Lizard which happens to be the only species found in the Western Ghats.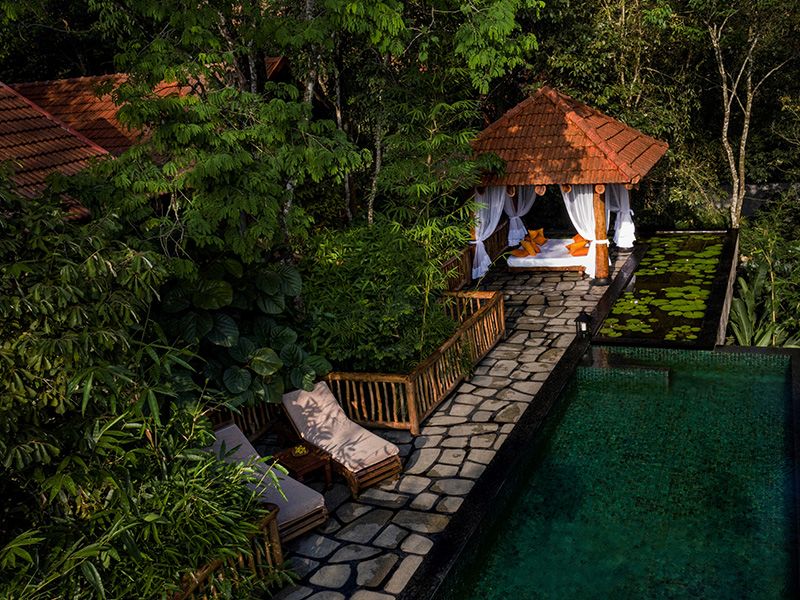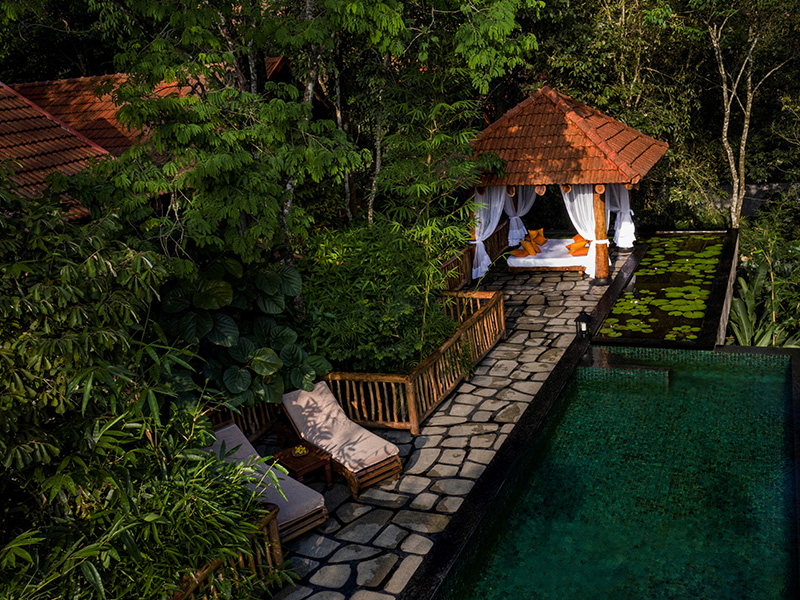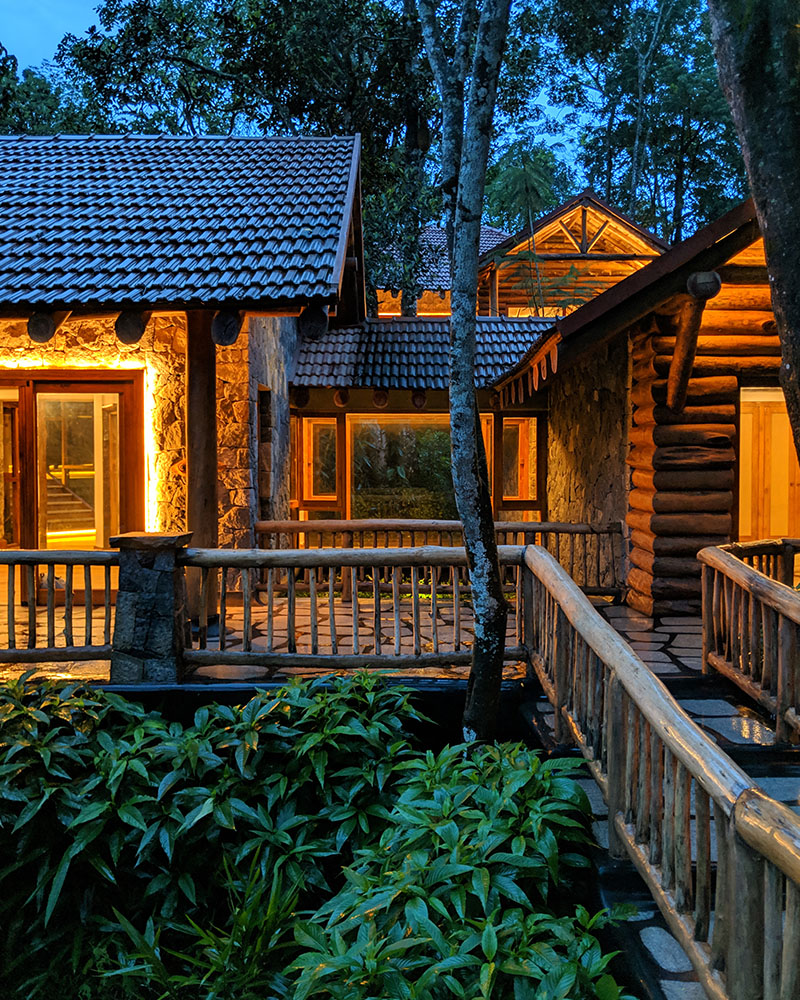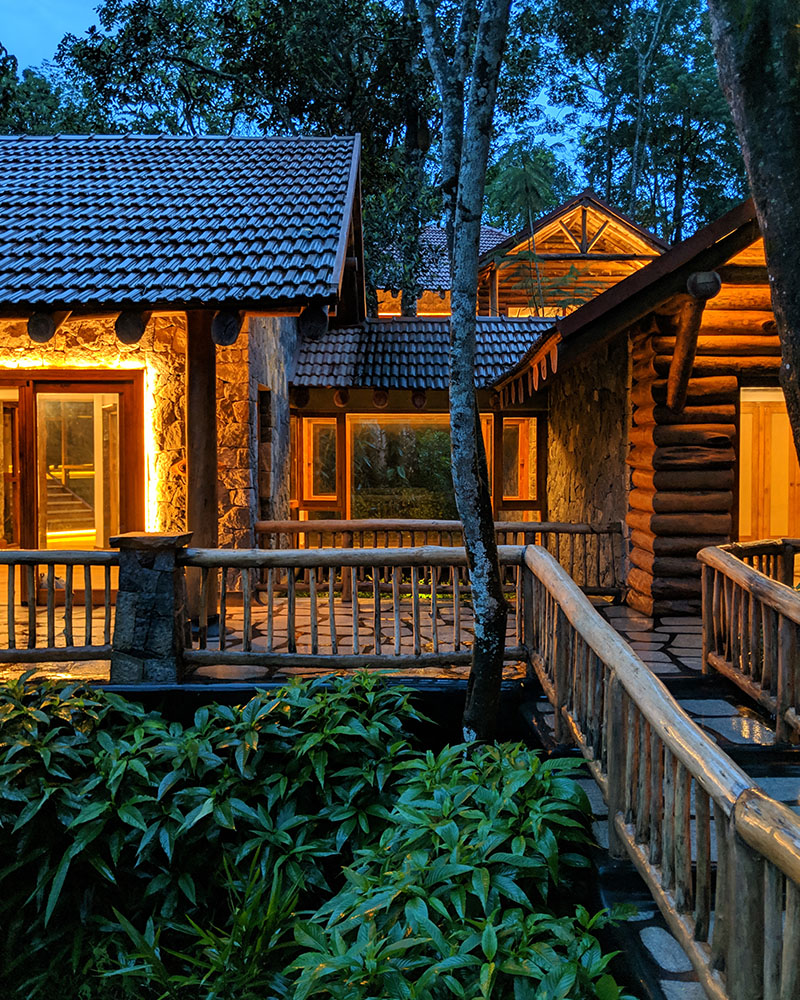 Designed to merge with the natural slope of the mountains, some plots are located on the hillside, while others lie below. All villas follow the concept of building across three levels with a formal living room, kitchen and bedroom at the first level (Lodge 1); two bedrooms and a casual living space on the second level at Lodge 2; and an outdoor deck with a gazebo, outdoor dining space, lily pond and infinity pool at the third level. Still, the layout of each villa differs from the next — in that every plot is custom-designed to be built around the existing trees and natural boulders rather than on it. This means that the existing landscape is all but left untouched. And even those boulders and trees that the team couldn't avoid doing away with were integrated with the interior design of each villa.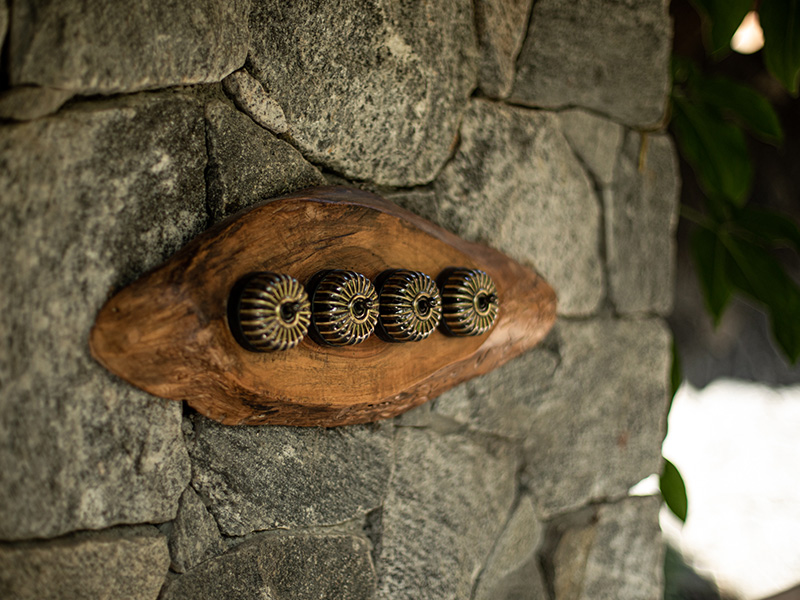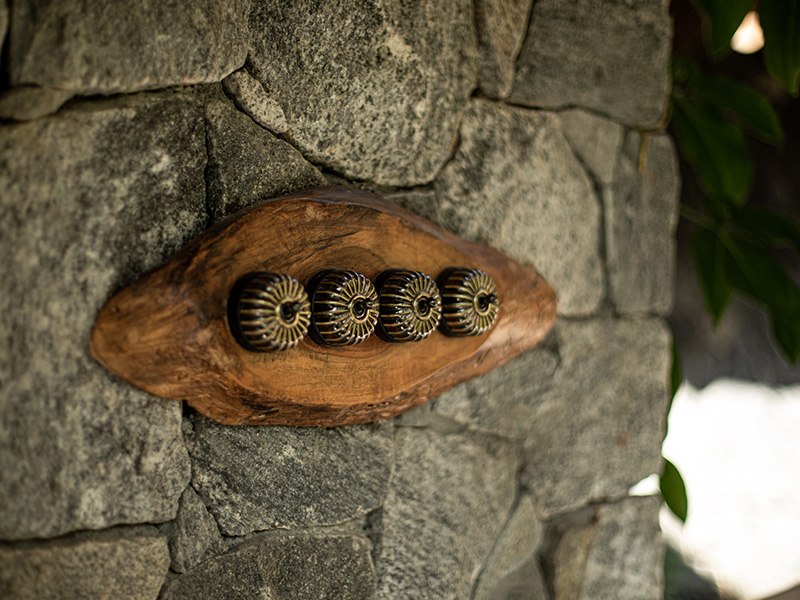 The use of natural materials — mainly wood and stone — is the common thread that binds the design of every villa; you'll see teakwood flooring, eucalyptus poles as wall coverings, clay roof tiles, stone deck floors and lapotra granite used extensively across the project. While most of the natural materials are sourced from the site itself, certain materials continue to be sourced locally to promote the nativity of Wayanad. And, to ensure no resource goes to waste, some boulders are cut to form random-rubble walls, while leftover teakwood goes into the making of joinery and skirtings. Furthering the core idea of sustainability, upcycled wood from construction is used to craft furniture and fittings, like mirror frames and switch boards.
Everything, from the furniture to fixtures is crafted by an in-house team of carpenters, even as some fixtures are locally crafted to support local craftsmanship. The wood is intentionally left unfinished to really accentuate the live edge, and can thus be expected to age gracefully over time. The home becomes a collectible then, a legacy that the homeowner can pass down over generations, says the Earthitects team of architects and designers.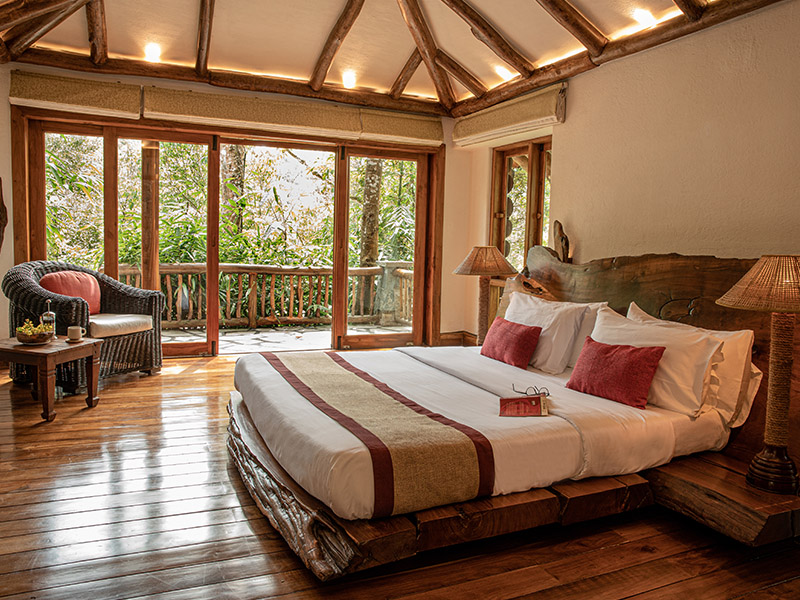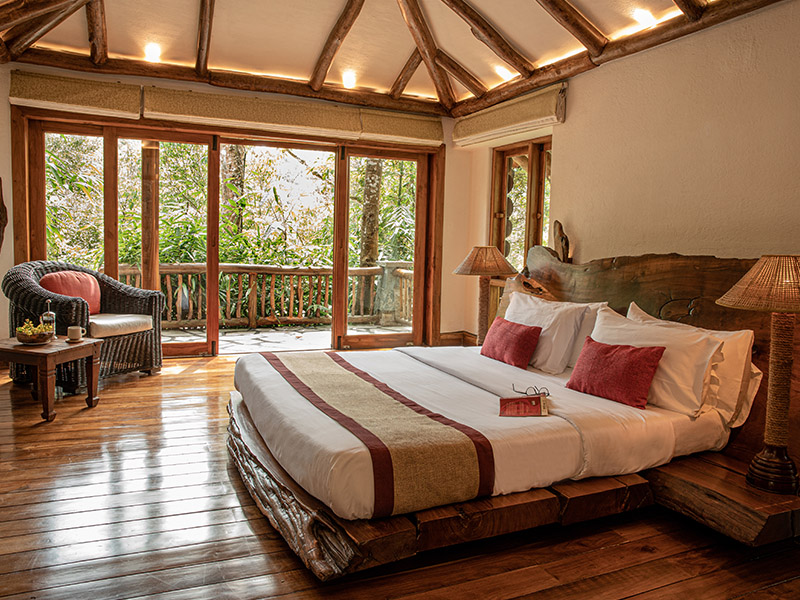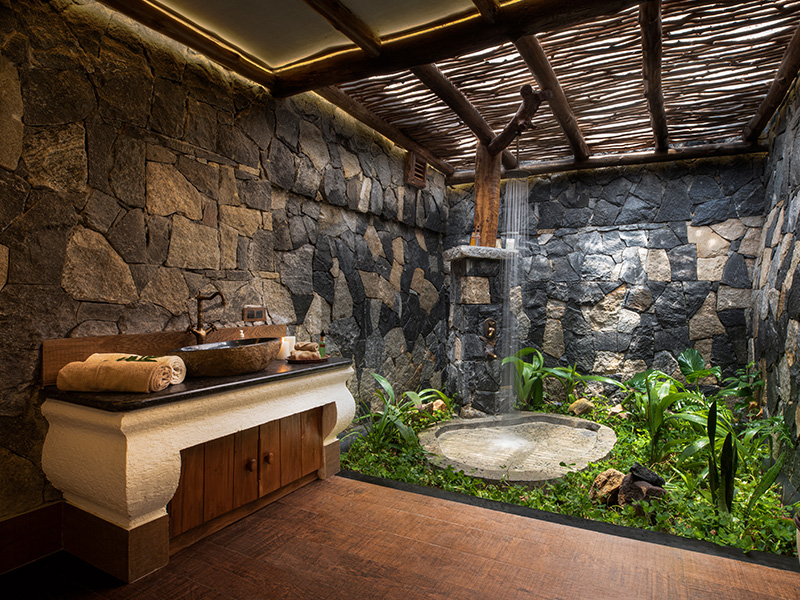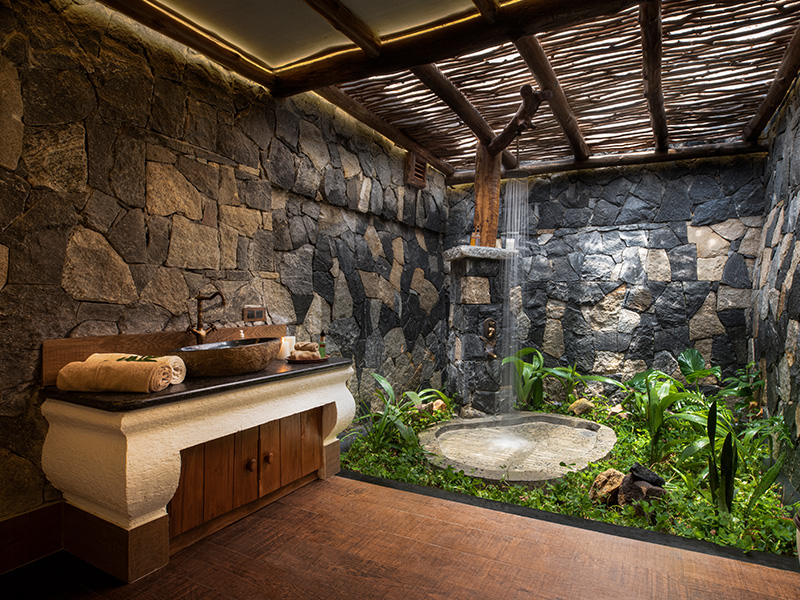 Even as home owners are treated to unobstructed views of the forest, they are simultaneously cocooned by the natural world inside the villa. A tropical shower which simulates the experience of bathing in the outdoors best illustrates the idea of maintaining this constant connect with nature. Eucalyptus poles on the ceiling invite the magnificent play of light and shadow into bathrooms. Akin to a courtyard, bathrooms are fitted with an organic shower tray that's set amid natural boulders and stepping stones. Of course, utmost privacy is maintained, owing to the natural contours of the sloping hillside, lush surrounds and the very fact that every villa design follows a system of natural landscaping.
Keeping the connection to nature alive, a picturesque walkway fitted with glass joinery that looks out on to surrounding forest acts like a bridge between the three levels of the villa. Skylights filter natural light into various spaces across the villa. Enveloped by nothing but the wilderness and the calls of cicadas and birdsong for company, it's natural to wonder about the security of this mountain-side project. To this end, facilities like 24-hour security, advanced security systems ensure safety of the fully serviced villas.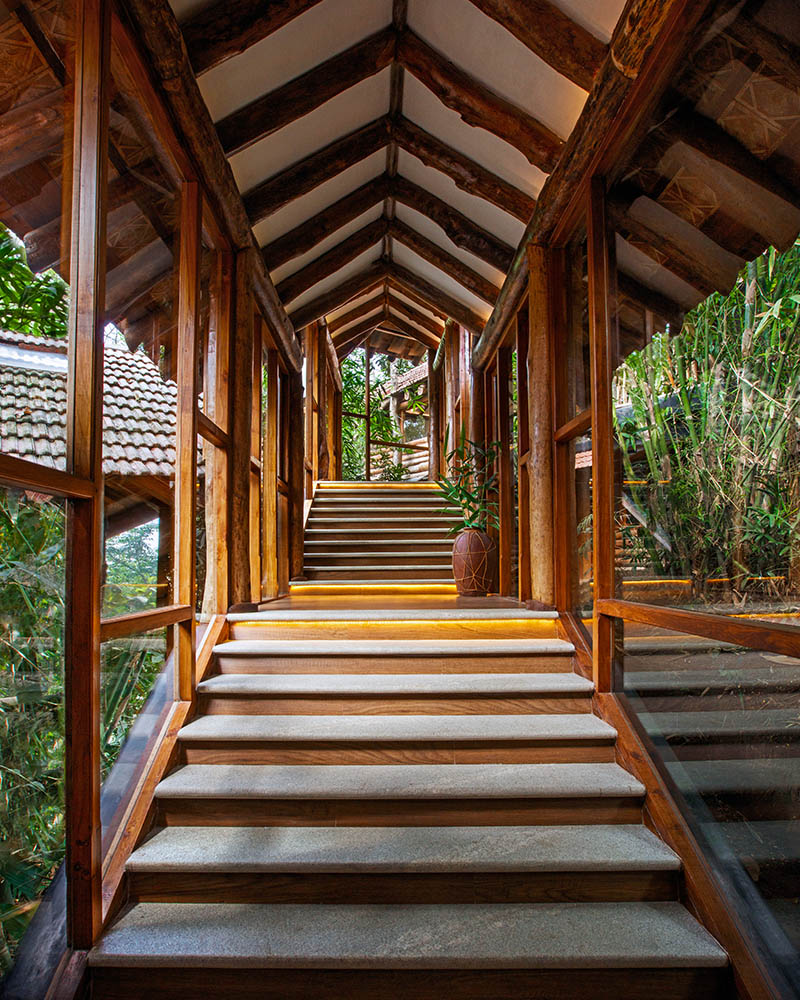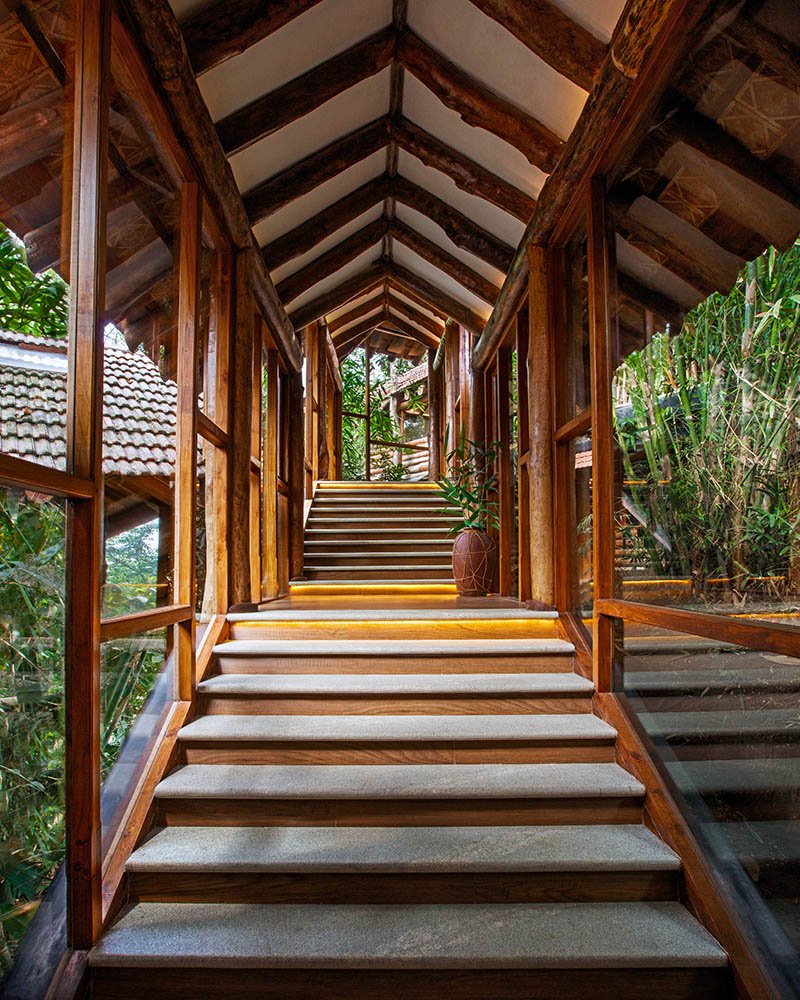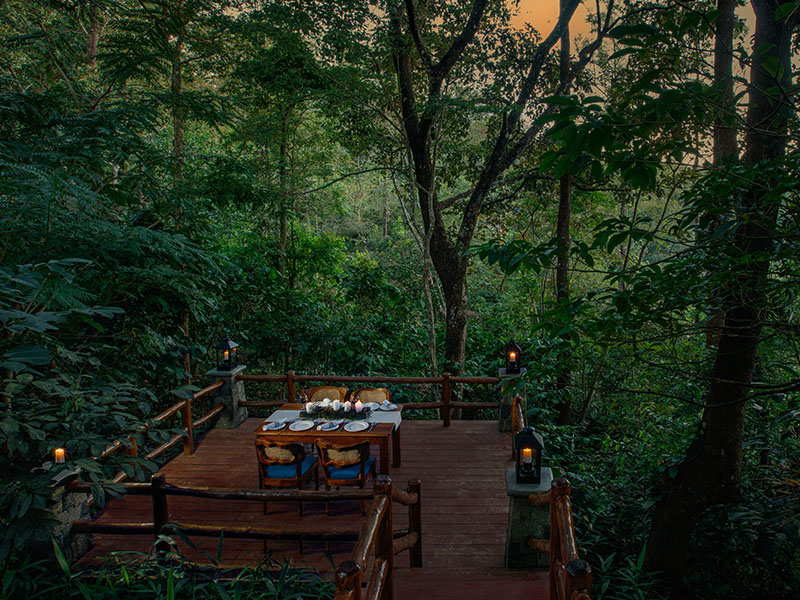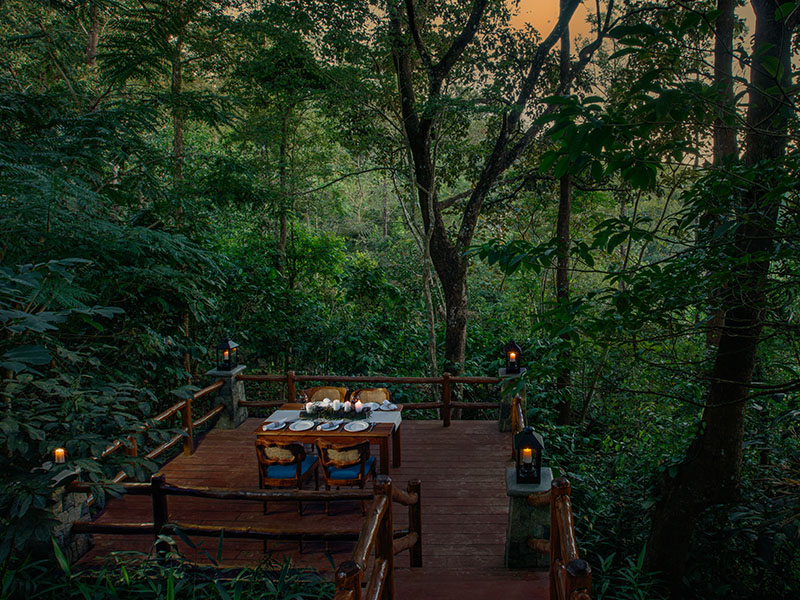 Homeowners are sure to be sated with the privacy, quiet and stunning views that these villas afford. Besides birdwatching and trekking, one can feed their passions for gardening at the organic vegetable gardens or even learn more about apiculture which serves to conserve and protect native bees. But, there are common areas too like the Harmony, Intimacy and Serenity decks — should the need to entertain guests arise. And, socialising and bonding with a like-minded community will soon be a reality when all 15 villas are eventually occupied.
The idea of living in tune with the ways of the land might seem tempting to the potential Stone Lodges homeowner. Then again, leaving behind the conveniences of a city will always be a tad daunting. Luckily, Earthitects has taken into consideration the common worries of the city dweller. The Stone Lodges Private Residences project is located just a kilometre away from the tourist town of Kalpetta, which means that it lies in close proximity to ATMs, schools, hospitals and provision stores. How's that for really being able to enjoy the best of both worlds!