India celebrates 150 years of Gandhi at the Venice Biennale, 2019
25

May

'19

12:27 pm

by

Nuriyah Johar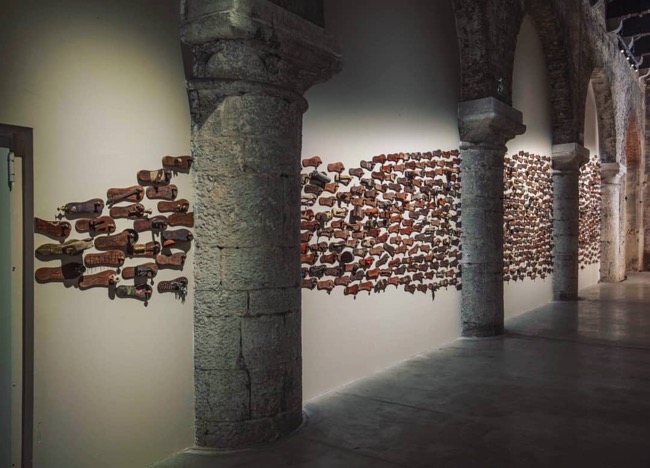 The 58th International Art Exhibition of the Venice Biennale has begun, taking place in the historical Pavilions at the Giardini, at the Arsenale and in the city centre of Venice. The show's title for this edition, 'May You Live In Interesting Times', is a remark upon the tumultuous aspects of existence across social, cultural and political spectrums. "The 58th International Art Exhibition will not have a theme per se, but will highlight a general approach to making art and a view of art's social function as embracing both pleasure and critical thinking." says the show's curator Ralph Rugoff.
This edition of the Biennale features 89 national participations, including first-time participations of Ghana, Madagascar, Malaysia, and Pakistan. Amongst the newer entrants, India shines at the show in its second-ever showing since 2011. The exhibit titled 'Our Time for a Future Caring' celebrates 150 years of Mahatma Gandhi and features seven works by acclaimed artists like Atul Dodiya, Jitish Kallat and Nandalal Bose. Having received a high level of international critical acclaim, India has been listed among the top 10 country pavilions at the Biennale by the Financial Times and leading art website artsy.net.

"The project is not about nostalgia.", says Roobina Karode, curator of the India Pavilion. "Gandhi was a man of his time and also ours. The project inspires one to think about our complex world through Gandhi's values." A nod to his Gandhian upbringing in Porbandar, artist Atul Dodiya's installation is composed of glass-fronted wooden cabinets filled with assorted objects like hand-coloured framed photographs, artificial limbs, tools, found objects and billboard paintings. GR Iranna's 2010 work Naavu features a wall installation made of hundreds of padukas, a quintessentially Indian form of wooden footwear. It takes inspiration from the Vedas and the Upanishads and promulgates the virtue of non-violence. Also showcased, is Nandalal Bose's Haripura Panel (1938), a representation of India's rural population commissioned by Gandhi himself. Other participating artists include Rummana Hussain, Shakuntala Kulkarni and Ashim Purkayastha.
Photography courtesy, India at Venice Biennale