Indulge In A 'Tropical Tablescape' With Tableware Brand Plate & Peonie
20

Jun

'22

10:00 am

by

Sneha Shah
Creating a beautiful tablescape is a soothing, satisfying ritual. The 'Art of the Table' has exploded with aesthetic symmetry, bright florals, bold napkin rings, couture-worthy linen, and splendid, hand-crafted dinnerware – all of which elevate your culinary experiences. From tastefully minimalist designs to statement settings, luxury tableware brand Plate & Peonie shares its expertise in curating a dreamlike tablescape. Founded by Anandita Kothari, the company was created to bring joy to the dining room and act as a one-stop destination; housing a compelling selection of international brands. The authentic and unique curation of tableware at Plate & Peonie is handpicked from across the globe, ranging from table linens and bar accessories, to serve ware and cutlery.
"A tropical tablescape has always been one of my favourites! My foundation for this tablescape has always been lots of greens and earthy textures like jute, rattan, wicker or straw. From there, I add details with animals or palm tree dinner plates that truly bring a tropical feeling alive on the dinner table", explains Anandita. "I like to add wicker cutlery and glassware, and jewelled bamboo or palm tree napkin rings as accessories to complete each place setting. Once the place setting is done, I like adding a runner or decorative accessories to add quirky touches to bring a good finishing touch. For example, I love using tree-shaped salt and pepper shakers, greens from the garden and wicker baskets with fruits as centrepieces," she adds, giving us insights on the elements at play for a tropical tabletop.
Here are a few of our favourite island-meets-bohemian picks from Plate & Peonie to turn your abode into an indoor green oasis –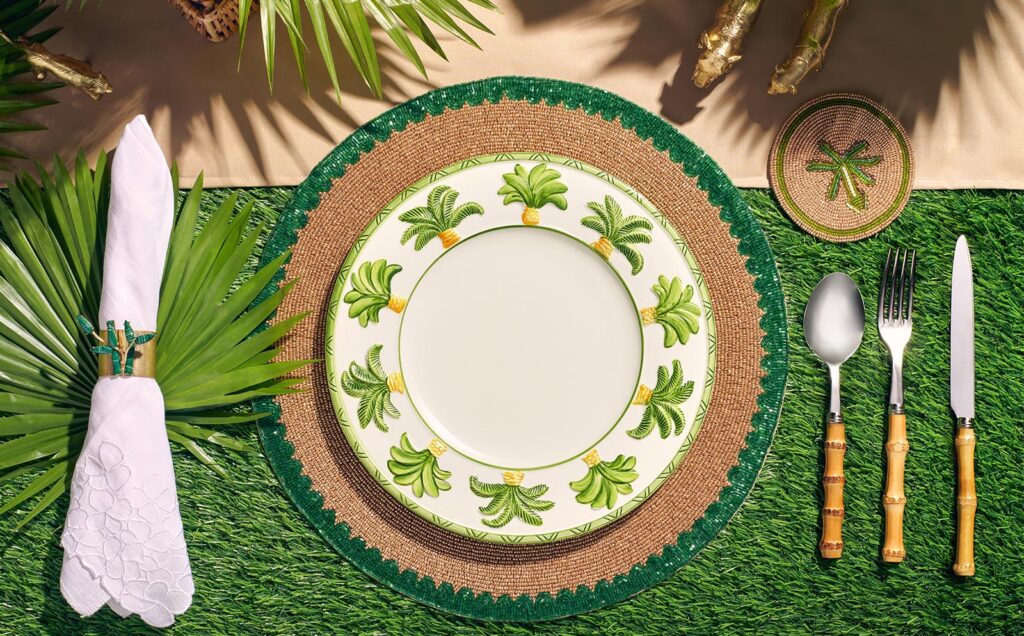 Menagerie Ottomane Palm Tree Dinner Plates by Les Ottomans, and Scalloped Edge Placemats by Joanna Buchanan
Enriching dining experience(s) one tabletop at a time, this is the perfect plate to bring a tropical vacation to your tabletop. To complement your dinnerware is the gold and green scalloped edge placement. The earthy neutral tones of rattan fibre placemats exude a sense of unadulterated elegance and can be paired with any decorated napkin ring!
"Layering my tablescape is where all the fun comes in! I love using a mix of organic and earthy with jewel tones and detailed textures that elevate the spread." – Anandita Kothari, Founder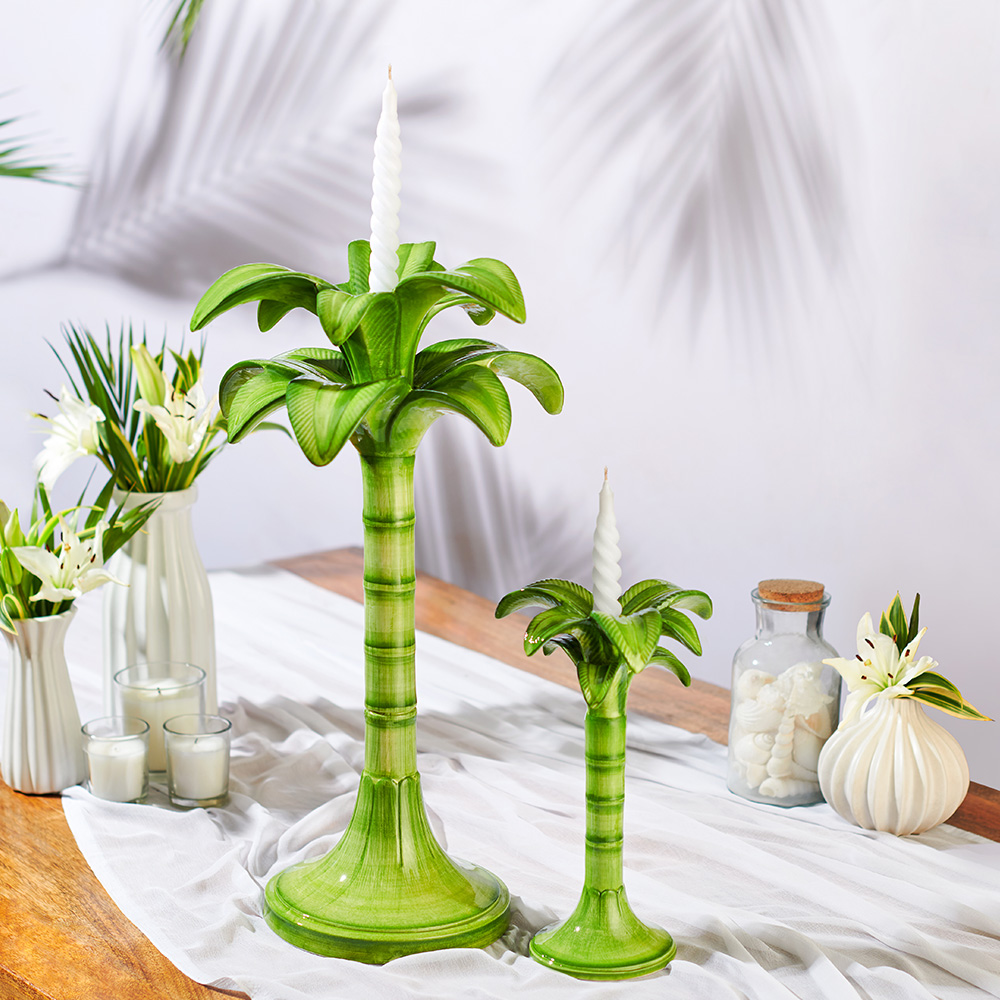 Palm Tree Candlestick Holders by Les Ottomans
The leafy ceramic style evokes balmy days as a centrepiece at the table or a playful addition to your sideboard, instantly drawing the eye with its verdant hue. It is a great hostess gift too!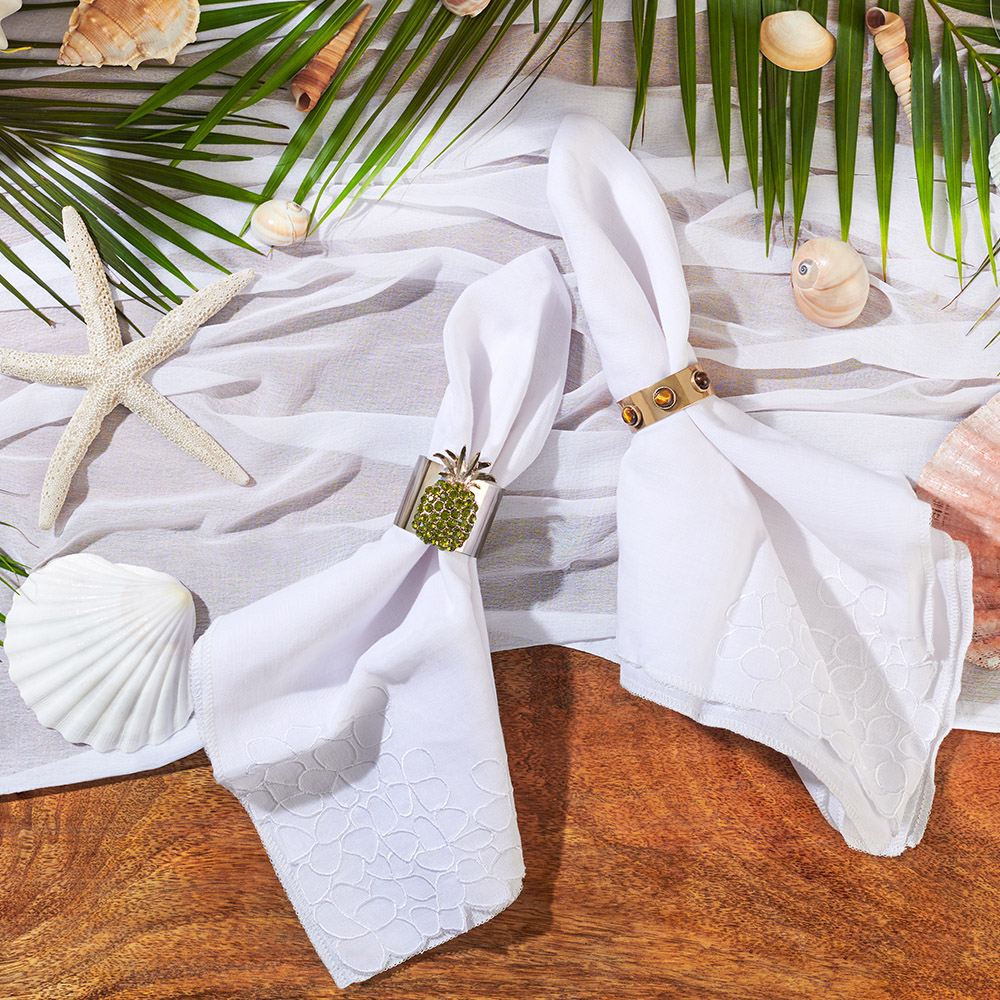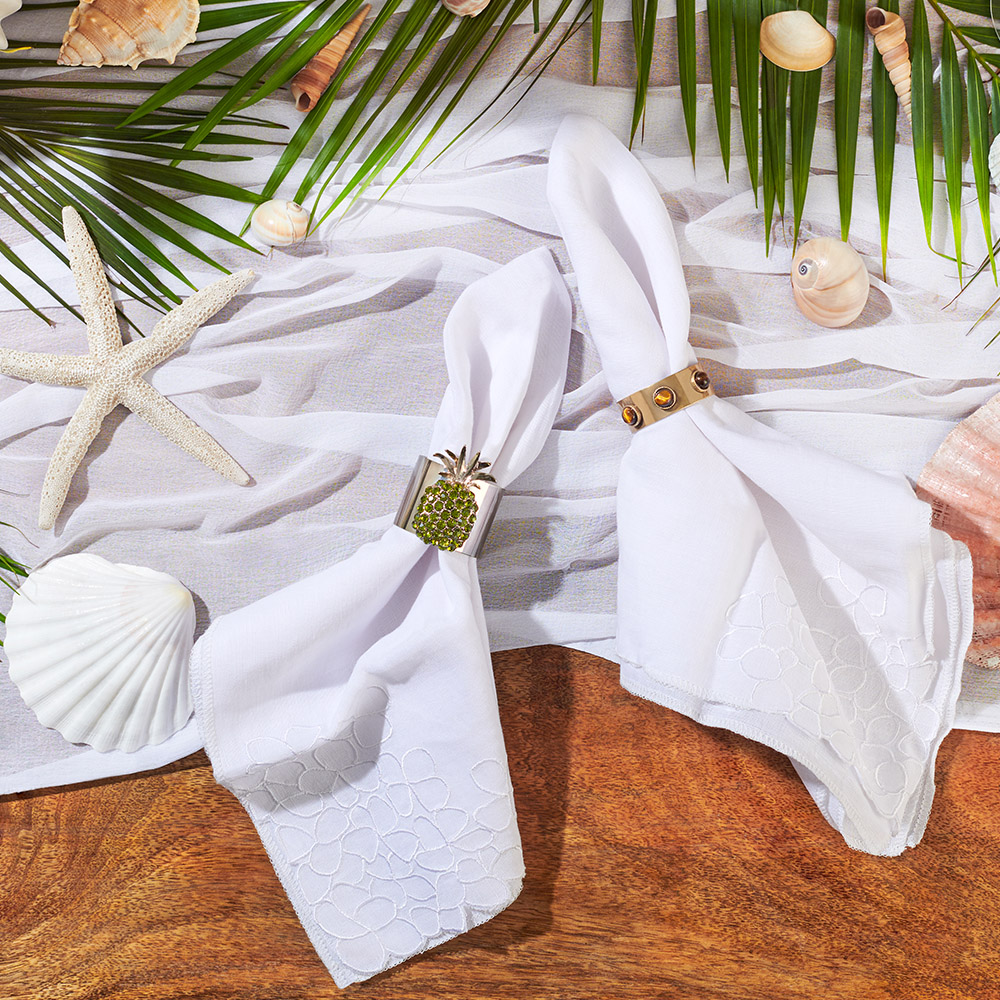 Pineapple Napkin Rings by Joanna Buchanan

Nothing more fun or welcoming than a pineapple at your place setting! These pineapple napkin rings are loaded with crystals for maximum tropical sparkle!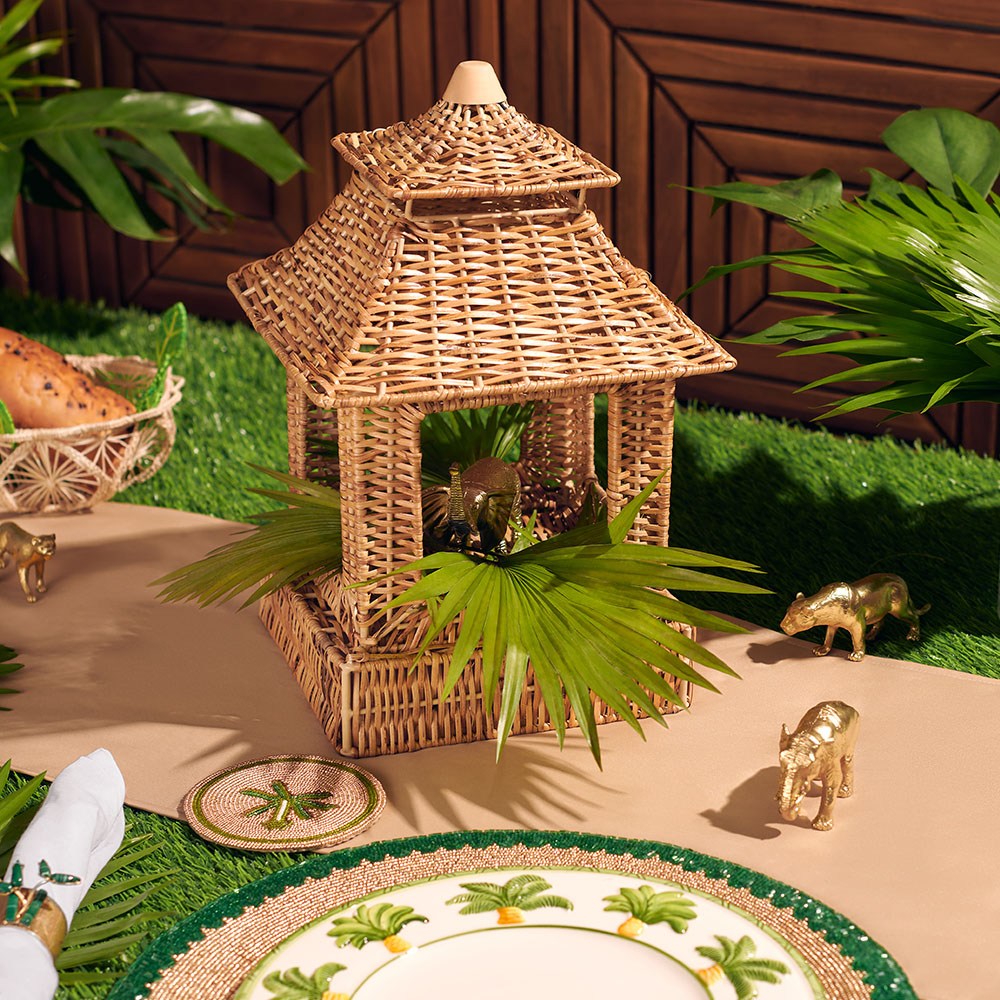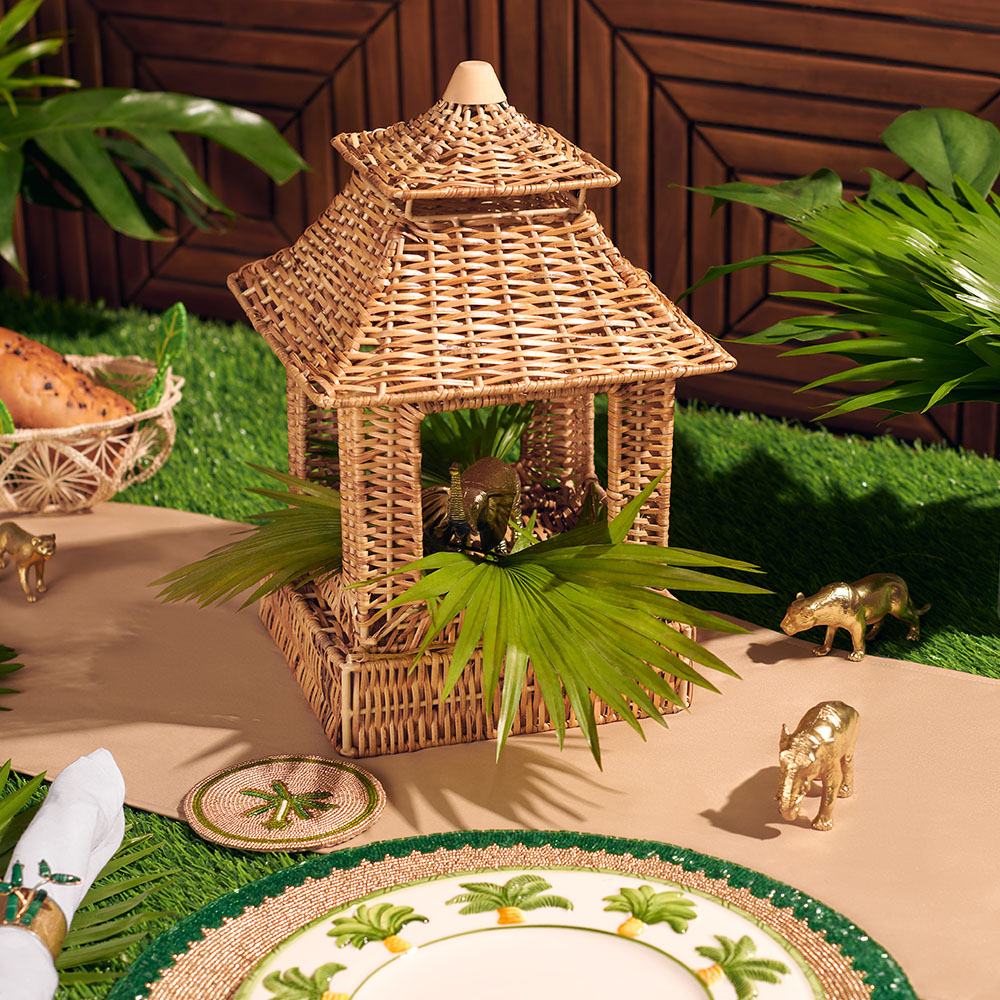 Wicker Pagoda Lanterns by HMA Decor

Rustic and chic – these gorgeous and unique Wicker Pagoda Lanterns will add that extra panache to your indoor or outdoor dining table.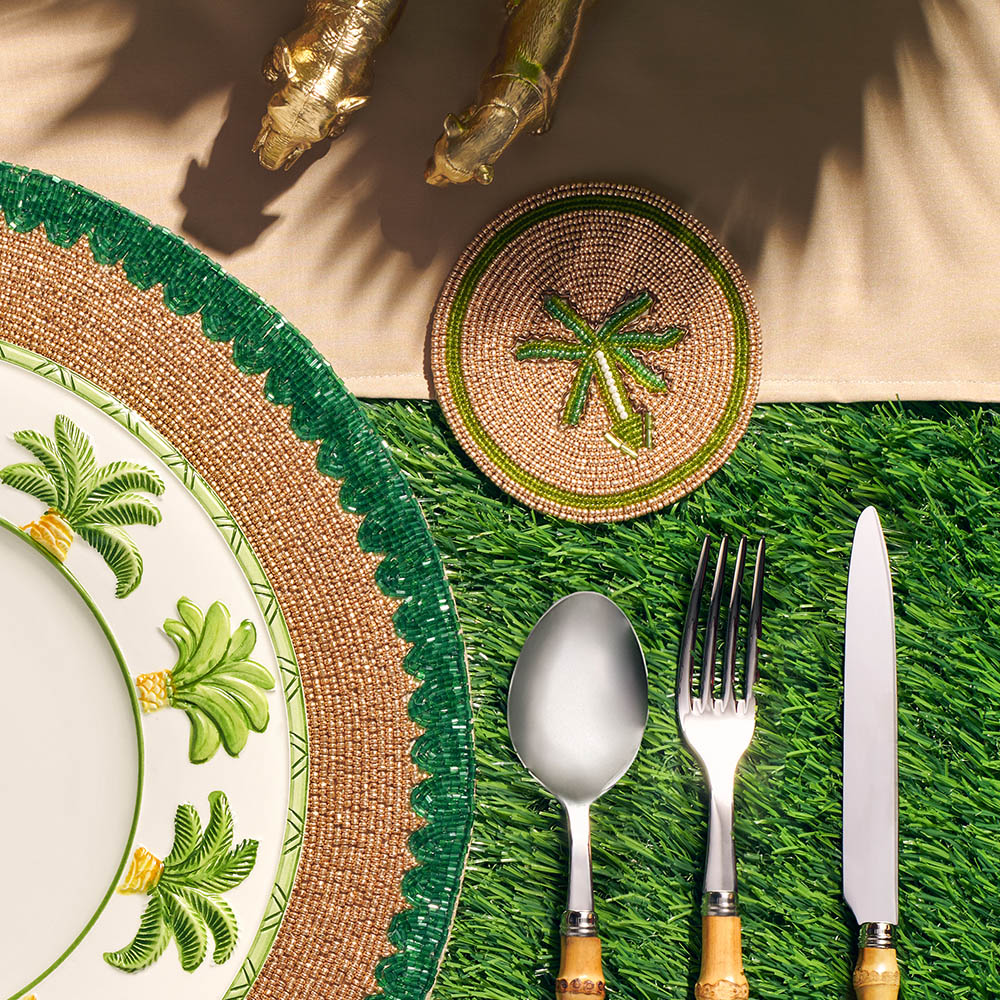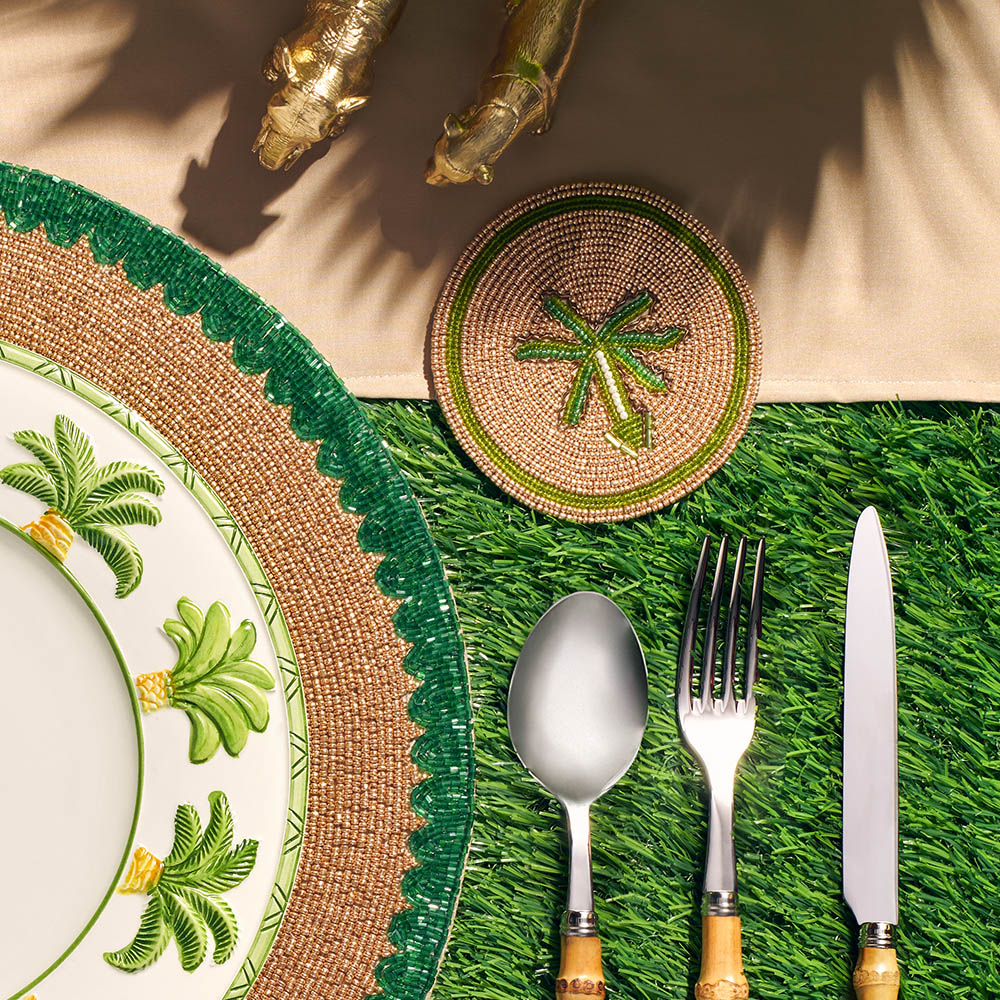 Palm Tree Coasters by Joanna Buchanan

An island vibe and all things jungle-chic, these coasters give you a fun tropical setting at your tablescape and your bar!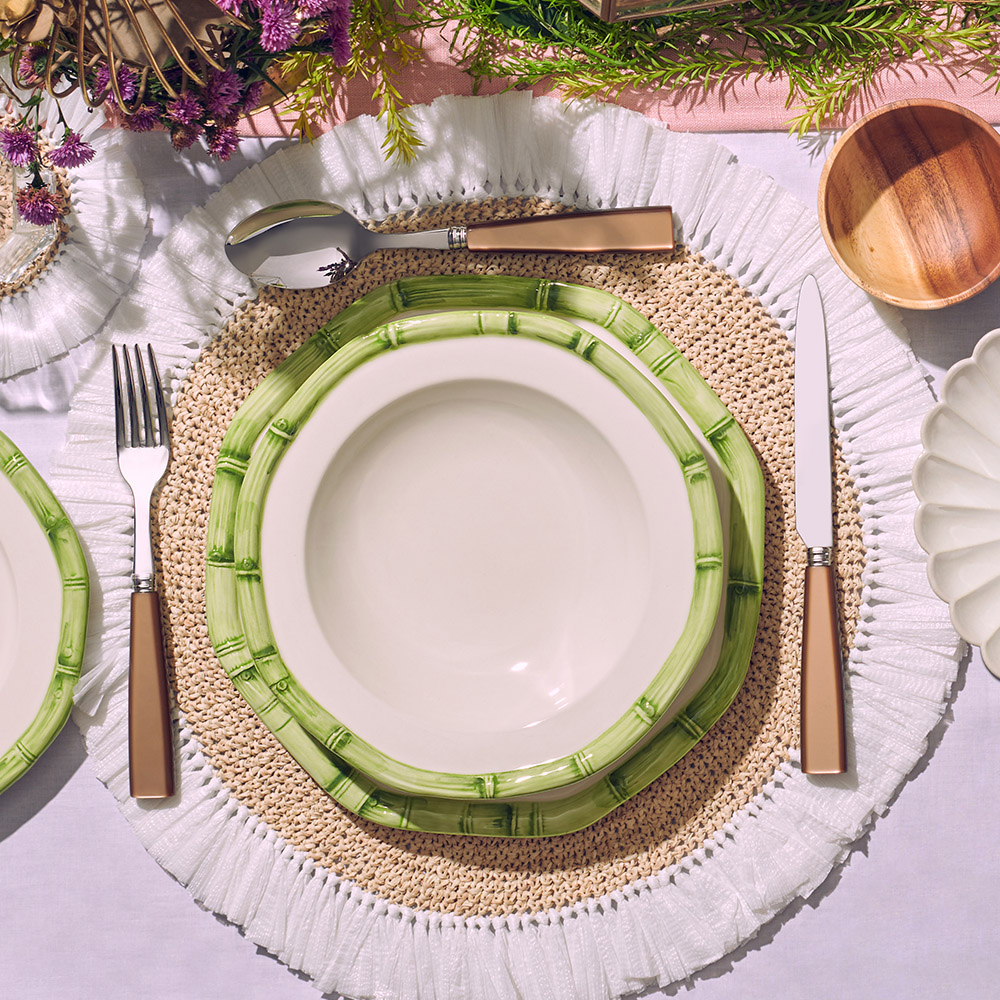 Icone Brown Cutlery Set by Sabre

If you're looking for elegant but distinctive tableware, the Icône collection is a perfect integration to your tropical theme. With its sleek styling and caramel colour featuring a slightly retro touch, you'll definitely find the cutlery set just right for your table.
Ultimately, tablescaping is more than just layering crockery or picking out the right placemats; there is a phenomenal uptick in trend-oriented table settings to tap the creative and curious minds of entertainers, tastemakers and designers. "I think it's about mixing and matching what you have, to achieve a casual yet chic tabletop with a combination of glamorous and rustic elements! I like my tabletop to always follow a colour palette or a theme to build on", says Anandita. "Layering my tablescape is where all the fun comes in! I love using a mix of organic and earthy with jewel tones and detailed textures that elevate the spread. If I'm using a wicker mat, I like to pair that with an embellished napkin ring, or a beautiful gold-rimmed dinner plate to add a touch of sophistication to the whimsical", she concludes, describing her signature style and aesthetics.
Marrying the regional relatability of summer-y, botanical design with the contemporary sensibilities of international tableware, the 'Tropical Tablescape' by Plate & Peonie is a compelling moodboard for your next dinner party!
Head to Plate & Peonie's online store to spark inspiration, explore and shop all collections and one of a kind products! The brand offers exceptional delivery service at your doorstep across India.