Inside Churchill's Wartime HQ – A Raffles-Branded Apartment That Embraces Vintage Treasures And Bold Patterns
27

Sep

'22

6:44 pm

by

Sneha Shah
The Old War Office that was once under Winston Churchill's premiership during World War II has now been transformed into a new Raffles flagship hotel and 85 exclusive residences. In the heart of London's iconic Whitehall, this exclusive residence has heritage so steeped in history it is a Grade II listed gem with neo-baroque styles and ornate features. Think of a London apartment nestled within a quintessential British building; one imagines hybrid templates that range from classic Art Deco to grand Victorian flourishes. In an attempt to woo the cultural connoisseurs of the world, British design studio, Angel O'Donnell designs a three-bedroom apartment that balances homely comforts with statement patterns, sculptural furniture, and world-renowned art.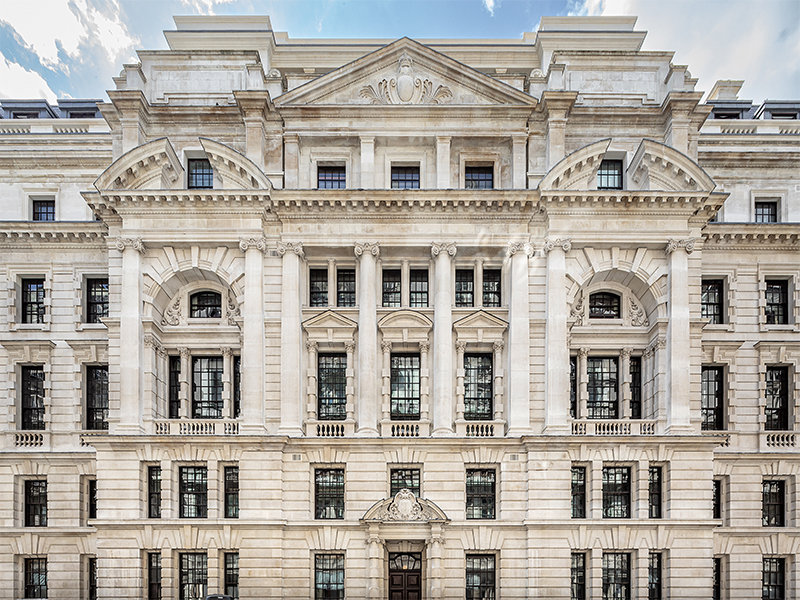 Any building with such a notable past offers a window into the urban history and culture; at the same time providing a perfect canvas to celebrate the time-honoured craft techniques. "Our aim is to always create a generous and restorative home no matter how grand the property is. This was something our client wanted too. In fact, they specifically asked for understated luxury, a little eclecticism, and a lot of comforts", says Ed O'Donnell, Creative Director and Co-Founder of Angel O'Donnell.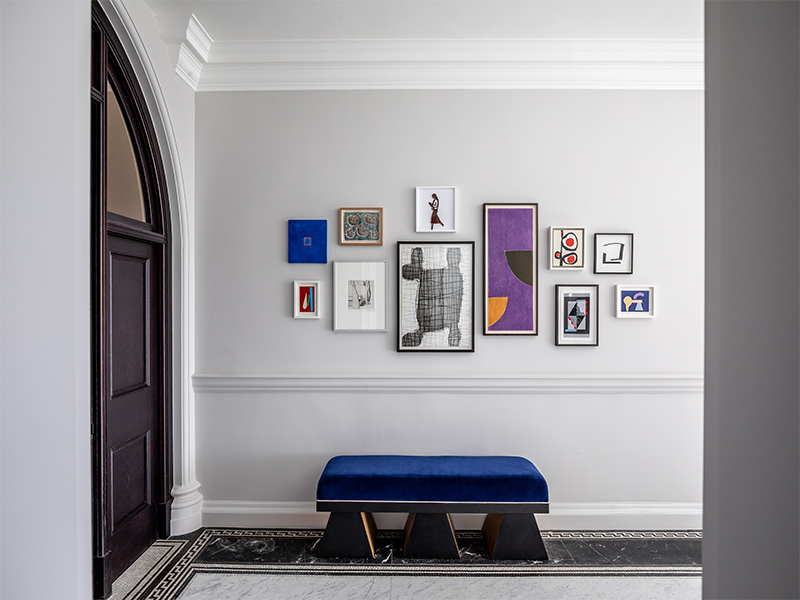 The heavy arched door instantly fosters a cultural identity while the hallway includes a brutalist-inspired bench against a wall of abstract collages. The simplicity of this transitional space lends a contemporary art gallery quality and sets the tone for what's to come. "We wanted our designs to celebrate the building's natural charms. The apartment, for instance, is blessed with many original features – from high ceilings and large, decorative mouldings to an intricate mosaic floor. These details don't require much enhancement, which is why we opted for a soft, neutral palette throughout most of the rooms. This – along with wood beading, which we added to elegantly break up large expanses of the wall – provides the perfect backdrop to furniture, artwork, lighting, and window treatments", explains O'Donnell.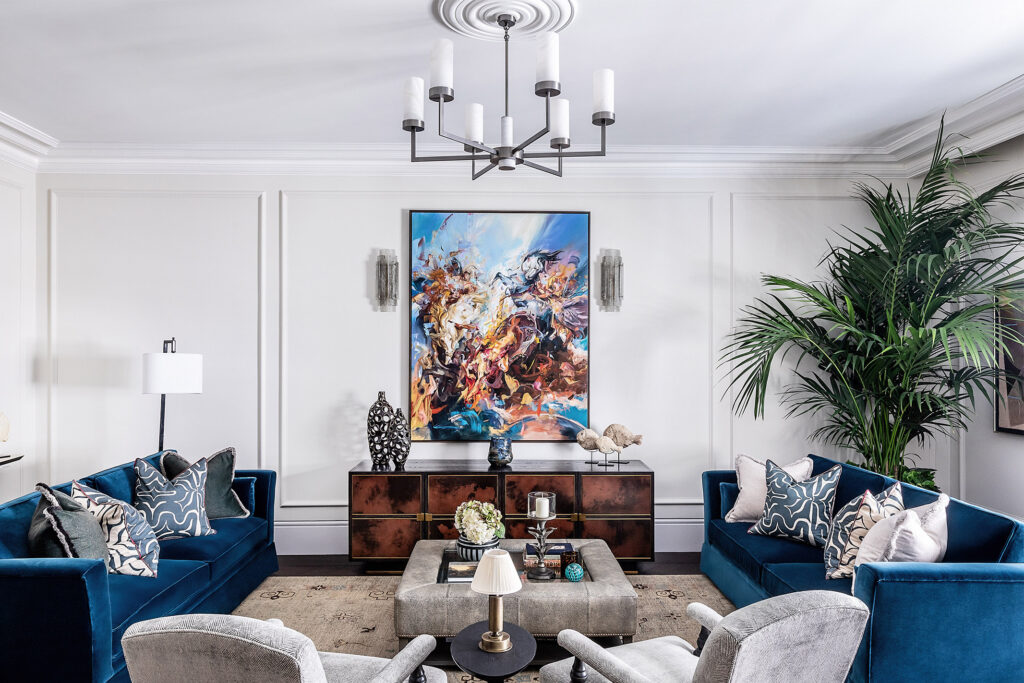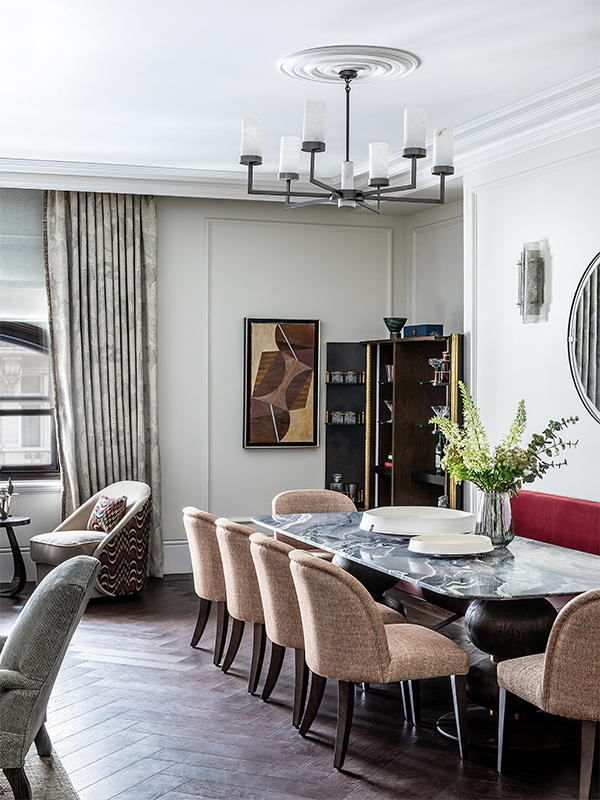 The living room exudes pin-sharp detailing, weaving in multicultural flavours including bespoke velvet sofas, a hand-knotted Persian rug with Arabesque ornamentation and an eclectic mix of decorative pieces. A Renaissance-inspired oil painting by a Colombian-born artist creates an arresting focal point in the living room. The dining area features a banquet-sized table, honed from a single slab of Italian Rosso Luana marble complemented with a carmine-coloured bench and sand and chestnut-toned chairs.
Also Read: Designer Serena Crawford Takes Us Through Her Remarkable Curio-Filled South African Beach Cottage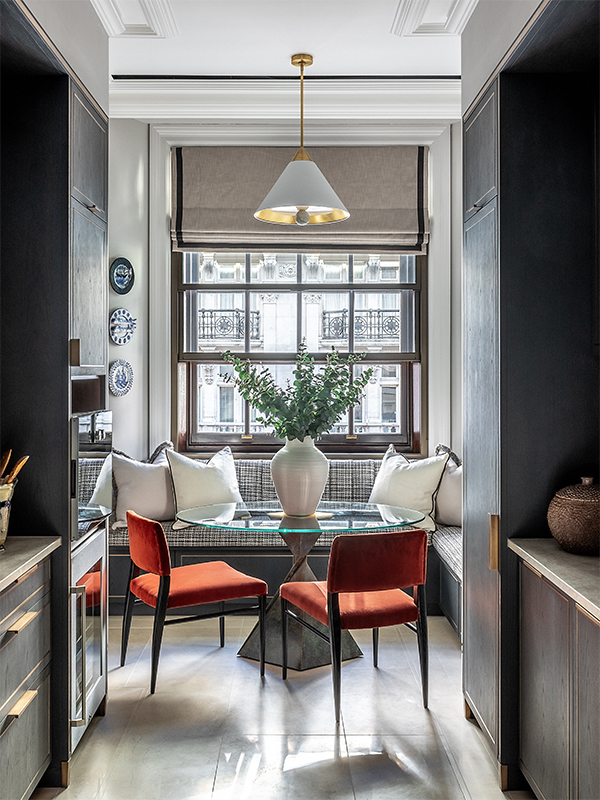 The grand hallway leads to the kitchen and three bedrooms, and is adorned with mid-century Murano-glass pendants and a raw-edged stone table. A handcrafted sculptural table with a twisted oxidised copper base, by celebrated British designer Tom Faulkner, occupies the ergonomic kitchen space. It is further accentuated by vintage chairs, upholstered in rust velvet and a densely-textured banquette with multi-yarn cushions.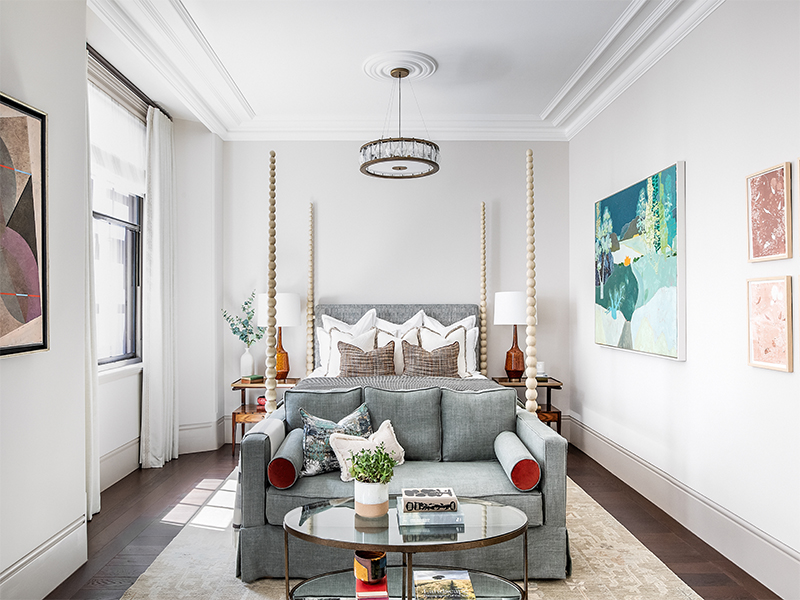 The principal bedroom includes a dreamy four-poster bobbin bed by Julian Chichester, a pioneer of contemporizing classic English furniture. A soft sage-linen sofa along with soft wool boucle armchairs add to the room's warmth and comfort. The plaster wall lights that are theatrically shaped like woodland flutes from Porta Romana, a British lighting manufacturer, emit the toastiest of glows. The splendid space is also replete with art by veteran landscape artist Richard Ballinger and neo-pop-art legend Damien Hirst.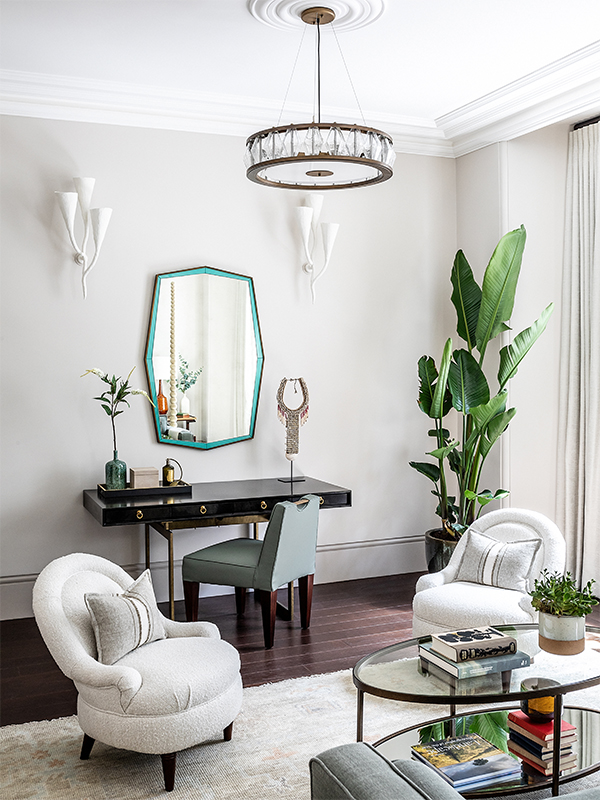 Two guest bedrooms are treated to Savoir splendour with handcrafted Savoir beds, for a lovely extravagance. The cloakroom is conceived glamorously with equal attention to detail; covered in impactful marbleized wallpaper of kaleidoscopically bright colours and mesmeric swirls. "When you're in the lovely position of interior designing large and lofty rooms, you tend to let rip and lavish them with big, near-oversized furniture. So many pieces – from the voluptuous oak table bases in the dining area to the elongated glass 'petals' that form the pendant lights in the hallway – look on the verge of being giant-like, while at the same time achieving perfect proportions", adds O'Donnell.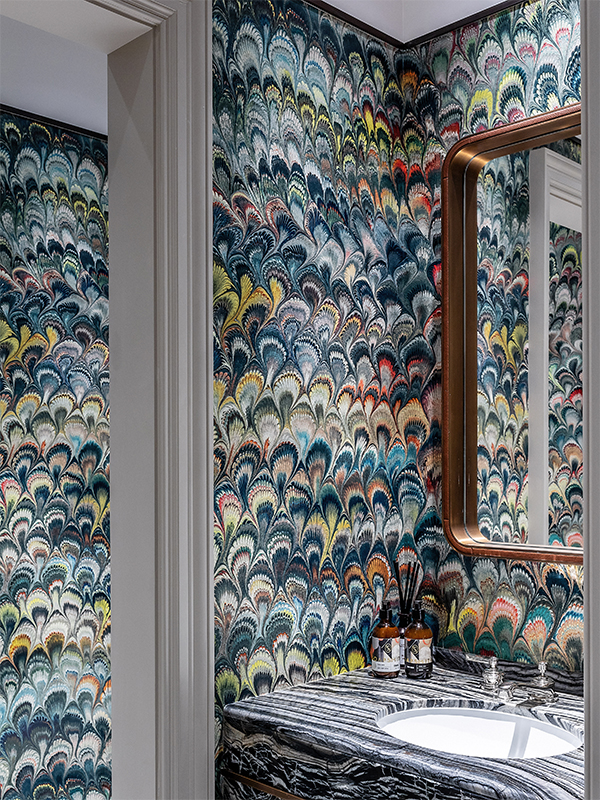 The elements of this space work in unison to create a home that hits the sweet spot of beauty, tactility and that all-important comfort. Angel O'Donnell, in its aim to deliver the most unique and deluxe residences, has created interiors that celebrate The OWO's cultural pedigree. "We had to maintain a discriminatory eye and wheedle out anything that evoked the building's past too thirstily. This was an exercise in vigilance, constantly cross-referencing patterns, colourways, fabric choices, mixed-media art, lighting and furniture designs. Ironically, the more we edited, the more effortless our choices appeared, which is what you want at the end of the day", concludes Ed O'Donnell.
Also Read: In London's Knightsbridge Lies The Modern-Day Iteration Of A Traditional Mews Home