Inside Jaipur's Sumptuous 'Bar Palladio'
1

Mar

'17

10:59 am

by

Crew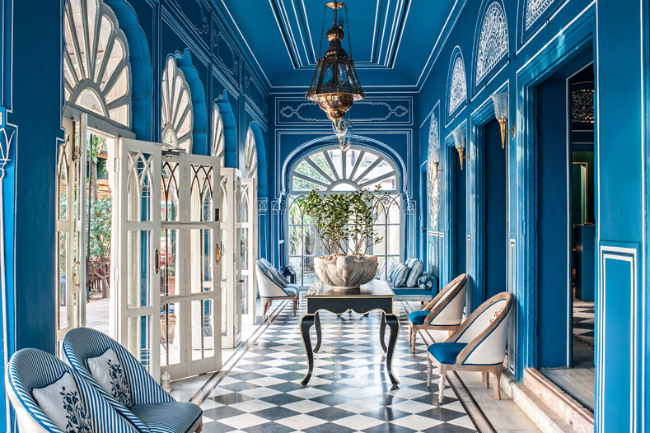 You can spend your entire life walking in and out of rooms and never really noticing them, but once in a while one comes along that takes your breath away. Perhaps you are imagining the Hagia Sofia or the Sistine Chapel, but there's a slightly less famous but equally enchanting space hiding much closer to home in the regal Pink City of Jaipur. Bar Palladio, in the Narain Niwas Palace Hotel is the ideal domestic destination if you want to experience the opulence of Venice without sacrificing the personality and colour of Rajasthan. The cerulean and cream interiors transport you to an old-world fantasy, the signature colour was handpicked by owner Barbara Miolini who had a vision of Bar Palladio becoming a meeting space for world travellers to swap stories and shed their cares over drinks and conversation. With the help of Marie-Anna Oudejans – a Dutch designer and name behind fashion label Tocca – and 8 long months of work this dream a reality.
Inspired by Renaissance design and the Palace of Versailles, their vision was to create an escape which would simultaneously echo the best of Italy and India. They set out to bring that unusual amalgamation to life. Grand European furniture is juxtaposed by block prints and elaborate Mughal art. A local artist lent his talents to the ornate frescoes of local birds and wildlife on the walls of the innermost area, while the bar itself is guarded by regal lions carved in marble, similar to 20th Century Venetian cafes. The quirky elegance extends to every facet of the design from the pistachio and gold rimmed tableware to the Louis XV–style ottomans, block printed with regional flowers.
Whether you're there to socialise or just while away the hours there's plenty to try, you could sample the expansive Italian menu or get too know the regular patrons who come from every corner of the world. Then wind down the day on one of the tented cast iron sun-beds, the perfect place to watch a desert sunset and sip an iced cocktail. Under every archway and around every corner of Bar Palladio is a new secret to discover and beauty to explore. With its air of unhurried luxury, this space will give you a taste of a simpler, more elegant era and the indulgence of a lifetime.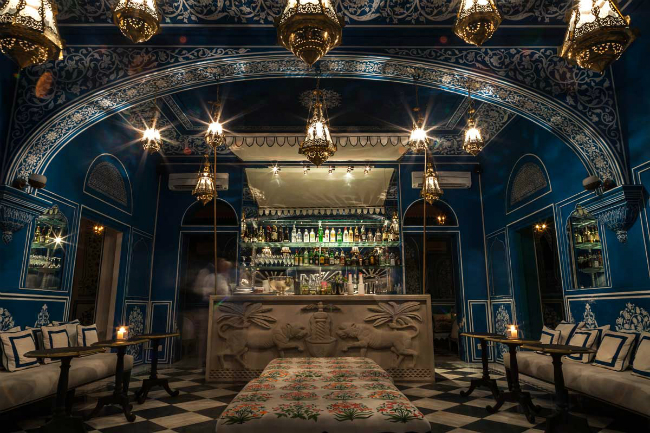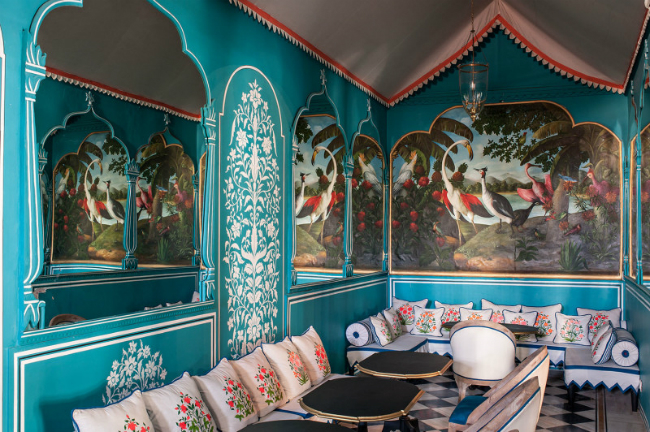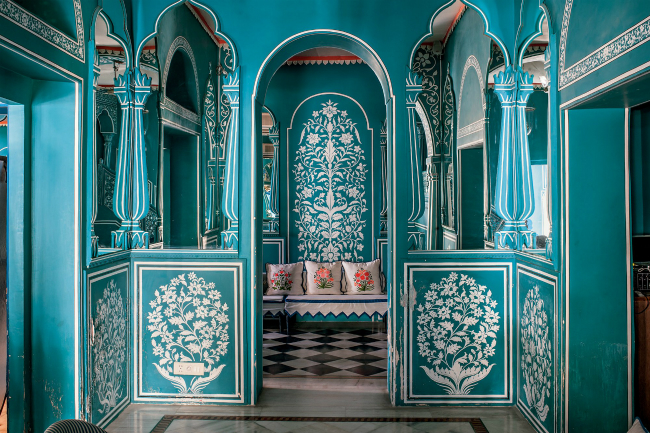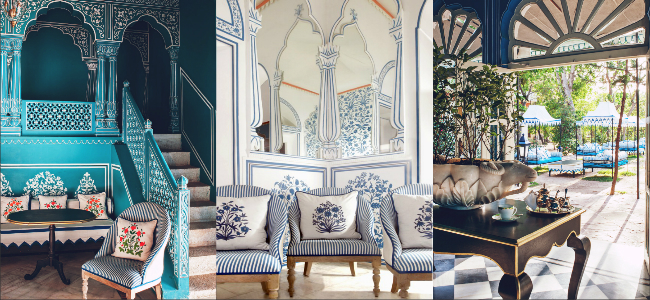 Photography Via : Bar Palladio