Inside Naked, A Minimalist Mumbai Apartment With Accents That Surprise
20

Jul

'21

6:21 pm

by

Beverly Pereira
In the urban context, there's a lot to be said for minimalism and the art of maximising space by living with less. For a recent project in Mumbai, MuseLAB quite literally broke through the clutter to envision a space that focuses on the bare essentials. The site — two one-bedroom units each equipped with a living-dining space, kitchen and bathroom — lent itself beautifully to the idea of creating a minimal abode. A seamless space emerged upon tearing down the walls between the two units 15 floors above the ground. From there on, the open-concept home took on a bold yet thoroughly minimalist identity.
The brief called for a home for a bachelor that recalls the open-concept layout of Philip Johnson's Glass House. To this end, large windows bring in natural light while framing views of the cityscape and a hillock in the distance. One enters directly into the living area sandwiched between the sleeping space on one end of the home and a 'cook and eat' space at the other. Despite the liberal use of greys and woods, the home, aptly called 'Naked', feels neither austere nor mildly sparse.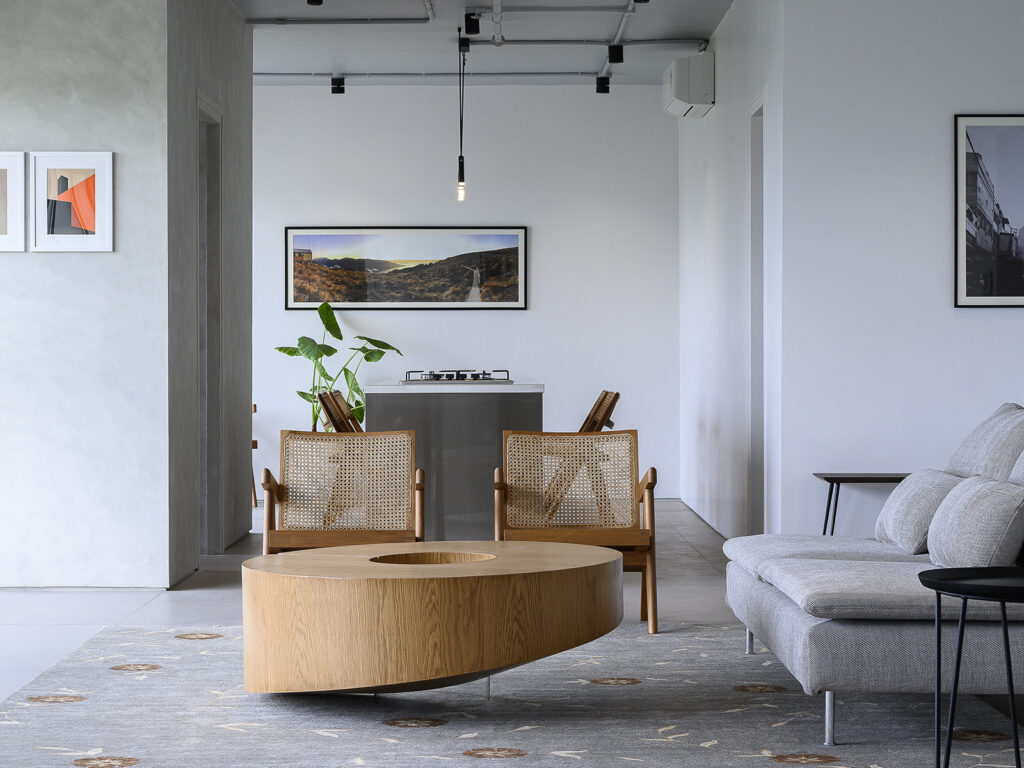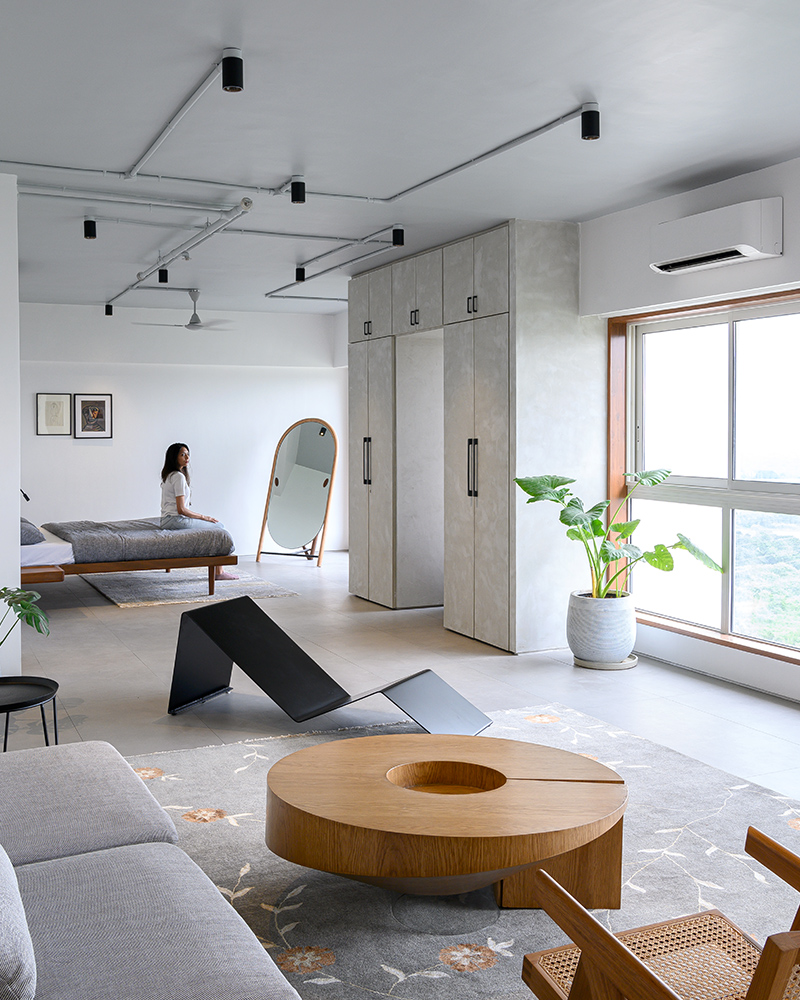 A variety of tactile surfaces and sculptural furniture – all consciously chosen for their materiality, rawness and striking form — are subtle stand-outs amid this very neutral palette. Huzefa Rangwala of MuseLAB likens the home to "a 'galerie des sculptures' with shockingly no patterns or colours". Form and functionality are treated with utmost importance and care in this home. In the living area, the simplicity of a Soderhamn sofa from IKEA is set back with a pair of Easy Armchairs by Phantom Hands and MuseLAB's very own sleek metal profile chaise called Bent. Every bit of a conversation starter, these pieces are set around a central architectural coffee table and all of them rest on a hand-knotted pure wool carpet with hand-spun pure silk accents (Autumn from the Nouveau series by Cocoon Fine Rugs).
"Each piece of furniture exudes a certain amount of rawness in its tactility; the idea behind bringing together these pieces was to experience their materiality and silhouettes with visual and physical interactions," says Rangwala who envisioned the furniture as functional art. "The chaise (Bent) and the coffee table (Bloom) are extremely sculptural. The island kitchen, the mirror and a few other pieces of furniture add to how this singular volume transforms into a tiny urban gallery sprinkled with beautiful furniture," he explains.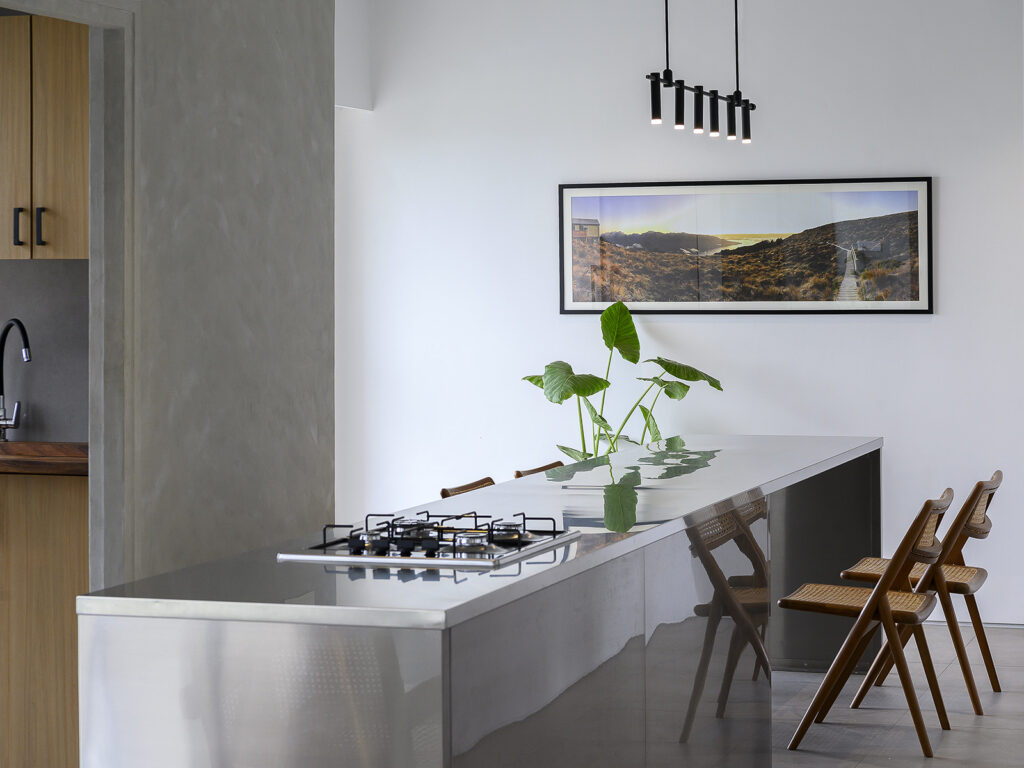 Well within view is an open steel kitchen designed in collaboration with Kuche 7. Responding to the needs of the client, a self-described closet epicurean, this 'cook and eat' zone features an island kitchen with a countertop that extends to form a dining table for four. Mungaru dining chairs by Phantom Hands set around the dining end of the counter, a linear cluster of pendant lights by LightTecture, and a framed photograph of a panoramic landscape shot by the client instantly creates the perfect little nook for entertaining. While one door leads to the wet kitchen and dry yard with a working countertop in East Indian walnut wood flanked by grey cementitious walls by Concrete Works India, another one that's just as discrete leads to a powder bathroom.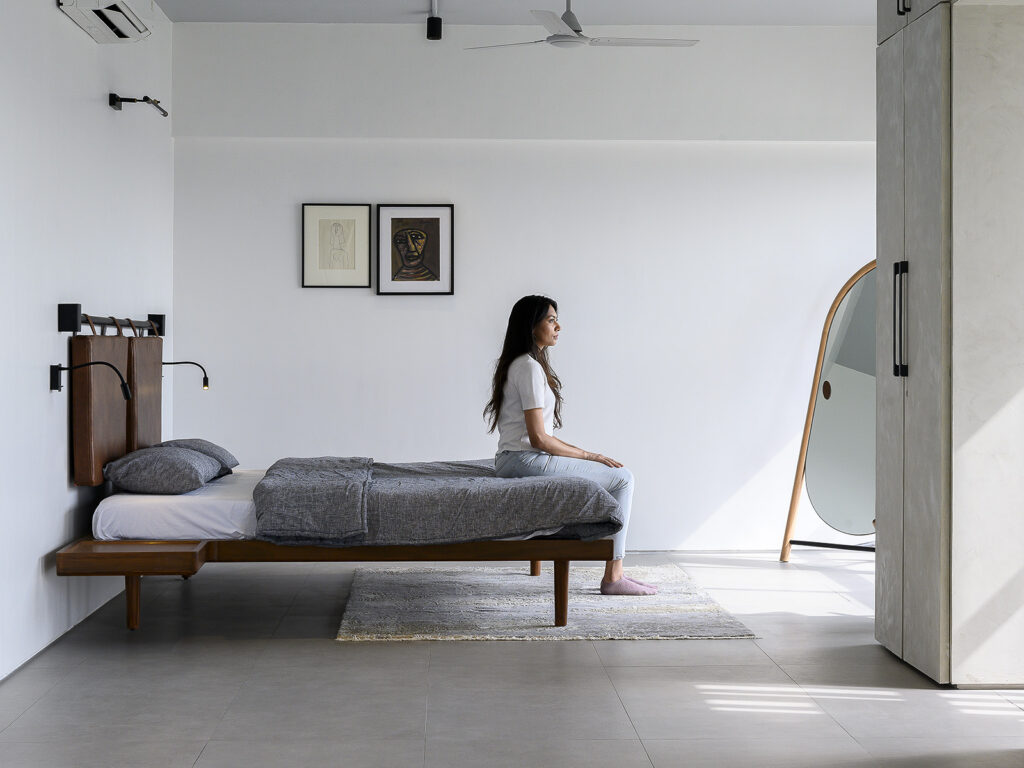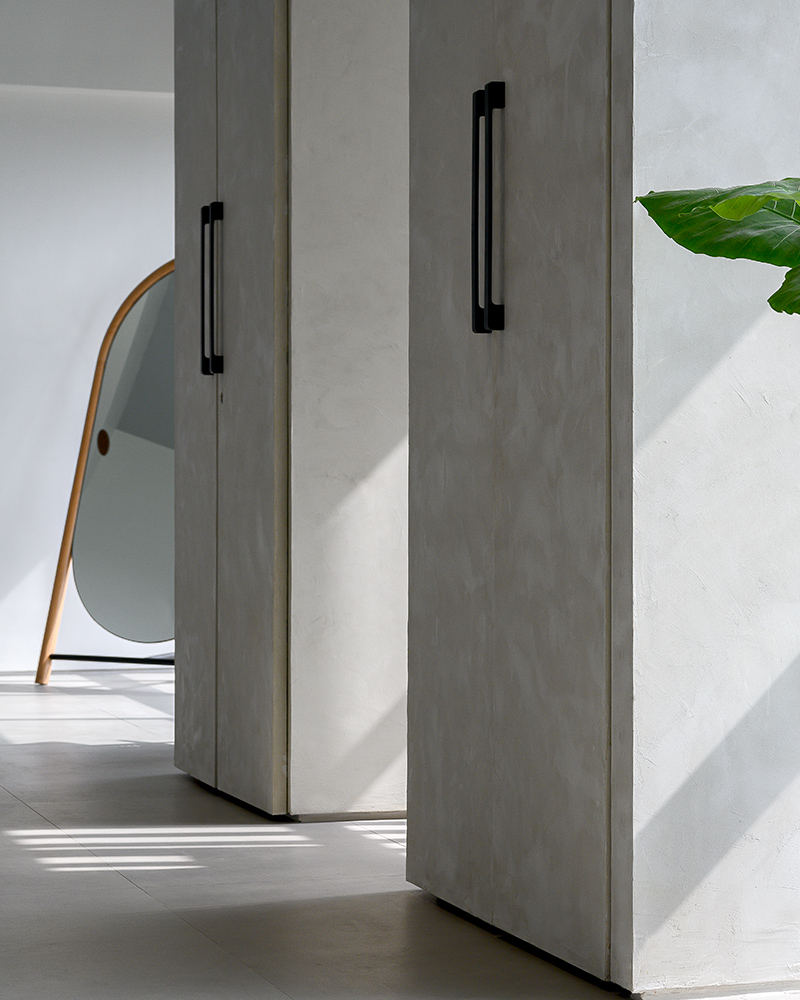 The other end of the home is occupied by a wooden bed with a backrest upholstered in faux tan leather, while the shelves do away with the need for traditional bed-side tables. Here too, striking but wholly functional pieces serve as accents in this soothing all-grey space. There's a lone floor mirror (Nougat II by MuseLAB) and a Phantom Hands Kangaroo chair paired with a Mungaru side table and art by FN Souza and Rabin Mondal.
Storage comes by way of a pair of wardrobes that flank a portal which leads to a walk-in closet solely for athletic gear. The grey tones continue well into the bathroom with light grey vitrified tiles, while matte black sanitary fixtures and fittings by Vitra bring in a dramatic touch that speaks to the modern minimalist nature of this home. The false ceiling was eliminated in favour of a very simple grid of cylindrical architectural lights by LightTecture.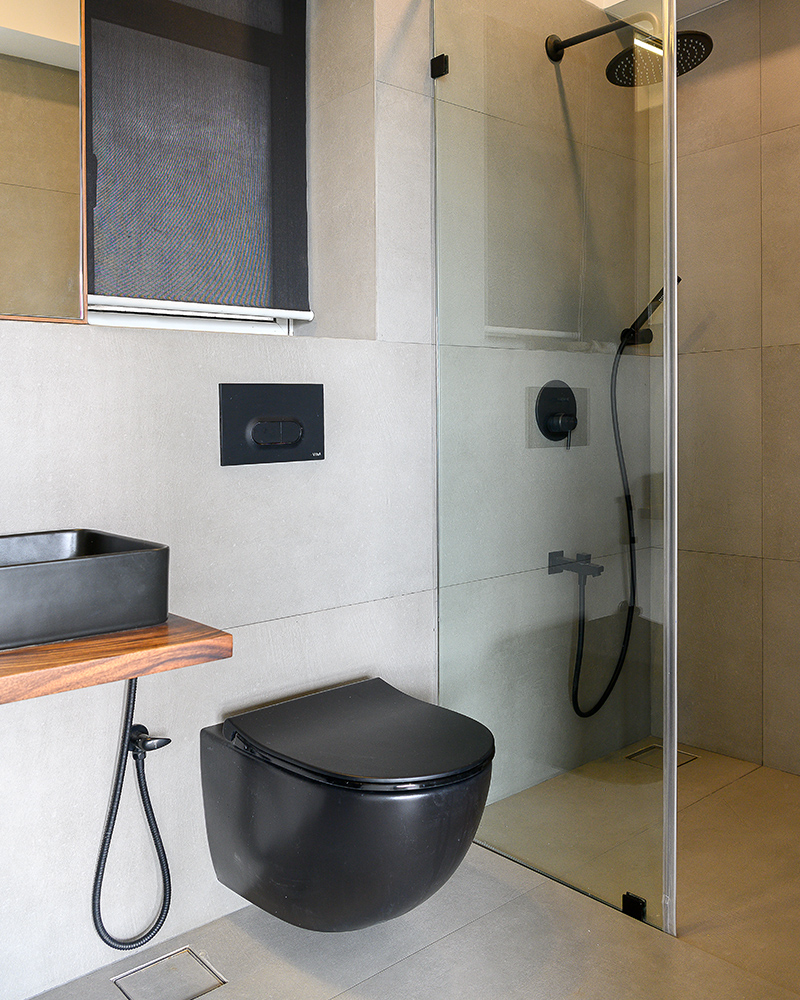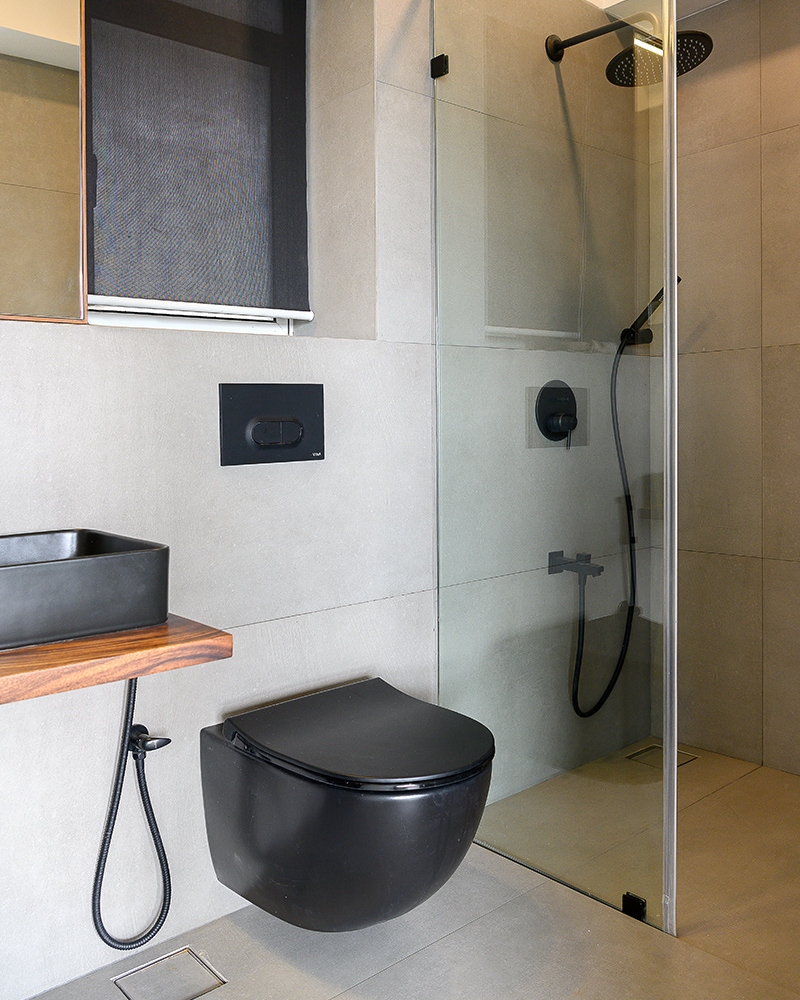 "This particular project is extremely special for us as we are rarely presented with such bold briefs and bold clients. The process and our response to the programmatic brief warranted us to focus on nothingness, on the essential elements. It made us think laterally; we had to declutter not only the space, but also our minds to design for what one needs and not what one wants," Rangwala explains. Whether it's the furniture or the fittings, every thoughtfully selected volume, texture and tone contributes to the modern aesthetic of this home without ever once taking away from its minimalist identity. At Naked, whereas every design element speaks for themselves, the home itself says "I want you to see me naked, unapologetic, gritty but honest." And, even in all its stark beauty, the home carries a decidedly lived-in feel and distinct sense of warmth.