Jim Sarbh's Newly Redesigned Home Is A Veritable Explosion Of Greenery
17

Apr

'20

9:30 am

by

Nuriyah Johar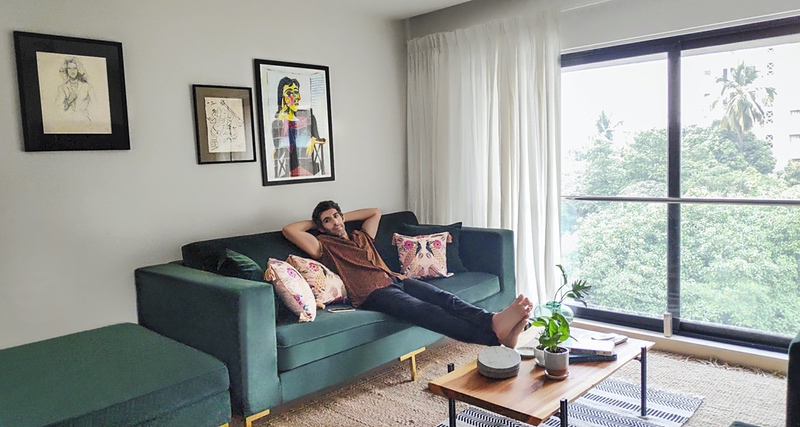 When we asked Jim Sarbh where the inspiration for his home lay, we expected an answer that would point to his love for open, natural spaces or an affinity for plants. If nothing else, that was our first impression walking into his home. However, his brief to the Goa-based designer Anjali Mody was a tad more cryptic. "I sent her a painting of a woman with two jaguars, and told her all three beings should feel comfortable in this house – both the jaguars and the lady." Phrases like "Here, look at this shoe. I want the feeling of this shoe." served as guidelines for the design. Oddly enough, it worked. With only a fleeting two weeks in hand, Anjali skilfully transformed the bare apartment into a home which looked like a visual extension of Jim's personality. From indigenous African masks to esoteric art, elements that would be incongruous in most contexts, fit into the film and stage actor's home seamlessly.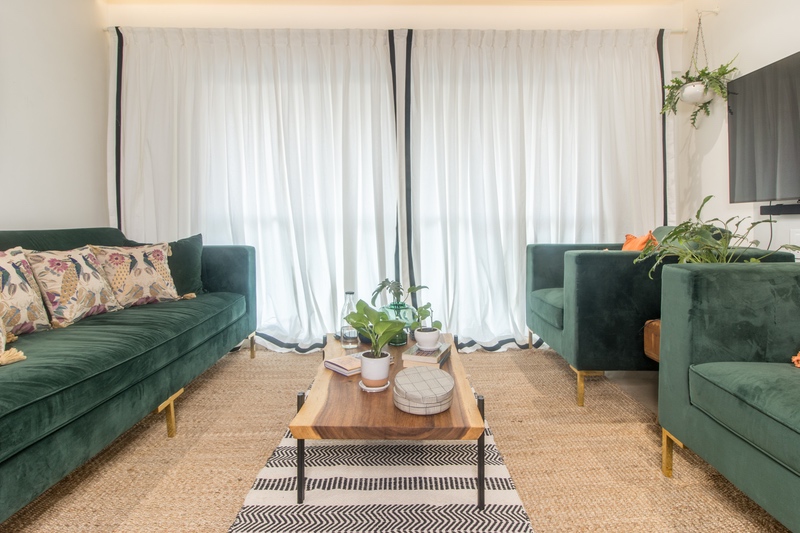 Jim's home is a veritable explosion of greenery, inspired by a 3 piece sofa set in emerald green which served as a starting point for Anjali. She filled the interior with close to a hundred plants of varying shades and sizes – the smaller ones scattered across shelves and tables, whereas the larger ones are positioned on the floor. "With such a muted, earthy space, the plants just tie everything together," she explains. This rich profusion of plants was perfectly in line with Jim's sensibilities. "I've always wanted to have kind of a wild, indoor jungle vibe," he says. Looking out the window at a sweeping sylvan landscape, Jim likens his home to a "treehouse amongst the trees. You know that game where you have to draw a house for yourself – put one thing here and a body of water and then people break down what it means? Mines always been a treehouse and so this feels perfect." he adds.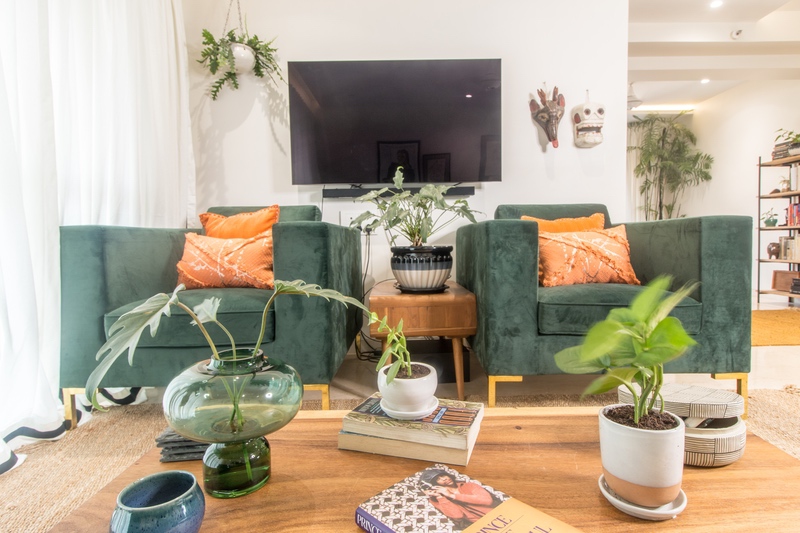 In line with the leafy aesthetic, Anjali stuck largely to a neutral colour palette. Natural fibre rugs and embroidered cushions from Ode and Cleo warm the living room, matching the bunai mamba cane chairs by the desk. Save a few statement pieces, Mody sourced most of the furniture from her own studio – Josmo. The Goan designer used live edge wood furniture throughout the house, further actualizing the "indoor jungle" that Jim wanted.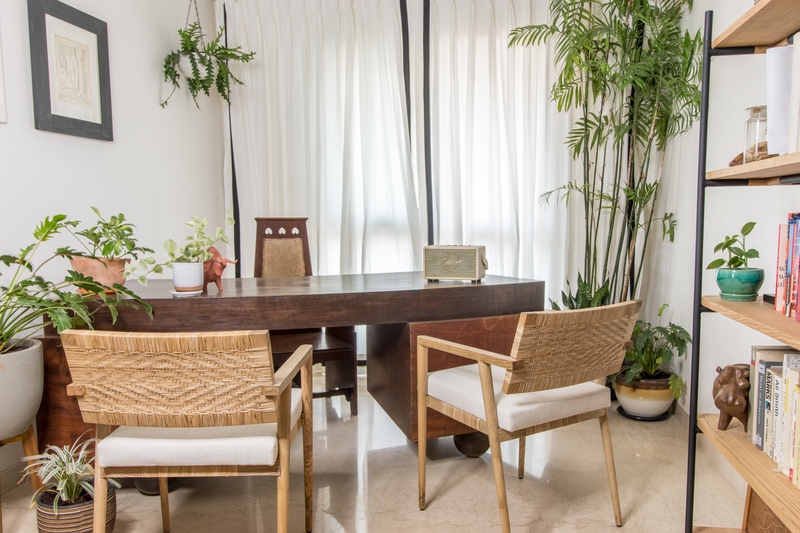 One of Jim's personal favourite spots in his newly redesigned home is an airy, open-plan study that lies beyond the living room. Its pièce de résistance is a handsome wooden desk that the study was built around. "It used to be Homi Bhaba's desk", explained Jim. "I've had it for about 5 years, and it had always been jammed against a wall in a tiny room – I've never been able to actually see it like this. In fact, was supposed to play Homi Bhaba in a web series but it never materialized. Maybe one day it will" he said. By the desk lies a bookshelf from Josmo well-stocked with theatre essentials like Stanislavsky and Chekhov, suffused yet again, with ample greenery.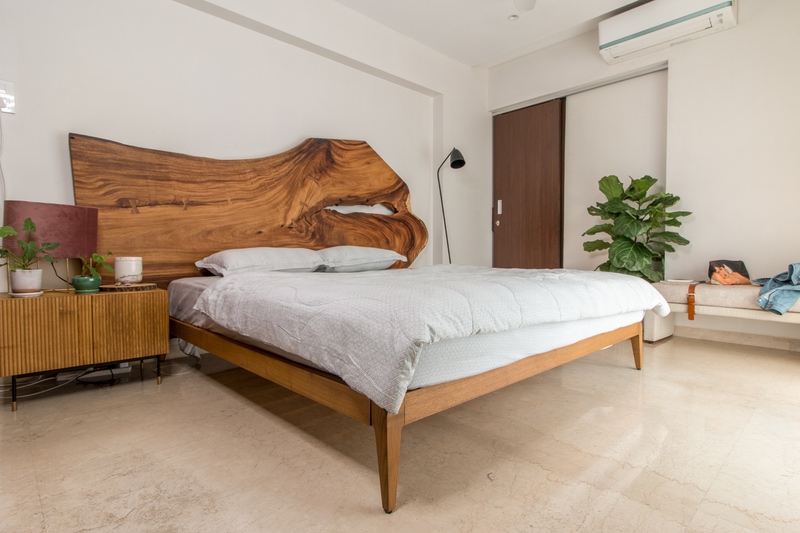 The bedroom is decidedly minimal, allowing a couple of striking elements to stand out. The asymmetrical wooden headboard and an ottoman with a leather belt detail add a sophisticated whimsy to the room. Jim's personality shines through his art collection which is a compelling constant throughout the house. Modernist portraits, folk art and some particularly abstract illustrations feature on the walls and shelves. "To Jim, the aspiring actor for whom the world is a stage." reads an evocative work of art by M.F. Hussain.
Jim Sarbh's newly redesigned home will feature in the pilot episode of the Design Diva Show – A YouTube series on space makeovers. The show has been conceptualized by Ritika Kothari of House of Ritika in collaboration with the host, Diva Dhawan.
Stay tuned for a behind the scenes glimpse of Jim's home makeover on Instagram.
Design Pataki supported this piece as Media Partners.