Laal (Red) Kothi – This Riverside House In Goa Showcases Pure Living
15

Aug

'21

10:00 pm

by

Yamini Kathuria
In the picturesque lanes of Dona Paula, engulfed in tall and lush tropical trees, stands a mesmerizing, all-crimson structure. Designed by Ameet Sukhthankar of Goa's MSS Design, this riverside sanctum is aptly called 'Laal Kothi' or 'The Red House'. Conceived as an unwinding space for a couple that wanted to escape the hustle and bustle of Chicago, Laal Kothi uniquely manages to both stand out and merge within its environment, as a result of the clever use of the colour red.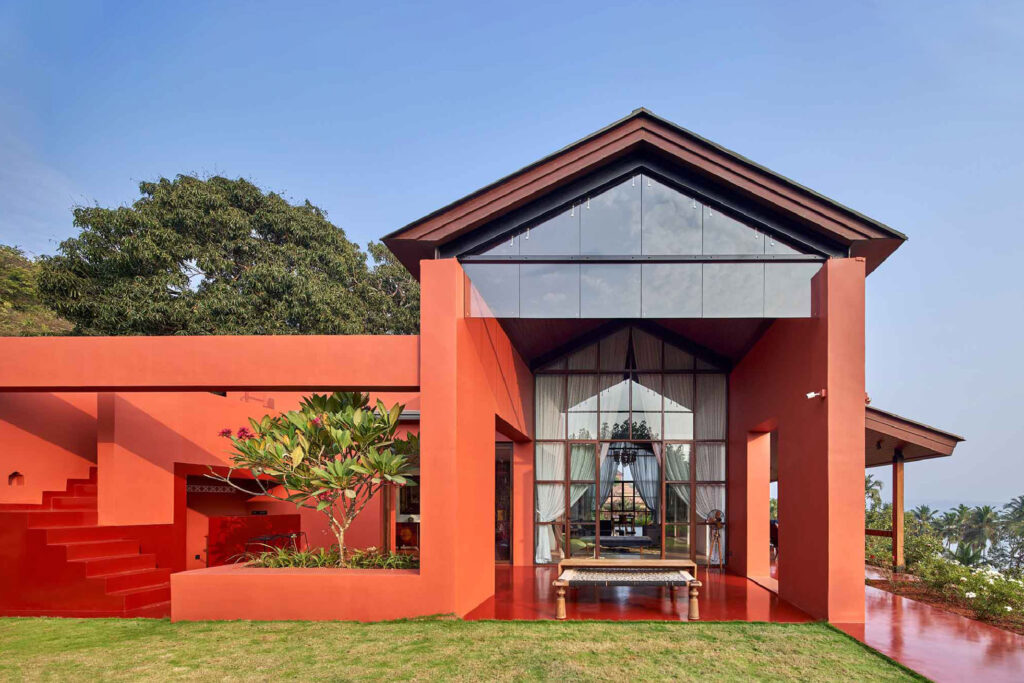 Built around the perimeter of a magnificent and conspicuous mango tree, the residence flaunts an array of open-to-sky courts and corridors, a nod to Charles Correa's remarkable expression. The contrast between the light red of the walls and the bold red of the floor is punctuated by the green foliage of a strategically placed 'champa' tree, that helps in connecting the seemingly monolithic structure to its surroundings. The architects have cleverly used sunlight, as a means of creating a play of light and shadow, that adds another dynamic layer of flaming crimson shades to the already fierce façade. "The very first ideas emerged when the visibly unhealthy-looking mango tree located right in the middle of the plot had miraculously revived itself, as though finding a new purpose in life. This was certainly a good omen, which immediately brought the tree among central ideas for the house," Ameet Sukhthankar explains to Design Pataki.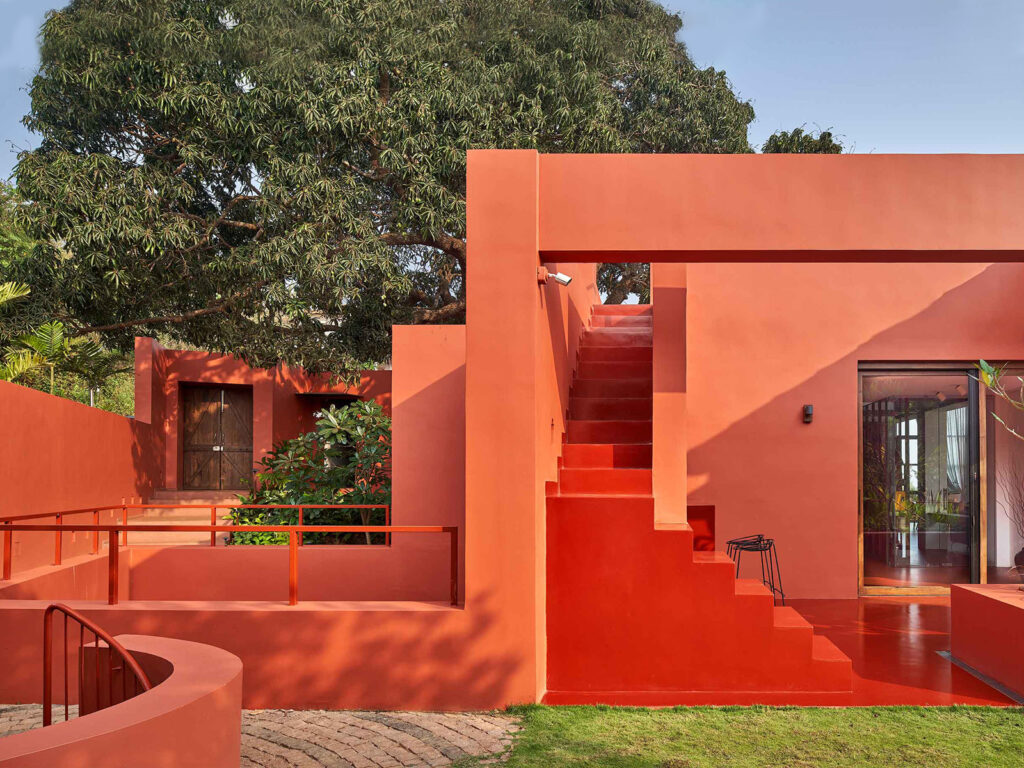 With a clear intention of 'building a house that feels like home', the architects at MSS Design carefully divided the public and private spaces into the various levels of the house. Opening its doors to the main entrance, the upper-level houses all the social spaces like the living and dining, with an expansive patio that offers flawless views of the river beyond. Nestled under a picturesque staircase in the adjacent court, stands a dainty bar that is highlighted with its minimalistic counter and the use of a darker red. The lower plate of the building houses the private quarters, with its own line of personal terraces and verandas.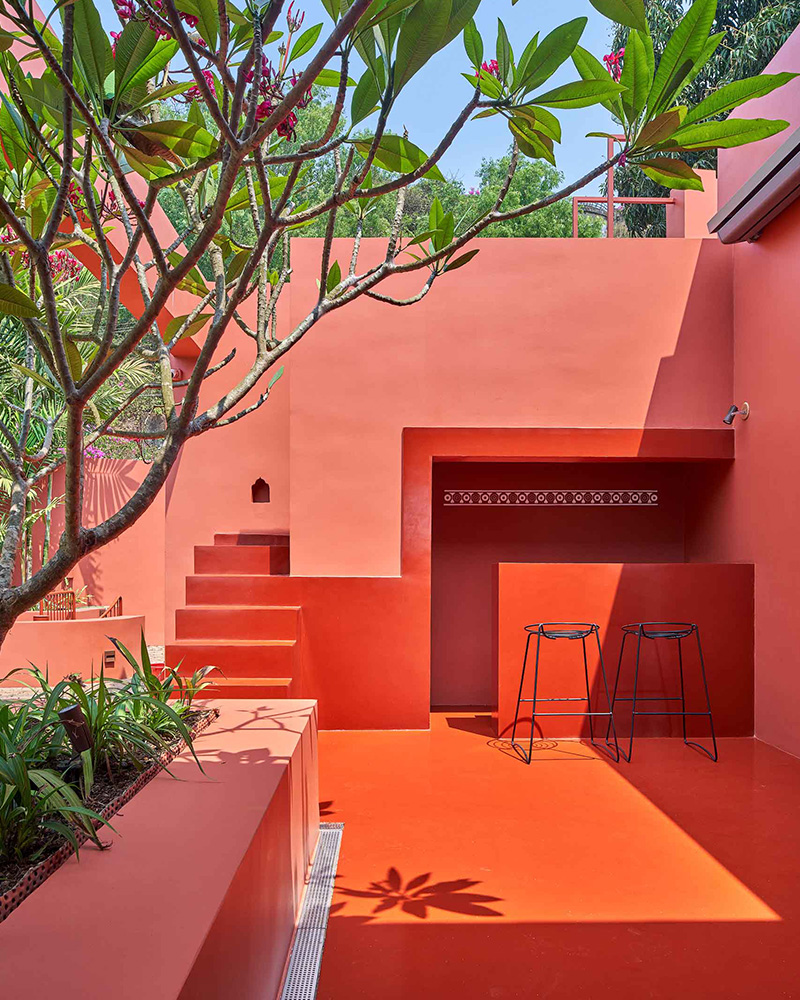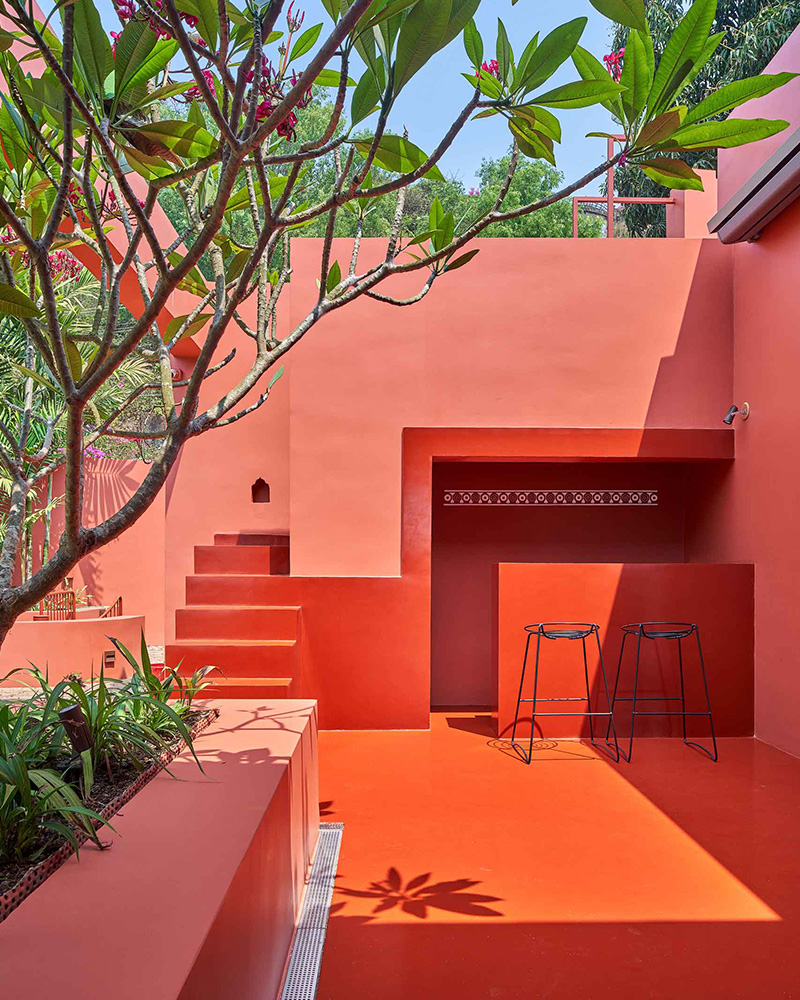 The starkness of red is carried into the interiors of the residence as well, where a narrow crimson corridor leads the way to the 'mandir', and then gives way to the dominance of white in the rest of the home. To keep in sync with the breeziness of white, double-heighted pitched roofs and sheer curtains lend a fresh and airy emotion that is juxtaposed with a contemporary aesthetic through its modern furnishings and neo-classical chandeliers. Two fully glazed walls running parallel to the 'goan sal' inspired dining room, help in making the space look seamless with its lush exteriors.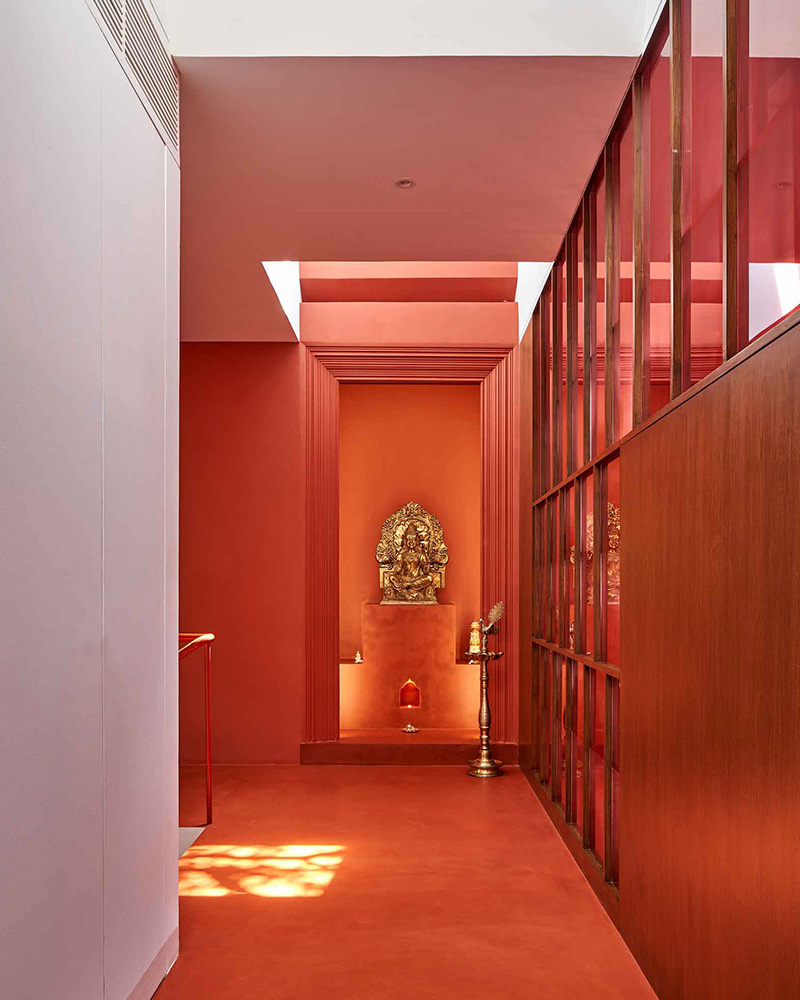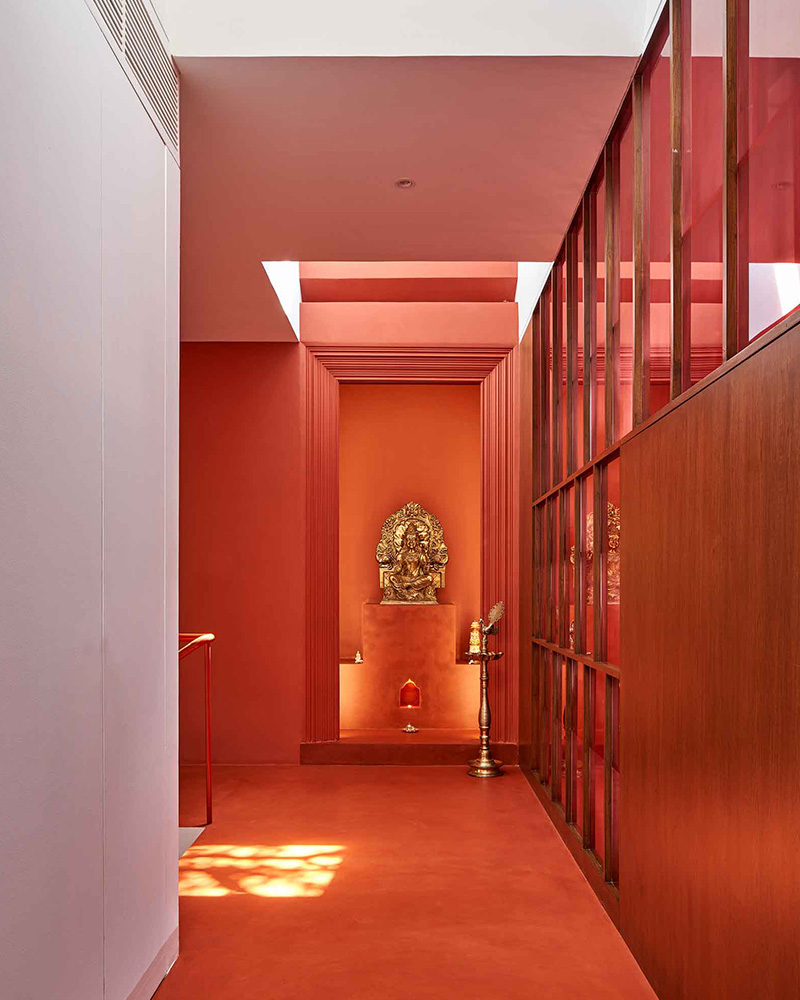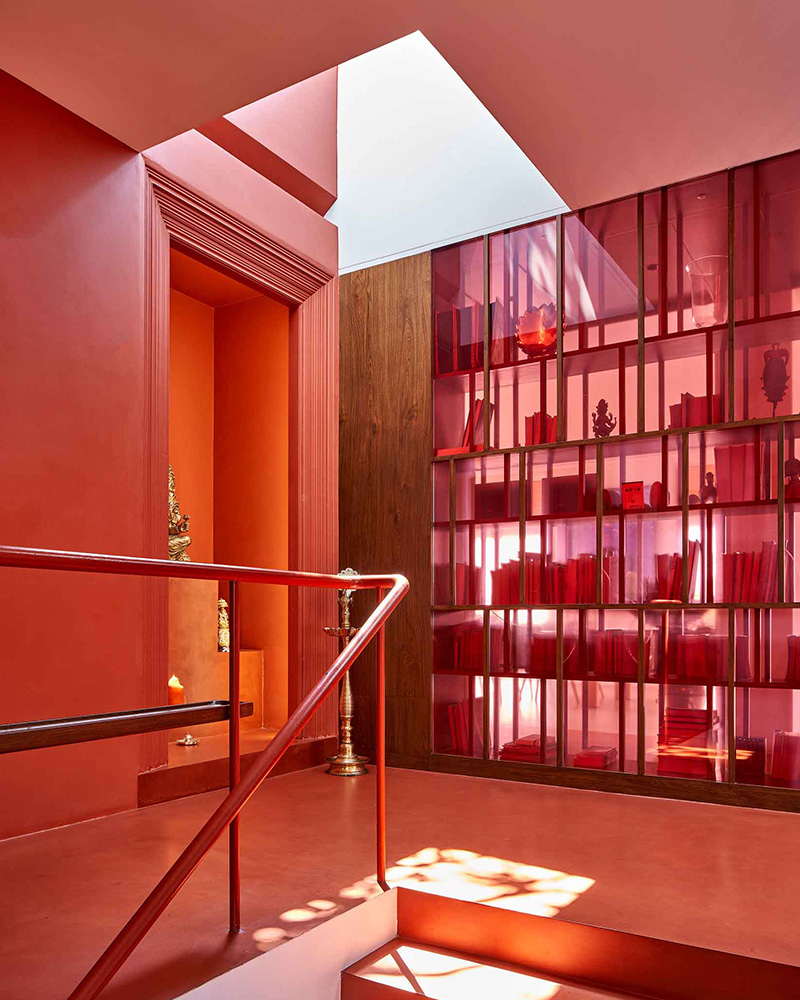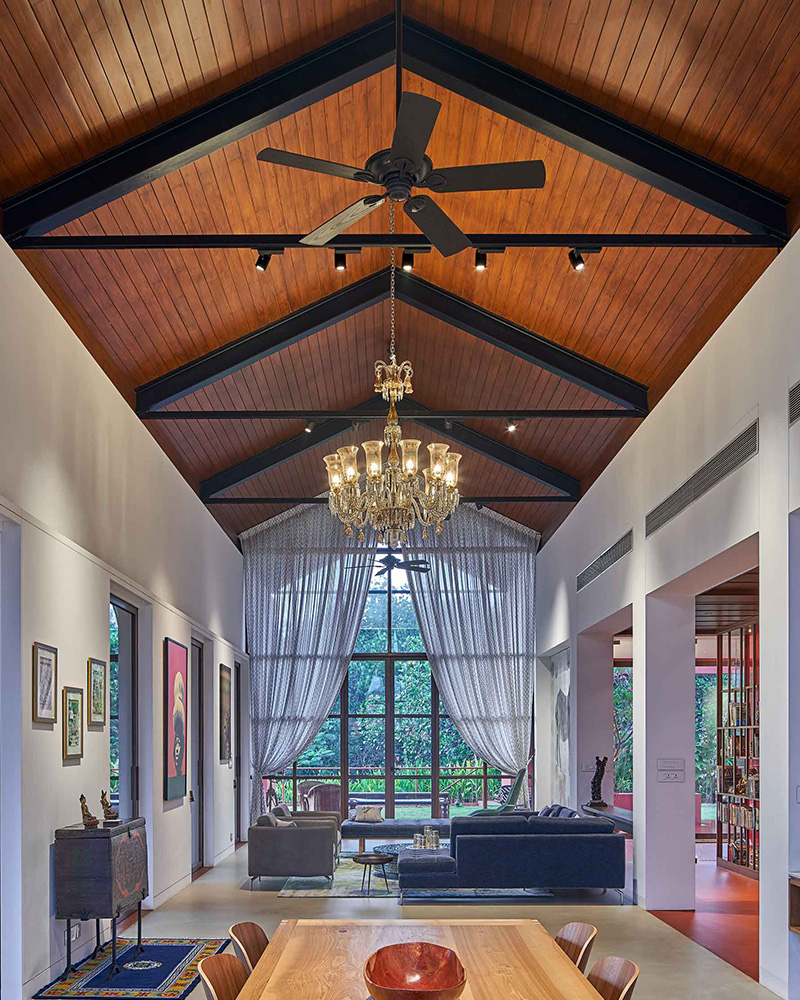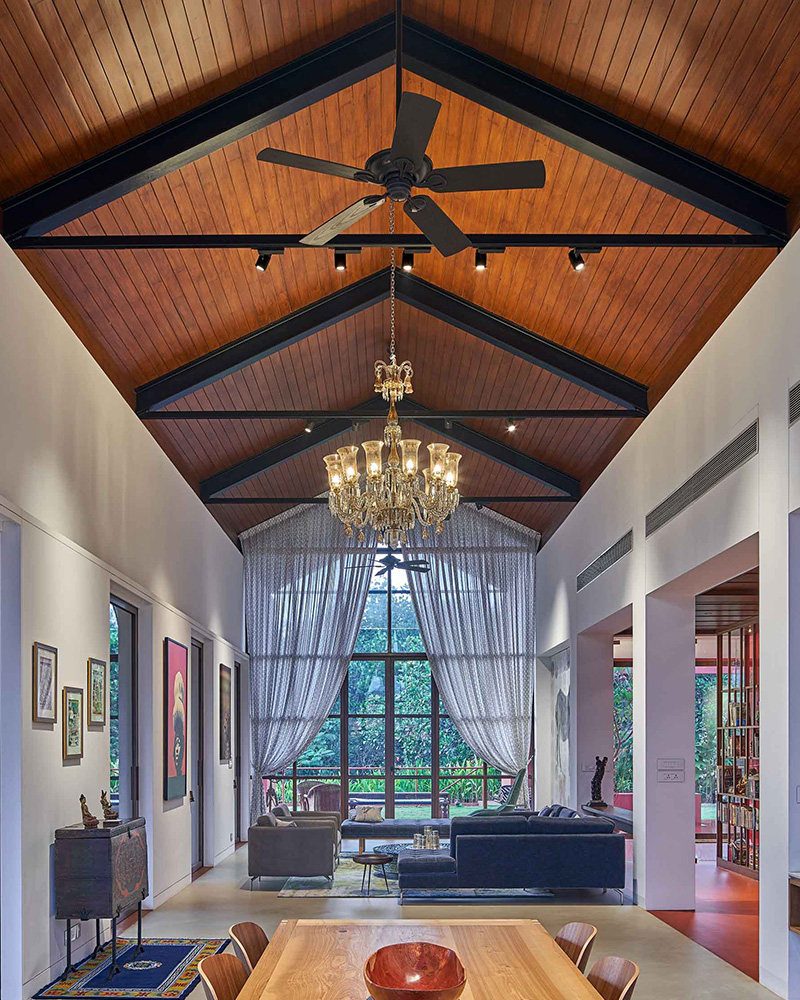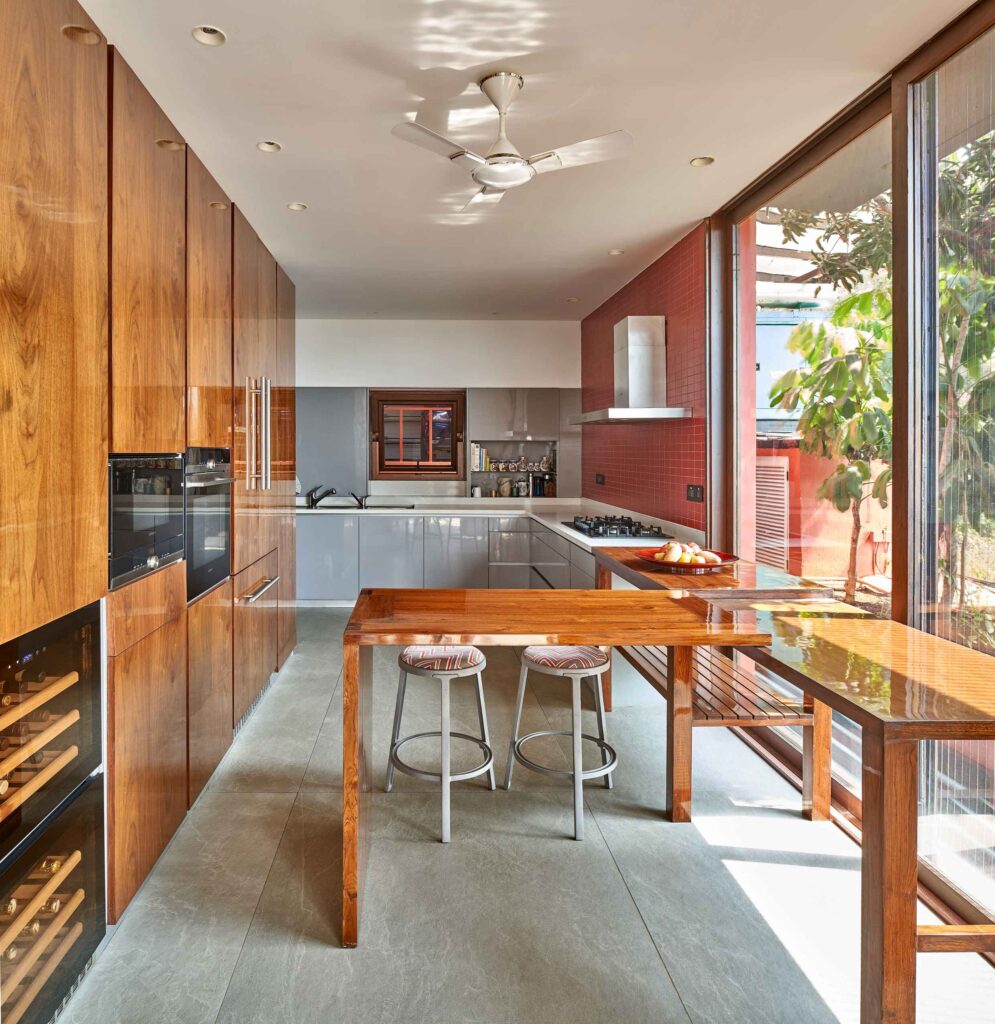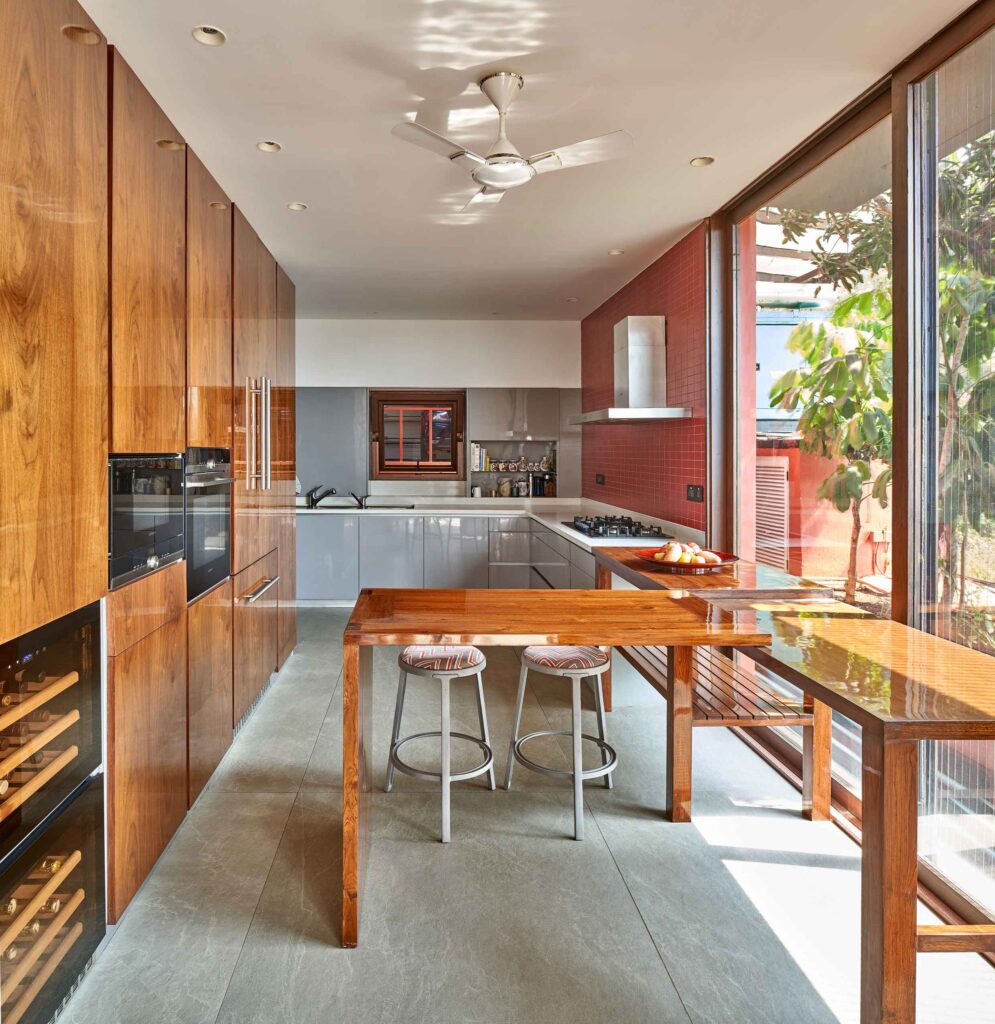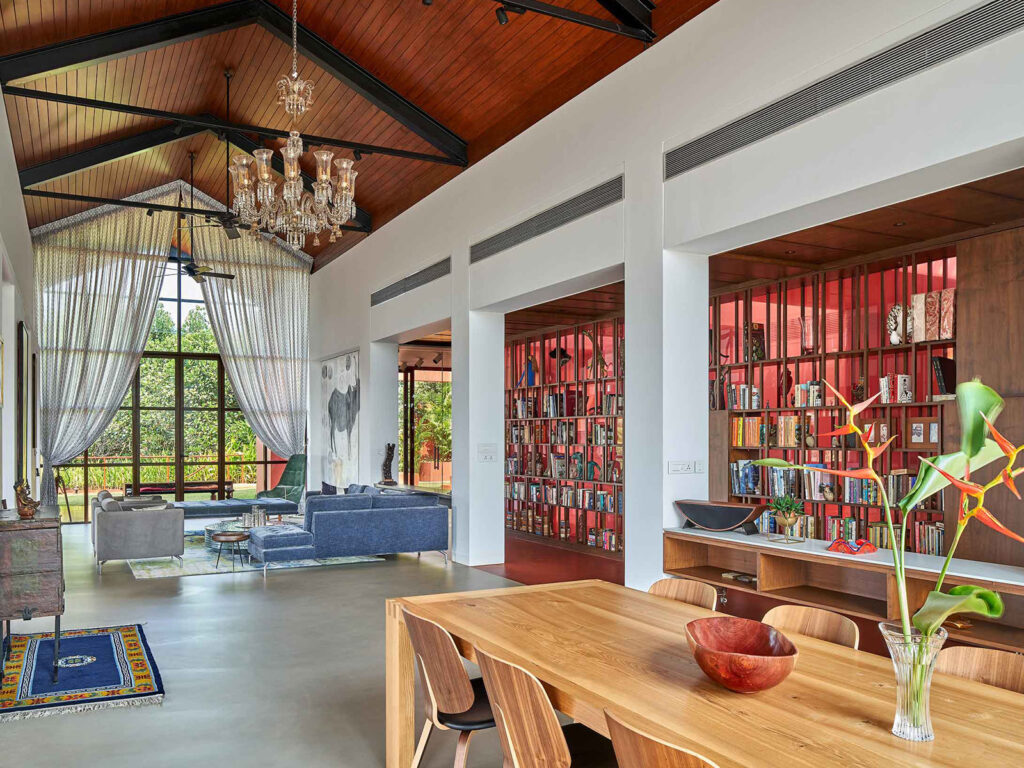 Apart from serving as a captivating sanctuary in the otherwise touristy Goa, Laal Kothi also makes itself self-reliant. Adjoining a parcel of land that works as a vegetable garden, it procures all its fruits and vegetables locally, along with a variety of medicinal plants. The building also generates its own electricity by the use of photovoltaic cells, and water by the means of a well at the lower plot.
'Laal Kothi' does a noteworthy job of merging with its physical context through an exceptional use of colour. Making use of the striking site, it creates a remarkable consonance between the built and the natural. In the words of Ameet Sukhthankar, "The result is a breathtakingly satisfying composition: off a merrily flowing river at the far end, enjoyed through an ideal arrangement of palm grooves, under which wooden canoes regularly get pulled up by hardworking fishermen while your eyes wander over the age-old fishing village among the periodic tintinnabulations of the village temple."