Legendary Bill Bensley Tells Us About Exotic Travel, Conservation & Designing in India
26

Aug

'19

9:30 am

by

Nuriyah Johar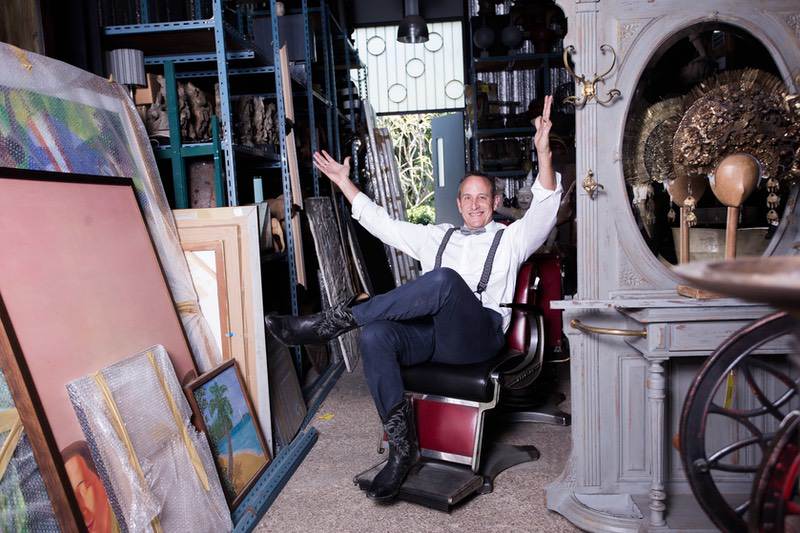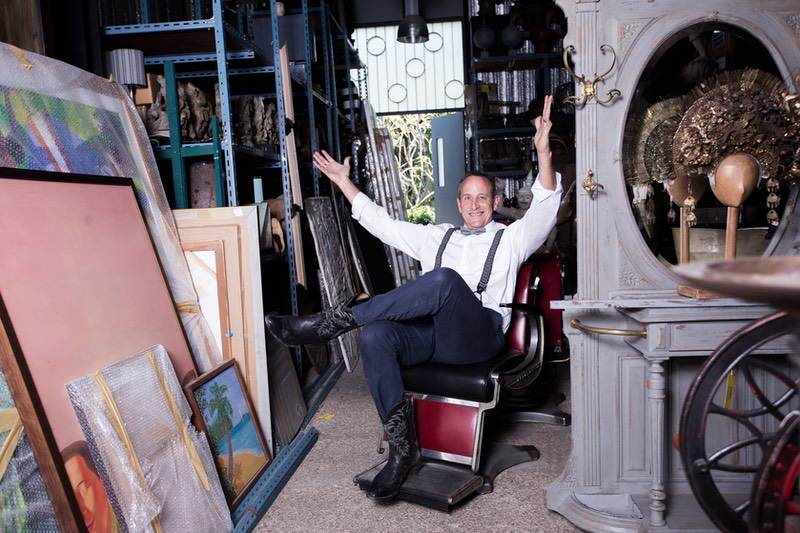 To say that Bill Bensley is changing the landscape of hospitality design in Southeast Asia is no understatement. The trailblazing architect has his signature style splashed across more than 200 hotels and resorts in 30 countries, with numerous underway. But what is Bill Bensley's signature style? For someone scrolling through his Instagram page, Bensley's aesthetic could be identified as maximalist, whimsical and exotic. And while they'd be partially correct in their assessment, Bensley himself voices a different sentiment. "I will admit to having a style that places Mother Nature on the top shelf, not to be compromised." he declares.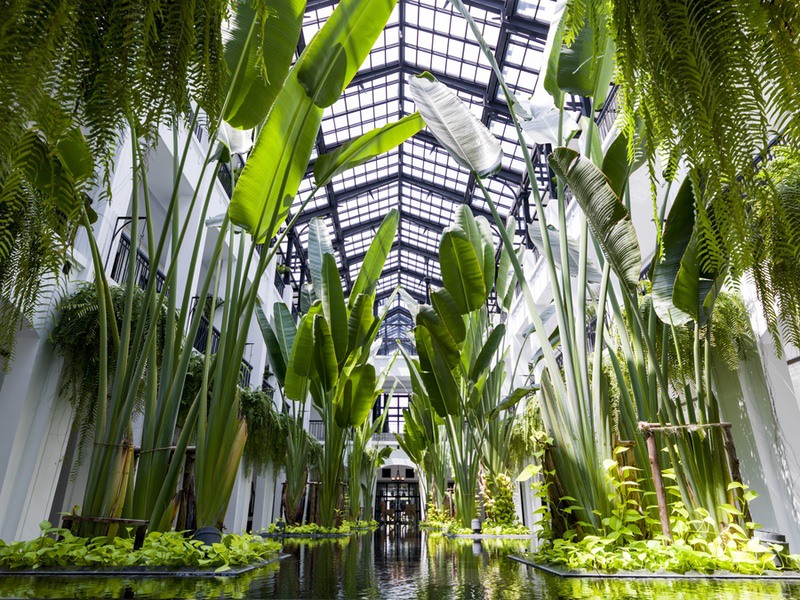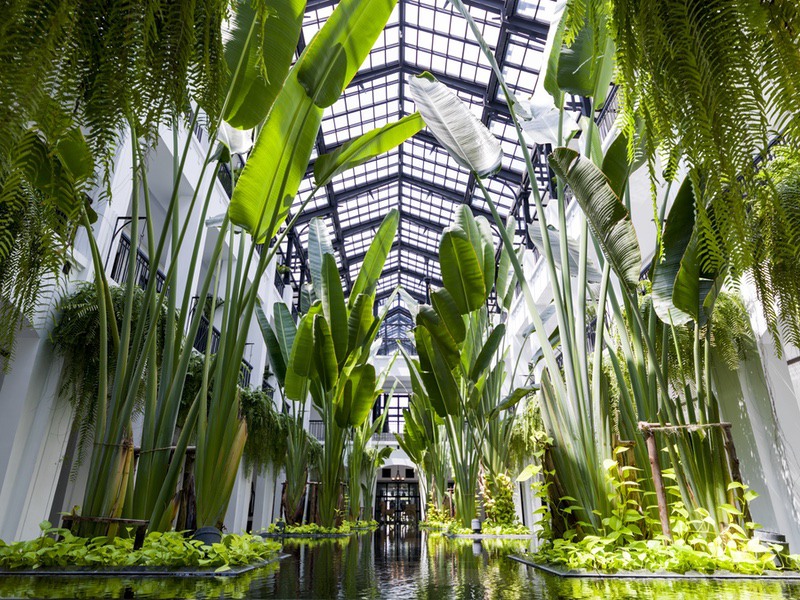 A pioneer of the luxury eco-tourism industry, Bill Bensley places sustainability at the heart of his design philosophy. He is also a concerned conservationist and passionate philanthropist. In his own words Bensley shares, "my main purpose in life, besides having as much fun as possible, is to help the needy, to education, help animals and help the planet via conservation". One of the most compelling, recent examples of this is the Bensley Collection – Shinta Mani Wild in the South Cardamom Wilderness, Cambodia, which since its opening in December 2018 has attracted world-wide attention. Comprising only 15 luxury tents the camp is completely built around and blended into the wilderness, with a low environmental impact and a huge impact on protecting the National Park. "Shinta Mani Wild presses all the BENSLEY buttons.", says Bill. "Conservation, wildlife protection, social responsibility, education of both guests and villagers, employment, and romantic story-telling!"
Bensley's deep attachment to Asia has rooted him to the continent for three and a half decades. Only the day after his graduation from Harvard University, the British-American designer impulsively embarked on a trip to Singapore with his classmate Lek Bunnag and never looked back. For the five years following his move, he was the head designer for an American company and was based in Singapore and Hong Kong. Then, at the young age of 29, he hung up his own signboard in Bangkok, and Bensley Design Studios was born. The Bali branch of Bensley Design Studios opened shortly afterwards in 1990. "I am so glad I made that big leap across the Pacific to Asia in the early 1980s when hospitality development was in its infancy.", he remarks. "I have found that Asia, especially Thailand and Indonesia, has given and given and given."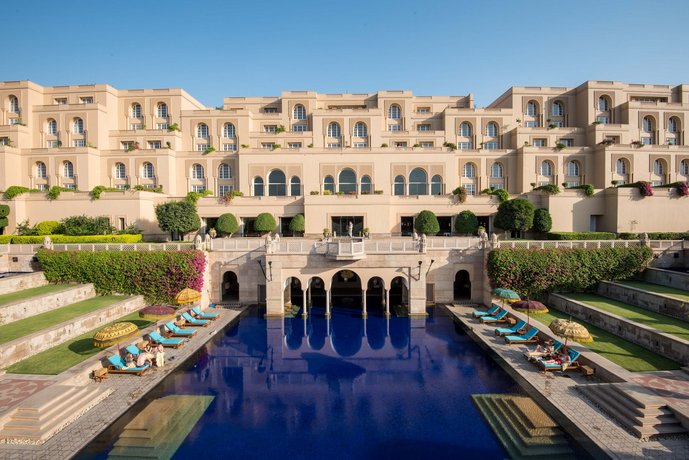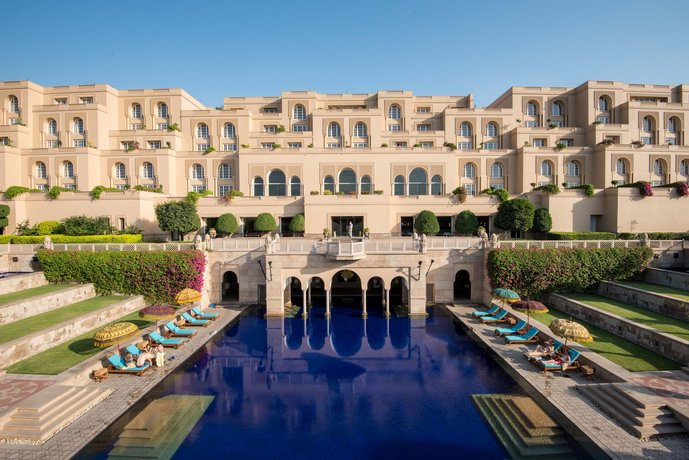 His prolific career has included designing stunning properties for hotel chains like the Four Seasons, St. Regis and Park Hyatt to name a few. It has led him to transform an ancient Indian haveli into a hotel, and design even palaces. Bensley's infectiously wacky style, daring standout pieces and ability to design exquisitely immersive experiences have turned him into a veritable icon. Yet, he believes that nothing he has accomplished to date is really that good and that his best work might appear when he grows up!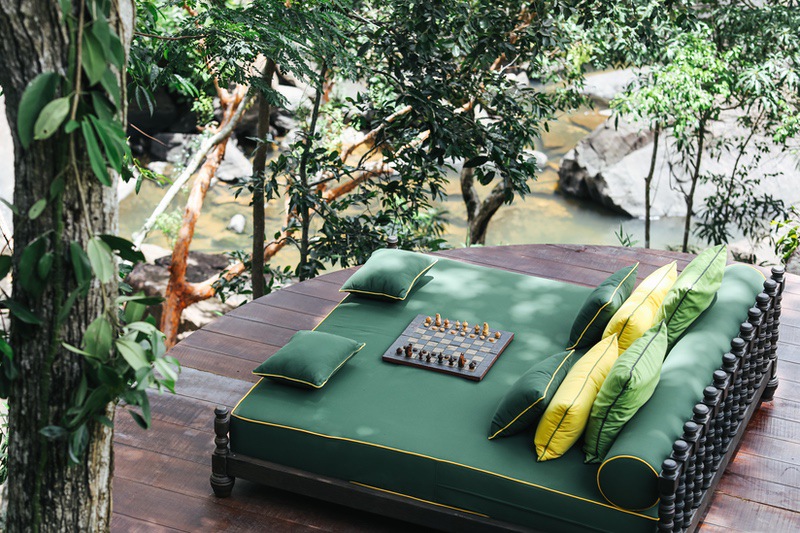 We asked the designer about his Indian inspirations, passions, ideas of luxury, and sustainable philosophy –
Design Pataki: How has the Indian design tradition inspired your work?
Bill Bensley: The traditional black and white marble floors of the Udaipur Palace influenced my pool design for The Oberoi Udaivilas, and Mewari architecture was a clear influence in my Udaivilas gardens. I had a great teacher, Architect Nimish Patal. My gardens at The Oberoi Amarvilas in Agra had to be a reflection of traditional Mogul gardens where water was abundant and moved freely throughout. I am particularly happy with the way may gardens bowed to the great Taj Mahal.
I was given a little more artistic license with my extensive gardens at Rajvilas as there were more appropriate historical influences at play. We inherited a two hundred and fifty-year-old haveli that had an ancient Hindu temple just to the east. I drew up four very beautiful eighth-century style Hindu temples to flank this old original temple. The charming PG Patki was my tutor and he taught me the elements of Rajasthani architecture which I adore. I had the ceramic plate makers of Jaipur fashion pool tiles for the first time, which made a big splash! My love of upcycling also came forth, as I had carte blanche to buy antiques from the warehouses, which in the early 90s, were many. And finally, the mud architecture of the Rajasthani desert people inspired my proliferation of organic mud garden walls around my first tented camp project.
Design Pataki: What are your favourite Indian design elements?
Bill Bensley: I LOVE Thikri! Even on the cloudiest of days, thikri can transform a room or a garden wall into a magical dream as it just reaches into the garden and pulls all of the available light into itself, and then releases that light in the form an exotic dance and spellbinding sparkle. I am also a pushover for a good old fashioned Mewari arch, and the more cusps the better.
Design Pataki: From your earliest Bensley Design Studio projects up to now, how has your aesthetic evolved?
Bill Bensley: I have evolved into a serious maximalist. Not that every project we have is of a maximalist ilk. I'm just about to open a Raffles on Cham Island Vietnam that will be mistaken as an Aman in its simplicity. It is just my personal taste that craves layer upon layer of quirkiness and colour. I have also evolved to really understand how to work with nature with a minimal impact….and as a result have become a determined conservationist.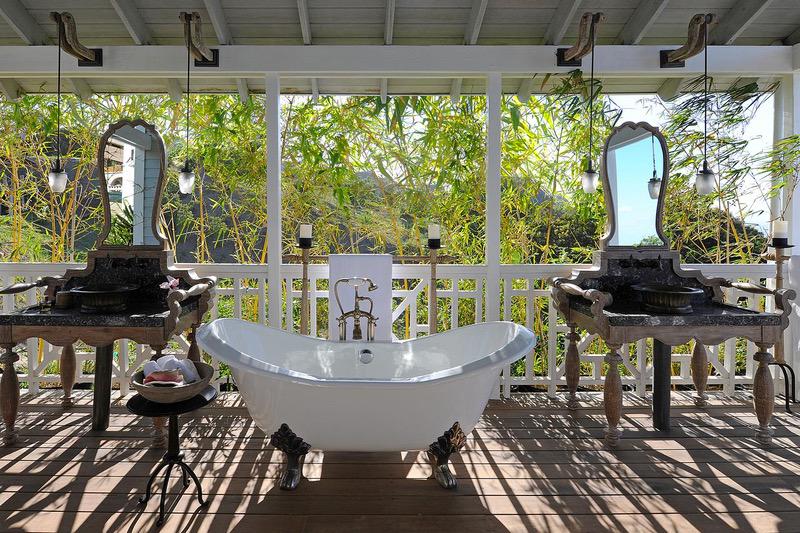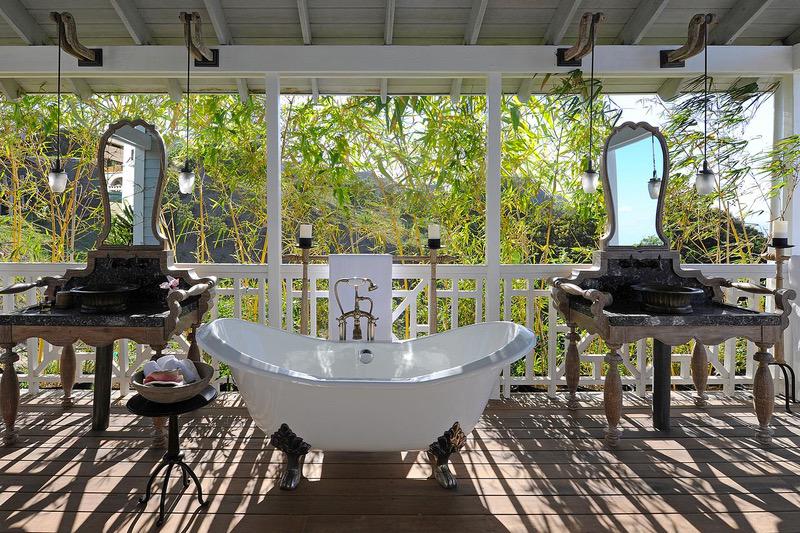 Design Pataki: Can you give a few examples where an element of your style was inspired by something unusual?
Bill Bensley: Shopping high quirk is one of my favourite past times. Some six years ago Jirachai and I were ferreting the less posh streets of north Paris and we came upon a 1930's Vietnamese bamboo hat covered with a white and watermelon polka dots. In one of my many buy first think later moments that hat was wrapped and on its way home to Bangkok within seconds. That little treasure inspired an entire hotel – the Hotel de la Coupole in Sapa, Vietnam, in that I based the story of the hotel on how the local hill-tribes influenced the haute couture of Paris in the early 20th C.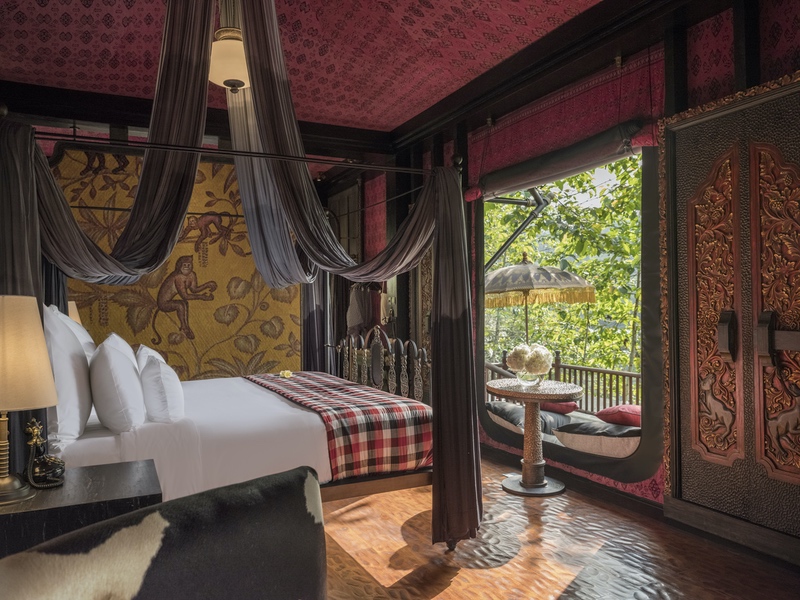 Design Pataki: You have claimed that "luxury is dead". What is your idea of luxury?
Bill Bensley: I mean that the traditional idea of hotel luxury, like Frette sheets and a lobby full of flowers, changed every two and a half minutes is just not enough anymore. Today's jaded high-end consumer looks beyond what once made mum gasp in awe. For me, luxury is comfortably enjoying the wilderness in solitude. Luxury is being awakened by the clamour of bird calls in the morning. Luxury is swimming naked under a waterfall. Luxury is being capable of helping the less fortunate.
Design Pataki: Do you think sustainability is a trend or here to stay?
Bill Bensley: It makes me smile to hear the word sustainability used so frequently these days as though it is a new idea. I think the use of the word is trendy and we will move on to better and bigger words, but I think the general public's understanding of the importance of the stewardship of our planet is here to stay and will increase exponentially.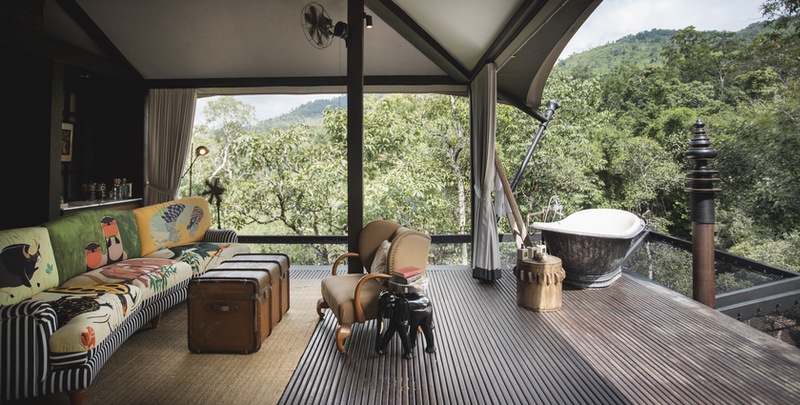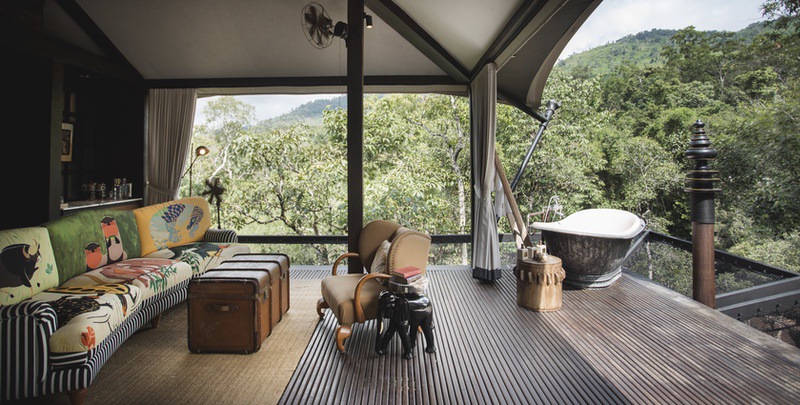 Design Pataki: Over the years, which of your properties have been true environmental pioneers?
Bill Bensley: I think, at the Four Seasons elephant camp, we did good with the purchase and export of elephants from the dangerous streets of Bangkok to the green forests of the Golden Triangle. This was paid for by the insightful owner Bill Heinecke.
Kittitian Hill in St. Kitts was brilliant, as was Val Kempadoo's social initiative to have villagers of St. Kitts actually build the hotel bit by bit, one bungalow at a time, instead of the usual Caribbean method of hiring a Chinese contractor to build all. I would love to work with Val, again someday soon… We also had the plans to share, by way of seeds and cuttings, our huge base of food-producing plants with the locals…a great idea from both Val and his father. Since then I have borrowed their Johnny Appleseed idea and followed up successfully at the Shinta Mani Foundation Farm by distributing thousands of food-producing plants to the farmers of the Siem Reap, Cambodia.
Both Four Seasons Koh Samui and Capella Ubud were built without felling a single tree and with respect for mother nature.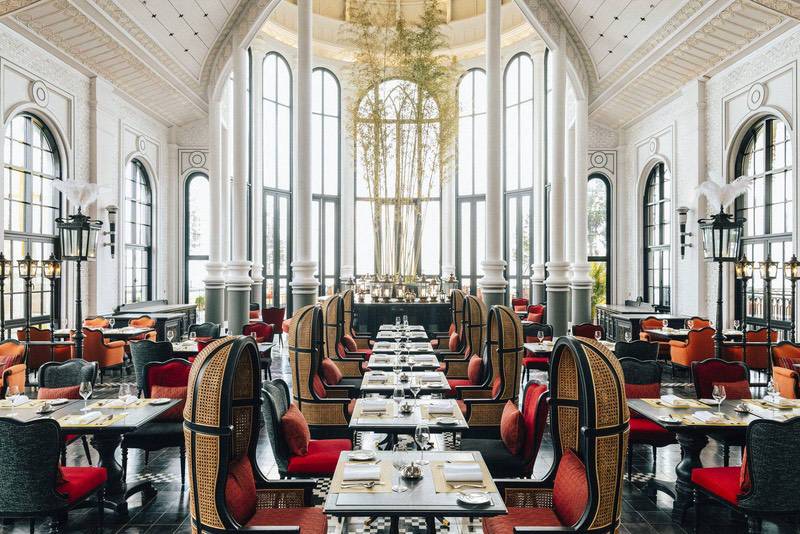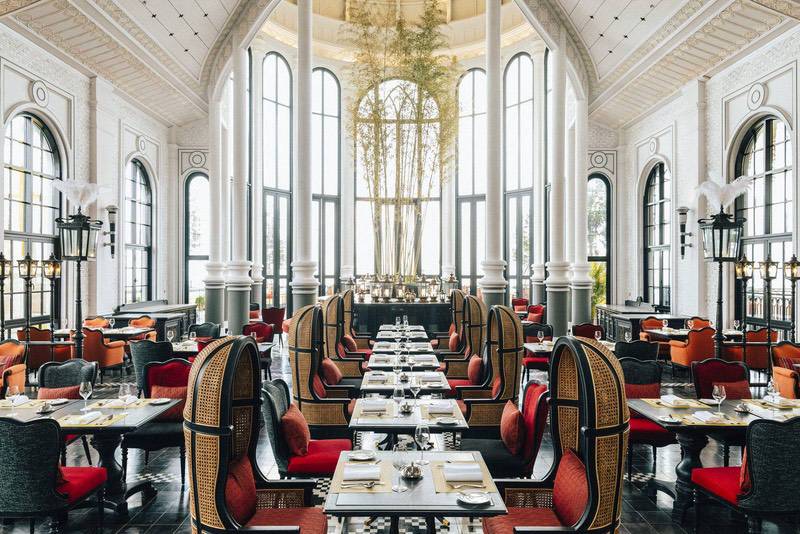 Design Pataki: Are design and construction methods constantly evolving to be less wasteful and damaging to the earth?
Bill Bensley: Yes, certainly. But more importantly, I think we are having a greater impact environmentally by convincing our clients to build with a high yield low impact mindset. Meaning to build fewer rooms and charge more, and to build with a minimum impact on the natural environment. Our recently completed Capella Ubud in Bali was slated to be a 120 room Accor, but I convinced the owner to change tack and to build a 22 tent high yield low impact, ecologically aware project that did not cut down even one tree in what is still a very dense jungle. I am very proud of that!
Design Pataki: Any new directions you're embarking on?
Bill Bensley: We have a fantastic hotel in Siem Reap called Shinta Mani Bensley Collection and another in the Cardamon National forest called Shinta Mani Wild…Bensley Collection also. But the "by road" connection between the two hotels is arduous at best. So I am buying a couple of vintage Airstream trailers (Upcycling!) to allow our more adventurous guests to make that journey in total unabashed luxury, stopping at the most remote temples, pre-Angkor sites, natural wonders, that literally, nobody bothers with these days. I will dub this adventure "Wild Wheels", and send our wild butlers and cooks on the road into secret places very few outsiders have seen!