Luxe Wildlife Retreats For Your Next Safari In India
22

Feb

'22

10:15 am

by

Nitika Choraria
Promising a change of pace from the bustle of daily life and located far from the city – wildlife stays offer an ultra-immersive experience calming the senses in the midst of raw beauty. From Ranthambore to Uttarakhand, India is rich with lush jungles comprising some of the finest stays that are tastefully designed amid a tranquil aura. Here's our list of luxurious jungle retreats that make the perfect base for enthralling safaris.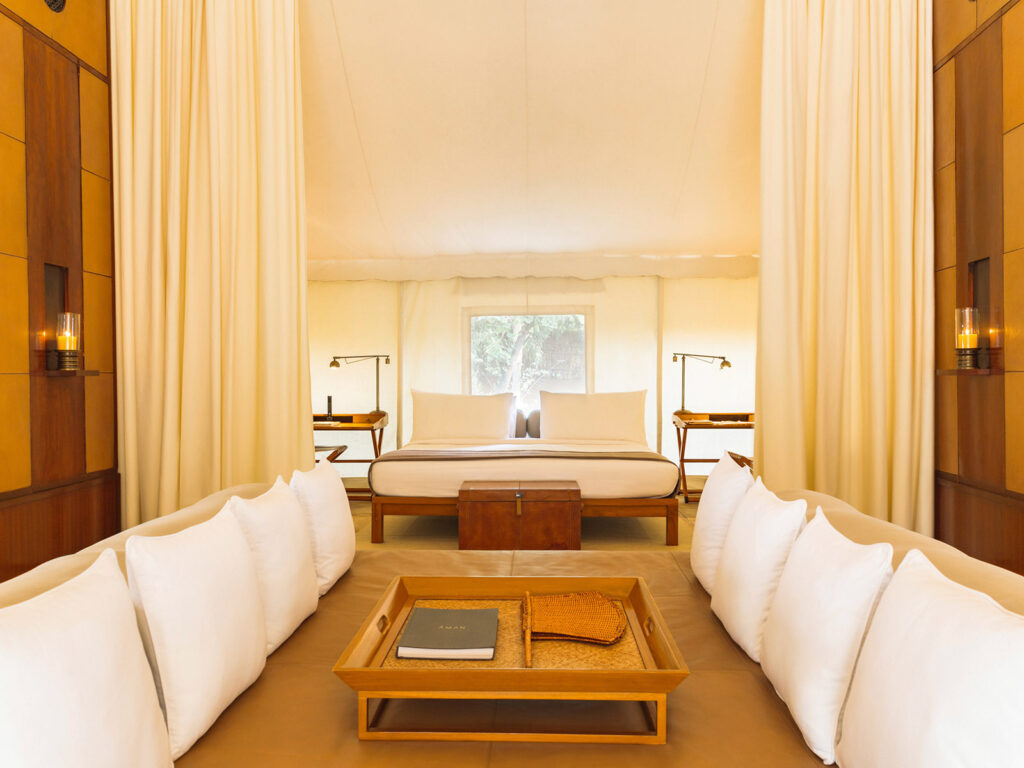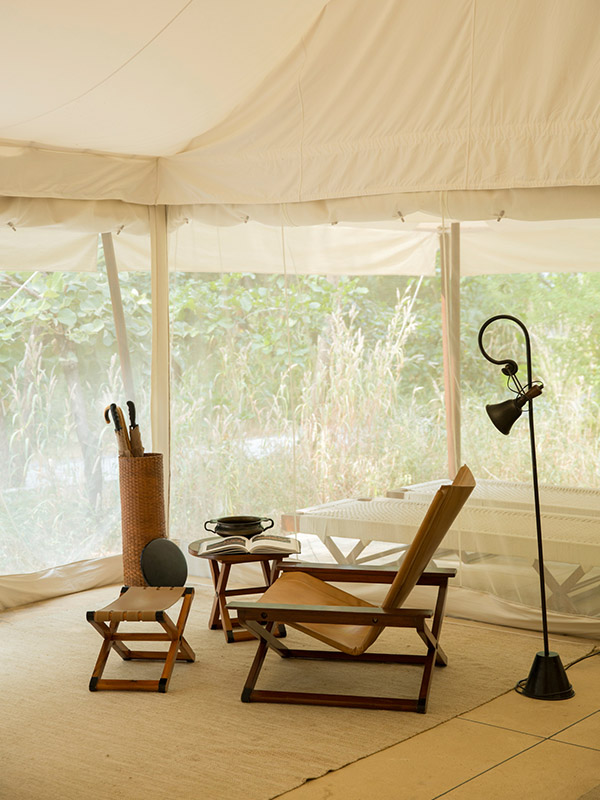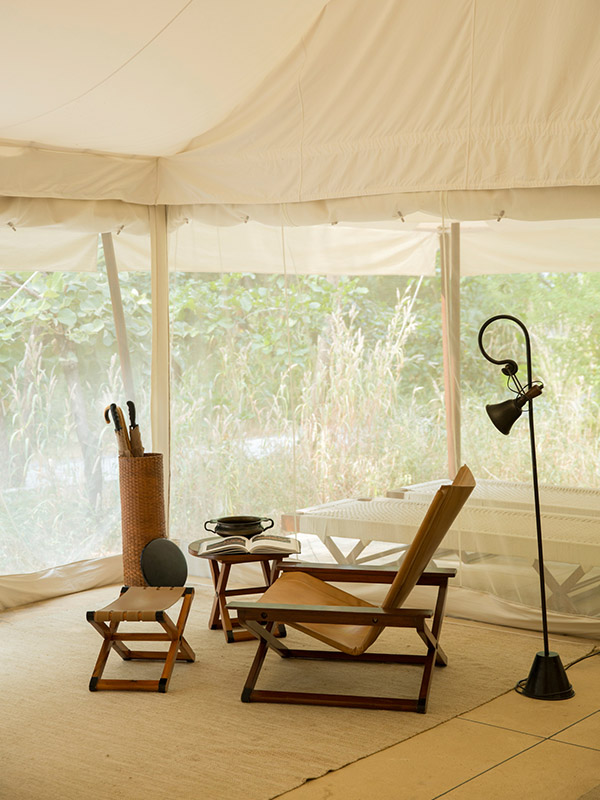 Aman-i-Khas
Set on the threshold of the wildlife-filled Ranthambore National Park, home to the majestic Bengal Tiger, Aman-i-Khas is a secluded wilderness camp offering exclusivity and a one-in-a-lifetime adventure in rural Rajasthan. Catering to your every whim with absolute comfort amid nature, the camp's 10 Mughal-style tents designed by architect Jean-Michel Gathy offers anything but a traditional camping experience. The understated and elegant construction of their properties echoes in their renowned discreet and intuitive service.
Surrounded by raw wilderness, the approach to design at Aman includes an emphasis on space with a low room count catering to a limited number of guests at a time. 22-feet tall and covering 1,600-square-feet, each tent offers cashmere furnishings, a separate living and dressing area and deep soaking bathtubs – ​​imagining private spaces, where luxury and nature are found in equilibrium. Each serene sanctuary is additionally designed to offer a harmonious relationship between the architecture and local environment.
DP Loves –
– ​​Their thoughtfully crafted cuisine utilizing ingredients that have been harvested on nearby farms, or sourced from one of the camp's organic gardens supplying over 80 different varieties of fruit, vegetables, herbs and flowers.
– The camp's Mushroom Hut that successfully produces fresh oyster and button mushrooms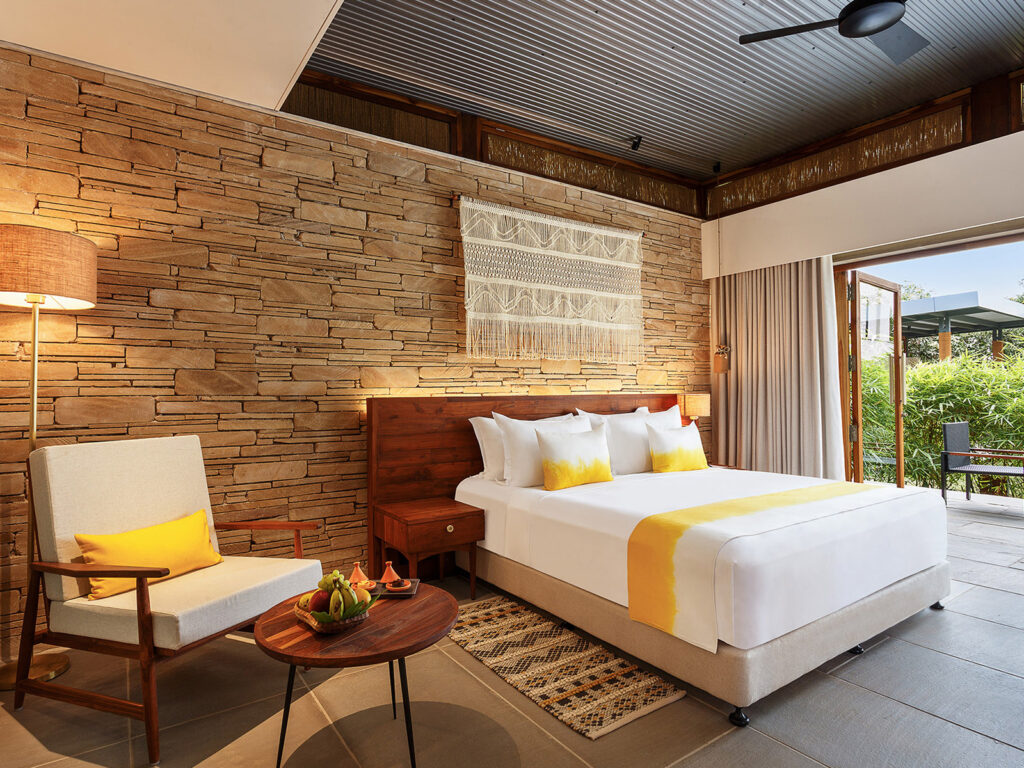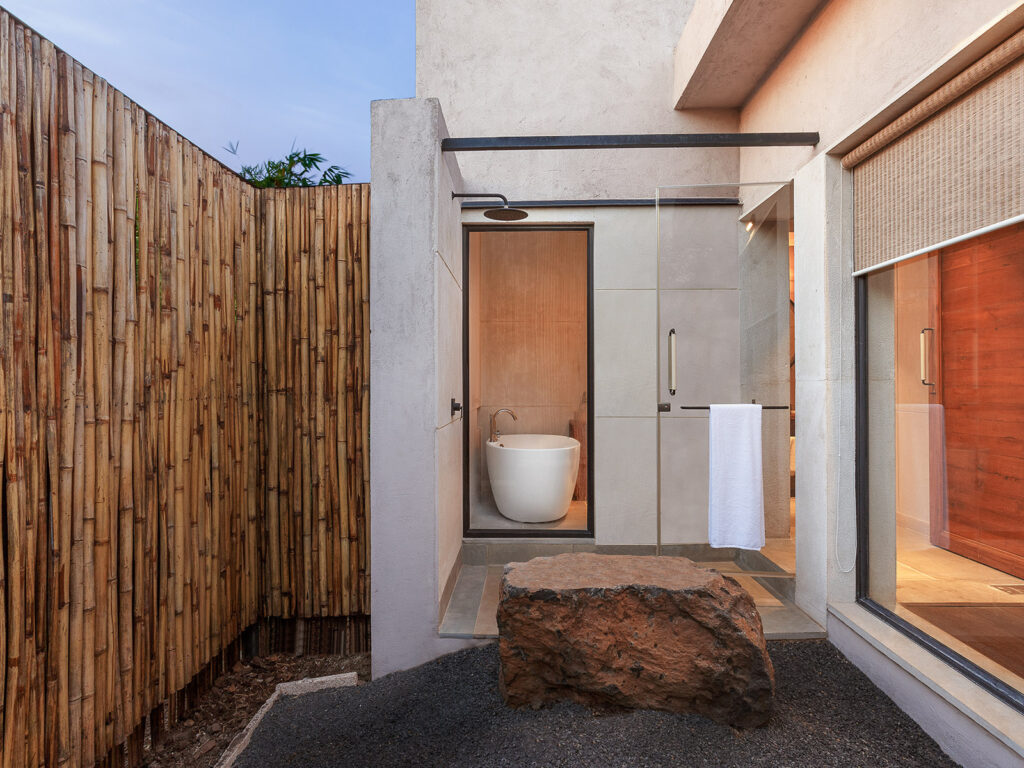 Woods At Sasan
A modern retreat in the woods located on the edge of the Sasan Gir forest in Gujarat – Woods at Sasan is a flagship venture of 1000 Island Hotels and Resorts with Maria Portello as the design lead. Spread over 16-acres of an old mango orchard, this elegant and minimal hotel features a biophilic design built using locally sourced, non-toxic, reclaimed and reusable materials.
This luxury hotel draws upon ancient wellness techniques layered with the needs of a modern lifestyle to craft a stay that offers a holistic approach to living. Rooms at this retreat are impeccably designed for natural cross-ventilation with large doors and windows that open into gardens or terraces, allowing one to experience a smooth transition between indoors and the outdoors. A blend of handcrafted furniture, the interiors comprise reclaimed wood, bamboo accessories, hand-made ceramics and terracotta. Macrame decorative items, mud-work wall art, beadwork, pottery and hand-dyed khadi furnishings all made by local artisans additionally lend the space a unique blend of modern and traditional décor.
DP Loves –
– That their interiors are built using local craftsmanship and materials to generate income for the community and minimize carbon footprint.
– Their 9" thick walls finished with lime plaster, floating roofs and private wooden decks help naturally cool the rooms along with thickets of trees adding to the shade.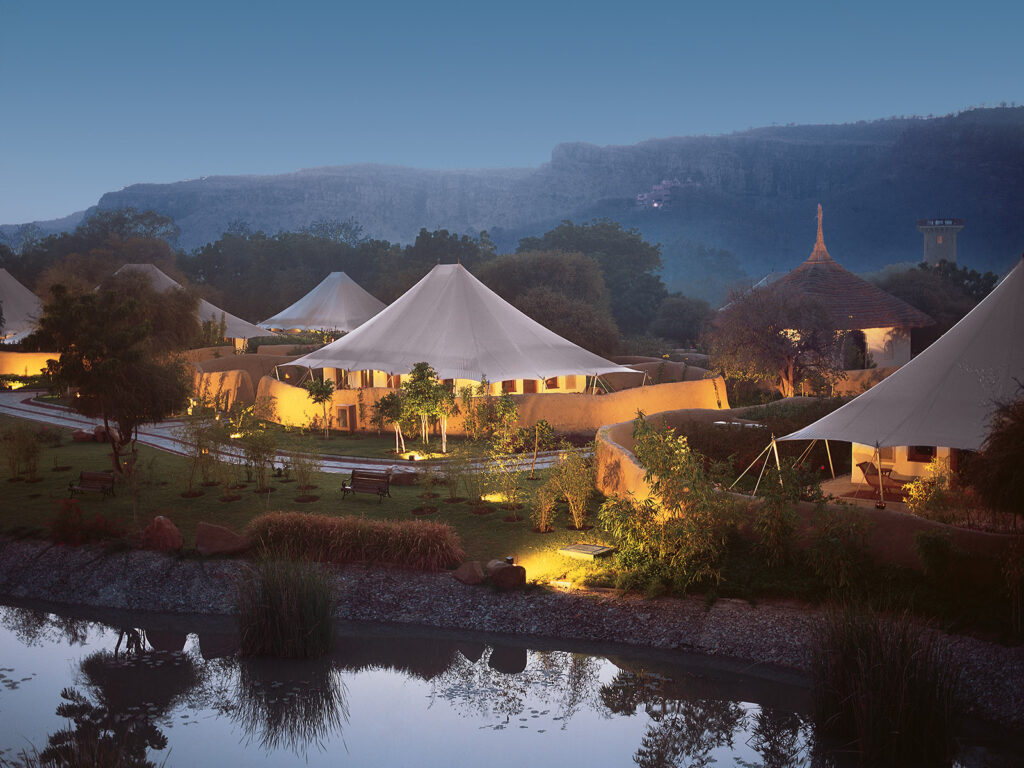 The Oberoi Vanyavilas Wildlife Resort
The ultimate destination for adventurers – The Oberoi Vanyavilas Wildlife Resort is set in 20 acres of landscaped gardens, lakes and fountains bordering the Ranthambore National Park and Tiger Reserve. This luxurious jungle resort consists of elegant 790-square-feet tents that feature – a bedroom with four-poster beds, freestanding roll top baths and separate showers, a private outdoor sitting area and a deck for sunbathing.
Adding to the interiors of these spacious tents are warm wooden flooring and embroidered interior canopies furnished in regal style. The colors and prints of the furnishing are inspired by the hues of the jungle. The color palette predominantly consists of earthly hues such as beige, brown, white and black and is further complemented by the upholstery and rugs in tiger print.
DP Loves –
– The Oberoi Spa with their holistic, non-clinical therapies, massages and beauty treatments incorporating ancient ayurvedic principles, aromatherapy and western techniques administered by skillful therapists.
– The Dastakar Craft Centre that is located at a distance of 8 kilometers from the resort. This non-profit workshop run by the local women of Ranthambhore is widely known for its tie-and-dye fabrics, block prints and pottery.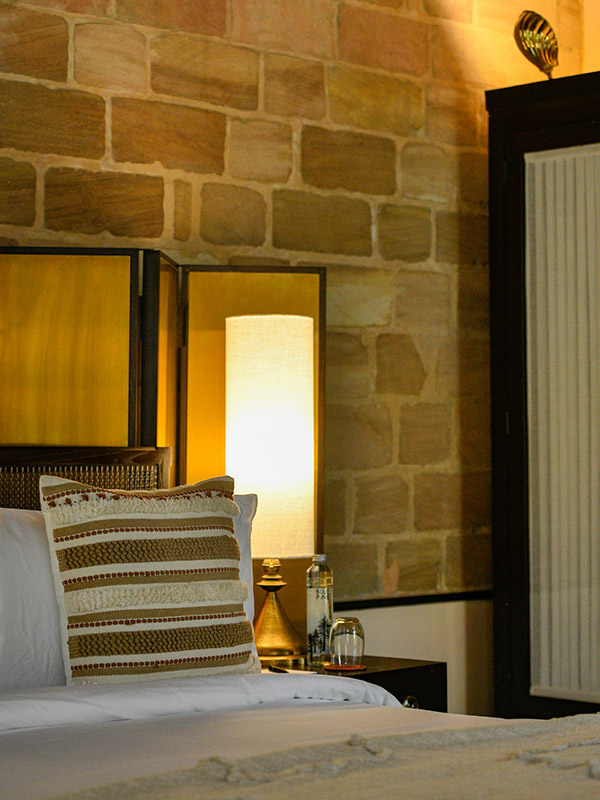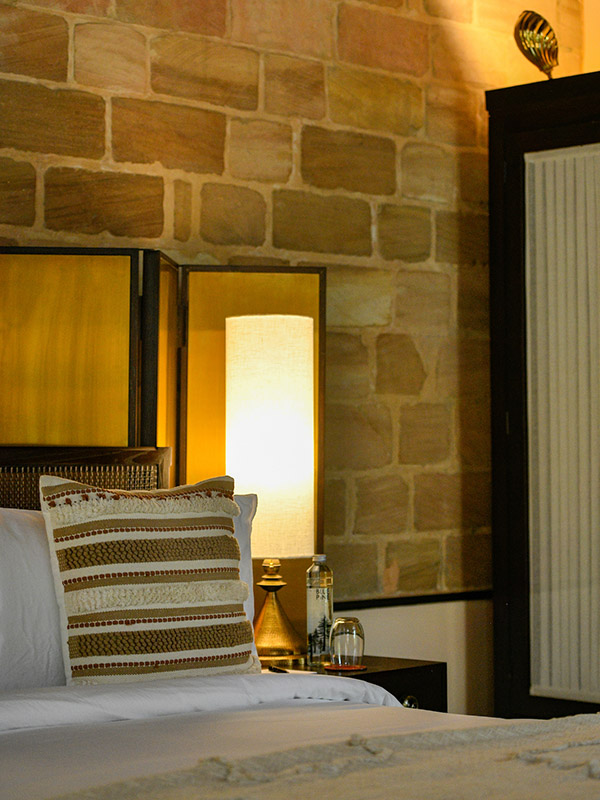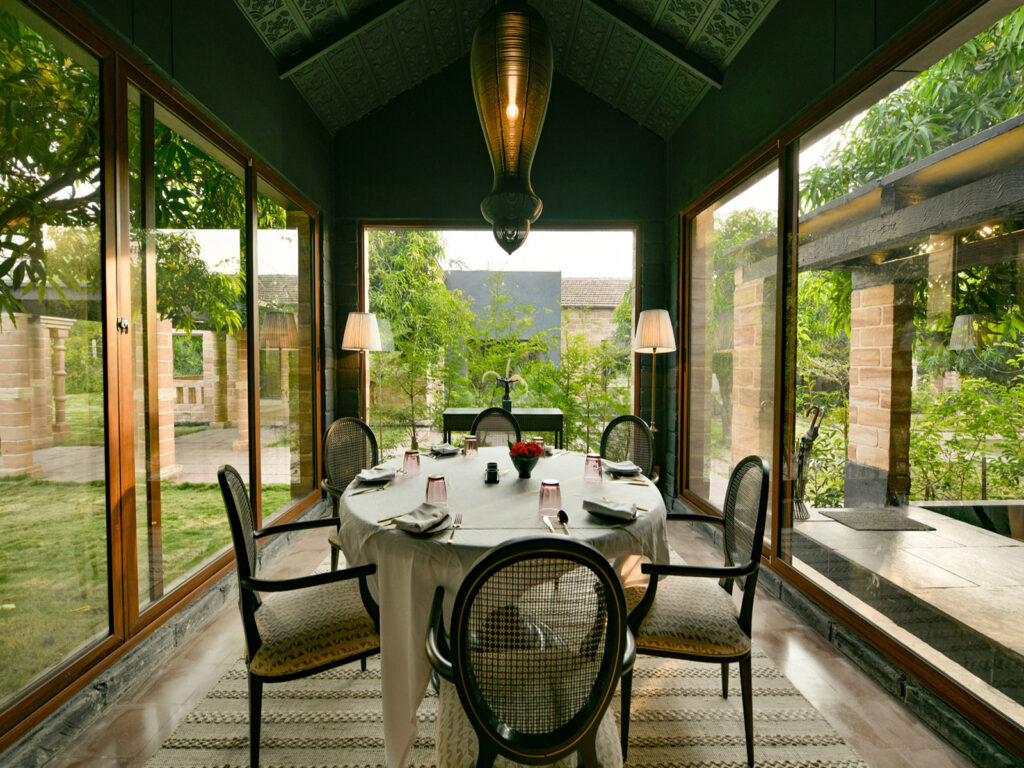 The Postcard Gir Wildlife Sanctuary
Resting amid over 16 acres of Kesar mango orchards, the Postcard Gir Wildlife Sanctuary gives one the extraordinary experience of being tucked away in the wilderness. Falling close to the Gir forest – the home of the Asiatic Lion, this stunning hotel is passionate about building iconic holidays. Chirashree Thakkar of Thakkar Associates handled the initial planning and construction stage. However, Akshat Bhatt of Architecture Discipline stepped in to complete the project and under his guidance the interiors and refinement of the space was achieved perfectly.
Warm and contemporary in design and offering plenty of privacy, the 15 rooms at the resort come with an individual entrance and a patio that seamlessly merge with the surrounding landscape. One can additionally swim under the enchanting evening sky while taking in the sight of what seems like a boundless forest right next to them. Understated yet rich in character, stone and wood are the prominent materials and textures used allowing the hotel's architecture to exist harmoniously with its environment. Backed by the jungle and framed by high ceilings – eclectic picture windows and hand-painted wildlife artworks add to the charm of this space.
DP Loves –
– The sightings in the area with 674 lions at the last count, with few jeeps and an expansive landscape giving one an extraordinary experience.
– That the interiors feature subtle vintage touches offering a timeless and luxurious aesthetic.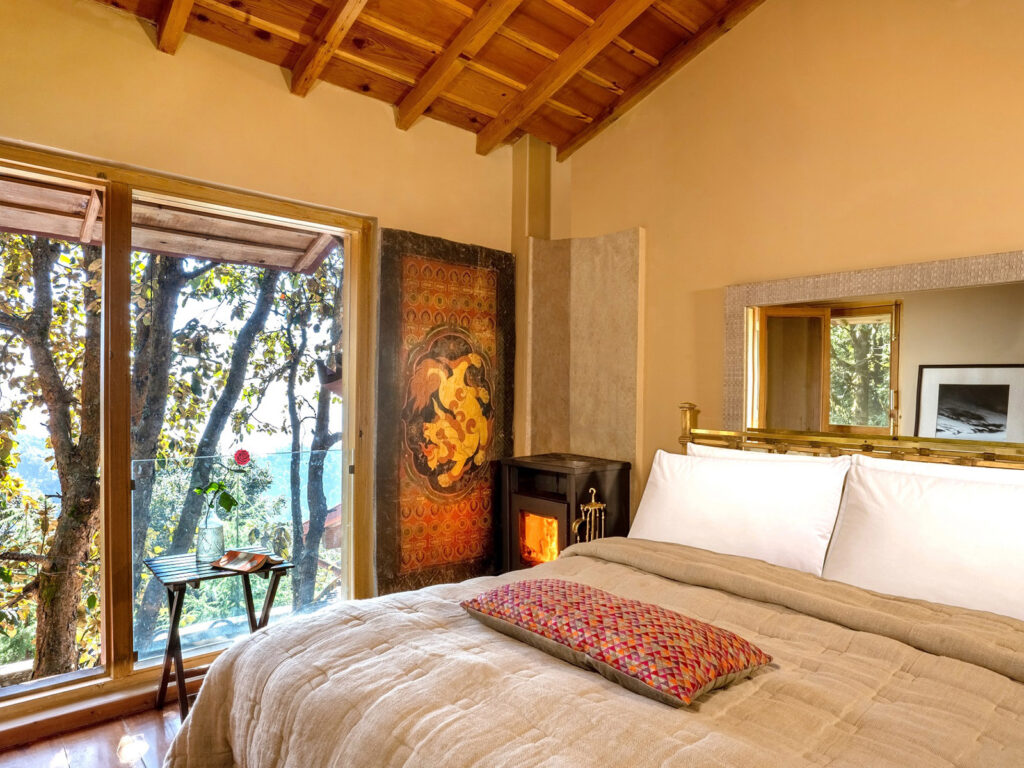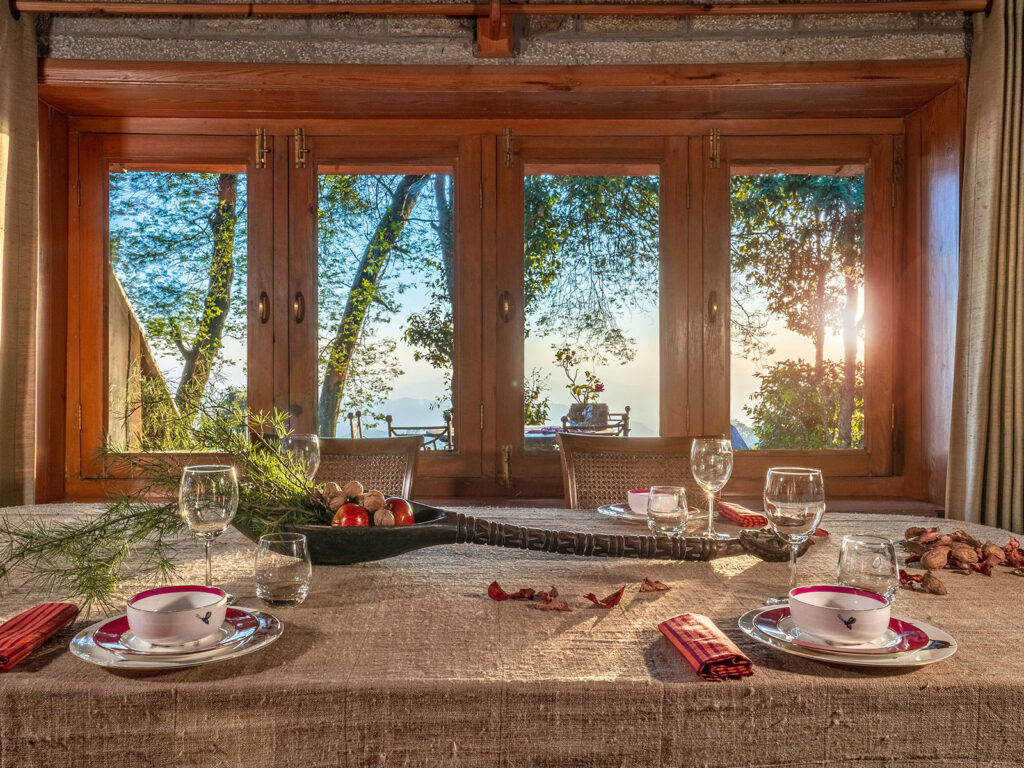 Mary Budden Estate
Nestled in breathtaking natural surroundings, Mary Budden Estate is a space of awakening in the primeval forests of Binsar and one of the last expanses of wilderness in the Himalayas. After being bought and converted into a school for local orphans by Mary Budden in 1899, Serena Chopra – a Delhi-based photographer and writer – purchased the property and turned it into a beautiful mountain home.
Remote yet accessible, this breathtaking hotel offers one the rarest of luxuries of time and space and the enviable opportunity to disconnect in order to connect deeply with nature. Spread over 5 acres of land, this wooded estate is lined with cottages designed tastefully with logwood fireplaces, stone patios and several open sit-outs. Private drawing and dining rooms, select antique furniture and vast mountain views complete this elegant mountain hideaway. This hotel has an all-day dining space with an al-fresco seating offering an enviable panorama of the forests and mountains.
DP Loves –
– The Serena Garden, named after the lady who brought the estate back to life – filled with golden shards of sunlight and cozy day beds to lounge in.
– The modest yet elegant private spa filled with cleansing fragrances of aromatic and medicinal herbs.